Mortgage Rate Trends: Weekly Market Trends & Forecast
---
Fixed Rates Step Back
July 24, 2015 -- All indications are that the economy is running at a modest pace again, and with Greece's problems at least papered over for the moment, financial markets may finally be turning toward the summer doldrums, where activity slows and trends rarely form.
However, there is at least one little bump in the road yet to get past, in the form of next week's Federal Reserve meeting. No change to policy is due or expected, and we probably won't see anything more than subtle changes to the language the Fed uses in the release which closes the meeting. If anything, we might get a more explicit characterization that short-term rates are likely to increase in 2015, mirroring the language Fed Chair Yellen used last week in her semiannual testimony before Congress. Markets appear mostly prepared for this eventuality whenever it may come, so even if the language does change we don't think there will be much reaction to be seen in mortgage rates as a result.
HSH.com's broad-market mortgage tracker -- our weekly Fixed-Rate Mortgage Indicator (FRMI) -- found that the overall average rate for 30-year fixed-rate mortgages fell by four basis points (0.04%) this week to an average of 4.11 percent. The FRMI's 15-year companion ticked lower by just one basis point to an average interest rate of 3.39 percent. Popular with first-time homebuyers, rates on fully-insured FHA-backed 30-year FRMs remain considerably below their conforming counterparts and sported a decrease this week of three basis points, to land at an average 3.88 percent. Lastly, the overall 5/1 Hybrid ARM was flat at an average rate of 3.09 percent this week. HSH's FRMIs are combined averages, including both conforming and jumbo rates, providing borrowers with a more wide-ranging view of mortgage conditions.
See this week's Statistical Release and Mortgage Trends Graphs.
Want to get Market Trends as soon as it's published on Friday? Get it via email -- subscribe here!
Although mortgage rates firmed a little as we moved though the late spring, it certainly wasn't enough to dampen home sales. In June, sales of existing homes rose another 3.2 percent, climbing to a 5.49 million annualized pace. This was the fastest rate of sale since tax-credit induced spurts in 2010 and especially in 2009; leaving those out, sales are at their highest "natural" levels since sometime back in 2007. Even with the burst of sales, inventory levels were only trimmed back 0.1 months to a flat five months of available stock at the present rate of sale, so there were more homes available for prospective purchasers to look at. Prices are still moving higher, if less so, with a year-over-year increase of 6.5 percent (down from an 8.5 percent rate in May). Sales are accelerating, too, with the annualized pace in June some 14 percent higher than the rate in January.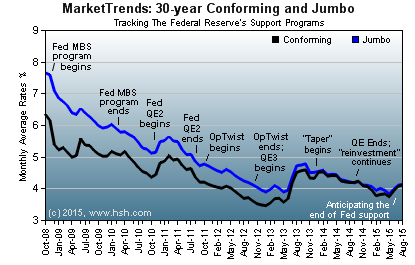 Last week we learned that the nation's homebuilders remained in good spirits in July. While existing home sales are tallied after purchasers take title to the home and so may reflect conditions some 45 to 60 days prior to the release of the data, new home sales are calculated in the month contracts are signed, and may better reflect the current market.
Sales of newly-built homes fell by 6.8 percent to a 482,000 annualized rate of sale. This was definitely a disappointment, but June's figure is still 18.1 percent above year-ago levels. Only the Northeast saw an increase in new-home sales, rising by 28 percent. The supply of new homes did loosen, registering a ratio of 5.4 months of sale.
If HSH's weekly MarketTrends newsletter is the only way you know HSH, you need to come back and check out HSH.com from time to time. You'll find new and changing content on a regular basis, unique calculators, useful insight, articles and mortgage resources unlike anywhere else on the web.
Construction and sales of new homes remains far below historic norms, so there is plenty of upside yet to be realized. If the supply of new housing doesn't keep up with both population growth and demand, this in turn squeezes the existing-home market to a greater degree, tightening available inventories and keeping prices rising at a pace which continues to outstrip income growth, trimming affordability in spite of still-favorable mortgage rates.
The economy has finally overcome the drag of the winter soft patch, according to the latest National Activity Index from the Federal Reserve Bank of Chicago. Their barometer mashes together some 85 economic indicators and boils them down to a value indicating whether the economy is growing above or below its historical trend. In June, for the first time since last December, the NAI showed a positive reading of 0.08, which should translate to a GDP of perhaps 2.6 percent or so, at least as far as activity in June is concerned.
The Conference Board's index of Leading Economic Indicators had another solid showing in June, rising by 0.6 percent. This was a fourth consecutive positive reading for the LEI, which last posted a stumble into negative territory back in February. With the last three months showing strong positive readings, it would seem that the economy has regained some forward momentum as we press into the third quarter of 2015, but the LEI's ability to forecast the future is pretty limited. When weighed along with NAI's improvement, though, we can probably expect a pretty fair initial reading for second quarter GDP when the report is released next week.
Although probably distorted by seasonal adjustment issues and annual auto plant retooling, weekly unemployment claims dropped to new post-recession lows in the week ending July 18. Just 255,000 new applications for benefits were filed across the country, a drop of 26,000 from the week prior. If the weekly figure is unrevised next week, it would be the lowest one-week tally since November 24, 1973 and another signal that the labor market remains in a positive mode.
As they have for a while now, we know that manufacturers continue to struggle, with a strong dollar and a soft global economy shaving export opportunities. Another signal in this regard came from the Federal Reserve Bank of Kansas City, whose local measuring stick of factory activity posted a minus 7 value for July, a fifth consecutive negative reading. Measures of both new orders and employment remained mired in negative territory, and even though the measure of current production moved notably higher, it too failed to break the zero barrier for the month.
HSH's
Statistical Release
features charts and graphs for eleven mortgage products, including Hybrid ARMs.
Our state-by-state statistics are now
here
.
Current Adjustable Rate Mortgage (ARM) Indexes
Index
For The Week Ending
Year Ago
Jul 17
Jun 19
Jul 18
6-Mo. TCM
0.10%
0.09%
0.06%
1-Yr. TCM
0.28%
0.27%
0.11%
3-Yr. TCM
1.04%
1.05%
0.96%
5-Yr. TCM
1.67%
1.65%
1.69%
FHFA NMCR
3.75%
3.78%
4.24%
SAIF 11th District COF
0.687%
0.680%
0.682%
HSH Nat'l Avg. Offer Rate
4.15%
4.10%
4.22%
Unless the economy stumbles hard from here it remains highly likely that the Fed's first small move in short-term interest rates will come in September. We may or may not get a better sense of this when the FOMC meeting closes next week, but it seems a likely happenstance at this moment. The FOMC meeting is the centerpiece next week, but the aforementioned GDP report will hold some sway, too, and there are a few other nuggets of data to ponder as we go.
If the Fed meeting brings no surprises (the most likely outcome), mortgage rates should be fairly flat again next week, wobbling by a couple of basis points at most.
For a longer-range outlook for rates and the economy, one which will take you up until late August, have a look at our new Two-Month Forecast. For a really long-range outlook, you'll want to check out "Federal Reserve Policy and Mortgage Rate Cycles".
----------
Still underwater in your mortgage despite rising home prices? Want to know when that will come to an end? Check out our KnowEquity Underwater Mortgage Calculators to learn exactly when you will no longer have a mortgage balance greater than the value of your home.
---
Have you seen HSH in the news lately?
Want to comment on this Market Trends? -- send your feedback, argue with us, or just tell us what you think.

See what's happening at HSH.com -- get the latest news, advice and more! Follow us on Twitter.

Daily FRMI rates are available at HSH.com Check out our weekly Statistical Release here (and archives here).
---
For further Information, inquiries, or comment: Keith T. Gumbinger, Vice President

Copyright 2015, HSH® Associates, Financial Publishers. All rights reserved.