Mortgage Rate Trends: Weekly Market Commentary & Forecast
---
Mortgage Rates: Spring Starts With Slippage
March 24, 2017 -- In the aftermath of the Fed's latest decision regarding short-term interest rate policy, mortgage rates were poised to decline, and they behaved as expected this week. As we're now breaking into the traditional "spring homebuying season" this will no doubt ease the minds of at least some wanna-be home purchasers, as finding viable and affordable homes to buy is and will be challenging enough this year even with mortgage rates reasonably steady.
Even with a market-soothing stance by the Fed, there's no guarantee that they won't turn to a more aggressive posture at some point, which would disturb what has been a fairly tranquil pattern for mortgage rates so far in 2017. The first quarter of the year comes to a close in just a week, and current indications are that the average conforming 30-year fixed-rate mortgage as tracked by Freddie Mac will hold a 4.09 percent to 4.30 percent range -- pretty stable, considering the Fed lifted the federal funds rate by 50 basis point in a 90-day span that included much of the first quarter.
However, if growth accelerates, labor markets tighten more than expected or inflation continues an upward march for the next couple of months, we may see an increasing likelihood of more changes to monetary policy than not. The Fed has noted on several occasions that it expects to continue to reinvest inbound proceeds from maturing mortgage and Treasuries back in to more buys of the same until policy normalization was well underway. As the Fed has generally ratcheted down its expectations of the peak rate for the federal funds to something close to 3 percent than the historic 4 percent level, two more increases in the federal funds rate will see short-term rates about halfway to peak, and the central bank start to try to reduce its holdings. That process may cause considerable disruption; thankfully, we're not likely to have to try to evaluate these effects for six months yet, or more.
What's happeing with home prices? Which markets have recovered... and which still lag behind? Check out the 4Q16 update to HSH's Home Price Recovery Index, covering price changes in 100 metropolitan areas -- and see our Home Value Estimator tool to reckon changes in your market during your ownership period!
Between now and then, the economic data will take center stage, accompanied by global and political items, too. Presently, if appears that the economy accelerated a bit in February, according to the Federal Reserve Bank of Chicago. Their National Activity Index rose by 0.39 for the month, taking the indicator from a mild negative to a strong positive, the second such incidence in the last three months. A smoothed out three-month trend indicator suggests that growth is running a bit above the economy's non-inflationary potential, thought to be a GDP rate of about 2.6 percent or so. With readings above zero indicating expansion, the NAI suggests the economy did pretty well during February, but high-frequency measures tracking current growth (such as the Atlanta Fed's "GDP Now" model) point to a marked downshift in March, and so seems a bit at odds with what the NAI is suggesting. Faster growth could mean a Fed moving faster, and even with a recent tailing, it may be that GDP accelerated in the beginning of 2017 to a level a bit above the 1.9 percent rate reckoned for the final quarter of last year.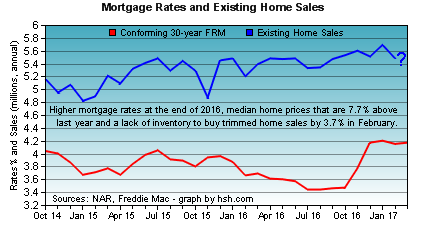 Buyers hoping to purchase an existing home this spring will probably struggle a bit as there are several issues facing this crowd. First, inventory levels continue to be very thin; essentially, there's not much to look at... and so not much to buy. Second, home prices are rising rather quickly, straining affordability. This spring will feature higher mortgage rates than we've seen in about three years; the last time rates were in this region, sales of existing homes ran in the 4.8-5.0 million annualized range amid what was near normal inventory levels. The economy, jobs, incomes etc are certainly in better shape than then, and so sales should remain above the spring '14 period, but it will be hard for them to find much traction to even hold recent highs.
Want to get MarketTrends as soon as it's published on Friday? Get it via email -- subscribe here!
For February, the National Association of Realtors reported that existing home sales slid by 3.7 percent to a 5.48 million annualized rate. A touch more inventory did become available, raising the inventory-to-sales ratio to 3.8 months, but this remains a far cry from the 6 months of available stock thought to be closer to optimal. As well, prices of homes that are selling are sharply higher this year than last, with the median home sold this year costing 7.7 percent more than did a median priced one last February. The dip in sales for the month is also reflective of transactions begun 45 to 60 days before the end of February, and some of the decline in sales is also likely the effect of the year-end spike in mortgage rates (and probably some holiday-season effects, too). Still, given tight supplies high prices and mortgage rates little different now than then, it's hard to how there could be much upward potential for existing home sales at the moment.
New home sales are a somewhat different matter. Although the permit-to- construction-to-occupation process is of course more lengthy, the supply of homes to buy is considerably more elastic; that is to say, builders can add more supply as needed. Unlike existing homes, there is yet considerable upside for both sales and future supply, even as the Census Bureau reported a 6.1 percent rise in sales in February. This lifted sales to a 592,000 annualized rate, a figure good enough to be ranked among the highest of the last 10 years. The spurt in sales did delete some stock, which edged down to 5.4 months of available supply, but that equates to 266,000 units built and ready for sale, the highest number of the economic expansion to date.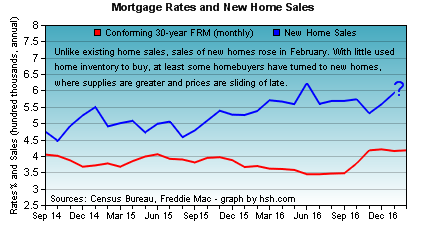 It's certainly easy to conclude that if there is stock to buy, folks will buy it, but as newly-built homes are typically pricier than existing ones, it's not a one-for-one financial exchange. Jumping from the median price of an existing home in February ($228,400) to that of a new home ($294,700) requires about $11,000 more in annual income to qualify, so it's not as though buyers can easily substitute one for the other. That said, the gap between prices of existing and new homes narrowed a bit as the median value of new homes sold this year was 6.2 percent below those snapped up last year ($308,800), so either builders are putting up lower-cost stock, consumers are selecting lower-cost housing choices or builders are running the discount to offset higher mortgage costs. Odds are that it is some combination of all three.
If HSH's weekly MarketTrends newsletter is the only way you know HSH, you need to come back and check out HSH.com from time to time. You'll find new and changing content on a regular basis, unique calculators, useful insight, articles and mortgage resources unlike anywhere else on the web.
The job market remains tight, but perhaps somewhat less so this month than in the last couple. Claims for new unemployment benefits rose by 15,000 in the week ending March 18; at 258,000 new filings, this was the highest level since mid-January. This could be an inkling of a slowdown in hiring from the last couple of months, with those possibly goosed by post-election exuberance by businesses. With hoped-for cuts in regulation and taxes a halting process at best, there is some reason to think that hiring will settle back until a clearer fiscal picture emerges.
Manufacturers certainly have been more enthusiastic since the elections, and that happiness will probably continue for a bit yet. Orders for durable goods rose by 1.7 percent in February, although this was largely driven higher by non-military aircraft orders. A sub-measure that tracks broader spending in goods intended to last three years or more was considerably more subdued; in fact, it sported a 0.1 percent decline for the month. Still, the trend has been largely favorable for manufacturers overall. For example, the factory activity barometer for the Federal Reserve Bank of Kansas City's district sported a gaudy reading of 20 in March; this was a value good enough for second highest in the 23-year history of the indicator. Measures of current production moved higher, as did orders, and employment metrics remained rather high levels, too.
Current Adjustable Rate Mortgage (ARM) Indexes
Index
For The Week Ending
Year Ago
Mar 17
Feb 17
Mar 18
6-Mo. TCM
0.90%
0.66%
0.48%
1-Yr. TCM
1.03%
0.83%
0.67%
3-Yr. TCM
1.64%
1.51%
1.08%
5-Yr. TCM
2.07%
1.96%
1.43%
FHFA NMCR
4.22%
4.00%
3.98%
FHLB 11th District COF
0.616%
0.599%
0.655%
Freddie Mac 30-yr FRM
4.21%
4.15%
3.73%
We're in a bit of a sweet spot for mortgage rates at the moment, heading downward into the valley between market-moving data and Federal Reserve meetings. Another light slate of data is on tap for next week, and so there shouldn't be anything economically earth-shattering to move rates. We've got one week until the first-of-the month cascade of new significant data comes out and nearly two until the all-important employment report. As such, we'll expect to see a little bit more relaxation in mortgage rates over the next few days; Freddie Mac will probably report a four basis point (or so) decline in rates when next Thursday morning rolls around. After that? Well, we'll be considering where we go in our next Two-Month Forecast, due out next Friday.
For a interim forecast for mortgage rates and the economy, one which runs through late March, have a look at our Two-Month Forecast. For a year-long review of expectations, see our 2017 Outlook.
----------
Still underwater in your mortgage despite rising home prices? Want to know when that will come to an end? Check out our KnowEquity Underwater Mortgage Calculator to learn exactly when you will no longer have a mortgage balance greater than the value of your home.
---
Have you seen HSH in the news lately?
Want to comment on this Market Trends? -- send your feedback, argue with us, or just tell us what you think.

See what's happening at HSH.com -- get the latest news, advice and more! Follow us on Twitter.

---
For further Information, inquiries, or comment: Keith T. Gumbinger, Vice President

Copyright 2017, HSH® Associates, Financial Publishers. All rights reserved.