If you are among the scores of homeowners with a soon-to-adjust adjustable-rate mortgage (ARM), you may not want to rush to refinance. Your smartest mortgage move may be to do nothing.
Why? ARMs are currently resetting to below 3 percent.
How ARMs work
ARMs are home loans for which mortgage rates remain fixed for a set number of years, after which the rate can change on an annual basis.
The initial fixed-rate period is called a "teaser rate," and subsequent annual adjustments are based on a pre-set formula. The formula is basic: it is a constant plus some variable. For most mortgages, that constant is often set to 2.25 percent, with the variable pegged to the current 12-month LIBOR rate.
A real-life example
As a real-life example, let us say you opted for a 5-year ARM in June 2006, when mortgage rates were in the mid-6 percent range:
Your initial mortgage rate was 6.500 percent. You paid that rate for 60 months (i.e. five years)
After 60 months, your rate adjusted to 2.9795 percent (2.25 percent + LIBOR 0.7295 percent)
Starting in June 2011, your rate will adjust every 12 months until your loan in paid in full in 30 years
Falling LIBOR=Lower mortgage rates
Due to the way this formula is constructed, when LIBOR is rising, your loan will reset to higher rates. Conversely, when LIBOR is falling, your loan will reset to lower rates.
On June 1, 2011, LIBOR was at its lowest point in history.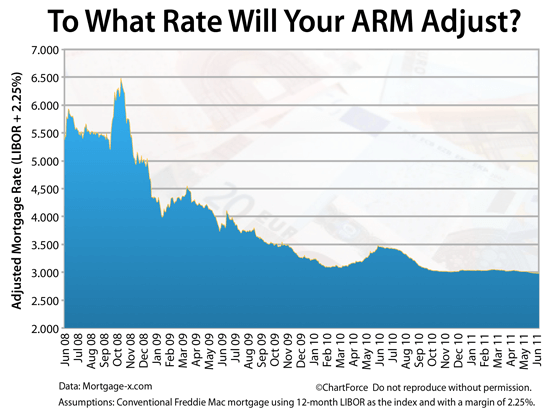 ARMs are adjusting below 3 percent
Suddenly, ARMs do not seem so evil or toxic.
In 2006, 5-year ARMs priced in the mid-6 percent range and have been trending lower since. Many homeowners that opened 5-year ARMs at that time have been able to refinance into something new. However, not all homeowners have been mortgage-eligible, either because of lost equity, or for some other reason.
For these homeowners, the ultra-low LIBOR is a stroke of good luck. Once adjusted, their new mortgage rates could dip to 2.875 percent. This rate is below today's refinance "market rate," plus you will not pay closing costs on an adjustment.
There is always risk involved.
Allowing your ARM to adjust may be a winning strategy in 2011 while LIBOR is down. But what about in 2012? If the LIBOR trends higher, that would cause your rate to adjust higher, increasing your monthly costs.
If your loan adjusts this season and you plan to stay in your home until at least 2013, talk to your loan officer about your options. It may be sensible to refinance now and pay closing costs, just to prevent an unexpected rise in long-term mortgage payments down the road.
Or, the smart move may be to stick with your ARM and bank all the savings this loan product can provide.
Related articles :
Print page