Mortgage Rate Trends: Weekly Market Commentary & Forecast
---
More Upward Pressure For Rates
January 12, 2018 -- Bond markets exhibited a little bit of nervousness this week, and as is often the case, mortgage rates are firming as a result. The ongoing accumulation of solid economic news both ere and abroad plus some new concerns about inflation were enough to unsettle investors who have come to enjoy the reliability of low inflation and global central bank support.
There continue to be signals that the long run for extraordinary quantitative easing is coming to an end soon. The U.S. has already started down a path of undoing its programs, and in fact is accelerating the process this month. The ECB has effectively set a sundown for its program of September, but the economies of the union are collectively doing well enough that some ECB officials support a faster termination to the program, startling investors a bit as ECB President Draghi gave no indication of such a change in thinking after the meeting last month. Although not actually unwinding its program just yet, the European Central Bank has also started to trim purchases of bonds in the 19-nation common currency area, halving its program to buys of just $30 billion euros each month.
Adding to the market's sense of discomfort, there was even word that the Bank of Japan effectively reduced the size of its all-in program of supporting zero-level long-term interest rates by purchasing 5 percent fewer bonds in its most recent buyback operation, surprising the markets. This came after a mid-week market-rousing rumor that the government of China was considering winding down purchases of U.S. Treasuries, driving yields higher; the report was denied by official sources on Thursday.
Can certain home price trends predict the next NFL Champion? Probably not, but it's fun to see what such comparisons reveal. Will markets with stronger home price gains win out, or will weaker ones? What if we mix it up? Check out our wholly unscientific NFL Champion pick based on home price appreciation trends.
The influential yield on the 10-year U.S. Treasury moved above decisively above the 2.5 percent mark and ran close to 2.6 percent for a time before settling back a little as the week came to a close, but the latest bump in yields should be sufficient to push conforming 30-year FRMs over the 4 percent mark for the first time since last July.
It bears noting that mortgage rates would have already cracked the 4 percent mark, but the "spread" over the 10-year Treasury has shrunk notably since a near-term mortgage rates bottom last September. Since then, the 10-year TCM has risen from a weekly average of 2.07 percent to about 2.5 in the latest week, a rise of 43 basis points. The average conforming 30-year FRM reported by Freddie Mac moved up less than half this, rising 21 basis points from 3.78 percent in September to 3.99 percent this week. Spreads have shrunk from 171 basis points to just 149, about a dozen fewer than is typically seen, so not all of the increase in yields is being passed along to mortgage borrowers. Most likely, this is due to pricing competition among lenders trying to keep volumes up as refinancing activity dwindles due to higher rates. However, as will all things, there are limits, and we may be at or close to them, so any lift in yields becomes more likely to be passed along to borrowers.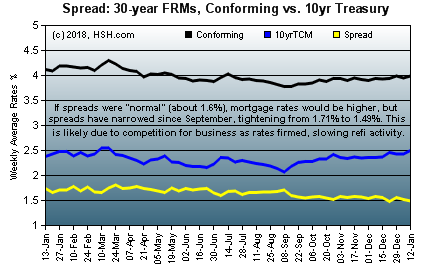 Although we've seen any number of fits and starts for yields over the past year, the unease in the bond market may also not yet be fully expressed. Even as inflation globally remains low and below central bank targets, signals of price pressures forming here and there have been evident for a while. There is also a growing wager that the Fed will make its first move of 2018 in March, with futures markets placing better than a 72 percent chance of a move at the moment. Given that a change in policymakers at the Fed is coming shortly after the Fed meets later this month, we're not yet convinced that March won't be skipped in favor of moves later in the year.
Want to get MarketTrends as soon as it's published on Friday? Get it via email -- subscribe here!
Some information regarding inflation was less soothing to investors than has been the case for a while. Prices of imported goods did rise less than expected with an increase of 0.1 percent in December, and there was even actually a slight decline in costs when fuels were removed from the tally. The small headline gain was a fifth consecutive increase, however, and import costs are rising at a 3 percent annual rate, more than double that seen as recently as last summer. The aggregate value of exports did actually decline by 0.1 percent for the month, so we didn't export any inflation for the first month since June, but outbound prices are up some 2.6 percent over the last year, regardless.
The latest Producer Price Index for December did see a decline of 0.1 percent in the headline figure, better than expected and breaking a string of increases that dated back to June, but the so-called "core" measure of pricing upstream of consumers expanded by 0.2 percent, continuing a trend of warmer readings over the last 5 months. Over the last year, top-line PPI is rising at a 2.7 percent clip; core at 2.3 percent and appear fairly firm.
The December measure of consumer prices told a similar tale -- soft at the headline with a stronger core. During the month, prices as measured by the CPI did rise by just 0.1 percent, less than was expected, but the "core" measure which excludes volatile items such as gasoline and food rose by a stout 0.3 percent, the largest monthly increase since January and so a bookend for the year. For 2017, top-line consumer prices rose by 2.1 percent, the same as year at this time, so the 2017 dip in prices has now been mostly erased. Core is now running a 1.8 percent annual rate, below the same period last year, but firming a little in the last few months compared to the mid portion of 2017.
A couple of other indicators extracted from last week's Institute for Supply management surveys revealed that prices have been mostly firm at somewhat elevated levels for both manufacturers and service providers alike, but there was no significant acceleration in costs to be seen.
It is said that before long, something on the orders of 90 percent of Americans will see boosts of varying size in their take home pay, courtesy of the recent tax reform signed into law by President Trump. To what degree this remains to be seen, but there is a good bet that a portion of any increase will be used to pay off November's borrowing splurge. Consumer credit usage ballooned by $27.8 billion during the month, powered higher again by a $16.8 billion increase in installment credit balances, with such borrowing typically used for purchases of autos and education loans. It was the largest installment credit binge since August 2016. As well, credit card balances (revolving credit) expanded by $11.3 billion, the strongest such increase in about two years, so it appears the consumers are both confident about their prospects and the economy and are willing to borrow and spend money.
Spending can be expected to expand during the holiday retail season. We already knew that November saw a solid gain in spending, but it was unclear if December would show any follow-through strength. Actually, it did, with retail sales expanding in December by 0.4 percent, closing the year with a 5.4 percent overall gain. The annual gain was even stronger when leaving autos and gasoline out of the totals, so money is being beneficially spread across a wide swath of the economy.
If HSH's weekly MarketTrends newsletter is the only way you know HSH, you need to come back and check out HSH.com from time to time. You'll find new and changing content on a regular basis, unique calculators, useful insight, articles and mortgage resources unlike anywhere else on the web.
Even as inventories across the supply chain posted gains in November, surging sales kept ratios of goods on hand relative to sales on a tightening path. This should keep orders flowing as 2017 gives way to 2018. For the month, retailers expanded their holdings by 0.1 percent, wholesalers by 0.8 percent and manufacturers by 0.4 percent, but despite this, supplies on hand are only enough to cover 1.33 months of sales at the current pace, which rose at a 1.2 percent rate for the month. This means manufacturers can be expected to be ordering more supplies and raw materials and can expect more inbound orders from downstream purchasers.
As a point of reference, a revised report from the Federal Reserve Bank of Philadelphia on manufacturing conditions in its district revealed that December and November were both more solid than first estimated, with this barometer rising by 3.6 points to 27.9 from an upwardly revised November value. This Philly Fed indicator has been posting positive reading since June of 2016, but has been on a tear for the last 12 months. The report noted that orders rose, employment gains eased a bit and prices paid by manufacturers were a little lower. The January update of this report is due out next week.
Current Adjustable Rate Mortgage (ARM) Indexes
Index
For The Week Ending
Year Ago
Jan 05
Dec 08
Jan 06
6-Mo. TCM
1.60%
1.47%
0.63%
1-Yr. TCM
1.82%
1.66%
0.86%
3-Yr. TCM
2.04%
1.93%
1.48%
5-Yr. TCM
2.27%
2.14%
1.92%
10-Yr. TCM
2.46%
2.36%
2.43%
FHFA NMCR
4.05%
3.98%
3.62%
FHLB 11th District COF
0.746%
0.737%
0.598%
Freddie Mac 30-yr FRM
3.99%
3.94%
4.30%
Distorted by seasonal adjustment or reflecting a slower hiring environment? That's the question posed by another increase in initial claims for unemployment benefits, which totaled 261,000 in the week ending January 6. This was the highest figure since the flooding and hurricane flare in late September. However, seasonal adjustment or not, the trend here over the last four weeks has been an upward one, and it bears consideration that there were only 148,000 new jobs created in December, so it may be that firings are actually up a bit and hiring is cooling somewhat. We'll know more next month.
We were bound to see 30-year mortgage rates trek over the four percent line at some point, and it appears that we have reached that point. Be prepared for "mortgage rates at highest point since July"-type headlines next week, as we think we'll see a five or six basis point increase in the averages Freddie Mac will report next Thursday. In the excitement, it's a good idea to keep in mind that rates were above 4 percent for fully 20 weeks of 2017, so it's not like we're entering uncharted waters.
For a forecast for mortgage rates that runs all the way past Groundhog Day, have a look at our Two-Month Forecast. You might also take a minute to have a have a look at our broad-brush 2018 Outlook. We look out over the year and provide thoughts and expectations for a wide range of housing and economic topic, and even include a long-range forecast for mortgage rates.
----------
Still underwater in your mortgage despite rising home prices? Want to know when that will come to an end? Check out our KnowEquity Underwater Mortgage Calculator to learn exactly when you will no longer have a mortgage balance greater than the value of your home.
---
Have you seen HSH in the news lately?
Want to comment on this Market Trends? -- send your feedback, argue with us, or just tell us what you think.

See what's happening at HSH.com -- get the latest news, advice and more! Follow us on Twitter.

---
For further Information, inquiries, or comment: Keith T. Gumbinger, Vice President

Copyright 2018, HSH® Associates, Financial Publishers. All rights reserved.