Rates Lack Traction, Again
May 10, 2019 -- With little significant economic news to review but plenty of new concern that trade troubles will continue to upend growth, interest rates largely softened this week. This was the case despite a very lackluster auction of new 10-year Treasuries, as investor interest for the lower-yielding benchmark note was the lowest in about 10 years. Usually, such a lack of interest triggers an increase in yields, and to a degree, that was the case, but the move was only sufficient to keep rates from falling further.
President Trump has recently been badgering the Federal Reserve to lower interest rates and re-start QE bond-buying programs. The Fed would of course only likely lower rates if the economy falters, and this week's new saber-rattling over trade, if enacted, would likely trim the sails of growth, but by how much is hard to say. Certainly, slapping new tariffs on goods coming from China has tanked the stock market and pushed money into bonds this week, so the President's actions are actually fostering the lower rates he covets, at least to a degree, but not necessarily in a beneficial way,
With inventories of available homes tight and mortgage rates steady, low-to-moderate income homebuyers may need a little help. To lend a hand, HSH has revised and updated our popular "Homebuyer Assistance Programs By State" to help borrowers connect with the essential supports they need to become homeowners.
The latest report on the nation's imbalance of trade wasn't good nor bad, but rather middling or typical. In March, the U.S.. trade deficit was a flat $50 billion, a little lower than forecasts but a slight expansion over February. Exports improved by $2.1 billion, suggesting that the economies of our major trading partners improved a bit during the period, but imports rose a little more, increasing by $2.8 billion as our own economy picked up some speed after a rough start to the first quarter. It's an open question if increasing tariffs would trim demand enough to narrow the gap or whether higher prices amid only mildly-tempered demand would actually see the differential increase -- and higher prices to consumers might also serve to reflate inflation a bit.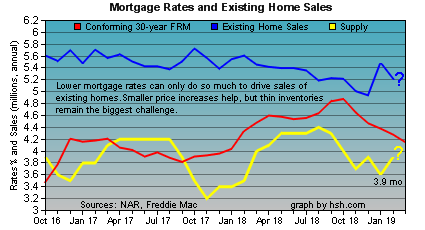 Although lower mortgage rates in the market this spring can't hurt, the fact is that they probably don't help home sales much, either. The price of mortgage credit isn't really what's holding back more robust sales of existing homes; rather, the issue is more centered around very limited inventories of desirable homes to buy at affordable prices. The trend of increasing home prices has recently moderated, falling back in to the mid-to-upper 3% range, but is still running at a level that is outstripping income growth. Lower rates help offset higher prices to a degree but does nothing to increase the number of homes available. Lower rates do tend to bring more demand into the market, which would tends to re-firm prices a bit. Of course, higher prices and limited inventory could continue to push potential homebuyers over to the new home market, which has recently seen a surge in sales, if only to still-moderate levels.
Want to get MarketTrends as soon as it's published on Friday? Get it via email -- subscribe here!
Applications for new mortgages turned higher in the week ending May 4, according to the Mortgage Bankers Association of America, with those for purchase-money mortgages moving higher by the largest amount in 5 weeks. Lower rates can spur some demand for refinancing, and apps for refinances of existing mortgages worse by 0.8%, the first increase since late March. Applicants are seeing pretty steady underwriting conditions for new credit for most kinds of mortgages, with perhaps just a little easing at the margins. According to the Federal Reserve's latest survey of Senior Loan Officers, underwriting standards remained unchanged in the first quarter of 2019 at 93.7% of banks offering loans backed by Fannie and Freddie, with an additional 4.8% easing conditions somewhat. Government-backed offers saw a 91.1% rate of unchanged conditions, with 4.9% noting a little softening of standards. Non-QM and non-QM jumbo offers saw the greatest easing, but these components remain a fraction of the market as a whole. For the vast majority of borrowers, it's all about the same as it has been.
New consumer borrowing was a little soft in March, expanding by just $10.3 billion for the month. While non-revolving credit -- used for items like autos and education -- expanded by $12.5 billion, about the same as February, new borrowing on revolving accounts (credit cards) actually contracted by $2.5 billion. Arguably, tax returns were probably the proximate cause, as consumers paid down outstanding balances and/or spent cash instead of putting new purchases on account. Over the last year, installment credit grew at a modest 5.1%, while revolving credit usage contracted by 2.4%.
Claims for initial unemployment assistance popped higher a couple of weeks ago. At the time, it appeared as though this was the result of a Easter-holiday distortion, but they have now held at about 230 for three weeks in a row, a level well above where we spend much of the early portion of the year. It could be that hiring is poised to slow down just a little bit after a blowout April job report.
Part of the sizable increase in GDP for the first quarter was due to a large buildup in inventories. It's to be expected that this wouldn't continue for any extended period, and may actually portend a bit of slowing in new orders being placed to factories in the second quarter as bloated holdings get worked down. It looks as though that process got underway in March, as wholesaler inventories actually declined by 0.1%, the first such fall since last April. The clear-out of holdings was due to a surge in sales, which rose by a fat 2.3% for the month, and the surge in outgo actually pulled down the ratio of goods available at the present rate of sale from 1.35 months to 1.32, the lowest in about four months, so it may be new orders will start to flow sooner rather than later.
If HSH's weekly MarketTrends newsletter is the only way you know HSH, you need to come back and check out HSH.com from time to time. You'll find new and changing content on a regular basis, unique calculators, useful insight, articles and mortgage resources unlike anywhere else on the web.
Federal Reserve Chair Powell recently described the current period of low inflation as "transient". The latest reviews of both Producer and Consumer Prices seem to suggest that this is a correct assessment. The producer price index for April rose by 0.2%, a level below a 0.6% bump in March but closer to trend. Headline PPI has now rising by 2.3% over the last year and is again on a mild firming path; conversely, "core" PPI came in flat for the period, and with just a 1.8% rise over the last year, core PPI is still in a fading pattern.
Downstream of producers, the Consumer Price Index expanded by 0.3% in April, off a tenth percent from March, but a figure good enough to see a 2% year-over-year increase in the overall CPI. Prices of late are again being driven by rising energy costs, and while those don't yet show in "core" prices, at least some of this will eventually work its way into the supply chains if price increase persist. Core CPI managed only a 0.1% increase for the month, but the annual rate of core CPI is pretty steady, with a 2.1% annual rate for April part of a five-month string of readings between 2% and 2.2%.
Current Adjustable Rate Mortgage (ARM) Indexes
Index
For The Week Ending
Year Ago
May 03
Apr 05
May 04
6-Mo. TCM
2.46%
2.46%
2.03%
1-Yr. TCM
2.40%
2.41%
2.24%
3-Yr. TCM
2.28%
2.29%
2.63%
5-Yr. TCM
2.32%
2.31%
2.79%
10-Yr. TCM
2.53%
2.50%
2.96%
FHFA NMCR
4.36%
4.46%
4.28%
FHLB 11th District COF
0.958%
1.166%
0.816%
Freddie Mac 30-yr FRM
4.20%
4.08%
4.55%
Historical ARM Index Data
Given that the factors the goosed growth in the first quarter aren't likely to repeat in the second quarter, growth is likely to slow somewhat. Unless reconciled and settled, new trade headwinds with China threaten to diminish growth further and that's not the kind of climate that will support higher interest rates, especially with inflation soft but steady. We'll be looking further ahead as we draft our new Two-Month Forecast next week, but in the near term, it seems likely that rates will drift lower in the week ahead. We think that by the time Freddie Mac reports the average offered rate for 30-year FRMs could drop 4 or more basis points, good enough to tie or become a new 2019 low.
For an outlook for mortgage rates that carries to the middle of the spring homebuying season, check out our latest Two-Month Forecast.
You might also see our 2019 Outlook, where we provide observations and speculations for ten topics that are in and around the housing and mortgage markets.
For a really long-run outlook, you'll want to check out "Federal Reserve Policy and Mortgage Rate Cycles".
----------
Still underwater in your mortgage despite rising home prices? Want to know when that will come to an end? Check out our KnowEquity Underwater Mortgage Calculator to learn exactly when you will no longer have a mortgage balance greater than the value of your home.
---
Have you seen HSH in the news lately?
Want to comment on this Market Trends? -- send your feedback, argue with us, or just tell us what you think.

See what's happening at HSH.com -- get the latest news, advice and more! Follow us on Twitter.

---
For further Information, inquiries, or comment: Keith T. Gumbinger, Vice President

Copyright 2019, HSH® Associates, Financial Publishers. All rights reserved.
More help from HSH.com