Promoting Economic Longevity
June 7, 2019 -- It is said that U.S. economic expansions don't die of old age, but rather that they are murdered by Federal Reserve. This happens when the central bank raises interest rates to a point where it not only quells inflation, but also chokes off economic growth, and a recession ensues.
While it is true the Federal Reserve has raised interest rates off emergency low levels -- a process that took several years -- it is also true that present levels of interest rates haven't even approached what is thought to be their long-run level and may only be at the cusp of a neutral level, where they are neither restrictive nor stimulative.
Even so, financial markets recently began ringing the bell for the Fed to again start the process of cutting interest rates, with the stance of market-priced short-term rates and federal funds futures currently positioned for as many as three 25 basis point cuts in the federal funds rate by the time December's meeting comes to a close. On Tuesday, the Fed seemed to put at least one cut into play, as Fed Chair Jay Powell noted that should economic activity further decelerate, the Fed would "act as appropriate to sustain the expansion." This is by no means a promise of a cut, but markets very much liked the Chairman's intimation.
In just six months, the Fed has moved from a stance of considering tightening policy, to one of "patience" where no move one way or the other was likely, and now to a position where the next move (whenever it may come) will likely be a reduction in their key policy rate. Financial markets rallied strongly on the news that the Fed is coming around to their way of thinking, but it's arguably not the cost of money which is curtailing growth, but rather the after-effect of last year's fiscal boost and the effects of trade-war escalation, something a quarter or even half a point reduction in short-term rates is unlikely to fix.
With inventories of available homes tight and mortgage rates steady, low-to-moderate income homebuyers may need a little help. To lend a hand, HSH has revised and updated our popular "Homebuyer Assistance Programs By State" to help borrowers connect with the essential supports they need to become homeowners.
The next Fed meeting is in two weeks' time. While things can change, at present, we don't think a cut is coming, but language describing concern and close monitoring in the meeting-closing statement is likely. More market-moving news will come from the update Summary of Economic Projections from Fed members, where expectations for future economic growth, inflation and potential policy implications are revealed. If expectations for growth, inflation or the trajectory for interest rates in the near and more distant future have been marked down, it's not clear how the markets will react. It's useful to keep in mind that the market wants lower rates, but that lower rates usually come as the result of slowing economic activity -- an acknowledgement that things aren't well -- so markets may react positively to a Fed that's "back on the case", or negatively when they realize that weaker growth is either happening or expected to be before long.
For what it's worth, we already have very low mortgage rates in the marketplace, and this week's dip will move us even closer to 2012 lows, which we reckon now to be about 65 year lows or thereabouts (Freddie Mac's survey begins in 1971), but when we last researched true bottom levels it led us back to the late 1950s and data from the FHA program). While rates were at those rock-bottom levels, we had pull-out-all-the-stops programs like HARP and HAMP that accompanied those low rates and sparked unprecedented levels of refinancing and rate-lowering modifications. However, during the same time, home sales only improved so much, and have moderated, and that's where we find ourselves today.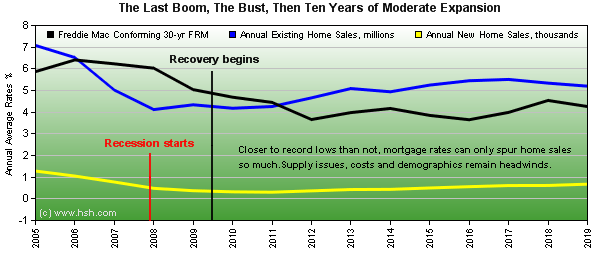 Lower mortgage rates might spur some new refinance activity, but how much is likely to be limited as we have visited these interest-rate levels a number of times in the past few years. Will there be some rate and term refinancing? Yes, and at least some will arguably come from folks whose HAMP-era loan mods have left them with mortgage rates above present levels. Will there be some equity-extracting cash-out refinancing? Yes, although LTV limits, costs and unfavorable tax treatment will limit just how much of this will occur. Will lower rates spur more home sales? Perhaps, but only by a matter of degrees, given that the issues for existing homes are more of supply and high prices, and for new homes, arguably location and higher costs. Lower rates help, but only so much, and at this stage of the expansion a surge in sales of homes is not likely to happen, but incremental gains might be seen if rates should remain low, provided that the economy does not get too shaky.
Want to get MarketTrends as soon as it's published on Friday? Get it via email -- subscribe here!
Evidence of these trends can be seen in the weekly applications index from the Mortgage Banker's Association of America. Mortgage rates have generally declined for the last month, but applications for purchase-money mortgages have been sliding during that time and posted another 2.4% decline in the week ending May 31. Conversely, applications for refinances for all purposes have vacillated back and forth, but sported a 6.4% increase to close the last week of May. With another drop in rates this week, we'd expect to see another kicker in refi activity when the next report comes.
With new home sales not exactly surging and other components of the economy trundling along, spending on new construction projects remains mostly uneven. In April, overall outlays for new projects were unchanged from March, with spending on residential construction sliding 0.6% (a fourth consecutive decline), commercial and industrial projects dropping by 2.9% and ending four-month string of increases but buttressed by a strong showing for public-works projects, which rose a stout 4.8% for the month. Sizable spending increases for this sector have been seen in three of the last four months as outlays for street and highway repairs have been on the upswing.
The major components of the economy seem to still be doing OK. Manufacturing is facing challenges and headwinds, what with slow overseas economies and the ever-shifting winds of trade these days, but the Institute for Supply Management's report covering factory activity in May held fairly steady, with their index posting a reading of 52.1 for the month, a modest-to-moderate level of activity overall, but down by 0.7 points from April's mark. Subcomponents of the top-line figure showed that orders improved a little, rising by 1 point to 52.7, while employment rose by 1.3 points to 53.7 for the month. The "prices paid" component (a barometer for inflation) edged higher but is essentially flat over the last six months. Given that the Census Bureau reported that overall factory orders declined by 0.8% in April, with orders for durable goods dropping 2.1% but those for non-durables gaining a modest 0.5% it's not a surprise that the ISM value was lower in May, but the modest improvement in orders reported by the ISM's respondents suggests that Census-tracked factory orders may indicate an uptick in May when that report comes around again.
The ISM's service-sector-tracking twin sported a bit of a rebound for May, with the headline figure rising by 1.4 points to move to 56.9 for the month, a moderate-to-strong level. As with manufacturing, orders edged high, rising by 0.5 points to 58.6, but employment popped to its highest level since last November, rising 4.4 points to hit 58.1 for the month, so it appears that hiring should continue on a upward path, perhaps even strengthening somewhat. As with manufacturing, the "prices paid" measure has been essentially flat for the last couple of months, but in this case has been cooling slightly overall.
The ISM series are "diffusion indices", using a value of 50 to indicate a par level. Readings above 50 indicate expansion; below 50, contraction.
If HSH's weekly MarketTrends newsletter is the only way you know HSH, you need to come back and check out HSH.com from time to time. You'll find new and changing content on a regular basis, unique calculators, useful insight, articles and mortgage resources unlike anywhere else on the web.
In an indication that the consumer is doing OK, sales of new vehicles surprised to the upside in May. According to AutoData, sales of new cars and light trucks climbed from an annual rate of 1.64 million in April to 17.4 million in the latest month. The 6.6% month-over-month rise was rather above forecasts of a more mild improvement, and given that we've already been in a fleet replacement cycle that has lasted a number of years a more muted pace of sales would be expected. We'll have to see if the difficult period for the stock market in May dents sales in the coming summer months as a similar situation did to begin the year.
The Fed's Regional Survey of Economic Conditions, commonly known as the Beige Book for the color of its cover noted that "Economic activity expanded at a modest pace overall from April through mid-May, a slight improvement over the previous period. Almost all [of the Fed's 12] Districts reported some growth, and a few saw moderate gains in activity." Employment growth was fair, with most districts reporting modest-to-moderate hiring patterns but a few noting only slight growth. That's not for a lack of available jobs, but workers, as "...stronger employment growth continued to be constrained by tight labor markets, with... shortages of both high- and low-skill workers." Meanwhile, inflation pressures seem to be mixed, with higher input costs for producers mostly not being passed along to consumers. Certainly, there was nothing in the report to indicate an economy that's going off the rails or one that needs more monetary-policy support.
Current Adjustable Rate Mortgage (ARM) Indexes
Index
For The Week Ending
Year Ago
May 31
May 03
Jun 01
6-Mo. TCM
2.38%
2.46%
2.08%
1-Yr. TCM
2.28%
2.40%
2.23%
3-Yr. TCM
2.00%
2.28%
2.53%
5-Yr. TCM
2.02%
2.32%
2.67%
10-Yr. TCM
2.22%
2.53%
2.83%
FHFA NMCR
4.15%
4.36%
4.49%
FHLB 11th District COF
1.095%
0.958%
0.814%
Freddie Mac 30-yr FRM
4.06%
4.14%
4.56%
Historical ARM Index Data
Certainly, there's more economic data we could discuss, but enough for now. The economy is still generally OK, even with a long-in-the-tooth expansion still in place. The question is, outside of perhaps cheering up equity investors, what will be accomplished by the Fed lowering rates if the economy isn't saying that high interest rates are the issue? Lower rates cannot fix loose-cannon trade policies or a bickering Congress, nor can they much change the fortunes of the economies in Germany, Japan, the EuroZone or the U.K. and they don't improve the likelihood of an orderly Brexit when a new Prime Minister is installed.
Yes, lower rates may improve business confidence in that the central bank won't stand idly by as the economy plunges. Who would believe that they would do this anyway? And yes, higher stock prices of course may instill somewhat stronger consumer sentiment that could theoretically goose spending at some point. How much on either point? It's hard to know. With this in mind, if high rates aren't the problem, lower rates probably aren't the solution, and it's not clear if they are the key to prolonging the current and soon to be lengthiest-ever economic expansion.
An observation for potential mortgage seekers in the days and weeks ahead: Rates are likely to be lowest when the data from here and abroad is the poorest AND the Fed isn't yet prodded into action. A Fed starting to cut short-term rates to address any perceived weakness will likely see market-engineered mortgage rates reverse and begin to firm as the prospects for strengthening growth and inflation are improved.
Next week, another decline for mortgage rates is on tap, probably on the order of a couple to a few basis points in the average conforming 30-year FRM as reported by Freddie Mac next Thursday.
For an outlook for mortgage rates that carries just past America's 243rd birthday, check out our latest Two-Month Forecast.
You might also see our 2019 Outlook, where we provide observations and speculations for ten topics that are in and around the housing and mortgage markets. We're now just a few weeks away from a mid-year review of our prognostications.
For a really long-run outlook, you'll want to check out "Federal Reserve Policy and Mortgage Rate Cycles".
----------
Still underwater in your mortgage despite rising home prices? Want to know when that will come to an end? Check out our KnowEquity Underwater Mortgage Calculator to learn exactly when you will no longer have a mortgage balance greater than the value of your home.
---
Have you seen HSH in the news lately?
Want to comment on this Market Trends? -- send your feedback, argue with us, or just tell us what you think.

See what's happening at HSH.com -- get the latest news, advice and more! Follow us on Twitter.

---
For further Information, inquiries, or comment: Keith T. Gumbinger, Vice President

Copyright 2019, HSH® Associates, Financial Publishers. All rights reserved.
More help from HSH.com