The HSH Two-Month Mortgage Rate Forecast
September 30, 2016
Preface
Central banks around the world continue to do what they can to stimulate local economies, using everything from aggressive government and even private bond-buying quantitative easing programs, to the creation of negative interest rates and even trying to manipulate yields curves to produce a given yield for a given instrument (Bank of Japan with a 0% target for their 10-year bonds).
On the other side of the coin is the Federal Reserve, who, despite continuously degrading long-term forecasts for growth and inflation, are trying to find a reason to continue to remove low-rate stimulus that has been in place for years. Economic growth and inflation continue to run at a sub-par pace, but are nearing the point deemed "fast enough" as to warrant a move in short-term rates.
We've noted on occasion that the Fed made a move last December in the context of quite financial markets and meager, if declining growth. By the time they move again, several more millions of people will have become employed, core price pressures have become more reliable and growth has largely plodded along.
Regardless of what the Fed does and when it does it, the collective weight of the world will continue to be a considerable drag on U.S. interest rates, helping to keep downward pressure on mortgage rates.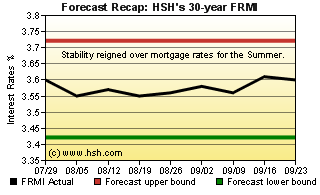 Recap
We did pretty well with our July 22 forecast. Back when summer was getting into full swing, we thought that HSH's FRMI would see a summer range of perhaps 3.42 percent to about 3.72 percent; stability ruled the period, and we managed a middle-of-the range 3.55% on the bottom and 3.61 percent for the top. At the time, we liked our May ranges for the 5/1 ARM so well we held them over for another nine-week period... and were rewarded again. Our expected 2.83 percent and 3.09 percent pair of bookends contained actual rates very well, as the overall 5/1 Hybrid ARM wandered in a tight 2.86 percent to 2.94 percent pairing, so we never tested highs nor lows. That was much the same for conforming 30-year FRMs, where our forecast of 3.40 percent to 3.70 percent for the period was met with a 3.50 percent to 3.57 percent set of values. In all, a good forecast, admittedly made easier with rates at a near standstill throughout the nine-week timeframe.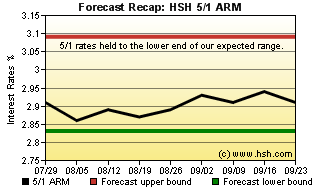 Forecast Discussion
So what might actually cause mortgage rates to rise, or at least rise enough to make much of a difference to homebuyers and homeowners? For one, we'll need to see economic improvement in a major economy other than our own. China's slow growth has been a drag; Japan's woes date back decades, the Eurozone continues to stagger along. Some modest, reliable growth and perhaps a bit of a move further away from deflationary forces there would go a long way to lifting rates here.
For another, we'll need to see the U.S. economy continue to be the little engine that could; Arguably, the U.S. is a lone engine pulling a very heavy load of global rail cars, and getting everything up to full speed alone isn't possible, or at least not quickly.
If many Central Banks have reached the practical limits of monetary stimulus, what might create the needed conditions above? The monetary policies in place are incentives for governments and companies (and to a lesser extent, consumers) to borrow money since its so cheap, but where are the incentives to actually spend it? With uncertain or uneven economies everywhere, there is little reason to deploy these available funds into new outlays, at least broadly. Rather, these opportunities are being used to refinance existing debts (corporate, homeowners) or accumulate new low-cost obligations (governments).
However, for lots of people, the low-rate environment either isn't beneficial or it may actually be painful. Refinancing a home can free up money for spending or a better debt position, but what if you don't own a home? Credit card rates are stuck for many in low-to-mid double digits and opportunities for relief are few. Meanwhile, wage growth still remains stuck in low gear. More spending by consumers requires them to have both confidence about the present and future as well as funds to spend; without confidence, available funds turn into debt paydowns or savings. While these are beneficial, they don't provide much by way of economic oomph.
Most governments are deeply in debt and running deficits, making it hard to find the will (and funds) for major infrastructure upgrades, no matter how desirable or necessary or relatively cheap to finance they may be, so government-led fiscal stimulus isn't likely forthcoming, and frankly, a splurge in spending might simply foster a more 'boom and bust' kind of cycle when outlays run their course. Growing the economy by exports is fine, but has its limits and drawbacks, too.
So what would create the conditions for meaningfully higher mortgage rates? Fiscal policy reform, tax reform, trade reform and more are where the conversations needs to take place. With an election cycle running its course, we'll continue hear rhetoric about these and other important items, but even if we do get to a place of serious discussion and action, beneficial change will take time.
Between now and then, and perhaps beyond, it seems more likely that not that interest rates will continue to run on a treadmill. It's true that the Fed wants to lift rates, and will probably do so in December, but there are still economic conditions to be met for that to happen, and little certainty that they will arrive as hoped.
Forecast
There's not a lot of reason to think that mortgage rates are going anywhere fast or far in the next nine-week period. The economy is only chugging along, if perhaps at a little better pace in the third quarter than the second, estimates of which we won't see until nearly halfway though the forecast period.
With the next Fed meeting occurring on November 1st and 2nd, just 6 days before the presidential election, there's almost no chance of a move by the Fed at that time. However, in a pattern that should become familiar to mortgage watchers, we will probably see a minor firming of rates as we approach the meeting, as the statement made at the close of the get-together can sway the markets. Notably, it will be the Fed's last chance to prepare the market for any December change in policy.
Over the next nine weeks, we think that we'll continue to see very stable mortgage rates. With this forecast (and going forward) however, we will be changing our reference benchmark from HSH's native survey data to that produced by Freddie Mac. These of course are conforming loans only.
Over the next nine weeks, we think the conforming 30-year FRM as tracked by Freddie Mac's PMMS will trend in a range of perhaps 3.38 percent to about 3.65 percent. Meanwhile, the PMMS average for 5/1 hybrid ARMs should remain contained in a 2.70 percent and 2.94 percent paid of fences.
This forecast expires on the Friday after Thanksgiving, the retailer's Black Friday. If you're not out shopping, why not stop by and see if this forecast was a turkey or not?