The HSH Two-Month Mortgage Rate Forecast
March 18, 2016
Preface
There's nothing like an extended global financial market meltdown to ruin a perfectly good forecast. Five or six weeks of rollicking markets sent investors scrambling for cover and shelter, driving interest rates lower and convincing markets that the Fed would be on hold for at least a while into 2016. In fact, some outlooks did a near 180 degree turn and suggested for a time that there would be no Fed moves in 2016. We don't subscribe to that particular theory.
As we write this, markets began to settle just a few weeks ago, leaving interest rates at first directionless, but as the dust has settled investors have been out looking for bargains and moving at least some funds back out of the safe haven of Treasuries. In this greater quiet, rates have moved higher, as have the probabilities of a Fed move a little later this year. This increasing chance has been fostered by fairly solid economic data, a collective which increasingly suggests that the U.S. is weathering the effects of the financial storms fairly well.
As was the case last year, mortgage rates were lower than expected in the opening quarter of the year. Last year, this was due a soft economic patch that helped nudge a Fed move until later in the year... when a fresh financial market storm broke out, postponing the first Fed move in almost 10 years to what ultimately ended up to be December. This year, unless we get into another market mess before long, repeated "kicking the can down the road" for the Fed is less likely to be the case this time around, as a measured (if sporadic) pace of tightening seems to be in the offing.
Recap
To describe our last forecast in a word: Lousy. For that, we can only offer apologies and note that forecasting isn't for the fainthearted, but rather for the foolhardy.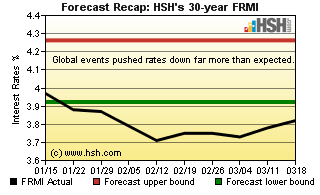 When we posted the last forward-looking missive, we noted that the climate was "complicated" and expected "plenty of volatile times ahead." That was about the most prescient thing we had to offer, as we expected HSH's Fixed-Rate Mortgage Indicator (FRMI) to wander in a range of 3.92 percent to perhaps 4.26 percent -- but rates almost immediately dropped below our forecast bottoms and have remained there since. That was much the same with the overall 5/1 ARM - we expected to see 3.14 percent to 3.45 percent range take hold, what with another Fed move expected at some point in the not-too-distant future, but the market turmoil suggested that move might be months away at the earliest. As such, 5/1 rates fell for about half the forecast period, but have trended up again of late as the Fed becomes more "in play" at some point.
The last forecast wasn't good, but we're hoping for better this go round.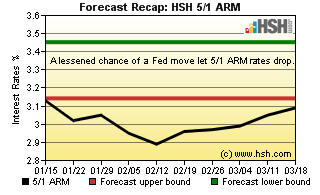 Forecast Discussion
We delayed this forecast by a week for one reason: To get past the March Fed meeting and get a look at the FOMC's new forward projections for policy.
Where the Fed thinks the economy will go this year and how they intend to respond is a key factor -- not because the short-term interest rates the Fed controls directly impact long-term mortgage rates, but because of the conditions (firm growth, firming inflation) that would see them consider lifting rates. Investors and mortgage rates respond to these factors, and usually in advance of any specific Fed move.
The market storms of the winter seem to have quelled. Central banks around the world are pushing more stimulus, from negative interest rates designed to force cash out of bank holdings and to end users, and QE-style bond buying programs. To the extent that these help prop up local economies in the Eurozone and Japan will dictate to a degree how our own Fed responds, and how quickly.
Meanwhile, our own economy seems to still be chugging along. A slow end to 2015 appears to have given way to a little stronger growth in the first quarter of 2016, with GDP probably closer to 2 percent than the 1 percent seen in the last quarter of last year. With growth at a moderate pace and with some whispers of inflation returning, markets are again adjusting to the prospect of higher rates in the near future. From our perspective, the Fed is most likely to make a move in June and again later in the year (whether before or after the election remains to be seen). At the moment, there is a remote chance of a move in April so we'll discount that, and although past the end of the forecast period, the June move will have some influence as markets prepare for that likelihood.
Could mortgage rates decline from present levels? We have learned to never say never, but even with two considerable market maelstroms (last August-September and again this January-February) we did not test approximately 60-year lows set back in 2012 when conditions were in a much greater state of flux. As such, and with an economy that seems to be managing OK, it would seem that there is far less of a chance of a significant decline in our future than one of a modest upward move. This becomes the basis for the forecast.
As we start the new nine-week forecast period, it bears noting that upward price pressures will tend to lift long-term interest rates. As well, the U.S. dollar has recently eased off a little from 2016 highs, causing some firming in oil and gasoline prices. Just as the stronger dollar and declines in energy costs helped overall inflation to fall, the lessening of these influences may allow overall prices to again creep higher. At present, the Fed's preferred measure of inflation (the core Personal Consumption Expenditures index) has reached a 1.7 percent annual rate and is closing in on the Fed's 2 percent preference. Inflation may not get there quickly (or if it does, may not hold there) but we don't need to be at or above the speed limit for the Fed to at least consider gently tappling the brakes from time to time.
Forecast
A resumption of a moderately growing economy and a touch more inflation seem to be in the cards for the forecast period. There may still be some damage from the early 2016 market troubles to be realized, which would tend to temper any upward pressure, but the combination of the two suggest somewhat firmer interest rates are likely as we wend our way, ultimately taking back a portion of the unexpected winter dip. Over the next nine weeks, we think HSH's FRMI will run in a range of 3.68 percent to 3.97 percent. For the overall 5/1 Hybrid ARM, a 2.97 percent to 3.22 percent pair of fences should be in place, while the conforming 30-year FRM should see a 3.69 percent to 3.98 percent pair of bookends. Or so we hope. Foolhardy, indeed.
This forecast will expire on or about May 20. Spring will be giving way to summer at that point, hopefully with long, warm days and solid housing markets. While planning your summer vacation, why not drop back in and see if this outlook hit the mark?