The HSH Two-Month Mortgage Rate Forecast
August 15, 2014
Preface
The "summer of stability" for mortgage rates was an unexpected pleasure for mortgage seekers. A near steady decline from the beginning of 2014 through mid-May brought mortgage rates down by almost a half-percentage point, and they remained there ever since.
Of course, the place they landed is rather lukewarm, tepid in its ability to stimulate much demand. Rates aren't low enough to stoke refinancing business nor low enough as to cause a rush to buy homes. Without outsized demand for homes, and with inventory levels higher, gains in home prices have cooled, which is arguably healthier for the housing market in the long run.
This period of stability has been promoted by a range of opposing forces -- the economy and Fed pulling upward to a degree, the worries of a troubled world downward to at least a like amount. That said, all good things must eventually come to an end, and these periods of tranquility have been known to end more-or-less abruptly. We saw this in fairly recent episodes, in a four-month period ending January 2013 (a flat period for rates gave way to about a quarter-percentage point lift in the ensuing weeks) and moreso when the Fed made rumblings about the end of QE in May 2013 (rates rose by a full percentage point in fairly short order).
There's no knowing in advance what event or events will precipitate a change, sudden or otherwise.
Recap
In June, when we last looked into the crystal ball, we expected that HSH's 30-year Fixed Rate Mortgage Indicator (FRMI) would run a range with a 4.1 percent bottom and a 4.5 percent top.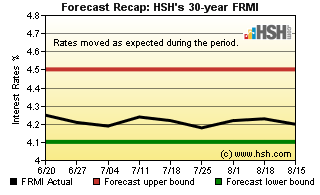 For at least this go-round, things worked out in our favor, as HSH's FRMI held fast to a very narrow range of 4.18% to 4.25% during the period. At the same time, we believed that that the FRMI's 5/1 Hybrid companion would keep in a 2.95% to 3.20% channel, and we were presented with a 3.06% to 3.14% one. Lastly, we envisioned a 4.125% to 4.5% pair of boundaries for the conforming 30-year FRM, and that left plenty of breathing room for the 4.17% to 4.24% space they actually vacillated in. Overall, we'll claim success for the last forecast, but can't say we expected near stasis to occur.
Forecast Discussion
Although there's little reliable seasonality for interest rates, the shift from summer to fall usually sees market activity quicken after a summer lull. For at least the last 13 years, this particular forecast period has seen rates generally in soft decline (2005 being a notable exception), with mortgage rates ending all these forecast periods at a lower rate than at which they began (if only slightly at times). This is true of years of expansion, recession, active and tranquil Federal Reserve banks and all manner of interest rate environments.
There are reasons to think that this generally favorable pattern is due to be interrupted, arguably later in the forecast period than earlier. The events which have served to keep investors on edge and mortgage rates down -- political concerns about Russia/Ukraine/Israel/Gaza/Syria/Iraq, or signs of weakness in economies in the Eurozone/Japan/China -- may collectively or individually show signs of improvement, or investors may simply become accustomed to the situations as they stand. In such instances, rates would tend to firm up.
We also know that the Fed is committed to halting the accumulation of Treasury Securities and MBS. While QE will come to an end after the end of this forecast period, the Fed will continue to recycle money for some time thereafter, reinvesting proceeds from maturing securities and retired mortgages into more of the same, keeping the Fed's balance sheet level; this process will also continue to help keep interest rates low and stable, if with lessened influence than QE had.
The Fed's holdings are a matter of public record, and so it can be discerned how many Treasury holdings will mature and how much money will likely be reinvested there, but MBS prepayments from refinancing and the termination of loans when a home is sold is unknowable. Presently, the slowness in refinancing and home purchases might leave the Fed only a bit player in MBS, removing an otherwise steady purchaser of MBS from the market. All things being equal, the removal of a regular buyer from the market would tend to firm rates somewhat, and still higher rates would tend to further marginalize the Fed's influence, absent a change in their policy.
Meanwhile, the economy revived from its winter lull to what appears to be a much more reliable pace of growth, sporting a 4 percent rate in the second quarter, with some signs that we're holding near that level, at least though the early portion of the third quarter. The economy maintaining a firm level also argues for somewhat firmer mortgage rates.
It's unrealistic to think the world will suddenly heal overnight, or that investors will suddenly have a sea change in their positions relative to the risks and rewards they see in the world. The Fed may be fading but will still have an influence on rates even as the forecast period concludes, while the economy seems likely to perform in decent fashion during the coming months, too.
Forecast
We've been running in a push-me, pull-you sort of environment for the last few months, and while that isn't expected to completely change during the next nine-week period, and history be damned, we're of the mind that the upside will have somewhat more pull than the downside overall. That said, the last set of forecast ranges not only worked but also provided ample space for movement, but we've tended to skew to the low end of the ranges for the last two forecast periods. This being the case, we'll but will loosen them up a little on the low side and tighten them up a smidge on the high side for the coming period.
For the next nine-week period we think that HSH's Fixed-Rate Mortgage Indicator (FRMI) probably gets no lower than 4.05%, and tops out at not more than 4.45%. Given the overall 5/1 ARM's continuing lack of movement, it seems likely to us that a 2.95% to 3.20% range is what we will find when it's all over, and for conforming 30-year FRMs, we think that you can expect a 4% to 4.40% pair of fences.
This forecast expires on October 17. All things autumn will be kicking in at that point, football and apple cider and whatnot. Why not take a halftime break and see if this forecast hit the end zone or not?
June 20, 2014
Preface
On the cusp of summer, we close out an odd spring for rates. Winter's negative growth rate gave way to a pick up in growth and possibly even some signs of inflation, but long-term interest rates and mortgage rates both ignored this and declined, regardless. This is a bit of a surprise, but an unexpected benefit to potential homebuyers and even allowing a bit of refinancing activity at times.
Interest rates remain resistant to increases despite record high stock markets here and a Federal Reserve which is not only removing QE supports apace but also has clearly signaled that, barring economic catastrophe, the process of lifting interest rates will begin in a year's time, possibly less.
How long can mortgage and other interest rates resist these "natural" forces of economy, inflation and Fed? It's hard to say, but they appear mostly immune to these influences at the moment. Global economic and political troubles give investors good reasons for stashing cash in U.S. bonds, picking up the slack as the Fed leaves the stage, and acting as a containing influence for interest rates. That said, investors have proven fickle before, and a change in moods would presage a pop for rates. It has happened before and will likely happen again.
Recap
Back in April, when the economic news from the late winter was still quite poor, we looked into the future and expected that HSH's 30-year Fixed Rate Mortgage Indicator (FRMI) would run a range with a 4.3 percent bottom and a 4.8 percent top.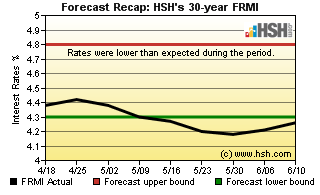 For the second consecutive forecast period, we were on the high side, with the FRMI bottoming a 4.18% and topping at 4.38% during the nine-week period. The FRMI's 5/1 Hybrid companion was forecast to wander between a 3 percent and 3.375 percent set of brackets, and we held a 3.01 percent to 3.13 percent pair, a fair call on our part. At the same time, we also forecast the conforming 30-year FRM to track within a 4.25 percent to 4.75 percent pair of fences, but low rates prevailed here, too, with a 4.17 percent to 4.38 percent set of boundaries. Rates never followed the economy upward as we expected during the spring, but were instead held down by a litany of global troubles.
Forecast Discussion
With the decline of the spring behind us, the question at the moment might be "When will interest rates rise, or rise meaningfully?" This question has turned out to be trickier than expected to answer. The Federal Reserve just updated their economic projections for 2014 and beyond, and their expectation for GDP growth was marked down considerably from just three months ago, from about 2.8 to 3.0 percent for all of 2014 to just 2.1 to 2.3 percent. Slower growth for a longer period would tend to help keep interest rates subdued; however, despite this outlook, the Fed expects somewhat firmer inflation and lower unemployment overall, both which might argue for firmer interest rates before long.
If growth is slow to return to speed and particularly if inflation remains tame, the Fed will be slow to lift interest rates when the time comes, so it would likely take longer to get the Federal Funds rate back to "normal" levels of 5 to 6 percent. Even getting to three or four percent from today's levels would represent a massive increase in credit costs throughout the economy which it may not comfortably bear. Part of the slide in rates during the last few months and a seeming lack of investor concern about present and future Fed action may reflect this; expectations of low rates for a longer period may give investors a modicum of comfort in purchasing bonds with today's low yields. Long term, it may come to pass the the Fed will not be able to move short-term interest rates back to what is considered "normal" in this business cycle.
In the meanwhile, we have an economy which seems to be growing more reliably, labor markets are starting to perform at levels not seen since before the onset of the recession, and the kind of inflation the Fed fears remains slack for now. Prices are rising, but price increases for food and energy/gasoline act as a kind of tax on the economy, trimming growth. Still, even the mild increase in inflation over the last few months should be engendering a lift in rates, but hasn't; ultimately, it will.
In this regard, one thing bears noting is that the market is known for reacting more quickly than the Fed. Even in a slow-growth environment, inflation can erode the value of fixed-income investment pretty quickly, and rates may be moved higher by the force of the market long before the Fed decides to make any change to policy. Of course, there is a bit of an opposite possibility, too. Stocks cannot rise forever, and are known for periodic "corrections", if not outright crashes. With the stock market at frothy highs, any selloff or correction would tend to see money shifted into bonds and MBS, and that would tend to drive interest rates down, at least for a time.
Forecast
We remain in an unusual and uncertain time for interest rates. The forces of the domestic economy are trying to push them higher; global economic and political troubles are trying to press them lower. It seems unlikely that one force will clearly win out against the other during the forecast period, but the struggle may intensify somewhat. These "push-me, pull-you" kind of market forces suggest a continuation of rangebound activity, and while we think there's a little more upward bias for rates, we will be adjusting our forecast ranges down somewhat to reflect the new (if temporary) reality.
For the next nine-week period we think that HSH's Fixed-Rate Mortgage Indicator (FRMI) probably gets no lower than 4.10%, and tops out at not more than 4.50%. Given the overall 5/1 ARM's continuing lack of movement, it seems likely to us that a 2.95% to 3.20% range is what we will find when it's all over, and for conforming 30-year FRMs, we think that you can expect a 4.125% to 4.5% pair of fences.
This forecast expires in mid-late August. Summer, now just starting, will be quickly drawing to a close at that point. If your vacation plans or hectic back-to-school schedule permits, why not drop back and see how this all turns out?
---
15 Yr. Fixed - Refinance Rates from Our Lenders in Virginia
April 18, 2014
Preface
The economy may be slowly beginning to add some momentum after what turned out to be a pretty rough end of 2013 and start of 2014. The Federal Reserve remains committed to trimming QE support by $10 billion every six weeks or so even as it makes verbal commitments to keep short-term interest rates low for the foreseeable future. Because we have neither outsized growth nor any inflation threat interest rates have mostly moved sideways over the last six months or so, tethered to a range, and finding little reason to strongly rise or decline over that time.
Presumably, that future will see small, incremental increases in the Federal Funds rate, which may start to come in less than a year's time. Of course, the Fed is investigating the use of more esoteric tools to manipulate interest rates when the time comes, but for now, we have level and stable policies in place.
With the Fed inclined to make changes at some point next year, the open question for this spring might be: "If we do see somewhat stronger growth/employment/inflation in the period just ahead, would this accelerate that time frame?" Odds presently favor that it won't but it's worth recalling that last spring, Mr. Bernanke's comments that the Fed was even considering ending QE at some point caused massive disruption in the markets and a 1.2 percent spike in mortgage rates. This is a testament to what can happen when the market gets spooked, and a strengthening economic environment last fall (4+ percent GDP, since settled to perhaps 2.2 percent) pushed rates to multi-year highs -- and the Fed hadn't even begun trimming QE at that point.
Recap
Back in February, we looked though the frosty bleakness of a difficult winter and postulated that HSH's 30-year Fixed Rate Mortgage Indicator (FRMI) would run a range with a 4.3 percent bottom and a 4.8 percent top. Reality being what it is, we held pretty close to the bottom of that range for the period, never venturing above 4.49 percent and never below 4.38 percent, so it turned out well enough. The FRMI's 5/1 Hybrid companion was forecast to wander freely between a 3 percent and 3.375 percent set of brackets, and we did get a 3.03 percent to 3.18 percent pair, so that was also a pretty good call on our part. We also forecast the conforming 30-year FRM to track within a 4.25 percent to 4.75 percent pair of fences, and actually found that a 4.36 percent to 4.48 percent occurred. Overall, we never got as much upside for rates as we expected to see, as weak economic data continued to suppress rates during the forecast period.
Forecast Discussion
Although it has been hard for the economy to gain reliable traction so far in 2014, there are some signals that this is changing. Claims for new unemployment benefits are falling to pre-recession levels on a more regular basis, retail sales have perked up, manufacturing is firmer than it has been and there are other signs of life. We expect these kinds of improving results to accumulate over the next couple of months, but there doesn't seem to be any immediate suggestion that a breakout period of above-trend growth is coming quickly.
For the last few months, there have been at least as may tethers to anchor the economy as balloons to lift it. Weather issues, slowing growth in China, Ukraine tensions and other factors have been at times strong offsets to the interest-rate lift that good economic news would normally bring, and none of these show signs of abating anytime soon. However, with the advent of warmer weather, we suspect that there will be a little more helium in the balloons and those still-slack tether ropes will begin to slowly tighten.
The economic news this spring is already generally expected to be better than the winter's was, but is the market prepared for "better than better?" If it should appear in the form of an outsized job report or two, will the market become spooked again, spark a flare for interest rates? After all, Mr. Bernanke's message last year might be boiled down to "The economy is getting better, and we don't think we'll need the QE program much longer," and this was enough as to create havoc in the market... even though there was no change in QE whatsoever for longer than six months after the statement. If the market starts to see "better than better" growth over the forecast period, concerns will arise regarding a faster end to QE and a sooner beginning for interest rate increases. In such an environment, we'll move closer to the tops of our forecast range for rates than not, and probably quickly.
Forecast
We begin this forecast period much as we began the last: near or at the bottom of recent ranges for rates. Relative to the discussion above, that's actually a good thing, since even if we do get a bout of "better than better" growth we have some space for rates to increase before we start to see the "mortgage rates move to multi-year high" headlines. Until then, we should have a third consecutive forecast period of range-bound rates. Such stability has value for the housing market's spring prospects, if not as much as the 60-year lows of last spring did.
We like the interest rate ranges we used last time so much we feel comfortable in reiterating them this time. For the next nine-week period we think that HSH's Fixed-Rate Mortgage Indicator (FRMI) probably gets no lower than 4.30%, and tops out at not more than 4.80%. Given the overall 5/1 ARM's lack of movement last time, it seems likely to us that a 3% to 3.375% range is again all we'll see. For conforming 30-year FRMs, we think that you can expect a 4.25% to 4.75% pair of fences.
This forecast expires well after Memorial day; in fact, it expires just a day before summer officially begins. Before you get in vacation mode, why not drop back in and see if we've hit the mark before you head out to the beach?
---
February 14, 2014
Preface
New mortgage rules are in place, there's a new head of the Federal Reserve, the Fed has begun a long-awaited tapering of the Quantitative Easing program, while the economy has been pretty fair, even sporting a GDP reading of more than four percent in the third quarter.
Despite expectations for continued strength and some optimism expressed by the Fed, the economy appears to have wobbled appreciably of late, not only here, but globally as well. Short-term stumble or not, the economy's recent performance does suggest that we are still in a slog of a recovery, with only modest, reliable forward progress at best.
That said, weak patches such as these can serve as a counterbalance to any interest rate increases which might accrue from the repeated trimming of the Fed's QE program. At this writing, the Fed's purchases of Treasuries and MBS have been curtailed to $65 billion from $85 billion, and further reductions are to be expected. However, these reductions might prove to be a countervailing force of their own, since to the extent that they are propping up economic growth, that growth would be diminished by their reduction. Of course, a slower economy most often brings lower interest rates, offsetting to a degree any increase the reduction in support might have caused... and around we go.
Recap
Back in December, we looked though the holiday madness and called for HSH's 30-year Fixed Rate Mortgage Indicator (FRMI) to hold a range of 4.375 percent to 4.875 percent. That turned out pretty well for us, as we received a range of 4.38 percent to 4.64 percent for the period. For the FRMI's 5/1 Hybrid companion, we foresaw bookends of 3 percent to 3.375 percent, and were presented with a 3.09 percent to 3.27 percent pair. For the conforming, 30-year FRM, we expected a 4.25 percent to 4.75 percent set of fences, and we wandered comfortably within those, hitting a low of 4.35 percent and a high of 4.63 percent during the period. Overall, we'll call it a solid success, if skewed to the low side a tad.
Forecast Discussion
We are in a period of adjustment at the moment, as we near the day when for the first time in over five years the Federal Reserve will not be looking to directly manipulate the mortgage market.
The Fed has made it clear that unless catastrophe strikes it is committed to getting out of the extraordinary support business as quickly as possible. Frankly, with the downturn in mortgage originations (and securitizations) caused by the Fed-engineered rise in mortgage rates last year, the Fed had been accumulating a larger and larger percentage share of the MBS market, a consequence of having a fixed-sized purchase program amid a market known for strong and weak cycles.
While Treasury-purchasing programs were intended to push down long-term interest rates to some degree, the MBS programs were initiated, run and enhanced to ensure that there would be sufficient demand to absorb a surge in MBS supply, ensuring that the market would remain liquid. Without these programs, there would likely have been a volume of MBS inventory which would not have found sufficient investor demand when placed for sale. High supply and low demand for bonds means yields must rise to try to attract investors; this in turn would have tended to foster an unwanted increase in mortgage rates, cooling the housing market at a time when it needed all the help it could get.
The housing market has arguably recovered to a real degree, or at the very least turned a corner and is heading in the right direction. Sales and prices are above recession bottoms, credit availability is still tight but gradually improving for at least some borrowers, Fannie and Freddie have returned to profitability and the negative equity situation is improving and will eventually disappear in most places. Interest rates certainly played a role in generating demand and firming home prices and will continue to, if perhaps not at the pace of last year.
At the moment, odds favor that there will be some pickup in economic growth as this soft patch subsides and the increase in economic strength will again serve to firm up interest rates. However, growth seems unlikely to move upward strongly, inflation remains subdued and, for the forecast period at least, the Fed will still be manipulating mortgage markets, if at a gradually lesser pace.
Forecast
At the time of the last forecast, we were nearing the top of our expected ranges and ended closer to their bottoms than not. It seems likely at the moment that the reverse will be true for the period ahead, that we'll start out closer to bottoms and finish closer to tops. For the next nine-week period we think that that HSH's Fixed-Rate Mortgage Indicator (FRMI) probably gets no lower than 4.30%, and tops out at not more than 4.80%. Given the overall 5/1 ARM's lack of movement last time, it seems likely to us that a 3% to 3.375% range is again all we'll see. For conforming, 30-year FRMs, we think that you can expect a 4.25% to 4.75% pair of fences.
A Fed meeting and another trim to QE happens in the middle of the forecast period. At the end of the nine-week period, we'll be closing in on another Fed meeting, and at that time, the QE program will be chopped fully in half with the spring housing season getting under way.
It will be nearly Easter when this forecast expires. As you enjoy warming days, greening lawns and new bonnets, why not drop back and see how well we did (or not) with this forecast?
---
December 13, 2013
Preface
As we look forward over the next couple of months, there is at least some reason to believe that the Federal Reserve will be confident enough in the economy's performance to begin to taper its purchases of mortgage-backed securities or Treasury bonds or both.
There is even a chance that this process might even begin just a few days after this forecast is published.
Although there has been no sudden or stunning turnaround in the fortunes of the economy, there is accumulating evidence that it powered through the October government impasse and managed to accelerate somewhat in November. Importantly, the economy has created new jobs at or above a 200,000 level in three of the last four months, and has been joined by solid or improving readings in manufacturing, real estate, service businesses, consumer attitudes and other facets of the economy.
Although they were expected to, the Fed made no moves in September and gave October a miss as well. There is a non-trivial possibility that the December meeting could see a small change to the QE program, but if not, the first meeting of 2014 at the end of January seems a likely candidate.
Recap
When we last stepped back from the trees to look at the forest, we expected that HSH.com's overall fixed-rate mortgage indicator (FRMI) would find fences of 4.25 percent to 4.70 percent during the nine-week forecast period, with some expectation that rates would firm as we approached the December meeting. The market presented us with a bottom of 4.27 percent and a peak of 4.49 percent (and rising) at the tail end, so we'll call that a solid showing. The FRMI's Hybrid 5/1 companion was forecast to run between 3.10 and 3.50 percent bookends, but rates for this product barely wobbled, wandering only between 3.02 percent and 3.18 percent, so we missed the mark a little on that one. For the conforming 30-year FRM, we foresaw 4.15 percent to 4.60 percent borders, and found 4.21 percent to 4.48 percent ones, so that was fairly prescient. Overall, we think we did well.
Forecast discussion
The accumulation of fair to solid economic data over the last couple of months puts the Fed squarely back into the middle of this forecast. Shortly, we will be seeing a change in the Fed Chair as Ben Bernanke steps down and Janet Yellen takes over. This should be a seamless progression, as Ms. Yellen was a key supporter of the Fed's unusual monetary tactics. However, with her ascension it becomes her responsibility to de-engineer the QE support in such a manner as to minimize the disruption in financial markets. Failing to do so might derail the economy, so this may prove to be no mean feat.
A case could be made that much, if not most, of the disruption occurred already, when the Fed detailed plans for ending asset purchases in mid-2013. Long-term interest rates leapt on the news, and even after the Fed made no change, interest rates retreated only partially, only to firm once again as the inevitability of a taper has grown. As such, it may be that the market is already largely prepared for this eventuality, so when the Fed does finally move, interest and mortgage rates might not inexorably rise; in fact, to the extent that it has been responsible for some portion of the recent economic growth, the removal of stimulus might produce for a time somewhat slower growth, keeping interest rates from rising (and possibly even giving them some space to slip a little).
The reality remains that if the economy is growing at a fair pace that there is no longer a need for extraordinary monetary policy. A claim could be made that QE has become ineffective, as despite the continuance of the program interest rates are no longer anywhere near rock-bottom record lows as they have been on multiple occasions. At the same time, conventional monetary policy -- presently in the form of ultra-low short term interest rates -- will remain for some time yet, and may also be joined by other Fed mechanisms designed to increase lending and liquidity and thereby spur economic growth.
When the Fed does begin to slow or even end asset purchases, there will likely be a bit of a rocky period, as investors assess the prospects and timing of changes to short-term interest rates, how quickly these QE supports will diminish and more. How rough this period is depends on how well (and how believably) the Fed has presented the message of its commitment to low-rate policies throughout 2014 and 2015 and perhaps beyond.
If the economy is performing reliably, a natural occurrence is that interest rates will be firmer than not. That said, there are few signs that the economy is prepared to strongly accelerate, what with still-high levels of unemployment, muted income growth and a host of headwinds from here and abroad, so forward progress can be expected to continue to be a grind rather than a sprint, if perhaps at a faster rate. Long-term interest rates should also find tethers of low inflation and ultra-low short-term rates to keep them grounded.
Forecast
Forecasting interest rates on the cusp of a Fed policy meeting is tricky even in the best of circumstances, more so when there are two such events in a forecast period and a change in leadership. We also face the implementation of new Ability-to-Repay, Qualified Mortgage and Qualified Residential Mortgage rules and more; despite these challenges, we're undaunted. Our best guesstimate for the next nine-week period it that HSH's Fixed-Rate Mortgage Indicator (FRMI) probably gets no lower than 4.375%, and tops out at not more than 4.875%. Given the overall 5/1 ARM's lack of movement last time, it seems likely to us that a 3% to 3.375% range is all we'll see. For conforming, 30-year FRMs, we think that you can expect a 4.25% to 4.75% pair of fences.
The NFL season will have come to a close when the next forecast comes due; in fact, it'll be Valentine's Day. Why not stop back and see if this forecast has left us loved or broken-hearted?
---
October 11, 2013
Preface
The Fed's inaction with regards to tapering its large-scale asset purchases of mortgage-backed securities and Treasuries was a mild surprise. A review of the minutes of the September FOMC meeting suggests that the decision to stay on the QE course was a close call, but also that any change in the size of the still $85 billion program would have been small. In waiting to make a change, the Fed expressed a preference for more information that the economic progress it is seeing is reliable and durable in the face of any number of ongoing challenges.
Leading up to the meeting, the economic data which describes the economy had been mixed at best, with perhaps a slightly warmish glow. As we write this, the fiscal impasse in Washington is preventing the flow of important new data, and markets and mortgage shoppers are left peering through a murky haze as they try to determine how best to proceed. It would seem that at the point where we need the most clarity we have the least, and without clear signals we will continue to muddle along.
With the Fed "kicking the can down the road" to some unknown later date, at least some of the "taper premium" which had become built into the interest rate structure has dissipated, at least for the moment, allowing mortgage rates to retreat from multi-year highs.
Recap
Back in August, we looked forward and saw a period of volatility ahead, and we largely received this, as fixed-rate mortgages rose by nearly 20 basis points before declining by more than a third of a percentage point. Our expectation for HSH's FRMI was a range of 4.38% to 4.88%, and we did run between 4.43% and 4.76% for the period. Five-one Hybrid ARMs were forecast to wander between 3.22% and 3.62% pairings, and managed a 3.20% to 3.47% set. For conforming, 30-year FRMs, we thought we'd see fences at 4.38% to 4.88%, and we mostly remained caged by those, with a 4.35% low and 4.69% high during the period. Overall, we were pretty good, and would have been spot on had the Fed made the minor change to QE we actually expected to come in September.
Forecast Discussion
We characterize the Fed's "no-taper" surprise as mild, simply because Mr. Bernanke took as many pains possible way back in June to describe the conditions in which the Fed would feel comfortable in making a change to policy. A considerable portion of the available data between June and September was ambiguous and it was unclear whether the Fed was interpreting the collection of information as warmer or cooler in tone. What was clear is that the economy was falling short of the Fed's forecasts, most notably for improvement in GDP growth and the labor market. By not meeting the expectations clearly expressed by Mr. Bernanke back in June, the Fed had every reason to hold fast.
For our part, we expected a change of perhaps $5 billion in the program, if for no other reason than the Fed had (perhaps accidentally) prepared the market for the change in June. Not following through with an expected change does carry some risks in terms of the credibility and believability of future Fed messaging as it pertains to QE and especially future policy moves. Suffice it to say that the Fed continues to struggle with its messaging and its policy of open communication about its intentions. This alone will add some volatility to the mortgage market going forward.
Although hopefully a temporary phenomenon, the lack of important economic data isn't helping matters, either. It may, however, prevent the Fed from making any change later this month and, if prolonged, might push any December change to QE off the table, too.
The Fed's lack of action does inject some market volatility into the forecast period. When the announcement came of no change, we expected that we'd see a decline in rates (see any recent MarketTrends or HSH press comments to that effect), followed by a leveling off (where we are as we write this). We also expected a firming of rates as we approach the next Fed meeting, when any change to QE might occur. At the moment, and although there is still a possibility of one, a change to QE in October seems unlikely, and this should extend the period of flat interest rates we are enjoying for a time.
It should be noted, though, that there is also a possibility than when any taper does begin it may feature a more sizable reduction in purchases than would have been the case if had begun in September. This presumes the Fed has some future date in mind when it would like to see the taper be completed in addition to the "thresholds" it has stated.
Economically, we don't see any signs that there has been any marked acceleration in growth, or jobs, or inflation. We continue to grind rather than leap forward, with different facets of the economy adding or subtracting from growth at different times, even swapping leadership positions as we go along. There is still some accumulated economic drag yet to be seen or felt from the summer mortgage-rate spike, and the government shutdown is also likely adding some unknown curtailment to growth. As such, we expect that the moderate and range-bound growth path we've been experiencing to persist during the forecast period.
With the Fed at bay, likely until December (or possibly beyond), with a dysfunctional political and fiscal process to guide us and an economy which continues to stumble forward, it's difficult to expect very much change in mortgage rates between now and mid-December. With the recent decline in rates already chopping the top off the summer rise, we probably don't have a lot of space for them to fall, unless economic calamity strikes. Conversely, a failure by Congress to increase the debt-ceiling (unlikely, but possible) could see them rise.
Forecast
Over the next nine weeks, we think that HSH's FRMI will run in a range between 4.25 and 4.70%. The FRMI's Hybrid 5/1 companion should hold to a tighter range of 3.10% to 3.50%, and the conforming 30-year FRM can be expected to find fences of 4.15% and 4.60% for the coming period.
Holidays will surround the end of this forecast, what with Thanksgiving and Hanukkah starting the season together two weeks before it closes and and Christmas two weeks after. Whatever your celebration proclivity may be (or even none at all), why not come back and see whether this forecast was a gift or a closer to a lump of coal?
---
August 9, 2013
Preface
As we wait for actual data to reveal how much damage the Federal Reserve has done to the housing market with its recent ruminations on the coming end for QE3, we can at the very least conclude that the "transparent central banking" process embraced by Mr. Bernanke can cause all manner of unintended market consequences.
At the time of our last forecast in late May, after a revelation that some FOMC members might like to end QE3 as early as June, mortgage rates moved strongly off 2013 bottoms and markets had become quite skittish. Adding fuel to the mortgage-rate fire came the Fed Chairman again in June, in a post-meeting press conference where provided a characterization of the conditions which would see the Fed consider ending QE3, should the economic data bear out the Fed's expectations. This revelation only served to upset the market further, pushing mortgage rates even higher.
In his testimony before Congress back in early July, Mr. Bernanke offered that [the Fed] "Will be waiting to see if the movement in mortgage rates has any material effect on housing," Bernanke said. "If we think the mortgage rate increases are thwarting the progress we will have to take additional action."
Unfortunately, the economic data so far hasn't fully borne out the Fed's expectations of accelerating growth, but also hasn't been weak enough as to lead the markets to believe that the end is coming later, rather than sooner. Since Mr. Bernanke's utterances, there have been indications of both stronger (May) and weaker housing markets (June), but there is insufficient data so far on which to base any judgment. Overall, some economic data has been solid or even strong; other bits and pieces less so. This ambiguity has left mortgage rates holding near those two-year highs, and there seems little hope of a sea change anytime soon.
Recap
We were pretty comfortable in our last forecast for perhaps the first half of it, but after that, not so much. Back just past Memorial Day, we thought the overall 30-year FRM as measured by HSH's FRMI would tread a path between 3.82 percent and 4.16 percent. Unfortunately for us and mortgage borrowers, Mr. Bernanke's words engendered a 4.10 to 4.70 percent range during the nine-week period. The overall 5/1 ARM was also affected, too, and although we expected a very stable 2.60 percent to 2.80 percent set of bookends, we got a 2.77 to 3.35 pair instead. We foresaw the 30-year conforming fixed-rate mortgage fenced in by a set of 3.72 percent to 4.12 percent figures, but the 4.03 to 4.63 percent averages we actually achieved ran well beyond the expected top end. All we can say is "ouch!", and "Thank you, Mr. Bernanke."
Forecast Discussion
Well, at least the damage is done... or is it? The spring/summer move in interest rates was an attempt by investors to get out of the way before the Fed begins changing the rules of the game, very probably in September. However, the considerable rise in mortgage rates (premature though it may be, coming well in advance of any actual change by the Fed) from May's 2013 low may not have yet run its course. The move in rates was both swifter and stronger than might have been warranted by any exit map the Fed detailed, so it's possible that when the tapering program actually starts that any initial effect on mortgage rates might be muted, since it arguably has already occurred.
Once the tapering process begins, though, and even though we don't know how quickly it will proceed, markets will naturally start to consider what happens next. The Fed has now noted that it thinks QE3 will be gone by mid-2014, and their own forecasts put the likely first change to the Fed Funds rate in 2015. It bears consideration that if the incoming economic data warrant a speedy end to QE3, markets will start to become concerned that we won't make it to 2015 before the Fed begins to change short-term rates, and long-term mortgage rates might rise anew.
Could we see a 5 percent handle for conforming mortgage rates before the year is out? If the Fed's forecast of up to 2.6 percent growth for all of 2013 is to prove correct, we might. To attain that lofty rate, though, we will need to see a substantial acceleration of growth over the second half of the year, something on the order of an average 3.8 percent clip. If we should achieve a 3.8 percent rate for GDP for a couple of quarters in a row, it's a solid bet that we'll have rates pop into the fives. Given the 1.7 percent rate of GDP in the second quarter, getting there might be a stretch, but consider that we ran a quarterly GDP value nearly that high in early 2012, so it's not impossible by any means. Regardless, the end of 2013 is a little beyond the scope of this forecast, and at this point, there seems to be almost as many headwinds to deter growth as those to promote it.
The bond and mortgage markets appear to now be better positioned for the Fed to make any move. Any solid data being revealed may only be playing "catch up" to where the market has moved, but even so, the risk for rates is more strongly to the upside than the downside. It's not as though rates could not or cannot fall somewhat from these levels, but poor economic data would need to start outweighing the good, starting pretty soon and accumulate over a longish period -- that is, we'd need a new and substantial slowing in the economy -- in order for mortgage rates to slide very far.
That doesn't mean they won't move from day to day and week to week, though. As any mortgage shopper or market observer can tell you, that after a pretty long stretch of quiet, volatility has returned to the market. The only means of protection against swings in rates is to get a rate lock in place, and one sufficiently long to cover the anticipated time it will take a loan to close.
Forecast
A lot of change seems likely to be coming to the mortgage market this fall. If the Fed does not choose to begin tapering in September, it's a reasonable bet at this moment that it might be October, or even as late as December; even when it does finally begin, we don't know how quickly the process will come to completion. We may or may not have a clearer view of who the next Fed Chairman or Chairwoman might be, which should also keep markets nervous. In addition, we also have the backdrop of an economy which may or may not warrant continued extraordinary support, one which may appear on both sides of the coin from time to time.
Despite that, it's difficult to imagine any substantial decline in mortgage rates over the next nine-week period. Even if we have an accumulation of softer data for July and August it probably will be insufficient to trim rates by much. Still, the expected volatility may produce sizable swings in rates, so a little extra leeway may be in order. Over the next nine-week period, we expect to see HSH.com's FRMI run in a range of 4.38 percent to 4.88 percent; the FRMI's 5/1 ARM companion to find a 3.22 to 3.62 pair of fences, and the conforming 30-year FRM to run between 4.38 percent and 4.88 percent.
It'll be October when this forecast expires. Why not check back in between yardwork, football and apple picking to see if we hit the mark or missed it completely?
---
May 31, 2013
Preface
At some point, perhaps not all that long from now, the Fed's extraordinary monetary policies will begin to come to a close. Although this is certainly a known factor, what is not known is when the process will begin or how quickly we will return to truly conventional monetary policy. That will be a place in time where the Fed tries to manipulate the economy solely though the Federal Funds Rate, and not through purchases of mortgage-backed securities, Treasury bonds and by paying interest on bank deposits held at the Fed.
What's also not known is how much "damage" will be done as the Fed moves to extricate itself from direct manipulation of these markets. To the extent that markets and their participants have come to lean on the Fed, this "damage" may show in a number of ways, including rising long-term interest and mortgage rates, from lower stock market returns to reduced home affordability and lower home sales, stagnant home prices, and not to mention crushing the refinance activity which has been so important to the recovery.
Along with expected time frames for the cycle of change, the Fed has posted a couple of pretty clear milestones for policy changes: An unemployment rate of 6.5% and/or inflation running hotter than 2% for a time. However, this probably refers most strictly to a change in the Federal Funds Rate, rather than a trigger for a reduction in the size and shape of QE programs.
One thing is pretty certain, though: Mortgage rates will have risen long before those markers are achieved.
Recap
Back in March, we looked ahead and thought the path for mortgage rates would be more upward than not, but a short bout of concerns about another spring-to-summer economic swoon took hold briefly, pressing rates down. Like a coiled spring, though they popped back up rather quickly toward the end of the forecast period. At the time, we thought HSH's FRMI would hold a range of 3.71% to 3.98% during the March-to-May forecast period, but we tended lower than that with a narrower 3.61% to 3.83% range. For the overall 5/1 Hybrid, we forecast a 2.58% to 2.78% pair of boundaries, but got an even tighter 2.57% to 2.67% set instead. For the conforming 30-year fixed rate, a 3.63% to 3.93% set of bookends was expected, but a 3.52% to 3.74% one presented itself. Although pretty close, we never tested the upper boundaries of the forecast ranges... at least through the May 24 close of the forecast. Call the forecast fair at best.
Forecast Discussion
Why will mortgage and other interest rates rise before the Fed makes changes? It's about expectations for the future economy and anticipated future Fed policy, and investors readjusting their positions in advance of changes to Fed policy. At this writing, markets are in a bit of an upheaval related to the release of minutes from the April/May Fed meeting which revealed that some members might consider starting to pull QE programs back as early as June; Fed Chairman Bernanke made additional comments which suggested that September might be a more likely date. Up until these thoughts became public, most of the information seemed to suggest changes might come much later in 2013 or even early 2014. Given the reaction in stocks and bonds, it's pretty certain that markets were expecting the later date to be more of a firm schedule than a vague commitment.
The Fed will of course be guided by incoming data, and the economy does appear more reliably stronger at the moment than not, despite the headwinds of sluggish global economic growth and the pinch of the federal spending sequester. Employment gains have been modest, but regular, and the unemployment rate has declined. Inflation remains more than tame at the moment, giving the Fed leeway to continue QE programs if needed.
But if they aren't needed -- that is, if the economy has strengthened to a point where it can stand slightly higher interest rates -- why shouldn't the Fed begin to move slowly away from direct manipulation? Mortgage rates were holding below the 4 percent mark before the $40B per month MBS program kicked in last September; from mid-summer levels, they dropped by about a quarter percentage point, and largely held there. That being the case, can we conclude that the MBS program has been lowered mortgage rates by all of quarter percentage point or perhaps a little more? Can the housing market not stand such a small rise in rates -- even one double or triple that (leaving us in the 4 percent to 4.25 percent range), a level which would still easily qualify among the best of the last 50 years?
For perspective, before the great real estate and financial market collapse, the former "all-time" record low for the conforming 30-year fixed was seen in June 2003... at a (now exorbitant) 5.24%. Somehow, people managed to buy homes at those rates, and at some point, will again. Before we get there, there is a lot of interest rate ground to cover, and history suggests we will get there in fits and spurts, not a nice, smooth, orderly incline, so preparing oneself for upside volatility will be a good idea.
It is worth noting a few other items, as well. First, the Fed Chairman and FOMC participants have expressed concerns about removing policy "accommodation" too quickly, and seem to have in place a plan for measured tapering of securities and MBS purchases when the time comes; the Fed has also mentioned that it might actually consider increasing the size of QE purchases if conditions should warrant. They have been pretty good about their words matching their deeds, so there is no reason to expect any kind of fast, disorderly exit which would spike rates.
Second, the economy does not seem to be moving into a significantly faster pattern of growth, inflation doesn't seem to have much traction and unemployment is improving only gradually. Should these patterns persist -- and there are no guarantees that they will, just hopes and expectations -- the Fed would move only slowly and cautiously, especially in the early stages of change. Should growth or employment gains falter, expectations for the timing of policy changes would be pushed back, and mortgage and other interest rates would tend to ease.
Next, the discussions which upended the market of late may simply have been to gauge reaction, and perhaps to wring a little froth out of stocks, too, which have been on a tear despite modest economic growth and plenty of economic challenges here and abroad.
Lastly, it may very well be that Mr. Bernanke is not interested in a reappointment in 2014. Starting the tapering process in September would see the program well underway -- perhaps completed -- by the time his successor comes in. That a plan is already in place would tend to quell any uncertainty surrounding the plans of a incoming Fed chief, and would also allow the newcomer to not have to deal with unwinding the programs, but instead only concern themselves with more traditional policy tools.
Forecast
On a more immediate basis, we have the spring-into-summer forecast period to deal with. Rates have risen appreciably in the last few weeks, putting us at 2013 highs, based upon both firm economic data and the Fed's remarks. While there is some reason to expect a little settling of rates after the market upset subsides, there is probably not a whole lot of space for rates to fall, and given the sensitive and nervous nature of the bond and stock markets at this point, probably somewhat more room to rise. As such, over the next nine-week period, we think that the average overall 30-year fixed as measured by HSH's FRMI will wander a path between 3.82% and 4.16%. For the overall average for 5/1 Hybrid ARMs, we could see a 2.60% to 2.80% set of fences, and for Conforming 30-year FRMs, a 3.72% to 4.12% range is expected.
This forecast expires in the mid-Summer heat of early August. Why not drop back in to see whether it turns out hot or cold?
---
March 25, 2013
Preface
Amid ongoing challenges, the economy appears to be grinding forward. Economic activity stumbled in the final quarter of 2012, with GDP slipping to below one percent during the period, but all indications are that growth has revived considerably in the first quarter of 2013. Of late, layoffs have diminished and new hiring has been over 200,000 in three of the last four months. In an economy dependent upon consumer spending, nothing helps a recovery more than people with jobs.
Although we got past the tax increase portion of the "fiscal cliff" back in January without much fiscal damage so far, battles over spending cuts and the nation's debt ceiling are still in play. Eurozone troubles continue to make investors jittery; the latest act involved a bailout of Cyprus banks.
The housing market is finally contributing to the recovery in a reliable fashion. Housing starts and building permits are up considerably compared to year-ago levels, sales of new homes are running at four-year-high levels and existing home sales are approaching the five million (annualized) mark again. Inventories of both new and used homes are quite thin, and home prices are being supported by strong affordability and falling sales of low-price "distressed" homes.
Reflective of this (and other) good economic news and strengthening demand for credit, mortgage rates moved off of record lows over the past couple of months. They remain tethered, though, by Federal Reserve programs and policies, at least for the moment. If the economy continues to exhibit signs of strength, rates will remain firm, and Fed policies will start to change.
Recap
In January, we looked in the crystal ball and believed that HSH's overall Fixed Rate Mortgage Indicator (FRMI) would run in a range of 3.58% to 3.88%. Although we never tested the bottom end, we did touch the top, as the FRMI put in a 3.73% to 3.88% showing for the nine-week period. For the overall 5/1 Hybrid ARM, we thought a 2.62% to 2.80% set of boundaries would exist, and the 2.65% bottom and 2.76% peak we achieved fit nicely within them. Conforming 30-year FRMs did break a little higher than we expected, though: we thought a 3.41% and 3.67% pair of bookends would occur, but we did see a 3.58% and 3.77% range come to pass. "Two outta three ain't bad", as the saying goes, and we're pretty pleased with the results overall.
Forecast Discussion
Will firmer mortgage rates derail the housing recovery this spring? No. From present levels, each eighth-percentage point increase in 30-year fixed mortgage rates adds only about eight bucks to a monthly payment on a $100,000 loan. Firmer rates do, however, lessen the call to refinance old loans, and we have seen some diminishment in demand for refinancing over the last forecast period. That's partly due to a smaller pool of eligible homeowners (many folks have already refinanced) and the reduced value of refinancing at an interest rate of 4% instead of 3.5%, for example.
With the low rates in place engineered by the effects of a slow economy and unusual Federal Reserve policy there are of course concerns about what will happen to them if growth heats up. Presently, the Federal Reserve is trying to develop an exit strategy and seems to be leaning toward reducing their purchases of MBS and Treasuries when the time seems right. Traditional policy -- moving the Federal Funds Rate -- is unlikely to happen much before late 2014, but these unusual programs will be long gone before then.
But when is the appropriate time to start making changes to them? What will be the effect on mortgage rates, and to the housing market? Certainly, another 50 basis point increase in the rates of fixed-rate mortgages would all but kill the refinance market, but even with that increase, we would be running in the 4.25% range for conforming loans. Before the financial and housing crisis, the lowest average interest rate achieved was a full percentage point higher than that. As such, any damage would probably be limited, but to preserve affordability, increases in financing costs must be offset by a lower loan amount, possibly pressuring home prices in turn. Alternately, incomes need to rise to cover the increase cost in monthly payment.
"When", then, probably comes down to a matter of "if". If the unemployment rate moves steadily lower from a present 7.7% and threatens to approach 7%, we think the program will be trimmed back, perhaps even by half. If refinancing has already declined and there is arguably little damage to housing from a small rise in interest rates, there is little risk to the economy from the Fed cutting back on MBS or Treasury purchases, or even both. That said, the Fed's own unemployment forecast calls for nothing better than 7.3% by years' end, but if the economy averages hiring gains of perhaps 225,000 over the next 3-4 months we could move downward more quickly than expected.
Of course, such a move would tend to exacerbate any rise in rates engendered by an improving economy. As we think the economy will be strengthening this spring -- hiring included -- the discussion of when the Fed will first move will be an ongoing topic over the next nine-week period. No move may come, but if we are correct about the risks of higher rates, there will be a growing likelihood of a change before too much more time has passed.
Forecast
Although headwinds to a strengthening recovery remain -- tax boosts, federal spending reductions, foreign economy troubles -- there is some evident momentum in at least a couple of sectors of the economy, housing among them. The Fed's tethers to keep interest rates at low levels is strong, but is not immune to the forces of the open market. Growing enthusiasm about the strength of the expansion can be seen in the value of major stock indices, and that upsurge continues to come at the expense of bonds, firming yields.
We think that we will see more of this kind of firm upward pressure in the next nine-week period. Absent an unforeseen economic calamity (here or abroad), the likelihood of a considerable fall in interest rates over that time is small, and we appear to have moved far enough away from a period where "all news was bad news" as it pertains to the economy. All news might not yet be good news, but the good has started to regularly outweigh the bad, and interest rates will be the firmer because of it.
Over the next nine-week period, we think that the average overall 30-year fixed as measured by HSH's FRMI will wander a path between 3.71% and 3.98%. For the overall average for 5/1 Hybrid ARMs, we could see a 2.58% to 2.78% set of fences, and for Conforming 30-year FRMs, 3.63% to 3.93% as a range is expected.
This forecast expires on or about Memorial Day. We'll be at the unofficial start of Summer by then, with barbecues blazing everywhere. Why not stop back and see if this forecast was as well done as the hamburger you ordered?
---
January 18, 2013
Preface
A housing recovery is slowly gaining traction amid on-going extraordinary supports from the Federal Reserve, enhanced to some degree by the passing of both the election, the partial agreement on the "fiscal cliff" and the institution of new rules to help guide the mortgage market.
There is no doubt we are still dealing with (and paying for) the excesses of yesterday, but we do seem to have finally turned the corner. Home sales have been firming for a while now, delinquencies have begun to wane, and there has been no cascade of "shadow inventory" of foreclosed homes into the market to bloat inventories and crush home prices anew. The economy isn't robust by any means, but has managed to generate a modest amount of jobs in a regular fashion over the past year. The fiscal cliff agreement's removal of tax policy uncertainty should help businesses start to be more confident in their hiring, and that could help set the stage for a stronger housing market as we move though 2013.
Of course, challenges still remain. We have the "budget sequestration" (spending reductions) portion of the "cliff" deal yet to be worked out by the Congress and Administration, and a fight over raising the nation's debt ceiling is again being enjoined, much as it was last summer. At that time, markets got very skittish, consumer optimism was battered, and it took several months to undo the damage the battle caused. We may be in for much the same this time, but hopefully not.
Still, there is more reason for optimism for a strong spring housing market than not.
Recap
When we last took a forward look at mortgage rates, the dust from the election had just settled, we were looking to the end of Operation Twist, and the fiscal cliff loomed large. We thought a push-me, pull-you kind of stasis would be the theme through the holidays, and that's about what we got. Back in November, we believed that the overall 30-year FRM as measured by HSH.com's FRMI (which includes conforming and jumbo mortgages) would run in a range of 3.60% to 3.83%, and we were presented with a 3.58% to 3.73% range. For the overall average of Hybrid 5/1 ARMs, we expected a tight 2.65% to 2.77% pair of bookends, but received an even tighter one of just 2.68% to 2.71% instead. Stasis, indeed. For the conforming 30-year FRM, we believed we'd see a 3.42% to 3.64% set of fences for rates, and got a 3.44% to 3.57% one. Overall, we'll call our last forecast a pretty fair success.
Forecast Discussion
There seems to us a number of key factors in place to help foster a stronger housing market this year, but any headwinds may prove unpredictable. Overall, we do think that the tax deal put in place to help resolve the fiscal cliff issue will tend to slow consumer spending, and the overall economy may sputter at a 2% clip for a while.
On the positive side is the Federal Reserve, who replaced its Operation Twist policy of selling short-term debt and buying long term debt -- a kind of money recycling program -- with one of outright purchases of Treasuries of up to $45 billion per month. Combined with the Fed's MBS purchasing program of $40B per month, the Fed should be able to manipulate mortgage interest rates as it sees fit for at least a while.
Low mortgage rates are helping to inflate home prices, if in uneven fashion. That is helping to fill some of the equity hole caused in the housing crash, but so far the mild uptick in prices hasn't hurt affordability, which remains strong. Affordability -- the ability of one to afford a given home, usually expressed as a monthly payment weighed against a median income and median home price -- has been strong or strengthening for years and has recently been at record highs. However, this only reveals the income component of the equation, the capability to buy a home, but cannot take into account the desirability of owning a home. We think that it is the improving desirability of home ownership which will help drive the market forward this winter and spring.
Buying a home -- particularly a first-time purchase -- has always contained an emotional component, and for many, represents a considerable leap of faith in future prospects for a personal economy. After years of having watched friends and family be caught on the wrong side of a housing bet -- with troubles exacerbated by the recession and weak recovery -- it's little wonder that buyers shied away, preferring to live at home or rent. Both of those choices are relatively risk-free decisions and easy to make when available. However, with a firming economy, better job growth and improving future prospects driving the way (not to mention rising rents), household formation is again on the rise, and that should help power sales along.
There is also a bit of opportunism here to consider, as well. In some markets, the stock of the least expensive (often short sales, foreclosed homes, etc.) housing has been diminished, and so only somewhat more expensive homes are being sold. Just as deflation in home prices can be a signal to wait to buy, inflation in prices can be a signal to act now before prices climb further.
On the other side of the coin, rising home prices are helping to replenish at least some lost equity for some homeowners, making it possible for more folks who want to sell able to sell without a loss. This could encourage more fence-sitting home sellers to engage the market this spring, as well, and markets suffering from inventory depletion may find some new stock available.
Overall, the fundamentals of housing demand appear to be improving. The intersection of price and mortgage cost which constitutes affordability is strong. The desirability of owning a home seems to us to be returning to the market, with potential buyers perhaps more pragmatic and clear-eyed about the risks and rewards of homeownership than those who engaged the market during the height of the frenzy in the last decade.
Economically, all the emphasis has been fully turned to homeownership, which is starting to drive the recovery. Federal Reserve policies to keep rates low and stable, no change to the deductibility of mortgage interest, the ability to again deduct mortgage insurance and even the extension of the Debt Forgiveness Act are all aimed at directly stimulating housing markets. That doesn't even take into account for all the Federally-backed modification and refinance efforts offered.
Forecast
We do seem to be in for a period of contentious politics with economic implications; in many ways, this is all not that different than the last forecast period. However, there are fewer uncertainties this time around since tax policy and Federal Reserve programs are already fully in place. A fight over spending and debt is here and will continue, but odds favor that a deal will get done and we'll move on.
The economy does seem likely to put in a softer showing than the surprise 3% clip for GDP in the 3rd quarter of 2012. More likely, we'll be closer to 2% for the 4th quarter and first quarter of 2013. That suggests to us little reason to expect much different conditions for mortgage rates than those we've just seen. Overall, absent fiscal catastrophe, we don't have a lot of space for rates to fall, but little reason to expect them to jump much, either.
For the next nine week forecast period, we think that we'll see the overall 30-year FRM as tracked in HSH.com's FRMI hold a range of 3.58% to 3.88%. For hybrid 5/1 ARMs, the overall average should find boundaries of 2.62% on the low end and 2.80% on the high, and the conforming 30-year fixed rate mortgage should be bookended by 3.41% and 3.67% marks.
This forecast will expire as the calendar turns to spring. That sounds nice in the dead of winter. Will market conditions be as harsh to our expectations as the winter weather can be to comfort? Check back after St. Patrick's Day and see how we did.
---
November 9, 2012
Preface
The Federal Reserve's steadying hand and QE3 program has helped mortgage rates to remain low and stable. Mortgage borrowers have benefited from the establishment of the $40 billion per month program, as mortgage rates moved slightly lower to new record lows as a result while the Fed accumulates mortgage bonds constituting perhaps 30% of the market. We wrote in HSH's MarketTrends newsletter a few weeks ago that "it is interesting that the Fed's program to keep mortgage rates low must in some ways fight against the ultimate goal of the program, which is to foster stronger growth; stronger growth tends to push interest rates higher."
Growth has nudged up a little. After a second quarter GDP which was a puny 1.3%, the early look at the third quarter found a 2% clip in place. Although the economic news continues to be mixed, there have been a number of bright spots to be seen, and the economy looks fair, if lackluster, at the moment. Job growth has edged upward, as have home sales and prices, and we seem to be grinding in the right direction despite serious headwinds from the slowdown/recession in the Euro zone and beyond.
Given the present state of the housing and mortgage markets, there will be probably little direct effect from the just-completed elections, at least as far as the forecast period ahead is concerned. More likely to become a concern is any instability which might ensue as the Fed's other support -- Operation Twist -- comes to a conclusion at the end of the year. It is not clear whether the Fed will continue the program of trading the short-term bonds it holds for lower-dated ones, which has served to keep mortgage rates, and interest rates in general, lower than they would otherwise have been.
Recap
Back in late August, we made a case in which we didn't think the Fed would engage in any significant new program for mortgages. We missed the mark on that, as QE3 was announced on September 13. Markets expected the Fed to do something, and it did so, arguably in the portion of the market where its influence has had direct and specific effect. At the time, we expected HSH's FRMI to hold a range between 3.75% and 4%, and got a Fed-influenced 3.68% to 3.89% one instead, so despite the Fed miss we were still pretty close to the mark. For the overall five-one Hybrid ARM, we called for rates to wobble between 2.75% and 2.90% bookends, but a near-stasis range of 2.91% to 3% was seen instead. As well, we believed that the conforming 30-year FRM would find boundaries of 3.60% and 3.92%, but the Fed's targeting of GSE-backed mortgages produced a 3.52% to 3.72% one instead. For us it is a case of "close, but no cigar," as the old saying goes.
One Wall Street maxim is "Don't fight the Fed"; although we didn't expect to have a Fed to fight, our forecast ended up doing just that.
Forecast Discussion
The Fed's latest move to directly affect mortgage markets is very different than QE1, where the Fed purchased up to $1.25 trillion of MBS and Fannie and Freddie issued debt. That arrangement was to ensure that there was a mortgage market at all and make certain liquidity was maintained. This round is different in that the market has been functioning pretty well without the Fed's influence, as investors have rediscovered some appetite for bonds backed by today's much-better-underwritten loans, even if yields are slight by historical standards.
QE3 seeks not to only produce liquidity -- as the Fed will continue to buy mortgage paper even if the rest of the market should decide shun it -- but that it also is of sufficient size to push mortgage rates lower as the Fed competes against private interests to fill its order of $40B per month. When the program was announced, we thought it might have as much as a quarter-percentage point effect on the average conforming 30-year fixed, and that seems to be the case, at least for the moment.
Unlike QE1, there is no fixed dollar amount of accumulation of MBS debt the Fed is looking to achieve. Rather, the program is open-ended and will run until the Fed becomes convinced that the economy and job growth is greatly improved, and even then might run for some period of time. We thought such a commitment to be curious, as there are usually stated periods for the Fed's program are to last. For example, the Fed has stated it thinks it will be keeping short-term rates low until mid-2015, and virtually all other Fed programs have stated goals and expirations.
It dawns on us that the Fed may especially want to have this program in pocket when the economy begins to get better, whenever that may be. Today, investors are accumulating MBS (along with other debt) with historically low yields. When rates eventually begin to rise, pushed there by a faster growing economy, today's reasonable returns will start to look small, and investors will want to sell their holdings to create cash to buy better yielding investments. If forced to sell into the open market, demand would tend to be weak for such low-yield bonds, and the seller might have to offer incentives to a buyer (who could take his money elsewhere for a better return). Offering an inventive (actually, producing additional yield for the buyer by discounting the price) would create a loss for the seller. That would again weaken the bottom lines of MBS investors, which include pension funds, insurance companies and others.
The Fed, of course, is not particularly concerned with maximizing its return on investment, but rather that the market functions as it should. As such, the Fed's open-ended pledge is a signal to investors that it is OK to accumulate MBS, keeping the mortgage market going and rates low, as the Fed can be expected to be there to buy those securities at full price later, diminishing the risk of losing money. Compared to other offerings today, MBS yields are pretty solid, so profits can be gained for the near future (buttressing battered bottom lines); later there will be a ready entity who will buy them regardless of price should they need to be sold (at least for the foreseeable future).
That said, an improving economy will tend to foster higher interest rates. It is by no means clear if the Fed will allow them to rise, or, if they do, by how much. If investors begin to turn elsewhere in droves, even a $40 billion per month commitment would not be sufficient to keep rates down, but that isn't an immediate concern... or is it? With the possible end of OpTwist come January, and the as-yet-unagreed-upon Qualified Residential Mortgage/risk retention provisions of Dodd-Frank coming soon, we could find interruptions in investor demand due to both lack of clarity and uncertain timing of these changes and both occur in or near the end of this forecast period.
At the same time, all this may come in the context of a gently firming economy, which QE3 hopes to enhance and broaden. The more successful the Fed's effort to engender growth, the more difficult its mission of keeping rates low becomes.
Forecast
With this as a backdrop, how to set expectations for mortgage rates for the coming nine weeks? We are of the mind that a push-me, pull-you kind of market for rates is most likely. While Operation Twist may be extended or replaced, there seems little likelihood of significant new Fed intervention aimed at the mortgage or housing markets. Long-term interest rates in general are already historically low, and while they could of course go lower, the beneficial impact would probably be muted.
As such, and absent an economy which collapses back toward a 1% growth rate rather than the 2% rate we have in place at the moment, there doesn't seem to be a great chance for rates to decline much. At the same time, even somewhat stronger economic growth will likely still fall under the heading of "modest", insufficient to raise interest rates too much on its own; should we go much beyond that, the Fed's presence in the market should keep rates from moving up with the warming economy. Welcome to fairly benign stability.
For the next nine-week period, we think HSH's overall market tracker -- our Fixed Rate Mortgage Indicator (FRMI), will find a range between 3.60% and 3.83%. For the overall average for 5/1 Hybrid ARMs, we can see no reason to expect anything but a flat, tight pattern, with a 2.65% to 2.77% range in place. For conforming, 30-year fixed rate mortgages, we think they might get as low as 3.42% if the economy softens, but not higher than maybe 3.64% at the highest.
We'll cruise right though the holidays with this forecast and land in the beginning of 2013. Happy Holidays! This forecast will expire on January 11, so check back while putting away all those decorations.
---
August 24, 2012
Preface
The panic-induced downdraft in rates of the spring and early summer now behind us, mortgage rates have firmed a bit. Of late, it's more of an absence of terrible news rather than any genuine good news which is supporting the rise. With only tenuous optimism to foster the minor increase in rates, we're no more than a few poor reports (or an expanded Fed program) from testing new lows once again.
The fact of the matter is that there has been a slight improvement in the economy as we move deeper into Summer. Absent a new collapse, there's little reason to expect that the Fed will embark on any major new programs, especially this close to a presidential election. Without a new or deepening crisis, the Fed might tweak policy, such as reducing or eliminating the payment of interest to banks who park excess funds at the Fed. Doing so might marginally stimulate lending.
At the same time, an economy which continues to grow and produce modest job growth -- however meager both may be -- is still a far cry from recession, and this does give the Fed some cover as they hold their fire. The Fed would of course respond in some way should things deteriorate, but at this stage of the recovery and for many borrowers, it is less about the price of money than the availability of it, and there is no certainty that even new record low rates would produce much benefit.
It's also safe to say that the issues in the Eurozone haven't left us, but rather that markets seem to have come to accept that troubles will be with us for some time and are becoming accustomed to the distortion they inject into financial systems.
Gasoline prices have also firmed again, adding some additional drag, and there are expectations that this summer's drought will have marked effect on food prices in the months ahead. Collectively, and with this as a backdrop, there's not a lot of reason to expect a sharp acceleration in economic growth.
Recap
Back in June, we looked forward an noted that "Occasional new record lows seem likely during the forecast period", and that turned out to be quite true. In fact, four of the nine weeks feature new low water marks for HSH's FRMI. We believed that the range for HSH's benchmark indicator would be 3.85% to 4.12%, and while we nailed the low, the high for the forecast period never topped 3.98%. Our guess for the overall 5/1 Hybrid ARM was 2.77% to 2.97%, and we stood almost in the middle of that range, vibrating between a high of 2.89% to a low of 2.80% over the nine-week window. For conforming, 30-year FRMs, we expected a 3.94% to 3.65% gap, and actually say a 3.80% to 3.66% one happen. Overall, we'll call out last forecast a reasonable success.
Forecast Discussion
The economic recovery stumbled in the first half of 2012. After sporting a better than 4% annualized rate of GDP growth in the fourth quarter of 2012, the second quarter of 2012 cooled to just a 1.5% rate. Small wonder, then, that interest rates declined to new lows.
But the second quarter is fading behind us, and we are now better than halfway through the third quarter. The available data so far (covering mostly July but also some of August) suggest some improvement relative to the end of the second quarter. Unemployment claims have slipped back a little, hiring has picked up a tad, retail sales have improved and manufacturing has at least stabilized, albeit at a break-even, no-growth level, but still better than continued decline.
We're not quite at a point of stasis or stagnation, and there's nothing wrong with modest growth if it is reliable. More would of course be better, but it will have to come organically if we are to see it. Given the extraordinary measures already tried over the past few years (massive deficit spending on the fiscal side, massive bond and mortgage buying programs on the monetary side, and more) and those measures which remain in place (low interest rate and mortgage-money recycling programs, mostly) there is little political appetite for new spending to goose the economy, and plenty of concern about future inflation from pushing trillions of dollars into the economy (so far, there are no signs of it, just future worries). With only a couple of months until the elections, there would be very little time to get benefit from any programs even if they could be enacted quickly; this being the government, they usually can't.
So, in a sense, we're on our own for the foreseeable future, or at least during the forecast period. Even with a slightly improved economy, there's little upward movement, and GDP for whole of the third quarter will struggle to top 2%. We seem likely to continue to stumble along at best over the next nine weeks, and depending upon the outcome of the election (just after this forecast expires) for some period beyond it as well. Still, a 2% GDP (and firming) is a change from an economy sliding to 1.5% as it did earlier this year, and it is to be expected that if the economy isn't as dire as then, that mortgage rates wouldn't be quite as low as then, either.
Conversely, as we noted above, they haven't moved off bottoms very far, and it wouldn't take too much to press them closer to record lows, either -- just a few poor economic reports would do the trick. There is also the factor of supply and demand, too, and demand has been pretty fair at times this year. Should demand begin to peter out, lenders may become more aggressive in pricing their wares, and that could in turn move rates downward to some degree as well.
Forecast
Just as we can't find many reasons to be very optimistic about the period ahead, we can't find many to adopt a more pessimistic outlook, either. There is some life in the economy, but also plenty of drag to keep it from moving forward much. Overall, we prefer to think that the upward force will prevail, but probably only by scratching and clawing to make progress.
That suggests to us that it will be hard for rates to rise much over the next nine weeks, but also hard for them to decline much, either. A Federal Reserve program tweak might move them down a little, as would a slackening in demand, but neither of these can be forecast with confidence. On balance, it seems that we are likely to wander in a narrow range, probably testing new lows again at times between now and early November, when this forecast will expire.
We think that HSH.com's FRMI will move in a 3.75% to 4.00% range over the next nine-week period. The overall average for hybrid five-one ARMs probably find a pair of 2.75% to 2.90% bookends, and expect that the conforming 30-year FRM should find borders of 3.60% and 3.92% between now and November 2, when this forecast period concludes.
We'll be right upon the elections when that date arrives. While studying the issues, reading the platforms and deciding how to cast your ballot, why not drop back to see the market has voted between late Summer and mid-Autumn?
---
June 22, 2012
Preface
The economy is stumbling more now than earlier in the year, and the Euro-zone crisis is having a fairly profound effect on interest rates. The housing market is holding relatively firm, with moderate improvement in sales and even prices in some markets, while the HARP 2.0 program and record-low fixed mortgage rates have fostered a solid refinancing market. These positives are counterbalanced by a surprisingly weak job market and core inflation that seems tethered above two percent.
As we expected (see the last Two-Month Forecast below), the Federal Reserve decided to continue Operation Twist until the end of the year. This suggests that not only will mortgage and other long-term interest rates be lower than they would be absent the program, but importantly that these low rates will be reliably available, so that borrowers can actually take advantage of them.Can mortgage rates move even lower? We'd never say never, but there is a limit to how far they can fall, unless a worse economic fate befalls us or the Euro crisis should further intensify. Why anyone would cheer that on to save a few more dollars on a mortgage payment is beyond us.
Recap
Although we feel pretty good about our last forecast, it would seem we didn't give enough credence to the influence of the overseas mess. Our "bears watching" in the last forecast was just a tad understated, as the Greek, Spanish and Italian fiscal dramas all dominated financial headlines during the period, and still do. Investors stuffed money in Treasuries just as fast as they could, driving some yields to all-time lows and dragging mortgage rates down with them.
Back on April 20, we called for HSH.com's FRMI to wander between 4.10% and 4.40%; instead, the market provided a 4.19% to 3.98% range. For 5/1 Hybrid ARMs, our expectation was for a 2.90% to 3.18% pair of bookends, and 2.99% to 2.89% was what we received. For conforming, 30-year FRMs, our forecast for 3.93% to 4.22% was overwritten by an actual gap of 3.79% to 4.00% during the period. Rates were fairly stable, but generally trended lower throughout the period.
Forecast Discussion
We've been asked several pertinent questions since our last forecast. Notably "With Treasuries so low, why aren't mortgage rates lower?" and "Did Operation Twist work?"
In our opinion, Operation Twist has and will continue to work. Mortgage rates have set a number of record lows since the program's initiation, even before the intensification of the Euro troubles which pressed them lower still. Perhaps as important is the Fed's recycling of mortgage debt, reinvesting the proceeds of maturing mortgage-related investments it holds into new mortgage debt. In this way, they have fostered a durable low-interest-rate environment for homebuyers and refinancers.
Why aren't mortgage rates lower? There are of course a number if intersecting reasons. Treasury yields have been beaten down to new lows by a rush of investor cash trying to get out of the way of collapsing domestic and European markets, and there are few reliable opportunities in any investment market at the moment. Treasury obligations have little risk and are highly liquid (easily salable or tradable). Even at record low yields, they are in high demand.
Conversely, look at mortgages. Before the housing market burndown, investors used to treat them more like Treasuries, since mortgage defaults were very low and losses nearly non-existent. This is not the case any longer, in a time of still-high loan failures, with entire pools of mortgages backed by properties worth less than the mortgage amount, GSE-forced "buybacks" of loans with any irregularities and an unclear regulatory environment, not to mention a myriad number of other things. Mortgages are by no means as liquid as Treasuries and considerably more risky... and for all of that, nominal interest rates are at record lows already.
Part of the reason that the Fed engineers lower rates is to (hopefully) spur lenders to push excess funds out into the market (make loans) instead of parking them in secure investments (like Treasuries). A low cost-of-funds (money brought in on deposit or borrowed from other banks or even the Fed itself) can be turned into profitable loans, and those loans can be placed on the lender's books, or if there is a market for them, sold profitably to someone else.
All things being equal, if a decline in the lender's cost of obtaining funds declines while loan rates remain steady, "profit margins" or "spreads" can increase. These spreads wax and wane over time, reflecting everything from rising risks of making a given kind of loan to the present situation of investor preference. It's also worth keeping in mind that fat spreads are an incentive for a lender to make a loan. Greater profits boost the bottom line, decreasing risks to the financial system as a whole, and we've seen what the failure of banks can do to the economy. Healthy profits promote solvency, and to the Fed (and taxpayers) this is a good thing. It should also again be noted that borrowers are paying record low nominal interest rates, regardless of spreads.
The final price of the loan depends upon a number of things, and supply and demand is among them. At the moment, demand for mortgage loans is pretty high, relatively speaking, but there is only so much capacity to originate loans available, given thin lender staffs and a balky and slow origination process. With folks already coming to the door to finance or refinance, there's less of a reason to need to slash prices (rates) to get them to come, as in "there's no reason to run a sale if the store is already full of customers" and any given lender might not be able to handle more clients, leading to additional delays and frustration.
Could mortgage rates be lower? Certainly, but arguably not much, given the still-modest economic climate and inflation, and in respect to the risks noted above. If demand for loans starts to cool, lenders have room to price more aggressively, giving up some spread to retain market share if they wish. Of course, presently wide spreads may also compress on their own, should investors decide to move funds to riskier investments (e.g. stocks), and troubles overseas may subside or the economy here may perk up, too, which would press all interest rates a little higher.
On that front, we think there is quietly some pretty powerful stimulus forming. One facet comes in the form of the recent spate of refinancing, which frees money formerly committed to a monthly mortgage payment for other spending. Another comes in the form of a firming housing market, which fosters a wide range of beneficial economic activity. Perhaps the most immediate is the ongoing decline in energy and especially gasoline prices, which takes billions of dollars out of the gas tank and puts it back into the pocketbook. All will help economic growth to varying degrees in the period just ahead.
In the period just ahead, summer doldrums and lackluster markets come into play. Vacations beckon and things slow down, especially starting with the first week of July. Demand may slack somewhat as a result, which might allow rates to decline a little at times. Second quarter growth will be softer than the first, and the benefits of the stimulus noted above will take time to work into the economy. A lackluster June seems to be paving the way for a similar July at this point.
Forecast
A weak economy for at least the first half of the forecast period seems assured, possibly followed by a little improvement later on. Euro troubles have pressed mortgage rates to new lows, and the dark clouds have spread here in a considerable way. Things are soft/softening, and forward progress seem tenuous at best.
Also, there is great uncertainty when looking forward. It is an election year and November is not all that far in the distance. With the Fed's decree, the election will shortly be followed by the end of Operation Twist (again) and a looming fiscal mess here soon thereafter, with automatic spending cuts and tax changes aplenty slated for 2013. Facing these issues and challenges, and given the economic headwinds, the question is whether and how much the economy can strengthen between now and then. Conditions which would push GDP back closer to 3% than 2% seem unlikely, but even a few tenths of a percentage point improvement would look pretty good right now.
Occasional new record lows seem likely during the forecast period. We think that HSH.com's FRMI will move in a 3.85% to 4.12% range over the next nine-week stretch. The overall average for hybrid five-one ARMs probably find a pair of 2.97% to 2.77% bookends, and the conforming 30-year FRM should be fenced in at 3.94% on the top and 3.65% on the bottom.
A technical note: HSH's average rates typically carry average points of about 0.25 or so. Other data frequently show lower rates, but with higher average points.
The summer will be rapidly coming to at least an unofficial close when this forecast expires in late August. Take a break from back-to-school shopping, drop back in and check out if we were close or off the mark completely.
---
April 20, 2012
Preface
A "spring housing season" seems to have come this year... in January and February, leaving a bit of a soft patch for the traditional homebuying season. In late winter, rock-bottom mortgage rates and record warmth in much of the country apparently stole some activity from March and possibly beyond. Inventory levels of available homes are said to be thin in some markets, and interest rates have recently showed that they can move up quite quickly, even if the economic climate doesn't support any sort of ability to hold those levels.
Mortgage rates have a number of influences helping to keep them down at the moment. The Federal Reserve's policy of lengthening the term of its portfolio of holdings ("Operation Twist") is pushing influential long-term interest rates lower, and their policy of re-investing proceeds of retiring mortgages into new mortgage purchases keeps a steady buyer in the market, also leveling and lowering mortgage rates. That said, it is unclear if the Fed will feel the need to start a new program (QE3) when OpTwist comes to a close in June. For the most part, they have indicated that this will depend upon incoming data, which had been largely on an improving bent until the last month or so. As optimism about the economy grew, the likelihood of a new program diminished, and rates rose; of late, though, a little more pessimism has crept in, putting a QE3 potentially back in play for the summer, and rates have again retreated.
With market bets placed on both sides of the aisle to varying degree, it does suggest we could be in for another spate of volatility until the economy -- and the Fed's -- intentions become more clear.
Recap
Back on February 17, we did point out that we thought interest rates would rise during the forthcoming period. We believed that a warming economy would start to push rates higher, and it did. At the time, we called for HSH's 30-year FRM to trend in a range from 4.10% to 4.40%, and were presented with a 4.18% to 4.37% one. For Hybrid 5/1 ARMs, we expected the overall average to wander between 2.90% and 3.18%, and found a 2.99% - 3.12% set of bounds. For the all-important conforming 30-year fixed rate, we forecast a 3.93% to 4.22% pair of bookends, and got a 4.00% to 4.17% set. Overall, we were spot on with our expectations, but expected that rates would be more firm at the end of the period, instead of moving toward recent lows.
Forecast Discussion
What factors would there be to sway the Fed in the direction of continued action, more action or even inaction? It's hard to say, and it's a fair bet that even members of the Fed's Open Market Committee haven't yet made up their minds. In addition to actual market manipulations, any Fed decision will influence the psyche of investors and consumers and will have consequences as people adjust their expectations and outlooks.
While there are many interconnected factors to consider, most prominent among them are the Fed's twin goals: to foster full employment and to produce stable prices. Efforts to influence one can have an adverse affect on the other and so a balanced approach is required.
The Fed would be likely to institute a QE3 if the unemployment rate or job creation deteriorates, or if the recession in Europe or slowing in China depresses economic growth here, or if inflation starts to slow to a point where deflation again becomes a concern. If the Fed were to institute a QE3, this would signal to the markets that difficult times are to be expected ahead. In turn, since difficult times make it hard for companies to produce profits, investors would likely sell stocks and plow money back into bonds. This might wipe out recent stock market gains which are important to the rebuilding of household asset strength; this in turn might foster a new slowing in consumer spending, which would tend to slow the economy anew. Lower interest rates would again put pressures on pension funds, insurance companies and those who rely on their investments to produce income.
They would be less likely to start something new if we continue or are expected to continue along the moderate path we are treading, if hiring should continue to be fairly solid, or if measures of core inflation starts to regularly hold well above the now-explicit 2% level the Fed wants to see. It is likely that the Fed is eager to see how the economy will perform without the extraordinary support provided by Operation Twist. That said, as other support programs have expired -- MBS purchases in QE1, Treasury bond purchases in QE2 -- the markets seemed to become untethered, nervous and strongly sought shelter from risk. This expression of pessimism and fear drove interest rates downward, but tended to drag growth down along with it, exacerbating the economic slowness. At this point, it's a reasonable bet that letting OpTwist expire would tend to leave markets rudderless and probably skittish, with at least some factions stridently calling for more help.
Which brings us to option 3: Extending Operation Twist for a while longer yet. The Fed's present program -- favoring long-term Treasuries over short-term ones -- has caused a slight lift in short term rates over time. For example, daily values of one-month Treasuries yielded 0.000 -- nothing at all -- when the Fed announced the program. Fast forward about six months to today, and yields can be seen in the 0.05% to 0.08% range. That slight increase is actually beneficial, since one can "park" money in the safety of these investments and actually earn something; those earned funds can be used for spending or to fund other profitable investments, and so on. On the other side of the time equation, and with two short flares higher as exception, 10-year Treasuries are at about the same level now was then, so some stability was achieved. For mortgage rates, well, we've set a number of record lows since the program began, so it could be claimed that it has succeeded.
At the moment (and of course subject to change) we think that the Fed is likely to extend the expiration date for Operation Twist for perhaps another six months. This would achieve several goals: first, it would signal that although the economy is still troubled, it is not expected to worsen and is even even improving slowly in a number of ways; two, that the Fed is carefully watching and evaluating the needs of the economy, and reserves the right to move as needed, and three, that there will be additional time for the housing market to heal before it needs to worry about rising interest rates. Low rates are important to the success not only purchases, but also to the success of HARP 2.0, too.
There are two Federal Reserve Open Market Committee meetings before Operation Twist comes to an end. One comes April 24 and 25, a two-day affair. It is unlikely that a decision will be made one way or the other at that time. The next comes June 19-20, very close to the end of OpTwist. Certainly, a decision could come at any time between those two dates, and waiting until close to the expiry might engender a nervous period for mortgage and investment markets. If they are inclined to continue OpTwist if would be good to know sooner rather than later.
Forecast
It seems to us that the ranges of the last forecast are very much in play for this one, two. A period of warmer economic growth appears to have cooled somewhat, hopefully temporarily. After a somewhat quieter period, troubles overseas have flared again and will bear watching. The economy is performing but seems to have only a little momentum, and inflation seems firm but not troublesome. All told, these factors suggest to us a need for continued existing support by the Fed, nothing more or less.
As such, we expect mortgage rates remain very favorable over the next nine-week period. We are again starting from record or near-record low levels, and on balance, that leaves more space for them to rise than fall. The leveling of growth seems a temporary pause to us, and the moderate pace of expansion seems most likely to continue after we pass this point. It seems likely that warmer news will again foster somewhat higher interest rates, and although still extraordinarily low, we will again climb to something above rock-bottom during the period. Over the next nine-week period, we expect a range for HSH's FRMI of 4.10% to 4.40%, while the overall average for 5/1 Hybrid ARMs should wander a 2.90% to 3.18% path. For conforming, 30-year fixed-rate mortgages, we believe that we will see 3.93% to perhaps 4.22% for the period just ahead.
The calendar will have officially turned to Summer when this forecast expires. Before you head out on vacation, check back to see how this has all worked out, and where we might go from there.
---
February 17, 2012
Preface
With 2012 an election year, it is to be expected that there will be many forays into the mortgage market at various intervals. The administration is pushing the mortgage industry on all fronts, from new regulators and regulations, to ever-changing grandiose refinance and modification plans, to billions in settlements for perceived wrongdoings. This being the climate, we think it wise to pause and ask: "Is all this actually making more mortgage money available to more borrowers at more favorable terms?" and "Wasn't it a goal of the administration to have the government get out of the mortgage market?"
The answers matter. At some point, perhaps not all that far into the future, the residential mortgage market won't have HAMP, HARP, HAUP, HAFA and other acronymed programs to lean on, let alone a Federal Reserve bent on keeping interest and mortgage rates low and stable. There may or may not be a GSE structure in place. For now, we have the "advantage" of all those things.
Recap
Back on December 9, we expected a fairly calm and flat period for mortgage rates, and that's exactly what we got, perhaps even more stable than we expected. We called for a range for HSH's FRMI of 4.20% to 4.50%, and ended up with a 4.18% to 4.31% set of bounds for the indicator. For hybrid 5/1 ARMs, we expected the overall average to wander between a 2.95% to 3.25% pair of bookends, and were presented with a 2.99% to 3.10% pair. For conforming 30-year FRMs, our expectation was that they would trend in a 30 basis point range between 4% and 4.3%, and the vacillation was even less than we expected, peaking at 4.11% and bottoming at 4.01% during the period. We think we fairly hit the markets, even though we didn't test the upper ranges.
Forecast Discussion
The federally-backed, -sponsored or -initiated programs referenced above have no doubt done some good for some people. However, their beneficial effects may prove fleeting in the grand scheme of things while also disturbing the natural functioning of markets; as well, the effects of lawsuits such as the recently settled "servicing abuse" (robo-signing) scandals can create additional distortion. These contribute to rising costs of staying in the mortgage business going forward, and may even contribute to the demise of some firms (MetLife, most recently). It bears noting that any costs must be borne by homeowners and homebuyers at some point (or taxpayers, broadly).
The effect of grandiose refinancing plans available for everybody (and financed by a levy on big, bad banks) does make for great political theater but in reality shows just how little thought and effort is being expended to try to get the private mortgage market reformed and restarted. Instead, it demonstrates just how much control the government wields over the marketplace. This may prove valuable to achieve political or social goals, but does nothing to instill the kind of confidence needed to get private mortgage money and markets to function again. Likewise is the effect of the incredible effort expended to punish those "responsible" for the "wrongdoing" of years past, sapping both money and interest needed to form a new private market.
It would be refreshing to see either side of the political aisle provide even a thumbnail sketch of where they want the mortgage market to go, and when, and how we are to wean ourselves away from subsidized housing in its various forms. While we may yet still have some use for the crutches of HAMP, HARP and HAUP, can we at least begin to plan where we will go from here? Will the levies, penalties and disincentives to lending or borrowing be scaled back? Will homebuyers and refinancers forever pay for tax breaks for all? Will new regulations and costs drive more firms out of the business or prevent others from even considering entering?
At every turn, we seem to be fixated on operating a crippled machine which cannot be turned off but cannot be repaired. The market cannot fully function without the machine, but there is no plan to replace it with anything else or even a plan to fix it back up again. This situation continues to add complexity and cost to the mortgage market.
On the other side, then, there is the simplicity of interest rates.
Longer-term interest rates such as mortgages are usually more susceptible to concerns of growth and inflation, but a still sub-par economic performance and Fed policy bent on keeping long-term rates low and stable can overcome any of those concerns to a real degree. As we write this forecast, there is still some expectation that the Fed may launch a new round of mortgage or Treasury buying at some point in 2012, but at present we do not believe that is it going to happen. Although still challenged, the economy seems to be getting its legs under itself again. The Fed has broadly committed to keeping rates low until sometime in 2014, but if the economy continues on its present path, it becomes more likely the timing will be moved forward.
That doesn't mean rates are going much higher anytime soon, but it would remove the expectation of still lower rates to come (or even that totally flat rates would persist for a longer period of time). The support provided to the market of those beliefs and corresponding investor stances would be diminished, and they are perhaps the most important support for the housing market at the moment. That said, at some point, the Fed -- your government, again -- needs to lessen its manipulation of mortgage rates. The ability of investors to seek out investments properly priced relative to their risk is an important key to getting private money back in the game.
Rates would be higher absent the Fed's influence, but those higher yields would tend to attract investors seeking better returns, and bringing in more money would reduce the Fed's role over time. If present investor appetite for low-yielding non-Treasury investments (mortgages, in this case) should diminish, the Fed would need to increase its purchases in order to achieve its goal of goosing housing, which hardly constitutes getting out of the market.
Frankly, what we need right now is the formation of various exit plans. We need to start putting these together even as the mortgage and housing market only just finds some stability. They will no doubt take time to discuss and produce if we are to be able to put them into place in a timely manner. For the most part -- and the Fed's nimbleness notwithstanding with regard to moving rates -- we are not, and this may prove troublesome. Without it, we may never be able to "un-nationalize" the housing market.
In any present forward-looking discussion, we cannot ignore the effects of the European sovereign debt troubles, but we can say that the markets seem to have become fully aware of them or perhaps even have lessened anxiety about them; at the very least, they have become accustomed to their presence. That level of comfort may turn out be important as we move deeper into 2012, as it may prevent panicky moves by the market which would disturb interest rates.
While overnight lending rates remain tethered to Fed policy, more market-priced products, such as short-term Treasury Bills have seen their yields rise from zero to almost a tenth-percentage point over the last couple of months. The improving economy here is making investors less fearful and more willing to put their money into riskier (and better yielding) assets.
Although forecasts are quite mixed we remain of the mind that the economy is gaining strength; at the same time, Euro-zone troubles are starting to be addressed. Both of those happenstances would generally suggest rising interest rates, but they are no doubt being kept in check by the Fed and market expectation that the Fed will continue to do so. That said, and even thought the Fed might, investors are unlikely to be content buying ultra-low-yielding mortgages forever, and should the economy warms further, other, more attractive opportunities may beckon. Mortgage rates might also rise if inflation should remain above the Fed's now-explicit 2% target.
For the moment it is unlikely we'll get our wish of plans for tomorrow's mortgage market, no matter how much we need them to be forming. As we noted in the preface, it is an election year, and this likely means that little will get accomplished aside from blue-sky populist offers and posturing for the electorate. Year five of the mortgage and housing crisis is upon us, and while we are far away from the beginning we seem not all that close to an end, either. As the new spring housing season approaches, we are essentially in the same old boat, just with more favorable mortgage rates.
Forecast
We think the period just ahead will be a struggle of the market finding reasons for optimism against the Fed's still pessimistic stance. To be sure, that stance has moderated over the last few months, but the Fed still expects a difficult economic climate to persist and continues its campaign of extraordinary support. To us, that the Fed continues to expect a poor economy does seem a little at odds with a GDP of nearly 3%. While not particularly strong, it is a level which doesn't suggest the continuing need for extraordinary effort.
Mortgage rates can be expected to remain favorable over the next nine-week period. That said, we do think they will tend to be more above recent lows than setting new records week after week. The drumbeat of better news is still soft but steadily growing louder and the market is not likely to ignore it, at least not to the extent the Fed will. Unless poked lower by some unforeseen tragedy such as those last spring, we expect a range for HSH's FRMI of 4.10% to 4.40%. The overall average for 5/1 Hybrid ARMs should wander a 2.90% to 3.18% path. For conforming, 30-year fixed-rate mortgages, we believe that we will see 3.93% to perhaps 4.22% for the period just ahead.
This forecast expires in mid-late April. Drop back in and see if our expectation of better economic weather bears out.
---
December 9, 2011
Preface
As we come to the close of 2011, mortgage markets are perhaps as tranquil as they have been in the past several years. While there are plenty of unresolved challenges which continue to vex the markets, it just may be that we're learned how to live with them. Perhaps this is the new normal, a marketspace comprised of yet-unwritten rules, where external influences drive mortgage rates and at a time when the government can't seem to decide if more or less involvement in the mortgage market is a good thing.
Recap
There is growing evidence that the economy is moving past the shock of the Japan disaster of the spring. In the wake of that, we experienced sub-par growth which produced a threat of a new recession, but we seem to have been able to grow past that. Of late, though, Japan's effect has been replaced by growing concern about the Eurozone debt crisis, which may yet derail the recovery in 2012. The mess over there has had beneficial effect on US mortgage rates, as flight-to-safety money continues to come to these shores, driving rates downward and keeping them near record lows.
Back on October 10, we looked ahead and expected to see HSH's overall average for 30-year fixed-rate mortgages (FRMI) trend between bookends of 4.10% and 4.50%; we were presented with a more-stable 4.43% to 4.46% pairing. That was much the case with the overall average for 5/1 Hybrid ARMs, where we forecast a 2.90% to 3.30% set of boundaries, and were presented with a 3.09% to 3.20% set. For conforming, 30-year fixed-rate mortgages, a range of 3.90% to 4.25% was called for; instead, a range of 4.13% to 4.26% occurred. We'll claim a successful forecast in all three cases, even if rates didn't much test the lower bounds.
Forecast Discussion
While the Japan crisis can be ultimately solved by rebuilding roads, factories and supply chains, the Eurozone troubles are likely to prove more difficult to solve with any sort of speed. It has taken many years to construct these political and fiscal houses, which became badly exposed in the aftermath of 2008's global meltdown. It may take many wrenching years to reset these systems, and at the moment, steps are only being taken to prevent their collapse rather than to reform them.
In some ways, those troubles are a two-edged sword. Policy changes and fiscal belt-tightening over there will tend to trim Euro growth prospects, but that slow growth should continue to help our interest rates remain low. Slowness there, however, likely means more sluggish growth here, and our own economy will struggle to find traction, leaving millions on unemployment rolls and unable to engage the economy.
That impact is wide-ranging, particularly on the housing market. Without considerably stronger job growth, it will be hard to get more potential buyers into the market, buyers the market needs to absorb inventory and support home prices. For their part, the Fed's commitment to low and steady mortgage rates is helping, and both new and existing home sales have been on a gradual upturn since about mid-year 2011.
While our external forces seem in place, our internal regulations are not. Hundreds of rules are yet to be written under Dodd-Frank, the CFPB still has no permanent head, and with January kicking off an election year, it's a safe bet that little if any movement on these items will happen. Fannie and Freddie continue to zombie along, the FHA continues to have increasing exposure to troublesome market conditions, and the pullback in loan-size limits imposed in October will be at least partially rescinded (FHA only, for the moment) by year's end. Are we in, or are we getting out? That's the question which Congress cannot seem to clearly answer, and the longer it goes unanswered, the harder it will be to get private mortgage money back into the game... a goal stated by the Obama administration's outline from Treasury, a document which will turn a year old at the end of this forecast.
Forecast
So, have we reached a kind of stasis, where we can't really move forward, but have enough upward momentum to prevent a back slide? Economically, that seems the case, at least as far as the forecast period is concerned. Interest rates are being kept tethered to present levels by fear and market manipulation; market players are waiting for clearer signals as to the regulatory shape of the playing field, and political gridlock is preventing change, good or bad.
Perhaps that's exactly what we need: A period where nothing changes, or at least changes much; a chance to consolidate and plan, free of the wild swings of markets and countries which punctuated so many periods of 2011. Of course, interest and mortgage rates will change, but if the period we're in now -- one which began several weeks ago -- can find a way to persist, we might only change just a little.
For the next nine weeks, we think that the overall average for 30-year fixed-rate mortgages (as measured by HSH's FRMI) will run in a narrower-than-last-time range of 4.20% to 4.50%, while the overall average for Hybrid 5/1 ARM should find bookends of 2.95% to 3.25%. For conforming, 30-year fixed rates, we expect boundaries of 4% to perhaps 4.30% to take us through mid-February.
The SuperBowl will have just passed, so why not stop back and see if we were at the top of our game with this forecast!
---
October 10, 2011
Preface
A stumbling economy and a squabbling Congress left the Federal Reserve little choice but to again dig into its bag of economic tricks to help spur the economy (or at least help it to avoid sliding into a new recession). After programs of Quantitative Easing I (purchasing $1.25 trillion dollars in mortgages to unseize the home loan market) was followed by QE2 (purchasing $600 billion in Treasury offerings to help drive interest rates lower), comes an old idea, Operation Twist.
Operation Twist will see the Fed change the mix of its considerable holdings, selling bills and notes with terms of less than three years; in turn, it will then buy up new notes and bonds with terms of six years or longer. Importantly, this is being done without printing any new money, so there shouldn't be an inflationary impact from it, as there was to varying degrees with QE1 and QE2.
There's also a new mortgage-buying commitment. But how will these help?
Recap
Back on August 8, growth was running at 1.3% and we had just come off an employment report which found that no hiring occurred during July. Coupling this with the specter of a possible default by Greece saw investors increasingly convinced that a new recession was coming, and quickly. In response, they ran for the hills, crashing global stock markets and pouring money into no-longer AAA-rated United States treasuries. Underlying interest rates plummeted to new record lows as the darkness gathered, taking mortgages right along with them.
For the period, we had expected a range for HSH's FRMI of 4.55% to 4.90%, but the market delivered a 4.34% to 4.53% range. For Hybrid 5/1 ARMs, we called for a 3.25% to 3.65% range, and was presented with a 3.08% to 3.25% one instead. For conforming 30-year FRMs, we forecast a 4.35% to 4.75% range, but this was obliterated by new record lows of 4.15% to 4.26% for the period. It is clear that we were far too optimistic about economic prospects for the late summer. In hindsight, we probably should have seen the downturn in rates coming, since the end of the Fed's QEI program fostered a similar (though less pronounced) effect on interest rates, culminating in (then-record) lows for 2010. Better luck next time, as the saying goes.
Forecast Discussion
It is worth noting that the lowest interest rates come at the bleakest economic times, and usually while the Fed is standing idly by. It's also worth pointing out that a reactivated Fed's new program is intended to counter this, and the more success that OpTwist produces, the firmer interest rates will tend to become.
The Fed's OpTwist is intended to press interest rates lower. Since they are already at record lows for many kinds of loans, one might ask "What's the point?" By buying more long-dated investment paper, this allows the Fed to drive down mid- and long-term interest rates, lowering borrowing costs for some businesses, who might consider taking new loans to invest in their operations while money is cheap, or refinance existing debt to lower operating costs, improving cash flow and profitability which can lead to expansion. For consumers, lower rates might give folks with mortgages at the 5% level perhaps another opportunity to refinance, and might even attract some homebuyers into the fray.
While both of these have value, rates are already at fantastic levels. After years of expansionary monetary policy here and abroad, there are literally trillions of dollars available to be put to use, but far too many of them are tucked away. This being the case, it is more likely that the Fed wants to drive investor cash out of safe-haven holdings and into the broader market, where it can do much more economic good than sitting parked and idle in Treasuries.
This is accomplished by the Fed elbowing investors out of the way and buying up the investments they seem to most covet, so that if nothing else, safety will yield very little. In this way, the Fed is forcing investors to at least consider moving money out to the market search of higher returns elsewhere, and in turn, more money scattered about the economy may help fuel a bit more economic growth.
It is possible that even with lower yields, these guaranteed safe investments might still prove attractive to investors. However, that's much less likely to be the case for mortgages. The risks of investing in residential mortgages are still quite palpable, and lower yields for these mean that fewer investors are likely to want to accumulate this paper in volume. As lower rates should mean more refinancing, more refinancing will mean more supply... but there may not be any demand to absorb it, and that would tend to keep mortgage rates from declining as much as they might.
So, along comes OpTwistII.
Along with Operation Twist came a little additional twist. After thirteen months of the Fed staying away from directly influencing mortgage rates, they have decided to jump back into the game. Before, they were investing returns from the mortgage portfolio they built in QEI into purchasing more Treasuries, so as to shrink their holdings of mortgages over time. The decision to use those proceeds to again purchase mortgages is a key to making certain that the Fed will get the lower mortgage rates it wants to see in the market. Essentially, if investors are unwilling to buy "risky", long-dated, low yielding paper, then the Fed will. The Fed's concerns lie more with societal and economic benefit than the gains or losses of it's portfolio of holdings, and they are uniquely suited to manage any losses which might happen as the result of accumulating more loans on their books.
We also have wondered if the Fed's move is a precursor of sorts to the administration's goal of expanding HARP refinances, where good-but-underwater borrowers might have a chance at today's record low rates. Up to 25% of homeowners are underwater at this point, and many billions of dollars are tied up in unrefinancable higher-rate mortgages. Estimates are that if these borrowers became eligible to refinance that many tens of billions of dollars would be loosed into the economy. That may or may not be the case... and probably won't be during the forecast period, anyway.
Forecast
Nine weeks is a short period of time, but quite a lot can happen during that time. We believe that the Fed will get its way, and interest rates will come down for longer Treasuries and mortgages alike. At the same time, we are perhaps more optimistic than some that the economy is showing signs of modest improvement; the 0.4% GDP of the first quarter gave way to the 1.3% of the second, for example. While 3Q11 will be no great shakes and probably no better than the second quarter, the effects of the difficult first half of 2011 continue to fall behind us, and the addition of the Fed's involvement seems likely to move the GDP needle higher as we look toward the end of the year. As such, this forecast is confounded by two opposing forces.
Mortgage rates are moving lower as we write this -- new record lows, in fact -- and there remains some downward momentum. We will probably go lower in the early part of the forecast period, then firm a little, but there seems to be little reason to expect rates any higher than they are at the moment for some time. Over the next nine weeks, we'll expect HSH's FRMI to range between a low of 4.10% to perhaps 4.50%, while the overall average for hybrid 5/1 ARMs may run between a 2.90% - 3.30% set of bookends. For conforming, 30-year FRMs? We could see a 3.90% to 4.25% pair of fences, containing rates at or near record lows throughout the period.
The next forecast is due mid-December. Take a break from your holiday preparations and stop back to see how this all fared!
---
August 5, 2011
Preface
The Fed's QE2 program of buying up $600 billion in Treasury debt has come and gone. The intense political fight over the nation's debt and deficit has come and gone. The AAA credit rating of the United States looks as though it might survive, which should help to keep our borrowing costs lower.
The economy has again taken center stage, and a very poor performance in the first quarter was not much improved in the second. Recent data suggest that the third quarter is off to a rocky start, too, and investors are marking down their expectations for growth, inflation and the potential for the Federal Reserve to start raising interest rates any time soon. At present, there have even been calls for the Fed to start a new program of securities purchases, but that seems unlikely, especially since the 0.4% GDP to 1.3% in the second quarter represents an acceleration of sorts.
Economically, we appear to be in for a continuing rough time of it.
Recap
In our last forecast, we expected HSH's FRMI to trend between a pair of 4.70% to 5.10% bookends. Our overall tracker of the cost of long-term fixed rate mortgage money moved rather less than that, wandering between a 4.65% to 4.88% window during the period. For 5/1 Hybrid ARMs, our expectation was for a 3.30% to 3.75% range, and we were very close to that with a 3.29% to 3.47% gap. Conforming 30-year FRMs, were forecast to trend between 4.5% and 4.9%, and our 4.48% to 4.72% space for the period was certainly close enough to be called acceptable.
The lowest rates of the period -- breaking all of our low-end estimates -- came during the last week of it (week ending August 5, 2011).
Forecast Discussion
With consumers and businesses again hunkering down, and with new government stimulus of any size unlikely (given the bitter fight over the debt ceiling) we may have a difficult adjustment patch just ahead. Great uncertainty about coming regulations and taxes are serving to keep markets from healing or even performing, and penalties and unforeseen consequences from business decisions and processes made even years ago keep appearing, sapping profits and stymieing forward progress. A lack of leadership and confidence about where we are going and how we will get there is pervasive, and the rest of the world has plenty of troubles of their own even as we flounder about.
Even economic theory itself is being called into question. The "stimulus" -- a Keynesian response which dictates that the government must pick up the slack of spending when the private market cannot -- was obviously not structured in a way as to do the most permanent and lasting good, reaching the people who could spend it and spur growth (i.e. consumers). This might best have been accomplished by payroll tax breaks, tax credits or even rebates; instead, it was spent on purportedly "shovel-ready" projects and spending to keep governments running. Those funds are now depleted, the economy has still not recovered, and the limited boost those funds provided is now fading. A payroll tax reduction earlier this year was a late and ineffective attempt to goose growth, as the cash it released was swallowed up by a spike in gasoline prices, leaving us in no better shape. A decision to release some of the Strategic Petroleum Reserve, another gov't response, has failed to lower gasoline prices materially so far, and billions of dollars keep going into the gas tank.
Meanwhile, literally trillions of potentially productive dollars in cash are being held by companies who are either unwilling or unable to spend them, lend them or fully invest them for fear of loss or penalty. It is any wonder that guaranteed investments like Treasuries remain in such demand, despite puny yields and the threat of downgrade, or for a time, even outright default?
A former top Obama adviser, Rahm Emanual, noted over two years ago that in terms of a political opportunity to effect change, "You never want a serious crisis to go to waste." That may or may not be true, but the total overhaul of financial regulation, tax code tinkering and government takeover of health care at a time of tremendous economic upheaval calls into question the timing of implementing such changes.
The markets and systems we knew and understood yesterday -- for all their troubles and flaws -- were reasonably known and understood entities. The ones which will shape activity tomorrow are yet poorly defined at best, and so the companies and decision makers which will drive the economy forward stand by and wait for more clarity or certainty, and the economy stumbles along. We are years into the crisis which has brought us to this point, but permanent or even effective solutions seem no closer now than they did then.
Forecast
The hard stumble in the economy in the first and second quarters -- not to mention a huge selloff in the equity markets as we write this, all in response to poor news -- will see us start the forecast period at perhaps the lowest point for rates since last fall. While future fiscal action is unlikely, it's no longer out of the realm of possibility that the Fed might again step into the market, but we still think it unlikely.
The traditional drivers for mortgage rates will be fully back in play for the forecast period. These include economic and job growth with perhaps a side order of inflation concerns. For the next 60 days -- taking us though the end of the 3rd quarter -- there should be a little upward progress, but there is little reason to expect a huge improvement in either of the first two, while the third may fade in importance to some degree, especially if oil prices remain below the century mark.
For the next nine weeks, we expect to see the average overall rate for the 30-year fixed-rate mortgage to wander in a range of 4.55% to 4.90%; five-one hybrid ARMs should find a pair of 3.25% to 3.65% bookends, while the conforming 30-year FRM will likely find 4.35% to 4.75% bounds. Great rates, all of them, courtesy of a lousy economy. Well, at least there's the return before long of the pleasant diversion of watching football to keep us from staring at bleak economic news seven days a week.
This forecast expires during the first week of October. Leaves will start to be falling by then as Autumn takes the stage from Summer. Take a break from raking, and stop back to see if we were near the marks we set.
---
June 8, 2011
Preface
The Federal Reserve's above-and-beyond program of purchasing $600 billion worth of US Treasury debt is coming to a close, just at a time when the economy is throwing off some pretty weak numbers. There is a wide disagreement among analysts and some big investment companies about the direction for interest rates once the QE2 program ends at the close of June. It's worth observing that the weak economy is probably receiving only ancillary support from QE2, but whatever support there has been will disappear; this means the economy may soften some more as the summer heats up. Meanwhile, there are more challenges facing the mortgage and real estate markets.
Recap
In our last forecast, we expected HSH's FRMI to trend in a range between 5.05% and 5.40%; the economy failed to hold even meager growth levels during the period and we actually found a 4.81% to 5.18% one instead. We forecast that the overall average for Hybrid 5/1 ARM would find 3.70% to 4.00% boundaries, but were presented with 3.42% to 3.85% ones instead. Lastly, we believed that conforming 30-year FRMs would wander between 4.85% to 5.20% over the nine-week period, but a pair of 4.63% to 4.99% bookends were seen. Clearly, we overestimated the economy's potential during the period; this helped equities to move lower, and investors seeking safety and security plowed funds into bonds, hoping to lock in first quarter profits and escape a worsening Greek debt crisis.
Forecast Discussion
Bill Gross of PIMCO, one of the foremost mavens of the bond market, has gone on record saying that the end of QE2 will mean a period of higher interest rates, and has reported that his firm has taken positions to prepare for this. Other investment companies such as Vanguard believe otherwise, and opinions are rather all over the board.
It's really hard to get a clear read about the effects of the ending of an unprecedented program, especially since it's not fully clear about the benefits of it in the first place. Did the Fed's competing for these assets actually crowd other players out of the market, driving them to riskier assets (stocks, corporate and municipal bonds, etc.)? A case could be made that this has been the effect of the Fed program -- that there hasn't been enough supply of bonds to cover demand for these instruments -- which in turn drives their prices up and their yields down. If this is the case, the Fed's exit -- and the investor's chance to finally purchase a preferred investment -- would likely mean level to perhaps even lower rates for Treasuries (and the mortgages which track them), but would mean higher rates for munis and corporates, and possibly exacerbate the recent stock market decline as money is shifted from those investments back to Treasuries.
On the other hand, if the Fed was acting as a sponge to absorb a supply of Treasuries the market cannot or did not want, a fresh surge in supply meeting this weak demand means that interest rates would move upward, and likely for all kinds of bonds, mortgages included. Given this scenario, borrowing costs would rise, possibly further slowing the economy and putting new downward pressure on home prices, as affordability would be compromised somewhat.
Of course, only this particular support program is ending; the Fed still remains committed to using the proceeds of refinanced mortgages and bonds coming to term to buy Treasuries and so keep the size of its investment portfolio level. In this way, the Fed's appetite for Treasuries will remain strong until they decide to begin the process of selling the assets they accumulated during the worst days of the economic crisis. They are discussing how best to do this, but there is no imminent action expected.
It goes without saying that there is also the poorly-performing economy to deal with. A strong and fairly durable flare in oil and commodity prices earlier this year robbed the economy of fiscal stimulus and forward momentum, downshifting us to a sub-par growth rate. With a soft growth pattern evident as we write this and unemployment still very elevated, it is hard to expect the kind of inflation which will produce much higher interest rates. So far, the kind of inflation we do have saps economic strength, rather than a kind of prarie-fire one which pushes cost increases to all corners of the economy. Not all inflation is bad; there are beneficial kinds to be hoped for, like that in wages and home prices, for example. Moderation, however is key in this regard.
While we're of two minds about all of the above, we can only make one forecast. When the truth is revealed, it's most likely that all of the above items will have played a role in the outcome. Recent price pressures may prove transitory, the slowdown in the economy may turn out to be just a pause for a number of reasons, and less Fed involvement may start to reveal the true tendency of the market as we continue to recover from the financial meltdown. Fed or no Fed, economic growth and inflation are constants when it comes to reliable indicators.
Forecast
Interest rates have moved downward this late spring on increasingly poor economic news and inflationary leveling, so much so that the idea of a QE3 has gotten some play. We never say "never", but we're comfortable in saying that it's not going to happen during this forecast period. The downshift in growth probably has a number of facets, including but not limited to interruptions caused to the Japan disaster and our near-historic Mississippi river floods. The next few weeks will probably bring more of an accumulation of poor economic data, but the four or five weeks after that may bring new glimmers of economic life. As such, we should start low and probably end somewhat higher in terms of rates.
For the next nine-week period, we think that the overall average for 30-year fixed-rate mortgages as tracked by HSH's FRMI will run in a channel from 4.70% to about 5.10%. For Hybrid 5/1 ARMs, low funding costs and some increased appetite by portfolio lenders will probably serve to move those rates between 3.30% and 3.75%, and for conforming 30-year fixed rates, we see a range of 4.50% to 4.90%
It'll be early August when this forecast expires. Why not check in from your vacation to see how it all turns out?
---
April 1, 2011
Preface
International tragedies and overseas political unrest have shifted investor focus from the US economy to the world stage. The market shock from these events produced a mild flight-to-safety purchase of US-based assets, which in turn moved mortgage rates a little lower than they would otherwise have been. As the damage to Japanese infrastructure becomes more evident, it does seem likely that there will be at least a temporary slowing of domestic economic growth as a result, not to mention the effects of a still-ongoing nuclear crisis. However, in terms of interest rates, it is yet unclear if the expected reduction in growth will be sufficient to offset rising concerns about inflation.
It was improving prospects for growth and inflation which saw 30-year fixed mortgage interest rates rise from low-4% lows in October 2010 to low-5% "highs" by the end of the year. As the economy gained more solid footing, a recovery increasing in strength would see the Federal Reserve removing emergency-level stimulus sooner rather than later, and markets began the process of preparing themselves for this new environment. Not all things go according to script, however, and the continuing derailment of the housing market, a still-weak but gradually improving labor market, rising energy and commodity prices and these global latest concerns have again injected a bit of insecurity into the outlook, with some forecasts of a "full recovery" pushed further off into the future.
Recap
In early February, we looked across the economic spectrum and made our usual speculations for mortgage interest rates. At that time, we expected that the overall average for 30-year fixed-rate mortgages (as tracked by HSH's
FRMI)
would wander in a range from 5% to as much as 5.35%. During the nine-week period, we actually saw a 5.08% to 5.33% range, and forecasts rarely get much more accurate than that. For the overall Hybrid 5/1 ARM, we foresaw a 3.75% to 4.05% set of bookends, and were presented with a 3.70% to 3.88% one instead, still a pretty reasonable call. For the all-important Conforming 30-year FRM, we specified a 4.83% to 5.18% range, and solidly hit those marks with a 4.86% to 5.13% gap. All in all, a nice recovery for us after a rough December-to-February forecast.
Forecast Discussion
In light of all the above challenges, we may need to adjust our expectation of a what a "full recovery" actually means. Given the sluggish upward momentum in the economy, we may be in for a protracted period which grinds forward and may never reach the peaks of previous expansions. There's nothing wrong with a long period of moderate growth per se, but we could certainly use a boost to move us back to pre-recession levels at a faster pace. The Fed hoped to do this with their QE2 program of purchasing US Treasury bonds, and indications are that this helped nudge the economy forward to some degree; however, this program comes to an end by the end of the second quarter, and at the moment seems unlikely to be extended or renewed. The Treasury, which bought up mortgages and bonds at the height of the crisis to stimulate markets and lower interest rates, recently announced that it was starting to sell off its holdings at a measured pace, so it would appear that the wind-down of certain extraordinary market supports has at last begun, if slowly.
So we find ourselves again in a economic transition phase. Some extraordinary stimulus is coming to an end, but a case could be made that more or different might yet be needed. With the help of certain of that stimulus, deflation worries have given way to some inflation concerns, and those rising prices (most notably for food and gasoline) have soured consumer moods and threaten to shave GDP growth by several tenths of a percentage point or more. The unprecendented tragedy in Japan, while holding back growth for a time, may ultimately provide stimulus down the road at some point as rebuilding begins.
For the mortgage markets, it should also be noted that interest rate movements are only one part of the story. At present, virtually every facet of the mortgage market is under some form of scrutiny, re-regulation or change at the moment, all items which serve or will serve to add to the complexity of making mortgage money available to consumers. Complexity adds cost and can reduce the availability of credit (or at least the desire to make certain kinds of credit available), so the price of mortgage money is likely to be on the rise, at least relative to historic benchmarks, even if the economy and inflation aren't.
It seems to us that opposing forces are likely to be in play to a great degree during the coming forecast period. The expansion continues, but is tempered, while concerns about price inflation are offset by a slower period of expansion. Perhaps the only unbalanced portion of the equation are new regulations and price influences, some of which are more durable or even permanent increases in the cost of a mortgage.
Forecast
With all the challenges to the recovery still so evident, it would be hard to expect interest rates to get a whole lot of upward traction. That said, we expect that the market's focus will shift away from the immediate crises to longer-term concerns again, and those do seem likely to return us to the path we were on before, one of potentially firmer interest rates as we move forward, if only mildly so.
Since interest rates are only one component of a successful homebuying transaction, even somewhat firmer rates shouldn't derail or seriously deter home sales this spring (at least not any more than they already are). Expectations are that sales will continue to show signs of recovery after a fairly unfavorable winter, where both new and existing home sales slipped at season's end.
For the next nine-week period, we think that the range of rates we will see for HSH's FRMI will be between 5.05% and 5.40%. The Hybrid 5/1 ARM should continue to see growing acceptance among borrowers, as they should sport very attractive rates, bookended by 3.70% and 4% boundaries. For conforming, 30-year fixed-rate mortgages? Figure on a 4.85% to 5.20% space. In each case, interest rates will remain only at fantastic levels, rather than the unprecedented ones of last fall. With a little luck, wanna-be homebuyers will seize these opportunities while they last... but not all opportunities can be realized, of course.
We'll pass Memorial Day by the end of this forecast. Here's hoping we don't again endure a "silent Spring" as it pertains to housing.
---
February 2, 2011
Preface
The economic recovery has strengthened and is beginning to throw off signals that it is becoming or has become self-sustaining, able to grow without extraordinary Federal Reserve supports and able to better withstand external shocks and firming prices. As the discussion shifts away from recession and deflation to expansion and inflation, interest rates will likely tread an upward path, if a mild one for a while.
The economic expansion is starting to involve to a greater degree the service sector, the largest portion of the US economy. If present trajectories hold, we may see before too long a sharply improving labor market as confidence in the durability of the recovery builds. That said, the private sector experienced the brunt of the slowdown, cutting back severely in production and employment. At the same time, a considerable amount of stimulus went to maintain government employment and services. If would appear now that the shoe is on the other foot, so to speak; private businesses are beginning to recover and expand, while government is in a cost-cutting (possibly even downsizing) mode.
These twins of recession and recovery are operating on clearly different timelines. Government retraction will of course temper the strength of the recovery even as the private sector moves forward faster. This drag, coupled with a still-weak but improving labor market and a poor housing sector will see the Federal Reserve running its QE2 program to fruition, but probably not beyond. With a GDP pattern over the last three quarters of +1.7%, +2.6% and +3.2%, we will probably find mid-to-upper 3% GDP growth by the mid-year expiry and an economy which no longer needs the support. That's beyond the forecast period, but food for thought. In the interim we seem likely to set the stage for that exit.
Recap
Back on December 3, we speculated that interest rates would be on a firming trend, but undershot the mark by a fair bit. As tracked by HSH's FRMI, we expected that the average 30-year mortgage rate would trend from 4.65% to perhaps 4.95%, but never got below 4.86% while trending as high as 5.19%. That was much the case for 5/1 Hybrid ARMs, too, where we believed a 3.50% to 3.80% range would rule, but received instead a 3.66% to 3.95% set of bookends. Obviously, conforming 30-year FRMs broke their expected range as well, running in a 4.73% to 4.93% valley, rather outside our expectations of a 4.40% to 4.77% distance. Interestingly, the differential of about 30 basis points for each was in line with our forecast even though the placement on the scale of rates didn't work out so well.
Forecast Discussion
With that rise in rates came a fairly hard end to what was a reasonable and welcome wave of refinancing activity. This boosted bank profits and improved the willingness of banks to lend, but those effects are now waning. Record-low rates did little to spur the housing market, and the slightly higher ones now in place are not a strong deterrent to buying a home. After a considerable tax-incentive created distortion, sales do finally appear to be entering a mild firming trend.
A recovery in incomes, confidence and hiring will improve that to some degree. A mild change to withholding rates is adding a few disposable dollars to the paychecks of those who presently have jobs, adding an incremental boost to growth, and household balance sheets continue to improve. Consumer spending is picking up, encouraging businesses to add workers, while the manufacturing sector appears to have greater legs than was expected, adding to the upward momentum.
We believe that much of this nascent improvement is the result of better clarity on the direction for tax policy, a more balanced Congress with perhaps a better ear for hearing business concerns and even an administration moving toward a less-anti-business stance. Still, many regulatory schemes are only now coming into play, adding uncertainty about the viability of business lines and strategies as we move forward. These cause their own kinds of distortions in the marketplace, and may be a deterrent to a fast housing market recovery, since no on wants to get caught on the wrong side of a rule change (or a change in rules which affects the value of an asset or investment). Among these under discussion now are certain provisions of the Dodd-Frank financial market reform, including what is or is not a Qualified Residential Mortgage (which loans will be subject to a 5% risk-retention standard), how loan originator and brokers will get paid for their work and other consideration which affect well-established business models. That's not even including expected discussions of the reformation (or dissolution) of Fannie Mae and Freddie Mac and the how the forthcoming ruler of lending markets (the Consumer Finance Protection Bureau) will change the game. Even as economic certainty seems to be building, regulatory uncertainty seems to be doing the same.
These things affect not only the willingness to lend money, and to whom, but also the price of money to be lent. By this point, six quarter of growth in the economy and rising profits should be fostering an improvement in the lending climate, but these uncertainties are serving to hold that back. There are too many unanswered questions: Can loans be made, profitably, both today and tomorrow? Will rule changes be applied retroactively, penalizing firms for yesterday's decisions? Will the mortgage market we've known for 30-40-50 plus years continue to operate in a manner we can recognize? Will there even be a Fannie or Freddie to sell loans to, or are we going to build a new model from scratch?
Forecast
While concrete answers to these and other questions are unlikely to come in the next nine-week forecast period, certain of the discussions about them have the potential to affect mortgage rates. As always, the economic discussion certainly will, particularly if firming growth is accompanied by firming prices. By the end of the forecast period (early April) we may see some calls for the Fed to terminate its program and start to prepare the markets for an eventual (possibly late year) upward change to short-term interest rates. Also, given the stability interest rates have exhibited during the on-going Egyptian political crises, even an external market shock may not cause the kind of rate-reducing flight-to-safety purchase of treasuries we've enjoyed at times over the past year or so.
This largely argues that interest rates will be stable-to-higher over the forecast period. As such, we expect that the overall average for 30-year fixed-rate mortgages tracked by HSH's FRMI will run in a 5% to 5.35% range for the next nine weeks, while 5/1 Hybrid ARMs should run a 3.75% to 4.05% trench. Conforming 30-year FRMs, still the benchmark (and will remain so as long as there are GSEs to sell to) should see a 4.83% to 5.18% set of bookends.
This forecast expires on or about April Fool's Day. Will the market have played any pranks on us by that point? Drop by and we'll see what tomfoolery has befallen us.
---
December 3, 2010
Preface
The elections are behind us, and the tenor of economic reports has become a little warmer after a difficult mid-year period. That stumble in the recovery is fading behind us now, and there are encouraging signs that the recovery may finally become more self-sustaining before too much more time passes. The Federal Reserve has begun Quantitative Easing (QE) a program of buying up additional Treasury obligations in hopes of fostering some price inflation while pushing the economy forward at a faster pace. These goals are a little at odds with one another, since growth tends to push interest rates a little higher, and additional inflation certainly will, too.
In theory, by competing in the market to buy substantial amounts of new and outstanding government debt, the Fed will force investors to put their money elsewhere, adding liquidity to new markets and driving down interest rates for other kinds of borrowing. However, there are no guarantees this will happen, and, lacking other productive investing avenues, investors might simply continue to park their money at these new lower rates of return rather than risk new losses, at least for a while.
For all its purported benefits, analysts have concluded that the Fed's QE program probably won't add much to economic growth or help to trim unemployment substantially; as well, there are plenty of legitimate concerns about the Fed's ability to quell inflation once it gets a toehold. Since a beneficial tax cut (better fiscal policy) probably isn't in the offing, the Fed's program is presently our best hope to nudge growth upward, but whether this program ultimately causes more harm than good won't be known until well into the future.
In the nearer term, we seem to have an economy that is starting to make a little headway in some important ways. It will be a long while yet before the economy is running at or near full steam, but even incremental steps can have considerable beneficial effects.
Recap
Back on September 24, we looked ahead and expected that our overall indicator for mortgage rates -- HSH.com's FRMI -- would be likely to travel in a range between 4.58% and 4.92% during the nine-week forecast period. In that time, we actually got a range from 4.58% to 4.78%, and so we were pretty close. For the overall average of the 5/1 ARM, we expected a 3.56%-3.90% gap, and got a 3.51% to 3.62% range instead, a much narrower one than forecast. As far as conforming 30-year FRMs go, we called for a 4.38% bottom and a 4.70% top for the fall, and the market presented us with a 4.32% to 4.53% differential instead. Overall, we think we fared pretty well.
Forecast Discussion
The improving signals of the economy we've alluded to above are subtle, but seem real. For example, over the last few weeks, the level of new unemployment claims has turned downward to the best levels of the recovery, and while still elevated, represent a positive change in what has been an intractable pattern for much of 2010. Consumer spending has firmed up somewhat, and manufacturing and production-related indicators have turned up again after a weak summer-and-early-autumn showing. Housing remains in the tank, but seems to be stabilizing after a tax-credit hangover. Auto sales have been firmer of late, notching a two-year high last month. Indicators of consumer moods have been stable to higher.
Some clarity is beginning to show with regards to the expiring Bush-era tax rates. With the Republican victory in the Congressional elections, it is likely that at least most of them will be extended, probably for a couple of years, and the groundwork for actually changing them will have time to be laid. While there is lame-duck Congressional session to yet complete, there seems to be some possibility of trimming back some of the most difficult or costly parts of financial market reform. Given the more mixed nature of the incoming Congress, it seems likely that some moderation of the last Congress' agenda will come into play, and there has even been some talk of a long, perhaps five-year, plan wind down of Fannie Mae and Freddie Mac. We will see how that plays out in the days ahead.
Labor markets are the key to a more sustainable recovery, for shrinking the federal deficit and to help states fill in budget gaps. Even small improvements in hiring can have considerable effect, especially since government employment will likely be retrenching for a time yet. Hiring by private concerns has been slow but fairly steady over the past four months, and other indicators suggest a general continuation of the trend. That said, we seem to be in a gradually improving pattern, with incremental gains promoting additional incremental gains as time rolls forward. Now five quarters old (probably six), the recovery is firming, if still lackluster.
On one hand, a firmer recovery argues for firmer interest rates. On the other, have we become so accustomed to a poor economic climate that even a mid-to-upper two percent for GDP growth is "hot" enough so as to be considered worrisome, in that it might spark inflation? At present, there is so much "resource slack" -- everything from production capacity to people -- in the economy that we could probably grow at double that clip for a while without serious damage. The Fed is trying to err on the side of caution and trying to spark above-trend growth by keeping short-term and now longer-term interest rates low. Since longer-term rates are much more sensitive to inflation potential, perhaps the Fed's program is about creating a buffer to those fears; if inflation concerns begin to spook the market and interest rates really start to rise, they can keep them from rising so far or so fast as to derail the recovery, which will still probably be shaky for a while.
This is especially the case if growth does come in higher than expected in the fourth quarter, and it may. If so, concerns about future price pressures will surely arise. In addition, if the first quarter of 2011 also comes in solid, the Fed will be said to still be "standing on the economic throttle", which would in turn unnerve the markets. Rates might rise further, confounding the Fed's hopes that low rates might remain available long enough as to produce a more lasting and less fragile recovery.
Forecast
Although it will be uneven at best, we think that there is a good chance that the economy will improve further in the remaining bit of the fourth quarter and the first month of the first quarter of 2011. If growth is rising, interest rates will, too. There's little likelihood of a huge or sustained spike in rates, but there may be a rising trend as positive incremental news accumulates. However, it won't take much to slow beneficial activity in the housing market; even small increases in mortgage rates are sufficient to quell refinancing activity. With homebuying already soft, small rises won't do much additional damage, save possibly to home prices, but certainly aren't a welcome occurrence in a market struggling to recover.
For the next nine week period, we think that the overall average for 30-year fixed interest rates as tracked by HSH.com's FRMI will trend between 4.65% and 4.95%. The overall combined average for the 5/1 Hybrid ARM should see an 3.50% to 3.80% gap, and conforming 30-year FRMs will find bookends of 4.40% to 4.77% over the forecast period.
This forecast expires in the first week of February. Winter will be just about half over at that point, with the groundhog having produced his own forecast of sorts. Here's hoping our prognostications are better than his often are.
---
September 24, 2010
Preface
A downshift in the economy persists, but things appear fairly stable (or at least not in any new crisis) at the moment. In a deep lull following the expiry of the last tax credit, home sales are at very low - or even historically low - levels. Job growth remains nonexistent and expressions of confidence are lacking. With the political season fully upon us, newspapers and airways are certain to be full of negativity.
The National Bureau of Economic Research (NBER) declared that the longest recession since the Great Depression came to an end well over a year ago. That's as may be, but for many Americans, there is little if any difference between the recession and the recovery, and uncertainty and pessimism remain the order of the day.
If the natural expression of Americans tends toward the optimistic over time, why have we seen so little progress toward expressions of greater optimism, even though the worst of the downturn is behind us? A lack of confidence is bred from uncertainty, and it is precisely this lack of confidence which is keeping trillions of dollars -- in consumer cash that could be getting spent, and in in capital that could be creating jobs to meet the resulting demand -- locked away instead of being spent to spur the economy.
Perhaps it all comes down to leadership, and believing that those in power are pushing policies and the economy in the right direction. The optimism which met the incoming administration has faded considerably and there are few who would claim that the spending of trillions of taxpayer dollars has produced measurable beneficial results. There are even fewer who seem to be championing a brighter tomorrow just ahead, even as we struggle with today's issues, and it would likely be hard to find many who believe that today's policies will foster that brighter future.
A changing regulatory landscape, a lack of clarity with regard to tax policy, truly massive budget deficits, astounding debt figures, and fiscal and even monetary policies which seem rather impotent -- they all contribute to the discomfort. At least the Federal Reserve can claim some successes in stabilizing markets and promoting a monetary stance which has worked to produce stronger growth in the past. However, there are limits to what the Fed can do, and quantitative easing (QE) programs like buying Treasuries have unclear benefits and unknown drawbacks, let alone a real sense of the long-term effects of such a policy.
We roll into the forecast period -- which includes elections and a month noted for being troubled for financial markets -- ensconced in a very sluggish period of economic growth.
Recap
For the last forecast period, we expected that the slow-growth, low-rate environment would continue. Conditions cooperated nicely with our expectations, and compared to other periods this year, mortgage interest rates moved in very narrow ranges. For the period, we expected HSH's Fixed-Rate Mortgage Indicator (FRMI) to wander between 4.83% and 5.15%, but the cooling in the economy produced lower bounds and a narrower gap to boot, with a low of 4.75% and a high of 4.92% for the period. For hybrid 5/1 ARMs, perhaps the most viable alternative to a 30-year FRM, we foresaw a 3.72% to 4.15% range, and got a 3.72% to 3.92% one. For all-important conforming 30-year FRMs, we called for a 4.50% to 4.88% gap, and got an actual 4.49% to 4.65% one. All rates moved to new historic lows and generally trended downward throughout the period.
Forecast Discussion
If a lack of confidence is the key issue facing the economy, how might it best be fixed? In a word, leadership. Clarity of thought and purpose lend to an air of confidence, as does acknowledgment of the stark realities of the present circumstances relative to their potential. Removing uncertainty matters a lot; doing so engenders a sense of trust in policies and systems which are needed to get us moving again in the right direction.
Confidence and optimism are bred through the expression of clear, practical ideas to get us there, and these need to come from our elected representatives. Confidence can be built by admitting failures and fallibilities, but expressing a willingness to change to better meet the challenges which face us.
The folks in power need to do a much better job in this regard. The administration's focus on changing the health care systems and re-regulating the financial service industries in the middle of a recession has further and even permanently upset "the known" in favor of "the unknown." In times of turbulence, even a broken "known" can provide a greater sense of certainty than a perfect "unknown." Valuable or not, there can be no doubt that these changes have injected uncertainty into the economic argument, and at a time when it may be least desirable.
The overhang of expiring tax policy is another model of uncertainty. Knowing full well Bush-era tax policies were slated to expire at year's end, the administration at present has no plan in place and is only discussing what to do about them. A decision as to their disposition one way or another would at least provide clarity, but represents an unpalatable political choice. Making hard decisions - even politically distasteful ones - is one of the hallmarks of leadership. Lacking clarity on the future direction of tax policy, businesses and individuals alike continue to express a preference for caution, further hurting the economy.
Given the level of discomfit among the populace, and with elections nearly upon us, many officials probably have little confidence about their fortunes, too, and rightfully so. It is expected that many will rejoin the ranks of civilians -- and the expectation of change in Washington breeds a little uncertainty of its own as well.
Forecast
There are a lot of items which could be employed to move us to more certain outcomes. Clarity of tax policy is one; finding ways to help businesses create jobs (not just "save" them) is another. Finding ways to get more money in the hands of folks for whom it will do the most good, like underwater refinancing programs or new homebuyer tax credits might be others. The message from Washington and statehouses alike could be could be changed, and strengthened: "We hear you, and we agree -- It's STILL the economy, stupid!"
Hearing and acknowledging the problem in clear, simple terms, and showing a strong willingness to turn to it, would be a great start. That said, it probably makes no difference for the immediate forecast period, which will feature grudging economic improvement over the past quarter while leaving us at levels low enough as to still feel like recession. The Fed may decide to re-start its QE programs between now and Thanksgiving (probably not) but with inflation low and the economy slightly less slow, rates should remain at or near historic lows.
For the next nine weeks, we expect that HSH's FRMI will travel between 4.58% to perhaps 4.92%; the FRMI's 5/1 ARM compatriot between 3.56% to 3.90%, while conforming 30-year FRMs run in a 4.38% to 4.70% channel.
Drop back after Thanksgiving dinner, and we'll see how this all works out.
---
July 23, 2010
Preface
A stumbling economy, the continued influence of euro-zone troubles, and no signs of significant improvement on the horizon have helped mortgage rates drift to 50-plus-year lows. A world awash in capital (and too afraid of financial risk to do much with it) has had some beneficial effect, but still-tight underwriting standards and a largely sated pool of potential borrowers means that even these record-low interest rates can offer only limited benefits.
Housing markets and demand dynamics remain distorted, due to the end of federal tax incentives and existing loan failures. With financial-market overhaul now the law of the land, we are about to enter a new age of re-regulation which promises to muddy up the already-murky waters of calculating risk and receiving reward. Until new clarity about the structure of finance and mortgage markets comes, it will be hard to expect any improvement beyond those at the fringes of the market.
This leaves us in a difficult state. The FHA program is serving as many prime and near-prime borrowers as it can at the moment with pretty liberal underwriting requirements. That said, for millions of potential borrowers, most notably the 25% or so of homeowners who are underwater, low interest rates are little more than an attractive nuisance, as unattainable as selecting winning lottery numbers.
The inability of these homeowners to refinance to lower monthly payments, or to sell and move on, is keeping the housing market from moving forward. Wherever the market goes from here, this is the audience most in need of support -- and not only if a borrower cannot make today's payments. The billions we have already spent and continue to spend to prop up failing borrowers might better have been spent to at least attempt to address this issue. We know of no such program even in the planning stages, and fear that without one, the housing market faces a long uphill climb back to normalcy.
Which alternative is likely to be the most cost-effective: helping a borrower before they fail, incurring a greater loss when a borrower 'strategically defaults', or cleaning up after a borrower's financial catastrophe?
Recap
Back in May, we looked ahead and expected an improving outlook for the economy, and that the late-spring euro-panic would have settled behind us to some degree. Absent a new crisis, mortgage and underlying interest rates seemed most likely to us to be on a firming trend during the forecast period. This did not occur, as we underestimated to some degree the depth and breadth of the mess overseas, and failed to fully account for downgrades to first quarter growth and diminished prospects for a better economic climate.
We expected that HSH's FRMI would trend in a range between 5.17% to 5.5%, but instead got a lower range of 4.98% to 5.17%, with the lowest rates occurring late in the forecast period. We fared little better with 5/1 ARMs, calling for a 4.2%-4.5% run which got pushed aside by a 3.98% to 4.28% gap, but at least our expected 30-basis-point range was right. For conforming 30-year FRMs, we believed that those boundaries would be 4.85% on the low side to 5.35% on the high, but got a 4.69% to 4.93% set of bookends instead.
This last go-round was clearly not our finest forecasting moment.
Of course, this has been a challenging year, so much so that we took a few minutes to update and expand last December's 2010 Outlook. We updated our mid-year review a couple of weeks ago, and we seemed to fare a little better in the longer-range department, at least so far.
Forecast Discussion
With a newly-sluggish period of economic growth upon us there have come questions about the durability of the economic recovery. Much of the initial effect of Federal stimulus will wear off in the next few months, and the rebuilding of stockpiles slashed in the "Great Recession" seems to be nearly complete. This leaves us in a lackluster climate at best for the forecast period and beyond, searching for a mechanism which will promote a transition to a consumer-led recovery.
In addition to the "underwater" discussion above, housing markets rely upon a number of concurrent factors to generate fresh economic heat -- and several are missing from the equation at the moment. Chief among them is steady employment growth, the kind which produces a paycheck which increases over time; as well, and as an expression of commitment against future conditions, a home purchase requires a level of confidence sorely lacking today. It requires reasonable home prices and accessible finance markets with moderate interest rates (affordability). Presently, only some of these conditions exist.
As long as the employment market continues to be weak, housing will struggle to recover, and it doesn't appear that there is a political solution to promoting hiring in the near-term cards. More fiscal 'stimulus' spending is politically unpalatable in the present election-year climate, and the Federal Reserve has few unused tools at its disposal to promote job growth. In fact, the Fed's chief monetary policy tools are fully in play at the moment, and both short- and long-term interest rates are about as low as they can go, but low rates cannot produce much growth on their own. Attaining growth requires those who have access to utilize cheap financing avenues to take risks in expanding production and hiring, which is less likely to happen in muddy regulatory waters.
This being the case, the housing market is about as strong as it is going to get for at least the foreseeable future. Once we get past the tax-induced distortion in demand we'll have a better sense of where we are, but it is unlikely to be anything more than a weak level. To help it move forward, we will probably need a combination of additional supports in the form of "underwater" borrower help, job growth and perhaps even new tax incentives to help foment demand.
Soft growth in both the economy and housing means low interest rates are likely to persist for a much longer time than anyone might have originally expected, and certainly though the forecast period.
Forecast
This forecast takes us though the remainder of the summer doldrums an into a period of the year where activity begins to quicken. Given the starting point for mortgage interest rates, which are at extraordinarily low levels it's even harder this time than last for us to expect measurable declines in rates. That said, we have been wrong before, including last time, and we must acknowledge the possibility that even though at record lows that mortgage rates might move lower still.
For the first time in HSH's 31-year history, our combined FRMI has dipped below the 5% mark, and we recently reckoned rates at approximately 1956 levels.
The economy is weak, confidence is waning and there doesn't seem to be a viable solution to promoting recovery -- except time. This suggests a slow-growth, low-rate period for the remainder of the summer. The flight-to-safety which has fostered low interest rates might wane somewhat, especially if stock markets can find some footing, but probably will not press rates upward by much during the forecast period.
During the next nine-week period, we think that our FRMI will travel in a range from perhaps 4.83% to 5.15%. At the same time, the combined average for a Hybrid 5/1 ARM may run in a 3.72% to 4.15% channel. Conforming 30-year FRMs? As unbelievable at it may seem, we expect a working for rates between 4.5% and 4.88% for the period.
Summer will be closing when this forecast does. To be honest, we'd actually welcome higher interest rates, since this would mean a growing economy and improving prospects for many folks.
A very long-range note: While admittedly well off into the future, we are starting to become concerned about housing market conditions when mortgage rates ultimately do start to increase. How will borrowers, accustomed to rock-bottom rates, deal with rates when they approach five- or ten-year norms which are on either side of the 6% mark for conforming 30-year FRMs? What will become of demand and affordability, and hence, home prices? We won't find out anytime too soon, but inevitably will, in perhaps 2011 or 2012.
---
May 17, 2010
Preface
Even though explicit Federal supports for the housing and mortgage markets are now behind us, euro-zone financial troubles combined with a slow recovery are serving to keep underlying interest rates low. Coupled with residual benefits of the Fed MBS and Fannie and Freddie buyback program, mortgage rates -- which were already low -- have been driven even lower, and are comparable to the lowest levels the economic downturn produced.
But are low rates durable at these levels? How long can the economy grow before the Federal Reserve feels compelled to begin to raise short-term rates above the emergency levels at which they still stand? How quickly and permanently will the European Central Bank (ECB)'s trillion-dollar support package solve Greece and other countries' debt troubles? Will the austerity measures sure to follow in these economies curtail economic growth here, lengthening the return to a full recovery?
There are always a number of questions which need answering when we write each forecast. The ones above are trickier and more complex than most, and most of the answers are likely to be murky, at best. At the same time, American housing and mortgage markets are in a transitional phase from fully Federally-backed to more private-market oriented, and the uncertainty of financial market reform overhangs everything.
Recap
Back in March, we speculated that rates might move up somewhat as the Fed program came to an end, but that there wouldn't be major effects. As such, we forecast that HSH's FRMI would wander between 5.25% and 5.60%, and we hit the range pretty well, as that overall indicator of fixed-rate mortgages trended between 5.27% and 5.49% during the period.
For followers of 5/1 ARMs, we must offer an apology. Due to an editing glitch, we inadvertently repeated the range for the 30-year FRMI in the slot for the 5/1 ARM. If that was the actual forecast, the 5/1 would have had to rise by nearly a full percentage point! According to our notes, the range expressed should have been 4.25% to 4.60% -- and rates bounced between a low of 4.30% and a high of 4.52% over the nine week period.
We also offered a 30-year conforming-only outlook, expecting a 5% to 5.40% gap between high and low. We got a 5.27% high and a 5.03% low for the period, so we were pretty good in our estimation.
Overall, we'll call the last forecast a success.
Forecast Discussion
We'll try to answer the questions we posed above, starting with the Federal Reserve. Up until the Greek economic crisis exploded onto the world financial stage, we were pretty convinced (if in the minority) that the Fed would lift interest rates mildly as soon as the late June meeting. We believed that this would be the case since June would represent the end of the fourth quarter of positive GDP readings, some of which have been very solid. If the economy is no longer performing at very sub-par levels, there is little need to continue emergency-level interest rates. In fact, doing so carries risks of its own, and the Fed could make an easy case that improving conditions warranted the change. As the Fed Funds target is now between 0% and 0.25%, they could simply formalize the target as a quarter-percentage point, a subtle but clear change in policy. However, in light of the troubles in the world, the Fed's first move has probably been bumped down the road a bit, with August possible but October a more likely date for the first change in "policy" in years. In this estimation, we still remain firmly in the minority, but even with inflation still at bay and plenty of labor market slack, it would be better for the Fed -- and a confirming signal in the strength of the recovery -- to start to adjust policy sooner than later.
However, part of the reason for holding off is that there is no easy way to discern if the ECB (and other central banks') moves to address the euro-zone debt crisis will do the trick. While financial markets can be papered over with enough cash to calm them (at least temporarily), the social unrest related to any government austerity moves makes needed fiscal reforms by those governments a significant challenge. To the extent that the crisis persists, global investors are likely to continue to flock to investments as close to risk-free as they can find, leading them back to US Treasuries as a safe haven for their funds.
t the same time and no matter how marginal, any slowdown in trade will serve to slow the expansion both here and in other economies around the world. Domestic growth has already settled somewhat, easing from a hot 5.6% rate in the last quarter of 2009 to 3.2% in the first of 2010. The present estimated growth rate is certainly a fair pace, but insufficient to engage the millions of under- and unemployed people seeking work. If growth slips further, or fails to accelerate, the expansion will continue to be a jobless one, making it even harder to achieve full recovery here.
All this and the added political uncertainty of financial market reforms, too. On the one hand, rates should be pressured lower; on the other, lending standards seem unlikely to loosen very much, since doing so would expose a lender to both market and political risk.
Forecast
We begin this forecast period at an unexpected place: rates at the lowest levels since late 2009. This being the case, we're hard pressed to find a reason to believe that interest rates might go significantly lower over the nine-week period just ahead. Without a new and even larger global market panic, they simply cannot -- and even that happened, a fresh rush into Treasuries seems unlikely to produce any serious downdraft in fixed mortgage rates.
That being the case -- starting at the bottom -- we do believe that there's only one way for rates to go over the forecast period: Up. However, the issues identified above are a considerable drag on any upward momentum, and it seems likely to us that when they do rise, they probably won't go that far... at least during the period covered by this forecast.
At the same time, the mortgage market will continue to move slowly away from the beneficial effects of the various support programs. So far, things seem to be transitioning about as well as can be expected, but as these lingering effects begin to wane, pressures will ultimately build for rates to rise. Meanwhile, the challenges of a still-flailing housing market remain with us, with soft sales, foreclosures, loan modifications and losses all to be considered in context.
Over the next nine weeks, we think that the overall average for 30-year fixed-rate mortgages tracked by HSH's Fixed-Rate Mortgage Indicator (FRMI) will run in a range from 5.17% to perhaps 5.5%. The 5/1 ARM is expected to find low and high borders of 4.2% and 4.5% between now and mid-July. Conforming 30-year FRMs? 4.85% to 5.35% for the period.
Summer will be nearly a month old when the next review is due. Between the pool and the beach, why not drop back in to see how we did?
---
March 8, 2010
Preface
We delayed this forecast for a little while beyond its original date, simply because we wanted to have a little more time to think about the shape of the coming mortgage market, especially as it pertains to the coming "spring homebuying season."
The housing market is still seriously challenged, and the expiration of certain supports adds in a number of variables which wouldn't normally need to be addressed in our forecast. However, these supports have become quite material to the recovery of housing and the ability of American households to re-cast their balance sheets. Their introduction produced distorting effects in the market, both beneficial and detrimental, and their disappearance will likely do the same. The question is, "To what degree?"
Nearly 16 months ago, the Federal Reserve announced a program to purchase mortgage-backed securities in the open market which had the effect of driving down interest rates to record-low levels. That program was joined by the Treasury, which also kicked in a couple of hundred billion dollars to reinforce the Fed's work; the Fed also purchased billions in Treasuries and Fannie and Freddie-issued debt to ensure low financing costs all around.
During the last year, Congress provided up to $8,000 in tax credits for homebuyers to help spur demand. Initially limited to "first-time" purchases, the original program expired in November but was revived and expanded to include $6,500 for certain trade-up folks, too.
Recap
Our December forecast called for a working range for interest rates to wander in a range about 35 basis points (0.35%). We expected that the range for HSH.com's Fixed-Rate Mortgage Indicator (FRMI) would trend between 5.10% and 5.45% during the period. The actual range was tighter than that, with just a quarter-percentage point difference between the high and low values. However, that range was biased to the high end of out expectations, with the FRMI running between 5.34% and 5.59%. However, for the second period in a row, our outlook for the 5/1 ARM was fairly on track. The wandering range for the product was actually just 37 basis points (0.37%), with a low value of 4.48% and a high value of 4.85%, both fairly close to the boundaries we forecast.
The high-end bias for both of these kinds of loan all happened at the beginning of the period, when a cascade of new government debt overwhelmed holiday-thinned investor demand for such product.
Forecast Discussion
Since the last forecast, several new mechanisms have been introduced which will significantly influence rates and markets in the coming weeks. Six days after the last forecast was released, a late Christmas Eve announcement came that Fannie and Freddie would essentially be allowed to incur unlimited losses and eased portfolio size restrictions for the two GSEs. The expansion of portfolio holdings and available cash resulted in a program announced in mid-February where up to $200 billion in delinquent loans will be "bought back" from investors.
The combination of these events means several things. First, although the Fed will be moving out of the MBS investment business, Fannie and Freddie can balloon their portfolios of holdings. This means the process of sponging up excess supply of MBS (by the Fed) will be replaced by a process which instead limits how quickly securities come to the market, providing a different (though effectively equivalent) sponge. As such, rather than the process of lenders originating loans, then selling them to the GSEs, which in turn sold them to the Federal Reserve (and any other takers, of course), this new arrangement means that Fannie and Freddie can accumulate loans or securities on their books without needing to dump them into the market all at once; instead, they can mete out supply to the market, providing a stabilizing effect on interest rates.
At the same time, the re-purchase of up to $200B of bad loans from investors should produce some gaping holes in investor portfolios, which will need to be refilled. "Fixed-income investors" -- those who purchase bonds -- may have only a few choices of where to invest funds, with MBS among them. Faced with a handful of cash, it's reasonable to expect that at least some of the funds will buy new MBS from Fannie and Freddie. The repurchase program will spark fresh private demand for securities, which will help to offset the Fed's influence in the market.
As a result of all of this, we think that the transition away from a Fed-dominated mortgage market will be smoother than we expected way back at the end of last year when we wrote the last forecast and put the finishing touches on our 2010 Outlook.
Keeping mortgage rates low is a key issue for the housing market. "Affordability" is the balance between a home's price and the "carry cost" generated by price of financing. If one rises, the other necessarily declines until balance is restored. In this way if mortgage interest rates rise, home prices may need to decline in order to produce the same affordable monthly payment.
While the interest rate isn't the only consideration when buying a home, and a minor rise in rates won't ruin homebuying plans, it could put additional pressures on home prices at a time when they are just starting to find solid footing in many marketplaces. Of course, the other factor which spurs home price increases is rising demand, which has been tough to produce in a difficult economic climate. One bit of assistance has come with the homebuyer tax credit, which has served to produce some additional demand in the market, but created distortions in sales patterns late last year. With that program essentially coming to an end in late April (deals need to be signed by then and closed by late June). We think that there will be significant political pressure to again extend the program at least through the spring season as there is demonstrable evidence that the program is providing important support (see last October and November's spike in sales) and the simple fact that if the program isn't being used it costs the government nothing.
If we are correct, and the above factors come to pass, we should have a Fed-to-private-market handoff with much less disruption for interest rates, coupled with perhaps a bit of seasonally-firming demand for home sales, spurred on by incentives which will be gone at some point.
Forecast
Way back in December, we considered the entirety of 2010 as a whole, and especially the delayed end of the Fed's MBS program. At that time, we thought planning for a half-point rise in conforming 30-year fixed rate mortgages might be a prudent stance. In light of what's outlined above, we think that there will be less disturbance in rates than that. The shift from a guaranteed public influence in the MBS market to one more dominated by private interests will bring some uncertainty, and that uncertainty -- risk -- will influence interest rates to at least some degree. Even a small rise in interest rates will seriously curtail refinancing activity; this means, however, that there will be fewer loans for Fannie and Freddie to accumulate, so less supply of MBS will come into the market at a time when demand should be increasing to some degree... all of which should serve to temper any rise in interest rates. There are a lot of intersecting factors here which need to all occur simultaneously, but we think it will all work out fairly well.
If everything works as planned, we think that the next nine-week period will see HSH's overall FRMI trend between an average rate of 5.25% to perhaps 5.60%. At the same time, the overall 5/1 ARM will likely wander from perhaps 5.25% to 5.60%. Although we don't usually provide an outlook for conforming 30-year fixed rates by themselves, we'll wing it a little this time, and call for a 5% to 5.40% range over the next couple of months.
Early-mid May's the expiry for this forecast. Stop back and see us!
---
December 18, 2009
Preface
Mortgage rates remain quite favorable, thanks to a gently improving economy and the push-back of the end of the Fed's mortgage-backed securities program to March. Absent that move, we'd probably be talking about very rocky market conditions right now, instead of the smooth and familiar ones which exist.
Economically, we've technically ended the recession, but troubled labor and housing markets remain. The administration is strongly pushing lenders to conduct more loan modifications, but there are concerns that these measures are merely pushing foreclosures, and the associated impacts on home inventories and home prices into next year, additionally challenging the market even as supports for it begin to disappear.
With improving banking dynamics, the discussion in the last forecast about how improving fundamentals means lower risks for lenders -- and lower interest rates as a result -- does seem to be continuing. Perhaps the best reflection of this can be seen in the rates on non-government- supported, private market 30-year fixed rate jumbo mortgages, which moved into four-year-low territory during the last forecast period. As lenders become more solvent, their ability to support the mortgage market should improve. That said, the fully-government-insured FHA program, virtually risk-free to lenders, is garnering a huge amount of market share, so it's clear that things aren't all that great just yet.
Recap
Our October forecast called for a wider range for rates than we actually got, and stable-to-declining rates helped foster a lot of refinancing activity. We expected that the overall 30-year fixed rate mortgage average would trend from 5.60% to as low as 5.15%, and we certainly well covered that range as rates actually held between 5.45% and 5.24% during the period. Our expectation for the overall 5/1 ARM average was right in the sweet spot as well, dead center in the middle of our expected range of 4.85% to 4.40%, and the actual range was 4.69% to 4.56% -- 16 basis points from both the top and the bottom. We'll call the last forecast a success amidst what ended up being a gentle period for rates.
Forecast Discussion
As we write this, 2010 is fast upon us. It occurs to us that 2009 was all about promoting stability for money, mortgages, and financial markets, and we expect to largely enjoy those conditions for a little while longer yet.
As we write this, 2010 is fast upon us. It occurs to us that 2009 was all about promoting stability for money, mortgages, and financial markets, and we expect to largely enjoy those conditions for a little while longer yet.
That said, we can't help think about what lies ahead. This forecast will expire in late February, and we'll likely be starting to feel the nervous effects of the coming expiry of the Fed's MBS purchase program. If the economy is still moving forward at that time, renewed concerns about Fed "exit strategies" and potential inflation may again resurface, adding additional uncertainty to the period. At some point, the short-term interest rate the Fed controls will be need to be lifted, and that day is getting closer, even if it may still be months away.
Between then and now, there are some normal end-of-year and beginning-of-year "seasonal" effects in play, including slowing demand for credit and quieter market activity in general. Of late, rates have firmed a little bit as underlying interest rates have trended higher, most likely due to investors trying to lock up profits for the year, or preparing for new strategies in 2010. As the holidays fade, market activity will again quicken.
As there is already plenty on the regulatory plate, we expect no brand-new government initiatives during the period (excepting perhaps ongoing tweaks to loan modification programs), but previously-enacted reforms do begin to come into play, notably changes to the Real Estate Settlement Procedures Act (RESPA). New, more explicit documentation will be provided to borrowers when they apply, and lenders are scrambling to make sure they are in compliance with the new regulations. We may also see a more considerable battle forming as the new Consumer Finance Protection Agency (CFPA) starts to take shape.
Increasingly, we expect to see the markets act closer to whatever passes for normal these days, reacting to signs of economic health (or lack thereof) and price pressures. The watchful eye and steady hand of the Fed will still be evident, but we're left with the sense of them quietly backing away as we progress forward, like a parent helping a child to ride a bicycle without training wheels for the very first time.
Forecast
In this environment, tethered by the Fed and government support, movement in mortgage rates should remain muted. Conforming 30-year FRMs have been hanging just over or under the 5% mark for months now, and that should largely be the case (although just over 5% seems most likely in the coming period).
From present levels, no potential borrower should expect significantly lower rates, as the economy has largely stopped worsening and there are a growing number of sporadic clues that the economy is actually improving. Even with easing risk premiums being built into rates, those falling rates and an improving economy are at odds with one another, and if you want one you're unlikely to get the other.
We're not prepared to call for the end of record-low mortgage rates just yet. We visited those bottoms during slow-demand or panicky periods a few times in 2009 (most recently due to a technical default of debt issued in Dubai) but absent those kind of unknowable events we will probably remain above the bottom of the bottom for rates.
This being the case, we're pretty comfortable generally working in the ranges described for the October forecast, but, given the expected relative stability of the market will tighten them up a little bit. For the next nine-week period, we expect the overall average interest rate expressed in HSH.com's FRMI to trend from 5.10% to perhaps 5.45%, while the overall average for 5/1 Hybrid ARMs should wander in a range of perhaps 4.40% to 4.75% between now and late February.
If you are considering refinancing or hope to buy a home in 2010, you really should be getting those transactions underway shortly.
It'll be late Winter when this forecast expires. Will markets still be frozen, or will global financial warming be coming into play? Drop back and find out.
---
October 16, 2009
Preface
We admit to a bit of surprise that Conforming mortgage rates have moved to approximately the lows of Spring, and that they've dragged jumbo rates down to about four-year-low levels. The economy does seem to be in a firming pattern, housing markets have improved somewhat, and government support programs will all contribute to a "technical" economic recovery which appears to have gotten underway in the third quarter.
Perhaps we shouldn't be all that surprised that rates have eased. Prior to the last Two-Month Forecast, we speculated in the August 7 HSH Market Trends that it was just possible that an improving economy would produce lower, rather than the typical higher, interest rates for at least a time. In that discussion, we noted:
If poor fundamentals = higher risks = higher rates is true, than could better fundamentals = lower risks = lower rates also be possible? Just something to consider and ponder as we grind toward recovery.
Turns out that this might be exactly the case. The minutes from the Fed's September 22-23 meeting noted that "Yields on nominal Treasury securities also decreased since the Committee met in August. A decline in implied volatility on longer-term Treasury yields suggested that some of the drop in yields was due to reduced risk premiums." Further on, they noted that "Given the improved economic prospects, the decline in longer-term Treasury yields and the apparent marking down of the implied path for the policy interest rate were seen as somewhat puzzling" but probably due to excess bank reserves, reduced inflationary concerns and lower term [risk] premiums in a more settled economic environment.
It's worth noting that there are limits to how much improved fundamentals can influence rates downward, especially for conforming loans. Aside from low nominal interest rates, conforming spreads against 10-year Treasuries are near recent historical norms, and jumbos, though still elevated, are approaching spread levels half of their December peaks. To the extent that "spread compression" has run its course, the less excess spread there is to absorb any increase in underlying interest rates. Improving economic fundamentals, coupled with dwindling Federal support programs for mortgages and Treasuries will serve to foster firmer interest rates at some point, perhaps sooner than later.
Recap
For our last forecast, we believed that our Fixed-Rate Mortgage Indicator ((FRMI)) -- an average inclusive of conforming, jumbo and "expanded conforming" loans -- would wander in a range between 5.93% and 5.5% for the period. While our choice of gap was pretty close, it occurred in a much lower interest rate range, as that benchmark rate walked between 5.73% and 5.34% over the nine-week span. The FRMI's 5/1 Hybrid ARM counterpart downshifted even more strongly; we called for a 5.30%-5% range, but the actual was 5.04% to 4.67%. With the significant decline, there seems to be a growing viability in the use of certain ARMs by homeowners and homebuyers seeking good stability at rock-bottom rates.
Forecast Discussion
Amid an improving but uncertain economic period, forecasting is even more of a humbling art than usual. Complicating this particular period is the still-significant influence of government policies into the credit and housing markets. Precisely how will the government extricate itself from private markets, and at what speed? How wide-ranging will be the effects of expiries and discontinuations of certain supports, and what are their influences on the economy as a whole? Are the private markets ready to assume a more substantial role? How much influence does the specter of a potential cascade of new regulations and regulators to govern those markets influence the direction we move in? Frankly, there are far more questions than answers, and that doesn't even include any about the prospects for economic recovery. Some of these questions and issues will likely become recurring themes in the next few Two-Month Forecasts, too.
Perhaps its best to start with some "known knowns." The Federal Reserve's $300 billion program for purchasing certain long-dated Treasury Securities comes to a close at the end of October. The loss of a significant buyer in that market -- a sponge to absorb excess issuance, if you will -- may have only a minor effect on rates, since there has continued to be a strong appetite by investors for 100% guaranteed obligations. Still, the loss of that buffer at times of high supply levels of debt could add some additional volatility to rates at times.
To the extent that the $8,000 tax credit has goosed home sales, we would expect a falloff in sales when it expires in November (as witness "cash-for-clunkers," but to a much lesser extent). This matters in the regard that such slower sales would mean a falloff in the volume of mortgages issued, and in turn, somewhat lower volumes of mortgage-backed securities to be absorbed by another Fed program as well as the market at large (not that demand there is all that great at the moment).
That MBS purchase program was recently extended by the Fed, not in terms of how many securities it will buy but the length of time in which the program will operate. Originally slated to expire at year's end, the program will now run until the end of March 2010. In our view, this is an expression by the Fed that it doesn't believe that private markets will be ready to accommodate the $100 billion of MBS every month which the Fed has been acquiring. The slowing of the amount of MBS purchases by the Fed over the forecast period (and beyond), and the corresponding effect on mortgage rates is a key test for the markets... and a source of great uncertainty.
New financial regulatory structures are in the early stages of formation and won't be in place during the forecast period, but it's reasonable to expect that concerns about them will be on the rise. Uncertainty -- in the form of political and regulatory risk -- influences not only the price of credit but the availability of it as well. Until it becomes clearer how much more stringent the lending environment will become, lenders (and improving capital markets) will probably keep more to the sidelines than they would coming out of a more "normal" recession, tempering access to credit and potentially fostering "defensive" pricing reactions by the market. The recent changes to credit card legislation are a good place to see that happening in real time.
All the foregoing is to simply note that there are many factors which will twist and turn the market, pushing it and pulling in different directions in the weeks ahead, and not all of them are economic concerns. As far as the recovery goes, we expect that it will be a muted affair -- a technical recovery -- as GDP is boosted by some rebuilding of depleted inventories amid a modest recovery of final consumer demand. Jobs and income growth will lag, and that will keep forward momentum at a minimum (all while serving to help keep inflation at bay, for now).
Forecast
With rates at multi-year or near historic "all-time" lows, it's unreasonable to expect that they have considerable space to decline, especially in the face of a modestly improving economic climate. If the near decimation of markets earlier this spring coupled with some truly bleak outlooks couldn't push them much lower, this climate is unlikely to, either. However, improving risk fundamentals and investor appetites, muted economic growth and low prospects for inflation should serve to keep a lid on any serious increases, too. The bleakness of Spring drove rates down; the euphoria of Summer (and inflation worries) drove them back up. The Autumn seems to have a sense of reality about it, and an improving sense of optimism about tomorrow's economic prospects.
Somewhere between those two extremes of Spring and Summer is where we'll probably find ourselves for the remainder of the fall. That being the case, we expect the FRMI to likely wander in a range from perhaps 5.15% to perhaps 5.60% over the next nine week period. Its 5/1 sidekick may probably have some additional room to slide, so we think a range of 4.85% to 4.40% is probably in the cards.
The next forecast is due a little before Christmas. Here's hoping that our view of the future turns out to be a "present."
---
August 10, 2009
Preface
Growing optimism that an economic recovery is coming soon has served to put a floor under mortgage rates. At the moment, it would be difficult to see a return to average interest rates in the upper-4% to low-5% range unless either a new financial panic breaks out or there is a steep decline in equity values to drive them back down to those levels.
Supports put under the economy and financial markets are doing their job, but there is precious little forward momentum, "stimulus" or not. It is safe to say that things have improved from their worst levels, but whether they can continue improving (or can improve with any sort of speed) is still the big question.
As we grind toward economic flatline (0% GDP), we continue to look for signals that a self-sustaining recovery is forming. Unemployment remains very high, consumer incomes and borrowing continue to decline, and one-time or short-term boosts (increases in Social Security payments, the "Cash-for-Clunkers" program, $8,000 "first-time" homebuyer tax credits, etc) lack lasting impact and may actually damage prospects for future upswings in activity. Additionally, the "stimulus" which has yet to be spent will promote money into narrow channels of the broad economy. Measures of consumer confidence have risen off their worst levels, but remain mired in rather dark territory.
We can't help being struck with the notion that "Just because things aren't getting worse, it doesn't mean they are getting better."
Recap
For the last forecast period, we expected that HSH's Fixed-Rate Mortgage Indicator ((FRMI)) -- an average inclusive of conforming, jumbo and "expanded conforming" loans -- would range from a low of 5.30% to perhaps 5.72%. We marched well above that range shortly after the forecast was released, topping out at 6.04%, only to drift back to a low of 5.66% during that time. Our expected range of movement was pretty good, but rather than moving to the lower end of the scale, we moved to the upper side instead. That was approximately the case with the FRMI's 5/1 Hybrid companion, which we thought would cover a 5.30% to 4.85% range. As with the FRMI, we did blow past the top somewhat (5.44%) and failed to get as low as we expected (5.07%). Almost all of the flare higher was due to a much-better-than-expected May employment report, an optimism which faded in subsequent weeks.
Forecast Discussion
As mentioned above, we keep looking for clues of a building momentum --the sort which would promote what might be called a "V"-shaped recession, characterized by a sharp downturn but an equally fast rebound. At present, it doesn't seem to us that there is any sort of 'letter' forming -- not V, L, W or U -- which describes the sort of recession/recovery we are having or are likely to have.
The economy was in a slow fading pattern prior to the breaking of financial markets last fall. We had been shedding jobs for months, a gentle bleeding which resulted in a 0.5% decline in GDP in the third quarter. High energy prices were sapping consumer spending strength, and housing was in quite a mess. Absent the collapse of capital markets, we probably would have seen a deepening recession in the fourth quarter of 2008 and the first of this one anyway, but far shallower than the -5% and -6% figures which occurred. The additional damage caused by that break continues to vex efforts to stimulate demand, with additional job losses and tighter access to credit chief among the issues.
For all of the noise being made in housing markets, with both new and existing home sales on an upward path, it's instructive to remember that present levels of new home sales are at about 25% of their peak, while existing home sales are at perhaps 60% of their top levels. Since those were unsustainable levels, it's a solid fact that we have a long way to go just to get back what pre-boom 'normal' levels were.
Building forward momentum requires more consumer spending. Trouble is, unemployment remains high and likely will for some time as we trend toward nearly double what is believed to be the naturally occurring rate of unemployment. Until employment moves measurably higher there will be little to foster a steep incline in economic growth, leaving at best a trend of gradual, moderate improvement. There's little more the Fed can or will do to goose economic growth, and present fiscal policies being pursued by the Administration favor government borrowing and spending of funds. This makes the stimulative power of returning money on a widespread basis to consumers (taxpayers) via marginal or payroll tax cuts unlikely; moreover, even without factoring in massive new spending plans, near-term tax increases are much more likely than decreases, which will be a drag on economic growth.
We've also again begun to watch the price of oil, which seems to now be tracking in lockstep with the stock market. Oil prices firming from the mid-$30/bbl to about $70 hasn't had much effect of yet, but rising gasoline and energy prices also act as a drag on economic growth, not to mention fomenting increases in the cost of just about everything should they become persistent.
We're not trying to sound pessimistic, only realistic. With uncertain demand forming, businesses might not hire as quickly as they have in the past, and some of the jobs lost during the downturn won't be coming back anytime soon, if ever. If we can't additionally stimulate via monetary policy, can't better stimulate via fiscal policy, and can't promote widespread consumer spending via tax policy, the recession will end, but improvement will probably be a grind higher... a process, rather than an event. That being the likely case, we may wander on either side of a pretty flat economic line for some time to come yet.
Forecast
The closing of Summer and beginning of fall usually sees a change for rates, from one of a dull pattern to one with more snap to it. For the most part, that has often meant a modest overall decline in mortgage rates, as perhaps the waning optimism of Summer has become the colder reality of Autumn. Even if firmer of late, rates remain well below last year's level at the start of this forecast period.
Economic activity should continue to nudge higher over the next nine weeks. We expect that as moderately better numbers are revealed, discussions of when the Federal Reserve will raise interest rates will begin to surface. They won't feel compelled to do so anytime soon, probably not until very late this year or early next at the very earliest. Even when they do, short-term rates will still remain well below normal for a long while.
Mortgage rates, on the other hand, seem more likely to be driven in a "start and stop" fashion. The backing and filling of rates after the late Spring run up has left us above "credit market crisis" levels, but well below even year ago marks. As we write this, optimism has pushed mortgage rates back toward the top of recent ranges, but it'll take a much stronger economic showing to push us higher.
For the next nine weeks, this recent start and stop pattern seems likely to leave us pretty rangebound. Our guess is that a range of perhaps 5.93% as a high to perhaps 5.5% as a low is the most likely to be seen. The 5/1 ARM should see a tighter window of perhaps 5.30% to 5% or thereabouts.
It'll be just about Columbus Day when the next forecast and recap comes due. Drop back and we'll see if our realism has been upended.
---
May 29, 2009
Preface
Although there seems to be no imminent turnaround in the economy, the trajectory of the recession has flattened out and perhaps even lessened somewhat. Home sales -- if not prices -- have bottomed and mortgage markets are functioning in a more stable atmosphere. Capital-impaired lenders have found a fair response as they start to raise "stress-test" required capital, and financial markets have stabilized and perhaps are performing a bit better. It is in this trough, from this platform, which we will begin to build out the next growth phase of the economy.
That may yet be a while, since even getting back to even 0% GDP will require a much stronger bit of momentum than the economy seems to have at the moment. Still, an outlook for a recession with waning severity is far better than one where we're still peering into a dark abyss.
However, significant challenges yet remain. It appears that the worst may be over for job layoffs, at least as far as initial weekly claims go, but the ranks of those receiving benefits continue to grow. Real improvement in hiring may not happen for as long as six months to even a year from now, and a high jobless rate remains an impediment to any strong resumption of growth. After the cacophony of crashing markets during the last two, it seems that it is shaping up to be a considerably quieter Summer this year.
Recap
Overall, improving mortgage rates surprised us somewhat. We expected our overall market gauge -- HSH's Fixed-Rate Mortgage Indicator -- to wander between 5.55% and 6%, but actually got a lower and more muted 5.69% - 5.43% range instead. The FRMI's 5/1 hybrid counterpart actually improved rather more than that; we expected a 5.85% to 5.37% range, but got a 5.42% to 5.05% one instead. There's little activity in ARMs at the moment, but as at least some risk appetite by lenders returns, there may be better opportunities for borrowers who might want a shorter fixed rate period, particularly for jumbo borrowers.
While we didn't provide a specific forecast for conforming borrowers, we expected rates to remain below 5.5% -- perhaps even as low as 5.18%. With the Fed weighing into the market with another $750 bilion in MBS purchases and additional supports for Fannie Mae during the forecast period, it's little wonder that rates moved past our supposed bottoms to hang right around the 5% mark. As we thought they might, Jumbos continued to improve, and have shed nearly 160 basis points (1.6%) from their late October 2008 highs amid better levels of liquidity.
Forecast Discussion
While many troubles remain in the economy, it seems to us that for the first time in a while, there is no emergency which needs addressing by the Congress or Federal regulators. That's not to say that substantive changes aren't coming to the financial markets, including sweeping changes for credit cards, RESPA reform enactment, and more, but rather that there doesn't appear a need any longer for a "drop everything to address this new crisis" mentality. The Fed's laundry list of liquidity programs continue to provide important support for the financial markets, "stimulus" is kicking in as we move forward, and consumer optimism, if still restrained, is again on the rise. It may just be that we're starting to move slowly away from the financial issues which triggered the downturn into a more 'traditional' kind of recessive environment... a more familiar path, perhaps.
Of course, the little bit of stability the economy is exhibiting could prove tenuous should new troubles emerge. While painful, the wrenching changes at Chrylser and GM may prove beneficial (or not) in the long run but seems unlikely to dent the economy to a greater degree than it already is dented. Cautious hiring by businesses unsure about demand may prolong the recession, and a lack of income and financing power may make any recovery more muted than it would be otherwise.
Those concerns will likely persist long after this forecast period, and the next... and possibly the one after that. In the interim, it is likely to be a "fits and starts" pattern of economic news which prevails, looking better one month, then not so good the next. For most mortgage shoppers, those typical market-moving numbers should have little effect as long as the Fed remains solidly in the marketplace. Provided they don't feel the need to increase their purchases of Treasuries or Mortgage-Backed Securities, the Fed's program of manipulating conforming rates to low levels should persist until year's end at the least. As well, Jumbo borrowers have enjoyed some beneficial (if indirect) effects of the Fed's conforming program, as conforming refinances have helped to re-liquify frozen books of loans, with at least some of that returned cash being put to work in the jumbo arena.
While the price of money should remain favorable during the forecast period, firmer underwriting standards in place are not expected to loosen to any great degree. Loose underwriting served to get us into this mess, and, once chastened, lenders will continue to err on the side of caution for the foreseeable future. Better underwritten loans promote profits, greater solvency, less need for taxpayer support and ongoing viability for lenders, and are, on balance, an economically good idea.
Forecast
Under what we think will be an economy featuring grudging, uneven improvement, mortgage rates should remain largely favorable. As we mentioned in our May 22 Market Trends: "As we move forward, and as the economy and markets improve, it may be possible to keep rates lower than they otherwise would be, but it is less likely that that will be at or near 50-year lows."
One interesting development since the last forecast period is that there has been some normalization of the "mortgage yield curve," especially in conforming loans. This is to say that shorter-term products are again carrying lower interest rates than are long-term rates, so at least some reward may be available to borrowers again interested in accepting some risk. Although ARMs are, and will remain, well out of favor (especially among those conforming borrowers), it may represent opportunity for jumbo borrowers, even if jumbo FRM rates are at about two-year lows today.
As far as trends go, overall, we think our FRMI will wander in a range of perhaps as high as 5.72% to as low as 5.30% over the next nine weeks. The FRMI's 5/1 hybrid counterpart should sport a high/low gap of perhaps 5.30% to 4.85%. Thirty-year fixed-rate jumbos have seen mild, gradual improvement over the past couple of months and should remain in the lower six percent range as we head deeper into Summer.
With regards to conforming 30-year FRMs, we've spent the better part of the last two months in a narrow band just over and under the 5% mark, and despite a rapid firming trend as we write this, it seems more likely that economic fundamentals will help rates to ease back somewhat, rather than foster any continued march higher.
It is worth noting, though, that as markets begin to move away from recent emergency (and even panicky) levels, that higher interest rates are a natural course of events and may even signal pending economic improvement.
Nine weeks from now it will be high Summer, with school and football season fast approaching. Stop back in early August to see how all this turns out!
---
March 6, 2009
Preface
Financial markets remain under duress, even as (or perhaps due to?) the government pledges trillions of dollars in economic supports for various facets of the economy. New programs have been unveiled one after the other, joining the expansion and/or resurrection of older ones. At this point, the success of exactly none of them can be predicted with any certainty, and the values of others remain unclear.
Several venerable financial institutions have required new infusions of cash; AIG and Citicorp are the latest, requiring more billions of dollars to keep them afloat. "Stress tests" are now underway for the collection of banks which hold the majority of the nation's assets, and it has become all too clear that "too big to fail" more likely means "too big to manage effectively and requiring government support no matter the price tag." For some institutions, some form of quasi-nationalization is surely on the way, if temporarily, but the long-term future is much less clear.
The markets -- particularly the stock markets -- have not reacted well to these incursions over the past few months. For example, the Dow Jones Industrial Average shed about 15% in the period between Election Day and Inauguration Day, and since the new team has taken over Washington another 18% decline has occurred. This is not sign of confidence in the new administration's plans or any inkling of optimism about the near-term prospects for recovery.
It would seem that a rough road lies ahead.
Recap
Our last forecast expected overall interest rates to wander in a range of perhaps 5.5% to 6% over the two-month period, and we came pretty close. The period's high-water market for HSH's FRMI was 5.94%, while this indicator's low was 5.66%. The FRMI's 5/1 Hybrid counterpart was forecast to trend between 5.6% to 5.95%, and we managed a 5.51% to 5.80% range instead, still fairly on target. During that time, rates for 30-year conforming loans moved upward off flight-to-quality panic levels to settle around 5.25%, while 30-year "true" jumbos have generally improved in price. In fact, rates for jumbos are holding at about one-year lows, a signal of somewhat improved liquidity for those products.
The "expanded conforming" program -- designed to make jumbo mortgage money cheaper for certain borrowers in certain marketplaces -- saw its "maximum maximum" loan amount re-lifted to $729,750, after the original end of the program (at the end of 2008) saw it reduced to $625,500. When talking about these products, the discussion often turns to how "high" true jumbo mortgage rates are, but it's difficult to buy argument that some of the wealthiest homeowners and homebuyers need interest rate subsidies to promote better affordability
After all, and irrespective of their relationship to government- influenced (read: artificially lowered) conforming interest rates, jumbo mortgage rates have been at or above -- sometimes well above -- present levels in the last nine years. These borrowers seem to have found those rates to be quite acceptable over time. Regardless, and for the most part, rates were pretty stable during the forecast period.
Forecast Discussion
As noted above, a slew of new spending initiatives are coming soon to an economy near you. A $787 billion stimulus plan -- derided by many as nearly devoid of any actual private market stimulus incentives -- will start hitting the streets fairly soon, as will the Fed's new $1 Trillion plan to goose auto, student and credit card lending (and perhaps other asset-backed markets) too. Then there's the regular Federal budget, bloated out to $3.55 Trillion dollars, plus the new HASP, with $200 billion in support for Fannie Mae and Freddie Mac, another $75 billion in refinancing chances and outlines to modify possibly millions of mortgages with certain tax-funded incentives to borrowers and homeowners alike.
With regards to the HASP, there is probably some value for borrowers who are lucky enough to have a Fannie/Freddie held mortgage to refinance even if they are mildly underwater. However, we think that claims of 4-5 million homeowners leaping at the chance to be put through today's mortgage underwriting wringer is wildly optimistic, even if a better interest rate can be obtained after all the "adder fees" and all the hurdles can be overcome to obtain financing.
As well, prospects for 3-4 million loan modifications also seem outlandish, even if there are new incentives to participate for various parties. We've heard too many claims already about how concept A or concept B will save the housing market: anyone remember last summer's much ballyhooed Housing and Economic Recovery Act (HERA)? Or how about the $300 billion Hope for Homeowners, which has only completed about 25 loans since it began in October? (We note that the Congressional cramdown bill will revise and extend the HOPE program.
We need to keep in mind that the actual, recent experience for loan mods isn't good at all, with some 55% re-failing after just six months. Call us skeptics, but we'd prefer proof -- or at least some well-thought analysis -- which shows that this is a better avenue to explore than previous attempts or even allowing foreclosure. Perhaps the only thing of actual value is that HASP allows innocent investors to have a chance to share their losses with the Federal government. Contrary to many reports, investors aren't all big, bad banks, but ordinary people putting money into bond funds, 401K and IRA plans who rightfully have been resistant to taking all the blame and all the loss, simply for having been nice enough to lend their money to people who wanted to buy homes. If anything, this is where the real value of HASP may lie.
The $787B stimulus plan may or may not provide much stimulus, and if it does it may be a ways down the road before its effect is felt. Many feel that its government-heavy spending program comes at the expense of private (especially small) business by removing immense amounts of capital that investors could otherwise use to spur new companies.
Still, the only program which can claim actual tangible benefit to a wide group of consumers is the Fed's and Treasury's program of buying Fannie and Freddie debt and mortgage-backed securities (MBS purchases are running at about $4B per day at the moment) which serves to keep interest rates low at a time when the government is literally flooding the market with new debt. Certain of their other programs -- the commercial paper facility -- are working to improve liquidity, but are well upstream of producing any direct consumer benefit. As these are interest-bearing investments, they may actually have no ultimate cost to the taxpayer... but the verdict for that may be years away.
With all the spending and grandiose plans of the new administration, we can help being struck by a line from Creedence Clearwater Revival's "Who'll Stop the Rain":

Caught up in the fable
I watched the tower grow
Five year plans and new deals
Wrapped in golden chains...
The plans and deals are coming, but the golden chains will be our tax obligations, as well as the continuing tax burdens of our descendants in the generations ahead. May they look with a favorable eye toward the decisions being made today.
Forecast
The country remains mired in recession, and we have a pretty deep hole to climb out of before we're in any recovery mode. Fourth-quarter 2008 GDP came in at an alarming -6.2%, the biggest contraction in about 27 years, so we're even a long way from breakeven at this point. Thankfully, inflation pressures have flattened out, even if a fair portion of the benefit of declining energy prices has already occurred.
We remain perhaps more optimistic than many with regards to housing.
Provided there are no more rumors to distort market activity (like those promising 4% or 4.5% mortgage money, or huge tax credits) the combination of low mortgage rates and low prices is creating perhaps the best buying opportunity in decades. To realize that opportunity, we'll need to see some firming in the labor market and consumer confidence, which will hopefully start to happen in time for the traditional spring homebuying season, now just weeks away. Certain markets -- those with high volumes of foreclosures, and thus very low prices -- are already responding (notably markets in California), and sales are firming.
Home prices have not yet stopped declining, according to the most widely published indicators, but that is serving to enhance affordability, if at the expense of the property's present owner (bank or individual). New home sales remain tepid, competing as they are against low cost (and often recently built) homes available. Builders still have too much hard-to-sell inventory on hand and few solid prospects for new developments to become viable anytime soon.
All that said, the current environment should again promote fairly stable mortgage rates. Overall, rates really shouldn't be expected to go too far, too fast, as the private mortgage market continues to try to crawl its way back to health, while the government-backed market is probably supported to extent its going to be, absent any new crisis. Prospects for economic recovery aren't yet coming into view, but at the same time, signs of _some_ solidifying in certain financial markets make a new panic somewhat less likely. The slew of debt supply coming into markets is of some concern, as it might serve to lift interest rates somewhat, but fortunately concerns about inflation are tomorrow's problem.
For the next nine weeks, we think the overall cost of mortgage money as gauged by HSH's FRMI should trend between 5.55% and 6%, while the overall 5/1 hybrid ARM should range between 5.37% and 5.85%. True (up to $417,00) conforming loans probably remain below 5.5% for the period, perhaps dipping to as low as 5.18%, while true jumbos seem likely to drift lower in a gap between perhaps 6.85% and 6.5%.
Check back mid-late May and we'll see where we're at.
---
January 9, 2009
Preface
It was quite a year.
Since our last forecast, significant portions of the residential mortgage market have been reshaped due to government intervention and -- in some ways -- due to a lack of government action. We've come through an election cycle, seen hundreds of billions of dollars spent trying to comfort financial markets, and heard the promise of hundreds of billions more dollars in various forms of 'stimulus' that may be on the way. For mortgages and real estate, at least one important support is in place; others may arrive under a new administration.
On November 25, the Federal Reserve announced a plan to support the good-credit-quality residential mortgage market like never before: the government offered to purchase up to $100 billion in Fannie Mae- and Freddie Mac-issued debt while purchasing up to a half-trillion dollars of agency MBS in the open marketplace. With a new, deep-pocketed player in the market -- especially one unlikely to turn tail and run at the first sign of trouble -- the mortgage market collectively found a plan it could rally behind and fully support. Conforming mortgage rates (notably 30-year FRMs) enjoyed a substantial drop in rates. At this writing, we're witnessing a real refinancing opportunity; home purchasers seem to be starting to take notice as well.
While this was going on, an ongoing rush to safety and security was fully in place, driving Treasury yields to historic lows. Those influential benchmark interest rates served to push mortgage rates somewhat lower on balance.
Recap
When we wrote our last forecast, we expected interest rates to trend downward. HSH's Fixed-Rate Mortgage Indicator (FRMI) -- an average inclusive of conforming, jumbo and "expanded conforming" loans -- was expected to trend in a range of 6.90% to as low as 6.40% over the forecast period. However, neither we nor anyone else could have foreseen the Fed's foray into the market, and the downward pressure for rates which ensued. The range for the FRMI over the nine-week period was 7.05% to 5.85%, an unusually wide swing. This was much the same for the FRMI's 5/1 Hybrid ARM counterpart; we expected a 6.70% - 6.25% range, but instead got a 6.80% to 5.80% one. Unlike the FRMI, much of the drop in rates here came in the last four weeks along with what seems to be some loosening in the credit markets for products other than 30-year FRMs.
Much of the FRMI's downdraft was due to the drop in conforming 30-year FRMs, which stood at 6.06% the day before the Fed's announcement. The daily national conforming average declined to a low of 5.06% in late December before bouncing off the bottom somewhat. Jumbo 30-year FRMs didn't fare quite as well, as those markets remain more viscous than the better-flowing agency market. Still, the improvement here was substantial; rates had moved down somewhat before the Fed's announcement but remained at a mid-7% level, but the last five weeks have seen some improvement in liquidity, easing to about a 7% level at this writing.
Forecast Discussion
The influence of the Fed's announcement cannot be overstated. The drop in conforming rates opens up a number of possibilities to help move several markets forward. It goes without saying (though many would-be borrowers are finding out the hard way) that the program is aimed only at solvent homeowners with equity and good credit (among other requirements), but a lender with a portfolio of first mortgages will see at least some of those now-illiquid holdings retired, and the resulting cash will allow for a more natural rebalancing of books over time. That's obviously preferable to resorting to a fire-sale-at-a-loss situation to raise desperately needed capital.
This process not only helps a lender to become more solvent, but can also allow for those returned funds to be used in other ways -- perhaps to purchase jumbo mortgages, for example. We suspect that this is part of the reason for the drop in jumbo rates noted above, accompanied by the search for better-yielding investments, given that highly-safe Treasuries now yield virtually nothing.
Of course, the process of rebalancing portfolios will take some time, but that might prove to be a good thing, since that time can also be used to help unwind many of the impossibly complex debt instruments which have tied the markets into near-Gordian knots. As well, the fee income generated from refis produces profits and should help to support mortgage-related jobs. Of course, the layoffs in banking and mortgages over the past two years meant that the industry is quite unprepared for the onslaught of mortgage applications, and unlikely to want to re-hire experienced hands on a permanent basis, so we'll need to see what develops in this regard.
The chance to refinance -- which helps a household to recast its own balance sheet -- also promotes solvency, and may also potentially pump billions into the economy over the next year as lower debt burdens take hold. This is powerful stimulus of its own accord which costs present and future taxpayers nothing, even if investor returns may be lowered somewhat overall.
The Fed also took several occasions during the forecast period to lower short-term interest rates to historically low levels. With present-day interest rates near zero, the effects of traditional monetary policy using the Federal Funds and Discount Rates have fully run their course. The Fed's next moves must all come in the form of "quantitative easing," which is Fed-speak for various forms of direct market manipulation (such as the mortgage-support plan described above).
One influencing factor in the markets -- the Troubled Assets Relief Program, or TARP -- underwent a significant change during the forecast period. Originally slated as a fund to remove bad assets from lender and investor books, the Treasury ultimately abandoned that mission as far too complex and time-consuming. Instead, the Treasury opted for direct injections of capital into troubled institutions through the purchase of preferred (non-voting) equity positions. While this means that these firms still have bad loans on their books, they may now have adequate capital -- and time -- to manage those troubles more effectively.
Aside from those items, the economy continued to stagger along, and late October and early November's financial markets came to a virtual standstill. So deep were the troubles in obtaining capital that auto makers had to go to Washington hat in hand on two separate occasions to ask for assistance, some of which was provided by the outgoing administration.
After months of erratic performance, the economy was declared to be in a recession by the National Bureau of Economic Research. When the announcement came in December 2008, it was unsurprising that the NBER dated the beginning of the downturn to December 2007, since job losses have occurred in each month of 2008 (with perhaps the worst reading to close the year forthcoming in December's data).
In the midst of all this, a historic election took place, and a new administration is slated to hit the ground running in just a short while with as much as a trillion dollars in new spending to hopefully revive the economy. That spending may ultimately serve to bolster economic growth, but history teaches us that the effects of any such spending will come much later in the year at the earliest. More pronounced stimulus may come from the collapse of gasoline and heating oil prices and the loosing of cash through refinancing noted above.
It's expected that one of the new administration's priorities will be to slow the rate of foreclosures through a variety of measures. While this problem certainly does need to be addressed (provided a borrower has both the incentive and capability to remain in the home), we're of the mind that more important to the market would be support for those good-credit-quality homeowners who are now underwater in their loans.
Without equity, these borrowers cannot refinance and cannot sell without either losing money or costing the lender (investor) money though a short sale or foreclosure. Many millions of homeowners are in this situation, and as home prices keep sliding this problem worsens with each passing day. Brighter minds than ours will need to come up with a plan -- grants, insurance contracts, subsidies, whatever -- but with some $350 billion left in the TARP fund, at least some portion should be dedicated to this issue. Presently, the only market incentives for these homeowners are perverse ones; that is, they typically can't get help unless they begin to fail. In finance as in medicine, prevention is the best cure.
(There's also been little, if any, discussion of the effects of high property taxes on the nascent homebuyer movement. We'll have more to say about this, in time, on our blog.)
There is little doubt that the economy will remain highly challenged over the next nine weeks, but we think there is reason for at least cautious optimism.
Even though the job market is weakening, home affordability is rising due to the fall in interest rates combined with sliding home prices. Sooner or later this will begin to stabilize home sales; we are coming to believe that there will be a mild recovery as the spring approaches -- provided no unforeseen economic event occurs.
Lower energy prices will add tens (if not hundreds) of billions of dollars back into the economy, should they hold at these levels. While that cash seems to be ending up in savings at the moment, Americans usually find a way to spend at least some of their holdings, so at least some economic boost should result. Added to what's shaping up to be a massive stimulus package from the new administration -- expected at this writing to be a combination of fairly modest tax cuts and infrastructure outlays, among other ideas -- the economy's decline should stop, even if real improvement may lie in the future. Just the announcement of a actual plan can have wide-ranging supportive effects.
The incredible wash of cash into the financial system with nowhere to go suggests that we should see at least some risk appetite forming. Ultra-safe Treasuries and bank obligations will probably continue to get the lion's share of those dollars, but mortgages do seem likely to get at least some increased interest.
Forecast
It's widely agreed that without the government's influence, the mortgage market would be an even messier place than it already has become. That durable support is crucial to stabilizing the market, at least until private capital again develops an appetite for investments with greater-than-zero risks. With a new administration coming in, any number of plans may come to manipulate interest rates still lower, but that could delay any resumption of private interest, since that paper would feature very low yields. In this way, we find ourselves in a tenuous situation, with one overarching question: Does the good-credit-quality mortgage market need more incentives than the near-50-year-low interest rates already in the market... and if so, who deserves that additional support? (If you've read this far, you already know our answer.)
The Fed's massive November plan moved conforming mortgage rates down to present levels, and it does seem unlikely that any new plan would be of comparable size and magnitude. That suggests that, absent any significant new government influence, there is limited downside for conforming interest rates over the forecast period. However, the refinancing/portfolio rebalancing detailed above could exert some continued downward influence on jumbo mortgage prices.
This being the case, we expect that HSH's FRMI should decline somewhat over the next nine-week period, likely wandering in a range from about 6% to perhaps 5.5% over that time. The overall average for 5/1 Hybrid ARMs will probably be stickier, though, as there's little demand for these ARMs in the market (especially since many are prices above their fixed-rate counterparts, particularly in the conforming market) so we think the rang for them might be 5.95% to perhaps 5.60% over the next couple of months.
If nothing else, it should be an interesting end of the winter. Check back in early-mid March and we'll see how this plays out.
---
October 20, 2008
Preface
We're a little later than expected with this forecast. Frankly, there's been so much going on in mortgage and financial markets, we forgot the self-imposed deadline of October 10. Oh well.
What's happened since the last forecast? Well, the sweeping housing bill signed back in July has just started to kick in, but has since been dwarfed by other efforts. Fannie Mae and Freddie Mac were put into conservatorship by their regulator, effectively nationalizing their function in the mortgage market (buying loans from lenders to produce liquidity).
The Federal Reserve instituted a new Troubled Asset Relief Program (TARP) to help lenders sell bad assets to the government and clear off their books, and a new Commercial Paper Funding Facility (CPFF) was created to allow the Fed to support asset-backed and unsecured short-term credit markets.
In exchange for equity stakes, regulators directly injected $125 billion in the nation's most significant banks, hoping to spur new lending.
Two global credit market spasms provided the impetus for a full-tilt run by investors to cash and cash-like investments, and central banks around the world have begun to pour cash into their own troubled institutions. Stock markets collapsed and revived (and are still in that sort of mode), oil prices have fallen by half compared to their recent peaks, and the Federal Reserve trimmed short-term interest rates in concert with other central banks around the globe.
And that's only a portion of the headlines. With hundreds of pages of bills signed into law, there are probably any number of nuances yet to reveal themselves.
Recap
In our last forecast, we expressed optimism that we might be seeing some signs of stability in many markets. We were encouraged by moves put into place by the government and lessening inflation threats. Home sales have been a mixed bag, with existing home sales bouncing back and forth over and under the five million (annualized) level, while new home sales continue to touch new lows. New Home inventories are being worked down, albeit slowly, and spending for new residential projects actually revealed a slight spark in August.
Fannie and Freddie's now-explicit backing by the government means that mortgage markets for good credit quality borrowers remain fully open, and there has been at least one signal that the tightening of credit for this audience has come to a halt.
For our last forecast, we thought that HSH's Fixed-Rate Mortgage Indicator ((FRMI)) would travel a range between 6.65% and 7.15%. The actual distance between the low and the high was 6.52% to 7.08% (without the extra week in the forecast period, the top would have been 7.04%). As well, we thought that overall average for 5/1 Hybrid ARMs would trend between 6.45% and 6.85%, and got 6.31% to 6.80% as a response. We'll call our late-July forecast "pretty good" and move on from there.
On a product-specific basis, conforming 30-year FRMs trended in a 63 basis point range, while their jumbo counterparts wandered in a 57 basis point gap.
Forecast Discussion
A year and a half into the credit market mess and new troubles keep emerging. Banks across the globe have exhibited new troubles in borrowing and lending; financial markets essentially slammed shut in August and September and have only recently been pried open a crack by extraordinary efforts. The complete lack of access to credit has taken a fairly mild economic downturn and suddenly made it severe, not only here but in major economies worldwide.
Oddly enough, American mortgage markets are among the best functioning financial markets at the moment, largely because so much effort was expended over the past 15 months (but especially in 2008) to ensure that their operation would continue. Other markets, such as overnight lending transactions, remain troubled, but seem to be responding to the unprecedented level of attention they've received over the past five or six weeks.
How fast they respond, and to what degree, is key to this forecast. Concerns over spiking LIBOR rates, for example, have re-aroused fears of ARMs resetting at less-affordable rates, with the potential for a new spate of mortgage failures as a result. If that spike in LIBOR proves short-lived, if government initiatives to influence overnight and near-term funding markets help them to perform more normally, the damage might be relegated to relatively few unlucky borrowers.
The Treasury's injection of capital into banking institutions and their plans to begin to purchase billions of dollars of mortgage-backed securities should serve to both foster new lending and produce liquidity over time, but again, the question remains "how fast will any impact be felt by borrowers?"
It's important to remember that there are two components of any financing deal: the availability of money, and the price of that money. Virtually all government efforts to date have been intended to ensure or improve the availability of money, but few (excepting the TAF) have been designed to influence any given price of money. For mortgages, and although volatile in this environment, the price of money remains at reasonable levels for borrowers who have access to it (good credit- quality borrowers). However, the availability of money for certain audiences (i.e., subprime) remains curtailed, perhaps severely so.
Risks, of course, influence the price of money. The risks of making a mortgage or investing in mortgages remain quite high (and perhaps rising) as none of the issues which have plagued the market have shown any signs of easing: foreclosures and delinquencies continue to rise, home prices continue to fall, credit quality continues to deteriorate and the economy is showing increasing signs of stress. All but the bravest investors have turned from this market, and those the do remain demand higher compensation to offset those risks.
Throughout these troubled times, access to mortgage money has been largely maintained, at least for the most creditworthy borrowers, but until and unless mortgages become a favored investment again, mortgage interest rates will have a tough time declining by much. Of course, Fannie and Freddie could use some of the $200 billion in capital they got to buy up mortgages at below-present-market rates, but they would probably be stuck with those low-yielding loans in their portfolio for some time since investors wouldn't be very eager to snap them up.
While there are any number of complicating factors which could affect this forecast, it seems to us that at least two considerable opposing forces are in play. On one side are the drags of the economy and falling inflation concerns, which typically serve to pull down interest rates; on the other, troubled property markets and a stumbling economy (especially declining employment) make the risks of investing in mortgages more pronounced, pressing rates higher. The government's backing of the markets means that mortgage money remains available -- that is, liquidity is maintained, even improved -- but the price of money will likely remains stubborn.
Forecast
We've argued for some time that a period of quiet would be of great benefit to the markets. With the whirlwind of new programs, policies and regulatory changes, this is probably even more the case now than before. Too much change, too soon and too broad, even while ultimately helpful, also serves to inject a certain level of anxiety into the market, and can also have unintended consequences (such as the mass-selling of Agency debt in favor of bank debt seen earlier this month).
An opportunity to review what's been done and already in place and what's coming on line now would likely allow for a less reactive marketplace, and perhaps a stabler, more proactive one. That could allow frazzled nerves a chance to calm, and could even foster lower mortgage rates as investors search for yield.
After spiking higher in mid-October, mortgage rates begin this forecast coming off elevated levels. Even though mortgage rates tend to decline much more slowly than they increase, the next nine weeks should feature somewhat lower rates on balance. We think that the overall average rate reflected in the 30-year FRMI should trend between 6.90% and 6.40% during the next nine weeks, and the overall 5/1 Hybrid ARM may travel between 6.70% and 6.25%. The Treasury's plan of purchasing MBS in the market could produce some additional downdraft in rates (we hope), but there's no way to know how much (if any) at this point.
We'll talk again after Christmas, and we'll review how close we were to reality.
Want to comment on our Two-Month Forecast? Go here to add your feedback, argue with us, and add your own perspective.

And for today's top stories, see the new HSH Finance blog.
---
July 31, 2008
Preface
It's been a wild ride since our last forecast A new housing bill has been signed into law, producing new opportunities for lenders to rid their books of perhaps their worst-performing mortgages -- that is, if they wish to realize those losses today, rather than 'bleeding' slowly over time. Fannie and Freddie's mission will continue unabated, and new regulatory frameworks are coming into place. The FHA program will enjoy new prominence in housing markets, and some incentives to buy homes are now available.
All this, plus billions in actual and potential spending, add up to continued pressure for mortgage rates on the upside. New Congressionally-mandated commitments for Fannie and Freddie for affordable housing will likely add 4.2 basis points to your next mortgage, and the need for more government-backed debt to finance these initiatives puts more bonds into a market -- more supply during a period of uncertain demand. Of course, rising prices are evident almost everywhere you look, but the Fed cannot quickly act to quell inflation pressures for fear of upending fragile markets.
Recap
Our last forecast suggested that the downward pull of a slacking economy would prevail over rising price pressures, but the opposite turned out to be the case. The spiralling price of oil was largely to blame; it peaked at over $146 per barrel before backing off, which helped both the Producer and Consumer Price indexes to march higher. Coincident with that, the markets had to deal with new uncertainty about the solvency of Freddie and Fannie, prompting emergency offers of support. Home prices continued to slide, making even solid mortgage investments made over the past few years somewhat more risky. Demands for mortgage credit remained pretty stable, with home sales holding pretty steady during the period, but the supply of credit became somewhat more curtailed as investors extended their 'buyers strike' for mortgage-related assets.
All these pressures moved mortgage rates upward. Overall, we expected HSH's overall Fixed-Rate Mortgage Indicator (FRMI) to range between 6.37% and 6.72%, but instead saw a differential of 6.65% to 7.10% at the close of the forecast period. For 5/1 Hybrid ARMs, we expected to see the average travel between 5.85% to 6.25%, but it ranged from 6.25% to 6.82% during the period.
Interestingly, it was conforming rates which suffered the most from the difficult market conditions. Conforming 30-year FRMs wandered in a 52-basis-point range, compared with only 39 for private-market jumbos. Five-one conforming product trended in a 68-basis-point gap, with just a 45 basis point distance for jumbo 5/1 ARMs. As impaired as jumbo markets have been, they may already be about as impaired as they can get, what with nominal interest rates already well above conforming. Since they are mostly being originated and held by portfolio investors, only concerns about inflation and changes to actual costs of funds -- rather than investors turning away -- seem to be influencing their rates.
Forecast Discussion
As we approach the one-year anniversary of the mortgage crisis (markets first began to crumble in July 2007 before fully breaking in mid-August), we're still not out of the woods. Tighter access to credit has pulled all financially-marginal homebuyers out of the market, leaving a vacuum of demand. At the same time, record foreclosures have caused a swelling in the number of homes for sale. As Economics 101 taught us, too much supply combined with too little demand has pushed home prices lower. New home sales and home building seem likely to begin to show signs of improvement before long (perhaps a couple of quarters), but until then, rough times remain fully in play. Existing homes -- the largest component of the market -- are of course more affected by inventory increases due to foreclosures.
There are few players fully engaged in mortgages at the moment. Wachovia recently left the wholesale ranks, along with IndyMac Bank (which subsequently failed). Fewer players mean less competition among buyers for loans (less liquidity), and less competition means that demands for higher yields must be met in order to complete a sale.
But are we near bottom? Every time it seems reasonable to think that the worst of the financial losses are fading, along comes another announcement of billions of dollars of losses. Still, we are starting to be of the mind that conditions, if not actually improving measurably, have stabilized overall -- or at least the rate or frequency of decline has lessened appreciably.
Our glimmer of optimism is derived from a few sources. Loan books are being improved though the origination of better quality mortgages; access to government-backed capital remains fully in force at near 0% real rates, and further substantial home price declines will probably be contained to a few deeply-troubled markets.
On the more technical side, the new ability for a lender to pull the worst performing loans off their books, refinance them into an FHA-backed loan, and take an immediate 'haircut' in terms of value -- but be able to close out a troubled asset -- could lead to lessened requirements to raise new capital and also reduce the need to hold additional loan-loss reserves.
The ability to shed bad assets means less of a need to raise new capital, which could lessen the considerable competition for those funds in the already-wary (and strained) credit and equity markets. A lessened need for new capital would serve to better balance the demand for those funds with the availability of them, and easing those pressures could help to lower market interest rates.
With less need to build and hold capital, more of the profits from operations can be used to buy and sell more loans, instead of being held as reserves.
As 'bad' loans are pulled off books, they can be replaced by 'good' loans; this will further improve loan books and may serve to increase (somewhat) demand for new mortgages by the firms whose loan books are improving.
The plan is, however, voluntary, and the process for deciding which loans to excise and which to allow to fail will be done on a one-by-one basis by lenders, so it will take time to produce any measurable results.
So we're somewhat more optimistic than many, perhaps. Lower oil prices will hopefully be more permanent than temporary, which would lessen upward pressure on inflation and its associated influence on interest rates. So far, there's been no corresponding increase in wage demands, and the stumbling economy and weak labor markets may serve to trim inflation pressures further.
We also think some of the pessimism surrounding housing will begin to fade once year-over-year comparisons of home sales no longer feature regular double-digit decreases. Failing any additional significant deterioration, we're looking for that to start around September or October.
Although certain things set in motion will take time to realize, and keeping in mind that energy costs could again flare higher at any time, it still lends some hope that we may have found tenuous stability for mortgage rates. Hoping for stability isn't the same thing as achieving it, of course.
Forecast
As we write this, conforming FRMs are near a year's high; fixed-rate jumbos are near eight-year highs. If inflation calms, if demands for capital are diminished somewhat, and if bad assets can be shed, mortgage rates should get no worse and have a good chance to improve, perhaps considerably, from these levels. As such, we're expecting a stable-to-downward trend for mortgage rates over the next nine-week period, where we forecast the overall average 30-year tracked by HSH's FRMI to range between 7.15% and 6.65%, while the erratic 5/1 ARMs (20-basis-point bounds have been all too common this year) should find a home somewhere between 6.85% and 6.45%.
Here's hoping we're right. Refinancing and home buying could use a boost, and cheaper mortgage money would help.
Our next forecast should come in early October. The third quarter will have come to a close, Autumn will be upon us, and we'll look back to see if our optimism was founded or unfounded.
---
Some boost for sales and refinances may come in the form of GSE reform and FHA expansion. Bills have cleared the House and Senate Committees, and a floor vote is slated in the near future. Despite a strong push in Congress, it's not clear how many potential homebuyers will be helped (or how quickly), so despite big election-year pronouncements we expect only a limited boost this year.
All this being the case it does strike us that we will remain directionless over the next two months, with no sudden clarity, but rather a slow slog through a still-murky period.
Forecast
The question, of course, is what will exert the stronger pull during the forecast period: inflation or weak growth? It does seem likely to us that the upward pressure on underlying interest rates will remain, but mortgage rates should hold mostly steady or perhaps decline a little at times.
A year ago, the difference between the 10-year Treasury and the average Conforming 30-year FRM was 153 basis points (1.53%); it was 172 for TCM-Jumbo. Despite recent declines from historical highs, those spreads are presently 216 and 326 basis points, respectively. That suggests that with the crisis slowly passing, and as balance sheets are rebuilt and lender recapitalization continues, new loans should be able to be priced at less of a premium relative to other benchmarks.
In such a situation, even if comparable indicator rates do rise, mortgage rates would therefore rise less as lenders look to keep originating new, better-quality loans. These new originations serve to offset the poor loans already on books, or can be sold for needed cash. Of course, we won't return to normally-thin spreads anytime soon, but we should see thinner spreads as time rolls forward.
We're not going to venture a forecast for Conforming 30-FRMs this time around, and here's why: if the GSEs do suddenly decide to use their nearly-unlimited powers to help all "A-quality" borrowers instead of those only in "high-cost" areas, Conforming rates could ease, perhaps markedly, which would be good news overall. Jumbo markets seem to be creaking back to life, too.
For the next nine weeks, we expect that HSH's FRMI will range between 6.37% to 6.72%, while the overall 5/1 Hybrid ARM average might travel between 6.25% and 5.85%. It's most likely that both will exhibit choppy or erratic behavior.
When this forecast expires, we'll be coming up to the one-year anniversary of the big break in credit markets. No celebration is planned, but we will review the forecast here to see how we did.
---
March 21, 2008
Recap
Erratic investor demand amid dysfunctional mortgage markets left our previous forecast in tatters. We expected that the 30-year FRM would range from perhaps 6.45% to as low as 6.10%, but the wide swings in pricing left the actual top and bottom for rates a wider span of 6.05% to 6.72%. Worse still was our expecation for average 5/1 Hybrid ARMs, as our forecast 6.08% - 5.75% gap was broken on both ends with in a range from 5.45% to 6.31%.
Much has been made over the difference in price between conforming and jumbo loans. That wide gap remains, but loans of both sizes traveled the same path during the forecast period. Each sported a 70 basis point high-to-low range, with 30-year conforming topping out at 6.31% and 30-year jumbos at 7.28%.
Forecast Discussion
It's hard to know which market to address for this forecast. It does seem that conforming (and some former jumbo) borrowers will become more well served in the spring of 2008, but markets still remain far from functional at this writing. Pricing for the new "expanded conforming" loans are just starting to make it to market, while short-term rates are low enough as to obviate the ARM reset problem for many homeowners, but concerns over falling home values have left many borrowers with insufficient equity to successfully refinance, even if they could meet today's tougher underwriting standards.
The economy may have slipped into negative territory during the first quarter of this year, and the Fed has lowered interest rates to try to address that. However, inflation concerns are standing front and center in the markets and at the Fed; two Fed Governors dissented at the March vote to lower interest rates. We'll not know the reason until the meeting's minutes are released in a few weeks, but presumably it was the size of the move which caused concern, not the direction. At the moment, the Fed's primary concern is preventing a broadening downturn in the economy, but firming inflation pressure means long-term rates generally have less space to decline.
At least a few indicators suggest that the fall in housing markets is slowing, if not at a bottom. New and existing home sales remain challenged, but signals such as builder optimism do seem to have plateaued, albeit at low levels. Before improvement can occur, a bottom must be found. If -- a big if -- news of lower mortgage rates can make it into the market just as the traditional Spring homebuying season gets underway (and hold, unlike January's refi flare), the combination of lower home prices and lower fixed mortgage rates might produce enough of an affordability mix to provide some support to flagging housing markets. Although enthusiasm will probably be muted, we think there may just be a spark of hope in housing this Spring. The old mortgage-lending machines -- the ones which fostered such a huge housing financing market and the resulting bubble -- remain broken and likely irreparable. However, with new market structures in place, there's a much better chance of measurable improvement.
Forecast
All the machinery put into place since our last forecast should get more fully up to speed during this one. There is no doubt that mortgage markets will remain challenged, or that the former subprime and Alt-A markets will continue to remain "former." True jumbo rates will likely remain elevated relative to their conforming counterparts, and the gap between them may widen more (as a result of a decline in conforming rates, not necessarily a rise in jumbo ones). The new "expanded conforming" loans should provide at least some new liquidity to parched jumbo markets, while FHA-backed lending should help those more on the fringes of traditional lending.
For the rest of the world, we think that mortgage money may become available at lower rates -- perhaps much lower rates -- as Fannie Mae's and Freddie Mac's newfound purchasing power begins to hit the markets.
The overall combined average for 30-year fixed rate mortgages should probably decline during the forecast period. We are presently at an average 6.72% for jumbo and conforming rates combined, and expect that this fixed-rate indicator will move down to as low as 6.27% during the period, dragged down by lower conforming interest rates. Hybrid 5/1 ARMs -- in fact, all ARMs -- have been suffering from even more erratic demand, bouncing up and down by sizable amounts. We start the forecast at 6.31%, and do expect rates to settle back but perhaps only to 5.75%.
We don't usually forecast conforming or jumbo loan price ranges, but if we're correct in that rates will decline, and if much of the decline is in conforming rates, we could see conforming 30-year FRMs with average rates close to 5.50% -- low enough to spark a fair refinance boomlet.
It'll be mid-late May when this forecast comes to an end. Drop back by and we'll see if we're closer to the mark this time than last.
---
January 18, 2008
The meltdown of the subprime market dominated mortgage-market news over our forecast period. Accompanied by plans to "freeze" initial interest rates for some small percentage of subprime borrowers, regulators and central banks around the world invested a considerable amount of time, effort and money to stabilize and relubricate financial markets. So far, these moves seem to be doing some good for the mortgage market. Lenders continue to report losses from yesterday's loans, but tighter underwriting standards and cheaper costs of input funds make today's loans more profitable, a key element in keeping mortgage money flowing to the masses.
Although price spreads between conforming and jumbo mortgages remain wide, and there has been little discernable change in the availability of high-LTV, no-doc or subprime offerings (and probably won't be, for a while), lenders have stepped up their promotion of conforming and FHA loan offerings. Lenders in our editorial mortgage market surveys have even started to re-offer some jumbo products which couldn't be easily sold since last summer's credit market mess.
While the market mess isn't over by any means, there have been at least a few scattered signs of cautious hope. New and Existing Home sales have been mostly holding steady (albeit at low levels for the past few months) and with lower interest rates and home prices in the headlines, borrowers may begin to show some additional interest this spring.
Recap
Our November 9 forecast called for the overall (conforming and jumbo combined) average for 30-year fixed rates to range between a high of 6.70% and a low of 6.35%, and we were fairly close. The actual range for these rates was a high of 6.60% and the low of 6.31% came at the end of the period. For 5/1 Hybrid ARMs, we expected brackets of 6.40% to perhaps 6.08%, and for the most part, the 6.37% to 5.92% we experienced was pretty close to the mark. In fact, a 23 basis-point decline in the final week of the period was responsible for breaking the bottom of the range.
Swings of pricing for 30-year conforming mortgages were again much wider than for jumbos. While conforming prices wandered in a 42 basis-point window over the nine-week period, jumbos meandered in a tight 14 basis-point range. Still, the 6.80% for the 30-year jumbo FRM noted at the end of the forecast period was the lowest such average rate since mid-June, when the market crisis began to first show itself.
Forecast Discussion
As we ponder the next forecast period, we'll note that the strident calls for the Federal Reserve to again lower short-term interest rates have been joined by stumping presidential candidates calling for various forms of economic stimulus. For the Fed's part, they're in a bit of a tight spot: although economic growth has measurably slowed, price pressures remain firm, and lower interest rates can't fix the problems already on the books. Worse, goosing growth could serve to exacerbate that inflation problem, and persistently high energy costs are making their presence felt and will probably continue to do so. It's a fair bet that the Fed will lower rates during the forecast period, perhaps by a substantial 50 basis points (at this writing, 25 seems a sure thing).
The Fed's Term Auction Facility auctions of cash have been going well, but liquidity at lower rates can only have so much effect. At present, mortgage-price spreads relative to underlying costs of funds and other benchmarks are very high, and we'd bet the Fed may begin to elbow lenders to lower prices on loans more quickly so that more borrowers can be served. Of course, for lenders, only time, the reassessment of the value of loans,and the continuing re- establishment of trusted trading relationships will rebuild these markets. We're now several years into the subprime mess, and there is still a sense among some that the other shoe has yet to drop. It yet may.
That being the case, we closed 2007 on a decidedly softer economic bent than the near-5% GDP we enjoyed in the third quarter. Some estimates put fourth quarter GDP in the low-to-mid-1% range, which seems about right to us. That means there's little energy to kick-start 2008, and a soft tenor for economic activity will probably hold through the forecast period. Whether inflation continues to present a troublesome stance is unknown, but the Federal Reserve's most recent signals suggest that spurring economic growth may be more important to them at present.
Employment growth seems likely to continue to be meager over the next nine weeks. The nation's unemployment rate gapped higher by 0.3% in December, landing at a multi-year high of 5%. Given the weeks of generally rising first-time unemployment claims prior to the December employment report, it shouldn't have been as big a surprise as it seemed to be, but it did startle the markets. We may see a minor improvement in hiring and a slight retreat from the 5% unemployment level during the forecast window, but uncertain times make it unlikely that employers will be adding to their payrolls.
The combination of slow economic growth, additional liquidity and lower interest rates between now and mid-March bodes very well for a don't-miss-it refinance opportunities -- for good credit conforming borrowers with equity in their homes.
This forecast begins with rates for conforming loans at better than two-year lows, and barely a half-percentage point above the now 46-year-low of 5.24% seen back in June of 2003. Plenty of homeowners have enjoyed with rates above 5.75% in the past few years and may benefit from the lower payment provided by a lower rate and a new term. Borrowers with adjusting jumbo ARMs may need to consider a new jumbo ARM, as fixed-rate jumbo loans will probably remain elevated.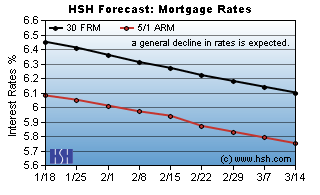 Forecast
While we do expect rates to be lower, on balance, through the forecast period, we are starting at a fairly low level already. Rates could flare higher on better economic news or worse inflation news. That being the case, we think that the overall (combined) 30-year fixed-rate mortgage will wander in a range from 6.45% to as low as 6.10%. We see 5/1 Hybrid ARMs ranging between 6.08% and 5.75%.
At the end of the forecast period, it'll be mid-March and daylight savings time will be kicking in on the cusp of Spring. That sounds pretty good in the depths of Winter. Why not check back to see how we did, and we'll see if it will be another "silent spring" in the housing markets?
April 13, 2007
Spring, cold and dreary though it is this year, is upon us. If some forecasts and expectations are to be believed, 'cold and dreary' will also describe housing markets this Spring, as the sunshine of easy mortgage credit is diminished by the murkiness of regulators, Congress, and ongoing credit quality issues. Hopes for some assistance from the Federal Reserve in the form of lower rates aren't likely to come anytime soon, as inflation hangs tough at unacceptable levels.
The economy continues to stumble in a low-growth pattern, but overall it seems to be holding up well. Recent signals have been mixed, with the slowdown in housing and autos joined at least for the moment by sluggish spending for business investment. First quarter GDP growth is likely to be no better overall than was 4Q06, which rang in at 2.2% for the period.
Recap
Our expectations for mortgage rates for the forecast period just past looked for perhaps a little upward tick, then some settling. At that writing, growth was still estimated at well above 3% (since revised downward) while inflation pressures remained above the Fed's preferred range. On January 31, we called for 30-year fixed rates to run between 6.28% and 6.55%, but they never tested the upside to any degree, but drifted downward amid a strong flight-to-quality purchase of US Treasuries. That happened due to an almost 9% one-day decline in a major overseas stock market index and near daily revelations of losses in the subprime mortgage market. The actual range for rates during the period was 6.45% to 6.26%, so we were pretty close. Also, we thought 5/1 Hybrid ARMs would range from 6.30% to 6.09%, but we saw 6.24% to 6.03% instead. Still, that was within a reasonable margin of error.
Forecast Discussion
At its last meeting, the Fed removed its explicit 'bias' toward higher interest rates. Although the markets interpreted that to generally mean an interest rate cut might now be more likely, we took it to mean that the Fed no longer felt the need to state any bias if it really didn't believe that (in this case) a rate hike was the most likely course of action. In our view, no change, perhaps for a long while yet, is the most likely course for the Fed, but explicit bias or no, the possibility of a rate hike cannot be erased from any longer-range forecast. The subsequent release of the minutes of the Fed meeting largely bore out our reading of the change to their wording.
It's a tenuous time for forecasting this spring. Credit markets have become creaky lately, as the well-oiled machine for all forms of mortgage credit are running less fluidly than in recent years. The mess which has developed in subprime lending has many observers wondering whether greater contagion to better credit grades can be contained, or whether a market-dooming round of foreclosures will derail real estate to a greater degree than that already happening. Certainly, either circumstance would lead to a diminishing of available credit, as investors would probably pull back further from even pretty good quality paper. Moreover, any spate of foreclosures will likely bring the wrath of Congress and Federal Regulators armed with missions to 'protect' the public. Already drying streams of credit would likely dwindle to less than a trickle, at least for a while.
Amid what seems likely to continue to be a stumbly economic time with stubborn inflation -- a continuation of the recent pattern -- this becomes perhaps the key feature of this spring's forecast. It's still unclear how investors and markets may fully react to increasing losses, how well any loss mitigation programs will soften the effects of poorly or non-performing loans, and whether or not "regulation risk" will become the latest risk mortgage lenders will need to manage.
An already-underway pullback in credit availability -- tougher underwriting, higher rates -- would be exacerbated by any new layers of regulation or 'guidance' which might come. More oversight means higher rates and fees at an inopportune time for the markets.
Expectations for an increasing amount of slack in the economy simply haven't materialized yet. Employment levels are quite high, job growth remains firm, and the unemployment rate for March matched cycle lows of 4.4%. From a Fed standpoint this should serve to keep a floor on interest rates, and unless inflation begins to decline anew, rates seem poised to hold pretty firm for the period just ahead, pulled between slow growth and persistent inflation. However, the wild card remains the markets themselves.
Forecast
From an economic standpoint, mortgage interest rates seem likely to have an upwards bias of their own during the forecast period. We haven't been any higher than 6.5% in over 30 weeks, but we'll probably approach that level again before the nine-week window of this forecast comes to a close. We think that the average 30-year fixed rate mortgage will manage to hold the same range in our last forecast, running between 6.28% and 6.55%, while Hybrid 5/1 ARMs wander between 6.06% and 6.26% between now and the time of our next forecast, due just about a week before Summer begins. Hope for sun, but plan for rain, as the saying goes.
Enjoy your Spring, and drop back in June to see what weather prevailed.
---
January 31, 2007
Nine weeks have passed since our last forecast, and we're now one-twelfth though 2007. Estimates of economic growth have been moved considerably higher during the period, while inflation remains fairly firm. Hopes for a cut in short-term interest rates by the Fed continue to be pushed deeper into the year, and a growing number of analysts are starting to suspect that we may be into 2008 before any significant rate cuts occur. Mortgage rates have spent the last nine weeks adjusting to the new landscape, and seem likely to be as firm as the economy appears to be.
There's no precise period in which a change to the Federal Funds rate has an explicit effect on the economy. It's generally thought that the full effect from such a change isn't fully felt for between six months and a year from the date of the change. It's now six months since the last rate hike, and the economy is doing very well -- even accelerating from a periodic "soft patch." If the time window is as long as a year, though, some additional throttling of economic growth might be expected, but that seems increasingly unlikely.
Expectations, though, play a large role in what happens to interest rates. As the economy slowed last year, the stock and (especially) bond markets began to expect that the Fed would need to trim rates fairly quickly, before the economy slipped toward recession. As we now know, the Fed didn't and the economy didn't; in fact, interest rates have risen.
Recap
Our November 28 forecast turned out to be pretty close. At that time, we expected 30-year fixed rate mortgages (FRMs) to run in a range from 6.15% to 6.45%, and we actually managed 6.16% to 6.38%. That's about as good as it gets. For five-one Hybrid ARMs, our expectation of 5.95% to 6.30% was also on target, with the popular alternative mortgage product featuring average interest rates of 5.99% to 6.20% during the forecast period.
Forecast Discussion
We seem to be entering an interesting, muddy time for interest rates. Falling energy prices in late fall seem to have goosed the economy back to life, as the initial estimate to 4Q06 GDP came in at an 'above potential' 3.5%, up from a flat 2% in the third quarter (when oil touched $77 per barrel). From a broad perspective, and for people and businesses, that's generally great news. Employment growth is solid, and this should ultimately help to revive housing and automotive industries most affected by the slowdown last year.
It's all great news -- unless you happen to be a central banker. The Fed's campaign of lifting interest rates was comprised of a substantial 425 basis points (4.25%) in two years through last June. At that time, in conjunction with cash-sapping energy costs, the economy slowed sufficiently to allow the Fed to come to a least a temporary halt.
At the turn of 2006, oil prices pumped up by hurricanes fell sharply, and GDP revved up to over 5% in the first quarter. A similar effect seems to be in play here, as the break in oil costs back to $55 a barrel in December and January is serving to enhance economic activity. Lower energy costs tend to lessen inflation over time, but stronger economic activity can worsen it.
Since core measures of inflation are still fairly above the Fed's desired levels, resurgent growth probably wouldn't be welcome right now. Growth below 'potential' -- about 3% GDP or so -- should eventually help to slow employment growth, lessen demand for resources, and ultimately drag inflation back down (or at least keep it steady). We saw just two quarters of sub-par growth in 2006, enough to get that process started, but here we are again above potential, at a time of full employment and firm inflation. Even with the rise in interest rates in the past nine weeks, the market remains in a stance that the Fed is likely to lower rates sometime in the future. Presently, we're not convinced that that's likely to occur in 2007 as the economy is doing fine and needs no additional stimulus. In fact, absent drag from high(er) energy costs, the Fed may need to raise interest rates again if growth remains above potential.
The market seems presently unprepared for such an event, and in order to avoid disruption, the Fed would need at least a meeting -- perhaps two -- to signal its intentions. It's still too early to think that any rate increase will come anytime soon, but it's not too soon to consider that it might .
Forecast
During the next nine weeks, we'll close out the winter and begin Spring. Another two-day Federal Reserve meeting comes at the end of March, and if present conditions hold -- solid employment, firm core inflation and above 3% growth -- we'll be unsurprised if the Fed signals that higher rates may be in the offing at some point. There's nothing wrong with strong growth, but it's more welcome when there is resource slack in the economy. The unwinding of Fed rate-cut bets has moved interest rates higher, but to us, there still seems to be some upside potential. Over the next nine weeks, we think that the average 30-year fixed rate mortgage will range between 6.28% and 6.55%, while the average 5/1 Hybrid ARM drifts from 6.09% to about 6.30%.
Stop back in early April and we'll see where we're at. Will we have laid an (Easter) egg?
---
November 28, 2006
Over the past nine-week period few new trends seem to have started up, but we now appear to be following a path which may promote fair economic growth while inflation gradually wanes. Should this happen, it could be considered a "soft landing" -- a feat engineered on rare occasions. The back-to-back quarters of low-to-mid 2% GDP growth are only mildly subpar, but may prove sufficient to ease considerable inflationary pressure which has built up over several years.
Engineering a soft landing starts with solid, vigilant, transparent monetary policy. With increasing clarity, the Fed continues to communicate its goals as well as its concerns about the risks involved with achieving them. While the Fed is careful not to proclaim a formal inflation target, it has made it known that it prefers 'core' inflation to be approximately 2% per year or less. While core inflation remains above those levels, it's easy to conclude that interest rate policy will tend to be steady to firm. At the moment, both inflation and policy should be expected to remain so, as (housing excepted) only a gentle drag on the broad economy seems to be the result of short-term rates at multi-year highs.
Recap
Our last longer-term musing saw us call for 30-year FRMs to range between 6.25% to perhaps as high as 6.60%. The actual low and high point for the benchmark fixed rate mortgage was 6.30% at the bottom to 6.50% at the top. We'll call our forecast a success in that regard. For five-one Hybrid ARMs, we expected a 6% to 6.35% spacing, and the market obliged with 6.12% to 6.29%.
We noted at the time of writing that we thought mortgage rates might have room to rise from then-existing levels, but they never did move higher than the 6.5% at the start of the period, but instead touched it twice. After the second minor flare-up at the end of October, rates have largely been on a downward slope.
Forecast Discussion
The twin exertions of high energy prices and accumulated monetary drag have undoubtedly trimmed the sails of the economy. The most pronounced effects have been in the housing arena, where significant declines in sales and building have slashed 1% or more off the GDP numbers. The advance estimate for GDP in the third quarter was an anemic 1.6%, revised this morning to a preliminary 2.2% for the period. The effects of lower energy costs in August and September no doubt contributed to the upward revision, and absent housing's drag, growth would be at about 'potential', or the ability to grow without producing undue inflationary pressure. Headline inflation has begun to ease, a welcome sign.
Slower economic growth is necessary if reductions in "utilization rates" are to be achieved. Utilization isn't simply one of commodities such as steel or oil, but also "human capital," also known as workers. Slower growth should see falling demand for steel, for example, as production of things like cars and washing machines decline, and softer manufacturing means less demand for energy. As such, the wax-and-wane cycle for commodities is more or less immediate.
Human capital is a bit different, though. Not only can demand for certain skills exceed available supply, the best-qualified workers can produce longer-lasting, more intractable costs to a business though higher wages and benefit packages. Worse, thin labor pools mean that less desirable, perhaps less productive workers are available to fill certain slots, all the while at higher costs to the company which hires them. It just may well be that this is where we are at the moment, which becomes a source of concern for the Fed to reach its goals.
With an unemployment rate at 4.4% -- a low for this business cycle -- the pool of available workers is low. Productivity, a key component of keeping wages growing without sizable effect on final prices, has been on the decline, registering no change for the third quarter of 2006. The combination of tight labor markets and falling productivity can produce a baseline for inflation which can be tougher and more painful to wring out, a situation the Fed would prefer not to have to face. As a result, while headline measures of inflation caused by energy costs and tight supplies of basic commodities may be on the wane, elevated core measures of inflation seem likely to persist until economic cooling serves to replenish the labor pool -- that is, until the unemployment rate rises somewhat from these levels and inflation slips below... perhaps meaningfully below... the 2% threshold. Until then, the Fed not only will be content to sit and watch and wait for data, but remains more likely to raise interest rates than to lower them.
Forecast
Over the next nine weeks, we've got the typically-dull holiday period where market activity slows (almost in progress already, now that Thanksgiving has passed). If Black Friday is any indication, consumer spending will be fine this holiday season. If history is any guide, once we pass the holidays and business resumes after about January 5, new patterns for rates typically form (last year, we were on the cusp of a longish period of rates rising, for example). From where we sit today, though, rates have little room to decline with any vengeance, but may slip a little below present levels before bouncing back upward again. As a result, we expect the average 30-year FRM to wander between 6.15% and 6.45%, while 5/1 Hybrid ARMs range from 5.95% to 6.30%.
We'll check back along about the last week of January. Here's wishing you and yours a great holiday season, and Happy New Year.
September 20, 2006
Since our last forecast, cooler economic growth and lower energy prices have raised hopes that inflation will begin to wane over time. These conditions have also fueled speculation that the Fed's "pause" may continue for a while longer, or that the process of lifting interest rates may be complete. At this writing, there are even some forecasts that the Fed will begin to lower interest rates as soon as early 2007.
Regularly, market interest rates tend to rise and fall to a greater degree than is warranted by present economic conditions. Expectations play a large role in the direction of rates, especially expectations for the paths of growth and inflation. Earlier this year, for example, fixed rate mortgages (FRMs) steadily climbed to multi-year highs as it seemed apparent that price pressures would continue rising despite the Fed's work to trim them. Because of those expectations, rates moved higher than was warranted in the then-current environment, responding not only to known factors but forecasts of worsening factors yet to come.
At times, the reverse is also true, where rates fall so quickly as to get ahead of actual economic conditions, responding to hopes of more favorable conditions ahead. After enduring the former situation, we may be encountering the latter one. In the past, some of these episodes have resulted in sudden reassessments of prospective market conditions, with a down draft ending rather abruptly, and rates rebounding smartly over a rather short period.
Recap
Our last forecast was wrong in several respects, but correct in others. In terms of ranges for interest rates, we expected 30-year FRMs to range from about 6.80% to as much as 7.14%, and Hybrid 5/1 ARMs to manage 6.50% to 6.75%. Both turned out to be way pessimistic: FRMs only got as high as 6.91% before falling to 6.5%, and five-ones peaked at 6.58% before slipping to 6.24%. Overall, we clearly had the direction for rates wrong. However, we got it right when we mused that "If the [economic] cooling is becoming more entrenched, flat-to-lower long-term rates are a good possibility." Too bad we didn't arrange the forecast to cover that possibility, which actually turned out to be the case.
Forecast Discussion
Few would disagree that the Fed's forecast of slower growth is coming to pass; at last reading, GDP growth fell from 5.6% to 2.9%, or from rather hot growth to a level more in line with the economy's potential to grow without reigniting inflation. High energy and higher borrowing costs produced meaningful drag over the past several years, making the Fed's decision to stop raising rates after the June meeting much easier. Price pressures remain evident, but the rate of inflation seems to have reached a plateau, although it's higher than what many believe to be the Fed's preferred level.
However, if slower growth and lower inflation potential are the results of higher market- and Fed-influenced interest rates assisted by pocketbook- draining high oil and gasoline prices, what are we to make of the recent change in those influencing currents?
While the Fed hasn't changed its stance, market interest rates have declined appreciably. This has sparked new refinance activity (which will eventually lend support to the flagging home sales market), and lower oil and gas prices seem likely to revive growth in the coming quarter or two. This good news for consumers will, paradoxically, make the Fed's job much harder, since growth above the economy's "potential" would serve to keep inflation from falling, or at least falling quickly. If the Fed's forecast expected 6.5% mortgage rates and $70bbl oil, their expectations and the market's hopes may be off the mark.
There no way to know except to wait and see. If distorted, it may be instructive to look at what happened after Katrina and Rita dumped $3 gasoline on us late in 2005. Growth shriveled to a puny 1.8% in the 4th quarter, but when prices dropped back to about $2 a gallon, GDP flared up to the aforementioned 5.6% clip. Of course, gas wasn't the only factor, but in our opinion, it did play a considerable role, and that may be the case this time, too.
Forecast
As interest rates have already declined measurably, we'll note that there are limits to how far rates can fall. The yield curve is fully inverted at the moment, and that suggests to some that a much, much slower period of growth lies yet ahead. If it doesn't come, expect some unwinding of speculative positions which require those expectations to come true.
In the meanwhile, we seem to still be experiencing a so-called "savings glut", where money continues to power into bond and mortgage instruments from both domestic and overseas sources. As refinancing has picked up of late, mortgage-related buying of treasuries may again serve to drive rates rather lower than they ought to be given growth and inflation. Mr. Greenspan's "conundrum," it seems, will continue.
Call us sort-of pessimists, since we think rates have some room to rise yet from present levels. Or perhaps we're optimists, since we expect that economic growth will experience a spurt of unknown length as falling energy costs pump cash into other areas of the economy. Whatever the case, we expect that the average 30-year fixed rate mortgage will meander from perhaps 6.25% to 6.60%, while five-one hybrid ARMs wander a range from 6% - 6.35%.
Check back around Thanksgiving, and we'll see if we're eating crow to celebrate the holiday instead of turkey.
---
July 14, 2006
Our last forecast expired just before the Fed meeting on June 28-29, but rejiggering our website pushed things back a bit.
Growth has begun to cool from earlier this year, but inflation issues yet remain and likely will continue to remain for a while longer. Having moved short-term interest rates again at the end of June, the Fed is watching for data to suggest that inflation has peaked. Energy costs remain elevated, with crude oil reaching new record highs despite ample inventories, and gasoline prices have begun creeping up again. The open question is: has slower economic growth come soon enough to keep inflation, the Fed and spiraling interest rates at bay?
Recap
Our last nine-week forecast ran from April 27-June 26, and we expected the average 30-year fixed rate mortgage (FRM) to range from 6.53% to 6.85% during the period. Turns out that was a pretty fair call, with the average actually wandering from 6.68% to 6.88%. As well, our expectation for the 5/1 Hybrid ARM turned out as pretty reasonable, too. We forecast 6.25%-6.50% as a range, and actually saw 6.35% to 6.55% during the April-June period.
During the delay period between the end of that forecast period and this, interest rates have moved higher, including the Federal Funds rate (now 5.25%).
Forecast Discussion
Signs of a cooler economy have started to show in a more meaningful way. The post-Katrina/Rita surge in hiring has faded behind us. Employment growth averaged about 176,000 new hires in the first quarter, but downshifted to only 108,000 during the second. Employment levels remain high, though, with the unemployment rate holding at 4.6% as of this writing. After a nice upsurge, manufacturing activity has drifted back to more lukewarm territory. Existing home sales have continued to trend downward. Housing starts and new home sales have maintained strong levels for the moment, goosed by incentives and the need to construct and move inventory before an even slower period comes. Sales of cars are slipping, and given high levels of consumer debt, rising payments pegged to short-term interest rates, and the cash-absorbing nature of high gas prices, retail sales seem poised to chill as well.
Six weeks separate each Fed meeting. During that time, a slew of new economic data is released, evaluated, and absorbed, by both the markets and the Fed. Fed policy is decided, the action is released to the markets, and the process begins anew. The tenor of the Fed's intentions is interpreted and judged, and bets are placed on what might happen next. For the past two years, it's been a reasonable certainty that a quarter-point move was coming in six weeks. No more: market players are increasingly uncertain whether the Fed will decide that no change in rates is warranted, or bigger changes in rates are coming; as a result, we're in a more volatile position.
Until the last three moves by the Fed, long-term interest rates largely failed to react. Since then, bond investors have started to recognize that inflation was continuing to creep higher despite cumulative Fed moves, and began to require higher interest rates to offset those return-draining price increases. Since February, long-term interest rates have moved nearly as much as the Fed Funds rate. Lately, though, there's some new concern that the Fed may overshoot their mark, raising rates so high as to quash economic growth in their quest to trim inflation. For some, the possibility of slower growth (a recession?) and lower inflation is no longer far into the future.
The tentative nature of the cooling expansion makes forecasting a dicey business at the moment. If the cooling is becoming more entrenched, flat-to- lower long-term rates are a good possibility. Should growth continue to power ahead, or flare higher from present levels, rates will flare higher, too -- and perhaps much higher, depending upon the perceived threat of inflation.
The Fed's own forecasts have called for slowing economic growth as 2006 progresses. So far, that's been a good call, but inflation hasn't backed off yet. If it doesn't ease, the Fed will continue to push rates higher.
Forecast
Looking at the broad economic landscape, we think that there is a good chance that we're at or very near the top of the cycle for interest rates. That's not to say that the Fed won't lift the Fed Funds rate a little more, but we're presently of the mind that they will stand pat after the August meeting, opting instead to add another quarter-point increase sometime later this year. For mortgage rates, this forecast period starts with fixed rates at their highest levels since April 2002.
Pressures for rates are still more upward than downward at the moment. That being the case, a 'pause' by the Fed could serve to help rates fall back a little, especially if ancillary data continue to point to softer activity. For the next nine weeks, we think that the 30-year FRM will hold a range of 6.80% to 7.14%, while the 5/1 Hybrid ARM will probably wander between 6.50% - 6.75%.
We'll be back after Labor Day to see how this has all worked out.
---
April 28, 2006
Amid resurgent economic growth energy prices have sprouted, with price increases for gasoline well above typical seasonal increases. The last such run to $3 per gallon came amid the aftermath of Katrina and Rita, so it's unclear how much economic growth was stunted as a result. We're of the mind that those prices served to cool the economy quite a bit, as witnessed by the 1.7% GDP number for Q405. Lower prices helped to fuel near 5% growth in the first quarter, but gasoline and several other factors make it seem as though we'll be trending downward through the forecast period.
Recap
As it turns out, our February 23 forecast was pretty good. In it, we expected the average 30-year FRM to trend from 6.30% to 6.65%, and in reality, we got a range of 6.39% to 6.65%, as we closed the forecast period on a high note. For five-one Hybrid ARMs, our forecast range of 6% to 6.25% was only slightly exceeded on the top end, as we actually wandered from 6.08% to 6.32%.
Forecast Discussion
As mentioned above, we think that the again-elevated cost of energy will be a central theme for the forecast period, which will bring us well past the "unofficial" start of the summer and its renowned driving season. Taking spendable cash from the broad economy and putting it into the gas tank will likely serve to trim the sails of the economy a least a little. In addition, we expect that what has been a gradual downtrend in housing and housing-related industries will accelerate a bit; March's pickup in sales and activity notwithstanding, the trend has been generally lower and the present sales pace remains well below last summer's peaks.
While the second quarter of 2006 should feature a slower economy than we enjoyed in the first quarter, growth appears likely to settle back closer to what is thought to be the economy's non-inflationary potential, with GDP around 3% to 3.5%. However, inflation will continue to be a concern, as only a flattening of the trajectory of recent price trends should be expected over the next few months. Energy and commodity prices have leapt higher, and even if they do level or even decline (the rate of change in inflation easing) actual prices probably don't slide to any great degree. Even if the rate of inflation flattens, we're still left with those elevated prices, leaving less money to spread around to stimulate economic growth.
Consumers with less disposable money and rising costs faced by businesses served to temper hiring plans last fall. Only after it was clear that the effects of the storms were temporary, and energy costs began to fall, did hiring pick up in a meaningful way. The latest spike may have a similar effect, and levels of unemployment claims have held firm for weeks. With employment already pretty full, and with a less-certain environment ahead, we think that levels of new hiring may edge back.
While the threat of inflation usually brings a response from the markets and from the Fed (in either order), the members of the new Bernanke Fed have expressed sensitivity about raising short-term interest rates too far. Of course, the current 4.75% for the Federal Funds rate is thought to be only near a "neutral" level, neither enhancing nor retarding growth. With unemployment low and prices high, the Fed would prefer to err on the side of restrictive caution, leading us to believe that one and perhaps two more increases in the Fed Funds Rate are yet due. We're certain that at least one more increase at the May 10 meeting is coming; at this writing, any June move is uncertain, and beyond the scope of this forecast period, regardless.
Forecast
So there you have it. We are of the current opinion that the surge of growth in the first quarter is likely to ease back, price pressures will remain to a great degree, and any pause by the Fed may still be several months off in the future (and certainly dependent upon incoming data between now and then). If we're right, and things are beginning to settle, then the next rate hike may be the last for a little while, but we're not convinced of that just yet.
Mortgage rates have had little place to go this spring but upward, and that seems to still largely be the case. By no means can interest rates be characterized as "high", nor are they high enough to choke off housing... but they are high enough as to slow it, a process we think will continue as we edge toward summer.
The last nearly two years have seen short-term interest rates rising faster than long-term. That process seems to be unwinding a bit, and we think that the 30-year FRM has more potential to increase right now than does a shorter vehicle like a 5/1 ARM. Therefore, for the next nine weeks, we expect that the 30-year FRM will trend in a range from 6.53% to about 6.85%, and the 5/1 ARM should manage a range from 6.25% to about 6.50% or thereabouts.
When the calendar turns to "official" summer, we'll look back to see how well we did with this forecast.
---
February 23, 2006
The sun is reaching higher in the sky, and spring beckons. A new Fed chief takes the helm at a time of what seems to be solid economic growth with some legitimate concerns about inflation. Will new signs of cooling stay the Fed's hand, or will energy-led inflationary momentum make even higher rates inevitable? Is the inversion in the yield curve a harbinger of forthcoming recession, or is the "conundrum" of long-term rates lower than short-term ones still in play?
Recap
Our December 20 forecast called for a rather upward bias for mortgage interest rates, and on that score, we were reasonably close. After a holiday-influenced dwindle, rates resumed an upward march from about mid- January to near the top of the forecast range toward the end of the forecast period. We expected the 30-year fixed rate mortgage to run in a range between 6.25% and 6.60%, and we actually wandered from 6.23% to 6.45% during the period. As well, our forecast for the average rate for 5/1 Hybrid ARMs was close, too. We forecast a range of movement between 5.85% and 6.20%, and found an actual 5.84% to 6.10% for the period.
Forecast Discussion
As regular visitors to our website know, Fed moves have little to do with long-term mortgage rates, but they do influence the costs for shorter- term mortgages, including the prices charged for most kinds of ARMs. Put another way, the longer out on the yield curve you go, the less direct influence that Fed moves have on rates. That's not to say, however, that the Fed can't indirectly affect long-term mortgage prices as it seeks to quash inflationary pressures. A Fed which is determined to keep inflation low reinforces the belief ("inflation expectations") that inflation will remain subdued. This is part of the reason why long-term interest rates have remained stubbornly low despite sizable cumulative increases in short-term interest rates; simply put, low inflation results in a low inflation "premium" added to rates.
The other explanation offered as an influence serving to keep long-term rates contained has been expressed by Fed Chairman Bernanke as a kind of "savings glut", where especially foreign entities have plenty of investable cash but few viable places to invest it. In recent years, a dearth of new good-quality corporate debt and a decline in new long-term Treasuries due to budget surpluses served to concentrate those investments into a narrow band of instruments (i.e. 10-year Treasuries, real estate investment trusts, mortgages). On a longer sort of basis, it seems to us that this concentration of asset purchases is likely to begin to weaken, diluted by the return of new 30-year Treasury debt as well as a waning of appetite for mortgage-backed securities amid signs of a cooler residential real estate market. Those dollars may begin to be spread over a wider range of investments and terms, and some tempering of demand for Treasuries and mortgage-backed securities (more likely) suggests that interest rates will need to rise in order to keep these investments attractive. By way of explanation, it's a long way around, but we think that this process is getting underway right now, and will have some influence on rates during the forecast period.
In the last two Fed meetings, concerns about inflation have been joined by concerns regarding increases in resource utilization. Even if the estimate of 1.1% GDP growth in Q405 is revised higher, it will probably be surpassed by much faster growth in Q106. The combination of high energy costs coupled with resource constraints may serve to push inflation higher, and rising inflation as we approach what is considered "full employment" would absolutely keep the Fed "in play" well past the end of this forecast period. The next FOMC meeting is slated for March 27/28, and another measured increase in the Fed Funds rate is all but assured at this writing, with a good chance of another in early May, as well.
We think that long-term rates do have a chance to move higher during this forecast period. That said, absent a sharp blast of new inflation, we think short-term rates are still likely to move to a greater degree, flattening the mortgage yield curve even more. The Treasury yield curve has been largely inverted for several weeks, and that should continue; however, while the mortgage yield curve is certainly flat, it's considerably less likely that a true inversion will occur, at least in offered prices, because ARMs are offered at a discount from their true rate of interest in order to attract borrowers. A fully-indexed Treasury-based ARM would carry a true rate of nearly 7.5% right now, and even laggards like MTA and COFI ARMs are running in the 6.25% range and poised to continue to move higher in the months ahead. Without at least some initial discount, those products would probably lose out to a 6.5% 30-year FRM.
Looking back over the past 14 increases in the Fed Funds rate, an interesting question comes to mind. Before the first move in June 2004, bond investors were becoming worried that the long period of low rates might spark inflation. Fixed rate mortgages peaked at 6.46%, and after the Fed began its current campaign, rates wandered their way back down and bottomed at 5.66% in February 2005. By late last year, and despite a dozen increases in short-term rates, new concerns arose, and 30-yr FRMs peaked at 6.48%. Recently, even a an additional 50-basis-point increase in short term rates has failed to soothe market fears, and after the holiday decline, we have again nearly matched those peaks. The question is, how many (or how much) additional increases in short-term rates will it take this time to produce a decline in long-term rates? At this point, the answer is unknown. Inverted yield curves have presaged recessions before, and even if this time it's a false alarm, it will likely be a strong signal for slower growth. As we may be near the end of the cycle for Fed rate increases, any measurable decline which forms may be a more lasting one, as rates respond to the potential for slower growth ahead.
Forecast
At this moment, it would take a substantial fall in economic growth and/or inflation trends to cause anything more than a minor decline in interest rates. Barring calamities (man-made or natural), those events seem unlikely to occur, and mortgage rates will probably press higher during the forecast period. We think that the average for the 30-year fixed rate mortgage will range from 6.30% to perhaps 6.65% during the next nine weeks, while 5/1 Hybrid ARMs are expected to trend from about 6% on average to as much as 6.25% over the same horizon.
Come late April, we'll see how well we did.
---
December 20, 2005
Economic strength continues, inflation pressures remain and the Fed is no longer "accommodative". As we approach a "neutral" rate for Fed Funds, it seems increasingly likely that at least minor inversions in the yield curve will occur. At this writing, the current 4.25% Federal Funds rate -- the overnight cost of money -- is nearly equal to maturities all along the curve, and Mr. Greenspan's exit as Federal Reserve Chairman beckons.
Recap
Mortgage rates remained fairly stable at or near several-year highs during our last forecast. While we expected the average 30-year FRM to wander in a range from 6% to 6.40%, we failed to approach the low end and broke over the high for a short while. The actual range for the period was 6.25% to 6.48%. We thought that five-one Hybrid ARMs might trend between 5.70 and 6.15%; we came pretty close, with an actual range for the nine weeks of 5.86% to 6.04%. It seemed that longer rates failed to slide as a resurgent stock market drew investor cash away from bonds, while short rates were pressed higher from below by the Fed.
Forecast Discussion
While a look in the rearview mirror shows the economy pulling away from the hurricanes which clouded the economic outlook, we can also see that high energy prices are following closely behind us.
There are a number of unusual factors which influence this forecast period, not the least of which is the retirement of Fed Chairman Alan Greenspan. After a remarkable career helming the Fed, he'll be passing the baton to Mr. Ben Bernanke at the close if the next FOMC meeting on January 31. Although not expected to be a market-moving event, the transition will also likely feature another increase in the Fed Funds rate, leaving Mr. Bernanke either at, or very close to, what is thought to be a neutral Fed Funds rate. Mr. Bernanke will be stepping in at a time when the economy is growing solidly, inflation is stable (although at a level near what is thought to be the top of the Fed's preferred range), and employment levels which are near full by at least some measurements.
That's not to say that there are no challenges which face the economy or the incoming Chairman. Home sales and home building, so important to the recovery and expansion, seem to be showing signs of fatigue amid more expensive financing and high prices. Certainly, some of the most pronounced inflation in recent years has come in the valuations of homes, and the Fed's lifting of interest rates appears to be beginning to have a tempering effect on sales, and, should they continue, ultimately on prices as well. Forthcoming guidelines from a group of Federal regulators with regards to option-style ARMs and interest-only payment plans seem likely to restrict at least some of the financing liquidity which has powered the housing market forward over the past year, as well. Higher rates for ARMs and limited ways to improve purchasing power will probably serve to trim GDP growth as we move deeper into 2006.
For its part, the economy is doing well. With the Fed stewarding inflationary pressures, expectations for future inflation which flared in the middle of last year have again settled down. While certain commodities prices remain elevated, and energy costs remain a concern, high levels of productivity are allowing companies to absorb a great deal of input cost increases. Outside of energy costs, over which the Fed has no direct control, inflation is at acceptable levels.
At the close of the last Fed meeting, the Fed did note some concern that additional increases in resource utilization and high energy prices do pose an inflationary risk. The Fed would like to see at least a little slowdown in the economy from the current 4.3% pace of growth, as there is currently less slack available to ward off inflation. Will the tempering begin during this forecast period? It does seem as though that should be the case.
Forecast
As we seem to be at a turning point in the economy, the period ahead seems less certain than the one just behind. We have climbed up the economic and interest-rate incline for several years; are we now more likely to have come to a plateau, which argues for a period of stability for growth, inflation and interest rates, or are we going to find a peak with an attending drop-off of unknown degrees on the other side?
Uncertainty usually argues for higher interest rates as investors become nervous about prospects for making money, and investors longer in the tooth worry that an inversion in the yield curve signals the beginning of the end of the expansion. While we have concerns, as well, we're more of the mind that a plateau will form for at least a while next year, and it should start showing fairly soon.
For the next nine weeks, we expect that the average interest rate for the 30-year fixed rate mortgage will trend in a range of 6.25% to 6.60%, while the average rate for a 5/1 Hybrid ARM should wander between 5.85% and 6.20%.
See you in mid-February, when we take a look back to see how we did.
---
October 19, 2005
Despite challenges, the economy presses ahead. High energy prices are seeping into inflation calculations, and it looks as though the Fed will continue to press short-term rates higher into 2006. Will the yield curve get flatter, or even "inverted", where short-term rates are higher than long-term?
Recap
We admitted to a bit of a lack of confidence in our last two-month forecast, but things turned out all right (for our scenario, at least). The pattern we expected for rates failed to materialize, but we can safely chalk up our confounded expectations to two significant hurricanes. Absent those weather events, which weren't even on the map at the time of the last forecast, we thought the pattern would be up, then down, for rates. Instead, even with the hurricanes, the pattern was down, then up. Regardless, we expected a range for the 30-year FRM to be 5.85% to 6.20%; the actual range was a low of 5.87% to a high of 6.17% -- a pretty good call. Five-one Hybrid ARMs were expected to run from 5.60% - 5.95%, but they wandered a bit more, with a range of 5.46% to 5.80%. While all rates dipped in the wake of Katrina, short-term rates (which influence ARMs) did so to a greater degree.
Forecast Discussion
So far, the economy has weathered the shock of high energy costs fairly well. However, high oil and gasoline prices have been joined by high natural gas prices as we hit the cusp of the winter home heating season. By most accounts, higher energy costs will be with us for at least a while, as supply constrictions for fuels are a more intractable problem. While those higher direct costs will drain cash from consumer wallets, perhaps of greater concern is that they will continue to seep their way into input costs, firming inflation to a greater degree. Seeing the cost of goods and services rising around them, employees may begin to hint about raises; by such means can an inflation cycle be started.
This is likely the Fed's chief concern at the moment: How to keep "inflation expectations" contained? After years of battling to contain those fears (and succeeding), this Fed's credibility as an inflation-fighter remains intact, but there has been a decided upsurge -- whether founded or unfounded -- in concern that inflation has returned in a more meaningful and permanent fashion. Despite tightening monetary policy for 16 months, economic growth has only leveled off and inflation adjusted ('real') short-term interest rates remain quite low. Inflation, however, has trended toward the upper end of what is thought to the Fed's preferred range.
During the forecast period, 'headline' inflation numbers may diminish somewhat as oil and gasoline prices have eased, but 'core' measures will probably be less subdued. Headline news about a lower rates of inflation may cheer the market temporarily, but whether the rate of inflation is waxing or waning, underlying prices will remain elevated, regardless.
While the Fed cannot directly manipulate energy prices, they can take steps to trim economic growth, hopefully creating lesser demand for resources, and as a result stalling inflation. The Fed seems likely to have to fight not only actual inflation, but inflation expectations as well. This suggests that rates may need to rise faster over a shorter term, or slower over a longer term. Either path suggests that the Fed may need to overshoot the level required to quell actual inflation; they'll need to provide reassurance that inflation won't be allowed to return.
While all of these processes extend well past the end of our forecast period, they'll probably be the dominant theme for a while yet. Economic growth may ultimately have to suffer somewhat in order to help ensure price stability, but expectations at the moment are that growth will accelerate as the rebuilding process begins along the Gulf of Mexico. Higher growth and higher demand for labor and materials are not what the Fed would prefer at this moment as they may exacerbate the inflation problem.
Forecast
At this writing, fixed mortgage rates have risen to the highest point yet this year. In the current environment, rates are simply more likely to rise than fall, with even moderately "good" news sufficient to push rates up. For rates to fall in a meaningful fashion, we will need a fair period -- more than a month's worth -- of news reflective of slower growth and falling inflation; that seems unlikely right now. During the forecast period, two more Fed meetings are slated, and two more increases in short-term rates are expected. Provided inflation holds at or near these levels, fixed mortgage rates will likely only rise a little, but ARMs will press higher along with short term rates.
For the next two months, we expect that the range for 30-year fixed rate mortgages will trend between 6% and 6.40%, and that 5/1 Hybrid ARMs will wander from about 5.70% to perhaps 6.15%.
We'll check back just before Christmas to see how we did.
---
August 12, 2005
After a sputtering spring, economic growth and inflation concerns have gotten firmer toeholds. The Federal Reserve continues to press short-term rates higher, and market players seem to believe that the measured pace of increases to short-term interest rates won't pause anytime soon.
Recap
June's sputtering gave way to an upward trend for mortgage rates in early July, and has continued as it has become increasingly unlikely that the Fed will stop raising rates any time soon. A revaluation of China's currency vis-a-vis the dollar, and the recent announcement of forthcoming issuance of new 30-year bonds by the US Treasury, has also served to press rates higher. Economically, labor markets have firmed considerably, some price pressures are more widely evident, and while the yield curve "flattened" to a greater degree early in last forecast period, there has been little additional flattening in the last month.
For the period, we expected the average 30-year FRM to wander in a 25-basis-point range between 5.65% and 5.90%. The actual range was somewhat higher -- 5.81% to 6.06%. For 5/1 Hybrid ARMs, we expected a 5.15% to 5.40% range, but instead saw 5.25% to 5.70% during the period as short- and mid-term ARMs rose faster than did 30- year FRMs. We'll call our forecast "fairly close".
Forecast Discussion
The technical underpinnings of currency and bond issuance aside, the Fed has now moved the Federal Funds target rate to 3.5%. To a degree, the Fed has been "pushing on a string," since long-term interest rates, governed by market forces, haven't responded very much. In fact, interest rates are still lower than when the Fed began its campaign over a year ago. That might seem disingenuous, but if long rates respond to inflationary pressure, and the Fed is taking continual steps to combat that pressure, the threat of inflation subsides. "Longer-term inflation expectations remain well contained", as the Fed has noted in a number of its releases. The result of the Fed's efforts has simply served to make the interest rates of all new mortgages nearly identical, regardless of fixed-rate period, whether it's one month or 30 years.
However, there does appear to have been a break in sentiment in July which may ultimately reshape the yield curve toward a more normal slope, especially after February when at least some money now forced into the only "active" Treasury issue -- the 10-year -- will instead find a preference for the new 30-year instrument. It's reasonable to think that some investor money, produced by selling existing ten-year notes, has begun accumulating on the sidelines in preparation for February, and that those sales have served to help interest rate drift higher. What isn't yet known is whether the new 30-year issuance will represent an additional supply of bonds, or a substitution of supply (fewer ten-years, replaced by 30-years, instead). Either situation will likely have different effects on the shape of the yield curve, so we'll need to wait to find out which (or if both) will happen.
Meanwhile, the additional support of still-cheap money is becoming less and less necessary, so the Fed will continue to lift rates to try to temper any imbalances which may be forming. Record-high oil prices could be a catalyst for more inflation, driving up input costs, while higher end-user costs (gasoline, home heating oil) can act as drag on growth as available dollars are mopped up and concentrated into relatively few hands, leaving less to power the rest of the economy. The open questions are: Faster growth, faster inflation, higher rates? Slower growth, higher inflation, higher rates? or Slower growth, tempering inflation, steady rates? There are no pat answers, but it's in this troubling environment we find ourselves setting this forecast.
Forecast
Pressure on interest rates is generally up at the moment, but aside from hiring, there are few indications that the economy, having resumed after a spring soft patch, is poised to accelerate meaningfully from here. While certain measures of inflation, notably wages, have ticked higher of late, price pressures outside of energy costs remain largely subdued. The accumulating drag of high energy prices does seem likely to be with us for a while at least, certainly through the forecast period. There's just one FOMC meeting during the forecast period, and another lift in the Fed Funds rate is a virtual lock at this point.
We're less confident than usual with regards to this forecast. However, it seems just possible to us that interest rates may yet rise a little more, then level off and begin to decline a bit. It's likely not to be a smooth ride in terms of our range for rates, but we expect the average 30-year FRM to range between 5.85% and 6.20% over the next nine weeks, while the 5/1 Hybrid ARM seems likely to have an average range of 5.60% to perhaps 5.95%.
We'll find out how well we did come mid-October.
---
June 10, 2005
After a late winter/early spring of worries about inflation, a "soft patch" of growth which featured erratic readings about job growth served to press interest rates downward. As well, inflation pressures seem to have stabilized for the moment.
Recap
It's safe to say that, for the last forecast period, we were rather wide of the mark. We expected that, with headline inflation of about 3%, investors would finally begin to demand more yield (higher rates) to offset the yield drain that higher inflation brings. In that expectation, we appeared to have erred.
We expected fixed rate mortgages to range between 6.10% and 6.45%; instead they peaked at 6.17% and then slid down to 5.86% by the end of the forecast period (May 20). The ensuing weeks have featured additional declines. Five-one Hybrid ARMs were also expected to rise -- from 5.4% to 5.75% -- but crested short of that mark at 5.66% before falling to 5.27%. Minor additional declines have continued here, as well.
Forecast Discussion
The period after Memorial Day, but especially after Independence Day, frequently constitutes the 'summer doldrums' for mortgage rates, with few new trends established during this period. Typically, the pattern set in mid-late spring holds during this time. However, history is a fuzzy indicator, at best.
Interest rates all along the yield curve are tightly bunched. The shortest of short-term rates, the Federal Funds rate, is currently at 3%; the longest-dated active debt instrument, the 10-year Treasury, is at 3.95% as of this writing. In recent weeks, the Federal Reserve has not only lifted short term rates for the eighth time, but signaled that at least a few more "measured" hikes should be expected, as no pause is imminent. The Fed next meets in roughly the middle of the forecast period.
Meanwhile, money continues to roar into mortgages and Treasuries. A relative dearth of available bond investment opportunities should keep this money concentrated into a fairly narrow group of investments. Absent a growing inflation threat, interest rates seem somewhat more likely to be on a steady-to-declining pattern as a result. A flare of inflation, a marked ramp-up in economic activity or a sudden aversion to low-yielding paper might occur, driving rates higher, but these seem unlikely occurrences at the moment.
However, a chance to spread out those concentrations of investment dollars may come near the end of the forecast period. On May 4, the Treasury announced that it is "considering" new issuance of a 30-Year Treasury Bond, and will reveal its decision on August 3. It's our guess that they will begin the process of offering a new bond. That added supply in the market in addition to a shifting of the balance of available debt to further down the yield curve may serve to shift investor appetites, as well. Bond buyers won't abandon the 10-year by any means, but fewer buyers for the instrument will likely mean that yields will have to rise in order to attract them. In turn, that may be the catalyst for higher fixed mortgage interest rates.
Economically, things seems solid, if unspectacular. GDP growth is currently in the mid-threes, employment growth is slow, but steady, and inflation appears to have stabilized, and no immediate change in those patterns seems likely during the forecast period.
Forecast
Mortgage rates began this forecast period at their lowest levels since mid-winter. While the trend in recent weeks has been downward, we're still of the opinion that there are limits to how low fixed rate mortgages can go in the face of a 3% (and rising) Federal Funds rate. That's not to say that the yield curve can't get flatter, because it can. At some point down the road this year an "inversion", where long-term rates are lower than short-term rates might even occur, but probably not.
Fixed mortgage rates may still have some room to fall, but we're inclined to believe that most of the fall has already occurred. That means that stabilization at or near these levels is most likely. As a result, we expect the overall 30-year FRM to range between 5.65% and 5.90% over the next nine weeks. The five-one Hybrid ARM may trend between 5.15% and 5.40%, as well.
See you in August.
---
March 25, 2005
Attitudes and opinions are changing fast in the world of interest rates. Now several years into an economic recovery, and about a year past the last discussions of deflation, inflation and perceptions about the prospects for higher inflation seem to be gaining momentum and credence. This is likely to be the central theme for the forecast period.
Recap
During the last forecast period, we thought that mortgage interest rates would begin to rise from a fair period of stability. The Fed again lifted interest rates in two measured steps, resulting in some narrowing of spreads as the gap between long- and short- term interest rates closed somewhat. During the period, we expected the average for the 30-year fixed rate mortgage (FRM) to range from about 5.80% to about 6%. The actual range for the period was a low of 5.71% and a high of 6.05%, so our estimate was pretty close.
Some of the concerns we outlined in the last forecast came to light during that time. Musings about changes to dollar holdings by foreign central banks rattled the bond market, jolting interest rates; inflation, near the top of what is believed to be the Fed's preferred range at the start of the period, has pressed higher in the past two months.
Forecast Discussion
Changes in the perception of inflation versus the reality have some parallels with last year, which also featured a sharp run-up in fixed mortgage rates over a period of about two months, only to have them then drift downward over a period of about six months. It was during this time that borrowers found 6.5% FRMs to be unpalatable, and discovered that hybrid ARMs were an inexpensive (if temporary) substitute for the real thing. A wide gap between long-term and short-term rates help made ARMs of all stripes popular, since short-term interest rates were still at rock bottom. Last year, the substitution of ARM for FRM helped keep home sales rising, even if it closed the door on refinancing.
That's not the case at the moment. Rates on ARMs have risen considerably over the past year, a result of the Fed's campaign to lift interest rates back toward "neutral" levels. Some borrowers who opted for very short-term ARMs have found that the adjusted interest rates for those products have risen measurably, and, with FRMs still at low levels, provided an opportunity to jump to a fixed rate before more budgetary damage was incurred.
This is also no longer the case. With most ARM starting rates a percentage point or more above last year's levels, and with fixed rates likely to be over 6% (and probably higher) for the foreseeable future, there are fewer and fewer products whose rates will be considered to be cheap, even if mortgage money continues to be plentiful. If current trends hold for a while -- and we think that they might -- fewer options for cheap financing portend a slowdown in mortgage activity, for both refinancing and home sales.
Liquid mortgage markets -- where financing is available to virtually anyone who desires it -- have served to power housing sales to new highs, and helped press home prices to what some believe are unsustainable levels, "bubble issues" notwithstanding. The mortgage market may become somewhat more liquid as competition for a dwindling number of borrowers, already high, may ramp up further.
During the forecast period, the Fed may decide to lift interest in less "measured" fashion, with 50-basis-point (0.50%) moves considerably more likely at the next meeting or two. Regardless of the Fed, bond markets have decided that strong economic growth and greater inflation require higher yield compensation; as a result, fixed interest rates will be higher (and other rates may rise as well), regardless of the Fed. It seems to us that for mortgage rates to steady or decline, even if inflation remains at present moderate levels, the bond market will need repeated assurance that those price pressures have not only leveled off, but are likely to diminish somewhat in the future. Not even the Fed is in a position to offer that assurance, so interest rates will rise.
Forecast
Mortgage rates begin the forecast period with an upward bias. At this writing, rates for both fixed- and adjustable-rate products are in a rising pattern which seem likely to run for at least the forecast period, if not longer. That said, while the general trend is likely to be upward, this will probably occur in fits and starts, with a spurt upward followed by a leveling off or partial decline, then followed again with a tick upward.
For this forecast period, we think the average for the 30-year FRM will range between 6.1% and 6.45%. Five-one Hybrid ARMs may trend from 5.4% to perhaps 5.75%.
See you in late May.
---
January 14, 2005
We've turned the corner into another year, shutting the books on a tremendous year for mortgage and real estate markets. While it's highly unlikely that 2005 will top 2004, who knows? Long-range forecasts have been wide of the mark for the past several years. Broadly, there has been considerably more concern about inflation of late, and it's likely that -- provided job growth continues its muted path -- inflation reports may move the markets more than they have in recent years.
Recap
We're struck by the remarkable stability in interest rates, which we welcome despite their lack of cooperation with our most recent forecast. For the period, we expected the average 30-year fixed rate mortgage (FRM) to trend between 5.85% to 6.25%; the actual range of interest rates range for the past nine weeks was considerably narrower at 5.77% to 5.90% -- barely any movement at all, despite 50 basis points of increase in short-term interest rates.
In our last forecast, we wondered "How long will investors continue to accept meager bond returns?" and believed the answer would be "Not much longer." As it turns out, investors have had little choice but to accept lower returns.
Forecast Discussion
It seems to us that we're at a fairly crucial junction in the economic expansion. At the moment, the economic campaign of reflation has seemed to be successful, as most inflation measures are at or near what are believed to be the Fed's targets. What is less clear is whether the Fed will be successful in maintaining those levels, or will price pressures continue to rise? Their record in that regard is rather spotty. Managing actual inflation is probably comparatively easy compared to managing expectations of future inflation, and concern about prices has certainly become more widespread in recent months.
It's also become less clear in recent days if the Fed will adhere to "measured" interest rate increases, or whether larger leaps in the cost of short-term credit are in the offing. Those rates remain favorable (accommodative, in Fed speak) to foster continued economic growth, but the Fed wants to ultimately get the Fed Funds rate back to "neutral" in as orderly a fashion as the economy will allow. What is "neutral"? Guesstimates call for a 'neutral' Fed Funds rate somewhere between 3.5% to 4.5%, but we think that that range may be skewed to the high end, and that 3.5% may be the top rate for this "tightening cycle," however long it may ultimately last. With that said, it seems more likely that the Fed will react to emerging trends to a greater degree, and while 25 basis point moves on a regular basis seem most likely, 50 basis point (0.50%) moves can no longer be dismissed out of hand.
Also not clear is whether or not foreign central banks will maintain their voracious appetites for American debt. Should they decide they have had enough, long term rates would rise, both quickly and appreciably.
But enough macro musings. Either of the above concerns could certainly influence the long-term outlook, but more immediately is the two-month period just ahead. A two-day Fed meeting takes place at the turn of February, and another comes fast on the heels at the end of this forecast period.
Forecast
Although short-term interest rates do seem likely to rise some more over the next two months, long-term rates will likely again rise by a lesser amount. To date, that situation has produced fair narrowing of the difference between the prices of short and medium-term mortgage rates and those of the 30-year fixed and this will likely continue, probably eroding some ARM share of the origination marketplace. We believe that the average for the 30-year fixed rate mortgage will rise during the period, probably grudgingly, as the short term cost of money has at least some influence (however small) on long term costs. We expect the average for the 30-year FRM to range from about 5.80% to about 6% between now and mid-March. It'll be nearly Spring then. Isn't that a pleasant thought in January?
---
November 12, 2004
We're a little late with this forecast, a week or so overdue. With the election falling just after the original due date, we thought it better to see what sort of market response might or might not occur as a result of it. Following closely on the heels of that was the next FOMC meeting, so we held off a few additional days to let that pass, as well.
Recap
Our previous forecast called for the 30-year fixed rate (FRM) to range between 5.85% and 6.25%. While the low end of the range was seen frequently during the period -- even breached to the downside on an occasion or two -- the top end was nowhere in sight. Instead of volatility, the period featured considerable stability, with a range for the 30-year FRM of 5.77% - 5.97% for the nine-week period.
While it's reasonable to think that with a growing economy, moderate inflation, and active Federal Reserve and $50+-per-barrel oil that interest rates would be on an upward trajectory, that simply hasn't been the case. However, the significant flattening of the yield curve will ultimately make rising rates inevitable, unless investors no longer wish to be compensated for risk.
Forecast Discussion
While the previous forecast period began at the tail end of an economic "soft patch", this period features stepped up growth, what appears to be a reviving job market and oil prices which have declined measurably from peak levels, loosing additional cash to power the expansion. Inflationary pressures still persist but have diminished from levels earlier this year. GDP growth was 3.3% in the second quarter of 2004, is currently estimated at 3.7% for the third quarter, and seems to be on an upward trajectory. October data points to higher growth for the fourth quarter, as well.
All that growth means that the Fed will likely continue to raise short term interest rates. There's no immediate concern about inflation, but an economy growing near 4% simply doesn't need any outside assistance. The Fed Funds rate, 2% now, will likely be lifted to 2.25% before this forecast period ends. The Fed's continued activity means that those borrowers who rushed into short-term adjustable rate mortgages (adjustment periods of one year or less) earlier this year are bearing the brunt of the pain. Long-term fixed rate mortgages have been holding below 6% since mid-summer, but the steady drip of Fed action has begun to wear away the resolve to keep them there.
The narrowing gap between the overnight cost of money and the other end of the yield curve -- ten years out and longer -- cannot continue indefinitely. If the cost of money is 2% or thereabouts, and inflation is near 3%, a zero real rate of return is achieved at a nominal 5% rate -- and that's without any compensation for risk. Even if the cost of money was 0% and a nominal no-risk 10-year Treasury was 4%, the return after inflation would be a skinny 1%. Therefore, the open question is "How long will investors continue to accept meager bond returns?" Not much longer, in our opinion. Other investments will beckon.
Forecast
Short of an economic stumble in the next two months, fixed mortgage rates have really used up all their space to fall. Basically, there's nowhere to go but up from these levels, but it should be a "measured" climb along with the Fed. We begin the period nearing 6%, but we think that the last forecast's range will work pretty well here, so we call for a range for the 30-year fixed rate from 5.85% to 6.25%. Enjoy your holidays.
---
For a weekly outlook, see the latest edition of HSH's Weekly Market Trends.
All contents Copyright © 2014, HSH® Associates.