The HSH Two-Month Mortgage Rate Forecast
July 22, 2016
Preface
Financial market volatility presets itself in many forms and comes from many sources, as investors evaluate conditions, consider their options and vote with their feet, so to speak. In recent years, we've pinballed from episode to episode, with events triggered by everything from all-out financial crises to badly-interpreted Fedspeak of policy intentions to stumbling foreign economies driving volatility to new levels.
To this we can now add a new word: "Brexit". Unlike "Grexit", the precursor to the new term (a Greek exit, and one which hasn't occurred, at least not yet), the unexpected decision by Britain to exit the European Union has had immediate implications (and poses some longer-range ones, too), both economic and political. This partial dissolution of a long-standing trade compact has yet largely unknowable ramifications and outcomes.
Time was when the Fed could exert fairly direct control over interest rates and the economy. That's no longer the case, and while the Fed is of course still hugely influential, it is the economic condition of the world, decisions by offshore investors and the policy choices of other central banks that are increasingly dictating how and if interest rates will move or be moved, whether long-term or short.
In general, periodic upheavals in global markets have benefited American mortgage shoppers, as investors have run for the safety of sovereign bonds, driving yields lower. At the same time, central bank Quantitative Easing (Bank of Japan, European Central Bank, others) stimulus is having the same effect, keeping rates down.
For the moment, these effects are persistent, and probably will continue to be for the foreseeable future, if waning to some degree over time. After all, markets adjust to new playing-field realities all the time, and central-bank stimulus programs will ultimately create at least some economic boost, reversing flows of cash from safer to riskier assets.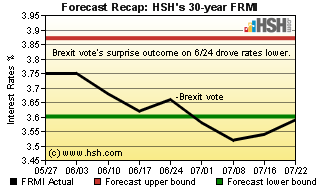 Recap
Back in May, and with hopes for economic strengthening in the offing, we thought rates might firm up a bit, if not much. They did, in fact, edge higher to begin the period, but when it became apparent that the Fed would not make a move after May's dismal employment report and the uncertainty of the impending Brexit vote (not to mention the outcome) mortgage rates found space to decline to three-year lows, and have come close to testing all-time (actually 60+ year) lows. In May, we expected HSH's overall measure of 30-year fixed-rate mortgage rates to wander in a range from 3.60 percent to 3.87 percent, but rates mostly remained lower than expected, ranging from a low of 3.52 percent to a high of 3.75 percent, with the 3.52 percent a new record low. We also believed that the overall average for the 5/1 ARM would trend between 2.83 percent and 3.09 percent, and our expectation was pretty solid as a low of 2.86 percent and a high of 3.01 percent happened during the period. For conforming 30-year FRMs, we thought that a 3.59 to 3.91 percent paid of bookends would be seen, but saw lower rates than that, with a 3.47 percent to 3.73 percent pairing during the period. At least for fixed-rate mortgages, we missed the mark to the high side for this forecast.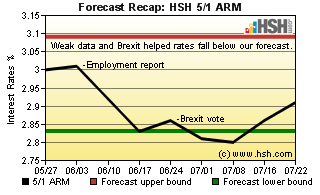 Forecast Discussion
In a climate such as the one in which we find ourselves, can interest rates get off the ground? Yes, they can. That said, at this point, this amounts to heavy lifting, and it will take many hands to make it happen. Certainly, policymakers at the Federal Reserve aren't blind to what's happening on a global scale, but their preference is arguably to have already been tiptoeing down the rate-increase road by now, as the expansion is aging and inflation firming, if gently. Recurrent global issues have stayed the Fed's hand since one increase last December, but the economy appears resilient, and expectations for another rate increase are again on the rise.
There's scant indication that QE-style stimulus is having much effect on stagnant economies in other parts of the world, at least so far. It bears noting that our own economy didn't start responding for quite a while after the Fed both cut short-term rates to the bone and began a series of programs designed to lower long-term rates and hopefully spur growth. It is expected that the same pattern (to greater or lesser degree) will also be seen in other economies; however, when that might start to show is unclear, but it is germane `to this forecast.
The global economy was of course still a rocky place when the Fed last lifted rates, which happened in the context of cooling growth but importantly amid reasonably stable financial markets. If we find ourselves in such a situation in the next couple of months -- that is, if Brexit doesn't appear to be causing market duress and there is no visible impact on economic growth -- or if growth in some places begins to tick up, a possibility -- than expectations for Fed policy would again begin to turn, and underlying interest rates to firm.
This process may be protracted, though. The Fed will skip making a change at its meeting next week, but there will be two more rounds of economic reports before September's central bank get-together rolls around. If the pattern is steady to firming, and if joined by more sanguine news about the state of the world, prospects for a change in short-term rates would rise with mortgage rates already firming somewhat. Truth be told, we'll need a lot of evidence of this sort of improvement and stability to make a material change in mortgage rates.
Forecast
While it will take broad, sustained global economic improvement to lift mortgage rates materially, it probably doesn't take much improvement at all for them to move away from multi-year lows, and return to the levels seen in the weeks prior to the Brexit vote (not that this is all that far from where they are as we write this). A modicum of period of stability for markets, one perhaps punctuated from time to time with a sprinkling of brighter data will probably be sufficient to produce mild upticks or up trends for rates during the forecast period.
That said, unforeseen events can have unknowable repercussions or outcomes. Britain's vote to leave the EU surprised the markets, who have increasingly been leaning toward the "remain" camp until the results of the poll were revealed. Could there be surprise effects from the vote that trims rates anew in during the forecast period? Possibly, but there's no way to account for them, so we won't even try.
Over the next nine weeks, we think the overall 30-year FRM as tracked by HSH's FRMI (which includes conforming and jumbo loans) will trend in a range of perhaps 3.42 percent to about 3.72 percent. Meanwhile, our overall average for hybrid 5/1 ARMs should remain bound by stops of 2.83 percent and 3.09 percent, the same as May's forecast. For conforming, 30-year FRMs, we think that a 3.40 percent and 3.70 percent pair of fences will contain the average for the most popular mortgage.
This forecast takes us through high summer and into the waning days of the season, expiring on September 23. As football season will be well underway at that point, why not drop back and see if we've fumbled this forecast, and if the Fed has again punted?