The HSH Two-Month Mortgage Rate Forecast
May 20, 2016
Preface
Mortgage rates continue to run closer to historic bottoms than not, as the weight of a yield-seeking world continues to keep them tethered. Financial markets seem to also be of the belief that the Fed may make only one move to short-term interest rates this year, but as the Fed doesn't seem to have made up its mind as to how it will adjust monetary policy, this is by no means a safe assumption.
It's probably important to recall that the Fed had intentions of higher rates being in place by now. Those plans were derailed last year, notably by early soft economic growth and later by considerable financial market upheaval. Once markets sufficiently calmed, the Fed acted, and did so despite growth that had cooled to about 1.4 percent.
The situation at the moment isn't all the different, if reversed. There was significant financial market upheaval in the early part of this year, and GDP growth ran at a meager 0.5 percent GDP clip. Now, financial markets are calmer, there is perhaps a whisper more inflation to consider, and the economy may be rising to a 1-percent plus growth level, rather than cooling to it. Although a middling probability at the moment, could the Fed pull the trigger on a rate hike over the next nine weeks, or shortly thereafter? Yes.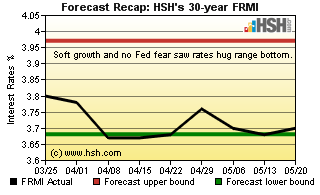 Recap
Our last forecast fared OK; even though we didn't see the expected move to the upside, rates mostly remained contained to the ranges we expected, give or take a couple of basis points. Where back in March we called for HSH's FRMI to run a range of 3.68 percent to 3.97 percent, we did experience 3.68 percent to 3.80 percent pairing. Over the just-ended forecast period, we thought that hybrid 5/1 ARMs would feature average interest rates between a 2.97 percent and 3.22 percent pair of bookends, but the average slipped a little below the bottom of that expectation, running a 2.88 percent to 3.02 percent space over the nine-week period. Conforming 30-year FRMs should have held between a 3.69 percent and 3.98 pair of fences, with the 3.65 bottom and 3.79 tops for the period running a little lower than forecast.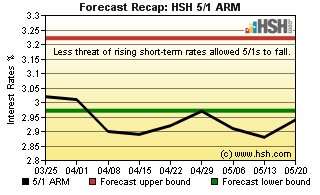 Forecast Discussion
Prepared for it or not, markets should not be surprised or stunned if the Fed does decide to make a move. The central bank has made it plain for a good long while that it wants to lift interest rates as soon as it can, so that a protracted process of gentle normalization for interest rates can occur rather than a more abrupt catch-up process at some later date.
It also bears consideration that, while yet considerable, the drag on the economy and on U.S. inflation is arguably no longer increasing (or at least the peak of global economic storms seem to have passed). Central banks around the world are doing what they can to stimulate their economies, and while results so far are uneven, it won't take much by way of growth elsewhere to improve growth and inflation prospects here.
That said, the Fed may choose to not make a move at the June meeting as it awaits the outcome of a vote by Britain to exit the European Union. Such a move might destabilize the economic consortium and play havoc with financial markets, and the Fed would likely prefer not to disturb markets with a rate change just prior to the vote. The June Fed meeting occurs on the 14th and 15th, and the so-called "Brexit" vote is June 23. Once this passes, and provided the data continue to be supportive (and we think they will be supportive enough, given the conditions present when the Fed last made a move) that a change in July is a good probability... and something the Fed will likely infer with its meeting-closing statement in June.
For the Fed, there is some risk in waiting until later in the year. The Fed prefers not to make policy changes just prior to general elections, and especially not in presidential election years. This diminishes but does not eliminate the likelihood of a move in September, but effectively removes November from the equation. The gap between opportunities could warrant a more forcible "catch-up" move by the Fed in December if economic conditions have improved as expected.
At the moment, all this is a later concern. In the meanwhile, we do expect to see warmer economic data, just as we have in the second quarter of each of the last few years, and this should in turn foster a firmer mortgage rate environment at times over the forecast period. This is especially the case as we approach the next Fed meeting, and particularly if the odds of a move by the Fed are rising as we approach, which seems likely to be the case.
Forecast
We expect mortgage rates to move away from their recent multi-year bottoms during the upcoming forecast period. It seems most likely to us that in a reversal of the just-past period, they will tend to be more toward the tops of expected ranges than bottoms. The weight of a sluggish world on rates remains considerable, but the prospects of a Fed move amidst a faster-growing economy (if still a moderate one) is sufficient to nudge rates upward.
Over the next nine weeks, we think the overall 30-year FRM as tracked by HSH's FRMI (which includes conforming and jumbo loans) will hold in a range from 3.60 percent to 3.87 percent. The overall average for hybrid 5/1 ARMs should manage to trend in a range that features a 2.83 percent bottom and a 3.09 top. Meanwhile, conforming 30-year FRMs will likely wander between a 3.59 percent to 3.91 percent pair of bookends.
This forecast expires on July 22. We will be well past the June Fed meeting at that point and closing fast on the July get-together. If the Fed didn't make a move in June, the probabilities of a July hike will likely be very high. If you're not on vacation, why not drop by and see how all the drama has (or will) play out?