The HSH Two-Month Mortgage Rate Forecast
June 26, 2015
Preface
The U.S. economy rebounded pretty fairly from another winter slumber, causing interest rates to return to levels last seen before the winter and early spring dip set in. Along with some signals that growth in the eurozone has picked up a bit (and perhaps more quickly than expected, too) there are reasons to expect that we may have seen the last of mortgage interest rates plumbing historic depths, even if they still don't have significant upside at the moment.
The uptrend in growth and the diminishment of deflationary forces have led to a solidifying belief that the Federal Reserve is now on track for a "liftoff" of short-term interest rates in September. Presently, the expectation is that we will see perhaps two quarter-point moves in short-term rates before 2015 comes to a close. As changes to short-term interest rates can take many months to be fully realized throughout the economy, the Fed must by necessity be proactive, raising rates in anticipation of these occurrences, even though there are no current signs that the economy is generating outsized growth, strong wage gains or inflationary heat.
While short-term interest rates the Fed controls don't have all that much relationship to long-term mortgage rates, the conditions which would cause short-term rates to be raised most certainly do, including firming growth and concerns of rising inflation. Market participants too must plan ahead for the future, and it's worth considering that this spring's episode of rising rates occurred long before the Fed has made any move; markets moving in advance of the Fed is a common happenstance. It also bears remembering the the Fed continues to recycle inbound money from maturing instruments into new purchases of Treasuries and agency MBS, helping to keep at least some downward pressure on rates. This process which will come to a halt once the first increase in short term rates occurs.
We are only just beginning the summer, and the Fed isn't likely to make a change until just before it ends. As the market continues to prepare for the beginning of an upcycle for interest rates, we are likely to see a bit more volatility for mortgage rates.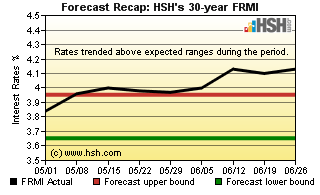 Recap
Just as we underestimated the amount of drag on rates the slow economic winter would bring, we underestimated the amount rates would rise as a result of a resurgent economy and an European Central Bank embarking on a stimulus campaign. The latter event appears to have soothed frazzled investor nerves and improved the likelihood of stronger growth in that region, lessening the influx of cash that helped push U.S. interest rates down to near record lows earlier this year. The last eight months now feature an up-down-up pattern for mortgage rates.
Given the experience of the first quarter, we both ratcheted down and tightened our expected ranges for both fixed and adjustable interest rates for the last forecast. This didn't work in our favor. For HSH's FRMI, we thought we'd see a 3.65 percent to 3.95 percent range for the period, but instead ran a 3.78 to 4.13 percent one instead. Our expected range of 30 basis points of movement was pretty close, but we were not correct in the starting and ending positions on the scale. That said, we fared better with our expectations for the 5/1 ARM; we thought a 2.80 percent to 3.10 percent pair of fences would be in play, and rates actually wandered from 2.90 to 3.07 percent, so that call was pretty fair. Like the FRMI, Conforming 30-year FRMs failed to test our forecast bottom of 3.60 and blew right past our call for a 3.90 percent top, running a range of 3.75 percent to 4.12 percent over the nine-week period. Certainly, this wasn't among our finer forecasts.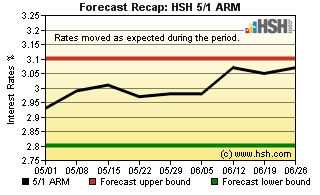 Forecast Discussion
There is much discussion about the last time the Federal Reserve raised interest rates, an event which took place nine years ago. However, that move was the last change at the end of a rate-raising cycle, and this move will be first change of a new cycle of indeterminate length and volume. You will need to go back 11 years to see the last such beginning of a cycle, but unfortunately, history is likely to be little guide as to how the markets will react in the period leading up to the move. There are a few similarities, though: Then, like now, rates are being lifted from what are (and were) historically low levels (the Fed Funds rate was a flat 1 percent then; today, it holds a range from zero to one quarter of one percent). Fixed mortgage rates then? Mid-5s. Today? About 4 percent. Then, the Fed telegraphed and executed regular quarter-point increases in rates over the course of 17 meetings. Now, we are by no means yet certain how quickly the Fed will move on any basis, let alone a regular one.
Back then, in the roughly equivalent time period as today (starting about three months before the first move), mortgage rates rose nearly a full percentage point, then eased a little and were flat heading in to the Fed meeting. As there is little likelihood that rates would run up a full percentage point from here (taper tantrum, anyone?) it seems that history will be little guide as we move along.
Better, perhaps that we should consider the context in which interest rates are likely to be raised. Domestically, we have modest-to-moderate economic growth (if perhaps accelerating a bit) and low but firm core inflation. Growth in major economies around the world is dull at best, and deflation yet remains more of a concern than does inflation. At this writing, Greece remains a wildcard; any default on debt payments would trigger unknowable market reactions, but trouble somewhere has often meant lower rates (for at least a time) here.
As such, there are some opposing forces to consider as we look deeper into the summer; frankly, it's perhaps the most difficult time for a forecast in a number of years, even with a reasonable certainty about how the Fed is likely to act just ahead. An economic stumble here or there and a likely September move would become a December one pretty quickly, allowing interest rates to ease at least somewhat, if only for a time. Conversely, accumulating or sudden signs of widespread strengthening in economic fortunes could put a one-quarter and one-half point move into the consideration for this year, and rates would rise. The data from June and July will have much to add to the conversation, and if the economy remains reasonably on track, then so will the Fed.
Forecast
In this situation of overall moderate growth and little inflation, will interest rates still find space to rise? Probably, but probably not by very much. Before long, we'll be into the "summer doldrums" for market activity, and markets heading to autopilot are more likely hedge a little on the higher side, at least to start. The recent run up in interest rates is more based on firming data than not, so there was very little by way of any "relief rally" even after the June Fed meeting came to a close. This suggests to us that the recent rise is probably fairly durable, and that interest rates probably don't have much space to fall as a result.
With this in mind, it seems most likely to us that the late spring bump in rates may not have yet fully run its course. Given the impending summer market doldrums, we think that the pattern for rates may be firmer in the near term (next few weeks or so), softer in the mid-term (July-August doldrums period) and firming again in the late stages of the forecast period. Absent a Greek financial tragedy, there probably isn't all that much space for rates to fall, and with that in mind, we think that HSH's FRMI will not get much lower than perhaps 3.97 percent but may wander as high as 4.35 percent over the next nine weeks. The FRMIs 5/1 ARM companion will likely be better behaved than that and sport a 2.95 percent to 3.20 pair of bookends. For conforming 30-year FRMs, expect no better than 3.95 percent on the bottom and probably 4.30 percent for the top.
This forecast will expire on the last Friday of August. Before that last blowout barbecue of summer, why not drop back in and see how we fared?