April 29, 2022
Preface
It's been a long, long while since there has been such an abrupt upturn in mortgage rates, especially one that seems likely to be durable. How much damage or disruption this will bring to the housing market is yet unclear, but no one should be surprised if home sales slow markedly.
Homebuyers have struggled for several years in difficult markets. For the most part, there have been relatively few existing homes available for sale for some time; the last time there was an "optimal" level of six months of supply at the then-current sales pace was back in August 2012, and current levels are barely above historic lows set earlier this year. In fact, we've not even seen five months of supply in more than six and a half years. As a result of that limited supply, home prices have been on a historic tear and are now at all-time highs. Tremendous demand for housing from both favorable demographics and COVID-related changes in the working climate yet persist, but all these trends have been abetted by a long run of very low (and often record low) mortgage rates. That trend is no more. Pending home sales as tracked by the National Association of Realtors have now declined for five straight months, with March contract signings the lowest since May 2020.
Buyers of new homes have also seen a challenging environment. Aside from typically higher costs for newly-constructed homes and much construction taking place far from center city locations, supply-chain issues are pressing new house prices even higher than they otherwise might be. The median price of a new home sold in March was $436,700, up 21% from March 2021. Compared to last March (and subtracting a 10% down payment from each) the principal and interest payment required to carry a mortgage on a median-priced new home is now 39% higher than a year ago, and this calculation uses the average 30-year fixed-rate mortgage rate in place for March (4.05%). It's now late April, and for the month to date, the monthly average rate that same 30-year mortgage is nearly 5%. As rates have risen in 2022, sales of new homes have downshifted and were 12% lower in March than they were in December. It seems unlikely that even this fairly modest pace for new homes can continue in the face of such cost headwinds.
Although the economy is still running pretty well, conditions for housing this spring may be the most difficult seen in a good while. All the conditions which have led us to this point remain in force, and no one should expect quick abatement of them.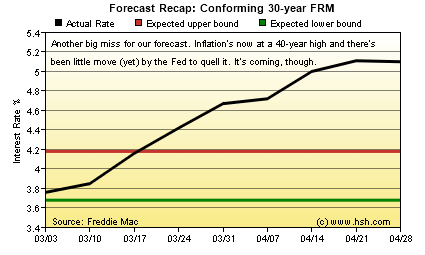 Recap
For a second straight forecast, we well undershot the mark for mortgage rates. We clearly anticipated far mellower conditions than what the market produced and is still producing. As well, we'll admit a bit of embarrassment at our back-to-back sub-par prognostications but hope for better, as always.
For the forecast that began at the end of February, we expected that the average offered rate for a conforming 30-year fixed-rate mortgage as tracked by Freddie Mac would hold between 3.68% and 4.18%. It did so for just three of seven weeks, accelerating to as high as 5.11% over the remaining six week period. For hybrid 5/1 ARMs, we expected the initial fixed rate to wander between 2.88% and 3.18%; this range held for only two weeks, as rates moved from 2.91% to 3.81% by the end of April.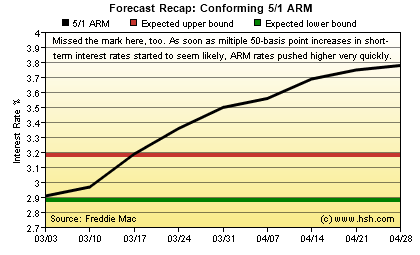 Both of these were swings and misses by a mile. We probably should have consulted our own records as to the last time inflation was raging and more aggressive Fed policy was coming fast to develop the last forecast, but that would have provided little help. Depending on your preferred time frame of reference, that would either be a 2016-2018 Fed who moved at a relatively plodding pace in an environment of slow growth and low inflation (Fed funds rose from about 0.5% to 2.5%; mortgage rates rose about 140 basis points over that stretch) or the July 2004-July 2006 run, where the funds rate went from 1% to 5.25%, and mortgage rates rose by little more than a half percentage point. Neither of those featured expected half-point increases, 40-year high inflation trends or potential outright asset sales for the financial markets to digest,
Forecast Discussion
With a significant move in mortgage rates over just a few months' time, the open question at the moment is "Will mortgage rates at least stop rising?"
Perhaps a better question might be "With more than 200 basis points of increase in place since the end of December, how much more can mortgage rates actually rise from here?"
The answer to both questions depends on a cascade of events happening in sequence. What's difficult to judge is how quickly each falls into place. First, the Fed needs to raise interest rates, and do so both aggressively enough and employ enough forceful rhetoric so that investors can again believe them when they forecast future inflation. The Fed has not covered itself in glory in this regard since the pandemic struck, with forecasts of "transitory" inflation a glaring example of misjudgment.
Next, short-term rate increases and a combination of balance-sheet runoff (and eventually, sales of MBS) need to work in conjunction to start to cool the economy, reducing demand to a level that is at or below a given level of supply -- for goods, services and labor. To start, we'll need to see at least a slower trend for hiring, reduction in job openings, an unemployment rate that stops declining, and other such signals.
COVID-related supply-chain issues need to start to show more complete signs of healing. This is a bit of a wildcard, since there has been some improvement reported over the last couple of months in shipping and more, but this has again been re-complicated by new lockdowns in China, again affecting manufacturing and transportation of goods from there to elsewhere. No one can know if another outbreak or new variant will upend things again or to what degree.
Investors and consumers need to start to see more routine signals that price increases are abating. This doesn't mean that prices of goods or services actually start to decline and things become cheaper, but rather that an item that was $20 when you glanced at it in a store last month is still available for $20 when you actually decide to buy it this month... even if the $20 for it still seems exorbitant.
External forces need not to influence trends too much in one way or the other. So-called "wealth effects" of home price increases and investment gains need to temper, but not continue to increase or reverse significantly, and the fiscal stimulus from all manner of COVID-19 spending needs to peter out at a measured pace. Any uptick in these only means the Fed will need to come harder, and a significant or quick downturn in these effects might inadvertently amplify the Fed's actions, braking the economy more than is desirable.
But what, and how much, and how fast, for any of these? What combination of Fed increases / balance-sheet runoff / supply chain repair / price flattening / fading fiscal support and more is enough to change the rate tide?
We wish we knew. Expectations and forecasts for the weeks and months ahead range from a protracted inflation fight taking years amid a generally soft landing to those of a coming hard stop and deep recession. The truth is probably neither of those, but a bumpier time is likely still in the offing. What we do know is coming in the near-term is the start of a hard shift in policy by the Federal Reserve (and other central banks across the globe) and this can have unknowable or unexpected outcomes.
At least in the near term, we can focus on some known factors. Despite a first-quarter stall in GDP (largely from Omicron, Ukraine and trade disruptions), the economy still seems to be in pretty good shape. We also know that inflation trends have not improved, and have been worsened by the Russian incursion into Ukraine and subsequent sanctions. We can be reasonably certain that at least 100 basis points of rate increases will be in place by the time this forecast comes to a close (possibly more), and we will have the balance-sheet reduction process underway.
Unknowns include the unpredictable nature of the war in Ukraine and actions by Russia outside this, including turning off supplies of natural gas to Europe. And, becoming endemic or not, COVID-19 continues to lurk in the background. While these may turn out to be a considerable influence (or not), there's simply no telling at this point.
The tremendous forward momentum resulting from record levels of fiscal stimulus at a time of near-maximum monetary policy support is likely to continue for the next several months at a minimum. This is starting to change, though. Given the drag of higher prices, falling "real" incomes, rising short-term rates and other issues, it may just be that we'll start to see this momentum start to slow during the forecast period, which might be enough to prevent another significant leg up for interest rates.
Forecast
With all of the above in mind, and absent a new global event, there's certainly little reason to expect any measurable or sustained downward pressure on interest rates. At the same time, with a huge upward move already behind us, it's reasonable to think that perhaps the worst is over. Still, that's very unclear, and it bears remembering that the last time inflation ran at this level for a sustained period, 30-year fixed mortgage rates were north of 18%, and ARMs were still a novel product.
Over the next nine-week period, we think there's a good chance that the average offered rate for a conforming 30-year fixed rate mortgage as reported by Freddie Mac will likely hold a range of 4.97% to 5.56%. Some homebuyers may start to consider a 5/1 ARM (or a 5/6mo ARM, if sold to Fannie or Freddie). The rate relief provide by such a choice is better than 1.25% on average at the moment, but this will likely diminish a bit as short-term rates increase further. For the next nine weeks, we think that we'll see a 3.69% to 4.19% range for the most likely alternative to a 30-year FRM.
This forecast expires on July 1, 2022, just before the Independence Day holiday. Before heading out for a long weekend, why not see if this forecast warranted fireworks? We sure hope it will; the last two were duds.
Between then and now, interim forecast updates and market commentary can be seen in our weekly MarketTrends newsletter.