January 20, 2023
Preface
After a long hot spate, inflation appears to be trending in the right direction, if slowly. With goods inflation cooling rapidly, the Fed's focus has shifted to inflation in services prices, which tend to be stickier and may require a more durable period of higher policy rates to tame.
With at least some price pressures settling, financial markets seem more convinced than the Fed that the process of tightening policy has nearly come to a close and will likely conclude shortly. In fact, some investors are already wagering that before 2023 is over, the Fed will be starting the process of lowering rates to prop up a failing economy.
No one can know the future with any certainty, so we can only look at where things are at the moment to try to judge where they may go. In reviewing the most influential components that drive interest rates -- economic growth, inflation and Federal Reserve policy -- we see that the economy seems to have ended 2022 on a much stronger note that at which it began the year, with fourth quarter GDP reckoned at 3.5% by the Federal Reserve Bank of Atlanta's GDPNow model. As well, labor markets remain far too tight for the Fed, and high levels of job openings and low levels of potential-worker participation are keeping wage growth at levels the Fed feels are inconsistent with returning core inflation to 2 percent. That having been said, there are also some recent signs that forward economic momentum is beginning to slow considerably under the weight of high costs, high interest rates and dwindling household reserves. This should help labor markets to loosen up at some point.
Despite strengthening growth in the latter half of 2022, there has been a discernable increase in the number of analysts and economists who are calling for a recession to occur this year.
Inflation remains far higher than the Fed wants it to be. Core inflation measured by the Personal Consumption Expenditures series is running at a 4.7% annualized pace though November. If we average monthly core PCE over the last six months and project that average forward, we see a 4.6% rate, and using the average of the last three months and projecting that average forward over the next 12 months still produces a 4% annual rate. As well, using only core PCE serivces prices paints a less-encouraging picture.
Have no doubt, though. Inflation is cooling from 40-year highs, but only slowly, and not nearly enough to give the Fed a reason to pause just yet.
In 2022, the federal funds rate was lifted by 425 basis points in just nine months, rising from 0%-0.25% to 4.25% - 4.5% per the Fed's official range. The Fed's most recent forward-looking policy signal from December pegs the funds rate at perhaps 5.25% by the end of 2023, suggesting another 75 basis points of tightening should be expected, most likely in the first half of the year. The latest Summary of Economic Projections showed that, at least as of December, the Fed has no intentions of lowering rates in 2023, either.
With short-term rates expected to move higher, there are limits on how much mortgage rates can decline even if inflation is cooling, and much of that decline may have already occurred after the second 7%+ top for rates back in November.
Ultimately, the question is: Who's right... the Fed or the markets?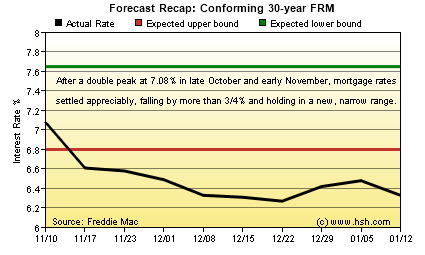 Recap
Shortly after we posted our last Two-Month Forecast, reports covering producer and consumer price indexes came out, and core readings for both were much improved, cheering the market, and lopping about a half-percentage point off of mortgage rates. This was at odds with our expectation of firmer rates heading into December, but investors had obviously over-prepared in an expectation for poor inflation reports in days and weeks that preceded their release.
After the early-in-our-forecast unexpected drop, rates have mostly since held in a tighter range than we've seen for a time -- just 34 basis points over the remaining nine weeks of what turned out to be a 10-week forecast period.
As such, our forecast missed the mark, although that's to the benefit of mortgage seekers, and we're happier to have been wrong on the high side than on the low, something that has plagued our forecasts at times last year. To be fair, mortgage rates in the low- to mid-sixes aren't exactly cheap and are still closer to levels double that of a year ago than not, but the decline did help mildly liven up activity in both the purchase and refinance market until the holidays, so that's something.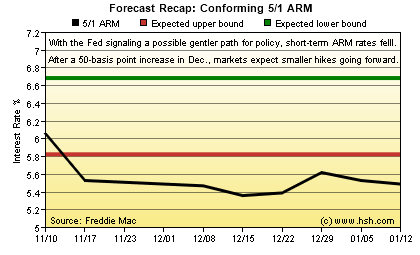 Forecast Discussion
Presently, there seems to be a battle between the market's stance of "inflation improving, economy slowing, so rates should fall" against the Fed's "inflation too high, labor markets too tight, so rates will rise" position. It's not clear who will be proven right, at least not yet, or even over what time frame that may be.
At least one line of thinking is that the Fed may be wary of shifting any sort of messaging or position lest this cause investors to become "irrationally exuberant", to paraphrase an old Alan Greenspan quote. By using rhetoric about its intentions to lift rates and hold them there for a time, perhaps the Fed is trying to keep financial markets from going of on the kind of tear that actually loosens monetary conditions, something at odds with what the Fed intends. This Fed "jawboning" of markets isn't unheard of or even unusual, but it does have limits, particularly if the hard data don't support what the Fed is saying.
The central bank may or may not be bluffing about what it intends to do with policy, but may feel the need to lift rates further even if the data don't specifically suggest that it needs to. The Fed might do so simply to show its resolve against inflation, and to help keep the lid on financial markets for a while longer, all with the goal of keeping inflation from becoming more entrenched.
The minutes of the December Fed meeting specifically noted this concern about financial market activity. "[Fed meeting] Participants noted that, because monetary policy worked importantly through financial markets, an unwarranted easing in financial conditions, especially if driven by a misperception by the public of the Committee's reaction function, would complicate the Committee's effort to restore price stability." (emphasis ours)"
By the time this forecast period comes to an end, we should have a much clearer picture of the trends for economic growth and inflation. By then, and along with other key data, we'll have seen two more sets of employment reports, two more rounds of inflation data and the initial and second revisions to GDP growth for the fourth quarter of 2022, so we'll see how much momentum the economy carried into the first quarter of 2023.
There are two Fed meetings over the next nine weeks; the one at the end of January-first of February should feature another increase in short-term rates. Futures markets place a 92% chance of a 25 basis point increase at that time. The next Fed get-together, in mid-March is also expected to see another quarter-point increase. At that meeting a new Summary of Economic Projections will come, and if the Fed is starting to mark down growth and inflation for the remainder of 2023 and beyond, they may also reveal early expectations of when rate-cutting might begin.
The battle between the Fed's thinking and the market's stance won't likely be settled over the next nine weeks, but we should know by then who's ideas and expectations are getting the upper hand.
Forecast
It's a transitional time for the economy and inflation. Economic growth continues to cool and inflation is slowly settling. With these trends forming or continuing, odds favor lower long-term interest rates and mortgage rates. That said, there is a possibility that the "easy" wins against price pressures are fading behind us -- supply chains have improved, goods and commodities prices have declines, energy costs are far below recent highs -- but this may leave inflation still at higher levels than desired and also somewhat more intractable.
On softer inflation readings and hopes for a mellower Fed stance, mortgage rates are declining a bit as we write this, and holding near levels of last September. With nearly a full percentage point of declines from a November peak already in place, further significant declines seem unlikely at the moment, unless the economy should come to a hard stop or some other unforeseen significant event occur. Just as interest rates moved higher than conditions at the time may have warranted, they may now have moved lower than current conditions warrant. While volatility is by no means fully behind us, it would appear that there's a chance for a less-volatile period for rates forming, as markets await more data to confirm or refute current expectations.
While not especially favorable, 30-year fixed mortgage rates at about a full percentage point below recent peaks should allow at least a meager spring homebuying season to start to form as this forecast period wends its way to conclusion. Over the next nine weeks, we think that the average offered rate for a conforming 30-year fixed-rate mortgage as reported by Freddie Mac should manage to hold in a range of 5.85% to 6.5%. For 5/1 ARMs, even with the Fed lifting short-term rates, the initial fixed interest rate on the most popular alternative mortgage will likely wander between 5.20% and 5.75%, as reported by Freddie in its soon-to-disappear legacy survey.
This forecast expires on March 24, 2023. By that point, daylight savings time will have kicked in, bringing longer days, and we'll be a few days into spring. Drop back in and see if this forecast was on the mark or missed it, as too many have since the pandemic upended markets.
Between then and now, interim forecast updates and market commentary can be seen in our weekly MarketTrends newsletter.
You can always check out our 2023 Annual Outlook, too.