The HSH Two-Month Mortgage Rate Forecast
May 17, 2019
Preface
Mortgage rates have been in a more-or-less slow fade for much of 2019 so far, and there doesn't appear to be anything to break the trend in the near future. Despite stronger-than-expected growth in the first quarter and very solid readings on employment, it feels as though investors are simply waiting for the other shoe to drop and bring the expansion to a discordant end.
Perhaps it's the age of the expansion itself that's unnerving; after all, we are merely a couple of months away from it becoming the longest in U.S. history, and surely good times cannot last forever. Perhaps it's the recent (though temporary, at least so far) inversion in the yield curve, episodes of which have presaged recessions for at least a generation. Of course, it could be the so-called "trade war" with China and other of the U.S. trading partners... or the never-ending Brexit process... or that inflation isn't gaining traction anywhere regardless of central bank actions and attempts to raise price pressures. Even Fed Chair Powell's recent utterance that the current string of low inflation readings is likely to prove transitory barely raised the market's collective eyebrow, let alone increasing rates to any real degree.
It may be that investors sense that a world full of troubles -- social, political, economic -- somehow simply can't hit the right combination of numbers and images on the slot-machine display to trigger both sustained growth and soft, routine increases in prices for which central banks are striving. A winning run for global growth a couple of years ago (three matching wheels, if you will) has turned into a mix of 7s, lemons and plums, results that have been good enough to keep playing but with diminishing returns. This has much been the case with price pressures across the globe, too, and even for central bank policy, with some tightening and others pledging nearly unending support and no sense that all are pushing in the same direction at the same time. To be sure, a new streak of growth would solve much of this; continuing the theme, a run of pairs of 7s (or even all three occasionally) to set off the bells and whistles and replenish the holdings of both consumers and corporations, and so as to incent them to keep playing rather then retrenching. If at least some small wins don't come soon, especially in other economies, enthusiasm will wane, and eyes will turn to the house banker (the Fed) to again provide lower cost funding as an incentive to keep pulling the lever.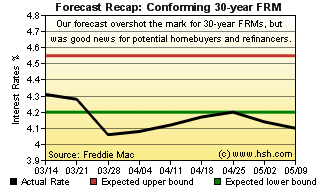 Recap
We'd like to claim that our last forecast was close to the mark, but that would be incorrect. Despite all manner of improving economic signals at the end of the first quarter and into the beginning of the second, mortgage interest rates continued to fail to have any upward traction. This is a bit of a puzzlement in that strong growth usually fosters higher rates, as does the issuance of record levels of new sovereign debt even with a fairly benign inflation climate. Regardless, for the forecast period just closed, we expected conforming 30-year FRMs as reported by Freddie Mac to hold a range of 4.20% to 4.55%, but the markets presented us with 4.10% to 4.31% bookends, with two-thirds of the period featuring rates below our expected bottom level. We were a little closer for hybrid 5/1 ARMs; our forecast for fences of 3.77% - 4.03% was better, but our bottom bound was broken in four of the nine week period. While we hoped to be more accurate, at least the good news is that rates more favorable than expected greeted homeowners and homebuyers looking for mortgages.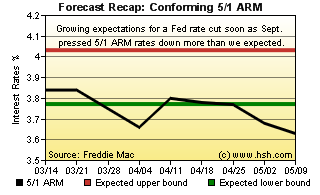 Forecast Discussion
For our part, we've been slow to embrace what the markets already seem to sense: the prospects for sluggish global growth and soft inflation seem greater than those for formation of a robust period of growth and firming price pressures. If nothing else, the unevenness of the current situation is certainly apparent, in that the U.S. growing fairly strong in a reliable manner while economic activity China is slowing, Japan is teetering and the Eurozone stumbles along. While we remain optimistic that the future should see some improvement, what's less clear to us at the moment is exactly when that future might begin.
It took years of aggressive Fed policies (and ultimately, those by other central bankers) to produce growth strong enough to help lift the world out of the doldrums. Since then, the Fed has tried to move back toward policy considered "normal" or "neutral" and others have tried to follow suit by ending QE-style programs and gently lifting interest rates. Even so, policy rates range from negative to barely positive in most developed economies, but recent flagging growth has seen the pledge of new stimulus from the European Central Bank and programs of both policy and fiscal stimulus in China.
As the U.S. economy continues to chug along, it is one of the few economies in the world that is functioning at a high level. Even if successful, efforts to combat recent slowing in China, Germany, the Eurozone and in other countries will take time to show and it is not clear if lower rates for longer (EU) or new spending and debt (China) will be enough to move the needle much or very quickly. Certainly, the new tit-for-tat trade dustup does nothing to help the situation and may actually sap growth even as it firms final consumer inflation.
Currently, the headwinds for higher interest rates are fairly strong, at least in the short term. Futures markets place only a slight chance on a Fed rate cut next month, but that probability grows to about 50% by September and better than a 70% chance come December. We're not yet convinced that this is a likely case and such prognostications are prone to considerable revision as new information becomes available. Still, futures expectations are useful as a gauge of at least some investor sentiment as to the prospects for growth as 2019 progresses. The Fed has essentially pledged no rate increase this year, but at least a few Fed members haven't ruled out an increase (others haven't ruled out an decrease in rates, either).
But while there is a lot of year yet to go, data to disseminate and trends to track and analyze, we have only to concern ourselves with the next nine-week stretch.
In the current climate, with so many divergent approaches, paths and outcomes, a lack of consensus -- of central bank policy, of economic activity, of how to conduct trade among nations, of inflation prospects and more -- just makes it all the harder to expect that rates can rise meaningfully in the near term. Simply put, it would take a slew of positive economic data from both the U.S. and from at least one other major economy and signs from somewhere that price pressures are again rising to see that happen. Conversely, the current ongoing morass means that the prospect of lower rates may actually be increasing, even if some brighter signals should appear as we go.
Forecast
As we've learned over time (especially recently), a lot can happen in nine weeks' time. The Fed can shift gears from expecting to tighten policy to a more neutral stance and even swiftly change its mind regarding how to manage its balance sheet. Investor moods can change from darkening to nearly joyous, and certainly, growth and inflation here and abroad could move meaningfully to a higher level without much warning. However, we don't think that's likely to happen, and in fact, it's likely that the best we can expect over the forecast period is to maintain forward momentum here in the U.S. and hope for small but accretive improvement around the globe.
For the next nine week period, we think that the average offered rate for a conforming 30-year FRM as reported by Freddie Mac will run in a range of 3.86% to 4.23%, with a fair chance that we'll hang right around 4% for a good portion of the forecast period. For hybrid 5/1 ARMs, we think a 3.48% and 3.80% pair of fences will contain most popular ARM -- not that ARMs are all the popular in a time of very low fixed rate mortgages. For our part, we spin the wheels again in hopes of hitting a forecasting jackpot, but frankly would rather see higher rates if that meant strengthening growth and improvements on economic and political fronts.
This forecast expires on July 12, in the heart of vacation season. While hardly beach reading material, you might point the tablet over here to see how this latest mystery turns out.
To follow mortgage rate movements and market influences on a more frequent basis, check out our weekly MarketTrends newsletter... or subscribe.