The HSH Two-Month Mortgage Rate Forecast
April 20, 2018
Preface
Although it is difficult to discern from looking at mortgage rates, there continues to be a fair undercurrent of volatility in financial markets. At the same time, it seems reasonable to say that markets may be waiting for "the other shoe to drop" before heading off in any new direction, and so appears to be tenuously waiting for some signal or trigger to start a move in one direction or the other.
With plenty of tailwinds to push them higher, it's a bit of surprise that interest rates have managed to hold their ground as long as they have. Pending new data covering the first quarter of 2018, the overall U.S. economy has run a Gross Domestic Product growth rate of about 3 percent for the last three quarters, the strongest stretch in years, and changes to tax law are expected to spur additional consumer and business spending and help create even faster growth. The Federal Reserve raised short-term interest rates in March and may be on course to lift them three more times this year, all while retreating from directly supporting bond markets on a quickening pace by reducing their massive holdings of bonds. As well, core inflation is steadily firming.
Yet long-term (and even medium term) interest rates have barely budged for months.
Are rates tethered because there has been no ramp-up in consumer or business spending? Retail sales have been soft for months (picking up just a bit in March) and the pace of new consumer borrowing has been slow. Are widespread signs of another first-quarter deceleration in growth having at least a temporary damping effect on rates, or is it investor concern about adjustments in tariffs and trade (and their effects on growth) creating downward pressure? It is that inflation isn't spiking, but only steadily firming? Political instability?
It's really hard to pick out just one (or even the most important) factor helping to steady mortgage and other interest rates. Considering that the U.S. expansion is getting long in the tooth and is likely to be closer to its end than to its beginning (even without the prospect of imminent demise), and given the meteoric rise in equity prices, it just may be that some investor money is more routinely being pulled back from riskier assets and pushed into the safer haven of bonds, attracted by yields not seen in a number of years.
That mortgage rates have been steady since February has been to the benefit of potential homebuyers, who already face challenges of high home prices and dwindling affordability even when there are homes available to buy. The factors creating demand for housing don't seem likely to abate immediately, and the supply situation won't be remedied quickly. As we noted in the April 13 MarketTrends: "If you think about it, it might be that much higher interest rates may be the only immediate solution for quelling (housing) demand, as this would tend to knock more marginal borrowers out of the market. In turn, this would slow the pace of sales and loosen up inventories of unsold homes, and (if sustained) would tend to at least temper increases in home prices...". Such an increase would likely need to come as a spike, and be sustained for a period, but we've not seen a sizable interest rate event like this since 2013's "taper tantrum".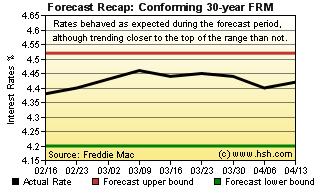 Recap
If a phrase could encapsulate the trend for mortgage rates over the last forecast period, it might be "unlikely stability." An almost violently volatile period for financial markets was still raging at the time we wrote the last forecast, and more (upside) moves for rates were expected. We hedged to the upside, expecting that conforming 30-year FRMs as tracked by Freddie Mac would wander between 4.20 percent and 4.52 percent for the period, and while we never tested those boundaries with the 4.38% to 4.46% narrow range that happened, rates held rather closer to the upper end of the bound. For average offered rates on 5/1 ARMs, we called for a 3.46 percent to 3.88 percent pair of fences, expecting that the anticipated move by the Fed would tend to push shorter-term rates up more than actually occurred. The markets provided a range of offered rates from 3.62% to 3.68%, holding nearly in the dead center of our forecast range despite the central bank's actions. Overall, a pretty good outcome for our forecast.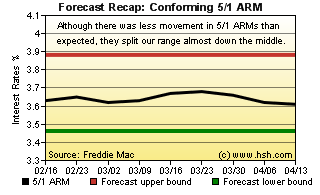 Forecast Discussion
It seems to us we're in a bit of an indecisive period for rates. If it is that the current overall sluggish feel to the economic data released in the last two months that is serving to keep mortgage rates from moving much, it's worth considering that we have seen slow first-quarter periods in at least the last four years, something partially blamed on "residual seasonal adjustment issues" when the Bureau of Economic Analysis calculates GDP. To the extent that this is the case, the second quarter in each of those years featured a solid rebound in economic activity that one might expect to tend to lift interest rates, but that wasn't the case; mortgage rates were actually higher in the first quarter than they were during the second quarter in each of the last four years (probably a lagged effect of the first-quarter slowing of growth, given the way that key economic data is released). It would be hard to expect such a downtrend for rates to happen again, but it wouldn't be without precedent.
Then, there is the curious nature of markets themselves. The Fed has become an increasingly transparent body when it comes to telling the market its intentions, and now routinely informs investors not only what to expect but roughly when to expect it in the form of quarterly summaries of members' economic and policy projections. In the past, investors often have made moves to try to get out in front of the Fed, and mortgage and other interest rates routinely rose in advance of expected Fed action. At present, and despite clear warning that two and perhaps three lifts in the federal funds rate can be expected yet this year, investors seem to have (as yet) almost no reaction, and mortgage rates remain steady and near historically low levels. Are markets not fully accounting for the Fed's potential actions (unlikely)? Do they suspect that with each increase in the federal funds rate that the chances of higher inflation will diminish, or perhaps that the end of the long expansion is hastened by the Fed's moves, meaning lower rates may not be in the all-too-distant future? Investors seem to be discounting to a degree the Fed's guidance, but it's not clear whether investors think the Fed isn't as committed as they appear to an upward path for rates, or simply feel that there is no urgency to adjust their positions.
Another oddity to ponder is the ongoing reduction the Fed's holdings of Treasuries and MBS, which is not only proceeding apace but is set to speed up again when the calendar turns to July. There was no expectation that this process would have significant immediate impact on interest rates, but rather a more gradual and cumulative one, what with more Treasury bonds and mortgage-related debt in the markets for investors to absorb. This issue of more supply was to be exacerbated by the Treasury's issuance of plenty of new debt to cover the cost of both the tax cuts and new spending priorities, and the combination of the two should have had at least some lifting effects on rates, but so far, not so much. Perhaps more will come as the size of reductions increases. With regard to mortgage holdings, it's worth noting that the lackluster pace of home sales and cratering of refinance activity have considerably slowed the pace of new Mortgage-Backed Securities becoming available to investors; in turn, this may also have also markedly slowed the speed of redemption and reinvestment the Fed program is designed to do.
The way the plan was to work was that the Fed would set a goal of $4-$8-$12-$16-$20 billion (increasing quarterly targets starting in October 2017) in reduction of MBS, with anything in excess of these reductions used to reinvest into more securities. These funds for buying more MBS are generated by both principal and interest payments on holding but also by full repayment of a mortgage they hold (sale of the home, refinance).
However, as higher rates have curtailed refinancing, this source of inbound repayment has slowed, so even reaching the target reductions might be a challenge. Currently, it may be that the only retirement of MBS debt the Fed is holding is coming from regular loan payments, and so the program may not be actually hitting the current cap of $8 billion in reductions per month the Fed expected. The Fed has previously said that they will not make up any shortfall in meeting the target by outright selling of MBS they hold.
This is a bit of a long way around to say that not only is the Fed not likely to be buying any new MBS in the market as a result of this, but also that low issuance of these new MBS may be barely enough to sate other investor appetites. For bonds, firm demand and low supply means higher prices; higher bond prices in turn mean lower (or at least steady) yields and level mortgage rates for consumers.
The question is, which forces will exert more pressure on rates for the coming forecast period? Those tailwinds that should be pushing interest rates higher, or those headwinds that will tend to damp this upward pressure? In this midst of these push-me, pull-you forces, core PCE inflation continues a steady march upward and will soon be closing in on the Fed's speed limit of 2 percent. Since last August, the Fed's preferred price tracker has moved up from 1.3 percent to a 1.6 percent, and odds favor another tenth of a percentage point will be added when March's data is released later this month. A steady drip of higher inflation is unlikely to be ignored by bond investors regardless of other conditions, especially amid a considerable amount of bond supply.
Forecast
All things above considered, the forecast for the next nine weeks might be summed up in an expectation for near stasis with a upward bias for mortgage rates. As such, we're tightening our expected ranges for rates a bit. Between now and June 22, we thing that the average offered rate for a conforming 30-year fixed-rate mortgage as reported by Freddie Mac will hold a range between 4.38 and 4.68 percent. Meanwhile, we think that starting rates for hybrid 5/1 ARMs (perhaps an increasingly viable choice for some homebuyers) will hold bounds of 3.54% and 3.77% over the next nine week period.
This forecast expires June 22, we'll into "Dads and Grads" season with summer vacation beckoning. Before you hit the grill, celebrate or head to the beach, why not drop back and see how all this has played out?