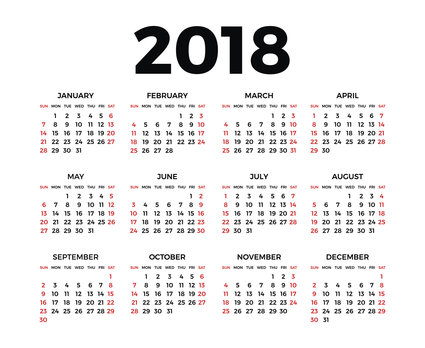 Mortgage rate outlook
After years of forecasts of higher mortgage rates, will 2018 be the year this finally happens? Certainly, the prospects for higher rates are likely to be stronger than they have been in years, even as at least some of the forces that have kept them near or at record lows will persist. On the "upward pressure" side, we have a U.S. economy that has put in its fastest growth rate in more than three years, coupled with a Federal Reserve that seems committed to at least a few more increases in the federal funds rate in 2018. Also, as the year progresses, the Fed will accelerate (by plan) its retreat from supporting the bond market, as the initial program of reducing holdings will double in January (from $6 billion in Treasuries and $4 billion in MBS and agency debt) to $12 billion and $8 billion respectively, then to $18 and $12 billion come April, $24 and $16 (July) and will hit peak reductions of $30 billion and $20 billion per month and remaining there for an unknown period when next October comes around.
Although the initial effect on mortgage rates has been benign, the amount being reduced at present is small. It's not clear how much impact the increasingly larger monthly reductions in holdings will have, but it will generally mean more bond supply will need to be absorbed by private investors. If demand for bonds does not keep pace with increasing levels of supply, bond yields -- and mortgage rates -- will move higher.
In 2017, a wide number of the world's major economies all expanded in sync for the first time in a long time. This has led to interest rate increases in places like Canada and the U.K., and the European Central Bank is set to chop its QE-style purchases of bonds in half (to 30 billion euros from 60) come January, with a potential taper to zero eurozone stimulus by the time next September rolls around. To the extent that this raises bond yields in other countries, this could draw some supportive funds away from U.S. debt, adding a degree of firmness to interest rates here.
On the "downward pressure" side, we still have ultra-low interest rates across the globe and inflation yet remains below desired levels or targets. This may be changing somewhat, as a growing global economy requires additional resources, increasing the potential for price pressures to form. Tight labor markets in the U.S. may help to firm domestic inflation some, and at least some indications suggest that the 2017 swoon in inflation is passing, leaving in its wake a bit of a mild firming trend. This uptrend may not be sufficient to hit the Fed's speed limit, or at least not hit it soon or reliably, but we may move a little closer to the target during the year.
As with any long-range forecast, there are of course unknowns and wildcards that will affect outcomes as we go. For example, there could be an unknowable political or military situation, the stock market could experience a correction or some other event could see investors scurrying for the safety and soundness of U.S. Treasuries, which would tend to drive rates back down (as global events have repeatedly done in recent years). There no way to account for these in our forecast.
However, as we write this, we think that a combination of solid growth in the U.S. and continued improvements across the globe will see inflation firm a little bit overall, nudging mortgage rates higher. There is a potential for conforming 30-year fixed-rate mortgages rates to peak in 2018 between 4.4 percent and 4.5 percent at some point, but the odds still favor that we'll see rates remain fairly below this level for the majority of the year.
Mid-Year Update:
In the first half of 2018, mortgage rates have moved with greater velocity than we expected and have ranged a bit higher than we thought they might. So far, there were just 7 weeks where rates ran below the bottom of our range (below 4.4%) and about as many above the peak we expected (~4.5%). With some 26 weeks left to go in 2018, amid firming inflation, strong economic growth and an active Federal Reserve, we'll need some external forces to temper growth and inflation (and keep the Fed to just perhaps one more move) if we hope to keep rates from really running up.
The Fed / Monetary Policy
As briefly noted above, the Fed does seem committed to lifting short-term rates in 2018. What's hard to reckon at this point is how many moves will come, and there will be new players in place making the calls as to when and how much to move interest rates. A new Fed Chairman takes over in February, and we'll also likely have a new Vice Chair, as Stanley Fischer resigned this post back in October and William Dudley will be stepping down by mid-2018. There are also still vacant posts that need to be filled on the rate-setting committee, and its unknown as yet who will fill them or how they might influence policy decisions.
As a backdrop, the economy is doing well and may even be goosed to some degree by the proposed tax bills being reconciled in Congress. With growth picking up of late, it may be that a faster spurt will see the Fed raise rates a greater number of times than is currently expected. It also bears consideration that there seem to be a growing number of voices uttering the "bubble" word as it pertains to certain assets; this may or may not be the case, but suffice it to say that things like stocks, real estate and merger activity (let alone things like BitCoin) all suggest that liberal monetary policy may be contributing to inflation or increased activity in these items. To the extent that they exist, the Fed has a poor record of deflating bubbles, which tend to end more painfully than not.
Changes to the composition of the FOMC may kick the first 2018 change to the federal funds rates down the road to June, but we'll likely see three lifts in the key policy rate next year in June, September and December. This will bring the federal funds rate up to 2.25 percent or thereabouts, a non-stimulative or slightly restrictive rate at or a little above the expected inflation rate.
Mid-Year Update:
Two Fed moves are in the books so far in 2018, and at the moment, voting members of the FOMC appear to remain evenly split as to whether one or two more moves are appropriate in the remainder of the year. Strong growth, firming inflation and tight labor markets certainly give the Fed the cover they need to move two more times; however, there are signs that global growth is stumbling a bit, and other central banks are still providing extraordinary support to their local economies via QE-style policies and low or even negative interest rates. This, plus the potential for some trade-and-tariff headwinds to economic growth, and two more moves aren't guaranteed at this point. Futures markets currently place less than a 50% chance of two additional moves yet this year, but one remains a good probability.
Mortgage Regulations
Change is likely afoot in both the regulations and regulator that govern the financial markets. Original CFPB director Richard Cordray has moved on, leaving a bit of a power struggle at the bureau in his wake, but it looks as though Trump appointee Mick Mulvaney will helm the agency going forward. Mr. Mulvaney is also the director of the Office of Management and Budget.
The direction of the agency is already changing and will likely continue to change, most probably in the area of investigation and enforcement of penalties against companies accused of wrongdoing. The financial services industry has complained in recent years about heavy-handed investigations of complaints and presumptions of guilt without due process, and it may be that this is the area most likely to undergo reform. However, after spending much time and money to adapt to a new playing field, its not clear if lenders or financial firms will feel a little more freed from the yoke of the Bureau and begin to offer credit more freely or more widely. As such, it's difficult to say whether this will be overall more or less beneficial to markets or consumers. We'll need to reserve judgement until more is known.
The Bureau's role will need to be taken in context of any changes in the law that created it in the first place. It has been a goal of certain members of Congress to make wholesale changes to Dodd-Frank, and S. 2155, the Economic Growth, Regulatory Relief and Consumer Protection Act (presently rattling around in the Senate) includes policies designed to roll back, tweak or eliminate key sections of the Dodd-Frank rules.
While the outcomes of any changes to regulation or enforcement are yet unclear, it is more certain that a more business-friendly, possibly less consumer-friendly and probably more messy regulatory environment seems likely to come in 2018. Change isn't necessarily a bad thing, but how much change is needed or desirable at this point in time is an open question. Arguably, a looser climate will carry lower costs of doing business (fewer compliance officers needed, etc.) but this doesn't directly make access to credit any easier, more understandable or less expensive to attain for consumers. We'll probably have a clearer look when our traditional mid-year update rolls out come July.
Mid-Year Update:
So far, it's hard to quantify if we are in a "softer" regulatory climate, but there are signs that this trend is underway. Led by acting director Mick Mulanvey, the CFPB has dropped lawsuits against "payday" lenders, indirect auto-finance firms, and PHH and Zillow for purported RESPA violations. The director is even looking to change the name of the Bureau to the "Bureau of Consumer Financial Protection" in adherence with the name Congress gave it when the Dodd-Frank law was passed. Acting Director Mulvaney is expected to be replaced at some point with a permanent new head of the Bureau, and the expectation is that Kathy Kraninger will be nominated by President Trump. She is currently an associate director of the Office of Management and Budget. With a potential successor named but not yet confirmed by Congress, Mr. Mulvaney can remain in the role, so the climate of less aggressive regulating (or at least enforcement of regulations) seems in place.
Fannie/Freddie/FHFA
If nothing changes between now and September, we'll be celebrating an anniversary of sorts: It will be fully 10 years since Fannie Mae and Freddie Mac were put into conservatorship. True reform of the GSEs seems not much closer to reality now then when then firms first toppled, and an argument could be made, despite fringe near-prime, alt-A and jumbo markets again functioning to varying degrees, that Fannie and Freddie are even more important now then they were back then. In fact, with the recently-announced increase in the size of mortgages they are allowed to purchase the GSEs continue to crowd out lending opportunities for "private" mortgage money (or at least curtailing chances for jumbo borrowers to expand their book of business).
One way or the other, change may have to come to Fannie and Freddie before long, technically, at least. Fannie and Freddie have been slowly depleting their capital holdings against loss for years, and their capital position will fall to zero in just a few weeks time. As such, any losses will require them to got to Congress hat-in-hand and ask for funds, even as they have repaid all of the bailout monies they received plus an additional $84 billion. Despite this, they will yet still be technically broke should a quarterly (or annual) loss occur.
Just as lobbying money floating in made it hard for Congress to rein in the GSEs back even long before the housing boom and bust, it will likely be hard for Congress to give up billions of "free" money floating in each quarter from the GSEs. Reform is well overdue, but when will it come? Each chance so far has come to a roadblock, or dead end, or simply can't garner enough support to survive the political process. Given this history, odds don't strongly favor reform in 2018 any more than they did for 2017.
In a recent forum, Vice President Mike Pence's chief economist Mark Calabria noted that the Trump administration is "committed" to ending the conservatorship of Fannie Mae and Freddie Mac. He noted that the Trump administration is committed to not handing Fannie Mae and Freddie Mac in conservatorship over to the next administration, but cautioned that the process will not be easy. "If it were easy to get GSEs out of conservatorship, it would have been done already," Calabria said.
As was the case last year (and the year before that, and so one) it sounds like more of the same old, same old to us. With the GSEs Common Securitization Platform in testing mode for at least another year and slated to fully kick in 2019, that seems more like a likely time for broader reforms to occur. By that time, the GSEs retained portfolio of loans, a primary source of revenue (along with insurance premiums known as "guarantee fees") will have shrunk to just $250 billion in 2018, down from about $1.6 trillion when they were taken over in 2008, and the smaller size of their footprint then will make reform less disruptive to the market. In the meantime, watch for more shepherding of the GSEs, who will either be allowed to hold a minor bit of capital to cover interim losses, some creative accounting to allow them to spread losses and gains over an annual period (rather than quarterly) or some kind of quiet credit line from Treasury.
Expect more rumblings about GSE reform but no real (or at least immediate) action in 2018.
Mid-Year Update:
With apologies to Benjamin Franklin, it may be that death and taxes are the only certain things, unless you count among them the inability of the Congress to agree on and implement reform of Fannie Mae and Freddie Mac. It is a virtual certainty that we'll be blowing out the candles on the 10th anniversary cake of their conservatorship come September, as there has been virtually no movement on the issue, sans a proposal by the OMB calling for the re-privatization of Fannie Mae and Freddie Mac (page 75), who would then be subject to both market conditions and new competitors in the space on a theoretically level playing field. Explicit government guaranty of MBS would be available to all parties for a price to be determined and other market-based changes would be put in place. This isn't much different than several other plans that been kicked around in recent years, but the chance this or any other reform for Fannie, Freddie and the housing market in general remains slim for the foreseeable future. We'll likely be revisiting this topic again when it comes time for the 2019 Outlook at year's end.
Underwater conclusion?
Even with strong gains in home prices over several years in a wide swath of metropolitan areas, ATTOM Data Solutions still reckons that there are some 4.6 million properties that are still seriously underwater (LTV at 125% or above). We thought that 2017 might see the end of the underwater issue, and while it has concluded for many homeowners, we're still seemingly not clear of it just yet.
Our own reckoning of home prices does suggest that about 62 of the nation's top 100 metro areas have either reached or exceeded so-called "peak" prices from last decade's housing market boom, leaving 38 metros that still need to see steady price increases to lift today's values above prior tops. Even in those 38 areas, only homeowners who bought during a select slice of time may still see their property valued at less than what they paid for it. By this measure, the problem is still widespread, affecting places from the New York City metro area to Sacramento, CA.
However, this might not fully reflect the effects of amortization over time. For example, from a peak value in 2006, a property in the West Palm Beach-Boca Raton-Delray Beach, FL metro division would still be some 6.99 percent below that value. Let's say that this property was purchased for $100,000 with a 5 percent down payment (so a $95,000 original loan amount). At this moment, the property is reckoned to be worth $93,001, and so is "underwater" on this basis. However, a 30-year fixed-rate loan taken in the first quarter of 2006 (and not refinanced) would now be approaching 12 years old; from that time, it would have carried an interest rate of 6.29%, and from a starting balance of $95,000 would now be paid down to $76,212. Even though this property has still not recovered its peak value, the property does have $16,789 in equity, or about an 18% equity stake (and nearly enough to soon be able to cancel the property's Private Mortgage Insurance policy).
Certainly, in markets more deeply underwater originally (such as the Bakersfield, California metro) the math still doesn't quite work -- that same $100,000 property as above is still only worth $67,300 by our reckoning, with the loan still at $76,212 this property is still more than 11 percent underwater, and so has a ways yet to go to re-surface. Of course, aggregate data for a metro area (or even a zip code) doesn't necessarily reflect the experience of a single property or homeowner, but rising property values and routine amortization will eventually solve this no equity/underwater situation for virtually all homeowners.
If you're still one of the unlucky homeowners whose property is still underwater, you can learn when you'll be back to a positive equity stake again with our KnowEquity Underwater Mortgage Calculator.
Attom Data Solutions reported that the 4.6 million seriously underwater properties at the end of Q3 2017 represented 8.7 percent of all U.S. properties with a mortgage. This was a decline of an impressive 1.4 million properties (almost 25 percent of the total) from the same quarter in 2016. A similar decline in 2018 would represent nearly another 30 percent drop but something a little less than this might be more reasonable to expect. Suffice it to say that we should see a considerable improvement in the equity position of many homeowners.
To this end, it bears noting that the Home Affordable Refinance Program which allows borrowers with loan-to-value ratios above 80 percent to refinance GSE-backed loans will run for the entirety of 2018, but the program's impact on the market is minimal and fading. Back in 2016 (when the announcement came extend it to September 2017) FHFA estimated that there were still some 323,000 homeowners who could benefit from a HARP refinance; since that time, only about 65,000 HARP refis have taken place, and the current run rate is only about 2,000 per month. Given that a key restriction to the program is that the original loan must have been originated before June 2009, it's unlikely that there will be any sudden surge in activity to be seen in 2018. The GSEs do also have in place a "High LTV Streamlined Refinance" program with no such date restriction, but it is not clear how many of these are refinances are actually happening, as many loans written in recent years have interest rates at or below today's levels.
Mid-Year Update:
Rising home prices may be enriching owners in many locations, but not all. Since we wrote the above, somewhat more homeowners have found themselves "seriously underwater", according to ATTOM Data Solutions. From the 4.6 million above, the figure has climbed back up over the last two quarters to 5.2 million; at least a portion of these are likely from the damage done in last year's flooding, hurricane and wildfire destruction across the southern tier of the U.S. and in California.
Our own reckoning of home-price recovery now puts 65 of the top 100 metro areas into the "fully recovered" camp (some very much so), with perhaps another 6 poised to join the ranks in the next quarter or two. From where we sit, things continue to improve, with the number of folks who bought on either side of absolute peak values finding that rising values are finally making them whole. Our measurement suggests that in some places that only borrowers who purchased in a very narrow time slice (perhaps a handful of quarters, instead of a wide swath of many years) during the last boom haven't yet seen recovery. Also, as noted above, that property prices haven't returned to all-time peaks does not mean that a borrower is underwater; paying down a mortgage balance over 10+ years plus home price improvement has solved that issue for many.
As far as the HARP program goes, well, the rise in mortgage rates in the first half of 2018 killed of virtually all refinance activity, and the HARP program was no exception. According to the FHFA, HARP volume represented 1 percent of total refinance volume in the first quarter of 2018 (latest quarterly data available), and in April (latest monthly data) the figure was again just 1 percent, with only 1,017 homeowners getting HARP refinances. With six months left to run and in a climate of higher mortgage rates, it would appear that the program's effectiveness has pretty much run its course.
Cash-out refinancing / Home Equity
The flip side of a fading underwater problem is a good problem to have, where more homeowners have a growing equity stake, a reflection of quickly rising home values in a wide swath of markets across the country.
But will expanding homeowner equity spark an equity access boom? While equity usage and cash-out refinancing have both been increasing in recent years, a lot of this has action has been dependent on low levels of interest rates, especially those of long-term fixed-rate mortgages. If first mortgage rates do firm as we expect, this will likely curtail cash-out refinancings to a degree, as many millions of homeowners will be holding existing mortgages with interest rates below current market levels. For most homeowners, it will make no fiscal sense to expose their largest debt to a higher interest rate in order to access a relatively small equity component; freeing up cash in this way could likely result in a higher monthly cost overall, and potentially for a longer time.
Freddie Mac reckons that cash-out refinances (for prime conventional loans) totaled almost $61 billion in 2016, the highest figure since 2009. The estimated current 2017 run rate is a bit below this pace, with a working estimate of about $53 billion, and even somewhat firmer rates in 2018 would likely curtail this figure a bit. Cash-out refinances have actually been used to extinguish some outstanding home equity loans and lines, paying off some $13.2 billion of them so far in '17. Refinancing volume in general will likely be soft in 2018, but what business there will be will most likely be for cash-out purposes (or changing from FHA to conventional loans) rather than straight rate-and-term transactions.
Despite rising short-term interest rates (and the Prime Rate which governs most HELOCs) any 2018 rise in mortgage rates may see homeowners instead turn to home equity lines of credit for their cash needs. That said, chastened by the effects of the housing bust and still dealing with payment-reset issues on existing older lines, lenders are still not exactly anxious to jump back in to this pool with both feet, and lending conditions are still relatively stiff. Even in good market conditions, it doesn't seem likely that this will change much in the year ahead.
For home equity borrowing, and as far as forecasting goes, TransUnion said it believes that 11.4 million Americans will take out home equity lines of credit between 2017 and 2022, a level double the 5.4 million Americans who took out home equity lines between 2011 and 2016. However, it may be that only a small portion of these will occur in 2018; for 2017, the company estimates that about 1.4 million new lines were originated, and there's no present indication of any strong ramp up at the moment. Inside Mortgage Finance reckoned that $52 billion of HELOCs and loans were issued in the third quarter of 2017, a deceleration from the second quarter and total second-lien originations are running only about 1.5 percent above 2016 year-to-date totals. Some forecasts for next year call for perhaps a 5 percent increase in home equity lending over this year.
One issue whose effects will impact these items (and potentially damping activity) are the proposed changes to the tax code that would eliminate deductibility of mortgage interest on cash-out proceeds and home equity draws and the imposition of a new cap on the total amount of mortgage debt that can be deducted from a mortgage originated after November 2017. Bills in Congress have not yet been reconciled as we write this, so the final outcome of these issues is yet unclear.
Mid-Year Update:
Less interest-rate sensitive than traditional rate-and-term refinancing, cash-out refinancing should be seeing more interest by now, but changes in the tax law regarding the deductibility of mortgage interest may have taken some of the wind out of the sails of this formerly popular financing practice. Data from the FHFA coving the first quarter of 2018 showed that while refinance activity overall diminished markedly, the percentage share of refinances for cash-out purposes rose to a 10-year high, if still a small actual number overall. As homeowners find themselves with more equity this trend should continue for a while.
As far as home equity usage goes, the change in tax treatment may be curtailing growth, but the trend of increased usage continues upward regardless. In the first quarter of this year, the number of people taking home equity lines of credit jumped 18% from the previous quarter and 14% from the same time period last year, according to ATTOM Data Solutions. In just three months, nearly 350,000 borrowers took out HELOCs, according to ATTOM, but at just $67 billion in new lines, current HELOC dollar volume pales in comparison to its 2006 heyday of $140 billion. As most HELOCs are tied to the Prime Rate, interest rates here are on the rise as well, but still remain attractive compared to personal loans and credit cards and HELOCs represent a fairly low cost means of accessing new debt.
Home prices
The same issues that have driven home prices higher in 2017 are expected to persist in 2018, too. The long (if gentle) economic expansion, a long run of very low mortgage rates and favorable demographics continue to fuel demand for houses, but supplies of available homes to buy remain tight.
There are a number of theories as to why supplies have remained tight: aside from increasing demand from the largest generation (Millennials) coming into prime homebuying years, there's also a lack of new construction in the strongest housing markets, homes locked up as rentals instead of being available for sale, homeowners afraid that there's no suitable homes for trading up and more. In some markets, the strongest period of home sales in last decade's boom took place at or near peak prices, so homeowners in some markets remain underwater or have low equity stakes that might require paying out of pocket to sell and move, lessening their willingness to sell and move on.
Although this dovetails into our expectation for existing home sales (below), we think that an overlooked factor is that a typical homeowner "sales window" for trading up may have passed as a result of the housing bust and subsequent recession. By this, we mean that a young family who bought a starter home in the last boom (2003-2007) might have expected to move up after starting a family (perhaps 2008-2013) but when it came to these times, market conditions, home price levels and the job market may still have been simply awful, precluding a move at that point. Now several years later, and despite the fact that conditions have improved, children may now be well into school years, connected to their communities and more, making moving more difficult. Homeowners who lost jobs in the downturn may have only relatively recently found long-term employment and may be loath to change jobs again. With these and probably other life factors included, there has been an upsurge in home renovation and remodeling, and homes that might formerly have been returned to the market for sale are instead being updated, upgraded and expanded to accommodate families that are now likely to stay in place for longer than typical periods.
Although various measures of home prices all seems to measure slightly different things and so produce different values, we think that the conditions which have been driving home prices leading up to 2017 continue apace in 2018, and national home prices will rise by close about 5.5 percent on average for the year, even with somewhat higher interest rates and possibly less favorable tax treatment of mortgage debt.
Mid-Year Update:
We seem to be fairly on the money with our expectations for home prices so far. On a month-by-month basis, prices of existing homes have tailed a little as the year has gone on, with May's 4.9% lowest of the 5 months recorded so far. That said, averaging the gains over the 5 months of the year produces an average change of 5.46%, so we're pretty close at the moment.
For new homes, where supply is more elastic and prices more indicative of changing tastes in the market, prices of new inventory have been lower overall than not, with month-to-month declines in four of the first five months of 2018. Somewhat more homes are being built and sold in lower price classes as builders look to try to meet the market. The average decline so far this year is 1.3 percent, but rising labor and materials costs make it seem less likely that price declines can or will continue for new homes.
Existing home sales
Plenty of demand, little to buy, rising home prices and firming mortgage rates. None of these expected conditions lend much to an argument that we're on the cusp of a much stronger market for existing home sales in 2018.
Last year at this time, we looked forward and expected existing home sales to hold a 5.4 to 5.6 million pace in 2017, about the same as in 2016. Pending November and December sales reports yet to come, the present annualized rate for the 10 months of 2017 reported so far come to an average 5.52 million.
While by no means a rut -- sales at this level are close to the those typically seen before wide-open credit markets spurred last decade's boom in sales -- sales should be somewhat closer to the 6 million mark by now, given the expansion in population in key homebuying age demographics. That said, affordability conditions for many entry level buyers remain difficult, especially in markets where employment is the strongest.
Supply restrictions and affordability issues will continue to temper sales of existing homes again next year, when we expect perhaps a 5.5 to 5.6 million annualized rate to prevail for a third consecutive years.
Mid-Year Update:
As we expected, existing home sales have lacked much traction and so far in 2018 sales are running at a 5-monith average pace of 5.48 million. Supply issues have eased just slightly; at the turn of '18, there were just 3.4 months supply of home at the then-current rate of sale. In May, that figure was 4.1 months, but the change may be more due to a slacking of demand in the face of high prices, higher mortgage rates and few desirable, affordable homes available.
New home sales
There are different challenges which confront the market for new homes. Unlike existing homes, supplies here are technically more "elastic", so builders theoretically should be able to meet any demand that comes along.
In today's market, that's not as much the case as you might think. Builders report a number of issues constraining supply and sales, ranging from a lack of available building lots in the markets most in demand, a lengthy and expensive regulatory permitting and construction process, a lack of skilled labor to actually do construction itself, rising materials costs and more.
Despite these difficulties, home sales have firmed up a bit, especially late in the year. Pending two more months of inbound data (and revisions to the last few reports), the current annual run rate for new home sales is about 613,000 as of this writing. Home builders have been very happy with the continued demand for new homes, and there's every reason to expect that they will be equally happy and productive next year, too.
In light of the issues noted above, and little if no "spec" building, new supply continues to come onto the market at only a measured pace, and inventory of available newly-built homes remains thinner than normal. After bottoming at just 142,000 built and ready-for-sale units in July 2012, available stockpiles have nearly doubled to a present 282,000. This is a little above average levels over the last 10 largely difficult years, but close to normal over the last 20 years (307,000 units available on average).
What's missing perhaps is a faster uptake of those homes by consumers to spur builders into a faster pace of construction. Even with rising sales late in 2017, the pace of sales remains moderate, and existing stock is sufficient to cover 4.9 months of sales at the moment. The 20-year average is about 5.6 months of supply, so an increase in building will be needed to even get back to "normal" even as builders seem to prefer to keep inventories lean.
Given expectations of solid demand, we think residential construction will continue to slowly firm in 2018, and sales will pick up, too. We think when all is said and done, sales of new homes will rise by about 8 percent for the year, putting us at about a 650,000 annual rate or thereabouts. Another year of improvement, and an incremental move toward a "normal" level of sales of perhaps 800,000 per year.
Mid-Year Update:
Although not in a straight line, sales of new homes have generally been firming this year to date. Although subject to revision, the annualized rate of sale in May was 689,000 units, below a recovery high 712K last November, but certainly among the high points of the last 10 years. The average (annualized) monthly rate of sale for the year to date is just a whisker over 660,000 units, so we feel as though our estimation remains on track.
Additional thoughts
A couple of additional overarching themes and events can be expected in the mortgage markets in 2018. With a firming of interest rates and a tailing of easy refinance business for lender, we expect a growing market for non-QM loans as more lenders broaden product menus to try to find new audiences to serve. In recent years, non-QM lending has largely been constrained to private-market jumbo lending, but we think that the year will see more interest-only ARMs, alt-doc and other criteria tweaks that make loans fall outside the strictures of the Qualified Mortgage designation. That's not so say that these loans are especially risky, as they often have strong offsetting characteristics (high FICOs, low LTVs, etc).
We also think that borrowers with weaker credit scores will find better success in obtaining mortgage financing in 2018. The search for more borrowers will likely see lender overlays continue to be trimmed; these additional strictures added on top of Fannie Mae, Freddie Mac and FHA basic underwriting criteria have made it a greater challenge to find financing for those with meager or marginal credit. For example, while FHA will insure loans with a 3.5 percent down payment to a borrower with a FICO score as low as 580, many lenders won't write an FHA loan with a FICO below 600 or even 620, fearing HUD's wrath if too many weak-profile loans should fail. Caution won't be thrown to the wind, but more marginal borrowers should find overall somewhat greater access to mortgage credit.
It's not at all clear what effects on housing the changes to the mortgage interest tax deduction will bring. We don't think the changes will deter many folks from buying homes, especially if the limit on the amount of debt is trimmed back only to $750,000 rather than the $500,000 originally proposed. More of a damping effect might be seen on cash-out refinance and second-home purchase activity, and using home equity might require an additional thought or two, but with rates for these products much more favorable than other forms of consumer borrowing, probably little effect on actual borrowing trends.
For a final, final year, the Home Affordable Refinance Program is supposed to come to a close. It is supposed that there are still thousands of borrowers who could benefit from refinancing into the HARP program, but given the current number of refinances into the program, and expectations of somewhat higher mortgage rates to come, it's nearly a moot point.
More help from HSH.com
5 things homebuyers should be thankful for this Thanksgiving

Here are five things homebuyers should be thankful for this Thanksgiving.

The salary you must earn to buy a home in the 50 largest metros

Here's how much salary you would need to earn in order to afford the median-priced home in your metro area.

10 metros where a home costs about $1,000/month

HSH.com identifies 10 metro areas where you can afford the principal, interest, taxes and insurance payments on a median-priced home for only around $1,000 per month.

The return of subprime lending?

Nontraditional mortgage products, often blamed for their role in their housing crisis, are starting to make a comeback.

HSH.com on the latest move by the Federal Reserve

The Federal Reserve concluded a meeting today, holding rates steady, and the federal funds rate remains in a range of 2 to 2.25 percent.