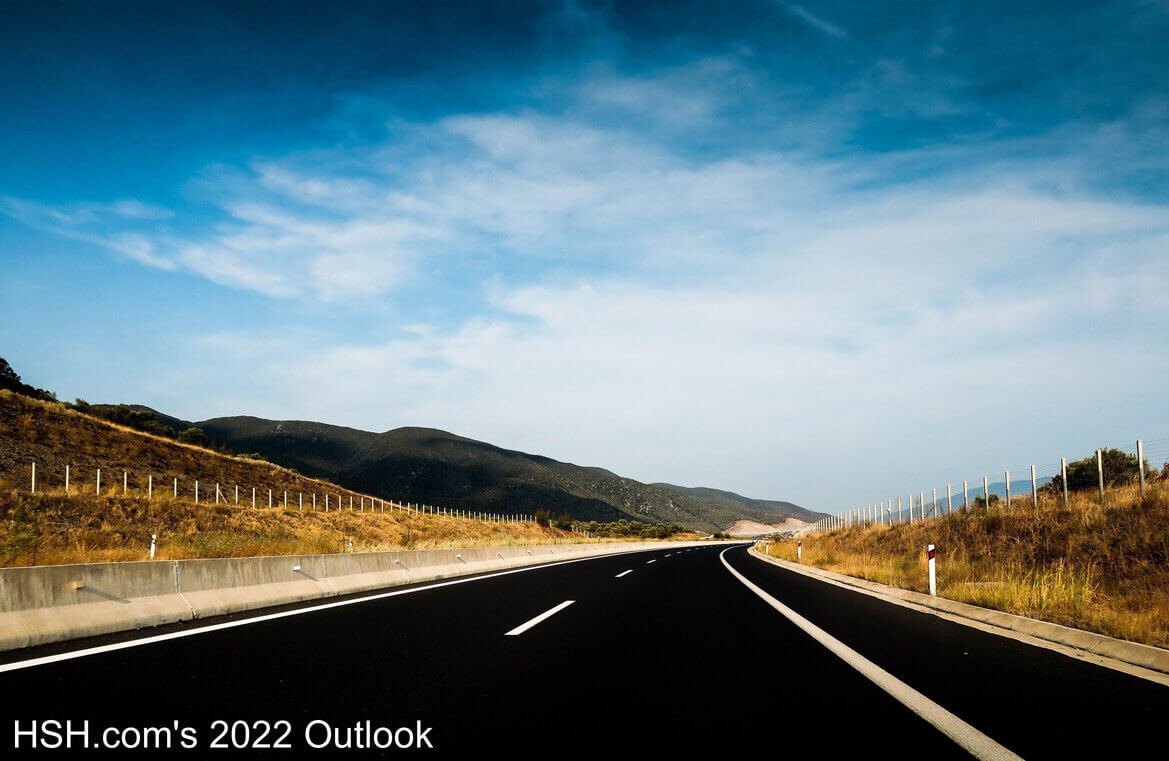 Mortgage rate outlook
The conditions that helped promote record low mortgage rates in 2021 will continue to fade in the rear-view mirror in 2022. In '21, we started the year at a historically low level, with the conforming 30-year fixed-rate touching the lowest in Freddie Mac's 50-year survey history. That bottom was created from the intersection of rock-bottom policy rates and extraordinary bond-buying by the Federal Reserve, a second wave of COVID-19 that distorted economic activity around the globe (and threatened more hard closures of activity) and core Personal Consumption Expenditure (PCE) inflation that was barely registering at an annual 1.4% rate.
Twelve months later, and looking forward, the picture has changed considerably.
The Fed has already begun paring back purchases of Treasuries and Mortgage-Backed Securities and will accelerate this process as we move into early 2022. While this alone won't be responsible for an any significant increase in mortgage rates, it will be a contributing factor to any rise and account for a portion of it. This is also true for more traditional monetary policy changes, as the Fed will begin to lift rates from the emergency levels they've been pegged at since late March 2020.
In terms of the second factor, there remains plenty of uncertainty with regard to the twists and turns of COVID-19 and its effects on the economy and inflation in 2022. However, rising rates of vaccination and new therapies will likely blunt the economic and health effects of new outbreaks, limiting the damage. As well, it's also reasonable to say that in many ways, human activity continues to adapt around the disease, lessening disruption.
The component that threatens to contribute to the largest portion of any increase in interest rates (and mortgage rates) is that core PCE inflation is no longer benign; at 4.1% it has recently reached to a 31-year high (and other inflation measures are at multi-decade highs, too). The general message from the Fed is that these price pressures will start to fade over time, but the unanswered question is "when?". If inflation doesn't soon start to show signs of retreating, investors probably won't continue to be interested in snapping up bonds at whose low yields mean they will gain safety but lose money in real, after inflation terms.
That's not to say that we expect mortgage rates to skyrocket; we don't. That said, the strength of the tethers that have kept them closer to historic lows is weakening. For 2022 planning purposes we think the odds are good that (provided COVID doesn't significantly distort things again) conforming 30-year fixed-rate mortgages will rise during the year, peaking at perhaps 3.65% or so at some point, probably before the Fed lifts rates a second (or third) time.
Mid-year review:
Our expectation for mortgage rates in 2022 has turned out to be way off, but at least we have a lot of company in that regard. Inflation not only has not shown any signs of retreating, it has actually worsened in the first six months of 2022, and 30-year fixed mortgage rates just about doubled from where they ended last year. As it turned out, the winter surge of COVID didn't do much economic damage in most places, but the lockdowns across China from Omicron outbreaks has only worsened the inflation picture, pressuring rates higher still, as have the effects of Russia's invasion of Ukraine.
The Fed has not only lifted rates multiple times since March, but also in increasing increments and has already begun trimming holdings of Treasuries and MBS, something that wasn't expected when we wrote this Outlook last December. At that time, we were obviously over-optimistic about the trend for inflation and the bond market's reaction to it, expected a more measured response to inflation by the Fed backed on recent-past experience and had no inkling that military conflict and global sanctions might come.
Still, a miss is a miss, regardless of reasons... and we missed.
The Fed / Monetary Policy
As noted above, the Fed has already begun tapering purchases of Treasuries and Mortgage-Backed Securities, and at least in November and early December there has been little to no effect on mortgage rates. Although the central bank is accumulating assets at a slower pace, it is still increasing its holdings. Importantly, it is also reinvesting inbound proceeds from these investments, buying more Treasuries and MBS as old bonds are paid off, and those purchases will remain considerable. If the Fed follows its playbook from the last time it ended a QE-style program, such reinvestment will run for some time after it has stopped increasing its holdings, adding liquidity to markets and helping keep some downward pressure on interest rates.
In order to address significant inflation concerns, the Fed in mid-December accelerated its "taper" of bond buys, moving to reduce Treasury purchases by $20 billion in January (to $40B) and MBS to $10 billion (to $20B). A similar reduction is expected in February and should this cadence hold, the bond-buying program will conclude by March. The Fed has also left itself room to shorten or lengthen this timeline.
The central bank has made it fairly plain that it prefers to have halted its bond buying program before the first increase in the federal funds rate (aka "liftoff"). The timing of liftoff has been steadily advancing, and expectations are that the Fed will make its first move in mid-late spring or early summer, and will probably follow that up with an increase in September -- and possibly December, too. While we're pretty certain that two increases will come, the third is a bit more difficult to reckon yet. The the timing of any third move will largely depend on whether or not inflation is starting to settle (or is settling) and also provided that at least some progress toward the Fed's goal of full employment continues. Some metrics suggest that there isn't much more of a gap yet to fill to achieve full employment, but other measures still show a way to go to return to the kind of labor markets achieved toward the end of the record-long expansion, one ended only by the pandemic.
Unlike 2021, we think job growth will slow to more incremental but positive gains next year, while inflation shows some signs of cooling as the year grows old. That will probably stave off a third increase into 2023, but there remains a possibility that a December 2022 hike could come.
There's one other Fed item to keep in mind, at least from a longer-range perspective. The Fed raising rates will tend to cool future economic growth, and slower growth generally presages lower long-term interest rates. How the market perceives the Fed's actual and expected actions may help keep a lid on increases for longer-dated interest rates (including mortgages) even as short-term rates are increased. The yield curve -- the difference between short and long-term interest rates -- may further flatten as a result, and a flatter yield curve is said to presage slower economic growth.
Mid-year review:
A shift from relatively sanguine to near-panic mode for Fed policy came swiftly in the early part of the year. We expected perhaps three small increases in the federal funds rate for 2022; three have already come, totaling double what we anticipated so far, and the Fed has penciled in another 150-175 basis points in increases over the last half of the year.
This is all in response to an inflation spike that has lifted annual price increases to 40-year highs. The Fed has not only lifted rates forcefully and in rapid succession so far, it has also already begun the process of reducing its bond holdings, trimming $17.5 billion in MBS and $30 billion in Treasury from its portfolio in June. Similar reductions will come in July and August, and then these figures will double. To reach desired levels of reduction, the Fed will likely need to consider conducting outright sales of MBS later this year, something that could continue to pressure mortgage rates.
Job growth has begun to cool, averaging 408,000 new hires per month over the three months ended in May, down from three-month averages of the high 500s and low 600s to start the year. More cooling in hiring is likely coming, and is something the Fed is now actively looking to see. Inflation pressures have not yet shown any signs of easing, and perhaps leveling off over the next six months is the best we can hope for at this point.
Based on what they have had to say so far in 2022, aggressive Fed policy will continue until there is a meaningful downturn in core inflation and inflation expectations level off. This has raised concerns among investors about the increased potential for a recession, and odds of an economic downturn appear to be growing.
Mortgage Regulations
The mortgage market is functioning pretty well, and still operating within the framework of the Dodd-Frank laws passed in the wake of the financial crisis. The suggests that there may not be a whole lot of changes on the mortgage regulation front in 2022. That said, come October the formal definition of what can be a Qualified Mortgage will be changing from one requiring the use of a maximum 43% debt-to-income (DTI) ratio to one that uses an Average Prime Offer Rate (APOR) threshold. This technical change (and the expiry of the so-called "QM Patch" for Fannie and Freddie to buy QM loans even with higher DTIs) should not have all that much impact on credit availability, and some borrowers with great financials but higher debt levels may even see improved access to credit.
One area of regulation that may bring more scrutiny is how mortgage servicers worked with borrowers requesting assistance and forbearance help during the pandemic. Regulation X's mortgage servicing rules were temporarily amended when the pandemic broke out, but the greater flexibility afforded to lenders and servicers came to an end in November 2021. A joint release on November 10, 2021 from regulators noted "The temporary supervisory and enforcement flexibility announced in the April 2020 Joint Statement no longer applies and the agencies will apply their respective supervisory and enforcement authorities, where appropriate, to address any noncompliance or violations of the Regulation X mortgage servicing rules that occur after the date of issuance of this statement."
Mid-year review:
There hasn't been much by was of activity on the regulatory side of things so far in 2022, the QM changes don't happen until October and we've not heard of any enforcement concerns regarding mortgage forbearance. The Mortgage Bankers Association pegged the number of borrowers in such repayment plans to be just 425,000 in the week of June 21, just 0.85% of loans in servicer portfolios.
Fannie/Freddie/FHFA/FHA
First, let's get it out of the way. Even after more than 13 years of being the wards of the government, there is little likelihood that Fannie Mae and Freddie Mac will be re-released as private companies anytime soon, or even significantly reformed.
That's both good and bad new. The mortgage market has functioned well in times of stress because the GSEs are still in place and continue to operate in the same manner as they have for years, and this continuity and reliability is important for proper market functioning. The bad news is that they are so large and dominant that "private" mortgage lending has been crushed down to almost a niche in the market, and this can stifle innovation and limit access to credit for lesser-served groups. As well, new conforming loan limits cover mortgages up to almost $1 million in high-cost areas, leaving little space for even private-market jumbo mortgages in which to operate.
One issue with having such large entities is that they dictate terms and conditions in the market to a great degree. Despite years of profits (almost all being "swept" back to the Treasury) and less-than-feared risk of losses tied to pandemic forbearance, risk-based Loan Level Pricing Adjustments are still keeping the cost of credit somewhat higher than it would otherwise be. The best quality borrowers might only see marginal increases in their costs, but for those further down the credit scale these LLPAs can add as much as 1-2 percentage points to their interest rate, making mortgages less affordable.
In the waning months of 2021, there has been some speculation that the new head of the FHFA (Fannie and Freddie's regulator) might look to make some changes to LLPAs in order to help make mortgages more affordable at the margin. In 2021, a 0.5% "adverse market refinance fee" imposed during the pandemic was discontinued, and since economic conditions remain solid (and losses related to mortgages remain low) there's a chance that we'll see tweaks to LLPAs in 2022. We wouldn't expect major reductions, but even small reductions can add up to big dollars (or less pronounced increases in final rates quoted to borrowers).
Similar pressure is starting to show over on the government-backed side of the market, too. In 2021, at least some calls to lower FHA's Mortgage Insurance Premiums have surfaced from industry participants. FHA last changed its insurance costs in mid-2015, lowering up-front and annual costs by 0.5% to present levels. Premiums have been held at these levels as the FHA's insurance fund was undercapitalized due to losses from bust-era forward mortgages and on-going losses from its Home Equity Conversion Mortgage program.
The MMIF was technically nearly insolvent back in 2013 -- it had a negative capitalization ratio of -0.13% as the worst of the housing bust worked its way through the system. By 2018, the MMIF exceeded required ratios, rising to 2.76% and has only strengthened from there. For 2021, the insurance fund posted a 8.03% capitalization (four times the required level) as rising home values pushed the HECM program into the black for the first time since 2015. As well, premium collections for forward mortgages remain high as FHA mortgage insurance can't be canceled in most cases. FHA noted that there are still some 660,000 pandemic-related delinquencies yet to be sorted out that could still cause increased losses and provided no indication that any changes in costs for borrowers were imminent.
We think there's a good chance that both LLPAs and annual MIPs will be trimmed slightly in 2021. Risks of making and managing mortgage loans have diminished and pressures to help make homebuying more affordable seem only likely to increase as we go.
Mid-year review:
There have been no reductions to either LLPAs or FHA's MIP costs so far in 2022; in fact, LLPAs were actually increased for high-balance loans (agency jumbo) and for mortgages for second homes. These increases did not apply to first time homebuyers in high cost areas with incomes at or below 100 percent of area median income, but there probably aren't very many of those, given that borrowers likely need an income in excess of the AMI to be able to qualify for a mortgage larger than the standard conforming limit.
The pressure on HUD to trim FHA's mortgage insurance premiums continues. The Community Home Lenders Association sent a letter signed by 41 mortgage lenders to FHA urging a cut in costs. There has been some speculation that Julia Gordon, the new head of FHA, might be supportive of cutting premiums or removing the life-of-loan provision for MIP payments or other similar changes. Early in the year, it was suggested that FHA would consider the issue after the first quarter came to a close; now three months past that time, no indication of impending change has come as the FHA is yet dealing with plenty of potential losses. Through February 2022, there were still some 474,000 loans in pandemic-related forbearance arrangements, a marked improvement from late last year, but even with that improvement, the Mortgage Bankers Association reported that overall FHA delinquency rate was 9.58%. While this was the lowest level since the fourth quarter of 2019, it's still high enough as to make a cut in the fees that fund the MMIF an iffy proposition.
Regardless, given the sharp run-up in mortgage rates and home prices, any slight reduction in MIP premiums or LLPA wouldn't have much beneficial effect on homebuyers, since their overall impact on the cost of the transaction or monthly mortgage carry costs are slight. Automatic termination of MI premiums seems more likely, which would help the FHA pool to retain mortgages with improving or low risk profiles (at least from an LTV standpoint). Eliminating this provision would help existing FHA homeowners and would be a way to score some positive press in a mid-term election year.
Underwater conclusion?
This is likely the last outlook that will include a section covering the trends in underwater mortgages. By our own analysis from FHFA data, we reckoned that the last of the top 100 metro markets we're tracked in our Home Price Recovery Index hit the finish line in the second quarter of 2021. The Bakersfield, CA metro was the final market to achieve full recovery of home values lost in the housing bust, a process that took nearly 15 years to complete.
That said, our analysis looks only at the aggregate for an entire market; certainly, within a market could be properties that haven't fully recovered for any number of reasons. As well there are many smaller metro areas outside of the top 100 we track (and plenty of homes that aren't part of any metro areas at all) where home value increases may not have been as favorable in recent years. Attom Data reported that 3.4 percent of mortgaged homes were considered seriously underwater in the third quarter of 2021, down from 6 percent in the same period in 2020, a considerable improvement. Their report noted that "Nine of the 10 states with the highest shares of mortgages that were seriously underwater in the third quarter of 2021 were in the South and Midwest, so some areas are still lagging in terms of home value recovery.
HSH's new Home Value Tracker covers 400 of the nation's housing markets, so you can see what's happening to values in markets both large and small.
Reviewing a different set of research, the "negative equity" situation seems even less bedeviling for homeowners. CoreLogic reported that for the third quarter of 2021, their measure of underwater homes fell to a 12-year low of 2.1% (1.2 million homes), down from 1.6 million (some 3% of all mortgaged properties) in the third quarter of 2020. That's a 25% improvement in just a years' time.
Although leaping home prices are of course a concern for potential homebuyers, they are a boon to homeowners, especially those with equity holes to fill. As property prices continue to rise in most areas, more underwater conditions will likely be cured for homeowners. While we're not exactly certain what a "normal" level of underwater properties might actually be, the situation is likely to improve somewhat more in 2022, but that may be about as good as it can get.
Mid-year review:
Broadly, soaring home prices continue to help improve the issue of mortgage amounts in excess of the value of homes. Corelogic reported that in the first quarter of 2022, the total number of homes with negative equity was still 1.1 million, or 2% of all mortgaged properties. Newer data isn't yet available, but the decline is likely to continue as long as home prices continue to increase. As well, Attom Data's review of seriously underwater homeowners saw continuing reduction, too, with now just 3.2 percent of mortgaged homes, or one in 31, considered seriously underwater in the first quarter of 2022 (newer data also not yet available).
These underwater homes also tend to be geographically concentrated. Attom Data notes that 25% of seriously underwater mortgages are in just 42 zip codes, and that 90 percent of seriously underwater properties were in southern and midwestern states, including places such as Louisiana, Mississippi and Illinois. Devalued or depressed property prices are often the result of locally-poor economic conditions, such as the closure of a major employer in the area or a loss of population, so re-lifting home values may require a greater level of economic revitalization in these areas, although the steady repayment of outstanding loans will also help properties to move out of a negative equity situation, too.
Home Equity / Cash-out refinancing
Surging home prices in recent years but especially in 2021 have left many homeowners with deep equity stakes. CoreLogic reckons that homeowners with mortgages gained 31.1% in fresh equity in the third quarter of 2021 compared with the same period in 2020. At the end of the third quarter of 2021, Black Knight estimates that homeowners have some $9.4 trillion in so-called "tappable equity", where they could draw cash out of their property but still not be leveraged above an 80% loan-to-value ratio.
Homeowners are drawing equity our of their properties, too, but primarily by the use of cash-out refinancing. Black Knight reckons that 54% of all refinancings in the third quarter included homeowners extracting cash, the highest share in about 14 years -- since 2007. But while the percentages may be high, the dollar amounts really aren't -- about $70 billion drawn in the third quarter by this method, or less than 1 percent of equity available. The dollars extracted are rising, though, from an estimated $49.6 billion in the first quarter of 2021 to $63.1 billion in the second quarter and up again in the latest period.
With interest rates for first mortgages still well below those for traditional home equity lines of credit (usually Prime + 2 percentage points or so - 5.25% today) or for fixed-rate home equity loans (higher still, if available) it stands to reason that a cash-out refinance makes sense if drawing equity is the goal.
By available data, homeowner equity borrowing using traditional home equity products has been on the decline since late in the Great Recession. Early on in the period, home values had plummeted, leaving many borrowers underwater or with no equity to borrow at best. Lenders shut off or curtailed access to existing lines of credit; stung by losses, many exited the home equity lending arena altogether. Borrowers have mostly been retiring outstanding balances since.
As we look forward into 2022, we don't expect to see a huge change in these trends. If anything, cash-out refinancing will actually likely continue to accelerate somewhat. Even if mortgage rates should firm, they will still remain well below those for other forms of borrowing, and as interest rates on HELOCs are directly affected by what the Fed does with the federal funds rate, rates for HELOCs will be on the rise, too.
That said, at some point it won't be worth it for borrowers to reset their first mortgages at a higher rate than they currently have in order to draw what may be only a relatively small bit of cash. At that time, a HELOC will start to make more sense. For 2022, we think there will be a continued uptrend in cash-out refinancing; in terms of dollars, probably about 15-20% more than was seen this year. Borrowing on Home Equity Lines of Credit will likely continue to trend downward, but at a slower pace, and may actually see some renewed interest among both borrowers and lenders before the year is complete.
Mid-year review:
So far in 2022, cash-out refinancing has been a tale of two markets. While home values have continued to increase quickly, enhancing equity stakes, continually-rising interest rates for fixed-rate mortgages quickly eroded opportunities for homeowners to extract equity from homes via cash-out refinances. With most existing first mortgages holding interest rates below 4% (and many in the lower threes and even twos) homeowners have found that it's not cost-effective to refinance hundreds of thousands of dollars to a higher interest rate just to get access to a few (or even tens of) thousands of dollars -- even if someone can actually qualify to borrow them. As such, cash-out refi activity has come to a virtual standstill.
The mortgage analytics firm Black Knight estimates that homeowners have a record $11 trillion in tappable equity, about $207,000 per borrower. But high interest rates limit access to it, at least via a cash-out refinance.
At given income, a higher interest rate will reduce the amount of mortgage that can be carried. An $80,000 income might be able to carry a loan of $296,000 with an interest rate of 3%, but at 6%, that same income is only allowed to handle a loan of $244,692. Home values that have appreciated by double digits over the last couple of years have created equity -- but borrowers may not technically even be able to qualify for the original loans they borrowed at this point, let alone larger ones.
As an example, a homeowner who purchased a home two years ago with an $80,000 income using a 20% downpayment and with a 3% mortgage rate would have been able to buy a house of about $371,000, qualifying for a $296,000 loan. Since then, home values have increased by perhaps 25% (if not more), so the value of the home might now be $464,000 lifting this homeowner's tappable equity stake (borrowing up to 80% of the value of the property) to almost $80,000, which would produce a new loan at 80% LTV of about $371,000. However, even if their income rose by 10% since they bought their home, even that increase would still only allow them to qualify for a loan of about $266,000 -- about $30,000 less than the first mortgage they are now carrying.
Is it any wonder why cash-out refinancing has dried up as quickly as it has?
Borrowing home equity, then, is no longer a replace-your-first-mortgage-and-get-cash arrangement, and traditional home equity lending is starting to again step into the fray. Given current conditions, it's easier to borrow thousands (or tens of thousands) of dollars if needed via a HELOC, exposing only drawn amounts to today's higher interest rates. As a result, it would appear that a shift to second-lien borrowing is getting underway, as the Federal Reserve's figures show that the 12+ year decline in outstanding home equity balances held at commercial banks has leveled off. Since the housing bust, many large banks who suffered sizable losses in the housing market downturn haven't been aggressively pursuing home equity borrowers and have been letting their holdings generally run off over time (busts of refinancing that paid off existing loans and lines contributed to this trend). However, Fed data shows that smaller commercial banks and credit unions have seen an uptick in home equity originations and balances that began late last summer, and where larger banks haven't been active participants in this arena, smaller operations have been.
With home prices still rising and long-term mortgage rates not highly likely to decline to levels that would better support cash-out refinance, home equity originations will likely continue to add momentum yet this year.
Reverse Mortgages
Home Equity Conversion Mortgages continue to provide important financial supports for homeowners over 62 years of age. In 2021, a favorable combination of quickly rising home prices and record low mortgage rates boosted originations of HECMs by about 18% over 2020 levels. About 47% of HECM transactions were refinances -- that is, replacing an existing HECM with a new HECM, as higher home values and rising loan limits made more funds available to senior homeowners.
Last year's limit of $822,375 has been improved upon for 2022, rising to $970,800, so even homeowners in high-cost areas may be able to take advantage of an HECM to recast their finances as their enter or support their retirement years. The ability to pay off one's mortgage and have a pool of available equity to tap as needed may be part of the reason that the number of retirees rose more than expected during the pandemic. Rising stock markets and more available equity to use as support can be powerful influences when considering retiring or continuing to work.
As noted earlier on, the Mutual Mortgage Insurance Fund (MMIF) that backs lenders who make these loans has become increasingly solvent. This is nearly solely due to home value increases affecting losses in the HECM portion of the FHA's insurance pool; higher home value means a greater level of loss recovery when the last HECM borrower exits the home and the property is sold or the HECM repaid. In its annual report, HUD noted the "positive financial performance of the HECM portfolio for the first time since 2015" as a contributing factor in its high capitalization ratio.
The favorable trend for HECMs over the last few years seems firmly in place. Home values are expected to continue to rise in 2022 (albeit at a lesser pace) so we expect to see more HECMs originated and more refinancing of existing, older HECMs. We expected 20% growth in 2021 and got 18%; HUD's fiscal years runs from Nov-Oct, and over the next 12-month period, we expect to see another 15% or so increase in HECM originations to perhaps 57,000 for the HUD fiscal year.
Mid-year review:
Originations of HECMs are running stronger than we expected so far in 2022, powered by a sizable number of refinancings of older HECMs. Such refinancings can capture new, higher home values, expanding or enhancing the borrowing capability of homeowners, and ofttimes at lower interest rates, too. Of course, like other market-based interest rates those for HECMs have been rising, too.
From last November to this May, over 39,500 HECMs have been originated, according to HUD; over that time, the average monthly run rate for originations is 5,666 . If this should hold until October (HUD's fiscal year), the 2021-2022 total would be nearly 68,000 HECMs made, which would be a 41% increase over the 2020-2021 period. a gain that would far exceed our forecast.
That said, higher market interest rates may take some toll on activity, but perhaps not much. After all, no payments are required to be made on HECMs, so the interest rate being charged carries no direct impact to the borrower. As such, senior homeowners may still continue to refinance older HECMs as the year progresses, while new traditional HECM originations will likely continue to be strong as baby boomers retire, look to pay off their existing mortgages and free up cash flow. That said, an expected leveling of home price increases could serve to temper some demand later this year.
Home prices
Last year, our expectation for existing home prices of a solid annual gain was blown away by a running string of double digit increases, and we well undershot the mark. Severely limited supply, strong demographic tailwinds and COVID-infused demand were all contributing factors that led to outsized price gains so far for the year (there are still two months of data for 2021 yet to be revealed).
Some of the same factors that drove huge increases this year remain in place, but probably don't have the same strength behind them for 2022. Yes, demographics are still favorable, so that's on the plus side, and having been lean now for years, the supply issue has shown no signs of getting any better and should also contribute to firmness in prices in 2022.
That said, there are some tempering forces to consider, too; with existing home prices near or at record high levels, affordability is increasingly a concern, and mortgage rates running higher in 2022 than '21 will exacerbate the problem. This may trim some demand at the margins and keep home prices from rising as quickly in 2022. It's also certainly possible that some of the significant demand in 2021 was "advanced" from 2022 or from even further into the future -- that is, folks making extraordinary moves to get a house in 2021 rather than wait.
For existing home prices, it is likely we'll step down from the '21 extraordinary percentage gains, and existing home price increases will probably settle back in to the single digits, albeit high ones. Call it perhaps a 7%-8% increase for the year as a whole.
Costs for new homes are strikingly higher this year than last, too. However, these increases aren't specifically supply and demand led; in fact, there is a fairly normal level of inventory available to buy, and stockpiles of unsold newly constructed homes are at 13-year highs. What's driven the cost of new housing higher are rising input costs for materials, and for labor, both of which have been severely impacted by the pandemic's effects. But in some ways, these issues are starting to retreat; spiking lumber costs have retreated, the import logjam is said to be starting to loosen and labor challenges may be starting to ease a bit. These should likely improve somewhat more in 2022, and this would tend to help throttle rising costs to a greater degree.
For new home prices, a 6% increase seems most likely; even as it may become easier to source materials for building homes, input costs for them will likely remain on the uptrend.
Mid-year review:
Home price gains have yet to show meaningful signs of cooling, but they may have begun to at least flatten out. For existing homes, rather than the 16% year-over-year increase in median home prices tallied in December, the May 21-May 22 comparison shows a 14.8% increase and a new nominal record price of $407,000. So the rate of increase is somewhat less that it was, but the dollar amount base on which the change is occurring is greater, making this year's homes far pricier than last year.
Significantly higher monthly carry costs are starting to dampen home purchases somewhat, but there still remains for now more demand than supply of homes, and that should be expected to keep upward (although lessening) pressure on prices for the remainder of 2022. Inventories of these now-more-expensive homes are starting to increase; the National Association of Realtors reported that there were 1.16 million total residential units for sale at the end of May, up 12.6% from April, although still below year-ago levels. While still ultra-tight, the 2.6 months of supply at the May rate of sale was the highest since August 2021, and has been gradually improving since a January nadir of 1.6 months available.
With almost half the sales year gone as we write this, it no longer appears that price increases for existing homes will mellow as much as we suspected in December. They may hold double-digit increases through the summer before tripping into the single digits toward the end of the year, but will likely realize a double-digit increase for the 2022 as a whole compared to 2021.
New home prices have been on a similar tear, but for different reasons. There is currently plenty of supply of newly-constructed homes but not nearly as much commensurate demand. Prices here are being pushed by increasing costs for building materials, land, labor, transportation and spiking costs for imported goods.
Inventory levels of unsold homes have risen steadily this year and now stand at 7.7 months of supply at the present rate of sale, a figure rather above levels considered to be optimal. While of course well above year-ago levels, the median price of a newly constructed home sold in May was actually 1.7% less than in April, and it may be that builders will need to trim prices a bit to help move inventory as high costs further sap strength from the new home market. Housing starts remain fairly high but have begun to slow, as have permits for future activity, but there is likely plenty of inventory in the pipeline yet to come into a market that has begun to soften.
On a May 22-May 21 comparison basis, the increase in the median price of a newly-constructed home sold was 15.1%; when we wrote this outlook in December, the comparable November-November comparison was 28%. However, since we wrote this Outlook, the rate of increase has slowed a bit, with the increase in price between November 2021 and May 2022 just 4.2%.
If we end 2022 with the 6% increase in price we forecast, this would mean that the media price of a new home sold come November (data out in December) would have risen from $430,300 to $456,118 -- or just a slight bit above April's (so far) peak for new home prices. We may see a slight bit more of an increase than that, but there's a good chance that the rest of 2022 sees prices of new homes flatten out from here.
Existing home sales
Plenty of demand for homes remains, while sufficient supply to meet that demand remains elusive. Costs of homes available to buy much higher than they have ever been. Financing costs that are less supportive. This doesn't sound much like a recipe for rising home sales next year, and you can't buy what's not for sale.
The existing home market in 2022 will continue to suffer from the same issues it had in '21, chiefly, few desirable houses to buy at affordable prices. Although we do expect the supply issue to improve somewhat, that's arguably more likely to happen later in the year and probably not in time for the traditional spring homebuying season. Even then, pickings will remain slim; even if homes for sale should rise to 4 months of supply -- which would be the highest level since September 2019 (excluding the two-month pandemic flare in April an May 2020) -- it would still be a level less than the six months considered optimal. In fact, we've not even seen 5 months of supply in over 5 years -- and the last time there were six months of stock for sale at the then-present sales pace was way back in 2014, when the housing market was still recovering from the excesses of the previous boom.
So available houses to purchase will remain scarce, probably not getting much above three months of supply or so at a given rate of sale next year. Still, that would be the bulkiest inventory since August 2020. Thin inventories of homes on the market will continue to temper sales growth.
Also tempering sales growth will be still-higher prices for houses that do come on the market. As noted above, we think that we'll see a return to only single-digit price increases in 2022, but high single digits are enough to create greater affordability issues for borrowers on the fringes of the market. Combining higher housing costs with the somewhat higher mortgage rates we expect to see next year, and the affordability challenge becomes even greater.
By way of reference, in the third quarter of 2020, and with a 20% downpayment, a homebuyer needed an income of $60,755 to purchase the national median-priced home of $313,400. To buy the median-priced home of $363,700 in 3Q21, a potential homebuyer would need an income of $68,005 -- almost 12% more, and that even with mortgage rates that were lower in '21 than in '20. For a borrower with only 10% to put down, the figure rises to over $79,000 in annual income.
Affording the monthly payment for a home is one thing; amassing even a minimal downpayment is another, as potential borrowers are chasing an ever-moving target. Using the above examples from the third quarter, a 20% downpayment in 2020 would require $62,680 in savings; the same for 2021 would require $72,740 -- so a potential borrower would have needed to save an additional $200 per week this year just to keep pace.
The need for higher incomes and stronger cash positions to get into a home in 2022 -- plus increased monthly payments from higher mortgage rates -- seem as though they will discourage some borrowers and make owning a home less possible for others. With these conditions as a backdrop, we don't expect to see any increase in existing home sales, and they are likely to close 2022 at about a 6 million annual rate, down slightly from 2021's levels.
Mid-year review:
Sales of existing homes have tailed off this year due to rising mortgage rates, still rising prices and limited inventory of homes to buy. When we wrote this outlook in December, existing home sales were running at an annualized rate of 6.33 million; in May, this had diminished to a 5.41 million rate, a 14.5% decline over the last six months, and 6.4% below year-ago levels. So things are cooling, but the strong start to 2022 means the current average for the year would be about 5.84 million, so a little off our forecast pace.
That said, while mortgage rates are expected to remain high and existing home prices show only a bit of softening, the number of homes for sale has begun to improve. As noted above, the National Association of Realtors reported that there were 1.16 million total residential units for sale at the end of May, up 12.6% from April, and additional inventory that is coming onto the market is still finding considerable demand. The average time a new listing remains on the market was just 16 days, so even with housing conditions deteriorated to a very real degree there remains plenty of unmet demand, at least for now.
The NAR's Pending Home Sales Index was in a six-month skid through April. but managed a modest increase in May, suggesting that home sales may pick up a little bit from the spring's lackluster pace. If mortgage rates should manage to stop rising and perhaps even retreat a bit, this would likely help lift the level of sales closer to the 6 million mark we expected, but it seems more likely that the combination of adverse conditions potential homebuyers are seeing will continue to put a damper on home sales for the remainder of 2022 and we'll fall short of that mark.
Wondering how much home your income and debts will allow you to buy? HSH's Home Affordability Calculator can help you get a handle on your home purchasing power.
New home sales
Expectations have been that a strengthening new construction market would provide some pressure relief for the existing home market. That really hasn't turned out to be the case, at least so far, and while optimism among builders remains high, sales of new homes mostly tread water for much of 2021.
Pandemic-related supply issues for materials and labor helped constrain activity in 2021, but those headwinds will likely lessen in 2022. As we write this, housing starts have started to perk up again, and indicators from NAHB surveys suggest increasing demand and interest from potential new construction homebuyers. Unlike the existing home market, there already is a greater than six-month supply at the present rate of sale, and has been now for the last five months.
Part of what happens to demand for new housing in 2022 will depend on whether or not COVID outbreaks lengthen the time that workers continue to work remotely. Plans to return employees to central offices have faltered amid surges in infections, and it may turn out that the longer employees work from home the more resistant they will be to returning to the into-the-office routine, at least on a daily basis. With less commuting hassle possible, some homebuyers will eschew the convenience of an existing home close to the workplace, and choose instead new construction, which mostly takes place in areas more distant from center cities or at the fringes of major metropolitan areas.
Of course, the median cost of a newly constructed home is usually higher for do existing ones, but the gap at the moment isn't all the severe, as the differential as we write this is about $41,000 -- and this gap tends to wax and wane. For example, in June 2021, the difference was about half this level.
Still, higher costs, longer commutes when needed and potentially a greater distance from various amenities isn't for everyone and certainly not in every market. If the present sales trend holds, 2021 should see around 780,000 new houses sold give or take a little, and we think there's a good chance for an 8% to 10% improvement on this level for 2022, so new home sales may rise to about 850,000 units or thereabouts in 2022. That's roughly the level we expected to see in 2021, but sales softened after a hot start to the year and this level was never achieved.
Mid-year review:
Census reports that new home sales ran an annualized rate of 696,000 in May; this was about 6% below the same period in May 2021. As with existing housing markets, conditions in the new home market turned south rather considerably and quickly this year, but still remain modestly favorable. After a steady month-to-month decline from January to April, sales of new homes perked back up in May compared to those earlier months of 2022, but this may be due to a trimming of sale prices by builders rather than a sudden spurt in demand.
Changing conditions have sapped builder enthusiasm to a real degree. The National Association of Home Builders Housing Market Index closed 2021 with a value of 84, below the all-time high set in December 2020 but still among the highest in the history of the series, which dates to 1985. By May, this figure was trimmed all the way back to 67, still a very high value, a decline of about 20% since the turn of the year. The measure of sales of single-family homes dropped off by 28%, and foot traffic at model homes and showrooms tumbled by 32% over that time. If not for the pandemic "hard shutdown" of activity in Mar-May 2020, this would be the lowest reading of traffic in about three years.
Sales of new homes may perk up a bit if mortgage rates can settle somewhat, but high prices and the rapid escalation in mortgage carry costs this year make it unlikely that we'll see an increase in sales of new homes. At the moment, it appears that it may be a challenge to hold onto last year's final tally of about 771,000 new homes sold.
Additional thoughts
It's difficult to consider that the pandemic will turn two years old in the first quarter of 2022. Folks around the world suffered from the effects of the first outbreak of COVID-19 in 2020 -- physically, economically and emotionally -- and then endure a second onslaught of disease in 2021. Millions have been vaccinated, lessening the chances of becoming severely ill, while millions more have become ill from one strain of the virus or another. Currently, a third significant strain seems upon us; there's no way yet to know how it will affect all of us in 2022, and there may yet be new emergences of the disease.
One thing is becoming clear: We're all going to have to learn to live with the virus floating around, as the COVID pandemic becomes the COVID endemic. It is hoped that as more folks develop resistance to the virus and more become vaccinated that each subsequent outbreak will be less severe than the last, but there is simply no way to know if this will be the case. In mid-December, case levels of COVID are on the rise again, and approaching levels seen last December when literally no one was vaccinated, or at the beginnings of the Delta surge last summer, when millions has received inoculations already. Here's hoping that increased caution, vaccination and spread prevention keep a lid on the already-in-place holiday outbreak... and keeping in mind that this is largely happening before the Omicron variant has really established itself. Perhaps we'll see the emergence of even more effective vaccines and new therapies for 2022. It looks as though they will be needed.
The blowout federal spending blitz of 2021 at a time when interest rates were at rock-bottom and supply chains compromised has produced inflation not seen in decades. Later in the year, another $1 trillion infrastructure package was signed in to law, and while it's hard to argue that some portions of the package have merit, it's a fair criticism that it may simply add more fuel to the inflation fire, something another $2 trillion in Build Back Better funds seem only likely to worsen, should they come. The Fed at least can start to pull the reins on their end, but once new fiscal funds are loosed into the economy it's too late to pull them back.
The global geopolitical picture also isn't exactly confidence inspiring, either. Tensions between the U.S. and Russia, China, Iran and other nations aren't much improving, and if anything are growing more concerning. Our allies have likely been disheartened by our actions this year, and our foes emboldened, as issues at the U.S. border, in our abrupt withdrawal from Afghanistan and in our fractious political bodies providing most unseemly spectacles of leadership at times.
As always, and despite known and yet-unknown challenges, we hope for the best in the coming year. Here's to a healthy, prosperous and peaceful 2022.
Mid-year review:
A wave of the Omicron variant hit hard in the early part of 2022, then faded quickly as spring approached. Currently, new sub-variants of Omicron seem to be gaining a bit of momentum, but it's too soon to know if these will become a disturbing force (or when). Mask mandates are largely gone, as are most social distancing requirements, but both remain in the playbook should things get out of hand again when the summer wends to a close. In 2021, the start of the school year was accompanied by an increase in cases, and that may be the case again this year, and cases (while low) are already elevated relative to last July. At least we aren't enduring periodic and significant lockdowns of activity, as China has at times so far this year. As well, something new to consider has emerged in 2022 so far... monkeypox, anyone?
Build Back Better is defunct, so more federal spending probably isn't on the way, and the economy has largely done fine without it. From an inflation standpoint, this is probably a good thing, since more spending and more demand for goods and services probably would be at odds with the slowdown the Fed is trying to engineer to rein in price pressures. Since December, inflation has gotten no better, and there are billions of dollars from prior fiscal stimulus packages yet to work their way through the systems.
In December, there was no way to know that Russia would invade Ukraine or that this would upend energy and grain markets, worsen inflation here and elsewhere and that there would have been such a strong response from nations across the globe in terms of sanctions, even when they are locally painful. The strengthening of NATO with new nations looking to join is a very unexpected wrinkle and it remains to be seen how this changes the situation. The global political climate remains a very messy, very challenging situation, and the changing climate can have unpredictable effects on everything from financial markets to military conflicts.
The best we can hope for is a improved vaccines to combat COVID (and other emerging diseases), a more rational and measured approach to fiscal policy, and peaceful solution to conflict. It's a lot to ask, but ask we must.
.