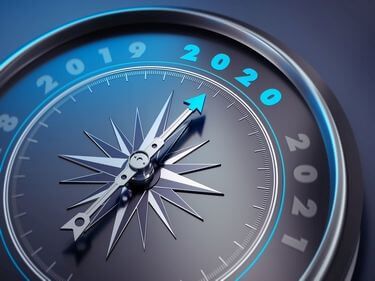 Mortgage rate outlook
Will 2021 be the year mortgage rates move up from their historic bottoms? There are some reasons to think this will be the case. Most important is that there is a good chance that the coronavirus will be beaten back, allowing for increasingly normal economic activity in economic sectors such as travel, lodging, entertainment, sports, restaurants and other portions of the economy still severely impacted. This should help lift growth, and rising growth often portends firmer interest rates. As well, the pandemic hard-stop effect on price pressures should also begin to wane, and firming inflation also tends to bring higher market-based rates irrespective of the stance of Federal Reserve policy. At the same time, we'll likely continue to see record levels of debt issuance by the Treasury, and there's now way to know if there will be sufficient investor demand to absorb the flow of bonds, and more supply than demand would pressure rates upward a bit. However, bond and MBS buying by the Fed should provide tempering for any upward pressure on rates, so the upside remains limited.
That's not to say that there's no downside potential for rates. Should the vaccine not prove as effective as testing suggests or other complications arise, or if the most challenged sectors cannot come back up to speed, a soft patch would likely form, and rates could settle a bit. Still, with mortgage rates already at or near historic lows, how much space could they realistically have to decline from here? The relationship the 10-year Treasury and the average offered rate for a conforming 30-year FRM has returned to normal; this "spread compression" has been the reason mortgage rates have declined this fall even as Treasury yields have moved up from pandemic lows. However, unless demand for mortgage credit wanes along with still-elevated risks of loss (millions are still in payment forbearance as we write this), it's not likely that spreads will shrink further, and that puts a floor on rates (unless Treasury yields suddenly and unexpectedly shrink. With more limited downside than still-tempered upside, we think that the average offered rate for a conforming 30-year FRM are reported by Freddie Mac will run between 2.52% on the low side and 3.44% on the top.
Mid-year review:
So far in 2021, mortgage rates are holding firmly to the middle of our expected range. The low water mark of 2.65% for the average conforming 30-year FRM was set at the very beginning of the year; the high of 3.18% came in the first week of April, and the rest of the time has been spend hanging around the 3% level. So far, a resurgent economy and sharp run-up in inflation hasn't spooked the bond market, but we'll see how things go after summer ends, the pandemic hiring gap has closed further and the Fed starts to lay out plans for tapering bond buying. As of now, our forecast for rates looks to be on point.
The Fed / Monetary Policy
The Fed took extraordinary measures to support the economy in 2020, including providing more implicit "forward guidance" with regard to when it might begin to again raise the short-term interest rates it controls. As was the case coming out of the Great Recession, the Fed does not want to surprise financial markets, and will likely use the same playbook as last time to gently tighten monetary policy when is becomes warranted, first by tapering new purchases of bonds while recycling inbound proceeds, then shifting the mix to favor Treasuries over MBS before pausing for a time and then finally lifting short-term rates. This cycle took years last time and will likely take years again, but the unusual nature of the recent recession and rebound -- hard stop, then perhaps an 80% recovery (and perhaps edging toward 100% in 2021) will likely mean this process will be accelerated.
If the economy begins to more fully reopen and normalize as the year progresses, we can see a case where bond buying is slowed in 2021, but at best this seems like a "later in the year" concept right now. While it's risky to use absolutes, the Fed will not be making changes to the federal funds policy rate in 2021, but resuming growth, inflation hitting and possibly surpassing its target (even with the Fed's new policy of inflation tolerance) will likely see at least increase discussions among members about laying the groundwork for eventual rate lifts, and we'll probably start to see these reflected in the members Summary of Economic Projections as the year wends forward. At last look (September) no members expected to be raising short-term rates in 2021, just one thought a hike would be warranted in 2022 and just 5 in 2023. We think this will change, with 2022 and 2023 expectations of a rate increase rising as we go through next year.
Mid-year review:
All the above seems to be coming into sharper clarity. The Fed has made no significant changes to policy, although they did raise they rate they pay banks to parking reserves with the Fed (In June, from 0.10% to 0.15%) and that on the "reverse repo" rate from 0% to 0.05%). These were technical adjustments to help the Fed keep actual rates from slipping below zero and have no direct effect on consumers or others.
With regard to policy rates and QE-style bond buying, the central bank has begun discussions about tapering bond buys, and we still think that this tapering of purchases will begin before 2021 comes to a close. As far as a change to short-term rates goes, none will come this year, but a growing number of Fed members have advanced their expectations of the timing of future rate increases. As of March, 4 of 17 members expected the first increase in the federal funds rate to come in 2022; by June, they numbered 7. As well, March saw 7 Fed participants expecting perhaps one rate increase in 2023; by June, 13 of 17 saw at least one increase and a majority expected two rate hikes before 2024 arrives. These numbers seem certain to increase as the economy closes in on a full recovery, something that may happen by year's end.
Mortgage Regulations
A new regime in the White House will likely mean many new heads of the various bureaus and departments that oversee the mortgage and related industries. The lighter regulatory touch of the Trump administration will give way to one arguably more like that seen under President Obama, where a more punitive approach to regulation was common. We may see new heads of the Federal Housing Finance Agency, which oversees Fannie and Freddie and for the Consumer Financial Protection Bureau. It's hard to make sweeping new policies quickly, and so that probably doesn't occur, but a re-strengthening of any regs weakened over the last four years does seem likely, as does a renewed focus on expanding access to credit for undeserved communities, scrutinizing payday lenders, increasing minority homeownership, and other similar measures.
We could see federal foreclosure moratoriums extended, and there may be a more formal forbearance-into-modification process instituted to help transition troubled homeowners in industries that cannot yet engage in the economy fully but are expected to over time. It may also be that the federal forbearance program -- currently set to expire at the end of 2020 -- may be re-upped for troubled borrowers for another period of time, until the pandemic is finally quelled. Overall, it will probably not be a year of increased regulation, but rather increased enforcement of existing regulations with some tightening.
Mid-year review:
As expected, the CFPB and FHFA have new heads, with Rohit Chopra replacing Kathy Kraninger at the CFPB, while an interim replacement for Mark Calabria at the FHFA has come in the person of Sandra Thompson as Acting Director. Although there hasn't yet been much change, the CFPB has delayed implementation to a update to the Qualified Mortgage definition, one that would allow for a change in the use of debt-to-income ratios as a condition of qualification.
Also as expected, there have been multiple extensions of forbearance programs and foreclosure and eviction moratoria. Some of these are set to expire again at the end of July, but there's a reasonable chance they will be extended again for a few more months. Back in April, the Bureau did put mortgage servicers on notice that they would be stepping up supervision and enforcement with regard to housing insecurity as COVID-19 foreclosure moratoriums and forbearances end.
Fannie/Freddie/FHFA
Fannie and Freddie have now been in conservatorship for more than 12 years, far longer than was envisioned, and arguably far longer than they needed to be. After little action on housing finance reform during the Obama administration, the Trump administration began to press the enterprises toward a "recap and release" arrangement in hopes of returning them to the private sector. Of late, a capital requirement plan -- essentially, the dollar amount of reserves the twins will need to hold so as not to pose risks to the taxpayer -- was set at $283 billion. Currently, the GSEs hold about $35 billion in capital, and by the present method of retaining profits, it will be a very long time before they reach a point where they would be allowed to become private entities again, unless they were allowed to raise capital by selling stock.
With the change from a Trump to a Biden administration, odds don't favor that a recap-and-release arrangement is going to happen anytime soon, and Fannie and Freddie will continue to be wards of the state. Since the sweep of all profits was ended by the Treasury in September 2019, the GSEs been accumulating earnings and are allowed to hold as much as $45 billion, a number they are now approaching. With a likely a new director at the FHFA and Janet Yellen coming in at Treasury, a new agreement will likely be struck, and capital accumulation by the GSEs will probably be slowed or stopped in favor of using these funds to further affordable or other housing goals.
The FHFA may have a new director before long. The Supreme Court is now reviewing both the structure of the agency and whether or not the government can continue to keep former shareholders of Fannie and Freddie from the profits generated by the enterprises. Earlier this year, the SCOTUS found that the structure of the CFPB -- similar to the FHFA -- was technically unconstitutional but left in place the Bureaus's structure while allowing the president a fire-at-will capability. While not certain, it's likely a similar fate that awaits Dr. Mark Calabria, the current head of the FHFA, but the court may also rule that the structure of the conservatorship allows for the profits to be used in any way the Treasury and FHFA see fit.
Fannie and Freddie are going nowhere, and it may be months until the above-reference case is decided. If the FHFA's structure is deemed constitutional, Dr. Calabria will likely continue on the path toward recap and release, but the goal remains a distant one at present.
Mid-year review:
With Supreme Court finding the FHFA's leadership structure unconstitutional, change came swiftly at the top, as Mark Calabria was replaced by Acting Director Sandra Thompson. The change to FHFA leadership means that it is very likely that the drive to eventually re-privatize Fannie Mae and Freddie Mac is at least postponed, if not completely over. Foreseeable future, the mortgage-backing enterprises will remain wards of the government, and it is again up to the Congress to reform housing finance. Since this process has been attempted and failed multiple times over the last 13 years, the prospects for true reform aren't good.
That said, the enterprises still continue to accumulate capital, which totaled about $50 billion at the end of the first quarter. This may or may not continue, as the former full profit sweep to the general Treasury may be re-instituted, or these profits may be cycled into additional affordable housing supports under the new administration. Expect more of this to play out as 2021 continues.
Underwater conclusion?
After a robust year for housing in many parts of the country, one might think that the troubles of the long-ago housing boom and bust would be well past. Surprisingly, they aren't, but perhaps the finish line is moving closer.
Buy our reckoning from FHFA HPI data, 88 percent of the nation's top 100 housing markets have now seen home values prices fully recover or pass boom-era peaks, up from 21 during the same period a year ago. As well, by the third quarter of 2020, all but one market is within 10 percent of its previous high-water value mark, and we may see all of these markets fully recovered in a another quarter or three. Even for markets that haven't fully recovered all value just yet, it's likely that only a small slice of homebuyers who purchased at or very near the peak of prices (for most markets, 13 or 14 years ago) haven't yet been made whole by market forces.
But the top 100 markets aren't the entirety of the housing market, and the home-worth-less-than-the-mortgage problem exists (and probably to a greater degree) in smaller cities, towns and rural areas. Depending on your choice of sources, either 3.5 million homes across the nation are currently underwater (Attom Data Solutions), about 6 percent of all mortgaged properties (a half-percentage-point improvement over last year this time), or 1.6 million are, (CoreLogic), representing 3% of all mortgage properties (a decline of 18.3% over year-ago levels). With home values still firming in many areas (and some fairly quickly), we would expect to see improvement here in 2021 regardless of the reporting source or methodology, something probably on the order of another 20% or so reduction.
As property values are often affected by local issues -- population shifts, industry moving out (or in) and more -- it's likely that some number of properties in some communities will be underwater at different times, so the problem may be more intractable in some regions than others. A home bought more recently in an area where a major industry has just vacated may not recover lost value until jobs return, for example, or places affected by natural disasters may also struggle to retain value.
For our own reckoning, we think 2021 is when we'll bid farewell to the remaining 12 major metro area where at least some properties remain with values below boom-era peak levels. Last year at this time, we thought we'd see a 25% reduction from the then 21 remaining markets -- an improvement of perhaps 6 markets -- but home values increase so strongly as to wipe out 43% of those that remained, and we'll only need about another 13% reduction to close it out.
Mid-year review:
Surging home value are the cure for underwater properties, and the issue of owing more on a mortgage than the market value of a home continues to shrink. Six months ago when we drafted the 2021 Outlook, Attom Data Solutions reported 3.5 million properties still underwater, about 6% of all homes with a mortgage. By the end of the first quarter (second quarter data not yet available) this had dwindled to 2.6 million properties, about 4.7% of all homes with a loan against it. CoreLogic's figures shrank a bit less; in December, they reckoned 1.6 million homes (3%) still underwater, a figure which had been trimmed to 1.4m and 2.6% by the end of March. Since home values have only accelerated more since then, we could easily see another 10% reduction this quarter, and additional declines over the next six months in these figures.
By our own reckoning, some 99 of the top 100 metro areas have now fully recovered and surpassed peak values of the 2005-2007 housing boom. Only Bakersfield, CA remains with a value gap, which has now been whittled to just 4.15%, a chasm that was once more than 50%. With recovery for all 100 markets likely to happen in either the second or third quarter of this year, we'll be retiring our Home Price Recovery Index and replacing it with a new means of following home values.
Home Equity / Cash-out refinancing
Surging home prices are creating home equity at a very fast clip for homeowners across the country. CoreLogic estimates that home equity stakes rose by 10.8% over the last year, a full $1 trillion dollars worth, and "tappable equity" is currently north of $6.5 Trillion. Despite this, originations and outstanding balances of traditional equity loans and lines of credit continue to sag due to still-firm underwriting conditions. interest rates that are high relative to first mortgages, and less-favorable tax treatment of interest for these products. HELOC balances are now about half the size of a 2009 peak, according to the Federal Reserve, and it appears that few lenders are aggressively marketing HELOCs at the moment.
But cash-out refinances continue to grow. According to Black Knight's Mortgage Monitor for October, cash-out refinances made up 27% of all of refis, with an average equity draw of $51,000 in the third quarter of 2020. By their data, total requests for draws of equity the highest they have been since early 2009.
With mortgage rates at rock-bottom lows and rising home prices building equity, odd favor a continuation (or even acceleration) of the current trends, where HELOCs balances continue to be slowly paid down, while cash-out refinance activity remains strong. Among other uses, at least some cash-out refinances are used to retire outstanding HELOCs that are no longer needed, for example.
At some point (but probably not in 2021) borrowers looking to tap built equity will face a new choice: Replace a first mortgage at what is likely a near record-low interest rate with one at a higher rate just to access built-up equity, or take an even higher-interest-rate HELOC to accomplish the same thing? Despite the disparity in price, when this choice does come, the pendulum will start to swing back to HELOCs, with their less-costly and intensive origination process, greater flexibility and other features. For 2021, call it a decline in HELOCs for another year, but probably another significant boost in cash-out refis.
Mid-year review:
Home equity continues to expand quickly, and the so-called "tappable equity" a noted by CoreLogic now an astounding $8.1 trillion, up sharply since the end of 2020. Cash-out refinance activity has continued to be strong; Freddie Mac noted that at the end of the first quarter cash-out refinance activity had reached levels last seen in 2007, the height of the last price boom. In its Originations Market Monitor, Black Knight reported that cash-out refinances in May were 32% higher than the same period in 2020.
Traditional home equity lending remains soggy, though. Some banks remain cautious or reluctant to participate in second-lien lending for a number of reasons, including market risks due to the pandemic and more profitable opportunities in first-lien lending. Attom Data Solutions reported in June that HELOC originations declined 27 percent in the first quarter of 2021 compared to the fourth quarter of 2020, and were about 34% below the same period in 2020.
As long as first mortgage rates remain near present levels and are reasonably stable, homeowners will probably continue to opt for cash-out refinances over home equity lines of credit. Should mortgage rates finally rise at some point, it will no longer be a simple choice to replace an old, lower-rate mortgage with a new higher-rate one with a higher loan balance, and more traditional home equity lending will likely increase again.
Reverse Mortgages
Originations of FHA-backed HECMs rebounded a bit in 2020, just a year after touching record lows. Over the last 12 months, about 42,000 new HECMs were originated, up 34% from 2019, when only about 31,000 were made. Even as HECM originations are only about one-third of the peak levels attained in 2009, there are likely a number of reasons for the burst of activity. Certainly, demographic trends continue to be favorable; a majority of the so-called "baby boomers" are now in the post-62 age requirement to be able to take a HECM. FHA reports show that the average age of someone who takes out an HECM is just over 73 years, and with those born in 1946 (the first year of the boom) now aged 74, there's likely to be an upturn in originations coming.
As well, the millions of job losses due to the pandemic this year have likely accelerated the retirement plans of those post-62 but still working, as finding new work may be challenging at best. Of course, it also doesn't hurt that home prices have risen strongly this year; this has created a larger, more valuable pool of funds available to potential borrowers.
As is the case with first mortgage loans, homeowners are also taking advantage of low interest rates to refinance older HECMs, too, which can allow a homeowner to access new funds created by price increases. In addition, and even though there are no payments due today on money borrowed using a HECM, a lower interest rate means a lower pace of equity depletion, possibly helping to preserve an equity stake for the eventual inheritors or sellers of the property to use as needed.
HUD tightened rules for HECMs a few years back as the program was severely straining the Mutual Mortgage Insurance Fund (MMIF). Despite the fund being increasingly in the black in the last couple of years, don't expect the FHA to ease standards for HECMs or cut MIP costs for forward-mortgage borrowers. "The financial performance of the HECM portfolio continues to be a financial drag on the forward port folio, whose positive performance in effect "subsidizes" the reverse book of loans", said the FHA in their 2020 annual report. although the negative impact at the moment is small, closing the gap from being undercapitalized in the MMIF by just 0.78%, a measurable improvement from -18.83% just two years ago.
We may not see another 34% increase in year-over-year originations for HECMs, but we will probably see a good 20% increase or so, goosed again by refinancing of older HECMs. This would lift levels of newly-originated HECMs back to levels often seen before HUD tightened up the program.
Mid-year review:
Our forecast for HECM originations seems to be on target through the first six months of the year, at least according to the available data. Using December 2020 through May 2021 data (latest available) some 25,423 HECMs were originated; using the average monthly run rate over this period and extrapolating it over the remainder of 2021, we would expect to see a total of 50,886 HECMs made for the year. Our forecast of a 20% increase from 2020's 42,000 HECMs would put the number at 50,400 for the whole year, so we remain on target. As with first mortgages, refinancing of older HECMs remains very popular, allowing homeowners to tap equity being created by the home price surge and get a lower compounding rate of interest to boot.
Home prices
Existing home prices have been on a tear in 2020, reaching new record highs, and as of October, the National Association of Realtors recorded an eye-popping 15.5% year-over-year increase in the median sales price. The average monthly change so far in 2020 has been in excess of 9 percent, far outstripping both overall inflation and income growth.
Mortgage rates falling to record low levels has allowed for this to happen. by way of comparison, Financed with a 20% down, 30-year FRM (and factoring for expected tax and insurance costs), October 2019's $271,100 median price would have carried 3.69% rate and a monthly PITI payment of $1,337.23; this October's $313,000 financed with a 2.83% 30-year FRM would have cost $1,373.07, less than $40 per month more. Of course, the higher home price this year would have required a larger down payment, so potential homebuyers would have needed to have banked more bucks before jumping in.
But mortgage rates have largely stopped falling, and even if they do drift lower for a time in 2021, there's no reason to expect a repeat of the nearly full percentage point decline seen over the last 12 months. Without falling rates to provide an offset to rising prices, affordability is crimped further, sales slow, and so do home price gains.
Tight supplies of homes for sale have of course allowed prices to leap, and while supplies will continue to be tight, it seems unlikely that skyrocketing prices can continue without the beneficial effect of falling rates keeping monthly carry costs comfortable.
Gains in existing home prices will continue in 2021, but should fall back to earth, or at least something approximating "normal". We think that home prices will increase by perhaps 4.5% over the next year, a still-healthy clip, if about half of this year's outsized gain.
Prices for newly-constructed homes will also continue to tick up, largely due to material and labor cost issues. Prices for new homes have actually been relatively stable, with October's median price just 0.1% above October 2019 levels. With existing home prices coming up fast, potential homebuyers in the existing market who can't find what they want at a price they way to pay may consider new construction instead -- the jump in monthly payment is only about another $53 per month. We wouldn't expect to see more than a 2% increase in 2021.
Mid-year review:
While it's too early to say what will happen for the rest of the year, our forecast for home price gains has been a mixed bag at best. Where we expected to see moderating gains this year, prices of existing homes have powered still higher, with May's year-over-year increase of 23.6% over May 2020 the highest mark so far this year. The median price of an existing home is now a record high $350,300; a year ago the same median home was $283,600. With the long decline in mortgage rates over, these stiff price increases are impinging on affordability, and sales of homes more tempered as a result in the first half of 2021.We still expect a slowing of price hikes, but even if they begin to settle back, we'll likely still end 2021 with double-digit gains.
So far we seem to be faring somewhat better with our expectations for new home prices, and that despite soaring costs for lumber and other materials and labor shortages driving costs higher. Median new home prices are more erratic than existing, with some monthly increases and decreases seen already this year, but the average change over the first five months of 2021 has been 2.01%, with the median cost of a brand-new home now at $383,100 through May, up from $314,700 a year ago.
Existing home sales
Looking at annualized rate for existing home sales as we close 2020, it would be easy to assume that sales are running hot. After all, the current monthly rate (October 2020) on a annualized basis comes out to 6.85 million sales on a seasonally-adjusted, annualized rate, easily the best since the boom years of more than a decade ago. But extrapolating one number over a year's time doesn't reveal a clear picture either looking forward or behind, especially pictures created in a year so distorted by the pandemic.
Working from all the numbers of sales so far in 2020, we would see an average monthly running rate of 445,417 home sales each month, which would leave us with actual existing home sales of approximately 5.465 million for 2020 in total. This smoothed out number puts sales for this year at just about the same pace as last year; when in all of 2019, sales were about 5.34 million, so "booming" sales this year may end up with a more modest actual gain of 2.5% or so over 2019 totals.
For 2021, some of the tailwinds that were already lifting sales of existing homes -- falling mortgage rates, positive demographic trends as millennials come into prime homebuying years and (until the pandemic) a record long economic expansion -- all will continue to enhance demand for homes. That said, there are some headwinds for sales, too, not the least of which is record-thin inventories of homes available to buy, record-high home prices and affordability diminishment. The the extent that they have enhanced sales of late, the distorting effects of the COVID-19 outbreak will also begin to wane, with fewer folks working from home over time and less out-migration from urban areas to suburban and exurban locations.
All in all, it should be a very solid year for home sales, but the current hot monthly rate isn't sustainable. Favorable trends are starting to be met with tempering headwinds mentioned in this Outlook, and that will moderate sales to a degree. We think that home sales for the year will improve on 2020 levels, but probably not by more than another 4% over this year's final tally (not known until February), so we'll call it about 5.68 million homes sold in 2021 when all is said and done.
Mid-year review:
Existing home sales have been in a cooling trend for much of 2021, with sales starting the year at a 6.65 million annualized rate but cooling down to a 5.8 million pace by May, right in the middle of the traditional spring homebuying season. Demand for houses remains strong, but limited inventory of homes to buy and surging prices are tempering sales to a real degree. Inventory levels have improved slightly over the last couple of months, and this may lead to some strength for sales though the summer that would normally have been expressed in the spring. The National Association of Realtors reported that available homes for sales improved in May by 7% over April to 1.23 million units, but this is still very thin considering there were 1.55 million properties available last May, and that was already considered a pretty lean supply.
The current per-month average for sales through the first five months of 2021 would put the annual figure at 6.2 million, but that's unlikely to happen. The summer should have some unusual strength, but once the fall comes sales will slow as we head toward winter. We may end up a touch higher than our initial forecast when all is said and done, perhaps around the current 5.8 million rate, but sales could still slow further toward our forecast expectation if mortgage rates rise at some point later this year.
Wondering how much home your income and debts will allow you to buy? HSH's Home Affordability Calculator can help you get a handle on your home purchasing power.
New home sales
A long-awaited surge in homebuilding and sales of newly-constructed homes finally arrived in 2020, and the prospects for a very strong year for new home sales seems on tap for 2021. Consider that annualized new home sales were perking along at about a 774,000 rate last January, but by October were running at 999,000 -- a 29% increase in just 10 months' time. It seems likely that at least some demand for new houses was pulled into 2020, so we probably won't see anything near a 30% in the coming year.
In the same manner as we did with Existing Home Sales above, smoothed out the run rate for sales, incorporating both the soft pandemic shutdown stretch and the post-opening, pent-up-demand-fueled last half of the year. Using the average monthly sales number over the last 10 months of available data, this puts 2020 at a running rate for perhaps 801,000 or so actual sales, which would represent a 17% increase over 2019.
As with existing home sales, it's unlikely that we'll see such a large kick in sales of new homes for 2021 as we did in '20, but we should see an uptick in sales on the order of 5-6% to a total of around 845,000 units sold when all is tallied for the year in late January 2022.
Mid-year review:
Sales of new homes have run hot and cold in 2021 so far, starting the year at a 993,000 annual rate of sale but slumping to May's 769K rate (likely to be revised somewhat higher).The average sales pace for the first six months of the year would create an 871,000 figure for the year as a whole, where we expected to see perhaps 845K. That's still pretty close to our mark, and with new home building and buying facing price and supply challenges, we remain fairly comfortable with our initial forecast at this point.
Additional thoughts
As goes COVID-19 -- waxing now and soon then hopefully waning, for good -- in 2020, so will go the economy. If all goes well, we should see decreasing levels of infection and rising vaccination and immunity by the time spring rolls around, and the advent of warmer weather de-concentrating us humans from one another should also help quell the outbreak. If so, the stage may be set for a surge of economic activity -- or at least a building wave -- by the time summer hits, when cooped-at-home pent-up demand should be loosed across the hungry travel, hospitality and entertainment industries. Whether this happens or not will depend on how quickly and widely vaccinations happen, how effective they are across a range of populations and if industries so battered by the pandemic's effects can effectively re-open. That's still unclear, but as we write this, the Congress seems to have finally agreed (for better or worse) on a new stimulus package to tide us over until then, so fingers crossed for the millions of small businesses still bearing the brunt of the social engineering employed to stall the spread of infection.
After a tumultuous 2020, pandemic, recession, civil unrest, the contentious election and plenty more, let's all hope for a healthier, prosperous, calmer 2021, and one where we can find greater appreciation for those around us, even if they hold different views.
Mid-year review:
There have been some very difficult times in 2021 due to the virus, not only here in the U.S. but across the globe. The fast emerging Delta variants are spreading quickly, but in places where vaccination is high there is considerably less concern, and people are going about the business of re-normalizing their lives as we go.
For the most part, optimism rules the day, and things are returning to normal about as quickly as they can in most places. Wide open monetary policy and a huge blast of stimulus earlier in the year have powered the economy ahead, unemployment continues to decline, schools are on track for reopening when the fall semester begins and folks are taking vacations and traveling again. Still, the damage of the pandemic remains evident in the shuttered shops and stores we see, the number of folks still not engaging in the workforce and other such signs. We may not be out of the woods fully yet, but continue to move in that direction, and could be back very close to pre-pandemic norms by the time we next sing Auld Lang Syne. Here's wishing you all the best for the rest of '21!