With the largest single rate increase in more than 21 years, the Federal Reserve began to move more forcefully to address inflation that is running at 40-year highs. The fifty-basis-point increase in the federal funds target rate to a range of 0.75% to 1% puts the key short-term monetary policy rate at its highest level in two years, and additional rate increases are expected to come.
At his press conference following the FOMC's two-day meeting, Fed Chair Powell noted that additional 50 basis point moves are "on the table" for the next couple of meetings, but that the rate-setting committee was not actively considering larger increases of 75 basis points or more. He noted that the Fed would move "expeditiously" to return the key policy rate to a neutral level, and would consider lifting rates beyond that level if conditions warranted.
The "neutral" level for federal funds is a moving, unknowable target, but many analysts think this is consistent with a federal funds rate of around 2.5%. This suggests that another 150 basis points of increases can be expected over the short term, although how these arrive and how quickly isn't yet known. A 50-basis point increase at the next meeting (mid-June) and another in late July would put the funds target at about 2%, and a slower or staggered pace of hikes may come after that (or 50 in June and 25 basis point moves at each of the remaining meetings in 2022). All the statement that closed the meeting had to say in this regard is that the Fed "anticipates that ongoing increases in the target range will be appropriate.
In March, the central bank also noted that it would soon begin the process of reducing the size of its bloated balance sheet. Although no firm plan was released at that time, the minutes from the meeting suggested a pace of runoff of $60 billion per month in Treasury holdings and $35 billion per month in mortgage-backed securities (MBS). With this meeting, the formal plan was revealed; while the earlier figures for reduction didn't change, what was new is that there will be a three-month phase-in period for each.
Starting June 1, the Fed will look to reduce its holdings of Treasuries by $30 billion per month for three months, then raise this reduction cap to $60 billion. The Fed will look to reduce its holdings of notes and bonds first, and will retire short-term Treasury bills only in months where an insufficient number of bonds and notes mature to reach the desired cap.
MBS also have a phase-in period as well. Starting in June, $17.5 billion in MBS will be trimmed from the Fed's portfolio, a number repeated in July and August before expanding to a full $35 billion per month in September. Although no mention was made of any plans for outright sales of MBS, Mr. Powell noted that the current rate of MBS runoff was likely to fall below these caps, since mortgage rates have risen appreciably and sharply reduced refinancing, which would have helped speed the process along. It may be that the Fed wants to test the runoff process for a few months before making any decisions on whether or not to start outright sales of MBS. With mortgage originations slowing and likely to slow further, investors may be more willing or able to absorb the supply that the Fed may make available.
The general process of balance-sheet reduction is accomplished by no longer using the proceeds of inbound interest and principal payments from holdings to buy more bonds. As of last week, the Fed held $2.715 trillion in mortgage paper, more than double the amount it held pre-pandemic, and its total balance sheet is just about $9 trillion.
It's not known (the Fed may not even know at this point) what size the balance sheet will need to be in the Fed's "ample reserves" monetary regime. If we assume that the central bank was comfortable with the size of the balance sheet pre-pandemic, this would be total holdings of about $4 trillion, so they would need to achieve about $5 trillion in reduction over some period of time.
At the stated pace of reduction, trimming off $5 trillion from the balance sheet might take close to five years -- about 51 months of Treasury reductions will carve $3 trillion off the total, and about 58 months of MBS reductions would shave off $2 trillion. This would still leave around $715 billion in MBS; however, the Fed has also stated that it prefers to ultimately hold only Treasury obligations, so the MBS reduction plan will probably be increased to $50 billion per month at some point and include outright sales to reach that level. At $15 billion per month of additional sales, it will take about 48 months to reduce MBS holdings to zero, and if it was to happen concurrently with runoff would need to start not more than about 10 months from June, or sometime in April 2023.
Of course, this is all speculation on our part. More likely is that the balance sheet ends up larger than the pre-pandemic $4 trillion, and that some kind of "proceeds of MBS sales will be used to buy Treasuries" kind of arrangement will happen to help change the mix more quickly. We'll know more in the months ahead, but for now, the process will begin in a measured, predictable fashion.
The Fed's "dual mandate" sees it perpetually seeking stable prices in the context of full employment. The Fed considers a broad range of labor-market indicators, from measures of unemployment, wage and benefit cost changes, labor force participation and others. The pandemic has created considerable upheaval in the labor force, with millions of workers still not engaged in the workforce jobs despite record levels of job openings and rising wages. Retirements, COVID concerns, child- and family-care issues and a range of increased government supports are probably all playing a role here, making it a challenge for the Fed to know what "full employment" might actually be, but most indicators suggest we are fairly close.
That there are literally millions more jobs available than workers who are interested in filling them gives the Fed rather a bit of leeway to lift interest rates and look to cool demand without grave concerns that unemployment will kick higher quickly. More likely, as financial conditions tighten, these "excess" job openings will first disappear as aggregate demand is tempered, bringing into better balance the supply of and demand for labor. This is the Fed's hope, and a key component of any "soft landing" they hope to achieve.
From the statement: "The Committee seeks to achieve maximum employment and inflation at the rate of 2 percent over the longer run. With appropriate firming in the stance of monetary policy, the Committee expects inflation to return to its 2 percent objective and the labor market to remain strong. In support of these goals, the Committee decided to raise the target range for the federal funds rate to 3/4 to 1 percent and anticipates that ongoing increases in the target range will be appropriate."
The Fed is also concerned with external events that impact economic growth and inflation, although there's nothing that the Fed can do to change them. The statement noted "The invasion of Ukraine by Russia is causing tremendous human and economic hardship. The implications for the U.S. economy are highly uncertain. The invasion and related events are creating additional upward pressure on inflation and are likely to weigh on economic activity. In addition, COVID-related lockdowns in China are likely to exacerbate supply chain disruptions."
There was no update to the FOMC's Summary of Economic Projections as a component of this meeting. The next SEP update will come with the June 14-15 meeting. Balance-sheet runoff will have begun at that point, and the SEP may provide a clearer set of expectations for the path of the federal funds rate for the remainder of 2022 and beyond.
What is the federal funds rate?
The federal funds rate is an intrabank, overnight lending rate. The Federal Reserve increases or decreases this so-called "target rate" when it wants to cool or spur economic growth.
The last Fed move on May 4, 2022 was the second increase in the funds rate since 2018, when the Fed completed a cycle of increasing interest rates.
By the Fed 's recent thinking, the long-run "neutral" rate for the federal funds may be as low as 2.5 percent, a level well below what has long been considered to be "normal" levels. As such, even if rates do rise over time, and perhaps even quickly, they may not get close to historic "normal" for a while yet.
The Fed can either establish a range for the federal funds rate, or may express a single value.
Related content: Federal Funds Rate - Graph and Table of Values
How does the Federal Reserve affect mortgage rates?
Historically, the Federal Reserve has only had an indirect impact on most mortgage rates, especially fixed-rate mortgages. That changed back in 2008, when the central bank began directly buying Mortgage-Backed Securities (MBS) and financing bonds offered by Fannie Mae and Freddie Mac. This "liquefied" mortgage markets, giving investors a ready place to sell their holdings as needed, helping to drive down mortgage rates.
After the program of MBS and debt accumulation by the Fed ended, they were still "recycling" inbound proceeds from maturing and refinanced mortgages to purchase replacement bonds for a number of years. This kept their holdings level and provided a steady presence in the mortgage market, which helped to keep mortgage rates steady.
In June 2017, the Fed announced that the process of reducing its so-called "balance sheet" (holdings of Treasuries and MBS) would start in October 2017. In this gradual process, the Fed trimmed back the amount of reinvestment it was making in steps until it eventually was actively retiring sizable pieces of its holdings. When the program was announced, the Fed held about $2.46 trillion in Treasuries and about $1.78 trillion in mortgage-related debt. It had been reducing holdings at a set amount and was on a long-run pace of "autopilot" reductions as recently as December 2018.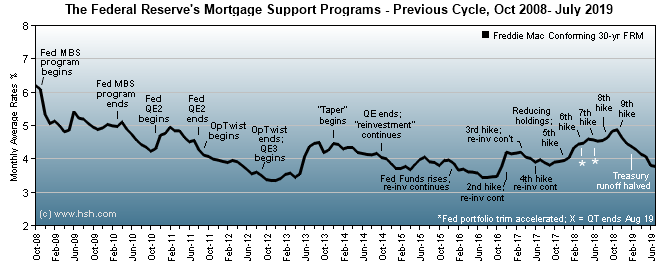 In 2019, the Fed decided to begin winding down its balance-sheet-reduction program with a termination date of October, but as of August 2019 decided to stop reducing its holdings altogether, ending the program two months early. As the total amount of balance sheet runoff was fairly small, and the Fed was left with a huge set of investment holdings, presently comprised of about $2.08 trillion in Treasuries and about $1.52 trillion in mortgage-related debt. Starting in August 2019, all inbound proceeds from maturing investments were being used to purchase more Treasury securities of various maturities to roughly mimic the overall balance of holdings by investors.
As well, up to $20 billion each month of proceeds from maturing mortgage holdings (mostly from early prepayments due to refinancing) were also to be invested in Treasuries; any redemption over that amount was be used to purchase more agency-backed MBS. Ultimately, the Fed looked to have a balance sheet comprised solely of Treasuries, but changing the mix of holdings from mortgages to Treasuries as mortgages are repaid was expected to take many years.
In response to turbulent market conditions from the coronavirus pandemic, the Fed re-started QE-style purchases of Mortgage-Backed Securities in March 2020, so not only did the slow process of converting MBS holdings to Treasuries come to a halt, the Fed has again been actively buying up new MBS, expanding their mortgage holdings for at least a time. Through October 2021, the current rate of outright purchases was $40 billion per month, and inbound proceeds from principal repayments on holdings and refinancings are also being reinvested. MBS bond buys will be trimmed to $30 billion per month starting in December 2021 and to $20 billion per month in January; a similar pace of reduction going forward is expected. Since the Fed restarted their MBS purchasing program again in March 2020, it had by mid-January 2021 added more than $1.32 trillion of them to its balance sheet, with total holdings of MBS now topping $2.715 trillion dollars. The Fed's MBS holding have doubled since March 2020.
The Fed has now concluded its latest bond-buying program. The start of a "runoff" program to reduce holdings was announced at the close of the May meeting and will commence in June. Reductions of $17.5 billion in MBS in the first three months of the program will double to $35 billion per month thereafter.
What is the effect of the Fed's actions on mortgage rates?
Mortgage interest rates began cycling higher well in advance of the first increase in short-term interest rates. This is not uncommon; inflation running higher than desired in turn lifted expectations that the Fed would lift short-term rates, which in turn has lifted the longer-term rates that influence fixed-rate mortgages.
Also important for this new cycle, is that the Fed is no longer directly supporting the mortgage market by purchasing Mortgage-Backed Securities (which helps to keep that market liquid). This means that a reliable buyer of these instruments -- and one that did not care about the level of return on its investment -- has left the market. This leaves only private investors who care very much about making profits on their holdings, and a range of risks to the economic climate may make them more wary of purchasing MBS, particularly at relatively low yields. At the same time, the Fed is no longer purchasing Treasury bonds to help keep longer-term interest rates low, and so the influential yields on these instruments have risen somewhat as a result.
What the Fed has to say about the future - how quickly or slowly it intends to raise rates or lower rates in 2022 and beyond - will also determine if mortgage rates will rise, and by how much. At the moment, and given the Fed's new long-term policy framework, the path for future changes in the federal funds rate is of course uncertain, but the current expectation is that the first two increases in the federal funds rate will be joined by many others in the coming cycle.
Does a change in the federal funds influence other loan rates?
Although it is an important indicator, the federal funds rate is an interest rate for a very short-term (overnight) loan. This rate does have some influence over a bank's so-called cost of funds, and changes in this cost of funds can translate into higher (or lower) interest rates on both deposits and loans. The effect is most clearly seen in the prices of shorter-term loans, including auto, personal loans and even the initial interest rate on some Adjustable Rate Mortgages (ARMs).
However, a change in the overnight rate generally has little to do with long-term mortgage rates (30-year, 15-year, etc.), which are influenced by other factors. These notably include economic growth and inflation, but also include the whims of investors, too. For more on how mortgage rates are set by the market, see "What moves mortgage rates? (The Basics)."
Does the federal funds rate affect mortgage rates?
Whenever the Fed makes a change to policy, we are asked the question "Does the federal funds rate affect mortgage rates?"
Just to be clear, the short answer is "no," as you can see in the linked chart.
That said, the federal funds rate is raised or lowered by the Fed in response to changing economic conditions, and long-term fixed mortgage rates do of course respond to those conditions, and often well in advance of any change in the funds rate. For example, even though the Fed was still holding the funds rate steady in autumn 2016, fixed mortgage rates rose by better than three quarters of a percentage point amid growing economic strength and a change in investor sentiment about future growth and tax policies during the period.
What does the federal funds rate directly affect?
When the funds rate does move, it does directly affect certain other financial products. The prime rate tends to move in lock step with the federal funds rate and so affects the rates on certain products like Home Equity Lines of Credit (HELOCs), residential construction loans, some credit cards and things like business loans. All will generally see fairly immediate changes in their offered interest rates, usually of the same size as the change in the prime rate or pretty close to it. For consumers or businesses with outstanding lines of credit or credit cards, the change generally will occur over one to three billing cycles.
Related content: Fed Funds vs. Prime Rate and Mortgage Rates
After a change to fed funds, how soon will other interest rates rise or fall?
Changes to the fed funds rate can take a long time to work their way fully throughout the economy, with the effects of a change not completely realized for six months or even longer.
Often more important than any single change to the funds rate is how the Federal Reserve characterizes its expectations for the economy and future Fed policy. If the Fed says (or if the market believes) that the Fed will be aggressively lifting rates in the near future, market interest rates will rise more quickly; conversely, if they indicate that a long, flat trajectory for rates is in the offing, mortgage and other loan rates will only rise gradually, if at all. For updates and details about the economy and changes to mortgage rates, read or subscribe to HSH's MarketTrends newsletter.
Can a higher federal funds rate actually cause lower mortgage rates?
Yes. At some point in the cycle, the Federal Reserve will have lifted interest rates to a point where inflation and the economy will be expected to cool. We saw this as recently as 2018; after the ninth increase in the federal funds rate over a little more than a two-year period, economic growth began to stall, inflation pressures waned, and mortgage rates retreated by more than a full percentage point.
As the market starts to anticipate this economic slowing, long-term interest rates may actually start to fall even though the Fed may still be raising short-term rates or holding them steady. Long-term rates fall in anticipation of the beginnings of a cycle of reductions in the fed funds rate, and the cycle comes full circle. For more information on this, Fed policy and how it affects mortgage rates, see our analysis of Federal Reserve Policy and Mortgage Rate Cycles
Print page