A Break In The Heat Wave
August 12, 2022 -- It's been a long, hot summer for most folks, but even in the midst of multiple heat waves often comes a respite. Sometimes this is in the form of a sudden thunderstorm, offering short-term relief; other times, a cooler front will cruise though, offering more considerable (and sometimes more durable) relief.
So it is with inflation. For a long spell, running well back into mid-2021, prices have been warming, and warming and warming, with common measures of prices reaching 40-odd-year highs. Then, just as it seemed that the heat would go on forever came at least a bit of relief, and a spate of cooler prices broke out in July.
What's not clear is whether this recent break in the inflation uptrend is the equivalent of a thunderstorm, where it's only a short while before the heat kicks up again, or more akin to a more persistent cool front, presaging a longer. more temperate stretch.
To be sure, we're not likely near a seasonal change in temperature. It's still high summer for both the climate and prices, and odds still favor a more uncomfortable climate than not for at least a while yet. Still, it's helpful to think that there's at least some potential that a more long-lasting change may come, even if that may be a ways off yet.
Three freshening breezes blew across baked financial markets this week; the first came in the form of the Consumer Price Index for July. This measure of the increase in prices paid for a broad basket of goods was unchanged during the month, the first time prices haven't shown an increase since May 2020. The lack of an increase helped the annual rate of prices to ease back to 8.5%, falling back from a 9.1% annual rate in June. Overall inflation was pulled down by a 4.1% drop in energy costs, largely expressed as lower gasoline prices, which are still easing into August. Food costs continue to run very hot, adding another more-than-1-percent increase last month (and five of the last six) pushing this component to a 10.9% annual rate. Energy is "merely" 32.9% more costly this year than last, but at least it's an improvement compared to June's 41.5% annual rate.
What's happening with home price trends? See what's happening to home values in more than 400 metropolitan areas with HSH's new Home Value Tracker. Review price changes over five different time periods, or run custom time series to see what's happened during your ownership period with our MyHVT tool.
The Fed cares more about core inflation, a measure that excludes food and energy inputs. Although core inflation continued upward, it did so at a slower pace, with the 0.3% July increase the smallest in four months. While not the Fed's preferred measure to track prices, core CPI held steady at a 5.9% annual clip last month, and has been in a flat-to-gradually-declining pattern since a February peak at 6.4%.
The second wind whispering of cooler inflation came from the report covering Producer Prices. A measure of cost changes upstream from consumers, the Producer Price Index unexpectedly declined by a half percentage point in July, its first decline since the pandemic shutdown in April 2020. The drop in costs trimmed the annual rate of price increases as measured here to 9.7%, down from 11.2% annualized in June. Like CPI, PPI was influenced by lower energy costs, and excluding them and other highly-volatile inputs left core PPI up by only 0.2%, and this lesser reading dropped annual core PPI to 8.5%, the lowest in ten months.
Since the U.S. is a net importer of goods, a reinforcing gust of good news about cooling prices came in the form of the July import and export costs report from the Bureau of Labor Statistics. The aggregate cost of imports coming into the U.S. declined by 1.4% in July, helped largely by lower fuel costs. A stronger dollar is likely also helping to put additional downward pressure on import costs, which have been settling now for the last several months. After a touching a 13% annual rate in March, overall import prices are now back to an 8.8% annual rate of increase.
Want to get MarketTrends as soon as it's published on Friday? Get it via email -- subscribe here!
Lower input costs may be helping the U.S. to export less inflation, too. Export prices declined by 3.3% in July, the first decline in six months; the July decline helped reduce the annual rate of export price increases to 13.1%, chopping five percentage points off of the annualized rate seen in June.
While welcome, it's important to remember that this softness in prices may only be temporary, and certainly doesn't suggest that inflation is gone. These are measures of the rate of change for prices, not the level of prices, and so prices for goods and services remain elevated. By way of example, an item that might have cost you $20 last month may still cost you $20 this month, but it remains still expensive compared to the $15 or 18 it might have cost you last year.
As well, a short-term dip in costs won't stay the Fed from raising rates further, or even necessarily make them move less forcefully. Conversely, the Fed may be encouraged that its outsized increases in the federal funds rate are starting to have the desired effect on inflation, and may embolden them to continue unusually large increases in September. This could well be the case if the labor market reports for August (initial unemployment claims/JOLTS/Employment Situation) don't show more loosening in the labor market than we have seen so far. With hiring running hot, wages rising and the unemployment rate back to a 50+ year low, the Fed may not feel compelled to throttle back on rate increases very soon.
Find these only at HSH.com!
The September Fed meeting is more than a month away, and there will be a lot of inbound data for them to consider before making any change. While it's too soon to have a good read on what the central bank will do with the interest rates it directly controls, one certainty come September is that the pace of Fed balance-sheet "runoff" is slated to double, and this may have an impact on mortgage rates.
When the Fed first began to taper purchases of MBS and Treasuries, spreads between the yield on the benchmark 10-year Treasury began to widen. By the time they concluded purchases, this gap had moved from about 160 basis points last August to about 200 basis points in mid-March. As the beginning of the process of reducing its balance sheet neared, spreads widened further, and by the time outright reductions began in June, the difference between the yield on the 10-year TCM and the average offered rate for a conforming 30-year FRM moved up to 264 basis points. Outside of the highly-stressed weeks of the early pandemic period, this was the widest spread since... late 2008, when the Fed first began its mortgage QE programs amid massive market stress.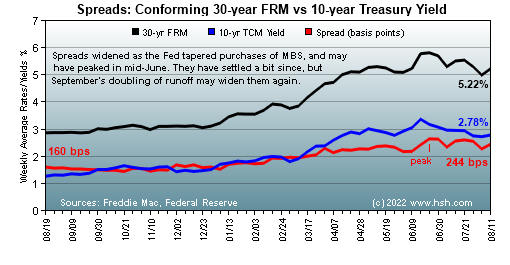 Since the June peak, there's been a slight contraction in spreads. Perhaps markets have since become a bit more comfortable with the Fed's process, or maybe it's that there are considerably fewer MBS that investors have needed to sop up. According to SIFMA, issuance of residential mortgage-backed securities (MBS) has diminished from $256.9 billion last November when tapering started, to $153.7 billion in May when runoff started to just $138 billion in July, and still sliding. As such, it may be that issuance of new MBS has become more aligned with demand in the market, or even that there is starting to perhaps be more demand for these instruments than supply.
If HSH's weekly
MarketTrends
newsletter is the only way you know HSH, you need to
come back and check out HSH.com
from time to time. You'll find new and changing content on a regular basis, unique calculators, useful insight, articles and mortgage resources unlike anywhere else on the web.
If this is the case, there may be another widening of spreads when the change to a $35 billion pace of reduction in holdings happens starting next month, as investors will need to absorb another $17.5 billion in securities above what they have been. In turn, mortgage rates may become a little slower to move or move less than they might otherwise have if there is a decline in the yield of the 10-year Treasury as a result of lower inflation or a slowing economy, at least until markets adjust.
The Fed certainly hopes for a looser labor market, although one offset to tight conditions would come in the form of improving worker productivity. More output per worker per hour would allow wages to rise further without any pass-though effect on inflation, but unfortunately, this has not much been the case of late. After posting a 7.4% decline in productivity in the first quarter of 2022, worker output declined by another 4.6% in the second quarter. Rising pay and falling output meant that the labor cost per unit produced remained elevated, running now at a 10.8% rate for the second quarter. This is likely contributing to overall inflation at the moment, but perhaps once the 3.3 million new hires that happened over the last six months come fully up to speed productivity will begin to improve again.
Initial claims for unemployment benefits continue to edge higher, moving up to 262,000 new applicants in the week ending August 6. Although revisions have erased some of the recent increases in new claimants, the general uptrend remains in place. That said, the early read on what's happening in the economy suggests a bit of acceleration in growth, with the GDPNow model from the Atlanta Federal Reserve posting a 2.5% rate for the third quarter so far. If it can hold, this would be a considerable improvement from the initial estimate of a 0.9% decline in GDP for the second quarter. Improving growth would likely keep more employees on the books.
Inventories at the nation's wholesalers continued to increase, albeit at a lessening pace. In June, stockpiles rose by 1.8%, a touch less than was expected and part of a slowing pattern of accumulation. Holdings of durable goods expanded by a full 2%, while non-durable stockpiles rose by 1.4% for the month. However, with sales increasing by 1.8%, the net overall buildup of goods was slight, and the ratio of goods on hand relative to sales remained at a thin 1.26 months. While this is more flush than the leanest recent levels, it remains rather below those seen before the pandemic distorted supply chains (around 1.31 months of supply or so). As such, it seems likely that wholesalers will continue to cautiously rebuild inventories, and that should in turn help support manufacturing as we move deeper into 2022.
The short-lived decline in mortgage rates did bring a few more mortgage-seekers into the market last week. In the week ending August 5, the Mortgage Bankers Association reported that requests for mortgage credit increased by 0.2%, adding onto the prior week's 1.2% increase. This was the first back-to-back increase in mortgage applications since the last week of February/first week of March, and was lifted by a 3.5% increase in requests to refinance existing mortgages. Purchase-money mortgage applications tailed off by 1.4%, and home sales activity has been increasingly muted by challenging conditions, and likely further by vacation and now the onset of the school year in many places.
Current Adjustable Rate Mortgage (ARM) Indexes
Index
For The Week Ending
Year Ago
Aug 05
Jul 08
Aug 06
6-Mo. TCM
3.01%
2.63%
0.06%
1-Yr. TCM
3.12%
2.86%
0.08%
3-Yr. TCM
3.00%
3.00%
0.36%
10-Yr. TCM
2.72%
2.96%
1.22%
Federal Cost
of Funds
1.283%
1.096%
0.785%
30-day SOFR (daily value)
1.73317%
1.28663%
0.05000%
Moving Treasury Average
(MTA/12-MAT)
1.104%
0.859%
0.093%
Freddie Mac
30-yr FRM
4.99%
5.51%
2.77%
Historical ARM Index Data
Consumer moods improved a slight bit in early August, according to the University of Michigan survey of Consumer Sentiment. After posting an all-time record low in June, this barometer of attitudes managed another 3.6-point increase to move to a value of 55.1, and so has bounced off its bottom by all of 5.1 points. Despite lower gasoline prices, assessments of current conditions were actually rated less favorably, shedding 2.6 points to land at 53.5, moving back closer again to an all-time low after an improvement in July. The forward-looking expectations portion alone lifted the headline figure, posting a 7.6-point improvement to rise to 54.9 in the preliminary August review. Although moods remain plenty dark, forecasts for inflation over the next year diminished a little, slipping by 0.2% to a flat 5%.
You might be tempted to think that a few improved reports on inflation would have helped interest rates to fall, but that really wasn't the case this week. The influential yield on the 10-year Treasury did manage to dip a couple of times, but by the end of Friday was actually a slight bit higher than where it began the week. Investors no doubt concluded that while these softer inflation figures may give central bankers something to think about, it by no means changes what's likely to happen to short-term interest rates in the near future. At best, it may make it somewhat more likely that a half-point increase will come next instead of a three-quarter-point move, but it's even too soon to really reckon that.
Next week, we move away from price reports and onto those covering the housing market, retail sales, industrial production and more. Despite some recent volatility -- two large legs down for rates followed one large uptick -- it feels as though the market is trying to find a stable place to play out the remainder of the summer. The reports that are due probably don't change the overall picture very much. Housing is slowing and will likely continue to slow for at least a time yet, the consumer is stressed but has been spending at a fair clip, and manufacturing has settled to a modest-to-moderate pace. With a likely continuation of existing trends the overall outcome, we think that the average offered rate for a conforming 30-year fixed-rate mortgage as reported by Freddie Mac is likely to move very little next week, at least relative to moves seen on many occasions this summer.
Although the crystal ball remains more opaque than we prefer, we nonetheless released a new Two-Month Forecast for mortgage rates covering mortgage rate conditions though early September.
We just completed a mid-year review of our 2022 Outlook. In it, we have a look at how well or poorly our expectations for mortgage rates, Fed policy, home sales, home prices and more have fared. Some are on track; others, not so much, but have a look for yourself.
For a really long-run outlook, you'll want to check out "Federal Reserve Policy and Mortgage Rate Cycles".
----------
In most areas, home prices have been rising for years. If you're curious about how much home equity you have -- or will have at a future date -- you should check out HSH's
KnowEquity Tracker and Projector
, our unique home equity calculation and forecasting tool.
Have you seen HSH in the news lately?
Want to comment on this Market Trends? -- send your feedback, argue with us, or just tell us what you think.

See what's happening at HSH.com -- get the latest news, advice and more! Follow us on Twitter.

---
For further Information, inquiries, or comment: Keith T. Gumbinger, Vice President

Copyright 2022, HSH® Associates, Financial Publishers. All rights reserved.
Previously in the HSH MarketTrends Newsletter
Install this web app on your phone :tap and then Add to homescreen