Message Matters
January 21, 2022 -- Since the last Fed meeting, rather a lot has changed. The omicron variant of COVID-19 has fairly raged across the country. The calendar moved forward one month and year. The financial markets moved into (and out of) their typical holiday period of relative quiet even as they reacted to news of a faster taper for the Fed's bond buying program, and an increasing likelihood of higher short-term rates sooner.
Since mid-December, inflation measures have moved higher, hitting 40-year highs by top-line measures and 30-year highs at core constructs. All told, these and other factors fostered a meaningful rise in interest rates, worsened since then by the release of the minutes of the last Fed meeting that suggested that balance-sheet "runoff" might start "relatively soon after beginning to raise the federal funds rate", according to the minutes of the meeting.
The last time the Fed concluded a bond-buying program (albeit in a very different economic, health and inflation climate) it continued to reinvest inbound proceeds from investments for a period of two years before starting to slowly shrink its holdings. Up until recently, a similar process was expected, if perhaps not one that would take quite as long to take place, but there was little evidence of any kind of "relatively soon" in expectation investor planning or thinking.
Last time, the combination of higher short-term rates and a Fed not recycling inbound funds into more bond buys had the effect of tightening monetary conditions, and that started to put a crimp in economic growth.
The Fed meets next week, in a two-day affair starting Tuesday. No change in policy is expected to occur; the Fed will continue its accelerated taper in order to complete bond-buying by March, and they will likely lay the groundwork for the first increase in the federal funds rate ("liftoff") in their messaging. This should be widely anticipated and therefore already "priced in" to current rates. However, given the sharp (and unintended?) increase in market interest rates, it might be a opportunity for the Fed to suggest that investors are getting ahead of the Fed, at least in terms of expecting four increases in the federal funds rate this year. The central bank could even manage this expectation in the context of the unknown amount of economic damage happening from the Omicron variant of COVID-19. Even if nothing as overt as this comes, any intimation that a the Fed intends to pursue a measured, gradual approach to changing policy this year could help mortgage rates to settle.
At the turn of each year, HSH peers into the crystal ball and produces our Annual Mortgage and Housing Market Forecasts. We cover mortgage rates, the Fed, home prices and sales, reverse mortgages, expected credit conditions and more. Have a look, and see what you think!
This is more so the case in terms of "runoff". Given the bit of surprise regarding the timing of this from the last Fed minutes, it would be a good time to clarify for the markets (at least to some degree) what the Fed means by "relatively soon" in terms of balance sheet runoff. The discussion in the December minutes did note that members "emphasized that the decision to initiate runoff would be data dependent" and would occur "at some point after the first increase", so shedding some light as to whether this means a couple of months from now or a year from now would be useful for investors. At the same time, the balance sheet disinvestment is expected to happen at a pace that "would likely be faster" than the last normalization process, but again, what "faster" infers isn't clear.
It's unlikely that this level of detail will be revealed in the statement; they Fed itself may yet not know, but any information that can be imparted in the statement or post-meeting press conference would help to manage market expectations.
All this matters to mortgage rates and long-term interest rates in general, which have seen a rather abrupt shift in just a few weeks' time. The move is likely more than the Fed may be hoping to see, and the markets may be getting ahead of themselves in terms of where interest rates should be now relative to what the Fed has said and intends in the relatively near future. It's not uncommon to see bonds sell off and yields rise sharply, only to retreat a bit as the selloff-dust settles, and we may be starting to see this now. However, the Fed meeting-closing statement and Chair Powell's subsequent press conference could rev rates back up again if the message still leans more "hawkish" than "dovish".
Want to get MarketTrends as soon as it's published on Friday? Get it via email -- subscribe here!
What happens to mortgage rates of course matters for housing. Since the week of Christmas, 30-year FRMs have risen appreciably, climbing by more than a half-percentage point and to levels last seen as the pandemic first roiled markets (and before the Fed started buying bonds and MBS). That increase doesn't exactly make mortgage rates at any kind of high level, but they are closing in on a percentage point above all-time lows of last January. A combination of higher rates and high home prices could trim the ranks of potential homebuyers, but even so, the existing housing market at least has been more of an inventory story than an affordability one, at least for the last while. That continued in December; the National Association of Realtors noted that sales of existing homes dipped 4.6%, easing to a still-strong 6.18 million (annualized) pace. For all of 2021, the NAR said that 6.12 million homes were sold. Some of the December decline is likely a seasonal effect; since December sales generally represent purchases that began 30-60 days prior, this is a November-ish, coming-into-the-holiday settling.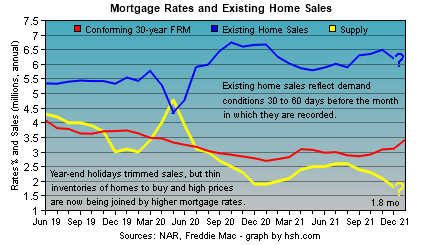 However, it's not clear that sales can improve from here, or even maintain this pace, as there is simply very little for sale. The Realtors noted just 910,000 homes available, a 1.8-month supply at the current rate of sale; both figures are record lows.
At the same time, a dearth of supply continues to pressure prices, and the median price of a home sold in December 2021 was 15.8% more costly than one in December 2020. Into these conditions come higher mortgage rates, raising costs for borrowers. This may damp some demand to start 2022, at least at the margins. That said, the last time rates were at present levels folks still bought homes at an annual rate of around the 5.6 million (annual) mark -- although those homes were about $80,000 cheaper than today, and inventory levels of homes for sale were considerably deeper, if still historically lean. If history is any guide, the number of homes for sale may be even leaner in the next couple months before improving a bit, and sellers may continue to be reluctant to sell if they can't buy and move on, either. We'll learn a little about recent conditions next week when the NAR reports pending home sales for December (infusing January sales).
Find these only at HSH.com!
The new housing market may help absorb some of that moving-on demand. However, builders have been putting up homes at a fair clip and inventories of available newly-constructed homes have been at pretty optimal levels for months, but sales have been relatively muted over that time. Builders remain highly optimistic about conditions, though; the National Association of Home Builders Housing Market Index eased by only a single point in January, slipping to 83 for the month. Measures of single-family sales remained very high at 90, but expectations for sales in the next six months eased a bit with a two-point fall to 83. Traffic levels at showrooms and model homes also eased a bit, but it is winter and Omicron is a concern at the moment, so that's not surprising. The HMI is a diffusion sentiment index; readings above 50 are favorable, and those below, unfavorable. The current level is quite exuberant, and has been for many months now, and we'll see what happened to sales of new homes in December next week.
Builders are happy because they are building, too. Housing starts for December rose another 1.4% to a 1.702 million (annualized) rate of construction. Starts of single-family houses did tail off a little, however, easing 2.3% to a 1.199 million rate, while starts for multi-unit properties expanded by 10.6% to a 533,000 pace. At the same time, the future appears very bright, or at least optimistic, as permits for future construction rose 9.1% overall, with a 2% increase planned for single-family projects and a 21.9% increase for multifamily construction. New homes are usually more costly than existing, so the rise in mortgage rates may produce a greater tempering in the new house market than existing. The median price of a new house sold in November of 2021 was about $66,000 higher than in November of 2020, and at $416,900 in November 21 was about $62,000 more than the median-priced existing home sold, challenging affordability even before rates began to rise.
If HSH's weekly
MarketTrends
newsletter is the only way you know HSH, you need to
come back and check out HSH.com
from time to time. You'll find new and changing content on a regular basis, unique calculators, useful insight, articles and mortgage resources unlike anywhere else on the web.
Despite the flare in rates (or perhaps because of it) applications for mortgages managed a 2.3% increase in the week ending January 14, according to the Mortgage Bankers Association. Requests for purchase-money mortgages rose by 7.9%, perhaps a buyers wanted to get lockins in place before rates increased further; refinance requests dropped 3.1% for the week, and the continued increase in rates this week is likely to curtail most refinance activity except some cash-out refinancing, which is somewhat less interest-rate sensitive than is traditional rate-and-term refinancing. By the MBA's figures, refi activity has fallen back to about late 2019 levels or thereabouts.
A couple of local measures of manufacturing activity were at odds with one another. The Federal Reserve Bank of New York's local barometer dropped sharply in January, falling from December's 26.8 level to -0.7 for the month. Measures of new orders also came to a halt, falling from 27.1 to -5.0%, while the measure tracking employment downshifted considerably less with an 8-point fall to 16.1 for January. As far as inflation is concerned, the "prices paid" index eased by 3.6 points to 76.7, a level that is still elevated, but the lowest since last September at least. With the New York area one of the first impacted by the Omicron breakout, it's likely the virus is to blame for the stall in activity.
Just down the coast a bit, the FRB of Philadelphia's similar indicator moved in the opposite direction. Here, the headline figure improved by 7.8 points to 23.3, recovering a bit of a December drop, with new orders picking up a bit (+2.4 points to 17.9), employment settling back just a little (-7.8 points to 26.1) and prices paid moving back up after an sizable drop in December, but at about the average level seen in the last few months at 72.5 for the period. It would appear that the virus had so far had little impact in the Philly district, which had a lesser spike in cases.
Although starting to wane in the early hotspots, Omicron's impact is far from finished. We may be seeing some of it in the data covering initial claims for unemployment benefits, which have been on the rise of late. In the week ending January 15, 286,000 new applications for assistance were filed across the country; this was an increase of 56,000 from the prior week (a 24,000 increase). The latest week's figure was the highest since mid-October, and since there are still hundreds of thousands of cases of COVID-19 being reported each week, claims for benefits for folks who can't work may be lofty for a time yet.
The initial claims data is a pretty high-frequency indicator, about as real-time as it gets, and there are likely to be more that show a slowing in economic activity to start 2022. We already hear of forecasts for growth being downgraded, and we're likely to see GDP growth in the first quarter come in rather below what's expected for the fourth quarter. Nearly all the new data is in for the advance estimate for GDP, due out next week; presently, the Atlanta Fed's GDPNow model pegs growth at a 5.1% rate for the period, which started very hot (nearly a 10% rate) but has continued to settle since that interim mark was reached in November.
Current Adjustable Rate Mortgage (ARM) Indexes
Index
For The Week Ending
Year Ago
Jan 14
Dec 17
Jan 15
6-Mo. TCM
0.28%
0.13%
0.10%
1-Yr. TCM
0.48%
0.27%
0.11%
3-Yr. TCM
1.22%
0.96%
0.22%
10-Yr. TCM
1.75%
1.44%
1.13%
Federal Cost
of Funds
0.738%
0.749%
0.958%
30-day SOFR (daily value)
0.04967%
0.05000%
0.08567%
FHLB 11th District COF
0.218%
0.225%
0.466%
Freddie Mac
30-yr FRM
3.45%
3.05%
2.79%
Historical ARM Index Data
Growth over 5% is still very hot, and would be a sharp acceleration over the Delta-impacted third quarter level of just 2.3%. We may be headed back to that level to start this year. To this possibility of lessened activity, you might add fading effects of direct stimulus, higher market and policy interest rates and other items, all which may curtail demand and help to attenuate inflation. These things plus (hopefully) improving supply chains should settle price pressures, but it may be a while yet until we see any cumulative beneficial effects.
All that said, the index of Leading Economic Indicators from the Conference Board still points to solid times ahead. December's 0.8% increase was solid enough, and built on November's (downwardly revised) 0.7% increase. The fourth-quarter trend was quite firm, and suggests that there's fair economic momentum to perhaps power us through Omicron's impacts and set the stage for solid-if-moderate growth as we move toward spring.
It's not clear if the multi-week adjustment in financial markets has run its course. Equity markets remain in a slide so far this year, but that hasn't produced much by way of a protection rally in bonds. although treasury yields have backed off recent highs a bit. The Fed's words this week may have a lot of impact on both, but there is also plenty of data to consider, including the latest monthly PCE inflation measures at the end of the week. Still, the Fed holds sway at the moment, since its earlier words have rather upended things, and the right combination of words could calm the waters again.
Based purely on where yields ended the week -- below their recent tops -- there is a chance that we could see a slight decline in mortgage rates when Freddie Mac reports next Thursday. Of course, that looked to be the case last week, but a bump came instead amid jittery markets. It may be that a fairly flat week for rates is all we can hope for at this point.
For a bit of a longer forecast, one that runs until the end of February, check out our latest Two-Month Forecast for mortgage rates.
Our new 2022 Outlook outlines our expectations for mortgage rates, Fed policy, home sales, home prices and more. Have a look if you're curious as to where we may be headed in '22.
For a really long-run outlook, you'll want to check out "Federal Reserve Policy and Mortgage Rate Cycles".
----------
In most areas, home prices have been rising for years. If you're curious about how much home equity you have -- or will have at a future date -- you should check out HSH's
KnowEquity Tracker and Projector
, our unique home equity calculation and forecasting tool.
Have you seen HSH in the news lately?
Want to comment on this Market Trends? -- send your feedback, argue with us, or just tell us what you think.

See what's happening at HSH.com -- get the latest news, advice and more! Follow us on Twitter.

---
For further Information, inquiries, or comment: Keith T. Gumbinger, Vice President

Copyright 2022, HSH® Associates, Financial Publishers. All rights reserved.