Mortgage Rate Trends: Weekly Market Commentary & Forecast
---
Mortgage Rates Leg Higher
November 9, 2018 -- A bump higher, followed by a couple of weeks of leveling, then another bump higher, then some settling, and now another bump higher. Roughly, this has been the pattern for mortgage rates since perhaps Labor day, when summer stability gave way to the apparently unsettling reality that a strong economy, firming inflation and an active Fed no longer providing forward guidance (or much of a pressure-relief valve for bonds) has meant and upward march for interest rates.
There was nothing especially new to spark this week's upturn; for the most part, a very difficult October for equities helped stabilize mortgage rates a bit, but the calendar turn to November has seen a significant rebound for stocks, with money flowing out of bonds, lifting yields. As well, a lot of new supply of U.S. Treasuries has come into the market in the last week or so, only to be met with tepid demand; in such a case, prices fall and yields rise to try to attract buyers. These yields in turn affect mortgage rates, and so up they have gone.
Election results from this week suggest that the fractious political climate will likely continue, and that fiscal policy gridlock is rather more assured for the next couple of years. Whether this is to the benefit or detriment to interest rates is yet to be seen; presently, there is enough fiscal stimulus occurring to keep the Fed on its path of gradually moving rates back to a neutral stance, probably over the course of most if not all of the next year. After that, things become much less clear.
What's happening with home prices? Which markets have recovered... and which still lag behind? Check out the fresh update to HSH's Home Price Recovery Index, covering price changes in 100 metropolitan areas -- and see our Home Value Estimator tool to reckon changes in your market during your ownership period!
The Fed did conclude a two-day meeting on Thursday; no change to short-term rates was expected, and none came. The statement that closed the meeting made no mention of the very unsettled financial market conditions in October, and the only change to the language was one noting a moderation in business investment in the six-week period since the last meeting closed. There was no inkling of any concern about the bit of slowing in the economy, no discussion of firming wages or prices, and no indication that plans to lift rates for a fourth time this year in December have been derailed. Presently, futures markets peg that likelihood at about a 76% chance.
The economy remains strong, but the second quarter's 4.2% GDP growth gave way to 3.5% growth (so far; two revisions due yet) in the third quarter, and early indications for the fourth quarter indicate another downshift, with the present GDPNow run rate from the Atlanta Fed pegging the period at a 2.9% rate. Still, this remains above the level the economy can run at without eating up resources and pressuring prices, and until we get closer to that level the Fed will continue apace.
The largest component of the economy continues to hum along. The Institute for Supply Management's report covering non-manufacturing business trends posted a reading of 60.3 for the month of October, down just a little from September but remaining well into the "robust" category. Sub-indexes of new orders remained firm, dipping just 0.1 points to 61.5 for the period; employment metrics cooled a little, falling from 62.4 in September to 59.7 in October. As far as input costs go, the measure of prices paid also eased a bit, slipping to 61.7, the lowest figure since June, if one still rather elevated.
Want to get MarketTrends as soon as it's published on Friday? Get it via email -- subscribe here!
Consumer borrowing in September settled appreciably. The increase in outstanding debt balances of $10.9 billion was about half that seen in August and the smallest since June. As is typically the case, installment credit (used for auto and education loans and such) expanded, with $11.2 billion added to balances during the month. However, revolving balances (credit cards) actually contracted by $0.3 billion; this was the fourth decline seen in 2018. Increasing interest cost could be seeing some consumers eschew credit cards, preferring to pay cash for small-dollar discretionary purchases instead. We'll get a look at October retail sales next week; the pattern here has been pretty soft for a couple of months and even if there is a post-Florence rebound it will probably be muted. As well, wobbly stock markets in October may have added a bit of caution to borrowing and spending.
Price pressures at the producer level flared 0.6% higher in October, the largest one-month gain since in about a year and a half's time, kicking the annual headline PPI rate back up to 2.9%, reversing a three-month trend of diminishment. So-called "core" PPI came in unchanged for the month, so outside of the most volatile components such as food and energy costs, inflation as tracked here moderated. The year-over-year measure eased to 2.4%, continuing a gentle downtrend and landing at the lowest annualized level since April. Recent declines in oil prices, should they stick around, will tend to trim the top off of both the Producer and Consumer Price indexes, but we'll have to wait to see the effects (if any) over the next couple of months.
Consumer moods remained elevated in early November, according to the University of Michigan Survey of Consumers. The barometer of Consumer Sentiment eased by 0.3 points, and the slight move left a value of 98.3 in its wake. Measures of current conditions edged 0.1 point higher to 113.2 for the period; those for expectations for the future slipped by 0.6 points to 89.3 in the interim reading. Sentiment remains high amid good economic times and solid labor markets, and there appears to be plenty of momentum to close out this year and move us well into the next one.
The nation's wholesaling firms added to inventory levels by 0.4% in September. These intermediaries between manufacturers and retailers saw stockpiles of durable goods rise by 0.8%, with non-durables holdings getting drawn down by 0.4% for the month. Sales rose by a slight 0.2%, but this was enough to keep inventory levels at a fairly lean 1.26 months of holdings on hand relative to sales, so odds favor that manufacturing will continue to be well supported for the near future. Some of the inventory build may continue to be spurred by changes to trade policies and new tariffs; to the extent that this is the case, particularly for Chinese goods, we may see bit of a surge in stockpiling in the months ahead, as some goods now subject to a 10% tariff will see that increased to 25% come January (and other goods may become subject to new levies, too).
If HSH's weekly MarketTrends newsletter is the only way you know HSH, you need to come back and check out HSH.com from time to time. You'll find new and changing content on a regular basis, unique calculators, useful insight, articles and mortgage resources unlike anywhere else on the web.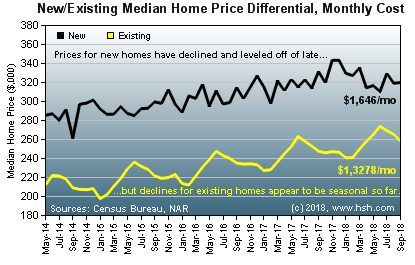 Anyone in and around real estate and mortgage industries will tell you that things have become very quiet of late, what with flagging sales of new and existing homes, no refinance activity to speak of, a softening trend for housing starts and firmer mortgage rates all contributing to the increasing silence. With this week's bump, it seems likely that the last good week before the normal holiday-season quiet begins to creep in (usually after Veteran's Day) will see more mortgage-seekers than usual stay home, so to speak.
However, changing market conditions are actually a source for at least a spark of optimism; cooling demand is staring to take the edge off every-rising home prices. The next month or two probably won't show it much (lots of folks don't want to list a home or may take it off the market during the holiday season) but inventory levels of available homes are improving. Provided interest rates don't move too much above present levels, some pent-up demand that forms during the holiday/winter months period may give us a better early spring homebuying season than you might expect. Unfortunately, we are likely facing a very slow period until then, and the Mortgage Bankers Association noted this week that applications for purchase money mortgages have slipped to a level last seen some four years ago already. Here's hoping for better days ahead, and sooner rather than later.
Current Adjustable Rate Mortgage (ARM) Indexes
Index
For The Week Ending
Year Ago
Nov 02
Oct 05
Nov 03
6-Mo. TCM
2.49%
2.41%
1.28%
1-Yr. TCM
2.67%
2.62%
1.45%
3-Yr. TCM
2.92%
2.94%
1.73%
5-Yr. TCM
2.97%
3.01%
2.00%
10-Yr. TCM
3.14%
3.14%
2.36%
FHFA NMCR
4.62%
4.63%
4.05%
FHLB 11th District COF
1.018%
1.015%
0.732%
Freddie Mac 30-yr FRM
4.83%
4.90%
3.94%
Historical ARM Index Data
The bad news this week was the mortgage rates legged higher again, and rather more than we expected. The goods news is that the pattern we described in the first paragraph appears to be starting again; although some upward pressure yet remains for rates, the influential 10-year Treasury has eased a bit at week's end, and raw purchase quotes from Fannie Mae have been fairly stable for the last few days.
Last week's expectations undershot the rise in mortgage rates this week as a larger-than-expected kicker in underlying rates came on Monday and held throughout the period. Peering forward is always likely to be fraught with error and should always be taken with at least a grain or two of salt. That said, we remain undaunted, and from where we are ending this week, it looks as though we'll see stable to possibly a slight reduction in the average offered rate for a conforming 30-year FRM reported by Freddie Mac next Thursday morning... but do pass the salt.
For an outlook for mortgage rates that carries almost to the turn of 2019, check out our latest Two-Month Forecast.
You might also take a minute to have a have a look at our mid-year review of our 2018 Outlook. Back in December 2017, we looked out over the year and provided some thoughts and expectations for a wide range of housing and economic topics, and included a long-range forecast for mortgage rates. It's hard to think that we'll be looking to 2019 in just a few short months.
----------
Still underwater in your mortgage despite rising home prices? Want to know when that will come to an end? Check out our KnowEquity Underwater Mortgage Calculator to learn exactly when you will no longer have a mortgage balance greater than the value of your home.
---
Have you seen HSH in the news lately?
Want to comment on this Market Trends? -- send your feedback, argue with us, or just tell us what you think.

See what's happening at HSH.com -- get the latest news, advice and more! Follow us on Twitter.

---
For further Information, inquiries, or comment: Keith T. Gumbinger, Vice President

Copyright 2018, HSH® Associates, Financial Publishers. All rights reserved.