Mortgage Rate Trends: Weekly Market Commentary & Forecast
---
Mortgage Rates Wandering About
August 10, 2018 -- With the first week of the month crush of fresh economic data past with central bank meetings done for the next while, we're back to a quiet spot for mortgage rates. History's usually a poor guide, but the waning weeks of summer don't usually feature much by way of activity for rates, with things tending to become more active and interesting in the first full business week past Labor Day.
Over the last 4 years, this period of August has seen mortgage rates in either a level or slightly declining pattern; expanding the time reference all the way back to the earliest days of the financial market crisis finds only one year where rates were rising during these mid-summer weeks. That was 2013, when the so-called "taper tantrum" that began in late spring was still roiling markets. Things are much quieter now.
We're pleased to announce the latest unique-to-HSH decisioning tool, our FHA Calculator and loan comparison tool. With it, borrowers with small downpayments or low credit scores can see the true cost of taking an FHA-backed mortgage over their expected ownership period, then directly compare these costs against Conventional 97% LTV and the HomeReady and Home Possible programs and know which mortgage choice is the best for their needs. The new calc anchors our new suite of content covering FHA mortgages. Check it out for yourself!
The quiet doesn't only extend to rates, though. Limited inventories of homes to buy are keeping existing home sales from gaining much traction, and we are starting to move out of the prime homebuying time of the year, so odds for a strong pick up in sales are diminishing. With higher mortgage rates and new limits on interest deductibility for cashing out equity, refinancing has dried up, and sales of new homes remain moderate at best, and rather below levels that would be considered closer to normal. According to the Mortgage Bankers Association, applications for mortgages have been on a downtrend for several years now, and looking all the way back to year 2000, there have been only a few periods where mortgage application activity has been less than now.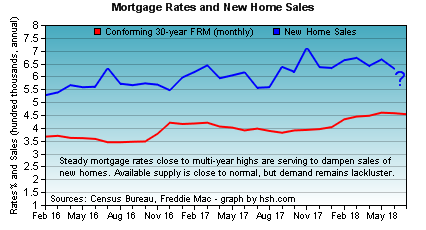 Mortgage underwriting standards remain firm, but if market mechanisms haven't been completely regulated out of existence, we may see somewhat easier terms and conditions oozing into the market as we go. Diminishing loan activity tends to foster two things: a) An expanding net to try to capture the best-available borrowers (those formerly at the fringes of acceptable), and b) mortgage product innovation. In mortgage history, times of need saw the birth of the adjustable rate mortgage, balloon-reset "two-step" products, hybrid ARMs, 2-1 buydowns and other items, but in terms of desperation to boost originations, we're not there just yet. Qualified mortgage rules have seen the origination focus on more plain-vanilla mortgage terms and features and it may be hard to get both regulators and consumers to accept much by way of new or novel products at the moment. As well, there hasn't exactly been a robust securitization mechanism to liquefy low-volume, differently-featured offerings. However, this is changing, as market players look to non-QM offers to boost sales and profits, and there are likely many hundreds of thousands of borrowers who need just a little more breathing room to be able to have a chance at a mortgage.
Want to get MarketTrends as soon as it's published on Friday? Get it via email -- subscribe here!
Perhaps there is a fresh sign of a willingness among lenders to accept borrowers with somewhat lesser qualifications. The Federal Reserve's latest Senior Loan Officer Opinion Survey covering the quarter ending in early July revealed that 15.3 percent of lenders polled during the period reported looser underwriting standards for GSE-eligible mortgages, the most common variety. This was the highest ratio in three years, so it may be that a lack of business is the reason for the minor change of heart by lenders. As well, a small net fraction (6.9%) eased criteria for government-backed loans, so it would seem that so-called "overlays" continue to diminish, opening the credit door just a little wider for borrowers with low credit scores and small downpayments. That said, demand for GSE and government-backed loans was of course weaker on balance during the period.
A surge in consumers in taking on new debt in May turned out to be a one-month event. In June, consumer credit balances rose by just $10.2 billion, falling back to earth after a $24.3B pop in May. The decline was most pronounced in revolving credit balance, which declined by some $9.8 billion for the month to actually see outstanding debts retired to the tune of $200 million, the second such paydown in the last four months. However, softness was also seen in the installment credit side of the ledger, too, with just a $10.4 billion rise for the month, some $4.3 billion less than was borrowed in May. Installment debt is usually used to buy things like new autos or pay for tuition, but auto sales have flagged a bit, and the strong job market means rather fewer folks are heading to trade schools and such at the moment.
Inflation remains in the forefront of investor (and the Fed's) minds. The latest review of prices upstream of the consumer at the producer level showed a no change in July from June, with the headline Producer Price Index posting a zero percent change. However, "core" producer prices continued an upward track; this measure that omits the most volatile components such as energy and food costs rose by 0.3 percent, making it 6 of the last 7 months of such an increase. Over the last year, headline PPI has climbed by 3.2% and seems to be leveling, while core PPI has accelerated upward in the last three months.
Although the trend for prices has been upward for some time, the recent monthly report that contains information on Personal Consumption Expenditures has shown level "core" PCE prices for the three months ending in June, holding at an annual rate of 1.9% over that period. There may be some new upward pressure forming, but for the monent, inflation remains right on the Fed's target.
If HSH's weekly MarketTrends newsletter is the only way you know HSH, you need to come back and check out HSH.com from time to time. You'll find new and changing content on a regular basis, unique calculators, useful insight, articles and mortgage resources unlike anywhere else on the web.
Claims for unemployment assistance have been at or very near 50-year low levels for some time now, reflecting the solid job market. In the week ending August 4, just 213,000 new applications for help were filed around the country and the trend here has been both low and flat. It isn't yet clear to what degree businesses have or will be impacted by all the new tariffs and trade restrictions coming into play, but if there is an effect on jobs, it would likely start to show as the year wends along.
Current Adjustable Rate Mortgage (ARM) Indexes
Index
For The Week Ending
Year Ago
Aug 03
Jul 06
Aug 04
6-Mo. TCM
2.22%
2.13%
1.14%
1-Yr. TCM
2.44%
2.33%
1.23%
3-Yr. TCM
2.76%
2.64%
1.51%
5-Yr. TCM
2.85%
2.73%
1.81%
10-Yr. TCM
2.97%
2.84%
2.27%
FHFA NMCR
4.59%
4.57%
3.87%
FHLB 11th District COF
0.934%
0.885%
0.648%
Freddie Mac 30-yr FRM
4.60%
4.53%
3.93%
Historical ARM Index Data
Although still nearer to 2018 highs than not, mortgage rates aren't likely to move much. The economic data calendar does pick up a bit later next week, but that will occur after the next weekly survey from Freddie Mac has been completed. Unless there's a huge surprise in the import/export prices report on Tuesday, odds favor a change in rates of not more than a basis point or three in the average conforming 30-year FRM. Given the expected small move, the change could be in either direction; leaning on history, we'll call it a slight decline.
For an outlook for mortgage rates that carries into the waning days of summer vacation, check out our latest Two-Month Forecast.
You might also take a minute to have a have a look at the mid-year review of our 2018 Outlook. Back in December 2017, we looked out over the year and provided some thoughts and expectations for a wide range of housing and economic topics, and included a long-range forecast for mortgage rates. Now at the mid-year point, we look both backward and forward and review where things are at.
----------
Still underwater in your mortgage despite rising home prices? Want to know when that will come to an end? Check out our KnowEquity Underwater Mortgage Calculator to learn exactly when you will no longer have a mortgage balance greater than the value of your home.
---
Have you seen HSH in the news lately?
Want to comment on this Market Trends? -- send your feedback, argue with us, or just tell us what you think.

See what's happening at HSH.com -- get the latest news, advice and more! Follow us on Twitter.

---
For further Information, inquiries, or comment: Keith T. Gumbinger, Vice President

Copyright 2018, HSH® Associates, Financial Publishers. All rights reserved.