Fed Considerations
September 17, 2021 -- In just a few days' time, the Federal Reserve will again meet to discuss the economy and whether or not any change to monetary policy is warranted. With GDP growth running very strong (although perhaps a little less strong over the last month or so) and inflation running at multi-decade higher, it's not clear if the economy still requires all the extraordinary support that the central bank has given it, particularly since it has long since been joined by multiple tranches of fiscal stimulus over the past 15 months or so, and potentially trillions more yet to come.
Although there is little likelihood of a change in policy stance, this Fed meeting does have a little bit more importance perhaps than those earlier this year. A fresh Summary of Economic Projections from Fed members is due out, detailing individual and aggregate outlooks for growth, inflation and unemployment; this can help investors develop a sense of the timing of the start of the next interest rate cycle. Over the last few meetings that contained SEP releases, this time period has shrunk noticeably, although the most recent reckoning (June) suggests no changes are due until perhaps later next year at the earliest.
Given the strong surge in hiring in two of the last three months, it may be that some members now feel that "substantial further progress" on the labor from may have been achieved, and this would tend to advance the timing of the first rate change. Fed Chair Powell has already noted in a speech at an economic symposium in Jackson Hole (WY) on a few weeks ago that in his judgement that the substantial further progress test has already been met for inflation, leaving only joblessness as the reason to continue emergency-level programs. That said, and although still significant, hiring in August decelerated sharply from early-summer levels, a change in the pattern blamed largely on the COVID-19 Delta variant's effected on travel, entertainment and leisure industries.
What's happening with home prices? Which markets have recovered... and which still lag behind?
Check out the final update to HSH's
Home Price Recovery Index
, covering price changes in 100 metropolitan areas -- and see our
Home Value Estimator
tool to reckon changes in your market during your ownership period!
This Fed meeting also carries a bit of import since the Fed has been openly discussing the tapering of its QE-style bond-buying programs. The most recent chatter is that, if things work out as the Fed hopes, that a program of slowing buys will begin later this year. The Fed will probably not release an explicit plan at this meeting; rather, the statement that closes the meeting and the Fed's press conference thereafter will probably note that a plan is in the works, but not finalized, and that there's not yet a timetable in place to implement it. At the same time, it is very likely that the Fed will take every possible opportunity to reinforce its most recent messaging that making changes to asset-purchase programs has no relationship with the wholly separate and distinct process of deciding to raise short-term interest rates.
Still, the Fed has much to consider. It continues to expect that the current hot flare of inflation will settle over time, but there are signs that some price increases may be more durable and that tight labor markets and higher costs are starting to put upward pressure on wages. As well, inflation expectations, something the Fed strongly considers, has become a little less "well-anchored" in recent months, and this combination can help create or foster the kind of environment that allows price pressures to become more durable. It's also worth remembering that inflation measure track changes in prices, not actual price levels; if something cost $1 last year, 5% inflation would mean it costs $1.05 this year. Even if inflation stops increasing, the items still costs $1.05 (unless we start to see deflation). So while there may be no measured inflation, it certainly doesn't mean things are getting more affordable... just that they're not getting less affordable.
Want to get MarketTrends as soon as it's published on Friday? Get it via email -- subscribe here!
On the subject of spending, Retail Sales surprised to the upside in August, rising by 0.7% where a slight decline was expected. Sales would have been higher if not for a continuing contraction in auto sales, as the computer chip shortage has severely impacted activity there. Aside from that, it's not exactly clear how much of the August gain in sales was due to folks actually buying more or just paying more for what they buy. The Census Bureau notes that retail sales are adjusted for seasonal variation and holiday and trading-day differences, but not for price changes (emphasis ours). Higher prices for goods and services may be making it look as though sales are fairly robust, when in fact they are more muted.
And prices are sill rising, if somewhat less so than has been the case this year. The Consumer Price Index for August rose by another 0.3%, but this was the smallest increase in the overall inflation figure since January. Even with the deceleration last month, annual headline CPI is still running at a 5.2% clip. "Core" CPI inflation, a measure that excludes food and energy costs saw just a 0.1% increase, the smallest since February, but the annual rate is still 4%, about double the level the Fed is hoping to see, although they use a different measuring stick. Of course, food and energy is the kind of inflation most of us encounter on a routine basis, and food costs are 3.7% above year-ago levels; energy, nearly 25% above.
Find these only at HSH.com!
Price increases for imported goods have also mellowed of late, actually posting a 0.3% decline in August, the first dip since last October. Even so, that was only good enough as to trim the rate of import inflation to a flat 9% for August, down from 10.3% in July. We also exported somewhat less inflation last month, with outbound goods carrying a 0.4% overall increase in cost, also the smallest increase since October 2020. Costs of items leaving the U.S. are still some 16.8% more costly than last year, although that's slightly less than either June or July's year-over-year figure.
Two regional measures of manufacturing activity kicked higher in September after a softer August review. The Federal Reserve Banks of New York and Philadelphia released their latest surveys of activity in their districts this week, and the news was pretty good. The FRBNY's barometer of activity rose by 16 points to 34.3 for the month, powered by more than a doubling of new orders (from 14.8 to 33.7) and improvements in the labor metric (+7.7 points to 20.5, close to a cyclical high. Price pressures remained evident, though, as the "prices paid" index remained near a record high and show little sign of abating.
If HSH's weekly
MarketTrends
newsletter is the only way you know HSH, you need to
come back and check out HSH.com
from time to time. You'll find new and changing content on a regular basis, unique calculators, useful insight, articles and mortgage resources unlike anywhere else on the web.
The Philadelphia Fed's similar gauge rose by a sharp 11.3 points in September, landing at 30.7 for the month. Unlike it's next-door cousin, new orders settled back (-6.9 points to 15.9) and employment eased back by 6.3 points to a still very solid 26.3 for the period. Also settling a bit was the local inflation measure; like NY, it remained quite high despite the slight fade.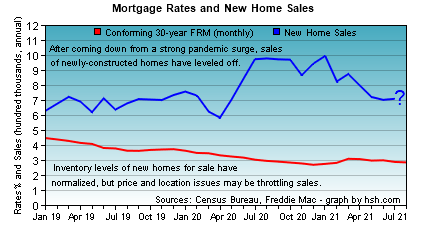 Industrial Production expanded by 0.4% in August. Manufacturing output increased by 0.2%, creating the first back-to-back increase since the December-January bridge into 2021. A reduction in mining output curtailed the headline gain; the 0.6% decline was almost solely due to hurricane Ida's influence on oil and gas extraction across the Gulf Coast. Conversely, utility output surged by 3.3% in August, as a spell of hot weather kept air conditioners cranking. With the gain in production for the month, the percentage of industrial production floors in active use rose to 76.4%, the highest level since December 2019 and finally erasing the pandemic plummet in usage, if still a long way from historic norms.
Ida's effects are starting to be seen in unemployment claims figures, too. In the week ending September 11, another 332,000 applications were filed, up by 30,000 from the previous week. Since the ability to file a claim may be impacted in the first few weeks after a storm wreaks havoc (no power, offices closed, etc.) we will likely see the effects of Ida on initial claims over the next few weeks. Also, since the program has largely come to a close, special Pandemic Unemployment Assistance claims are dropping off, totaling just 28,000 in the week ending September 11, down from around 100K per week over the last month or so.
New applications for mortgage credit moved up in the week ending September 10. Surprisingly, the Mortgage Bankers Association noted that all the gains came from an increase in request for purchase-money mortgages, which gained 7.5% for the week. Despite mortgage rates being steady at low levels, requests for refinancing funds declined for a third consecutive week, falling by another 3.2% , so refi activity has cooled off to early-summer levels again after a fairly strong summer run.
Current Adjustable Rate Mortgage (ARM) Indexes
Index
For The Week Ending
Year Ago
Sep 10
Aug 13
Sep 11
6-Mo. TCM
0.06%
0.06%
0.13%
1-Yr. TCM
0.08%
0.08%
0.14%
3-Yr. TCM
0.44%
0.45%
0.17%
10-Yr. TCM
1.35%
1.34%
0.69%
Federal Cost
of Funds
0.780%
0.785%
1.107%
30-day SOFR (daily value)
0.05000%
0.08434%
FHLB 11th District COF
0.263%
0.282%
0.653%
Freddie Mac
30-yr FRM
2.88%
2.86%
2.87%
Historical ARM Index Data
Although still less-strong than was seen at the beginning of the summer, the collective tenor of the economic data is fair, and perhaps even improved a little lately bit relative to expectations. That's put just a touch of firmness back into interest rates and mortgage rates. Were we saw a slight decrease this week, we may see a slight increase next week when Freddie's next survey of rates comes out; figure on a couple of basis point increase in the average offered rate for a conforming 30-year fixed-rate loan. Freddie's survey will have closed by the time any effects from the Fed meeting could be included, and only some home sales and home construction data is out prior to their get-together, which shouldn't move the markets much.
For an outline of where we think mortgage rates will head as we move out of summer and into the early fall, see our latest Two-Month Forecast for mortgage rates.
We've just completed a mid-year review of our 2021 Outlook to see how our prognostications for a range of topics are coming along. Have a look and see how we're doing so far in '21.
For a really long-run outlook, you'll want to check out "Federal Reserve Policy and Mortgage Rate Cycles".
----------
In most areas, home prices have been rising for years. If you're curious about how much home equity you have -- or will have at a future date -- you should check out HSH's
KnowEquity Tracker and Projector
, our unique home equity calculation and forecasting tool.
Have you seen HSH in the news lately?
Want to comment on this Market Trends? -- send your feedback, argue with us, or just tell us what you think.

See what's happening at HSH.com -- get the latest news, advice and more! Follow us on Twitter.

---
For further Information, inquiries, or comment: Keith T. Gumbinger, Vice President

Copyright 2021, HSH® Associates, Financial Publishers. All rights reserved.