We recently received an inquiry from a reader asking, "Is the first-time homebuyer tax credit still available?"
Unfortunately, the answer is no. The first-time homebuyer tax credit has been expired for several years.
First-time homebuyer state programs
However, there are state homebuyer assistance programs geared toward first-time homebuyers. Each state has specific programs headed up by their housing finance agencies that offer some sort of homebuying assistance.
First-time homebuyers, or anyone looking for mortgage or real estate assistance, should log onto their state's website and search for the section on housing and real estate information. Most states have more than one program targeted at homebuyers.
It's important to understand that each state offers different and unique programs, and the specific programs have different parameters as to who can qualify, how to qualify and what the particular benefits are.
Many state-run housing assistance programs have no set expiration date, rather they expire when the money allocated to the particular effort runs out--first come, first serve.
A first-time homebuyer is defined in all 50 states as "someone who has never owned a home or hasn't been a homeowner in the last three years."
Overwhelming support for an extension
While the tax credit has been expired since 2010, there was overwhelming support among HSH.com readers to extend the deadline. Here is the results from a poll we ran on blog.HSH.com back in 2010: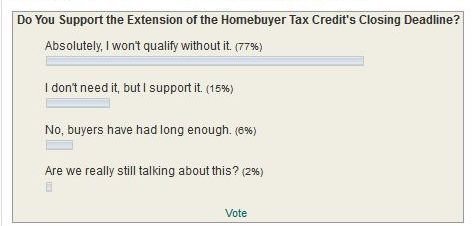 More help from HSH.com
8 costs to consider when buying a rental property

How to buy and finance apartment buildings

Here's a guide to what borrowers need to know about how to buy and finance apartment buildings.

5 ways to check if your landlord is a slumlord

If you're among the nation's growing ranks of renters, or you might become a renter down the road, here are five ways to check out a potential property and investigate a prospective landlord to avoid a slumlord.

Home price recovery: Has your market fully recovered?

Can I refinance for free?

You have several options, but also several considerations.