Mortgage Rate Trends: Weekly Market Commentary & Forecast
---
Quiet, Flat Week For Mortgage Rates
June 23, 2017 -- Mortgage rates across the board moved by the barest amount possible, with each of the loan types tracked by Freddie Mac sliding by a single basis point. Major stock indices were mixed at best, but mostly closed the week at levels below their intra-week peaks. Of late, oil prices have declined anew, and are running at levels said to put them in "bear" territory. As these costs can be a key if transient influence on inflation pressures, an already slowing pace of inflation may have some opportunity to slow somewhat more.
If inflation should show additional signs of retreating, it becomes somewhat less likely that we'll see another lift in the federal funds rate come September, but rather the Fed might begin its process of trimming reinvestment on its massive holdings of bonds instead, a gentle start to the "quantitative tightening" process that will take years to come to completion.
After flaring higher earlier this year, mortgage rates have again settled at levels that make them at least modestly attractive for homeowners looking to refinance but certainly attractive to folks looking to purchase homes. However, that rates are lower than earlier this year and stable is a bit of a two-edged sword, and it is serving to enhance demand for home at a time when supply simply cannot keep pace. This demand may also be being exacerbated by mortgage offerings with just 1 percent or even no money down, with a portion of all of a typical-minimum 3 percent down payment being covered by mortgage lender grants. Fannie Mae itself will be making it slightly easier for folks carrying high debt loads to qualify with no undue burden even if they have back-end debt ratios as high as 50 percent.
What's happening with home prices? Which markets have recovered... and which still lag behind? Check out the new update to HSH's Home Price Recovery Index, covering price changes in 100 metropolitan areas -- and see our Home Value Estimator tool to reckon changes in your market during your ownership period!
This is all well and good, but creating more demand tends to worsen the supply issue, and with predictable results: Home prices continue to march steadily higher. Although broad measures of inflation may be tame and/or retreating, asset price inflation in the form of home prices most certainly isn't.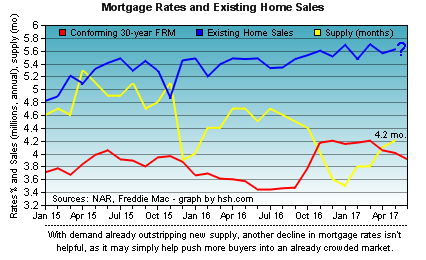 At some point, something has got to give -- either more supply needs to become available, or absent a boom-time lowering of mortgage qualification standards (not likely) or a serious drop in interest rates to provide lower mortgage carry costs (also not likely) -- it seems unlikely that the housing market will be able continue at current levels of sales demand, let alone strengthen much from here.
In May, sales of existing homes rebounded a bit after an April stumble, rising by 1.1 percent to a 5.62 million annualized pace. Although improved relative to recent months and now at a 7-month high, the available supply of unsold homes remains well below normal or optimal levels at just 4.2 months of stock (six months is considered to be normal). Prices continue to move higher; both the National Association of Realtors and the Federal Housing Finance Agency reported national home prices at new record highs (in different measures, NAR reported a 5.8 year-over-year increase; the FHFA, 6.8 percent) with both showing steady increase now for more than 5 years.
Want to get MarketTrends as soon as it's published on Friday? Get it via email -- subscribe here!
Tight supplies of existing homes might be less of an issue if construction of new homes was running at a level that would actually be adding fresh inventory to compensate... but it isn't. We learned last week that housing starts declined for a third consecutive month and have largely plateaued over the last two years at something in the mid 1.1 million range. Although stock levels relative to sales are better here, sales of new homes also remain at a pace well below even pre-boom levels of the last decade, and remain modest despite fairly solid supporting factors.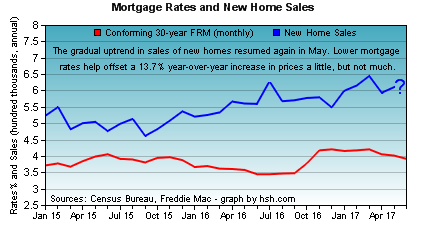 New homes sold at a 610,000 annualized rate in May, up a bit from an upwardly-revised 593,000 in April, close to 10-year highs, if still perhaps only 75 percent of the pace of the early 2000s. Supplies here are snug, but the current 5.3 months of stock available (an actual 268,000 units built and ready to be sold) is fair enough. The median price of a newly constructed home, though, leapt by 13.7 percent in May, moving a little further out of the reach of homebuyers. All things being equal (taxes, etc) and with a 20 percent down payment, a homebuyer trying to make the leap from median priced existing home to a median priced new home would need to come up with about 26 percent more income. Given that a long string of modest wage increase has been a hallmark of this expansion, that just doesn't seem likely, somehow.
Will supply relief come? Yes, but for properties held by investors for rent, probably not until returns from selling a property outstrip those from renting it. For homeowners looking to move to new homes, probably not until more stock in desirable locations becomes available to them, trade-up opportunities begin to present themselves, more strongly or until equity positions have reached a level that takes at least some of the sting out of a jump to a more expensive property. This isn't likely to happen overnight, and we will probably face tight housing supply for a good while yet.
A few economic tidbits of note were also out this week. The Conference Board's index of Leading Economic Indicators put in an eighth consecutive positive month, rising in May by 0.3 percent. The string of gains has been more tempered in the last couple of months than it was to close 2016 and start 2017, but nonetheless suggests that the plodding expansion it likely to continue. Next week, the second quarter comes to a close, and we'll get a final reading for first quarter GDP, which current estimates run rate of 1.2 percent. Although the first look at the second quarter won't be available until the end of July, an on-the-fly reckoning by the Federal Reserve Bank of Atlanta suggests the second quarter may finish with a rate of growth closer to 3 percent than not, but it sure hasn't felt like there was all that much acceleration from a stagnant first quarter pace.
If HSH's weekly MarketTrends newsletter is the only way you know HSH, you need to come back and check out HSH.com from time to time. You'll find new and changing content on a regular basis, unique calculators, useful insight, articles and mortgage resources unlike anywhere else on the web.
Claims for new unemployment benefits continue to hold at levels about in the middle of recent low and high marks. In the week ending June 17, some 241,000 new applications for assistance were filed around the country, about in the middle of a 255,000 recent peak on May 27 and corresponding recent low of 233,000 in the week ending May 13. The next national employment report comes July 7.
Manufacturing conditions in the Federal Reserve of Kansas City's domain picked up a little in June, with their yardstick moving to 11 from a value of 8 in May. The KC Fed's review has been in positive territory for 8 consecutive months, and although the measure of new orders did slip a bit for the month, the one covering employment suggested that hiring strengthened a bit.
Current Adjustable Rate Mortgage (ARM) Indexes
Index
For The Week Ending
Year Ago
Jun 16
May 19
Jun 17
6-Mo. TCM
1.12%
1.02%
0.38%
1-Yr. TCM
1.21%
1.10%
0.53%
3-Yr. TCM
1.49%
1.46%
0.83%
5-Yr. TCM
1.76%
1.81%
1.12%
FHFA NMCR
3.97%
4.12%
3.73%
FHLB 11th District COF
0.645%
0.583%
0.678%
Freddie Mac 30-yr FRM
3.91%
3.95%
3.60%
Mortgage and other interest rates seem fairly content to hang around present levels. With a little more economic data on tap next week and the end of the quarter fast approaching, we could see a bit more volatility next week than this. But even if we tripled or more the amount of movement we've seen in rates the last few weeks, we would still be talking about movement measured in single-digit basis points, and frankly, we don't think we'll see anything approaching this next week. Another fairly flat week for rates seems on tap, but we could take back this week's slight fall in rates, if anything, by the time Freddie Mac reports next Thursday morning.
For a forecast for mortgage rates that will carry you deeper into the summer (at least until early August), have a look at our Two-Month Forecast. For a year-long review of expectations, see our 2017 Outlook.
----------
Still underwater in your mortgage despite rising home prices? Want to know when that will come to an end? Check out our KnowEquity Underwater Mortgage Calculator to learn exactly when you will no longer have a mortgage balance greater than the value of your home.
---
Have you seen HSH in the news lately?
Want to comment on this Market Trends? -- send your feedback, argue with us, or just tell us what you think.

See what's happening at HSH.com -- get the latest news, advice and more! Follow us on Twitter.

---
For further Information, inquiries, or comment: Keith T. Gumbinger, Vice President

Copyright 2017, HSH® Associates, Financial Publishers. All rights reserved.