Mortgage Rate Trends: Weekly Market Commentary & Forecast
---
Rates Slip, Perhaps Will Dip
February 10, 2017 -- In a week light on the most market-moving economic data, and as we move into the valley between the last Federal Reserve Bank meeting and the next, mortgage rates are finding a little space to soften. At one point this week, it looked as though we might be entering a more meaningful downturn for rates, but that chance was eroded a bit as President Trump offered that a "phenomenal" tax cut plan would soon be revealed. This pronouncement saw investors move money out of bonds and back into stocks, and influential yields that underlie mortgage rates edged back upward a bit as the week ended.
After spiking in November and December, mortgage rates have turned a bit more directionless so far in 2017, holding in a fairly small range for the first six weeks of the year. Given that much of the increase in rates was the surprising result of the election as investors made considerable adjustment to their positions, it's to be expected that rates are more in a holding pattern than not as markets await details of what are expected to be considerable fiscal, tax and trade policies. It is of course unclear what will actually make its way through the political process, and even then, what impacts these changes will have (if any, for whom, and when).
Want to get MarketTrends as soon as it's published on Friday? Get it via email -- subscribe here!
Readings of consumer moods seem to reflect this future uncertainty. For example, the latest review of Consumer Sentiment from the University of Michigan showed a decline in the preliminary February poll. Although assessments of current conditions jumped in November and December and remain at those elevated levels so far this month, expectations for future conditions have now faded back to readings comparable to those seen in November, so there has been a diminishment of enthusiasm about prospects looking forward. According to the report, the still-fractious political environment is contributing to this diminished assessment.
Mortgage rates -- the price of money -- is only one concern of the potential home buyer or homeowner looking to refinance. Access to those funds is perhaps more important, and lending conditions continue to ease conditions at the margins according to the latest poll of Senior Loan Officers by the Federal Reserve. To be fair, the loosening wasn't much, but 4.8 percent of banks responding to the poll reported easier standards for GSE-backed mortgage loans, and 3.4 percent reported such changes for government-backed loans. Given that underwriting terms are dictated by Fannie, Freddie, the FHA and other bodies, this trimming of strictures most likely takes the form of reduced or eliminated overlays.
What's happeing with home prices? Which markets have recovered... and which still lag behind? Check out the latest update to HSH's Home Price Recovery Index, covering price changes in 100 metropolitan areas -- and see our Home Value Estimator tool to reckon changes in your market during your ownership period!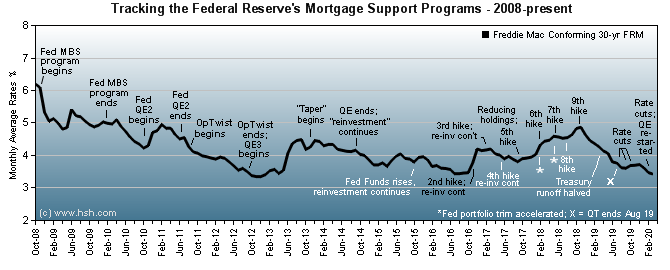 As well, at least a bit of additional good news for future mortgage seekers came in the form of expectations for 2017 lending standards. More than 9 percent of lenders expect to loosen their reins in 2017 for GSE-backed loans, and some 14 percent expect to do so for non-conforming jumbo loans as well. By contrast, concerns about rising losses in auto lending saw terms and conditions for those loans tightened up, with about 13 percent pulling the purse strings more taut.
The nation's trade flows and policies are certainly in the headlines these days. The latest measure of the overall imbalance of trade showed a $44.4 billion gap in December, a figure slightly smaller than November. However, in perhaps a sign that economic growth both here and abroad have picked up somewhat, both imports and exports rose during the month. While imports rose by $3.6 billion during the period, exports rose by a full $5 billion for the month. If economic growth in our trading partners' economies is starting to pick up a bit this would be good news for our own economy as it would tend to promote export growth (provided of course that trade policies remain fairly constant and the exchange rates of various currencies remains favorable).
Costs of goods coming onto these shores continue to increase, which will continue to promote at least some inflation. The aggregate cost of goods coming to these shores rose by 0.4 percent in January, and the drag of deflation from imports is falling behind us. Where just size months ago prices of imported goods was declining at an annualized 3.7 percent rate, costs are now actually rising at that pace, so the change here has been quite swift. Goods leaving these shores did also have a 0.1 percent higher value in January, but prices of items we're exporting have an annualized rise of a much milder rate of just 2.3 percent at the moment. Of course, for both imports and exports, these figures are good enough for the largest year-over-year increases in about 5 years, a figure that should be good enough for at least a raised eyebrow or two at the Fed if nothing else.
After a bit of a pre-holiday binge, consumers have pulled back on their borrowing. The amount of new consumer credit taken in December was $13 billion lower than that used in November, falling to $14.2 billion for the month. Use of revolving credit (mostly credit cards) fell the most, dropping back to an expansion of just $2.4 billion for the month. Installment-type lending (most often used for vehicle and education purposes) slid to just $11.8 billion, the smallest figure since last June. As seems have been the case throughout the economic recovery and expansion, it may be that consumers continue to try to amass and use savings for their discretionary purchases rather that utilize credit cards, which carry elevated interest rates.
If HSH's weekly MarketTrends newsletter is the only way you know HSH, you need to come back and check out HSH.com from time to time. You'll find new and changing content on a regular basis, unique calculators, useful insight, articles and mortgage resources unlike anywhere else on the web.
Initial claims for new unemployment benefits continue to signal solid labor markets. The 234,000 new applications for benefits in the week ending February 4 was the lowest of this expansion cycle to date and is roughly equivalent to those seen some 43 years ago. Hiring has remained pretty steady over the last year as millions of positions have been filled or refilled, and low levels of benefit applications seem to indicate that employers aren't in a big hurry to let experienced hands go anytime soon.
Wholesaling firms built out their holdings strongly for a second consecutive month, adding to inventory levels in December at a full 1 percent clip. Expansions took place in both durable (+0.7 percent) and non-durable (+1.4 percent) categories, but these expansions in supply were more than met with an upsurge in demand as sales rose by 2.6 percent for the month, driving down the ratio of goods on hand relative to sales to 1.29 months. As that's the lowest figure since May 2015, the outlook seems good that more orders will be placed to meet demand, boosting manufacturing as we go along.
Current Adjustable Rate Mortgage (ARM) Indexes
Index
For The Week Ending
Year Ago
Feb 03
Jan 06
Feb 05
6-Mo. TCM
0.64%
0.63%
0.46%
1-Yr. TCM
0.83%
0.86%
0.52%
3-Yr. TCM
1.48%
1.48%
0.93%
5-Yr. TCM
1.92%
1.92%
1.29%
FHFA NMCR
4.00%
3.66%
3.85%
FHLB 11th District COF
0.599%
0.603%
0.644%
Freddie Mac 30-yr FRM
4.19%
4.12%
3.65%
A still fairly light calendar of data is due out next week, but we'll get a look at both producer and consumer price indexes, take a glance at housing markets in the form of starts and permits, review retail sales activity and a couple of other items. At the moment, signs suggest that we should see slightly lower mortgage rates again, with the average conforming 30-year fixed rate reported by Freddie Mac shedding perhaps five basis points or so from this week's level, trending toward the lower end of the 2017 range to date.
For a interim forecast for mortgage rates and the economy, one which runs through late March, have a look at our Two-Month Forecast. For a year-long review of expectations, see our 2017 Outlook.
----------
Still underwater in your mortgage despite rising home prices? Want to know when that will come to an end? Check out our KnowEquity Underwater Mortgage Calculator to learn exactly when you will no longer have a mortgage balance greater than the value of your home.
---
Have you seen HSH in the news lately?
Want to comment on this Market Trends? -- send your feedback, argue with us, or just tell us what you think.

See what's happening at HSH.com -- get the latest news, advice and more! Follow us on Twitter.

---
For further Information, inquiries, or comment: Keith T. Gumbinger, Vice President

Copyright 2017, HSH® Associates, Financial Publishers. All rights reserved.