Mortgage Rate Trends: Weekly Market Commentary & Forecast
---
Mortgage Rates Edge Higher Again
New Two-Month Rate Forecast at HSH.com
July 22, 2016 -- Without new pressure from abroad, mortgage and other interest rates have climbed off their recent bottoms and settled into a mostly directionless pattern, at least for the moment. It's not clear whether this is a posture that indicates that the initial fallout from the Brexit vote last month has been completely assessed by markets and judged to be of little immediate consequent or whether it's more a case of waiting for the other shoe to drop.
Arguably, it's the former: As least so far, evidence of any damage is limited, at best, and the U.S. economy at least seems to still be plodding along, if at perhaps a faster pace in the second quarter than it achieved in the first. How much faster is a matter of speculation at the moment, but we'll get at least the initial answer to that next week.
To the extent that the U.S. economy isn't diminished, and if there are few global implications of Britain's decision to leave the European Union, we would again begin to consider whether or not the Federal Reserve will resume its campaign of gradually lifting short-term interest rates. For the moment, it's wait and see, with new economic data trickling out as time passes. Even an accumulation of modest data in the context of stable financial markets could be sufficient for the Fed to make a move, but until that accumulation of data happens, mortgage and other interest rates can't really move much.
HSH.com's broad-market mortgage tracker -- our weekly Fixed-Rate Mortgage Indicator (FRMI) -- found that the overall average rate for 30-year fixed-rate mortgages increased by five basis points to rise to 3.59 percent. The FRMI's 15-year companion also added five basis point to the prior week's average, rising to an average rate of 2.99 percent for the period. Popular with first-time homebuyers, rates on fully-insured FHA-backed 30-year FRMs remain a little below their Fannie and Freddie counterparts and also featured no change at all, holding at an average interest rate of 3.42 percent. Meanwhile, the overall 5/1 Hybrid ARM, often more sensitive to any economic data and potential Fed policy shifts, added another five one-hundredths of one percent to finish the week at 2.91 percent. Average rates for fixed-rate mortgages are back to about where they began in July.
See this week's Statistical Release and Mortgage Trends Graphs.
Want to get Market Trends as soon as it's published on Friday? Get it via email -- subscribe here!
Gradually improving economic conditions over the past several years have fomented higher levels of home sales, and low mortgage rates have certainly spurred demand. Mortgage rates had widely been expected to begin to firm this year, and with home prices rising at a pace rather faster than incomes, reduced affordability would have begun to temper sales to at least some degree, and in turn, slow the rise in home prices. In fact, rates have moved generally in the opposite direction, more or less gradually falling by about a half percentage point in the first half of the year; home price gains have eased a little, but home sales remain on a upward trend.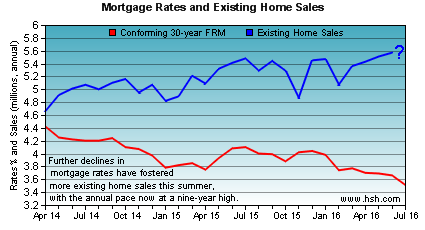 In June, sales of existing homes rose by 1.1 percent. That's not that big of a deal all by itself, but the gain was sufficient to list the annualized rate to 5.57 million units, the strongest such pace since the summer of 2007 (long about the time when the credit markets began to break). Leaving out the 2004-2006 credit-fueled boom (and subsequent bust) the present pace is pretty close to that which existed back in more "normal" conditions (albeit at higher interest rates) that persisted in the first few years of the last decade. Price increases have moderated in the last few months, falling into annual gains in the mid 4 percent range, down from 8+ percent annual as recently as January. The nudge higher for sales wasn't met with any new upsurge in inventory of homes for sale, which remains at a tight 4.6 months of supply, so prices will still be well supported given current levels of demand.
Housing starts gained by a solid 4.8 percent in June, rising to a 1.189 million (annualized) rate of initiation. The rangebound pattern of starts for many months now indicates a cautious level of activity by homebuilders, who continue to add supply at a measured pace amid issues ranging from a lack of desirable building locations to a shortages of skilled labor. During the month, sales of single-family dwellings rose 4.4 percent to 778,000 units, while multi-family sported a bit more strength, increasing by 5.4 percent to 411,000 buildings. Permits for future activity edged 1.5 percent higher, but also remain on a pretty flat trajectory, running at a 1.153 million annual rate during the month.
If HSH's weekly MarketTrends newsletter is the only way you know HSH, you need to come back and check out HSH.com from time to time. You'll find new and changing content on a regular basis, unique calculators, useful insight, articles and mortgage resources unlike anywhere else on the web.
Of course, solid activity is sufficient to keep homebuilders busy and happy. The National Association of Home Builders index of member sentiment edged down one tick in July to a still-strong 59. Assessments of the current trend for single-family sales edged down one tick to 63, expectations for the next six months took three steps back to 66, while traffic at showrooms and open houses was just one spot below 2016 highs with a value of 45 for the month.
Economically, that things are on an improving bent can be seen in the National Activity Indicator from the Federal Reserve Bank of Chicago. This amalgam of some 85 economic indicators seeks to reveal whether the economy is growing at a rate above or below its natural potential, believed to be a GDP rate of about 2.6 percent or so. The NAI and uses a value of zero as a breakeven point, and in June, the indicator rang in at 0.16, suggesting that growth has picked up during the month when compared against the -0.51 tallied in May. In fact, two of the three months in the second quarter had positive readings (just one did in the first quarter) and the trend is a much milder negative one at the moment. Perhaps next Friday's GDP report will show us a 2 percent figure or something close to it, which would be a considerable improvement from the 1.1 percent rate for growth in the first quarter of 2016.
Also showing a brighter face is the index of Leading Economic Indicators from the Conference Board. The LEI more than reversed a May decline of 0.2 percent to rise by 0.3 percent in June, and the collective tenor of the LEI's changes over the last quarter also suggest a warmer spate of economic activity.
Warmer growth figures may color the Fed's thinking and discussions when they meet next Tuesday and Wednesday. There is a zero chance of the FOMC making a change to rates at the meeting, and the language of the closing statement will most likely simply say that markets have settled after the Brexit vote and the Fed is paying close attention to economic developments both here and abroad as it considers how best to adjust rates and how soon.
Manufacturing continues to have a rough time of it in the current economic climate, even as it overall has improved in recent months.Last week we learned that conditions in the region served by the Federal Reserve Bank of New York decelerated in July, and this week we say the same sort of pattern in the region served by the Philadelphia Fed. Their local barometer dropped by 6.2 points, moving from a positive 4.7 to a negative 2.9 during the month. However, new orders improved a bit, inventories were drawn down and employment gains remained negative.
Claims for new unemployment benefits suggest additional strengthening is happening in the labor market, but these could be false signals as seasonal adjustments can distort the usually-reliable figures. That said, in the week ending July 16, just 253,000 new applications for benefits were filed across the country, barely a change from the prior two weeks of 254,000 each. The employment report for July doesn't come for some two weeks yet, but seems unlikely to approach June's 287,000 new hires.
HSH's
Statistical Release
features charts and graphs
for eleven mortgage products, including Hybrid ARMs.
Our legacy state-by-state statistics are now
here
.
Current Adjustable Rate Mortgage (ARM) Indexes
Index
For The Week Ending
Year Ago
Jul 15
Jun 17
Jul 17
6-Mo. TCM
0.41%
0.38%
0.10%
1-Yr. TCM
0.52%
0.53%
0.28%
3-Yr. TCM
0.81%
0.83%
1.04%
5-Yr. TCM
1.09%
1.12%
1.67%
FHFA NMCR
3.70%
3.75%
3.78%
SAIF 11th District COF
0.691%
0.690%
0.680%
HSH Nat'l Avg. Offer Rate
3.54%
3.62%
4.15%
At the moment, market seems to have found a bit of stability, and mortgage rates have firmed by just a whisper off Brexit-induced bottoms. That said, there are likely still plenty of unknown repercussions and market events we'll yet see in time. The improving tenor of at least U.S. economic data has helped to calm restive markets. Fed meeting this coming week not withstanding, markets almost have a feel akin to the summer doldrums. Given all the recent events, that's actually a welcome change.
A somewhat heavier calendar of economic data is out next week, a period bisected by the Fed meeting. New information on consumer confidence, sales of new homes, durable goods orders and the initial reading of second quarter GDP growth are all on tap. It seems to us that the warmer tone for data will be evident again next week, and the statement closing the Fed meeting will probably be one of cautious optimism.
With warmer data and optimistic messages expected, we think there's a good chance that we'll see another uptick for mortgage rates of a couple of basis points (perhaps three) in HSH's FRMI, continuing a gradual move away from recent Brexit bottoms.
For a longer-range outlook for mortgage rates and the economy, one which will run through late September, have a look at our new Two-Month Forecast.
We just did our mid-year update to our 2016 outlook. This half-year review sees us update and discuss how our predictions are working out... some good, some not so good. Have a look!
----------
Still underwater in your mortgage despite rising home prices? Want to know when that will come to an end? Check out our KnowEquity Underwater Mortgage Calculators to learn exactly when you will no longer have a mortgage balance greater than the value of your home.
---
Have you seen HSH in the news lately?
Want to comment on this Market Trends? -- send your feedback, argue with us, or just tell us what you think.

See what's happening at HSH.com -- get the latest news, advice and more! Follow us on Twitter.

Daily FRMI rates are available at HSH.com; Check out our weekly Statistical Release here (and archives here).
---
For further Information, inquiries, or comment: Keith T. Gumbinger, Vice President

Copyright 2016, HSH® Associates, Financial Publishers. All rights reserved.