Mortgage Rate Trends: Weekly Market Trends & Forecast
---
Calmer Week, So Rates Steady Themselves
October 24, 2014 -- Mortgage rates have taken a bit of a wild ride of late, following spooked equity markets both down the roller coaster hill and back up the next, at least a little. Market panic behind us for at least the moment, mortgage rates have firmed from their lowest levels, leaving us at unchanged levels when compared to the last week.
Mortgage shoppers may be feeling a bit of whiplash, driven into markets by "rates plummet!" headlines, only to discover that, while it is true that rates are down, they're only a little more than an eighth percentage point lower than levels seen for much of the summer. It's also true that fixed mortgage rates are at June 2013 levels, but that was also the case in August, July and May -- a case of mid-June then versus early June now. Conforming 30-year FRMs touched an average of 4.17 percent on each of those occasions, and are holding at 4.03 percent now.
Even as markets enjoyed relative stability this week, volatility remains lurking about, with only cautious optimism to temper restive markets. Given current global conditions, volatility for rates is probably biased more to the downside than up, but absent new gloom (or panic), rates probably also have some space to float higher.
HSH.com's broad-market mortgage tracker -- our weekly Fixed-Rate Mortgage Indicator (FRMI) -- found that the overall average rate for 30-year fixed-rate mortgages completed this week unchanged from last, holding at 4.04 percent, retaining its lowest average since the end of May 2013. The FRMI's 15-year companion eased a little bit and managed a three basis point decline (0.03%) to drift to 3.29 percent. Fully-insured FHA-backed 30-year FRMs remain a bargain even as they increased by a single basis point for the week, firming gently to an average of 3.74 percent. Finally, the overall 5/1 Hybrid ARM nudged downward by a single basis point to an average 3.01 percent.
See this week's Statistical Release and Mortgage Trends Graphs.
Want to get Market Trends as soon as it's published on Friday? Get it via email -- subscribe here!
Unlike much of the rest of the world, the U.S. economy remains in pretty good shape, at least good enough to weather any less-than-catastrophic level storm. The eurozone is struggling, as is Japan; this will temper our growth going forward to some degree. The deceleration of growth in China will trim the sails of certain commodities-based exporting economies, too. We continue to hear rumblings that the European Central Bank will soon take action akin to our Federal Reserve, buying up assets to stimulate growth, but so far noting has happened in this regard. It bears noting that even if the ECB does begin to take Fed-like action before long, it will take an unknown period of time to get things moving, and also that any action would probably serve to lift interest rates here somewhat.
Domestically, we're coming to a "soft" end of QE next week, as the Federal Reserve conducts and completes a two-day policy meeting. We say "soft" end, because while the Fed will stop accumulating Treasuries and MBS for its balance sheet, it will for a time "recycle" inbound funds from maturing securities and paid-off mortgages into like amounts of replacements. As such, they will no longer be adding to their holdings, but will continue to have an steadying (and interest rate lowering) influence in these markets, if to a lesser degree than before. Given a flare of refinancing of late, there will also likely be a bit more portfolio churn for the Fed in the coming months than there has been at times this year.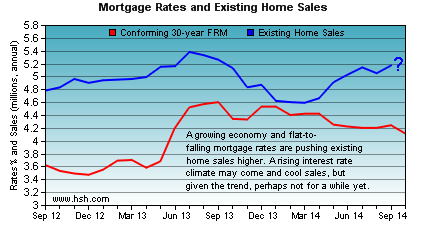 Lower mortgage rates and an improving economy continue to foster slow improvement in housing markets. Sales of existing homes rose by 2.4 percent in September, according to the National Association of Realtors. The increase put sales at an annualized rate of 5.17 million units, the best level of 2014, while the lift in sales kept inventory levels of unsold homes at a lean 5.3 months of stock, down a little compared with the last few months. Tight supplies amid firm-ish demand can foster price gains, and September's median home price was 5.6 percent above the same period one year ago, an uptick relative to more muted increases seen in the last five months.
If HSH's weekly MarketTrends newsletter is the only way you know HSH, you need to come back and check out HSH.com from time to time. You'll find new and changing content on a regular basis, unique calculators, useful insight, articles and mortgage resources unlike anywhere else on the web.
Sales of new homes are seeing a more "fits and starts" kind of recovery, even as they generally grind higher as time wends along. Sales of brand new housing stock ticked up by 1000 units to a 467,000 annualized rate in September; however, downward revisions to prior months (including the takedown of a 504,000 monthly pace to a lesser level for the second time this year) continue to show an underperforming market, even as it remains far better than the darkest days of the recession. Supplies of built and ready to sell homes remained at a 5.3 month supply (actually 207,000 units), but prices were discounted by 10.6 percent this month compared to last, and lower prices have been noted in two of the last three months.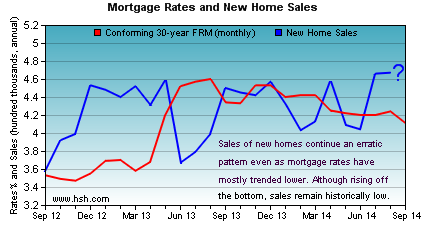 Although it appeared that the economy stumbled a bit in August, new indicators seem to suggest that it resumed running at a quickened pace in September. The Chicago Federal Reserve's National Activity Index, an amalgam of some 85 economic indicators bounced from a negative 0.25 reading in August to a positive 0.47 one in September, the fourth highest monthly figure this year, and suggesting that there was considerable momentum in the economy to close the third quarter. The NAI seeks to show if the economy is growing above of below its natural potential, thought to be a pace equivalent to a GDP of perhaps 2.6 percent or so. We'll get a preliminary reading for third quarter GDP next week, and expect to see something north of 3 percent -- a fair rate, if a slowdown from an outsized second quarter.
The Conference Board's index of Leading Economic Indicators also flared higher in September after a flat-line reading in August. The LEI rose by 0.8 percent during the month and indicates that there should be sufficient economic momentum to get us well into the fourth quarter. Beyond that, the forecasting ability of the LEI becomes less precise, but to the extent it tells the future, things are looking fairly bright.
Bright, too, seems to be the improving job market. It took a long, long time to reliably crack it, but we have finally seemed to settle at or below the 300,000 mark on a reliable basis. In the week ending October 18, only 283,000 new applications for assistance were filed at unemployment offices, a sixth consecutive week under the 300K level. Low levels of layoffs suggest a strengthening economy, and with new hires averaging over 200,000 per month this year, the prospects for continued economic growth are solidifying, even as there is still plenty of room for improvement in the job market.
At some point in the future, tightening labor markets may foster faster wage growth, potentially presaging a bout of inflation for the Fed to fight; at the moment, not so much. The Consumer Price Index rose buy a scant 0.1 percent in September where no change in costs was expected. This represented a small turnaround from a 0.2 percent decline in "headline" costs noted for August. "Core" CPI, a measure excluding food and energy costs also continued to remain low, rising by just 0.1 percent for the month. Energy prices continue to fall (-0.7 percent, a third consecutive slide), and easing gasoline prices are freeing up some additional spendable dollars... which in turn are being plowed into more expensive food, the costs of which lifted by 0.3 percent during the month. Over the past year both headline and core CPI are increasing at a 1.7 percent rate, with both cooling slightly over the last few months from a warmer pace in the spring and summer.
A local measure of factory activity in the Federal Reserve's Kansas City district found a slowing in October. The KC Fed's indicator moved down two notches to a value of 4 during the month, and the report noted slowing in orders and employment, even as both remained positive.
Little inflation here (and prospects for falling inflation/deflation abroad) means the Fed will have plenty to discuss at its meeting next week. It is likely that the statement which closes the two-day affair will at least nod to the deepening overseas trouble and of course the ensuing volatility in our financial markets. The Fed will also include soothing words about the continued steady pattern of domestic growth, noting that even as it ends QE, it will keep a watchful eye and have programs at the ready if serious trouble should start to show (and that the soft ending noted above will continue to play a supporting role).
HSH's
Statistical Release
features charts and graphs for eleven mortgage products, including Hybrid ARMs.
Our state-by-state statistics are now
here
.
Current Adjustable Rate Mortgage (ARM) Indexes
Index
For The Week Ending
Year Ago
Oct 17
Sep 19
Oct 18
6-Mo. TCM
0.05%
0.04%
0.11%
1-Yr. TCM
0.10%
0.12%
0.14%
3-Yr. TCM
0.77%
1.07%
0.64%
5-Yr. TCM
1.41%
1.82%
1.39%
FHFA NMCR
4.08%
4.09%
4.01%
SAIF 11th District COF
0.667%
0.676%
0.954%
HSH Nat'l Avg. Offer Rate
4.04%
4.29%
4.45%
After FHFA Director Mel Watt spoke this week about changes in certain policies, we entertained more than a bit of discussion about Fannie Mae and Freddie Mac finally loosening lending standards. The change that will be made is technical and indirect, at best, as it appears that the FHFA will clarify certain rules about the conditions under which a lender could be forced to "buy back" a failed mortgage. It has been said that fear of having mortgages forced back upon them has made lenders ultra-cautious, offering loans only to the most creditworthy borrowers in order to stave off possible losses tomorrow. At best, this clarification might help things at the margin, but no change is cast in stone, and lenders will likely continue to be wary about asking Fannie or Freddie to back loans with riskier characteristics.
Another announcement with no specifics is that Fannie and Freddie may ease back into loans requiring only 3 percent down. This too is merely a tweak, and probably says more about the renewed health of private mortgage insurers than anything else. Its a fair bet that 97 percent LTV loans are going to require other offsets (high FICOs/assets, etc) or will be aimed at limited audiences (borrowers with modest means, etc). We'll need to see what comes when it comes.
Perhaps a more useful change was the multi-agency agreement to align Qualified Mortgage and Qualified Residential Mortgage standards. Those wishing to securities mortgages will still be required to hold back a 5 percent amount in a first-loss position, but the loans will no longer carry any specific down payment requirement, and loans meeting GSE criteria will be exempt from even that. The final ruling means that perhaps the moribund private label mortgage securities market will find new life, and life outside of jumbos. Time will tell.
After a period of tumult, things have settled for the moment. A troubled world continues to exert downward pressure on U.S. interest rates, even as our own fairly solid growth tries to push them up. At the moment, it remains may against one, giving us more downward pull than not. In times of panic investors will settle for little or no return on their money, provided they can park it in a safe place, but if better prospects for gains should show, such as a rising stock market, it's a reasonable bet that money will drift out of bonds and chase those returns. That seems to be much of what happened this week, and by Friday the influential yield ion the 10-year Treasury closed the day at 2.27 percent, about where it was before all the trouble kicked in.
This week, we thought we'd take back some of last week's dip in rates. It didn't happen. Given the underlying pattern for rates, we'll expect that this may happen in the coming week instead, when a 3-5 basis point rise in the FRMI is our expectation.
For a longer-range outlook for rates and the economy, one which will take you up until mid December, take a look at our new Two-Month Forecast.
----------
Still underwater in your mortgage despite rising home prices? Want to know when that will come to an end? Check out our KnowEquity Underwater Mortgage Calculators, to learn exactly when you will no longer have a mortgage greater than the value of your home.
---
Have you seen HSH in the news lately?
Want to comment on this Market Trends? -- send your feedback, argue with us, or just tell us what you think.

See what's happening at HSH.com -- get the latest news, advice and more! Follow us on Twitter.

Daily FRMI ratesare available at HSH.com Check out our weekly Statistical Release here (and archives here).
---
For further Information, inquiries, or comment: Keith T. Gumbinger, Vice President

Copyright 2014, HSH® Associates, Financial Publishers. All rights reserved.