Mortgage Rate Trends: Weekly Market Trends & Forecast
---
Slide In Rates Caps Small Bump
September 26, 2014 -- This week, a small multi-week rise for mortgage rates proved unsustainable, and after rates rose by about an eighth of a percentage point over that time, they drifted back a little this week. Even though the cumulative rise was small, it does serve as an important reminder to borrowers that we are likely to see somewhat more volatility in rates this fall than we did for a good bit of the year.
While that volatility is more likely to be seen after the Fed's QE program comes to an end next month, we may see bumps and blips related to pieces of economic or political news. Some of that may come from here or from abroad; this week we saw a bit of mixed bag, so interest rates leveled off.
HSH.com's broad-market mortgage tracker -- our weekly Fixed-Rate Mortgage Indicator (FRMI) -- found that the overall average rate for 30-year fixed-rate mortgages slipped backward by two basis points (.02%) drifting back to an average rate of 4.27 percent. The FRMI's 15-year companion also shed two basis points to slip to an average rate of 3.52 percent. Fully-insured FHA-backed 30-year FRMs saw a trim of two basis points off last week's average too, as these lowest-priced fixed rate mortgages eased below the 4 percent level again. Finally, the overall 5/1 Hybrid ARM failed to move at all, holding a second consecutive week at an average 3.21 percent, remaining close to a 2014 high.
See this week's Statistical Release and Mortgage Trends Graphs.
Want to get Market Trends as soon as it's published on Friday? Get it via email -- subscribe here!
After a brutal first quarter of 2014, the economy had a breakout rebound in the second. The final estimate of Gross Domestic Product growth for the second quarter found a 4.6 percent gain in output for the period, a level which puts it among the best quarters of the recovery. GDP growth is only modestly positive for the first half of the year, though, averaging 1.24 percent. Indications are that GDP in the third quarter will fall back from second quarter levels, probably dropping closer to a hopefully sustainable level of perhaps 3 percent or so.
One of the indications of a slower period comes in the form of the Chicago Federal Reserve's National Activity Index. In August, this amalgam of some 85 economic indicators turned negative for the first time since January, falling to -0.21 during the month. The last two months have produced an average of just 0.03; buy contrast, the strong GDP seen in the second quarter saw an average NAI for the period of 0.17; unless September picks up considerably, a deceleration in GDP will be seen when the initial report comes out at the end of October.
No matter, though. Fed policy remains on autopilot for the moment, and we are a ways off from seeing market wobbles generated by concerns that near-term economic news will change timelines for Federal Reserve policy. Those will come later. For more about future Fed moves and how it will affect housing markets, read "Federal Reserve Policy and Mortgage Rate Cycles".
If HSH's weekly MarketTrends newsletter is the only way you know HSH, you need to come back and check out HSH.com from time to time. You'll find new and changing content on a regular basis, unique calculators, useful insight, articles and mortgage resources unlike anywhere else on the web.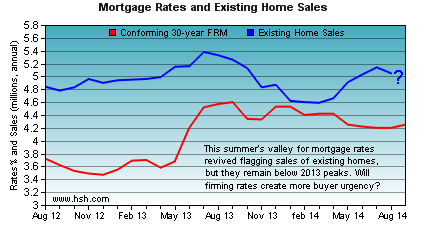 The lowest mortgage rates of 2014 and a long stable period helped revive home sales somewhat, with sales over the last few months reliably firm. Sales of existing homes did ease by 1.8 percent in August to a 5.05 million annualized rate, the second highest level of 2014, if still some 5.3 percent below year-ago levels. Still, the over five million annualized rate seen in each of last three months is a positive sign, as is the stable level of unsold homes, which remained at 5.5 months for a fourth consecutive month. The outsized price gains in 2013 have given way to more manageable (and healthier) ones of late, with the 4.8 percent year-over-year gain less than half of January's figure. Mellower price gains allow both the refilling of equity holes for underwater homeowners and more of a chance for buyer incomes to catch up.
We noted here last week that members of the National Association of Homebuilders reported great enthusiasm for their work in August, and this week's report covering sales of new homes for that period revealed why; August sales were 18 percent higher than were July's, and well above expectations. Sales of newly-built homes reached an annualized 504,000 during the month, easily the highest of the recovery to date. However, a caveat may apply here, since we saw a 504K pace in May, only to have two-thirds of the increase subsequently revised away; that revision still left a nice month-to-month gain in sales, so we're on the upswing regardless of the final outcome. With the flare in sales, inventory levels of available homes slipped to 4.8 months of stock, even as the number of built and ready-to-go units ticked up to 203,000. Unlike existing homes, prices here slipped by 1.6 percent on a month to month basis.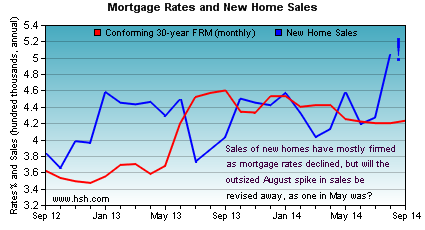 Orders for durable goods plummeted by 18.2 percent in August. While some alarms went off, this was actually expected, since July's massive increase in orders was all due to expenditures on aircraft, so we merely returned to earth. Eliminating aircraft orders from July's tally left a decline in orders, so August's 0.7 percent rise when treated the same way suggests a little gain for the month, and business-related orders nudging higher, too. While the headline figure was strongly negative, the details were actually pretty fair.
Also pretty fair were gains seen in two local surveys of manufacturing health. The Federal Reserve Banks of Kansas City and Richmond reported September results of their polls this week, with the Kansas City Fed's barometer adding three points to land at 6 for the month, continuing a positive string which dates back to last December. The report noted that orders remained positive and employment gains picked up. Over in the Richmond district, a two-point addition was seen to their gauge, which rose to 14 for the month, with increases seen in both new orders and employment measures. Both reports were modest gains but nonetheless in the right direction.
Modest improvement was also seen in the final September report on Consumer Sentiment from the University of Michigan. Although the reading of 84.6 was unchanged from the initial report of two weeks ago, it was good enough to leave the measuring stick at a 14-month high. Driving the number upward was an increase in expectations that the future would be brighter, even as enthusiasm for present conditions waned a little bit. Happier consumers are thought to be likely to spend more money, and to the extent this is true, we would expect continued firmness in economic growth as a result.
HSH's
Statistical Release
features charts and graphs for eleven mortgage products, including Hybrid ARMs.
Our state-by-state statistics are now
here
.
Current Adjustable Rate Mortgage (ARM) Indexes
Index
For The Week Ending
Year Ago
Sep 19
Aug 22
Sep 20
6-Mo. TCM
0.04%
0.06%
0.04%
1-Yr. TCM
0.12%
0.11%
0.11%
3-Yr. TCM
1.07%
0.93%
0.73%
5-Yr. TCM
1.82%
1.63%
1.54%
FHFA NMCR
4.09%
4.08%
3.55%
SAIF 11th District COF
0.676%
0.668%
0.954%
HSH Nat'l Avg. Offer Rate
4.29%
4.18%
4.65%
Spending money is obviously generated by having income, and income is generated by gainful employment. While the September employment report isn't due until next Friday, some clues about labor markets can be gleaned from new claims for unemployment benefits. Initial claims totaled 293,000 in the week ending September 20, and have been running a little below August's levels. That suggests that we'll see an improvement over the 142,000 new hires we saw last month, and perhaps that the unemployment rate will tick down a little further, too.
A busy week on tap next week, as we'll see both end of and first of the month data, a veritable smorgasbord of information to push markets around: Personal incomes and spending, the twin ISM reports, auto sales, construction spending, consumer confidence and the aforementioned employment report. Rates backed off a little this week, but our best guess at the moment is that the slew of data keeps them level or even adds a basis point or two by the time the week is through.
For a longer-range outlook for rates and the economy, one which will take you up until mid October, take a look at our new Two-Month Forecast.
----------
Still underwater in your mortgage despite rising home prices? Want to know when that will come to an end? Check out our KnowEquity Underwater Mortgage Calculators, to learn exactly when you will no longer have a mortgage greater than the value of your home.
---
Have you seen HSH in the news lately?
Want to comment on this Market Trends? -- send your feedback, argue with us, or just tell us what you think.

See what's happening at HSH.com -- get the latest news, advice and more! Follow us on Twitter.

Daily FRMI ratesare available at HSH.com Check out our weekly Statistical Release here (and archives here).
---
For further Information, inquiries, or comment: Keith T. Gumbinger, Vice President

Copyright 2014, HSH® Associates, Financial Publishers. All rights reserved.