Mortgage Rate Trends: Weekly Market Commentary & Forecast
---
Rates Step Back A Little
November 10, 2017 -- In the aftermath of a very noisy week for financial markets came a rather quieter period, at least in terms of fresh data and changes atop the Federal Reserve are concerned. At the moment, its potential changes to the U.S. tax code that are garnering the most attention. As seems to regularly be the case in politics these days, there's not much by way of consensus, and so the coming days and weeks are sure to see some battles in Congress. There is a hoped-for goal to get a deal in place by the end of the year, but with many differences to reconcile that may not come to pass.
The prospects of economy-boosting stimulus being delayed being somewhat lessened by the competing proposal from the House and Senate helped interest rates to settle back a little bit in recent days. Without markets being able to develop a sense not only of what is coming but when it may come, it's reasonable to think that we're in for a bit longer period of moderate growth rather than a imminent speed up, so interest rates had a little space to settle as a result.
Depending on what comes, we may see effects on mortgage rates, home prices, the mortgage interest deduction and more, but there's little to say about any of these until the dust settles.
While we still are likely to see somewhat higher mortgage rates at some point, the trend remains mostly a muted one. The Fed's gradual reduction of its bond holdings is underway with little fanfare or effect on rate (so far), but another lift in short-term rates is likely just a few weeks away and we will probably see a little firmness as we turn the corner into December. However, absent any significant inflation concern, it will remain hard for rates to get much upward traction, dragged down as they are by a world that is still employing QE-style policies. In this situation, comparatively high U.S. bond yields remain an attractive opportunity for foreign investors faced with rock-bottom local yields, and every time rates here edge higher, it's to be expected that fresh money comes after them, which in turn pushes them back down to a degree. Ultimately, when more bonds become available as the Fed steps away from the market more quickly higher yields may become more sticky, but for the moment, this is simply not the case.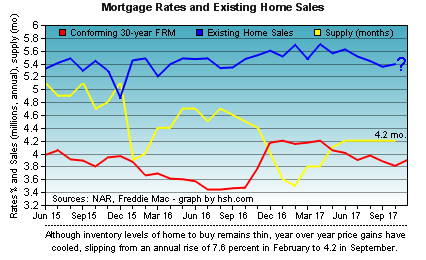 While helpful, low interest rates aren't sufficient to lift the housing market much beyond its present moderate pace. Low inventory levels and high home prices are simply stronger deterrents than low rates are a draw. According to the latest survey of Senior Loan Officers by the Federal Reserve, there was a slight loosening at the margins for mortgage underwriting standards for most common mortgage types in the third quarter of 2017, but the majority of the 72 banks responding to the poll reported mostly unchanged standards. Demand for mortgage loans was also fairly constant, but there were sizable percentages (from about 16 to 24 percent, depending on the type of mortgage in question) of firms reporting "moderately weaker" demand across the board. With refinance activity soft and purchases of homes in a low gear, this is not surprising at all, and with the slow season for home sales nearly upon us, demand for loans may slow some more in the months ahead.
Want to get MarketTrends as soon as it's published on Friday? Get it via email -- subscribe here!
Consumer borrowing expanded at a quicker pace in September, with outstanding loan balances expanding by $20.8 billion for the month. Installment lending -- the kind of credit used for vehicle sales and education loans -- rose most smartly, climbing back up to $14.4 billion, more than doubling August's slight gain. We know that auto sales flared higher in the wake of the massive flooding in Texas during the month, and there were probably some effects on the total from the Florida hurricane Irma as at least some vehicles were destroyed there, too.
Balances on revolving credit lines (often credit cards) expanded by $6.4 billion during the month. Arguably, there could also be some storm-effect there, too -- with folks traveling to escape the storm and possibly out of work for a period of time it may be that many purchases were simply "put on plastic" as a result. However, consumer credit seems to be in a generally rising pattern, as the long economic expansion, firming wage growth and elevated consumer moods gives consumers confidence to spend some of tomorrow's wages today. With prospects for faster economic growth and higher wages somewhat increased, we may see more expansion of credit usage, powering the economy as we go.
Consumers remain mostly ebullient, if somewhat less so, in the latest reading of Consumer Sentiment from the University of Michigan. The preliminary November value declined by 2.9 points to 97.8, a level still good enough to be second best for this year, so it's not as moods darkened by very much at all. The headline figure was dragged backward by declines in assessments of current and expected conditions, both of which slid by 2.9 points during the period.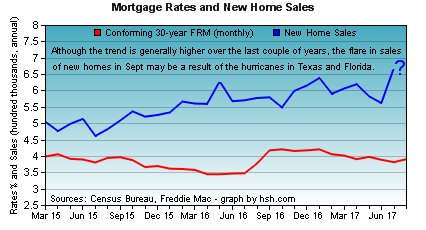 Without falling rates to spur refinancing and amid steady (if lackluster) home sales, applications for new mortgages have been largely rangebound for months, and have generally tailed off since an early September spike when 30-year fixed mortgage rates touched 2017 lows for a two-week period. Although rates are only about an eighth of a percentage point above those levels at present, this slight differential seems enough to keep at least rate-and-term refinances at bay. Roughly speaking, the volume of mortgage applications as tracked by the Mortgage Bankers Association of America are about as low as they were in July or March, when 30-year FRM rates were at or above the 4 percent mark.
Initial claims for unemployment assistance tallied 239,000 in the week ending November 4. The storm-related leaps in claims now seem fully bled from the weekly figures and claims have resettled to very familiar low levels. Seasonal effects may start to kick in to the totals in the next week or two, so the figures here may become a somewhat less-reliable indicator of the health of the labor market, but this component of the economy seems to be doing fine and job growth continuing apace.
If HSH's weekly MarketTrends newsletter is the only way you know HSH, you need to come back and check out HSH.com from time to time. You'll find new and changing content on a regular basis, unique calculators, useful insight, articles and mortgage resources unlike anywhere else on the web.
Inventory levels at the nation's wholesaling firms expanded for a fifth consecutive month, but the 0.3 percent expansion in holdings was the smallest of that time period. In September, holdings of durable goods rose by 0.3 percent and non-durables by 0.4 percent, but those leaned-out stockpiles were caused by a 1.3 percent rise in sales, one that came fast on the heels of a 1.9 percent rise in August. Goods flying off the shelves are a healthy sign for the economy, and with inventory levels relative to sales shrinking its a good bet that more orders will be placed at factories as we go, helping the economy to continue to grow. This expansion needs only a few more months to become the second longest growing string on record, and it may even make it to number one if things go right for a while after that marker is passed.
Current Adjustable Rate Mortgage (ARM) Indexes
Index
For The Week Ending
Year Ago
Nov 03
Oct 06
Nov 04
6-Mo. TCM
1.28%
1.19%
0.51%
1-Yr. TCM
1.45%
1.31%
0.64%
3-Yr. TCM
1.73%
1.59%
0.98%
5-Yr. TCM
2.00%
1.89%
1.27%
10-Yr. TCM
2.36%
2.28%
1.82%
FHFA NMCR
4.00%
4.05%
3.58%
FHLB 11th District COF
0.732%
0.707%
0.693%
Freddie Mac 30-yr FRM
3.94%
3.91%
3.47%
A fairly quiet week this week for interest rates, but things will pick up a bit data-wise come next week. Mortgage rates really have little upward traction and any that does seem to form (as we saw in September and into October) just doesn't seem to have staying power. Backing and filling seems to be the order of the day, but our expectation is that we'll generally notch our way higher as we go. In reviewing the trend for this week that would take us into next, there's not much to see, so odds favor perhaps an increase of a couple of basis points in the average conforming 30-year fixed rate reported by Freddie come next Thursday.
For those of you that are veterans, thank you, and enjoy your day.
For a forecast for mortgage rates that carries almost to the end of the year, have a look at our Two-Month Forecast. Although the clock is ticking on 2017, you might also have a glance at our recent mid-year update to our 2017 Outlook. Check it out to see how our forecasts and expectations are progressing.
----------
Still underwater in your mortgage despite rising home prices? Want to know when that will come to an end? Check out our KnowEquity Underwater Mortgage Calculator to learn exactly when you will no longer have a mortgage balance greater than the value of your home.
---
Have you seen HSH in the news lately?
Want to comment on this Market Trends? -- send your feedback, argue with us, or just tell us what you think.

See what's happening at HSH.com -- get the latest news, advice and more! Follow us on Twitter.

---
For further Information, inquiries, or comment: Keith T. Gumbinger, Vice President

Copyright 2017, HSH® Associates, Financial Publishers. All rights reserved.