Mortgage Rate Trends: Weekly Market Commentary & Forecast
---
"Brexit" And Mortgage Rates
June 24, 2016 -- In a move that surprised markets, who had in recent days started to expect a different outcome, Britain's voters decided to leave the European Union in a 52 percent to 48 percent vote.
The repercussions on global financial markets was pronounced, but to varying degrees. Major stock indexes were down from 3.5 to about 8 percent on Friday, and has been the case when turmoil strikes, money flowed into bonds, driving yields down in the U.K., Germany, Japan and of course, here in the U.S.
As readers and visitors to HSH.com have come to know, and along with accommodative and unusual Fed policy, global turmoil is the American mortgage shopper's best friend. This message has been repeated time and time again in the wake of last decade's financial crisis and ensuing recession, and is as true now as then, perhaps more so.
We've been in uncharted waters on a number of occasions since the early days of the crises and recovery. We've witnessed unconventional monetary policy, and (for a time) a possible EU exit by Greece (remember "Grexit"?), negative interest rate policies by central banks and more, and now we will need to see if the remainder of the Euro common market can hold together, and how much economic growth across the world will be impacted by the change. It's not unreasonable to expected to see exits contenplated by other members in the weeks and months ahead, as well.
For now, the outcome is a favorable one for mortgage seekers. Although not well reflected in our weekly numbers -- four days of firmer rates was not undone by a single one of softer rates -- conforming 30-year fixed mortgage rates legged down on Friday by nearly a tenth percentage point compared to Thursday. Will this decline hold? That's hard to say, but we will at least begin next week with a downward bent for rates.
HSH.com's broad-market mortgage tracker -- our weekly Fixed-Rate Mortgage Indicator (FRMI) -- found that the overall average rate for 30-year fixed-rate mortgages rose by four basis points to lift to 3.66 percent. The FRMI's 15-year companion sported a three basis point increase, rising up to an average rate of 3.05 percent for the period. Popular with first-time homebuyers, rates on fully-insured FHA-backed 30-year FRMs remain considerably below their Fannie and Freddie counterparts and increased by just one basis point to an average interest rate of 3.50 percent. Meanwhile, the overall 5/1 Hybrid ARM, more sensitive to any potential Fed moves, increase by three one-hundredths of one percent to finish the week at an attractive 2.86 percent.
See this week's Statistical Release and Mortgage Trends Graphs.
Want to get Market Trends as soon as it's published on Friday? Get it via email -- subscribe here!
Although the Brexit vote had immediate impact on financial markets, it will take some time to gain clarity on any longer-term repercussions. It certainly bears noting that the divorce process could take up to two years, so there will be plenty of future opportunities for market volatility as we go. Also, given the fairly narrow outcome, it's not impossible that during that process that some compromise acceptable to Britain could be reached and another referendum put before the voters to remain, but under new terms.
For now, the impact of Brexit is such that it has fostered lower interest rates here and around much of the globe. It also means there's a zero chance of the Federal Reserve raising interest rates in July, and a move in September, although still pretty far off, is also in question. On Friday, there was some buzz in the markets that the Fed might actually need to lower interest rates to ward off any reduction in growth that comes from Brexit, but aside from a statement allowing that they would make dollars available to markets as needed, there was no indication of an imminent change to Fed policy.
In her semi-annual testimony on monetary police before the Congress this week, Fed Chair Janet Yellen reiterated that monetary policy was not on a preset course, but and that member projections (the quarterly "dot plots" on policy provided by the Fed) are not a predetermined plan for future changes in interest rates. Rather, these projections and policies will evolve as new data about the health of the domestic (and global) economy become available. She also rightly noted that "considerable uncertainty about the economic outlook remains", and noted that "Vulnerabilities in the global economy also remain." In short, and although it would generally like to be raising rates as we go, the Fed isn't certain about where it is going or how fast it expects to get there... but that we'll all find out together over time.
We have certainly seen many contrasting economic signals over the last few years, collectively adding up to a modest-to-moderate and uneven (if fairly durable) economic recovery and expansion. More such data was revealed this week, serving to reinforce the Fed's policy of holding rates steady.
If HSH's weekly MarketTrends newsletter is the only way you know HSH, you need to come back and check out HSH.com from time to time. You'll find new and changing content on a regular basis, unique calculators, useful insight, articles and mortgage resources unlike anywhere else on the web.
One example was May's National Activity Index from the Federal Reserve Bank of Chicago. Comprised of some 85 economic indicators, the NAI seeks to show if the economy is growing above or below its "threshold", or natural rate of growth -- a Gross Domestic Product rate of perhaps 2.6 percent or so. In May, a considerable deceleration was seen, with the indicator falling to a negative 0.51 from a positive 0.05 in April. This suggests that the economy performed well below par during the month, and with two months of the second quarter in the books, it looks as though we shouldn't expect much by way of improvement from the first quarter's 0.8 percent pace for GDP.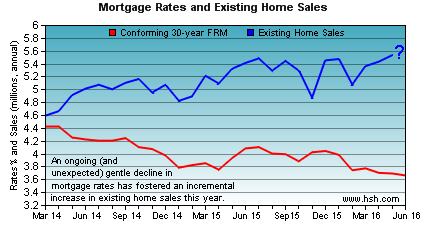 On sector of the economy that has benefited from low interest rates (not to mention pretty fair job growth and modestly improving access to credit over time) is the housing market. Homeowners by the millions have refinanced over the last four years, and another downturn in rates may open the refinancing window a little wider in the days ahead -- an incremental increase in the number of people who can profitably refinance is to be expected. Should lower rates persist, and persist for longer, we might see a strengthening in sales of homes, but this depends upon many other factors besides mortgage rates. In May, sales of existing homes ticked 1.8 percent higher, according to the National Association of Realtors and are now running at a 5.53 million (annualized) rate. The modest uptick in sales was also met with an uptick in supply, which remained at a fairly thin 4.7 months of stock available. Home prices are still climbing, if somewhat more slowly -- a 4.7 percent year-over-year rise was noted in the latest report.
Sales of new homes have fared pretty well, too. The Census Bureau reported that in May, an annualized 551,000 such sales were tallied, down a bit from an outsized (and downwardly revised) 586,000 in April. Supplies are holding up as well, with about 5.3 months of unsold homes available at the present pace of sales. That's an actual 244,000 units, the highest such figure of the recovery and expansion. However, despite ongoing gains over time, sales and stockpiles remain well below historic norms.
Like May's NAI above, the Conference Board's index of Leading Economic Indicators pointed to a less-than-stellar economy in May. The LEI downshifted from a positive 0.1 in April to a negative 0.2 in May; however, this was the first sub-par reading since January and perhaps is an aberration. That said, the LEI purports to help reveal the direction of the economy going forward even as it reflects the month in which its components are gathered, so neither current conditions or the outlook isn't as bright as anyone might hope.
A final June review of consumer moods by the University of Michigan found only a minor deterioration in demeanor. At a value of 93.5 for the month, a 1.2 point decline, Consumer Sentiment still compares favorably with high water marks over the last year. In the report, the measure of current conditions was improved in June over May, but expectations for the future were trimmed to a degree.
Despite a May stumble, Ms. Yellen pointed to the health of the job market as a reason for optimism. While we'll need to wait an extra week this time around for the June employment report, signals from weekly initial unemployment claims data don't show any reason for concern. During the week ending June 18, just 259,000 new applications for benefits were filed, a figure very close the 40-plus year lows we saw on a couple of occasions this year. As there were just 38,000 new hires in May, a figure that will hopefully be revised upward, this number shouldn't be hard to beat. Nonetheless, as the general trend has been a decline since a peak last October, it would probably be wrong to expect a full reversal of that trend, but we should see at least some improvement.
After a couple of good months, orders for durable goods slumped in May, falling by 2.2 percent. Declines were seen even when the distortions of transportation-related orders were removed, and the so-called "core" measure of business-related durable goods spending declined by 0.7 percent. This measure has seen declines in three of the five months of 2016, so outlays by businesses continue to lag, tempering economic growth. That said, there is only so much need to invest in new plants and equipment when demand is only moderate and the global economic climate wobbly.
HSH's
Statistical Release
features charts and graphs
for eleven mortgage products, including Hybrid ARMs.
Our legacy state-by-state statistics are now
here
.
Current Adjustable Rate Mortgage (ARM) Indexes
Index
For The Week Ending
Year Ago
Jun 17
May 20
Jun 19
6-Mo. TCM
0.38%
0.42%
0.09%
1-Yr. TCM
0.53%
0.62%
0.27%
3-Yr. TCM
0.83%
1.02%
1.05%
5-Yr. TCM
1.12%
1.34%
1.65%
FHFA NMCR
3.75%
3.73%
3.80%
SAIF 11th District COF
0.690%
0.678%
0.687%
HSH Nat'l Avg. Offer Rate
3.62%
3.70%
4.10%
Despite the small uptick in the weekly numbers above, mortgage rates are headed lower. How much is a matter of speculation, though: the headlines are full of "interest rates plummeting"-type messages, but that mostly refers to sovereign debt, like Treasury bonds. Fixed mortgages are of course influenced by falling yields, but to a lesser degree and certainly not on a full lockstep basis.
We will inch closer to all-time (or at least 60-plus year) lows for 30-year fixed rates next week, but it will be harder to reach those low levels than you might think. Back in December 2012, when we hit record lows of 3.44 percent for the conforming 30-year FRM, the Fed had essentially pledged to buy GSE, Treasury and MBS as fast as markets could make them available. That's not the case by a longshot at the moment, and although the Fed is recycling inbound proceeds of prepaid and maturing instruments into replacement buys for its portfolio, any excess needs to be absorbed by investors, who aren't exactly clamoring for low-yielding fixed-rate debt than can be prepaid at any time. As such, the market climate fopr mortgages now is rather different than then.
We'll at least start next week with lower rates in the market. However, it is unclear how the week will progress as the repercussions of the vote are considered. Will markets shrug it off, as they have for other crises? Will they come to view the change as having favorable implications and opportunities? Was the big rout in stocks on Friday (and big rally in bonds) simply a knee-jerk reaction to the surprise outcome of the vote? Hard to say, but stay tuned, and watch the daily figures at HSH.com for clues. The end of the week brings us into the Independence Day holiday weekend, and mortgage rates as tracked by HSH's FRMI may be down perhaps 10 basis points or so from this week's figure.
For a longer-range outlook for mortgage rates and the economy, one which will run through mid-July, have a look at our new Two-Month Forecast.
If you're still wondering where we might wander after that period ends, you might have a look at our 2016 outlook. A mid-year review of our expectations is due up in a couple of weeks.
----------
Still underwater in your mortgage despite rising home prices? Want to know when that will come to an end? Check out our KnowEquity Underwater Mortgage Calculators to learn exactly when you will no longer have a mortgage balance greater than the value of your home.
---
Have you seen HSH in the news lately?
Want to comment on this Market Trends? -- send your feedback, argue with us, or just tell us what you think.

See what's happening at HSH.com -- get the latest news, advice and more! Follow us on Twitter.

Daily FRMI rates are available at HSH.com; Check out our weekly Statistical Release here (and archives here).
---
For further Information, inquiries, or comment: Keith T. Gumbinger, Vice President

Copyright 2016, HSH® Associates, Financial Publishers. All rights reserved.