Mortgage Rate Trends: Weekly Market Trends & Forecast
---
Rates Move A Touch Higher
New Two-Month Rate Forecast at HSH.com
February 20, 2015 -- Mortgage rates inched higher again this week, continuing to eradicate the January dip that enhanced a spate of refinancing activity. Rates have firmed as markets have repositioned themselves in light of better-than-expected news regarding the global economy and a European Central Bank looking to add some additional stimulus. The slightly warmer present situation and a brightening outlook for global growth has calmed nervous investors, diminishing the flight to quality, safety and search for measurable yield that pushed interest rates down to close 2014 and begin 2015.
Adding to the recent firming trend for interest rates is an unclear perception of just when the Federal Reserve will embark on "liftoff" -- the start of the process of lifting short-term rates back toward more normal levels. Investor expectations of the timing of the first change have become a moving target; for a time, expectations of a move much deeper into the year was in vogue. Of late, a mid-year move is back in play to a greater degree, and rates have repositioned in light of this possibility.
Regardless, mortgage rates remain favorable and should continue to be, if somewhat less so.
HSH.com's broad-market mortgage tracker -- our weekly Fixed-Rate Mortgage Indicator (FRMI) -- found that the overall average rate for 30-year fixed-rate mortgages rose by another six basis points this week (0.06%) to climb to 3.96 percent, the second highest average of 2015. The FRMI's 15-year companion increased by five one-hundredths of one percent, sending the weekly average back up to 3.28 percent. Popular with first-time homebuyers, perhaps more so now that the annual MIP has been lowered, rates on fully-insured FHA-backed 30-year FRMs remain well below their conforming counterparts but added nine basis points to last week's average, landing at a flat 3.75 percent this week. Ignoring the upward move of its fixed-rate counterparts, the overall 5/1 Hybrid ARM decreased this week by two basis points (0.02%) edging back down to 3.14 percent.
See this week's Statistical Release and Mortgage Trends Graphs.
Want to get Market Trends as soon as it's published on Friday? Get it via email -- subscribe here!
Minutes of the January Federal Reserve meeting failed to provide much clarity about the future of monetary policy. Reading through the minutes left a distinct impression that the Fed isn't clear on when it should proceed, even as it is testing and formalizing how it expects to proceed. It's a conundrum: A firm date-driven change to policy would remove flexibility; expressing that the decision is purely a data-driven one risks unwanted flares of financial market volatility if a given report (or series thereof) is stronger or weaker than the market expects. Move too soon and send the wrong signals about the expected path for rates; wait and risk the possibility less-controllable inflation later. Spook the markets with an early move, and risk needing to retrace it if there is too much economic slowdown as result. In the end, the Fed's leaning at the moment seems to still be toward a later rather than sooner change, all things and risks considered, with July or possibly September in play. If the Fed intends to move sooner, time is running out on preparing the markets for the change.
The strong dollar and recent plummet in oil prices is having the expected economic effect; price pressures are waning and manufacturing has moderated. With the stronger currency, it has become harder for exports to compete in foreign markets even as imports become less costly. The Producer Price Index fell by 0.8 percent in January, has now slumped in five of the last six months and has declined by 0.1 percent on a year-ago basis. Prices of goods are falling faster then services, and core PPI (a measure which excludes energy and food and such) slipped by 0.2 percent; core PPI now sports an increase of just 0.6 percent over the last year and is still falling. With a lag, lower input costs for producers should translate into lower inflation for consumers, enhancing purchasing power at some point.
Industrial Production edged 0.2 percent higher in January, reversing December's dip. During the month, manufacturing output picked up a little compared to the month prior, as did utility output (cold weather in a wide swath of the country probably helped that) but mining output shrank, no doubt affected by soft energy prices and soft overseas demand. The percentage of production floors in active use did hold steady at 79.4 percent, about a percentage point below the long-term average, and also well below levels that would serve to create the kind of production bottlenecks that might produce or enhance price pressures.
If HSH's weekly MarketTrends newsletter is the only way you know HSH, you need to come back and check out HSH.com from time to time. You'll find new and changing content on a regular basis, unique calculators, useful insight, articles and mortgage resources unlike anywhere else on the web.
Localized measures of manufacturing activity have retreated to rather modest levels compared with bouts of strong activity last year. For example, the New York Federal Reserve Bank's Empire State Manufacturing Index sported a value as high as 27.4 as recently as last September; the latest value for February was 7.8, so more moderate activity is certainly in place. That was much the same sort of impression you would get from looking at a similar index from the Philadelphia Federal Reserve Bank, where a 5.2 mark was produced for February, a stark contrast to a 40.2 reading just four months ago. In both cases, orders have cooled and employment metrics have mellowed in recent months, and the softening noted here suggests some sapping of economic strength.
The housing market continues to search for reliable traction. Although still solidly positive, the sentiment index of members of the National Association of Home Builders faded again in February, shedding two points to land at 55 for the month. Although most of the report was fairly good, a slump in the midwest trimmed the headline figure, but sales of single-family homes remained solid at a value of 61, while expectations for activity in the next six months held at a fine 60. Traffic of potential buyers at showrooms and open houses did drop back to 39, a seven month low, but it is probable that rough winter weather kept some potential buyers at their present homes instead.
Housing starts did slip by 2 percent in January, easing to a 1.065 million (annualized) rate of initiation. This figure is pretty close to the average of the last six months and starts have held above the one million mark in six of the last seven (and 7 of 10) months, so the pace of construction seems to have become more reliable. Single-family starts eased to 678,000 units (down from 727,000) while multi-family construction rose to 387,000 (up from 360,000). Permits for future construction point to more of the same trend, with a 1.053 million (annual) pace recorded during the month. Housing starts are almost 19 percent higher this January than last.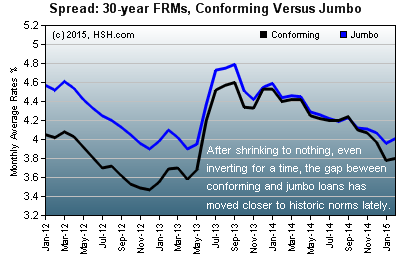 After the expression of a bit of pent-up holiday demand and some low-rate-generated opportunistic refinancing took place in January, applications for mortgages have fallen back to earth, according to the Mortgage Bankers Association of America. With the rise in rates and amid sated demand, refinances have slumped more than purchase apps, but it's a little discouraging that purchase apps have been on the positive side of the ledger in just two of first seven weeks of the year.
At times over the last year, much was made of the fact that jumbo and conforming 30-year fixed rates were virtually identical; in fact, there was actually a slight inversion in average rates for a five week period back in August and September of last year. Historically, the average difference between the two products has ranged between about an eighth and three eighths of a percentage point; in late 2008, the combination of the collapse of the private securitization market and the first of the Fed's purchases supporting the conforming market ballooned that figure to 180 basis points.
Of late, and quietly, a gap between the two products has reemerged, reflective of the greater influence of Treasury yields on conforming products than jumbos; Since September, the last time average rates were identical, the total cumulative decline for conforming rates has been 58 basis points; for jumbos, this was only about 37 basis points in total. This re-establishment of typical spreads between these products may be another signal that the mortgage and housing markets remain on a path toward normalcy, even if there yet remains a long way to go to full recovery.
HSH's
Statistical Release
features charts and graphs for eleven mortgage products, including Hybrid ARMs.
Our state-by-state statistics are now
here
.
Current Adjustable Rate Mortgage (ARM) Indexes
Index
For The Week Ending
Year Ago
Feb 13
Jan 16
Feb 14
6-Mo. TCM
0.07%
0.08%
0.09%
1-Yr. TCM
0.24%
0.18%
0.12%
3-Yr. TCM
1.04%
0.83%
0.70%
5-Yr. TCM
1.51%
1.32%
1.53%
FHFA NMCR
3.98%
4.00%
4.21%
SAIF 11th District COF
0.692%
0.686%
0.783%
HSH Nat'l Avg. Offer Rate
3.90%
3.80%
4.40%
Weekly claims for unemployment assistance continue to bounce around, wobbling over and under the 300,000 level. In the week ending February 14, it was under's turn again, with some 283,000 new applications for benefits filed during the period. After a few months of stability to close 2014, claims have become more erratic in 2015, perhaps indicating a bit of cooling the in the job market, and of late, hiring has returned closer to trend of about 250,000 jobs created each month (January) after a couple of outsized reports in November and December.
The Conference Board's index of Leading Economic Indicators showed a 0.2 percent increase in January, suggesting a moderate pace of growth during the month, and to the extent it forecasts future growth, a modest pace heading into the end of the winter. In general, the trend here since a one percent rise last July has mostly been a downward one. The economy did decelerate in the fourth quarter of 2014, moving from about a 5 percent clip in the third quarter for GDP to about half that, and at present the LEI doesn't suggest much by way of acceleration in the offing.
A less-dire global economic situation and some optimism about the future has lifted interest rates in general and mortgage rates in specific over the past few weeks. Despite the rise, mortgage rates remain at fantastic levels and should provide no impediment to the recovery in housing, even if higher rates do diminish the appeal and value of refinancing. Interestingly, though, with U.S. Treasury yields now higher than they have been, there is a little bit more incentive for foreign dollars to head to these shores again, if perhaps not as strongly as they did in December and January. This, plus a more mixed tenor to the collective economic data over the last few weeks should collectively serve to temper any potential further rise in rates. For the moment, the upward bump has probably run much of its course, absent any surprisingly-strong economic reports.
Although rates firmed throughout this week, the upward pressure has diminished, so the uptrend should level off. Next week, we might add a few basis points to the tally of the last few weeks, but probably not more than that. For HSH's FRMI, call it another 3-4 basis point rise at most.
For a longer-range outlook for rates and the economy, one which will take you up until late April, have a look at our new Two-Month Forecast. For a really long-range outlook, you'll want to check out "Federal Reserve Policy and Mortgage Rate Cycles".
----------
Still underwater in your mortgage despite rising home prices? Want to know when that will come to an end? Check out our KnowEquity Underwater Mortgage Calculators to learn exactly when you will no longer have a mortgage balance greater than the value of your home.
---
Have you seen HSH in the news lately?
Want to comment on this Market Trends? -- send your feedback, argue with us, or just tell us what you think.

See what's happening at HSH.com -- get the latest news, advice and more! Follow us on Twitter.

Daily FRMI rates are available at HSH.com Check out our weekly Statistical Release here (and archives here).
---
For further Information, inquiries, or comment: Keith T. Gumbinger, Vice President

Copyright 2015, HSH® Associates, Financial Publishers. All rights reserved.