Mortgage Rate Trends: Weekly Market Trends & Forecast
---
Unreliable Dip In Mortgage Rates
March 27, 2015 -- Mortgage rates retreated a bit this week, still comforted by the outlook the Fed provided about the timing and trajectory for interest rates last week. Although average interest declined for the week, most of the warm glow from the Fed had faded by the end of the period, as the cold reality that the Fed will be raising rates before long began to again creep back into the market.
That's not to suggest there's any kind of strong likelihood that rates will be shooting up before long, but absent truly terrible data about the domestic or global economy, interest rates seem unable to hold any interim bottoms they manage, and after each leg down, up we go.
HSH.com's broad-market mortgage tracker -- our weekly Fixed-Rate Mortgage Indicator (FRMI) -- found that the overall average rate for 30-year fixed-rate mortgages declined by seven basis points this week (0.07%), falling back to 3.81 percent. The FRMI's 15-year companion also shed seven basis points, sliding to an average rate of 3.16 percent. Popular with first-time homebuyers, rates on fully-insured FHA-backed 30-year FRMs remain well below their conforming counterparts but sported a decline of only three basis points this week, posting an average rate of 3.65 percent. Finally, the overall 5/1 Hybrid ARM fell by seven basis points (0.07%), slumping to 2.97 percent on average for the week. All the averages are far closer to 2015 bottoms than tops at the moment.
See this week's Statistical Release and Mortgage Trends Graphs.
Want to get Market Trends as soon as it's published on Friday? Get it via email -- subscribe here!
While certainly not stellar and even with several soft points, there is sufficient good economic news available to help rates to firm. In many speeches and discussions, the Fed has called out the labor markets, housing markets and inflation as data points they are closely observing as they try to decide how and when to change policy.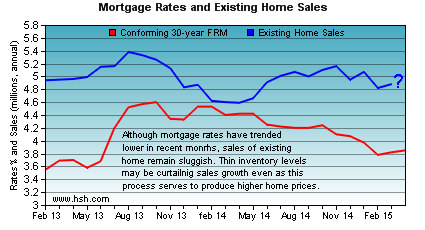 Sales of existing homes edged 1.2 percent higher in February, rising to a 4.88 million annualized level; sales growth here has been muted for a while now despite generally lower mortgage rates. However, there are limits to how much help low rates can provide when income growth is as slow as it has been throughout the recovery as it fails to provide much offset for rising home prices. That said, for many borrowers, affordability remains strong (if somewhat diminished) and the issue is access to credit moreso than the price of it. Market forces and government regulation changes are seeing to this, what with lower FHA insurance costs and 3 percent down loans back in the market. However, all this has done is add somewhat more demand at the margins of the market at a time when there is little housing supply to satisfy it. Inventory levels of unsold homes remain very thin and are likely the cause of sluggish sales growth in recent months; for many would-be home buyers, not only is there nothing desirable to buy, but it is relatively expensive, to boot. More than rates or prices, this situation could keep the spring homebuying season from gaining much traction this year.
If HSH's weekly MarketTrends newsletter is the only way you know HSH, you need to come back and check out HSH.com from time to time. You'll find new and changing content on a regular basis, unique calculators, useful insight, articles and mortgage resources unlike anywhere else on the web.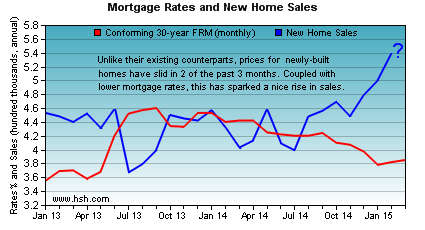 The supply of new homes is more elastic, but builders remain cautious, adding supply only at a measured rate. Sales of new homes rose by a stout 7.8 percent in February, rising to a 539,000 annual rate, the best annualized pace since April 2008. Prices of newly-built homes actually eased by 7.7 percent on a month-to-month basis, and the surge in sales dwindled supplies to about 4.7 months of stock. The gradual upturn in sales may be starting to accelerate, and that would be good news for both the broad economy and the overall housing market, too.
Growth in the last quarter of 2014 was moderate, at best. The final review of fourth quarter GDP was much the same as the preliminary reading with a 2.2 percent rate of growth for the period. By all indications, there's been little if any acceleration in the first three months of 2015, but we'll not even get an initial reading of this for a month's time yet. Instead, we have to reckon from other available indicators as to the direction of the broad economy; in that regard, "moderate" is about all we seem likely to expect.
One such indicator flashing amber for the last couple of months is the Chicago Federal Reserve Bank's National Activity Indicator. The NAI is an amalgam of some 85 economic indicators distilled into a single figure intended to show if the economy is growing at, above, or below its natural potential to grow. By the NAI's reckoning, we're on a sub-par pace, with a -0.11 value for February added to the negative readings for January and December. At the moment, the NAI would suggest that we might be running a GDP rate of around 2 percent or so, perhaps just a bit less than the last quarter. Certainly, March could reverse this path and show a pick up in activity, but it feels as though any such gain would be mild at this point.
So housing activity is moderate, if improving a bit in an important way. The broad economy is moderate and throwing off little heat. Inflation trends are temperate, too, but even so, inflation's not completely dead. The Fed's preferred measure of price changes -- the so-called "core" Personal Consumption Expenditure index -- did nudge 1.1 percent higher in the fourth quarter, but that was a lesser increase than happened in the third. As well, we may have seen more deceleration in price pressures in the first quarter, largely due to the cumulative benefit of lower energy prices, but these are likely transient effects. However, as any driver knows, gasoline prices bounced off February bottoms pretty sharply, and so the Consumer Price Index actually rose by 0.2 percent for the month as a result, its first increase since October. The "core" CPI, a measure exclusive of food and energy costs also rose by 0.2 percent. Over the last 12 months, headline CPI has declined by 0.1 percent thanks to lower energy costs, but those transient effects mean little to the core, which is cruising at a 1.7 percent rate.
Inflation measures like the CPI and PCE look at the rate of change for costs, not absolute price levels; if gasoline is $2 per gallon in February and rises to $2.40 per gallon, this would record as a 20% increase... even if gas is still $1 per gallon cheaper than a year ago. This is a roundabout way of saying that the beneficial downward pressure in headline inflation caused by the 50% drop in oil prices may be passing, and even modest flare-ups will tend to lift inflation figures, even as actual prices of fuel remain subdued.
Anyway, that leaves us with labor markets to look at. Weekly unemployment claims spent most of the first nine weeks of 2015 bouncing above and below the 300,000 mark, but they seem to have settled again below that level, or at least they have for all of March. This may presage a pickup in hiring for the month; the all-important employment report comes out next Friday (we'll get ADP's private-sector payroll figure before that) and we are likely to see another pretty good report on hiring, with perhaps 235,000 new jobs created during the month. As a strengthening labor market is one key item as to how quickly the Fed will make a move (and how sizable any moves will be). As with any scheduled Fed meetings, it should be expected that interest rates will be volatile as we lead up to and pass these releases each month.
Manufacturing continues to take it on the chin from the stronger dollar and the generally slower domestic economy; more evidence of this was seen in February's 1.4 percent drop in orders for durable goods. This erased much of January's 2 percent gain, itself just the second positive reading in orders since last July. Orders outside of transportation-related items were also down again, as was the measure of capital goods orders for business-related goods. As well, a couple of regional looks at manufacturing in the Kansas City and Richmond Federal Reserve Bank districts both turned negative in March, with the Richmond Fed's gauge posting a minus 8 value for the month, while KC's barometer sported a negative 4. In both cases, orders were down but employment metrics improved just a bit, but it would seem that there's not a lot of economic push coming from manufacturing to help move things along. We'll get a bigger-picture review of this with the ISM report out next week.
Consumer moods (probably buoyed for months by cheaper gas and the holidays) have begun to turn a little more dour of late. The final March measure of Consumer Sentiment from the University of Michigan eased by 2.4 points, a second consecutive decline after an 11-year high posted in January. Assessments of both present and future conditions retreated a bit, and inflation expectations for the next year moved back to a six month high.
HSH's
Statistical Release
features charts and graphs for eleven mortgage products, including Hybrid ARMs.
Our state-by-state statistics are now
here
.
Current Adjustable Rate Mortgage (ARM) Indexes
Index
For The Week Ending
Year Ago
Mar 20
Feb 20
Mar 21
6-Mo. TCM
0.13%
0.07%
0.08%
1-Yr. TCM
0.25%
0.24%
0.14%
3-Yr. TCM
1.00%
1.06%
0.85%
5-Yr. TCM
1.49%
1.58%
1.67%
FHFA NMCR
3.77%
3.88%
4.37%
SAIF 11th District COF
0.698%
0.692%
0.784%
HSH Nat'l Avg. Offer Rate
3.88%
3.96%
4.43%
It's in the context of these things that we look at mortgage rates. For the last couple of months, and for a fair bit of time last year, too, we've been in a "push-me, pull-you" kind of interest rate environment, with rates firmed by more positive economic data domestically and largely dragged backward by poor data from overseas. With the ECB on the case and a warmer glow from across the globe, the downward drag has diminished somewhat of late; in turn, the continuing moderate pace of growth here provides no reason for short-term rates to remain at emergency levels, and the period of time in which they are likely to remain there grows shorter with each passing day. Although we're not yet there, the trend will eventually start to be more of a "push me" than "pull you", and rates will firm, probably in a notchy pattern of backing and filling even as they edge higher, perhaps on the order of two "push me" for every "pull you", or something similar to that.
When is this likely to occur? Well, this process could start as soon as next week, if the employment report is outsized and/or contains any signal of accelerating wages. The ISM and other data out could contribute to this too, or provide some exacerbation in on direction or the other. If the current pattern holds, though, the reports will be just enough to suggest that June might be on the table for the Fed to make its first policy change, or at least not enough to rule it out as a "liftoff" point. One way or another, we're in a more volatile rate environment, and here we're likely to stay for a while.
It's a toss up for mortgage rates for next week; we will start the week on an upward note, and whether that continues or not is "data dependent", to use one of the Fed's favorite phrases. On the basis of little more than a coin flip, we'll call for a five basis point lift in HSH's FRMI.
For a longer-range outlook for rates and the economy, one which will take you up until late April, have a look at our new Two-Month Forecast. For a really long-range outlook, you'll want to check out "Federal Reserve Policy and Mortgage Rate Cycles".
----------
Still underwater in your mortgage despite rising home prices? Want to know when that will come to an end? Check out our KnowEquity Underwater Mortgage Calculators to learn exactly when you will no longer have a mortgage balance greater than the value of your home.
---
Have you seen HSH in the news lately?
Want to comment on this Market Trends? -- send your feedback, argue with us, or just tell us what you think.

See what's happening at HSH.com -- get the latest news, advice and more! Follow us on Twitter.

Daily FRMI rates are available at HSH.com Check out our weekly Statistical Release here (and archives here).
---
For further Information, inquiries, or comment: Keith T. Gumbinger, Vice President

Copyright 2015, HSH® Associates, Financial Publishers. All rights reserved.