Mortgage Rate Trends: Weekly Market Commentary & Forecast
---
Rates Drift Somewhat Lower
September 25, 2015 -- A stumbling world economy and a Federal Reserve on the sidelines for a while longer yet has allowed mortgage rates to fall back to levels seen about a month ago.
This is not groundbreaking territory, as we remain solidly in the middle of a long-running range for rates, and 30-year fixed rate mortgages as tracked by HSH have averaged no higher than 4.15 percent and no lower than 3.77 percent this year.
There are precious few things which will cause mortgage rates to rise anytime soon. These include a strengthening economy, a pickup in inflation or a change in Fed policy. At the moment, we don't have much sign of any of them.
HSH.com's broad-market mortgage tracker -- our weekly Fixed-Rate Mortgage Indicator (FRMI) -- found that the overall average rate for 30-year fixed-rate mortgages declined by four basis points, returning to an average rate of 3.95 percent. The FRMI's 15-year companion managed a five basis point decline, easing back down to an average rate of 3.26 percent, exactly where it was four weeks ago. Popular with first-time homebuyers, rates on fully-insured FHA-backed 30-year FRMs remain considerably below their conforming counterparts and took back last week's two basis point rise with a two basis point fall, dropping the average back to 3.79 percent. Lastly, the overall 5/1 Hybrid ARM saw a decline of five one one-hundredths of a percentage point, settling back to an average rate of 2.96 percent. For averages of other mortgage products and more, see HSH's Statistical Release. HSH's FRMIs are combined averages and include both conforming and jumbo rates, providing borrowers with the widest possible view of mortgage conditions.
See this week's Statistical Release and Mortgage Trends Graphs.
Want to get Market Trends as soon as it's published on Friday? Get it via email -- subscribe here!
Way back in the second quarter of this year, now nearly three months ago, the global economy seemed pretty steady and the U.S. economy accelerated from a difficult winter. We learned this week that GDP growth powered from a 0.6 percent level in the first quarter of 2015 all the way to a 3.9 percent rate in the second. This final reading was a second upward revision for the period. Unfortunately, the economic news since June hasn't suggested a pace for growth anywhere near that lofty level, and there are any number of headwinds which will keep it at a much more subdued level for at least a time.
One item of note in the final report covering second quarter GDP was that there was an acceleration in price pressures during the period, some of which have probably diminished already. Still, the measure of Personal Consumption Expenditures in the report are important to the Fed, and for the quarter, headline PCE inflation was 2.2 percent -- and core PCE inflation was 1.9 percent, both about on par with the Fed's stated speed limit for prices. One quarter of price pressures isn't much of a trend, and so the Fed probably did little more than lift an eyebrow at the figure. If we get a couple of these in a row (probably a stretch at this point) concerns would rise, but even so, it did represent a change in a much more muted pattern for prices.
That the economy's performance has turned sub-par is seen in the latest National Activity Index from the Federal Reserve Bank of Chicago. Intended to show if growth is running above or below the economy's potential, the -0.41 value for August was a marked deceleration from July's relatively robust +0.51 mark. On balance, the fall would suggest that GDB growth in the third quarter so far is probably closer to 2.5 percent than not, but we won't know this until evidence from September starts to roll in over the next couple of weeks.
Manufacturing continues to struggle with a strong dollar and weak export opportunities, and the slowing in domestic energy production isn't helping, either. Evidence of this came in the form of industrial behemoth Caterpillar announcing layoffs of up to 10,000 workers this week, citing slow demand from oil and gas concerns and other challenges.
If HSH's weekly MarketTrends newsletter is the only way you know HSH, you need to come back and check out HSH.com from time to time. You'll find new and changing content on a regular basis, unique calculators, useful insight, articles and mortgage resources unlike anywhere else on the web.
Given the above, it's unsurprising that orders for durable goods slumped a full 2 percent in August, essentially erasing July's gain. A fall in aircraft orders was largely to blame, although excluding them out from the tally still left a lesser negative number for the month. Of course, that also translates in to locally difficult conditions, and this was seen in weak reports from the Federal Reserve Bank of Richmond, whose local barometer dipped to minus 5 for September. It was the first negative figure seen here since April, as activity in the fifth district has held up better than in other places. For example, over in the Kansas City district, a more pronounced and durable slump has been in place, with September's -8 reading in their gauge a seventh consecutive decline.
That's not to say it's all doom and gloom everywhere; there are many bright spots to be seen, but there is no doubt that growth is at best slow and uneven.
When the Fed failed to make a change to policy last week, markets rightly took this as a reflection of concern by the central bank about the prospects for growth. In some ways, such messaging can become a self-reinforcing message -- the expression of concern about growth fosters more cautious behavior among various participants in the domestic and global economy. Reversing this concept to at least some degree, Fed Chair Janet Yellen spoke at length this week at a forum held at the University of Massachusetts in Amherst, laying out the case for the Fed to raise rates later this year. That the Chair expects to lift rates before long is a moderately more upbeat assessment of the economy than last week's "9 against, 1 for lifting rates" vote would indicate, but we'll see if Ms. Yellen's expectation is borne out as new data rolls in over the next few months.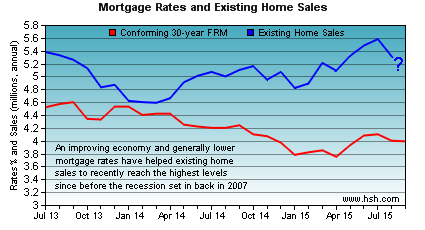 Over the last four meetings, the Federal Reserve's assessment of housing market conditions has improved markedly. Statements have moved from "recovery in the housing sector remained slow" (April) to "shown some improvement" (June) to "shown additional improvement" (July) to last week's "the housing sector has improved further."
Most of the improvement seen in the housing market can be attributed to the significant improvement in the labor market over the last couple of years, plus a host of beneficial factors that include low mortgage rates, gradually loosening underwriting standards (and consumers becoming better aligned with them), the filling of equity holes by amortization and the rise in home prices, and perhaps a waning of the pervasive wariness by potential homebuyers that the housing market would teeter forever. Massive refinancing opportunities, housing support programs and frankly better quality borrowers have helped lead to falling delinquency rates and fewer fresh foreclosures, while tight rental markets with quickly rising costs are all buttressing the case for homeownership again at a measured pace.
Although existing home sales eased by 4.8 percent in August, dipping to a 5.31 million annualized rate of sale, this came after a very solid spring and summer. As existing home sales reflect transactions begun anywhere from 45 to 60 days prior, the slippage here may have been due to a bump in rates to 2015 highs seen in mid-June until mid-July. Despite the easing, inventory levels nudged up only to 5.2 months, continuing to run below optimal levels; in turn, this is helping to keep upward pressure on prices, which rose at a 4.7 percent rate last month.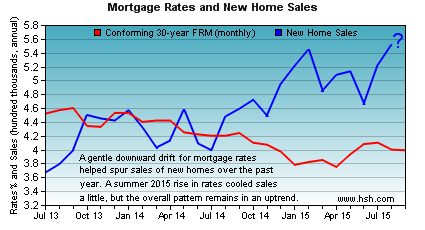 New Home Sales are a measure of contracts for purchase actually signed in the month they are recorded and so are a more immediate reflection of market conditions. As can be seen in the accompanying chart, any rate-rise corresponding dip in sales took place already, and the recent decline in the cost of mortgage money has revived them since. Sales of new homes rose by 5.7 percent in August when compared against July. As it touches a very wide range of industries, strengthening demand for new homes produces important economic support, and there remains plenty of space for upward growth yet. Supplies of new homes remain thin at just 4.7 months of supply, even with the 216,000 units built-and-ready-for-sale representing the highest level of inventory seen since the nadir for sales.
HSH's
Statistical Release
features charts and graphs
for eleven mortgage products, including Hybrid ARMs.
Our legacy state-by-state statistics are now
here
.
Current Adjustable Rate Mortgage (ARM) Indexes
Index
For The Week Ending
Year Ago
Sep 18
Aug 21
Sep 19
6-Mo. TCM
0.21%
0.23%
0.04%
1-Yr. TCM
0.41%
0.39%
0.12%
3-Yr. TCM
1.05%
1.01%
1.07%
5-Yr. TCM
1.54%
1.52%
1.82%
FHFA NMCR
4.02%
3.85%
4.08%
SAIF 11th District COF
0.643%
0.659%
0.668%
HSH Nat'l Avg. Offer Rate
3.99%
4.01%
4.29%
Concerns about economic conditions may give some consumers pause before making a major purchase, though. As measured by the University of Michigan, Consumer Sentiment saw an intensification of a downtrend in September. The Sentiment index reading of 87.2 -- a decline of 4.7 points for the month -- left the indicator at its lowest level since last October. The decline in moods was nearly equally balanced between more dour assessments of current and future conditions. Wobbly stock markets stock markets early in the month, slower growth in China, an undecided Fed and the earnest start of presidential election politicking are likely the cause of the bleaker outlook.
Notwithstanding the Caterpillar announcement, claims for unemployment assistance continue to chug along at low levels that suggest the labor market continues to hold its own. In the week ending September 19, just 267,000 new applications for benefits were filed around the country, perpetuating a remarkable string of low and steady readings.
We should see mortgage rates pretty steady for much of next week. With the calendar changing to October, we have little significant fresh data to push markets around until Thursday, when things will get busy. Most important of the week's releases is the September employment report on Friday, but unless if it wildly misses the forecast of perhaps 200,000 new hires, it probably has little effect on rates, since the Fed isn't likely to be swayed to make an October move by just one piece of data.
We think rates will end the week about where we finished this one. Odds are we could wobble a couple of basis points in either direction at most.
For a longer-range outlook for rates and the economy, one which will take you up until mid-October, have a look at our new Two-Month Forecast. For a really long-range outlook, you'll want to check out "Federal Reserve Policy and Mortgage Rate Cycles".
----------
Still underwater in your mortgage despite rising home prices? Want to know when that will come to an end? Check out our KnowEquity Underwater Mortgage Calculators to learn exactly when you will no longer have a mortgage balance greater than the value of your home.
---
Have you seen HSH in the news lately?
Want to comment on this Market Trends? -- send your feedback, argue with us, or just tell us what you think.

See what's happening at HSH.com -- get the latest news, advice and more! Follow us on Twitter.

Daily FRMI rates are available at HSH.com Check out our weekly Statistical Release here (and archives here).
---
For further Information, inquiries, or comment: Keith T. Gumbinger, Vice President

Copyright 2015, HSH® Associates, Financial Publishers. All rights reserved.