Mortgage Rate Trends: Weekly Market Trends & Forecast
---
Rates Easing As Economy Continues Expansion
November 26, 2014 -- Economic growth in the United States continues apace, unperturbed for now from the impact of a slow or stumbling global economy. Interest rates, though, are another story, as they continue to be more fully impacted by those troubles, much to the benefit of American homeowners and homebuyers.
Plenty of global investors' cash continues to be entrusted to U.S.-based markets, prompting record highs for major stock indices and pushing interest rates down. Of late, falling oil prices seem likely to trim already-low inflation, perhaps allowing interest rates a bit of additional room to fall. All this has occurred despite the Federal Reserve mostly dropping out of the Quantitative Easing business, an exit which was expected to lift interest rates somewhat.
Modest measures of QE-style supports in the Eurozone and interest-rate manipulation in China probably don't change the big picture by much, and certainly not in any immediate fashion, so interest rates will probably have a tough time getting any upward traction for a while yet.
HSH.com's broad-market mortgage tracker -- our weekly Fixed-Rate Mortgage Indicator (FRMI) -- found that the overall average rate for 30-year fixed-rate mortgages declined by two basis points this week (0.02%) to ease to 4.07 percent. The FRMI's 15-year companion also saw an decrease of two basis points (0.02%), as this popular refinancing product edged down to 3.34 percent. Fully-insured FHA-backed 30-year FRMs remained unchanged this week, leaving the average at 3.78 percent, well below even conforming 30-year product. Finally, the overall 5/1 Hybrid ARM eased by one basis point in ticking back down to an average 3.09 percent for the week. As has been the case of late, we remain just slightly above 2014 lows for all product, which remain in a state of near stasis.
See this week's Statistical Release and Mortgage Trends Graphs.
Want to get Market Trends as soon as it's published on Friday? Get it via email -- subscribe here!
Low mortgage rates and an improving economy continue to help revive a sluggish housing market, but the most recent news suggests that we may be on a firming path as we close 2014 and enter 2015. While way early for any projections, should the present trend persist, 2015 may be a very good year for housing markets. For now, sales of new homes edged higher in October, rising 0.7 percent in October to a 458,000 annualized pace. Inventory levels increased a little to 5.6 months, with an actual 212,000 units built and ready for sale. Prices of new homes popped 19 percent higher on a month-to-month basis, breaking a string of more modest increases and declines seen this year.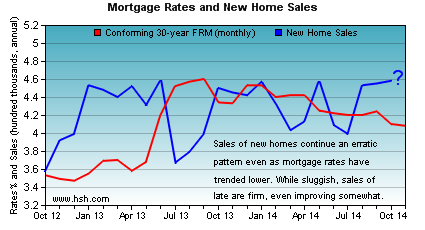 We learned last week that sales of existing homes also remained in a pattern of moderate improvement, with nearly steady gains in the annualized sales rate since March of this year. With employment gains coming on a regular basis and mortgage rates well tethered for at least a while longer, there's good reason to believe the beneficial pattern will persist.
The U.S. economy grew at a faster rate than was expected in the third quarter. Although not yet final, the preliminary reading for Gross Domestic Product showed growth running at a 3.9 percent clip, well above forecasts. GDP has run at a pace above a very healthy 3.5 percent in four of the last five quarters, and if we can escape the kind of winter stumble this year that we saw to start 2014, we may have finally reached "escape velocity" for the economy, one where it becomes more self-sustaining
without any extraordinary supports.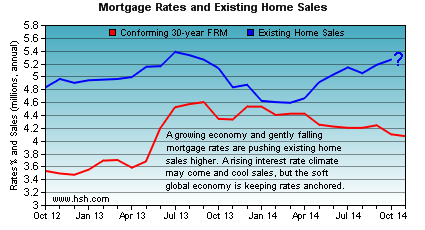 That being said, available evidence suggests that economic activity appears to have cooled in the fourth quarter from the hot third quarter pace, as most indicators have been solid but unspectacular. One of those indicators is the National Activity Indicator from the Chicago Federal Reserve; October's reading of 0.14 represented a deceleration from September, so the quarter started off on a lower note. An amalgam of some 85 economic indicators, the NAI shows if the economy is growing faster or slower than its natural inclination to grow, believed to be a GDP rate of about 2.6 percent or so. According to the NAI, we appear to be running a little bit above that rate at the moment.
Breaking a nine-week streak, claims for new unemployment benefits popped over the 300,000 mark, jumping 21,000 to 313,000 in the week ending November 22. We shouldn't yet be experiencing the seasonal-adjustment issues from the holiday, but perhaps there was a delay in some claims related to the Veteran's Day holiday which bloated the total, and there may have been some weather related influence in the week's total, too.
Although new orders for durable goods rang in better than expected in October, climbing by 0.4 percent where a decline was forecast, the headline figure was somewhat misleading. Orders for transportation-related items drove the total higher, nudging the headline number above zero but measures excluding military spending and those of business-related outlays all posted declines. As a result, there is little broad-based economic benefit from the headline gain.
Powering the economy forward will require additional outlays by consumers, who are responsible for perhaps two-thirds of GDP growth. Declining gasoline prices freeing up billions in spendable dollars will help, as will reliable income growth and wage gains above the rate of inflation. The Bureau of Economic Analysis reported that personal incomes rose by 0.2 percent in October, the same rate as September, with wage growth picking up a little, rising by 0.3 percent. As personal consumption expenditures rose the same 0.2 percent as incomes, the nation's rate of saving remained at a flat 5 percent for the month.
Manufacturing activity cooled measurably in the district covered by the Richmond Federal Reserve Bank. Their barometer reported a value of 4 in November, down from 20 in October, and its lowest value since June. New orders came to a near standstill during the month, but gains in employment were still noted despite the slowdown.
Consumer moods are steadily improving, if slowly. The Conference Board reported an unlikely spike in Consumer Confidence last month, but that was erased by the November report. Consumer Confidence fell by 5.4 points to 88.7 during the month, dropping back to about September levels. Measures of current conditions eased back somewhat, but future expectations (which drove the October report sharply higher) fell back to trend as well. Although below the reading seen in late summer and early autumn, confidence is much improved compared with last year at this time.
HSH's
Statistical Release
features charts and graphs for eleven mortgage products, including Hybrid ARMs.
Our state-by-state statistics are now
here
.
Current Adjustable Rate Mortgage (ARM) Indexes
Index
For The Week Ending
Year Ago
Nov 14
Oct 17
Nov 15
6-Mo. TCM
0.07%
0.05%
0.10%
1-Yr. TCM
0.14%
0.10%
0.13%
3-Yr. TCM
0.98%
0.77%
0.60%
5-Yr. TCM
1.64%
1.41%
1.40%
FHFA NMCR
4.06%
4.08%
4.26%
SAIF 11th District COF
0.663%
0.667%
0.956%
HSH Nat'l Avg. Offer Rate
4.10%
4.04%
4.45%
The University of Michigan survey of Consumer Sentiment has suffered no such fits and starts over the last few months, but rather steady, regular improvement. Although the final November value for sentiment was below the initial reading two weeks ago, it continued an upward skein that began back in July. At 88.8 for the month, the indicator is at its highest level since July 2007, with present conditions providing optimism even as hopes for the future remain more subdued.
Mortgage rates have had little to do but drift in the direction of least resistance over the last few weeks, which just happens to be down slightly. The holiday-shortened week this week allowed for a little but more of the same, and indications are that there may be a little bigger decline on tap for next week, at least early on. We will see the usual first-week-of-the-month slew of data is due which could reverse that, including the twin ISM reports, the Fed's Beige Book survey of regional economic conditions, an update on consumer borrowing and the all-important Employment report.
Path of least resistance being what it is, it's a reasonable expectation that at least a few basis points of decline will hang around by the time we reach next Friday.
While you're enjoying your Thanksgiving holiday, please do take a moment to remember those servicemembers who will spend the holiday far from family, home and hearth as they protect our interests in difficult spots around the globe.
For a longer-range outlook for rates and the economy, one which will take you up until mid December, take a look at our new Two-Month Forecast. To learn where we think the Federal Reserve will move interest rates in the years ahead, check out "Federal Reserve Policy and Mortgage Rate Cycles".
----------
Still underwater in your mortgage despite rising home prices? Want to know when that will come to an end? Check out our KnowEquity Underwater Mortgage Calculators, to learn exactly when you will no longer have a mortgage greater than the value of your home.
---
Have you seen HSH in the news lately?
Want to comment on this Market Trends? -- send your feedback, argue with us, or just tell us what you think.

See what's happening at HSH.com -- get the latest news, advice and more! Follow us on Twitter.

Daily FRMI rates are available at HSH.com Check out our weekly Statistical Release here (and archives here).
---
For further Information, inquiries, or comment: Keith T. Gumbinger, Vice President

Copyright 2014, HSH® Associates, Financial Publishers. All rights reserved.