Mortgage Rate Trends: Weekly Market Trends & Forecast
---
Rates Stop Declining, Level Off
January 23, 2015 -- Mortgage rates milled about in a holiday-shortened week for financial markets and have mostly leveled off for the moment. Without an additional leg down in interest rates, it will be hard for mortgage rates to produce headlines any different than "20-month lows", as rates have run into the "Bernanke wall" of May 2013, when conforming 30-year fixed hit their most recent bottoms. Rates rose appreciably during that month when the-then Fed Chairman muttered that QE would need to end at some point, spooking markets. It has since mostly ended, excepting some recycling of funds, and interest rates have been lower on balance.
HSH recorded what we reckoned to be about 60-year lows for conforming 30-year FRMs in December 2012 (3.48 percent) and a near miss for that mark in May 2013 (3.49 percent). At present we are rather a bit above those marks, but pretty close. Surpassing those values would likely require a financial catastrophe of some sort, but the U.S. economy is growing and there are at least attempts in place by other central banks to try to refire local economies.
As it's unclear to markets as to whether or not these efforts will succeed, the march into dollar-backed assets is likely to continue for at least a while, if perhaps at a lessened pace. That's good news for homebuyers and refinances, as mortgage rates are more likely to remain low.
HSH.com's broad-market mortgage tracker -- our weekly Fixed-Rate Mortgage Indicator (FRMI) -- found that the overall average rate for 30-year fixed-rate mortgages actually rose by a single basis point this week (0.01%) to lift to 3.81 percent. The FRMI's 15-year companion followed its longer-termed brother upward by the same amount, adding a single basis point and raising the weekly average to 3.17 percent. Despite a seven basis point (0.07 percent) rise this week, fully-insured FHA-backed 30-year FRMs remain well below even their conforming counterpart even with an average of 3.62 percent. The overall 5/1 Hybrid ARM ignored the this week's movements of fixed-rate mortgages, holding steady at an average 2.96 percent.
See this week's Statistical Release and Mortgage Trends Graphs.
Want to get Market Trends as soon as it's published on Friday? Get it via email -- subscribe here!
The European Central Bank announced ths week that it would begin in March a QE-style program of purchasing sovereign bonds from Euro-member countries at a rate of 60 billion euros per month, the intent being to help fuel economic growth and stave off deflation.
The Federal Reserve's QE program(s) were aimed squarely at both homeowners (MBS purchases) and to lower long-term interest rates (Treasury purchases), but these attempts to manipulate rates lower began from much higher starting points, and so had a chance to produce greater effect. With interest rates on many foreign sovereign bonds already at record lows (in some cases producing negative returns to investors) it's hard to fathom how even lower returns on these bonds will do much to improve those economies.
As with here, there is no guarantee that the additional liquidity will make it to the places where it will do the most good; banks will of course be forced to at least look at riskier opportunities in hopes of finding higher yields and profits, but the effect may simply be to chase more money onto these shores, at least initially. Time will tell, but with yields here considerably higher than overseas, it stands to reason there will continue to be a strong inbound flow from investors searching for higher returns until there are measurable signs of economic improvement across the pond.
The Fed's QE programs came mostly to a close last year, excepting the recycling of funds from maturing instruments and refinanced mortgages, a process which may pick up somewhat given the recent spate of refinance activity. Lower rates have certainly helped improve home sales and reflated prices over time, but the housing market regardless remains in a low gear, as there are myriad factors keeping activity from speeding up.
We've looked ahead! See our 2015 Outlook for mortgage, real estate markets and more.
In December, the National Association of Realtors reported that sales of existing homes ran at a 5.04 million (annualized) pace, up 2.4 percent from November, a rate squarely in the middle of the range of the last six reports. A very thin inventory of homes available to buy - just 4.4 months of stock -- may make it hard for sales to increase much in the near term, unless a pile of homes suddenly hits the market. As it's the middle of winter, that there's nothing for potential homebuyers to look at isn't a crucial problem, and inventory levels will likely improve as we move toward spring. Prices of existing homes remain well supported, holding a 6 percent rise this December when compared to last.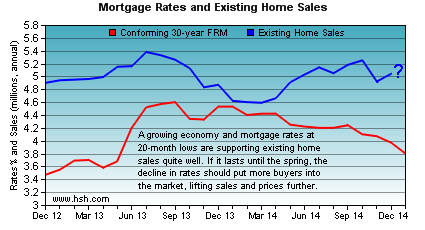 Of course, thin inventories of available homes can be cured by building more. Housing starts rose by 4.4 percent in December to a 1.089 million annualized rate, a level which is among the best of the recovery to date. The increase was driven by more starts of single-family homes, which climbed to 728,000 units initiated, with multi-family starts mostly holding steady. Permits for future activity slipped just a bit, easing to an annualized 1.032 million units in December from 1.052 in November. Despite the slippage, starts have been pretty firm recently, exceeding a 1 million pace in five of the last six months.
That's obviously reflected in the moods of homebuilders. The National Association of Homebuyers Housing Market Index remained in solid territory (if a little less so) in January, sporting a one point decline to a value of 57. Measures covering sales of single-family homes remained at a robust 62, expectations for the next six months sank by four points to a still-strong 60, but traffic at model homes and sales offices remains sub-par with a two-point slip to 44 for the month.
A less-strong economy in December produced a negative value for the Chicago Federal Reserve's National Activity Index, the first underwater number since an August 2014 stumble. The -0.05 reading was a sharp reversal from November's positive 0.92 mark, so it would appear that the economy closed 2014 and began 2015 with considerably less momentum then it had. The NAI is an amalgam of 85 economic indicators and seeks to show if the economy is growing above or below its potential, thought to be a GDP rate of perhaps 2.6% or thereabouts.
We don't get our first reading of GDP for the fourth quarter until next Friday, but it's a reasonable guess that we'll see something considerably lower than the 5 percent clip the economy attained in the third quarter. Our working guess would be something in the 3.6 percent range or so for GDP, still a very healthy clip.
New claims for unemployment benefits held a third consecutive week above the 300,000 level, so the the upward move of late is probably not only the result of seasonal adjustments. The slump in oil prices and lower gasoline costs are certainly broadly economically beneficial, but there are places where the fall in prices has some negative economic consequences and we may be seeing a little of that in these numbers. The labor market picture is still a pretty bright one, but perhaps dimmed just a little in some areas by the sudden and unexpected shift in oil prices.
Times are a little bit leaner in the Kansas City Federal Reserve's district. Their barometer of local manufacturing activity downshifted from a value 8 in December to one of just 3 in January, accompanied by a slump in orders and flat employment metrics. The January value was the lowest since a matching figure was seen last August, but came on the heels of the strongest month since last May, so it's too early for much concern about any nascent slowdown.
Prospects for the future actually brightened a bit in December, according to the Conference Board's index of Leading Economic Indicators. The LEI added one tenth during the month, moving to 0.5 and continuing a four-month string of fair readings. The LEI purports to be a forecasting tool for the months ahead, but may better reflect the conditions in the month which its components are assembled. Regardless of its crystal ball abilities, the LEI suggests that we ended the year on a good note.
HSH's
Statistical Release
features charts and graphs for eleven mortgage products, including Hybrid ARMs.
Our state-by-state statistics are now
here
.
Current Adjustable Rate Mortgage (ARM) Indexes
Index
For The Week Ending
Year Ago
Jan 16
Dec 19
Jan 17
6-Mo. TCM
0.08%
0.11%
0.06%
1-Yr. TCM
0.18%
0.23%
0.11%
3-Yr. TCM
0.83%
1.06%
0.78%
5-Yr. TCM
1.32%
1.61%
1.65%
FHFA NMCR
4.00%
4.11%
4.32%
SAIF 11th District COF
0.686%
0.671%
0.963%
HSH Nat'l Avg. Offer Rate
3.80%
3.97%
4.53%
Mortgage rates have been low, are low and should continue to be low. That said, they cannot perpetually decline, especially not with a growing U.S. economy and now another central bank taking a bold action. It remains to be seen if the strength of the U.S. economy is sufficient to help lift the world out of its economic funk, or whether the ECB's move will help ameliorate the eurozone's deflation and economic malaise issues to any great degree.
A busier calendar of data is due out next week, including new home sales, consumer confidence and sentiment indicators, the updated GDP report and more. There's also a Fed meeting, and given all that's happened since their mid-December go-round they will have much to chew over. Given the last muddled message, we hope for a clarified tone to the statement at the close of the two-day affair, and expect one that will likely acknowledge the changing picture on inflation but still promoting the expectation of a mid-2015 change to policy. If the changing picture of growth or inflation (both here and abroad) is really coloring the Fed's thinking about changing policy sooner or later, we probably won't even get an inkling of it until the March meeting at the earliest.
Meanwhile, with the ECB's pronouncement of QE in the market (finally), and with more data on tap and the Fed meeting to consider, it seems likely to us that we'll see flat mortgage rates again next week, with a small upward blip of perhaps two basis points a possibility.
For a longer-range outlook for rates and the economy, one which will take you up until late February, have a look at our new Two-Month Forecast -- and for the year as a whole, check out our 2015 Outlook for mortgage, real estate markets and more. If you're into really long-range reviews, you'll want to check out "Federal Reserve Policy and Mortgage Rate Cycles".
----------
Still underwater in your mortgage despite rising home prices? Want to know when that will come to an end? Check out our KnowEquity Underwater Mortgage Calculators to learn exactly when you will no longer have a mortgage balance greater than the value of your home.
---
Have you seen HSH in the news lately?
Want to comment on this Market Trends? -- send your feedback, argue with us, or just tell us what you think.

See what's happening at HSH.com -- get the latest news, advice and more! Follow us on Twitter.

Daily FRMI rates are available at HSH.com Check out our weekly Statistical Release here (and archives here).
---
For further Information, inquiries, or comment: Keith T. Gumbinger, Vice President

Copyright 2015, HSH® Associates, Financial Publishers. All rights reserved.