Mortgage Rate Trends: Weekly Market Trends & Forecast
---
Trendless Mortgage Rates Continue
New Two-Month Rate Forecast at HSH.com
April 24, 2015 -- There's been little to move mortgage rates strongly in one way or the other in recent weeks. A soft patch for the economy may be giving way to a modest pickup in growth, but even with that the economy would still probably be running a bit sub-par at the moment. Other market movers, such as inflation, changing Federal Reserve policy or even economic improvement overseas all seem to be in a bit of a holding pattern at the moment, as prospects for meaningful movement in any of them still seem more of a future than immediate concern.
The confluence of things keeping mortgage rates down is a generally good thing, unless you're hoping to invest in MBS and actually get some yield. However, low mortgage rates do improve the ability of a given income to support a higher mortgage balance, and in turn that ability allows for buyers to bid higher prices for homes; however, higher prices unfortunately tend to eliminate the benefit of lower rates over time.
That said, rising home prices are an important key as we wend our way back to a fully healthy housing market. Rising prices fill in equity holes for underwater borrowers, makes debt consolidation possible via the use of home equity and allows for sellers to have enough capital to buy a trade-up home. Overall, strong price growth is good, but if it outstrips income growth for a while it will diminish the pool of buyers who can buy homes; at that point, incomes need to rise, prices need to ease (or mortgage rates to fall anew) to again achieve balance and keep the market functioning.
See this week's Statistical Release and Mortgage Trends Graphs.
Want to get Market Trends as soon as it's published on Friday? Get it via email -- subscribe here!
HSH.com's broad-market mortgage tracker -- our weekly Fixed-Rate Mortgage Indicator (FRMI) -- found that the overall average rate for 30-year fixed-rate mortgages rose for the first time in more than a month, climbing by a single basis point (.01%) this week to an average 3.78 percent. The FRMI's 15-year companion joined the increase with a two basis point incline of its own, nudging up to an average rate of 3.12 percent. Popular with first-time homebuyers, rates on fully-insured FHA-backed 30-year FRMs remain well below their conforming counterparts but also bumped upward, climbing by two basis points to end at 3.59 percent for the week. The overall 5/1 Hybrid ARM failed to budge at all this week, holding steady at 2.90 percent for the period.
There certainly wasn't much economic news to puff up mortgage rates this week. The Federal Reserve Bank of Chicago's National Activity Index put in a -0.42 reading for March, capping a quarter of three consecutive declines. This was the first three-month string of sub-par readings since April-June 2011. The NAI's amalgam of 85 economic indicators uses a value of zero for a breakeven benchmark, with zero denoting GDP growth of perhaps 2.4 percent or thereabouts. Negative values indicate growth below that mark, and the collective reading for the quarter suggests we might not see much more than perhaps a 1.8 percent rate for GDP when the initial first quarter estimate comes out next week. Regardless of the figure, growth is slow, so rates are low.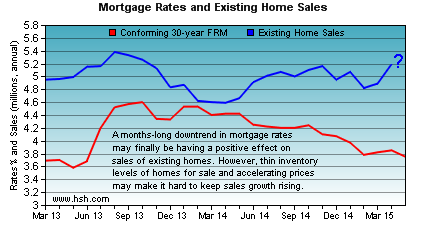 There's a bit of a time lag when it comes not only to the effect of falling mortgage rates on the housing market, but also in the way that some housing market activity is revealed. For example, sales of existing homes rose by 6.1 percent to a 5.19 million annualized rate in March, rebounding after a couple of softer months to start the year. However, the National Association of Realtors reports sales when they actually close, the culmination of a process begun anywhere from 30 to 60 days prior, with sales contracts signed in January or thereabouts. Mortgage rates were a tad higher then, but we had just dropped from the low 4s into the upper threes and there was probably some pent-up demand from the inactive holiday period being expressed as well. To the extent that lower rates helped push buyers into the market, we may see more of this as we go. However, the surge in buying further thinned inventories of available homes to just 4.6 months of supply; prices have accelerated and are some 7.8 percent above year ago levels, so affordability may be diminishing somewhat.
If HSH's weekly MarketTrends newsletter is the only way you know HSH, you need to come back and check out HSH.com from time to time. You'll find new and changing content on a regular basis, unique calculators, useful insight, articles and mortgage resources unlike anywhere else on the web.
Sales of new homes are reported differently; these are recorded not when the closing comes, but rather when the contract to purchase is signed. Sales of new homes suffered a 11.4 percent setback in March, easing to an annualized rate of sale of 481,000 even as they remain nearly 20 percent above year-ago levels. Unlike their used counterparts, prices for new homes declined again (now 5 of the last 7 months) and inventories edged higher to 5.3 months of supply. The Northeast and South had particularly difficult months, so it may be that weather played a role in the slump in sales.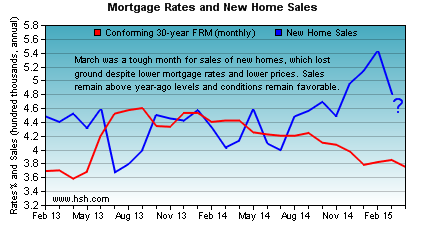 Orders for durable goods popped 4 percent higher in March, a much larger increase than was expected. That said, the headline gain did mask less-favorable news, as it was bloated by expensive transportation-related items and not the kind of broad gains a fully-functioning economy might produce. In fact, the measure of business-related durable goods purchases was negative again, the seventh consecutive decline seen here. Although any spending is of course welcome, especially one which is the strongest blast since last July, but it would be healthier to see those gains spread around.
More orders would help revive the fortunes of manufacturers, hurt of late by the strong dollar and soft demand, such as those in the Kansas City Federal Reserve district, where the regional Fed bank reported a -7 reading for April reading in their local manufacturing barometer, a second decline in a row.
We've another two weeks to go until we get to see if the weak March employment report was a blip, the start of a trend or if part of the decline gets revised away. Until then, we've had to content ourselves with the weekly unemployment claims data, and we're seemingly in a new holding pattern of just below the 300,000 level. During the week ending April 18, another 295,000 applications for benefits were processed, with the trend here generally upward after a recovery low 267,000 back at the end of March.
The Federal Reserve meets next week to discuss how best to proceed in the midst of all this. At the last meeting, they noted that a change to policy at this meeting was "unlikely", and of course it is. What is likely is that we'll see a similar phrase regarding June in the release which accompanies the end of the meeting. The rest of the message will be that growth has turned a little sluggish but is expected to pick up, and that inflation is subdued but the drag on prices from falling energy prices is diminishing. We'll need to wait three weeks to get more insight as to how FOMC members really feel about the situation.
HSH's
Statistical Release
features charts and graphs for eleven mortgage products, including Hybrid ARMs.
Our state-by-state statistics are now
here
.
Current Adjustable Rate Mortgage (ARM) Indexes
Index
For The Week Ending
Year Ago
Apr 17
Mar 20
Apr 18
6-Mo. TCM
0.09%
0.13%
0.05%
1-Yr. TCM
0.23%
0.25%
0.11%
3-Yr. TCM
0.85%
1.00%
0.86%
5-Yr. TCM
1.33%
1.49%
1.67%
FHFA NMCR
3.77%
3.88%
4.37%
SAIF 11th District COF
0.700%
0.698%
0.768%
HSH Nat'l Avg. Offer Rate
3.77%
3.88%
4.38%
For now, and for the last few weeks now, mortgage rates are at a plateau. We expect no surprises next week, but we'll have a fair bit of both end of the month and first of the month data to review. It's a fair bet that anything that is from the March period will tend to be soft, while any April data shows grudging improvement or more. We're likely in a holding pattern for mortgage rates again next week, but could see a couple basis point wander in either direction.
For a longer-range outlook for rates and the economy, one which will take you up until late June, have a look at our new Two-Month Forecast. For a really long-range outlook, you'll want to check out "Federal Reserve Policy and Mortgage Rate Cycles".
----------
Still underwater in your mortgage despite rising home prices? Want to know when that will come to an end? Check out our KnowEquity Underwater Mortgage Calculators to learn exactly when you will no longer have a mortgage balance greater than the value of your home.
---
Have you seen HSH in the news lately?
Want to comment on this Market Trends? -- send your feedback, argue with us, or just tell us what you think.

See what's happening at HSH.com -- get the latest news, advice and more! Follow us on Twitter.

Daily FRMI rates are available at HSH.com Check out our weekly Statistical Release here (and archives here).
---
For further Information, inquiries, or comment: Keith T. Gumbinger, Vice President

Copyright 2015, HSH® Associates, Financial Publishers. All rights reserved.