Mortgage Rate Trends: Weekly Market Commentary & Forecast
---
Rates Ease, But No Help For Housing
May 26, 2017 -- Late last year and earlier in this one, it was pretty easy to find concerns being expressed that higher mortgage rates and rising prices would make it a tough spring for potential homebuyers. As it has turned out, rates have been fairly steady for a while, and even sported a dip this week that pushed them to about six month lows. Prices of course have continued to rise, crimping affordability, but for the most part, over housing market conditions are about as good as they get.
Except there's little for wanna-be buyers to buy, and what inventory does become available is disappearing from the market at the fastest pace since 2011, and probably at prices above asking levels. As such, there remains plenty of demand for housing, but no supply to satisfy it, so sales of homes just can't grow.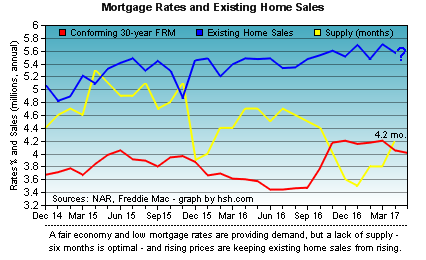 The National Association of Realtors reported this week that sales of existing homes in April fell by 2.3 percent to an annualized rate of 5.57 million units. The decline in sales meant that the number of homes available to buy at the current rate of sale expanded to 4.2 months, up a bit from March, but still well below levels considered optimal. Worse, the supply situation doesn't seem likely to get better anytime soon, as new listings this year are not only well below last year, but and at one of the lowest points in many years.
Supplies of new housing stock are more elastic; that is, more an be build to sate demand. However, we learned last week that housing starts softened of late and have been mostly running at moderate levels at best. While there is more inventory available to buy, new homes are rather more expensive than existing, and new construction is more likely to occur at locations further away from central city locations, which are said to be more preferred by today's millennial home buyers.
With inventories of available homes tight and mortgage rates steady, low-to-moderate income homebuyers may need a little help this spring. To lend a hand, HSH has revised and updated our popular "Homebuyer Assistance Programs By State" to help borrowers connect with the essential supports they need to become successful homeowners.
The median price of an existing home sold in April was about $245,000, while the median price of a newly-built one was about $306,000. All things being equal (20 percent down payment, taxes, insurance, etc.) a potential homebuyer could nab an existing home with about $55,155 in salary; however, that figure jumps almost 19 percent to $65,493 when a new median priced home is purchased, so it's not as though a lack of supply in one area directly translated to increased demand in another.
Sales of new homes dropped by 11.4 percent in April, falling to a 569,000 annualized rate. Declines were tallied in all four geographic locations tracked by the Census Bureau, and the slump in demand meant that supply moved higher, rising to a near-normal 5.7 months. Actual inventory here continues a long, slow climb, with some 268,000 units built and ready for sale, the highest figure of the expansion to date (if still well below historic norms). The dip in demand saw prices trimmed by 3.2 percent on a month-to-month basis, reflective perhaps of reductions to close some deals or consumers picking lower cost homes to buy.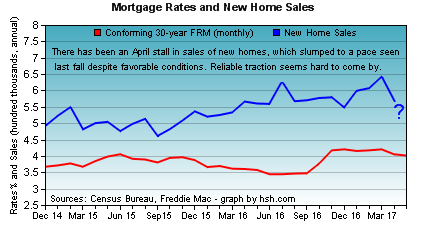 Existing home sales are tallied when the properties close, and so are reflective of market conditions from about 45 to 60 days ago, while new home sales are added up when the contract is signed, and reflect more current levels of activity.
If the economy continues to improve, demand for housing is likely to continue to rise. GDP growth was weak in the first quarter of 2017, but the latest revision showed that the softness was less than was first reported. The second look at overall growth in the first quarter of this year pegged it at a rate of 1.2 percent, a fair upward revision from the initial 0.7 percent report last month, if still a sizable drop from the 2.1 percent rate at which we closed 2016. According to the latest report, headline personal consumption expenditures expanded by 2.4 percent, with the so-called core PCE (the Fed's preferred inflation measure) rising by 2.1 percent for the period. This is a core rate consistent with the Fed's goal for prices, and may encourage them to rates short-term rates again in just a few weeks' time.
Want to get MarketTrends as soon as it's published on Friday? Get it via email -- subscribe here!
There have been some signals that growth accelerated to start the second quarter, too. The Federal Reserve Bank of Chicago's National Activity Index moved to a very-positive 0.49 for April, the highest one-month value since November 2014. Even a smoothed-out 3 month moving average was good enough for better than a two-year high. The NAI is an amalgam of some 85 economic indicators, and seeks to reveal of the economy is growing above or below its potential, thought to be a rate of perhaps 2.6 percent or so. The gauge uses a base level of zero to indicate trend growth, with values above or below expressing faster or slower growth for the period being measured.
Minutes of the early May FOMC meeting did nothing to dispel the expectation that a move in June is coming. According to the minutes, "Most participants judged that if economic information came in about in line with their expectations, it would soon be appropriate for the Committee to take another step in removing some policy accommodation." With only 18 days before the next Fed get-together, futures markets put an 83 percent chance of another quarter-point lift in the federal funds rate, so it would seem likely that we'll see some firming in mortgage rates as we approach the meeting as investors reposition themselves.
The Fed also revealed an inkling of its potential plan to start to trim its bloated balance sheet, and it would appear that they will be taking perhaps the most benign method available, setting in motion an automated approach to reducing its holdings. The process involves tapering the rate of reinvestment of incoming proceeds from maturing investments; at present, all inbound funds are rolled back into new investments of Treasuries and Mortgage-Backed Securities (MBS). The plan would set limits on the amount of holding that would be allowed to run off each month, with any amounts over these "caps" reinvested into more securities. For example, a goal might be to trim holdings by $5 billion, but redemptions from investments for the month was $8 billion. The $3B excess would be used to buy more Treasuries and MBS, and the overall amount of holdings by the Fed would be reduced in a measured, knowable fashion.
As caps increased, reinvestments would decline, and the monthly reductions in the Federal Reserve's securities holdings would become larger over time. The caps would initially be set at low levels and then be raised every three months, over a set period of time, to their fully phased-in levels. The final values of the caps would then be maintained until the size of the balance sheet was normalized.
Once finalized, and if the economy continues to manage apace, nearly all policymakers indicated that it likely would be appropriate to begin reducing the Federal Reserve's securities holdings this year. We think that this plan could start in December, and should not have much immediate effect on mortgage rates for the foreseeable future.
If HSH's weekly MarketTrends newsletter is the only way you know HSH, you need to come back and check out HSH.com from time to time. You'll find new and changing content on a regular basis, unique calculators, useful insight, articles and mortgage resources unlike anywhere else on the web.
A couple of regional looks at manufacturing continued to paint a more mixed picture that started with the Federal Reserve Banks of Philadelphia and New York's reports last week. This week, the regional Fed banks in Richmond and Kansas City chimed in; activity in the Richmond district stalled in May, with their barometer dropping from 20 in April to just 1 in May. Measures of new orders flatlined, falling from 26 last month to zero in this one, and employment metrics also slumped. This wasn't the case out in the Kansas City Fed's district; activity edged one point higher (to 8, from 7) overall, and new orders moved up a little, as did the measure of current employment conditions.
Claims for unemployment assistance seem to be in yet another stretch of remarkably low readings. The 234,000 new applications for benefits filed in the week ending May 20 was nearly identical to those seen in the last four weeks. We'll see the May employment report next Friday, and if the recent level of claims is any indication, we could be looking at another solid (if not outsized) gain in hiring for the month. Certainly, even continued moderate strength in the labor market will see the Fed feeling very comfortable about raising rates at every viable opportunity.
Current Adjustable Rate Mortgage (ARM) Indexes
Index
For The Week Ending
Year Ago
May 19
Apr 21
May 20
6-Mo. TCM
1.02%
0.93%
0.42%
1-Yr. TCM
1.10%
1.02%
0.62%
3-Yr. TCM
1.46%
1.39%
1.02%
5-Yr. TCM
1.81%
1.76%
1.34%
FHFA NMCR
4.12%
4.27%
3.88%
FHLB 11th District COF
0.583%
0.591%
0.670%
Freddie Mac 30-yr FRM
4.05%
3.97%
3.57%
Consumer moods are about as flat as are new unemployment claims. The final May reading for Consumer Sentiment from the University of Michigan sported a value of 97.1; this was just 0.1 points higher than April, but the last four months have all been contained in a 0.8 point range. Assessments of present conditions remained high, but slipped by one point to land at 111.7, while expectations for the future moved 0.7 points higher to 87.7 for the month. Moods remain elevated, but a lack of upward movement in light of solid economic conditions suggests to us a certain level of wariness. Given the global and domestic political climate, that doesn't seem unfounded.
A holiday-shortened week for financial markets beckons next week, with Memorial Day the unofficial start of summer here in the U.S. Despite the Monday holiday, the latter part of the week turns the month, bringing with it a slew of fresh data. Mortgage rates were fairly stable for much of this week and that is how we'll begin next week, when we expect that Freddie Mac will report virtually no change in 30-year fixed mortgage rates come next Thursday. After that, Thursday and Friday's cascade of data may serve to start a new push upward. We'll see.
For a interim forecast for mortgage rates and the economy, one which runs through early June, have a look at our Two-Month Forecast. For a year-long review of expectations, see our 2017 Outlook.
----------
Still underwater in your mortgage despite rising home prices? Want to know when that will come to an end? Check out our KnowEquity Underwater Mortgage Calculator to learn exactly when you will no longer have a mortgage balance greater than the value of your home.
---
Have you seen HSH in the news lately?
Want to comment on this Market Trends? -- send your feedback, argue with us, or just tell us what you think.

See what's happening at HSH.com -- get the latest news, advice and more! Follow us on Twitter.

---
For further Information, inquiries, or comment: Keith T. Gumbinger, Vice President

Copyright 2017, HSH® Associates, Financial Publishers. All rights reserved.