Mortgage Rate Trends: Weekly Market Trends & Forecast
---
Mortgage Rates Rise From 2014 Bottoms
New at HSH.com: Federal Reserve Policy and Mortgage Rate Cycles
September 12, 2014 -- With Autumn coming on quickly and the summer doldrums fading behind us, the unusually quiescent period for mortgage rates may also be coming to an end. That's not to indicate that we are on the verge of any huge upswing in rates, but more that we're likely to move up off 2014 bottoms than to continually visit them as we have since May.
Ultimately, the future direction for mortgage rates relies on a wide range of factors, including what happens to economic growth and inflation, how investors feel about purchasing mortgage-backed securities in a market free of direct Fed intervention, global fears and economic jitters and other items will determine where we go.
Of course, Federal Reserve policy will also have tremendous influence, and although actual policy changes by the Fed seem well off in the future, anticipation of them can also move markets somewhat. That anticipation of a coming move increases of diminishes with available economic signals, and those have been flashing more green than yellow in recent months. For the moment, it's only enough to nudge rates a little higher.
HSH.com's broad-market mortgage tracker -- our weekly Fixed-Rate Mortgage Indicator (FRMI) -- found that the overall average rate for 30-year fixed-rate mortgages moved by the largest amount since the spring, climbing six basis points (.06%) to rise to an average rate of 4.23 percent, a one-month high. The FRMI's 15-year companion followed suit, rising by five basis points to edge up to an average rate of 3.48 percent and as high as this rate has been since mid-May. Fully-insured FHA-backed 30-year FRMs were virtually immune to the uptick, with these lowest-priced fixed rate mortgages adding just .01 percent to an rate of 3.92 percent. The overall 5/1 Hybrid ARM followed the FRMI in lockstep with a six basis point jump, landing at 3.18 percent for the week. For most rates, the increases seen this week are small but considerable given the recent pattern, and a reminder that quiet markets rarely remain so indefinitely.
See this week's Statistical Release and Mortgage Trends Graphs.
Want to get Market Trends as soon as it's published on Friday? Get it via email -- subscribe here!
Although the past can be a less-than-precise tool for looking forward, it can be instructive. With just one meeting and two trims to go before QE comes to an end, we thought it might be a good time to take a long-range look at where Fed policy may go in the coming years and how this might affect mortgage rates. "Federal Reserve Policy and Mortgage Rate Cycles"is our latest analytic piece, where we look at what the Fed has done in the past ten interest rate cycles for clues to the future of mortgage rates in the year and years to come.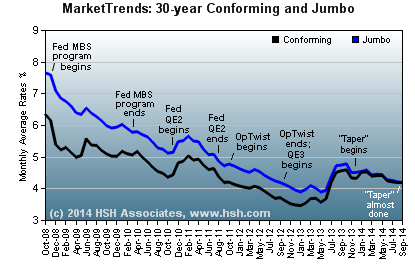 More immediately, mortgage rates are on a slight firming note, driven upward by an ongoing accumulation of good news. There wasn't all that much fresh information to work with this week, but what there was was enough to buttress the argument that we're still on the right economic track.
If HSH's weekly MarketTrends newsletter is the only way you know HSH, you need to come back and check out HSH.com from time to time. You'll find new and changing content on a regular basis, unique calculators, useful insight, articles and mortgage resources unlike anywhere else on the web.
Retail sales rebounded in August, pumped up by strong sales of autos. Even removing autos and volatile gasoline prices from the total left a month-to-month gain of 0.5 percent, a solid enough figure. On a year-over year basis, retail sales expanded a full five percent annual rate, the fastest pace in a good while. Not only are consumers opening their wallets a bit more for goods and services, they appear to be expressing more confidence about their situations, as they are also adding to their outstanding debts.
Consumer credit expanded by a fat $26 billion in July. Installment spending for things like cars and education loans continue to make up the bulk of borrowing by a wide margin, but even revolving balances (credit cards) saw a $5.4 billion expansion during the month, about triple the rate seen in June and the second largest figure this year.
The latest review of Consumer Sentiment by the University of Michigan seems to reveal growing confidence, too. The preliminary September reading found a 2.1 point increase in the gauge so far this month, as assessments of present conditions slipped a little but the outlook for the future gained a smart 4.3 points compared to last month. As consumer moods are loosely tied to their spending habits, an improvement here could signal continued increases in spending, further powering economic growth.
With spending rising, a natural happenstance is that inventory levels of goods gets drawn down, necessitating more orders from factories and suppliers. The broadest measure of stockpiles at manufacturers, wholesalers and retailers grew by 0.4 percent in July; f the three above, retailers expanded their holdings the most, but sales kept pace, and goods on hand relative to sales remain at fairly lean levels, so the production train should keep on chugging along.
Some goods may be poised to become cheaper; for example, falling oil prices are producing lower gasoline costs. Given some recent changes in the strength of various currencies, we may see more of this, helping our purchasing power. At the moment, aggregate costs of goods coming onto these shores fell by 0.9 percent in August, a second consecutive decline. Falling fuel costs pulled the headline number down, but there was almost no change when they are left out of the calculation. Over the last 12 months, the cost of inbound items has declined by 0.4 percent. In return, we're not exporting much by way of price increases, either, as there was a 0.5 percent fall in export costs during the month and just a minor 0.4 percent rise over the last 12 month period.
HSH's
Statistical Release
features charts and graphs for eleven mortgage products, including Hybrid ARMs.
Our state-by-state statistics are now
here
.
Current Adjustable Rate Mortgage (ARM) Indexes
Index
For The Week Ending
Year Ago
Sep 05
Aug 08
Sep 06
6-Mo. TCM
0.05%
0.05%
0.05%
1-Yr. TCM
0.10%
0.11%
0.15%
3-Yr. TCM
1.00%
0.92%
0.90%
5-Yr. TCM
1.70%
1.64%
1.76%
FHFA NMCR
4.09%
4.08%
3.55%
SAIF 11th District COF
0.676%
0.668%
0.954%
HSH Nat'l Avg. Offer Rate
4.17%
4.23%
4.75%
Claims for new unemployment benefits bounced higher in the week ending September 6, rising by 11,000 to land at 315,000. although this is a little above the recent pattern, the Labor Day holiday may have caused some adjustment issues in the calculation, and new claims remain at or near pre-recession levels.
With the interest rates that underlay them on the rise this week, somewhat firmer mortgage rates are on tap. After closing August in the mid 2.3 percent range, the influential 10-year Treasury was closing in on 2.6 percent by the close of business Friday. So far, there hasn't been all that much effect on mortgage rates, but they aren't immune to these forces, and we will see a rise in rates next week of perhaps 6 basis points or a bit more. This would move rates approximately to the upper middle of the May-September range, nothing more.
For a longer-range outlook for rates and the economy, one which will take you up until mid October, take a look at our new Two-Month Forecast.
----------
Still underwater in your mortgage despite rising home prices? Want to know when that will come to an end? Check out our KnowEquity Underwater Mortgage Calculators, to learn exactly when you will no longer have a mortgage greater than the value of your home.
---
Have you seen HSH in the news lately?
Want to comment on this Market Trends? -- send your feedback, argue with us, or just tell us what you think.

See what's happening at HSH.com -- get the latest news, advice and more! Follow us on Twitter.

Daily FRMI ratesare available at HSH.com Check out our weekly Statistical Release here (and archives here).
---
For further Information, inquiries, or comment: Keith T. Gumbinger, Vice President

Copyright 2014, HSH® Associates, Financial Publishers. All rights reserved.