Mortgage Rate Trends: Weekly Market Commentary & Forecast
---
Political Risk Trims Rates, For Now
May 19, 2017 -- In recent years, it has been the case that political or economic risk in spots across the globe has been to the benefit of American mortgage shoppers, as these events and currents have tended to lower interest rates.
This week, it was a homebrew issue that upset the applecart, with the expanding maelstrom over President Trump's firing of FBI director James Comey driving headlines and pressing interest rates lower. With each unfolding nugget of information, investors seems to increasingly be drawing a conclusion that these issues may put expected economic reforms on the back burner, if not kill them entirely, leaving the economy in a plodding pace for the foreseeable future.
We know that part of the sharp rise in interest rates that happened post-election was largely due to a change in investor sentiment. However, a fair bit of that enthusiasm bled out of the markets over the last couple of months as hopes for rapid change faded after the failure to repeal the Affordable Care Act. In turn, this largely removed the "Trump bump" from mortgage rates, putting us back at about mid-November levels.
At the moment, it would seem that an even greater degree of pessimism exists, keeping interest rates tethered despite two increases in short-term rates over the last six months (and a fair chance of another increase in just a few weeks' time), rising inflation, and regular (if uneven) economic growth. Pressed higher by the economy but pulled down by politics, mortgage rates can't seem to reliably move in one direction or the other.
With inventories of available homes tight and mortgage rates steady, low-to-moderate income homebuyers may need a little help this spring. To lend a hand, HSH has revised and updated our popular "Homebuyer Assistance Programs By State" to help borrowers connect with the essential supports they need to become successful homeowners.
For our part, we'll bet that the fundamentals of growth, inflation and Federal Reserve policy will hold sway, and that rates still remain more likely to move higher (if stubbornly) than not. At least some of the sharp mid-week decline in yields and sell-off in stocks was retraced by the end of Friday, but both interest rates and stock indices finished the week rather lower than they began.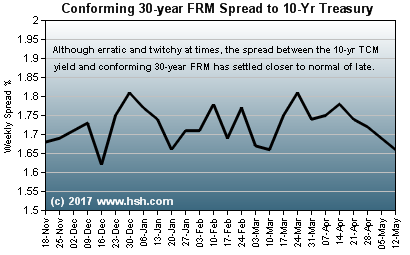 Even though homebuilding remains below pre-crisis peak levels, home builders appear very satisfied about present conditions for their industry. Housing starts declined by 2.6 percent in April, slipping to a 1.172 million (annualized) rate of construction initiation. The decline was the result of a slowing in starts of multifamily homes, a sector which seems to exhibit much greater volatility than does the single-family side of the coin. Multifamily starts dropped off by 9.2 percent to 337,000 annualized units started; the larger single-family sector edged 0.4 percent higher to 835,000 units started. Single-family starts have been running at more than an 800,000 clip for seven consecutive months; this is about a 10-year high level, but only about two-thirds of what would be considered to be long-run "normal" levels. Permits for future activity moved lower in April, too, slipping by 2.5 percent to an annualized 1.229 million rate.
Want to get MarketTrends as soon as it's published on Friday? Get it via email -- subscribe here!
With these conditions in place, the National Association of Home Builders index of member sentiment trended back up in May, recovering two points of a three-point April dip. At a value of 70, the headline figure here is quite robust; sub-indexes covering current single-family sales also moved higher (to 76, from 74), expectations for the next six months moved to 79, a level last achieved in 2005, and traffic at sales offices remained positive for the fifth time in the last six months. A "diffusion" index, the NAHB indices use a score of 50 as a "zero" point, with measures above indicating expansion, and below, contraction.
Overall industrial production moved higher in April, rising by a full 1 percent, an increase that was the strongest in more than 3 years. Manufacturing production rebounded strongly, climbing 1 percent after an April decline. That was also the case with mining output, which popped by 1/2 percent after a 0.4 percent fall the prior month. Utility output was 0.7 percent greater and this came on the heels of a 8.2 percent rise in April amid a surge in weather-related demand. With these gains, the overall amount of production floors in active use rose to 76.7 percent; for manufacturing, it edged 0.7 percent higher to 75.9 percent. As normal levels are closer to 80 percent utilization, there remains plenty of unused available capacity despite these recent upticks.
Earlier this month, we learned via the Institute for Supply Management reports that a cooling in manufacturing activity took place in April. Given fresh regional inputs for May, it may be that this decline has leveled or stopped, but it's hard to draw a conclusion just yet. The Federal Reserve Bank of New York's local manufacturing barometer more than flatlined in May, dropping from a positive 5.2 in April to -1.0 for this month, it's lowest value since last October. Orders tanked, falling from 7 to -4.4, but at least the measure of employment activity held pretty firm at 11.9 (it was 13.9 in April).
Take a short drive down the New Jersey Turnpike to the Federal Reserve Bank of Philadelphia's territory and the story is totally different. A sharp jump in the headline index here nearly returned it to the 34-year high of a couple of months ago, as the indicator added 16.8 points to rise to a value of 38.8 for May. Orders eased a little, but remained strong and employment remained at a fairly high 17.3 for the month. Interestingly enough, the "prices paid" component of both the NY and Philly Fed's reports both moved lower after mostly firming during the prior four months. There have been few other signs of input prices cooling anywhere (in fact, the Producer Price Index moved sharply higher in April), so this bears watching, a least as it relates to potential moves by the Fed in the coming months.
If HSH's weekly MarketTrends newsletter is the only way you know HSH, you need to come back and check out HSH.com from time to time. You'll find new and changing content on a regular basis, unique calculators, useful insight, articles and mortgage resources unlike anywhere else on the web.
Weekly jobless claims moved to their second lowest point of this cycle, with just 232,000 new applications for benefits filed in the week ending May 13. Low claim levels simply reinforce the fact that labor markets remain tight and employers are obviously seeing enough business to be able to keep people on payrolls. Low productivity growth may be having a hand in this, as strengthening output per employee would lessen the need for as many employees overall. The tight labor market is one reason that we still expect the Fed to make a move come June, but there is a growing possibility that they may give it a pass until September.
The index of Leading Economic Indicators continues to say that the economy remains in a modest-to-moderate pattern. The 0.3 percent rise in the Conference Board's LEI for April was a repeat of March, giving an indication that the plodding level of economic growth will likely be with us as we head into the summer months. That said, the LEI isn't a great forecasting tool, but probably better reflects conditions in the month in which its components are assembled. Relative to the soft first quarter, the current run rate for GDP seems have improved markedly, but we're only about halfway through the second quarter at the moment. We'll get our second look at first quarter GDP late next week.
Current Adjustable Rate Mortgage (ARM) Indexes
Index
For The Week Ending
Year Ago
May 12
Apr 14
May 13
6-Mo. TCM
1.03%
0.95%
0.37%
1-Yr. TCM
1.13%
1.05%
0.53%
3-Yr. TCM
1.54%
1.45%
0.89%
5-Yr. TCM
1.91%
1.83%
1.21%
FHFA NMCR
4.12%
4.27%
3.88%
FHLB 11th District COF
0.583%
0.591%
0.670%
Freddie Mac 30-yr FRM
4.02%
4.10%
3.61%
We'll at least start next week with mortgage rates on a downward note. Much of this week's decline in rates and yields came too late for Freddie Mac's survey, and even with a partial late-week rebound, it doesn't seem all that likely that rates will be able to hold the 4.03 percent they notched this week. The economic calendar is fairly light, but we'll see the above-noted GDP report, get updates on home sales to help us see how the spring housing market is faring, and a few other items, but we'll be poring over the minutes from the early May Fed meeting for clues about changes to policy, including any information on how the central bank plans to trim its bloated balance sheet.
Expect mortgage rates to dip next week, with the average conforming 30-year FRM as reported by Freddie Mac probably dropping 7 basis points or so, a dip good enough to put us back to late November levels.
For a interim forecast for mortgage rates and the economy, one which runs through early June, have a look at our Two-Month Forecast. For a year-long review of expectations, see our 2017 Outlook.
----------
Still underwater in your mortgage despite rising home prices? Want to know when that will come to an end? Check out our KnowEquity Underwater Mortgage Calculator to learn exactly when you will no longer have a mortgage balance greater than the value of your home.
---
Have you seen HSH in the news lately?
Want to comment on this Market Trends? -- send your feedback, argue with us, or just tell us what you think.

See what's happening at HSH.com -- get the latest news, advice and more! Follow us on Twitter.

---
For further Information, inquiries, or comment: Keith T. Gumbinger, Vice President

Copyright 2017, HSH® Associates, Financial Publishers. All rights reserved.