Mortgage Rate Trends: Weekly Market Trends & Forecast
---
Rates Edge Higher As Data Outweigh Greek Debt Mess
July 2, 2015 -- Just when you get used to the idea that global financial messes frequently have positive effects on U.S. mortgage rates comes a reminder that no one really knows the collective mind of the markets.
Greece did technically default on its debts on Tuesday. However, last weekend the government there shuttered the banks in order to limit any cash exodus from the country, so the ability of at least some money to get out of the way of the mess was curtailed. More likely, a fair bit of investor cash was moved out well prior to last weekend. Regardless, after a minor rally in Treasury bonds that mostly faded as the week went along (and never took much hold in mortgages) interest rates ended a little bit higher.
With a long U.S. weekend on tap for Independence Day, and with a debt-vote referendum by Greek citizens coming up on Sunday, it's unsurprising that rates are a little higher, as higher rates are indicative of a more defensive posture by investors against unknowable outcomes.
HSH.com's broad-market mortgage tracker -- our weekly Fixed-Rate Mortgage Indicator (FRMI) -- found that the overall average rate for 30-year fixed-rate mortgages rose by just one basis points (0.01%) this week to an average of 4.14 percent. The FRMI's 15-year companion managed a rise of double that, adding two basis points to nudge up to an average interest rate of 3.41 percent. Popular with first-time homebuyers, rates on fully-insured FHA-backed 30-year FRMs remain considerably below their conforming counterparts and rise by just one basis point for the week, edging up to an average of 3.91 percent. Meanwhile, the overall 5/1 Hybrid ARM bucked the trend, trimming one basis point off of last week's average to land at 3.06 percent this week. HSH's FRMIs are combined averages, including both conforming and jumbo rates, providing borrowers with a more wide-ranging view of mortgage conditions.
See this week's Statistical Release and Mortgage Trends Graphs.
Want to get Market Trends as soon as it's published on Friday? Get it via email -- subscribe here!
The other consideration about why rates remain firm is that even a Greek exit from using the Euro may have only an isolated impact on the global economy. With the U.S. economy chugging back to life in the last quarter there is less worry that some kind of global slowdown might happen. Although the data here has been solid for the most part, it's in reality more moderately warm than hot, and if at times erratic, more or less reliable over the last five or six years now.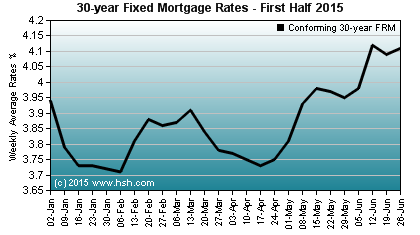 We just did a mid-year update to our 2015 Outlook. For the most par, our expectations fall into the "so far, so good" category. If you don't recall what we had to say, check out our Annual Outlook Mid-Year Update.
Of greatest import to the Federal Reserve (and in turn the financial markets) is that the recovery in the U.S. labor market remains on track. After a stumble back in March which ended a string of very solid and sustained job creation the economy has gotten back on track in the last three months. In June, new job creation was pegged at 223,000; this was down a bit from a downwardly revised 254,000 in May, but more than fair, and very much in line with recent longer trends. although the nation's "official" rate of unemployment fell by two-tenths of a percentage point last month, that was due to a surprising decline of the number of people considered to be in the active workforce. The estimated disappearance of 432,000 folks no longer looking for work left the workforce participation rate at 62.6%, a post-recession low. The end of the school year may or may not have played a role in this, but we won't be able to glean that until more time has passed.
If HSH's weekly MarketTrends newsletter is the only way you know HSH, you need to come back and check out HSH.com from time to time. You'll find new and changing content on a regular basis, unique calculators, useful insight, articles and mortgage resources unlike anywhere else on the web.
One other item in the employment report was that average hourly earnings came to a halt last month and were unchanged from May. This trimmed the year-over-year gain to a flat 2 percent, and without more growth, consumers may continue to spend cautiously, limiting economic growth.
Aside from labor, the report from the Institute for Supply Management spoke of a sluggish but improving manufacturing sector. The ISM's barometer tracking the health of the factory sector put in a second consecutive upturn after two close-to-breakeven months. At a value of 53.8, the ISM index added just 0.7 point in June, but that's enough to nudge it back into at least "modestly growing" territory. Measures of new orders ticked higher, as did employment metrics, so it would seem that the sector of the economy most affected by the strong dollar and slow growth in trading partner economies is starting to again get its feet back under it, a positive sign for the economy.
That having been said, the broad measure of orders recorded at factories sported a 0.8 percent decline, but this reflects orders placed back in May. Indications since then are that things have picked up a little. In the May report, it was outlays for durable goods (a 2.2 percent reduction) that was responsible for the dip (non-durables actually rose by 0.2 percent).
Part of the recent firmer manufacturing stance comes from improving domestic conditions, of course. Important to this is the strong pace of sale of new cars and trucks, which by some measures have just had their best half-year period in ten years. According to AutoData, June sales of new vehicles slipped back from an outsized pace in May, landing at a 17.2 million (annualized) rate of sale, the third best level of the past year. Unlike the housing market, financing for new cars is open to almost all comers, powering sales forward. Although there are a few cracks at the margins, there's no headlong rush to make mortgages to more risky borrowers at the moment. If nothing else, and to good or bad effect, this limiting serves to temper the housing market recovery.
Consumer Confidence is also on the upswing of late, according to the Conference Board. Their index leapt by 6.8 points in June, with the reading of 101.4 a new 2015 high. Although assessments of present conditions bumped higher, a more pronounced lift was seen in the expectations portion of the program. The economy resuming a growing pattern over the last couple of months, incomes improving somewhat and prospects brightening has provided more reasons for folks to be enthusiastic.
Claims for unemployment assistance have been holding in a stable, low pattern for months. This continued in thw week ending June 27, as just 281,000 new applications for benefits were filed around the country. Some of those souls were likely among the 44,842 announced layoffs tallied by the outplacement firm Challenger Gray and Christmas during the month, where retail and energy-sector employment bore the brunt of job reductions.
HSH's
Statistical Release
features charts and graphs for eleven mortgage products, including Hybrid ARMs.
Our state-by-state statistics are now
here
.
Current Adjustable Rate Mortgage (ARM) Indexes
Index
For The Week Ending
Year Ago
Jun 19
May 22
Jun 20
6-Mo. TCM
0.09%
0.08%
0.06%
1-Yr. TCM
0.27%
0.23%
0.10%
3-Yr. TCM
1.05%
0.98%
0.95%
5-Yr. TCM
1.65%
1.56%
1.72%
FHFA NMCR
3.75%
3.78%
4.24%
SAIF 11th District COF
0.680%
0.687%
0.701%
HSH Nat'l Avg. Offer Rate
4.10%
3.98%
4.25%
Spending on construction projects gained 0.8 percent in May, a lessened pace of activity but still sufficient to complete a six-month string of positive readings. With housing picking up a little speed this spring, outlays for residential projects rose by 0.3 percent, while spending for commercial and industrial construction rose by 1.5 percent for the month. Spending on public works projects has sputtered at times during the recovery, but the 0.7 percent rise in May was a third consecutive increase.
It's hard to know what to expect as far as the outcome for the Greek mess is concerned. At least at the moment, and unlike six months ago, the economic fortunes of important economies is improved, and that seems to be trumping any concerns at the moment. Six months ago, markets seemed focused solely on bad news, discounting any good news; presently, the optimists are holding sway, and the focus is squarely on good news, with darker spots in the picture discounted.
Given the present stance of the market, it would be hard to expect lower mortgage rates next week. However, Greek banks are (at the moment) slated to reopen, and the debt referendum is Sunday. We could be in for some additional volatility for rates as these things unfold. Adding to the mix we have some updates on service-business activity, a report on the imbalance of trade and the minutes from the last Fed meeting to ponder. All will probably suggest that the firmness to rates of late is justified, but call it a leap of faith, but we just might see rates largely end unchanged by the time the week closes.
Happy Independence Day. As you celebrate, remember those who have fought and continue to fight to preserve our freedoms.
For a longer-range outlook for rates and the economy, one which will take you up until late August, have a look at our new Two-Month Forecast. For a really long-range outlook, you'll want to check out "Federal Reserve Policy and Mortgage Rate Cycles".
----------
Still underwater in your mortgage despite rising home prices? Want to know when that will come to an end? Check out our KnowEquity Underwater Mortgage Calculators to learn exactly when you will no longer have a mortgage balance greater than the value of your home.
---
Have you seen HSH in the news lately?
Want to comment on this Market Trends? -- send your feedback, argue with us, or just tell us what you think.

See what's happening at HSH.com -- get the latest news, advice and more! Follow us on Twitter.

Daily FRMI rates are available at HSH.com Check out our weekly Statistical Release here (and archives here).
---
For further Information, inquiries, or comment: Keith T. Gumbinger, Vice President

Copyright 2015, HSH® Associates, Financial Publishers. All rights reserved.