Mortgage Rate Trends: Weekly Market Commentary & Forecast
---
Mortgage Rates Stay Home For Thanksgiving
November 25, 2015 -- A holiday-shortened week this week provided little new direction for interest rates, even though there was a fair bit of new economic data to digest even before the Thanksgiving meal has been prepared.
There's little indication to be seen that the market has been swayed more strongly in one direction or the other by the new information, at least is it pertains to the future for monetary policy. It certainly could be said that the economy is performing fairly, but there is scant indication that an upswing in growth or inflation is coming our way amid various headwinds.
A benign economic and inflation environment means mortgage rates are mostly benign, too. At present, we still remain rangebound between the highest and lowest levels of 2015, and the despite the present likelihood that the Fed may actually finally initiate liftoff for interest rates in just a few weeks' time.
HSH.com's broad-market mortgage tracker -- our weekly Fixed-Rate Mortgage Indicator (FRMI) -- found that the overall average rate for 30-year fixed-rate mortgages declined by two basis points (0.02 percent) this week, slipping to 4.01 percent. The FRMI's 15-year companion managed slight increase, adding a single basis point to firm to an average rate of 3.36 percent. Popular with first-time homebuyers, rates on fully-insured FHA-backed 30-year FRMs remain considerably below their conforming counterparts but actually rose by one basis point (0.01 percent) above last week's figure, edging up to 3.82 percent on average. The overall 5/1 Hybrid ARM also rose by one one-hundredth of one percent this week, landing at an average rate of 3.18 percent.
See this week's Statistical Release and Mortgage Trends Graphs.
Want to get Market Trends as soon as it's published on Friday? Get it via email -- subscribe here!
Originally estimated at a rate of 1.5 percent, the measure of Gross Domestic Product for the third quarter was revised higher to a more moderate 2.1 percent. It's certainly not a spectacular level of growth and pales in comparison to levels achieved in three of the last six quarters, but is arguably sufficient to continue to absorb "resource slack" in the economy, if at a measured and hopefully reliable pace. To the extent that a move by the Fed would trim growth, we would not be starting from a very high level at all, and one that isn't throwing off much by way of inflation, what with a core personal consumption expenditure rate of just 1.3 percent, down from 1.9 percent in the second quarter.
Growth also may have picked up a little in the beginning of the fourth quarter, at least according to the Chicago Federal Reserve Bank's National Activity Index. The NAI moved up back-to-back readings of -0.29 in August in September to a less-dull -0.04 in October, indicating that the economy grew closer to its "potential" (natural rate of growth) during the month. With the potential estimated to be a GDP rate of perhaps 2.6 percent, the economy edged a little nearer to that, at least in the first month of the quarter. No doubt contributing to the improvement here was a 3 percent rise in order for durable goods in October, which were still pretty solid (+0.5 percent) even when volatile transportation orders were excluded from the mix.
If HSH's weekly MarketTrends newsletter is the only way you know HSH, you need to come back and check out HSH.com from time to time. You'll find new and changing content on a regular basis, unique calculators, useful insight, articles and mortgage resources unlike anywhere else on the web.
Home sales are also a key barometer for the economy. Sales of new homes have wide-ranging beneficial economic impact, while sales of existing homes make lots and lots of service-oriented jobs possible. Sales of existing homes currently hold a market size about 10 times that of new homes, so low mortgage rates are arguably a more important piece of this market than that of new homes, which tend to attract more trade-up and seasoned buyers.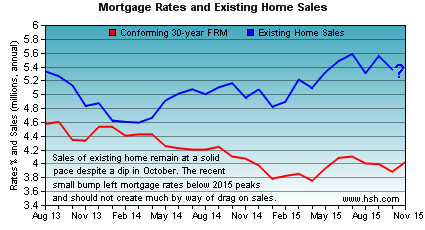 Although running below the best levels of the year, existing home sales continued along at a solid clip in October, managing a 5.36 million annualized rate. Prices of homes continue to rise, but have settled to increases in the mid-5 percent range over the last few months. Of course, with income growth lagging that, and perhaps amid somewhat firmer mortgage rates, affordability becomes a bit of a concern, especially as inventories of available homes to buy remains at a very tight 4.8 months. "Normal" inventory levels of perhaps six months supply would help to cool prices increase somewhat, but rising equity stakes of homeowners also has a role to play in the economic expansion, too.
Sales of new homes are important for other reasons -- they create jobs and demand for goods from lumber to copper to appliances. However, sales of new homes continue to manage just a moderate rate of sale, something on the order of half the level attained before the housing market came crashing down -- something closing in on eight years ago at this point.
In October, sales of new homes rebounded from a soft September, gaining 10.7 percent to an annualized 495,000 rate. The bump in sales trimmed available supply to 5.5 months at the present rate of sale, but as prices were some 6.7 percent lower in October than September, it's almost as though builders were running a sale to clear inventory, and with predictable results. As we remain well below normal, there remains plenty of upside for sales of new homes in the future, and inventories of unsold homes (226,000 units) are now at a recovery high.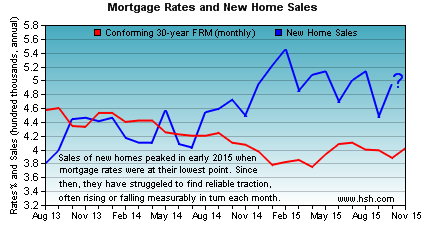 Consumer moods are a mixed bag as we close November. The latest measure of consumer confidence from the Conference Board showed a marked decline, falling 8.7 points to slump to a value of 90.4, its lowest showing since July 2014. Assessments of both present conditions and future expectations both took a hit during the month, with more pessimistic views about jobs, incomes and homes all reported.
That said, different measures yield different results. The final November reading of Consumer Sentiment from the University of Michigan was a strong contrast to confidence, as this barometer of consumer moods rose by 1.3 points to a value of 91.3 for the month, nudged higher by improved current outlooks and future expectations. Although well below the best levels of the year, the increase was a second consecutive gain, so the trend seems positive, if mildly so.
Although it doesn't appear to have translated into much by way of spending, what with weak retail sales reported a couple of weeks ago, personal incomes actually rose a good bit in October, climbing 0.4 percent. Wage growth was even stronger, rising by 0.6 percent for the month, the fastest clip since May. Outlays of those funds, though, only tallied 0.1 percent for the month, with the difference between income and outgo pumping up the nation's rate of savings to 5.6 percent for the period. At times during the recovery and expansion, those accumulations of funds have led to spurts of spending in subsequent months, so we'll need to see if this is the case as we hit the holiday retail season starting on Friday.
HSH's
Statistical Release
features charts and graphs
for eleven mortgage products, including Hybrid ARMs.
Our legacy state-by-state statistics are now
here
.
Current Adjustable Rate Mortgage (ARM) Indexes
Index
For The Week Ending
Year Ago
Nov 13
Oct 16
Nov 14
6-Mo. TCM
0.34%
0.08%
0.07%
1-Yr. TCM
0.50%
0.23%
0.14%
3-Yr. TCM
1.23%
0.89%
0.98%
5-Yr. TCM
1.72%
1.34%
1.64%
FHFA NMCR
3.93%
3.99%
4.08%
SAIF 11th District COF
0.651%
0.639%
0.667%
HSH Nat'l Avg. Offer Rate
4.06%
3.89%
4.10%
After visiting comparatively lofty levels for three straight weeks, claims for new unemployment benefit snapped back to a more familiar level of 260,000 new applications filed in the week ending November 21. However, a usually fairly clear picture of labor conditions tends to get fuzzy around this time of year, what with seasonal adjustment issues and more to be managed. A smoothed-out average over the last four weeks does still see us elevated in November relative to October, and with the November employment report due our next Friday, the suggestion is that we won't see anything approaching the 271,000 new hires October brought.
That will be the next market mover for mortgage rates. A strong report, and one which includes rising hours worked and wages and the Fed is a lock to move. A middling or unexpectedly small increase -- or downward revisions to earlier reports -- and the certainty moves back closed to 50-50. At the moment, the probability is perhaps 80 percent for a move, but the data will have a lot to say about it.
Markets have a couple of days to rest before early reports of Black Friday spending come in, and there's little other data to ponder until the calendar turns to December on Tuesday, when the first-week-of-the-month onslaught begins anew. At least until we get to Friday, we seem likely to hold present levels for mortgage rates, perhaps with just a little upward bias; the employment report could push rates a handful of basis points higher -- or lower -- all by itself. It's a dicey call, as a move of a few basis points in either direction is equally likely at this moment. We won't pick one.
For a longer-range outlook for mortgae rates and the economy, one which will close out 2015, have a look at our new Two-Month Forecast. For a really long-range outlook, you'll want to check out "Federal Reserve Policy and Mortgage Rate Cycles".
----------
Still underwater in your mortgage despite rising home prices? Want to know when that will come to an end? Check out our KnowEquity Underwater Mortgage Calculators to learn exactly when you will no longer have a mortgage balance greater than the value of your home.
---
Have you seen HSH in the news lately?
Want to comment on this Market Trends? -- send your feedback, argue with us, or just tell us what you think.

See what's happening at HSH.com -- get the latest news, advice and more! Follow us on Twitter.

Daily FRMI rates are available at HSH.com; Check out our weekly Statistical Release here (and archives here).
---
For further Information, inquiries, or comment: Keith T. Gumbinger, Vice President

Copyright 2015, HSH® Associates, Financial Publishers. All rights reserved.