Mortgage Rate Trends: Weekly Market Trends & Forecast
---
Fixed Mortgage Rates Crest at Six-Month Highs
May 15, 2015 -- Mortgage rates firmed a little bit more this week, cresting at the highest levels in six months, but it appears that the four-week rise in rates is over, at least for now.
The global selloff in bonds -- essentially, a repositioning by investors in light of changes in currencies and central bank programs -- pushed mortgage rates up by a little more than a quarter percentage point from the 2015 lows of mid-April.
QE-style programs in the Eurozone may be having some beneficial effect on that economy, and present indications are that the U.S. economy has weathered a soft patch, even if may have left the growth trajectory here on a lower path. It bears keeping in mind that the lowest interest rates are often seen when times look bleakest, and in present times, also when central banks stand idly by. The ECB began buying bonds not all that long ago, but the move seems to have soothed frazzled investors who now are expressing more of a preference to seek out higher-yielding opportunities, rather than stuffing all their holdings into safe and secure government bonds. If intertwined global economies can all start to move upward, even to a muted degree, firmer interest rates will be the result.
HSH.com's broad-market mortgage tracker -- our weekly Fixed-Rate Mortgage Indicator (FRMI) -- found that the overall average rate for 30-year fixed-rate mortgages rose by four basis points (0.04%) this week to an average of 4.00 percent. The FRMI's 15-year companion rose by three one-hundredths of a percentage point, with the three basis point increase lifting it to an average rate of 3.28 percent. Popular with first-time homebuyers, rates on fully-insured FHA-backed 30-year FRMs remain considerably below their conforming counterparts but weren't immune to the overall rise, adding just one basis point to last week's figure to hit 3.75 percent for the week. Meanwhile, the overall 5/1 Hybrid ARM added two basis points, edging a bit higher and landing at 3.01 percent. HSH's FRMIs includes both conforming and jumbo rates, providing borrowers with a broader view of mortgage conditions.
See this week's Statistical Release and Mortgage Trends Graphs.
Want to get Market Trends as soon as it's published on Friday? Get it via email -- subscribe here!
In a time of meager income growth, falling mortgage rates have played an important role in enhancing affordability and reflating home prices. Over the last 10 years, conforming 30-year fixed mortgage rates have been as high a 6.80 percent and as low as 3.28 percent; this decline to rock-bottom levels meant that on a peak-to-trough basis buying power has improved considerably. At the chart peak in 2006, a monthly payment of $652 was enough only to borrow $100,000; at the bottom, that same $652 would have been sufficient to borrow $140,080 dollars -- a 40 percent improvement in the amount of debt a given income could carry.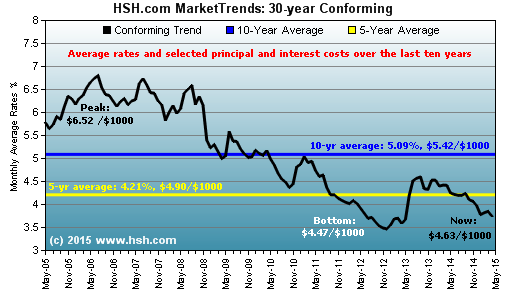 As the Fed looks to return interest rates to "normal" over time, it bears noting that the interest rate associated with "normal" continues to shrink. Over the last 10 years, a reasonable time frame, conforming 30-year FRMs have held an average of just 5.09 percent; over the last five years, only 4.21 percent.
It's not clear yet where rates will eventually land once they do begin to rise, but when they do, purchasing power will be crimped. If we land in-between the five- and 10-year figures at 4.65 percent, an income that could carry $100,000 at a rock-bottom 3.49 percent will only be able to manage about $86,600 at the new level, so absent stronger income growth, keeping the housing market going may be a challenge.
If HSH's weekly MarketTrends newsletter is the only way you know HSH, you need to come back and check out HSH.com from time to time. You'll find new and changing content on a regular basis, unique calculators, useful insight, articles and mortgage resources unlike anywhere else on the web.
The Fed of course is keeping an eye out for any signs of inflation anywhere. There are of course a lot of moving and intertwined parts to that equation, with the key being wage growth. Other inputs play a role, too, but it is hard for folks to spend more if they don't have more income, and price pressures remain muted.
After bottoming in March, oil prices have rebounded pretty smartly over the last two months. Just as plummeting oil prices helped to drag down inflation for a good bit of last year, the reversal will likely serve to lift costs somewhat over time. That said, oil isn't everything; the devaluing of trading partner currencies has lowered costs, too, so it will remain difficult for some prices to gain much traction. As the U.S. is a net importer of goods, less-expensive goods are largely to the benefit of consumers whose purchasing power is increased. In April, the aggregate value of goods headed onto these shores fell by 0.3 percent, pulled down by non-fuel imports even as petroleum costs rose for a second month. Import prices are presently 10.7 percent lower over the last year. Conversely, and despite a recent weakening, the dollar remains quite strong, making it harder for U.S. producers to sell goods overseas as our products are pricier. In hopes of keeping trade flowing, the cost of export costs was chopped by 0.7 percent and is 6.3 percent below year ago levels.
The Producer Price Index reflected the decline in import prices, sliding by 0.4 percent for the month of April. Lower costs for both goods and services were noted, and the so-called "core PPI", which leaves out the most volatile input costs, eased by 0.1 percent. Prices as measured by headline PPI have fallen in each of the last four months, and are 1.2 percent below year-ago levels. Core PPI is still on the positive side of the ledger with a 0.4 percent yearly rise, but this is less than one-quarter of the increase seen as recently as last October, so prices measured here are still cooling.
After a March rebound, retail sales failed to improve on that uptick in April, posting an unchanged value for the month. Auto and gasoline sales trimmed the headline number, but leaving them out left only a meager 0.2 percent gain. On a year-over-year basis, retail sales eked out only a 0.9 percent gain, the smallest value since 2009, but the figures may be being kept in check by the cheaper goods flowing onto these shores. Even so, consumers have remained cautious about spending throughout the recovery, given a newfound adversity to adding to debt loads amid meager income growth.
New claims for unemployment benefits have been in rare territory over the past few weeks, having sported back-to-back readings that were the lowest since Y2K. The trend continued in the week ending May 9, as 264,000 new applications were filed at state windows. It's too soon to know whether the rebound in hiring in April will be repeated this month, but the indication at the moment is that the prospects for that remain pretty good. At the moment, the futures market puts the greatest probability of a Fed move out as far as December, but if labor market indicators continue to improve that time frame will shorten, and probably in a hurry.
Although still weak, manufacturing activity in New York improved a bit in May, according to the Federal Reserve Bank of New York. Their indicator had drifted from a value of 10 in January to minus 1.2 by April, but moved back to a positive reading of 3.1 as a pickup in orders moved the indicator higher. The employment metric in the report continued to decline, unsurprising given the weakness over the last few months.
HSH's
Statistical Release
features charts and graphs for eleven mortgage products, including Hybrid ARMs.
Our state-by-state statistics are now
here
.
Current Adjustable Rate Mortgage (ARM) Indexes
Index
For The Week Ending
Year Ago
May 08
Apr 10
May 09
6-Mo. TCM
0.08%
0.10%
0.05%
1-Yr. TCM
0.24%
0.22%
0.10%
3-Yr. TCM
0.99%
0.87%
0.89%
5-Yr. TCM
1.54%
1.36%
1.65%
FHFA NMCR
3.77%
3.88%
4.37%
SAIF 11th District COF
0.687%
0.700%
0.709%
HSH Nat'l Avg. Offer Rate
3.96%
3.78%
4.30%
Broader weakness was also seen in the report covering Industrial Production. In April, overall production eased by 0.3 percent, an easing of the same amount as registered in March and a fifth consecutive decline. Manufacturing actually put in the best performance with no change from last month, with falling output by mining concerns (which include oil and gas production) dropping by 0.8 percent and utilities (-1.3 percent) dragging down the headline. The five-month slide in output has trimmed the percentage of production floors in active use to 78.2 percent, the lowest such figure in more than a year, and further away from even average historical levels, let alone where they might contribute to price pressures.
Consumer moods have turned decidedly more sour in early May, according to the preliminary reading of Consumer Sentiment from the University of Michigan. A lackluster economic pace, firming gasoline prices and higher mortgage rates in the headlines no doubt have darkened outlooks. The initial sentiment reading for the month was 88.6, the lowest value since we saw an 88.8 last November. Assessments of current conditions both declined by nearly equal amounts, with the overall decline the largest in more than two years. Happier consumers are believed to be inclined to spend more, so in light of a poor reading here it makes sense that retail sales are struggling to find gains recent months.
Given the whims of global investors, it's hard to say with much conviction that the entirety of the rise in interest rates is complete. Some have likened this change in positioning to the "taper tantrum" seen in U.S. bond markets back in 2013, when then-Fed Chairman Ben Bernanke mentioned that the U.S. QE programs would eventually need to end. The current situation seems a bit different, and so far at least the effect is by far more muted on mortgage rates.
Borrowers in the market need to be aware that for much of this year we have been in a volatile period for rates. At times, the volatility is beneficial (as it was a month or two ago) and sometimes not so much, as in the present period. In terms of the big picture, though, little has changed, as we've only nudged off recent bottoms. Mortgage rates remain favorable to homebuyers, if less so, and as we've seen before, even small rises in rates chill refinance activity to a considerable degree.
It seems to us that the rise in rates has leveled off, and indications are that we should expect rates to drift back a little next week. We had hoped for as much this week, but that turned out to not be the case, as we saw more whipsawing in underlying yields with an overall upside bias. It's probably optimistic on our part, but we think that a 6-8 basis point fall by the time the week comes to a close is most likely.
For a longer-range outlook for rates and the economy, one which will take you up until late June, have a look at our new Two-Month Forecast. For a really long-range outlook, you'll want to check out "Federal Reserve Policy and Mortgage Rate Cycles".
----------
Still underwater in your mortgage despite rising home prices? Want to know when that will come to an end? Check out our KnowEquity Underwater Mortgage Calculators to learn exactly when you will no longer have a mortgage balance greater than the value of your home.
---
Have you seen HSH in the news lately?
Want to comment on this Market Trends? -- send your feedback, argue with us, or just tell us what you think.

See what's happening at HSH.com -- get the latest news, advice and more! Follow us on Twitter.

Daily FRMI rates are available at HSH.com Check out our weekly Statistical Release here (and archives here).
---
For further Information, inquiries, or comment: Keith T. Gumbinger, Vice President

Copyright 2015, HSH® Associates, Financial Publishers. All rights reserved.
<!-- "text" version in SS This is the HSH MarketTrends newsletter. If your email program doesn't let you view this newsletter, you can read it online at http://www.hsh.com/trends.html after 7am Monday. HSH Associates, Financial Publishers 51 Route 23 South Riverdale, NJ 07457