Mortgage Rate Trends: Weekly Market Commentary & Forecast
---
Still Low, Rates To Firm A Bit
April 22, 2016 -- As we close in on the upcoming meeting of the Federal Reserve Open Market Committee, it's to be expected that mortgage and other interest rates will firm a bit. There is about zero chance that the Fed will make a move at next week's get-together to discuss policy, and there are no new economic projections or "dot plots" to explicitly reveal Committee member thoughts.
The uptrend isn't in anticipation of higher rates, at least not in any immediate fashion. Rather, the statement which closes this meeting will probably provide clues as to any increase in likelihood of a move at the next meeting in June -- a setting of the stage, so to speak. Although unlikely to be explicit or overt, the Fed will probably tip its hand in subtle ways about its intentions -- if not just after the meeting, certainly in the coming days and weeks.
A move in June is by no means a certainty, but as markets have quieted in the last few weeks, it's fairly likely that the Fed will make a move then, provided labor markets continue to tighten and inflation continues on its present firming path. We'll see about that as the incoming data is revealed, but regardless of that, a bit of firmness that began during this week is in the cards for mortgage rates.
HSH.com's broad-market mortgage tracker -- our weekly Fixed-Rate Mortgage Indicator (FRMI) -- found that the overall average rate for 30-year fixed-rate mortgages rose by a single basis point, nudging upward to an average rate of 3.68 percent. The FRMI's 15-year companion doubled that slight incline, adding two basis points (.02 percent) to last week's final figure to edge up to an average 3.07 percent. Popular with first-time homebuyers, rates on fully-insured FHA-backed 30-year FRMs remain considerably below their Fannie and Freddie counterparts and held fast to last week's stance, remaining at an average interest rate of 3.52 percent. Meanwhile, the overall 5/1 Hybrid ARM rose the most of the bunch, increasing by three one-hundredths of one percent to climb back to 2.92 percent for the week.
See this week's Statistical Release and Mortgage Trends Graphs.
Want to get Market Trends as soon as it's published on Friday? Get it via email -- subscribe here!
The economy certainly didn't have much by way of steam in the first quarter of 2016. Although the initial Gross Domestic Product report for the period won't come until next week, indications are that it won't be much to write home about. A proxy for growth is seen in the Chicago Federal Reserve Bank's National Activity Index, an amalgam of some 85 economic indicators. This barometer intends to show if the economy if growing above or below its "potential", or natural ability to grow (thought to be a GDP rate of about 2.6 percent or so). Negative readings for the NAI in March (-0.44) joined February's (-0.38), declines sufficient to wipe out January's positive 0.28 mark. Reviewed from here, the collective decline in this indicator in the fourth quarter of 2015 was steeper than that of latest period. The NAI reported all negatives for the Oct-Dec period, and GDP for 2015's 4th quarter was just 1.4 percent. However, with one positive value in the Jan-Mar trio, it's possible we'll see a little improvement in the first quarter, but probably not much -- perhaps a reading of 1.6 percent or so at best.
With the economy stumbling along, housing markets can't find any reliable traction, but have mostly remained confined to ranges -- growing one month then retreating the next, but not breaking any new ground one way or the other. Housing Starts are one such series in this sawtooth pattern, and after a bump higher in February it was time for a dip in March. The decline of 8.8 percent dropped starts to a 1.089 million (annualized) level, the lowest such reading since last October. At a 764,000 pace, starts of single-family homes fell back to trend after their best month of the expansion to date, and multifamily starts eased back as well. Permits for future activity also declined, falling by 7.7 percent to a 1.086 million annualized rate.
If HSH's weekly MarketTrends newsletter is the only way you know HSH, you need to come back and check out HSH.com from time to time. You'll find new and changing content on a regular basis, unique calculators, useful insight, articles and mortgage resources unlike anywhere else on the web.
With March housing starts soft, it's unsurprising that attitudes among the nation's home builders remained only steady in April. The National Association of Home Builders measure of member sentiment held at 58 for a third consecutive month, holding firm as a result of a mixed bag of results in their poll. Measures of single-family sales eased two ticks to 63, still quite strong but the coolest since last May, while hopes for activity in the next six months ticked up one point to 62, as did the measure of traffic at showrooms and model homes, which managed to edge back up to 44 for the month.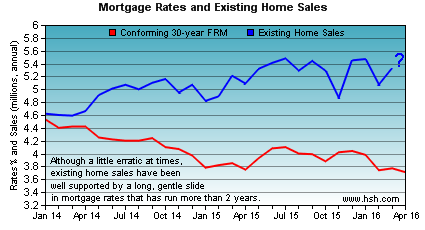 Sales of existing homes kicked higher in March, rising by 5.1 percent to an annualized 5.33 million rate of sale, about in the middle of the high and low marks of the last year or so. Low mortgage rates continue to provide important support for the largest component of the housing market, but rising prices and thin inventories of available and desirable homes to buy are likely hindering stronger growth in sales. In March, prices of homes sold were some 5.7 percent higher than last year, and inventory levels of unsold homes remain at a tight 4.5 months, so upward price pressures seem likely to persist. A contributing factor in the tight supply of homes is that millions of formerly salable homes are presently part of the rental stock and not available to be purchased. Still, this situation is good for existing homeowners, as it helps to cure any underwater situation that may yet persist from the real estate bust.
Relief from this underwater situation has become available, at least to some underwater homeowners having trouble making payments. The FHFA announced a plan for principal reductions as a part of loan modifications for borrowers in severe straits -- 90 days behind on mortgage payments as of March 1st and where their home's LTV ratio is 115 percent or higher with a loan balance of $250,000 or less, as well as a few other conditions. This additional support program is the final piece of the HAMP program and is expected to help as many as 33,000 homeowners in markets that remain troubled. Unless extended (unlikely), HAMP will come to an end at the end of 2016.
New claims for unemployment assistance dropped to a 43-year low of just 247,000 new applications in the week ending April 16. The job market has been strong, to be sure, and layoffs have been low for many, many months, but the decline last week may have more to do with oddball seasonal adjustments due to the changeable Easter and Passover holidays from year to year. Regardless, the signals are still solid green for labor markets, at least as far as unemployment help is concerned.
HSH's
Statistical Release
features charts and graphs
for eleven mortgage products, including Hybrid ARMs.
Our legacy state-by-state statistics are now
here
.
Current Adjustable Rate Mortgage (ARM) Indexes
Index
For The Week Ending
Year Ago
Apr 15
Mar 18
Apr 17
6-Mo. TCM
0.36%
0.48%
0.09%
1-Yr. TCM
0.54%
0.67%
0.23%
3-Yr. TCM
0.89%
1.08%
0.85%
5-Yr. TCM
1.22%
1.43%
1.33%
FHFA NMCR
3.88%
3.98%
3.88%
SAIF 11th District COF
0.670%
0.664%
0.698%
HSH Nat'l Avg. Offer Rate
3.67%
3.82%
3.77%
A local manufacturing review by the Philadelphia Federal Reserve showed a steep fall in activity in April. Their barometer of activity slumped by 14 points, dropping from a positive 12.4 in March to a negative 1.6 in April. Orders fell, and employment metrics turned sharply negative, a disappointment after the indicator had its first positive showing in seven months in March; hopefully, this is just a stumble in an otherwise improving pattern. It should be, if the Conference Board's index of Leading Economic Indicators is any indication. LEI rose by three ticks to a positive 0.2 for March, its first positive reading since last November. If nothing else, the gain in the indicator suggests March was a bit of an improvement and perhaps there was some underlying economic momentum as we moved into April.
As noted above, the Fed meets next week, but there's about a zero chance of a move in the Federal Funds rate. In addition to that market-mover, there is a slew of new data due out: new home sales, home prices, employment cost index, the GDP report, personal income and more. The uptrend for mortgage rates kicked in on Thursday and a bit more was added on Friday, with the result being a 14 basis point lift from Monday's daily FRMI average to Friday's. The effect on this week's rates was minimal, but we'll see a more pronounced rise of perhaps 6 basis points or more by the time next week is through. If out expectation comes true, why, those would be the highest rates since... March!
For a longer-range outlook for mortgage rates and the economy, one which will run through mid-May, have a look at our new Two-Month Forecast.
If you're wondering where we'll go after that, you might have a look at our new 2016 outlook.
For a really long-range outlook, you'll want to check out "Federal Reserve Policy and Mortgage Rate Cycles".
----------
Still underwater in your mortgage despite rising home prices? Want to know when that will come to an end? Check out our KnowEquity Underwater Mortgage Calculators to learn exactly when you will no longer have a mortgage balance greater than the value of your home.
---
Have you seen HSH in the news lately?
Want to comment on this Market Trends? -- send your feedback, argue with us, or just tell us what you think.

See what's happening at HSH.com -- get the latest news, advice and more! Follow us on Twitter.

Daily FRMI rates are available at HSH.com; Check out our weekly Statistical Release here (and archives here).
---
For further Information, inquiries, or comment: Keith T. Gumbinger, Vice President

Copyright 2016, HSH® Associates, Financial Publishers. All rights reserved.