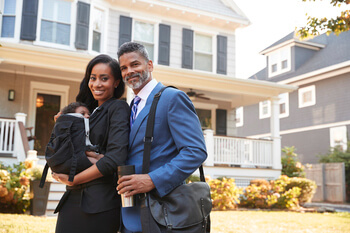 When calculating the cost of an FHA mortgage versus that of a conventional loan, consider the added value that comes from assumability. When you want to sell your home, having an assumable mortgage attached to it could add extra value.
Most home loans contain what is called a "due-on-sale" or "demand clause," which means the lender gets paid in full when the property is sold. However, an FHA mortgage is one of the few home loan programs that does not contain this clause. This means that a qualified buyer can take over the mortgage on the property for the remainder of its term.
Why is FHA loan assumability such a big deal?
When mortgage rates are low, assuming an FHA loan when you buy a house is not a big consideration. You can just get your own loan, probably at a rate lower than that of the current loan against the property. In times of decreasing interest rates, there is less benefit to home sellers who have an FHA mortgage. In addition, FHA mortgages can cost more since they carry an upfront mortgage insurance premium (MIP) of 1.75% and also have recurring monthly MIPs which currently cannot be canceled.
Today, however, most analysts agree that mortgage rates will increase over the next few years. If you're planning to sell your home in that time, having an assumable FHA mortgage attached to it can increase salability and value. This benefit could more than offset the additional cost of an FHA mortgage.
How much is FHA assumability worth?
The actual monetary value of the assumability depends on the difference between current mortgage rates when you sell your home and the interest rate on your FHA mortgage. Imagine that you and your neighbor both have your homes on the market, both with similar floorplans and both in good condition. However, the buyer of your home could assume your mortgage, saving him or her thousands in mortgage lender fees.
In addition, if current mortgage rates are at 6 percent, and your home has an assumable FHA loan at 5 percent, your home becomes more desirable. If a buyer was to purchase your neighbor's house and wanted a 5 percent mortgage rate, it would cost about 5 points to get the interest rate down 1 percent below market rates, plus there would be standard closing costs, probably another 2 percent of the loan amount. So your neighbor's home would effectively cost 7 percent more than yours.
That gives you a nice edge when competing against other properties for sale. Don't expect to get 7 percent more for your home than your neighbor does, but you could realistically split the difference with your buyer; your FHA loan could get you 3.5 percent more for your home.
What will mortgage interest rates be when you sell your home?
It's hard to get an exact mortgage rate prediction for a date years from now, but you can find mortgage rate trends, mortgage rate forecasts and longer outlooks for mortgage rates on HSH.com. With rates still near 50-year lows, it's a safe bet that they will be higher, perhaps considerably higher, whenever you choose to sell.
How does FHA assumability work?
In the past, homebuyers who assumed an FHA mortgage did not have to qualify for the loan, but today they do. That means they must get approval from an FHA-approved lender, just like anyone else who applies for a new FHA loan.
Fees for processing assumptions must be based on the mortgage lender's actual cost. By law, they can't exceed maximum amounts authorized by HUD. Underwriting for the assumption can take longer, but must be completed within 45 days from the date the lender receives the buyer's documentation. The buyer cannot be purchasing the home as an investment or rental; it must be a primary residence or second home. If the property will be used as a second home, the loan-to-value cannot exceed 85 percent.
Once the new buyer is approved to assume your FHA loan, your lender must release you from liability on the mortgage. The lender completes form HUD-92210, which is a Request for Credit Approval of Substitute Mortgagor, or an in-house form that does the same thing can also be used. The lender must also complete form HUD-92210.1, Approval of Purchaser and Release of Seller, or a similar in-house form, which gets you formally released from all liability. These forms protect you in case your buyer defaults on your old loan. The lender is required by law to release you from liability once your buyer is deemed to be creditworthy.
People who buy or refinance homes often consider FHA financing because of the low down payment and equity requirement, the flexible underwriting guidelines and the lack of risk-based pricing adjustments. But don't forget assumability when deciding on a mortgage. An FHA mortgage today may give you an edge in the market tomorrow.
Print page