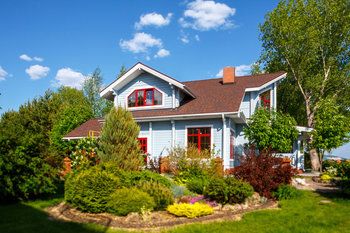 Updated by Gina Pogol
Is real estate a good investment today? Following record price run-ups, a recession and recovery, would-be investors may be wary. But real estate has a long history of solid, reliable gains.
Real estate investing takes several forms:
Buying and renting out houses
Fixing and flipping homes
Buying and selling your own residence for tax-free income
Savvy investors realize that today's opportunities could mean nice profits. Here's why.
Mortgage rates are still low
While today's mortgage rates are higher than recent record-setting lows, they are still below average. And the climate for investors is friendlier as the economy continues to expand. This means that while your interest rate might be a little higher today, your earnings are also likely to have increased.
In addition, housing is on a roll. Home prices are rising in much of the country, and interest rates have been on an upward trajectory. Locking in a lower price and mortgage rate today could prove a smart move tomorrow if the forecast for mortgage rates trends higher.
Real estate investing beats renting
According to Harvard University's Joint Center for Housing Studies, the net worth of homeowners beats that of renters by miles. And, especially for those without stock portfolios, the "forced savings" created by paying off a mortgage generates wealth they might not otherwise have.
"Forced savings" refers to the fact that you have to make regular payments when you have a home loan, and paying it adds to your home equity (your wealth) each month. Renters who have to discipline themselves to invest, and who can choose to tap their savings any time they want, fall far behind homeowners.
Harvard says in its 2018 State of the Nation's Housing report that "the median net wealth of homeowner households was 46 times that of renter households." In fact, says Harvard, "Strong growth in home equity lifted the median wealth of homeowners from $201,600 to $231,400, while the real median wealth of renter households dropped from $5,600 to $5,000."
Home prices are trending upward
While we cannot be absolutely sure that home prices will increase by a specific percent, real estate has a reliable average of about 4 percent annual growth. The latest housing report for the National Association of Realtors (NAR) indicates that December 2018 saw the 82nd straight month of home price increases.
In addition, S&P CoreLogic predicts home prices will rise 5 percent in the next seven months. However, it's not the potential for immediate gain that should excite most people. Unless you're a property flipper, the steady and safe historical return over time is the key to sound real estate investing.
Investing in real estate is relatively safe
Property is a relatively stable investment. "What?!" you say. "What about the housing crash?
There is no doubt that a lot of homes lost value relatively quickly and that home prices in some markets still haven't fully-recovered. But most of those markets eventually bounced back, with property prices appreciating at a much higher rate than average. And consider this: stocks, bonds and other marketable securities can (and do) lose 30 percent in a single day.
Stocks can even go to zero if the company behind the paper folds. But chances are if you visit where you lived as a child, your old house is still standing, even after 20 or more years. How many companies that were household names 20 years ago are gone today?
With property, the value is not in some paper representation. We call it "real" estate because it is a tangible asset.
Property investments get preferential tax treatment
Dolf De Roos, PhD., author of Rich Dad's Advisors Guide to Real Estate Riches, extols the value of the tax treatment that property receives. If you buy a stock and sell it at a profit a few years later, you pay capital gains tax. You do this even if you turn right around and use the proceeds to buy another stock, or even if you buy the exact same stock.
With property, however, there are several ways that you can enjoy your gain without getting mugged by Uncle Sam.
You can sell one investment property then buy another using a 1031 exchange, paying no tax on your profit in the process.
You can sell a home and exclude up to $500,000 of the gain on the sale if you lived in the home for two of the five years prior to selling ($250,000 for single homeowners).
You can borrow against your increased equity and not sell at all.
Finally, the mortgage interest deduction, for those who itemize, makes owning more appealing by allowing homeowners to deduct the allowable interest they pay on their mortgage from their taxable income.
Real estate investing can be leveraged
Leverage is a powerful concept. Suppose that you want to buy $100,000 of stock. If you do, you have to pony up at least $50,000. If the stock's value drops, you get a margin call and have to either sell at a loss or put in more cash.
However, you can finance a home with anywhere from zero down (try USDA or VA mortgage lenders), to 3.5 percent down (with FHA home loans) to 25 percent down for rentals (try investment property mortgage lenders).
Furthermore, mortgage rates are cheaper than just about any other sort of financing. The beauty of being able to control large-value assets with a relatively small investment is that any appreciation is maximized.
Here's a simplified example: if you buy a home for $100,000 cash, and it appreciates by the typical 4 percent in one year, you would have a 4 percent rate of return. But if you have only invested 4 percent in your purchase, financing 96 percent, and the price increases to $104,000, you have effectively doubled your initial investment -- a 100 percent return! And you did not tie up all of your funds. You could, theoretically, control 25 properties for the same $100,000 investment. And if home prices drop, you do not receive a margin call, but you must wait out the downturn before selling.
Other real estate investment considerations
Investing in real estate has risks. You should invest across many vehicles, not just property, to maximize your return for the amount of risk you take. And property does have some drawbacks. For example, it's not liquid. The costs of buying and selling are substantial, and leverage magnifies losses as well as gains.
However, the affordability of today's mortgage rates, the hedge against inflation, and the tax savings have prompted many investors to get into real estate, and should cause you to seriously consider home ownership in one form or another.
Is investing in real estate worth it? As one investor said, shrugging, "You have to live somewhere."
Print page