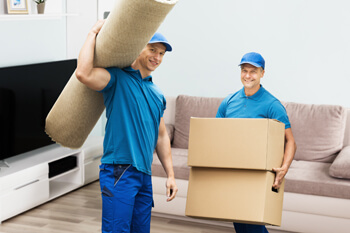 If you're planning on buying a home, and wondering how to find a good moving company, you are wise to be cautious.
According to the American Moving and Storage Association (AMSA), the average cost of an out-of-state move is $5,630, and $1,170 in state. Your actual cost will likely depend on the weight of your belongings, special items being moved, travel distance and how much packing help is needed, says John Bisney, AMSA's director of public relations.
How to find a good moving company
It's important that you hire a reputable moving company well before moving day. "Take some time to make sure the company you're dealing with is legitimate," advises Bisney. If not, you could waste time, money and risk damaging your valuables.
Here are four tips for finding a reputable, affordable mover:
1. Verify moving companies' licenses and insurance
A company moving you out of state must be licensed by the Department of Transportation's (DOT) Federal Motor Carrier Safety Administration (FMCSA), says Bisney. "Make sure they give you their (DOT) number when you contact them for an estimate," he suggests. "Take that number and check the FMCSA database to verify the mover and check for complaints."
If you're moving in-state, the moving company may still need to be licensed or certified by your state. When you contact potential moving companies, ask which certifications they have, recommends Rebecca Chanin, marketing director for JK Moving Services in Sterling, Va.
In addition, ask how they select and hire their individual movers, and what qualifications those movers have. You want to make sure they've been background checked and drug-screened. "These are people coming into your home and they'll be handling your most precious belongings," she explains.
Another option is to check the AMSA consumer site. The site lists movers that have received a ProMover certification after undergoing a criminal background check and agreeing to adhere to AMSA's code of ethics, Bisney notes.
Also, ask about insurance and how your belongings will be protected, says Leslie Piper, a consumer housing specialist with Realtor.com. "If the mover is uninsured, your property is not covered if damaged," she says.
2. Ask for moving company's contingency plans
When interviewing moving companies, ask how they would handle a situation if something goes wrong -- such as the closing date getting pushed back. It occurs often, Piper says. In fact, homeowners should probably plan for it. If you are moving out on Friday, Piper suggests checking to see if the movers would be able to accommodate a delay that goes until Monday or Tuesday. "I always tell my clients to build in a few days of extra cushion in case any last minute changes come up," she says.
A company that owns its own trucks may be more likely to handle a surprise schedule change or vehicle breakdown than a company that leases trucks, Chanin advises.
If your new home isn't ready immediately after the move, find out if the company will be able to securely store your belongings, she suggests.
3: Get a written estimate
Whether you are using a moving company for the first time or have hired moving companies in the past, be sure a potential mover walks through your home to see what needs to be moved, and then get a free written estimate on the spot or by email within a day or two, Chanin recommends.
"It's ideal to have three movers come to your home and give you in-home estimates," she says. Having a written quote allows you to make fair comparisons of different companies, such as if each quote includes packing services, and if price is figured by weight or some other factor, Chanin says.
Without a written estimate, a company could potentially charge you more on the day of the move and you wouldn't have any evidence to refute those charges, Bisney cautions. "It could cost you another thousand dollars or more," he warns.
4: Pay moving companies after delivery
Once you decide on a mover, they may ask for a deposit to secure the date, but never pay a large amount of money -- such as half of the bill -- upfront, Bisney advises. When you sign the contract, make sure it's fully filled in with what was included in the estimate.
Moving can be stressful, but it's important to take the time and do your research to find a reputable moving company. The right mover can reduce your stress by making sure your belongings are handled by reliable professionals at a fair price.
Related articles :
Print page