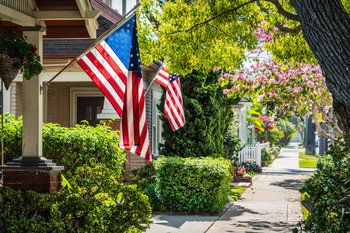 Refinancing a Veteran's Administration (VA) mortgage can be helpful for many veterans, but there are situations when refinancing a VA mortgage loan doesn't make sense and service-members should be wary.
One such situation involves lenders who aggressively push veterans into repeated refinances that generate income for the lender, but don't benefit the veteran. These aggressive practices, sometimes referred to as "mortgage loan churning," are not the norm, but they do occur.
Indeed, some veterans have reported receiving numerous phone calls and flyers in the U.S. mail encouraging them to refinance almost as soon as they move into their new home. These solicitations may continue even after the veteran requests that they stop.
Government VA mortgage investigation
The problem is serious enough that the VA and Government National Mortgage Association (GNMA) have formed a task force to look into aggressive and misleading VA loan refinancing propositions, VA loan churning and repeated refinancing, according to an October GNMA statement. The GNMA, known as Ginnie Mae, is an arm of the federal government that insures certain types of mortgage loans for lenders.
"The task force will continue to work collaboratively until concrete solutions have been implemented to eliminate lender behavior that is unhelpful to veterans and harmful to the American taxpayer," Ginnie Mae said in its statement.
Ginnie Mae announced new anti-churn guidelines, effective April 1, 2018, that streamline and cash out refinance loans can be included in a new GNMA pool of loans to be securitized if six monthly payments have been made on the underlying loan and the refinance occurs no earlier than 210 days after the first monthly payment is made on the initial loan.
The Wall Street Journal reports that Ginnie Mae has already told some lenders that they might have to wait six months or longer after a VA loan has been refinanced to refinance that same loan again. Bloomberg reported that Ginnie Mae also planned to speak with at least six lenders about their practices with respect to VA mortgage loan refinances.
VA refinance loans
The VA guarantees two types of refinance mortgage loans.
The Cash-Out Refinance loan allows the borrower to take out home equity to use for other purposes such as paying off debt, school expenses or home improvements. This loan can be used to refinance a VA loan or non-VA loan into a new VA loan.
The Interest Rate Reduction Refinance Loan (IRRRL) allows the borrower to refinance into a lower interest rate or from an adjustable-rate mortgage (ARM) into a fixed-rate mortgage. This loan doesn't require an appraisal or full analysis of the borrower's credit history. Cash-out of equity is not allowed.
Both the Cash-Out Refinance and IRRRL allow the new loan to be up to 100% of the home's value.
"When executed appropriately, these programs can be useful opportunities for veterans to reduce their interest rate, shorten their loan term, or turn existing equity into cash for things like home improvement or repairs," the Consumer Financial Protection Bureau said in a November 2016 report.
Concerns about VA loan churning reportedly involve the IRRRL. That's because this loan allows borrowers to pay their refinance costs through a larger loan amount or higher interest rate, instead of out-of-pocket.
Mortgage refinancing advice for veterans
The CFPB report, "A snapshot of service-member complaints," stated that the bureau had received more than 12,500 mortgage-related complaints from veterans, active service-members and their dependents and that, based on a key word search, approximately 1,800, or 14%, concerned refinancing.
The report said veterans don't have to refinance or respond to solicitations to do so. Veterans who do want to refinance should read solicitations in full, ask questions, understand the risks, shop around and find out what's required to close before they apply.
The bottom line is that VA borrowers should be aware of the costs and risks of repeatedly refinancing their VA mortgage loan over short time periods with no clear benefit. If refinancing a VA mortgage loan makes sense after the numbers are crunched and costs considered, it can be a smart decision.
Print page