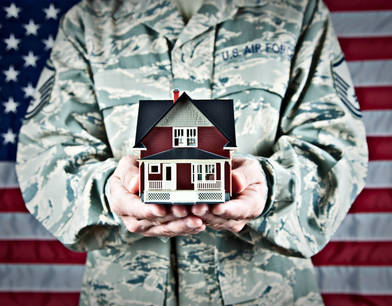 The VA loan is an excellent way for U.S. military veterans and other eligible borrowers to finance a home.
This type of loan, backed by the U.S. Department of Veterans Affairs (VA), offers buyers no down payment, no private mortgage insurance, limited closing costs and the ability for an existing loan to be assumed by another buyer.
The VA loan isn't always preferred by home sellers, however, and that can present stumbling blocks even for well-qualified buyers.
Low down payments present an issue
John Donnelly, a 56-year-old veteran and certified financial planner, used a VA loan to buy a 1,860-square-foot storybook cottage-style house with four bedrooms and two bathrooms in Verona, New Jersey, in June 2015. The home cost $440,000.
Donnelly's first offer for a similar home in the same area lost out because the seller wasn't comfortable with his down payment even after he agreed to increase it from 0 percent to 5 percent.
"A lot of people were bidding," Donnelly says, "and even though I offered a little more, the seller didn't feel comfortable that I wasn't putting down 10, 15 or 20 percent."
The home later sold for $2,000 less than Donnelly's offer.
Seller misconceptions
Wendy Dessanti, a broker/sales associate with Weichert, Realtors, a realty brokerage in Tenafly, New Jersey, says VA borrowers are "often at a disadvantage" when there are multiple offers.
That's due in part to sellers' misperceptions that a larger down payment means a buyer is better qualified and more likely to close the transaction, Dessanti suggests.
"People associate zero-down with the height of the housing market when buyers didn't put any money down and defaulted on their loans," she explains.
In fact, many VA borrowers are well-qualified and most purchase contracts include a variety of contingencies that allow buyers to exit if they decide not to buy the home.
The VA advises its buyers to include a "VA Option Clause" in their contract. This clause allows the buyer to exit the deal or proceed with a different type of loan if the VA-approved appraisal is lower than the agreed-on purchase price.
VA appraisal
VA loans have a reputation for difficult appraisals, but Donnelly says the valuation of the home he bought was no problem.
Dessanti says appraisal difficulties are more common with FHA loans, insured by the Federal Housing Administration.
"FHA appraisers, in my experience, are more intrusive than the VA," she says.
Lenders typically require an appraisal for any purchase-money home loan to be approved.
Given these issues, Dessanti says, VA buyers should try to make the strongest offer they can, especially if the seller is likely to receive multiple bids.
"I'm not saying over-pay like crazy," she says, "but enough that it's a very solid offer. Make it as good an offer as you can."
Getting the deal to work
The seller of the house Donnelly did buy was himself a World War II veteran.
"He understood it was my right to use my benefit," Donnelly says.
A 5 percent deposit, refunded at closing, and a credit from the lender that offset most of Donnelly's VA Funding Fee, helped the deal work as well.
One minor glitch was that the VA doesn't allow buyers to pay for termite work.
"The seller thought I was being a little bit picayune," Donnelly says, "but I explained to their broker through my broker that it was a requirement of the VA that the seller pay for anything to do with termite."
The sellers also paid about $6,000 for other repairs identified by Donnelly or his home inspector. Those repairs weren't required by the VA or lender, but were part of Donnelly's negotiation with the seller.
With a strong offer, small deposit and educated seller, buyers like Donnelly can easily use a VA loan to purchase a home.
(Image: CatLane/iStock)
Print page