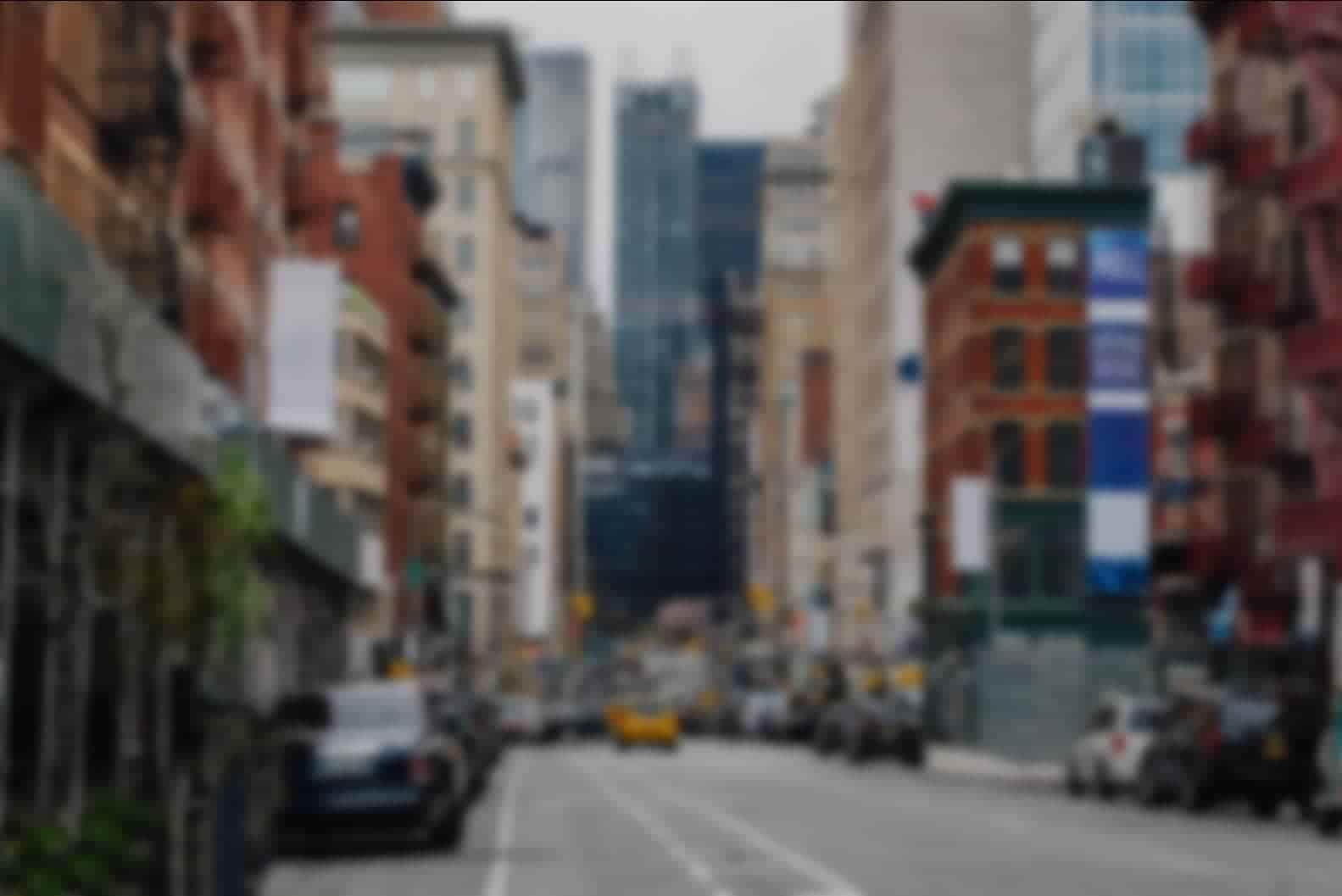 How to shop for a home online
Updated on:
Select State
How to shop for...
Price estimates
Monthly payment
Pictures
Market analysis
Property taxes
Schools
Price
Show All
How to shop for a home online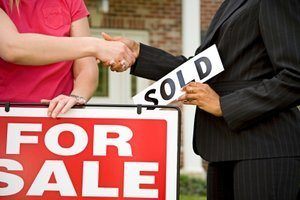 According to the National Association of Realtors, 90 percent of homebuyers search online at some point during the buying process. Whether you are shopping for current mortgage rates or searching for a property, make sure you know where to find all the information you need and how to interpret it.
HSH.com reviewed one property listing at Homes.com, Realtor.com, Trulia.com and Zillow.com to provide a comparison of who has the information you need and where you can find it on the individual listing pages. Shopping for homes online, while not necessarily tricky, can be a little deceiving. Be sure you know how to interpret the information presented in each listing.
Happy house-hunting!
Price estimates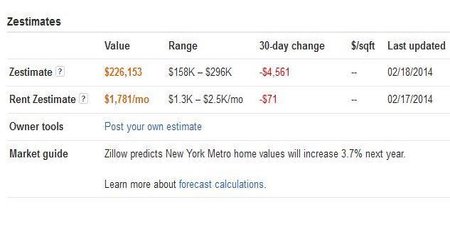 While Trulia, Homes.com and Zillow each include an estimated value for listed homes, Realtor.com doesn't provide this information. The Zestimate is Zillow's estimated market value for a home.
"It's a starting point in determining a home's value - not an appraisal," says Curnutte. "The Zestimate is computed using a proprietary formula that incorporates public and user submitted data, and is refreshed for all homes three times a week. We also supply consumers with a Zestimate value range and a tool to comment on the Zestimate or post their own home value estimate."
"At Realtor.com, we believe a local Realtor is absolutely the best resource for what a home should be priced," says Alison Schwartz, vice president of corporate communications for Move, Inc. the operator of Realtor.com in San Jose, Calif. "They know the local area more than anyone and have insight into what is going on in the markets."
Monthly payment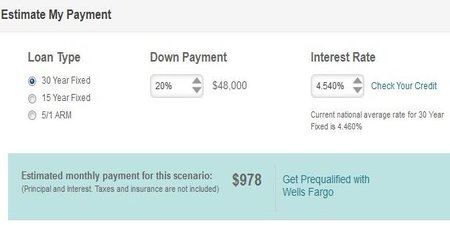 The estimated-monthly-payment information helps you see whether you can afford a particular listing, but it's important to dig deeper and find out exactly what's included in the estimate, says Michael Corbett, Trulia.com's real estate expert in Los Angeles and author of "Before you Buy."
"Trulia's estimate includes your mortgage principal and interest, property taxes based on county records and premiums for a basic homeowners insurance policy," says Corbett. "It's always based on a 20 percent down payment and current average interest rates."
On Realtor.com, Schwartz says, buyers can get estimates for monthly payments on a 30- or 15-year fixed-rate loan and a 5/1 ARM.
Pictures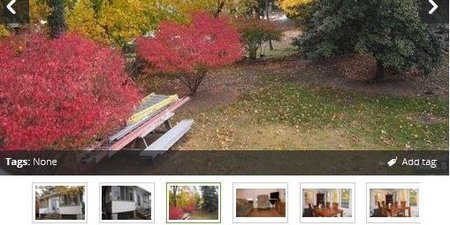 "It's great that you can see 10 to 25 photos of a property online before you see a place, but you need to be aware the wide angle lens are used to make everything look bigger," says Corbett. "Photographers are also digitally saturating photos with color which can make a home look lighter than it is."
Even better than house photos, says Corbett, are the "street view" and "bird's eye view" options on Trulia.
"The street view lets you look at the listing and walk the block to see what's around it and what the neighborhood is like," he says. "The bird's eye view is like zooming in on the property from outer space so you can get a feel for the layout."
Market analysis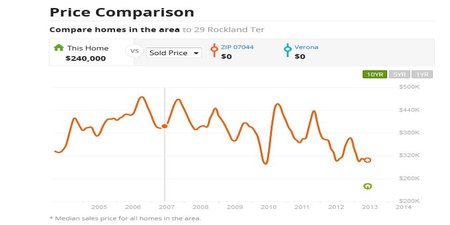 Trulia and Zillow provide some market analysis and price trend information and Realtor.com releases a monthly housing report to help you understand the local market.
"While you can get some basic information online, you need to do your own research and look at homes yourself to understand the trade-offs you'll make in terms of your budget and your lifestyle," says Andrew Strauch, vice president for product innovation and marketing for MRIS, a multiple listing service based in Rockville, Md. "Market predictions are not necessarily accurate. If you're buying a home for the long-term you don't really need to pay attention to those predictions, either."
Property taxes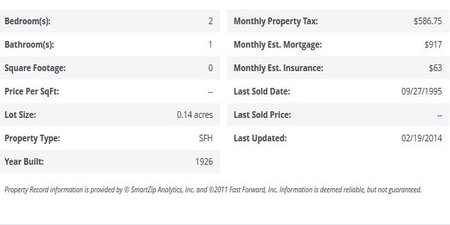 On Homes.com, buyers can use a mortgage calculator to adjust their down payment and interest rate to see different payments, but this price doesn't include taxes and insurance, says Jason Doyle, vice president and general manager of Homes.com in Norfolk, Va. However, you can scroll down to a chart to find property taxes and estimated annual insurance costs on Homes.com.
Tax information on Realtor.com is found on the "property history" tab. Trulia has this information on the main page of each listing, but you need to scroll down to find it. Zillow offers both a history of property taxes and includes estimated taxes where you find the estimated monthly payment.
Schools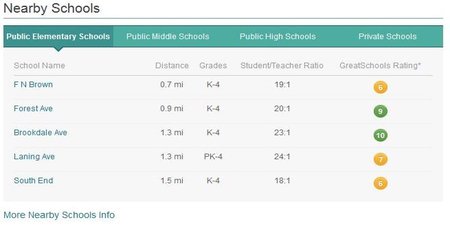 You'll find varied information about schools depending on the site. On Homes.com you'll find the names of the local schools but will have to research yourself to find individual information. Trulia provides links to information about each school, including parent reviews. Zillow and Realtor.com have partnered with GreatSchools.com to provide rating information on each school.
"The Great Schools ratings system can be helpful to buyers, but they need to understand that the ratings are based on test scores in each state," says Strauch. "A '6' school in Maryland may not be the same as a '6' school in Virginia or anywhere else since it's based on local tests."
Price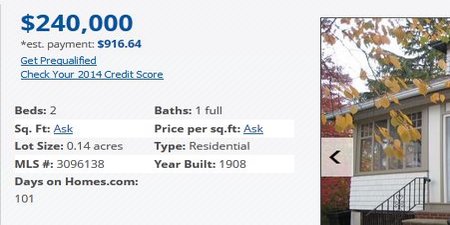 While every site carries the list price of a property, when you're shopping for a home it helps to know whether the price has gone up or down since the last sale and how long it's been on the market.
"You should pay attention to the price and number of days on the market and the estimated payments, says Katie Curnutte, director of communications for Zillow.com in Seattle, "but it's bringing all of this information together that is the most valuable."
For example, on Homes.com you'll find the days on the market, list price and estimated monthly payment information prominently displayed on each listing.
Previous
Next