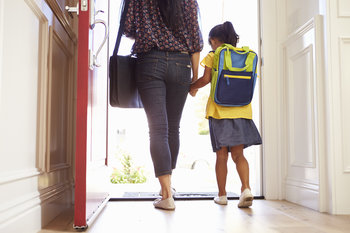 Single mothers know: It's not easy. Raising one or more of your children on your own has its challenges. One of them is providing enough space in which your kids can grow and play. That's why many single mothers aim to purchase a home instead of rent. Problem is, affordable homes on one income can be hard to come by. Fortunately, we now have a better idea of where the best cities for single moms are.
A new report shows the most affordable markets for moms going it alone. This list can be helpful for families in which mom runs the show herself -- especially if you're willing to relocate out of state.
The best cities for single moms
A new study by Redfin reveals that 3 in 10 single mothers own homes. While that may sound high, consider that those numbers are down from about 36% tallied in 2010.
Contrary to popular belief, there are less expensive housing markets out there -- even for single mothers. Redfin's study ranked the best cities for single moms. Here are Redfin's top metros for single mother home ownership, each of which is relatively affordable:
McAllen, Texas -- 46.6% (homeownership rate among single moms, 2017); $165,000 (median home price, May 2019)
Salt Lake City, Utah -- 41.7%; $335,000
Grand Rapids, Michigan -- 41.5%; $220,000
Minneapolis, Minnesota -- 40.3%; $285,000
Albuquerque, New Mexico -- 40%; $240,000
El Paso, Texas -- 40%; $167,000
Baton Rouge, Louisiana -- 38.5%; $215,000
Columbia, South Carolina -- 36.9%; $205,000
Pittsburgh, Pennsylvania -- 36.8%; $182,000
San Antonio, Texas -- 36.7%; $235,000

Philadelphia, Pennsylvania -- 36.4%; 226,000
Why buying is better for single mothers
Daryl Fairweather, Redfin's chief economist says it makes sense that single mothers trying to live and buy a home on a single income prefer to live in places where homeownership is more attainable. It can also be a better arrangement than renting.
"Purchasing a home provides some stability that a rental does not necessarily provide," she says. "When you are a homeowner, you aren't subject to rent increases each year that can threaten your carefully planned budget. And you don't have the risk that your landlord will choose to sell your home and force you to move."
What's more, "buying a home is an investment that will hopefully create more wealth for your family in the long run," adds Fairweather.
Realtor Luke Babich, co-founder of Clever Real Estate, agrees.
"Homeownership is considered one of the fundamental symbols of the American Dream. And that's for good reason," Babich says. "Owning a home is a great hedge against inflation. It can serve as a great investment that you can pass on to your kids. Also, by paying off your mortgage, you build equity you can use to invest in other ventures."
Related: First-time HomeBuyer Programs State by State
Making it happen
Worried that you won't be able to find or afford a home that meets your needs as a single parent? Don't give up, the experts recommend.
"You can do it," says Suzanne Hollander, a real estate attorney and Florida International University senior instructor. "But you need to do your due diligence. You have to learn how to qualify for a loan and which loan is the best for you."
There are several resources you can turn to for help, too.
"Ask a local lender or bank for guidance. And conduct an internet search for programs aimed to help single mothers with finances and homeownership that are available in your state or neighborhood," Hollander suggests.
Keith Baker, Mortgage Banking Program coordinator and faculty at North Lake College, says each state offers financing alternatives designed to help first-time buyers with down payments and closing costs.
"Since most of the issues for single mothers are lack of down payment, poor credit, and too much monthly debt, they should address these in order," says Baker. He recommends the following tips:
Work to improve your credit score (aim to get it past 640)
Pursue a low down payment loan program. Options include a USDA loan, VA loan, FHA loan, HUD Good Neighbor Next Door discount, Freddie Mac Home Possible mortgage, and Fannie Mae HomeReady mortgage
Pay down monthly debt and pay all bills on a timely basis
Most people eligible for down payment assistance have no idea that they qualify. See what's available to you before you give up on homeownership.
Related: Important Tips for Single Homebuyers
Other action steps you can take
Also, "Learn how and where to look for areas with a sufficient supply of affordable owner-occupied dwellings," says Baker.
Moving to more affordable housing markets may sound drastic, especially if it requires you to move away from friends and family.
"But it will allow you to save more of your income for a down payment. And it can reduce the amount of the down payment needed in the first place," notes Fairweather.
Lastly, don't feel pressured to buy a single-family home with a big yard for your kids.
"Consider purchasing a condo or townhome to make it easier to maintain the property," advises Hollander. "Your monthly maintenance fee to the homeowners association should take care of tasks like mowing the lawn, snow removal, and maintaining the building's exterior."
Find mortgage programs and current mortgage rates now
Print page