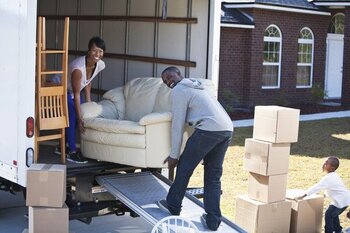 If you're buying a home, you might well be concerned about what's included in the sale and what's not. Do you get the brand-new refrigerator? The potted plants? The area rugs? The crystal chandelier?
The answer: maybe.
Generally speaking, anything that's attached to the property is considered a "fixture," and all fixtures are sold with the property. Examples include window shutters, ceiling fans, track lighting and built-in shelving systems.
"If it's bolted in," says Jim Walker, a realty agent with 1st American Realty in Carmichael, Calif., "it's pretty obvious that it's supposed to stay."
Anything that's not attached can be removed by the seller. Examples include furniture, decorative accessories and most artwork hung on the walls.
It can get complicated
While the fixture rules might seem straightforward, it can get complicated. Items like appliances, playground equipment, window coverings and big-screen TVs could be fixtures if they're attached or not fixtures if they're freestanding.
By way of example, Harvey Jacobs, a real estate attorney with Joseph, Greenwald & Laake, a law firm in Rockville, Md., recalls a case in which sellers removed mature plants from large planters in a backyard. The planters, cemented down, were fixtures. The plants, not in the ground, were personal property.
But Jacobs adds an important caveat, which is that local laws and customs can be part of the fixture-or-not-fixture determination. Those same planters and plants might be categorized differently in other places.
Buyers should ask, verify
What's more, fixtures can be contractually excluded from the sale and personal property can be contractually included. For example, if the sellers want to take the chandelier, they can exclude it in the contract. If you want to get the window drapes, you can include those in the contract. The catch: the other side has to agree.
"Everything is subject to negotiation," and that's why "you should sweat the details," Jacob says.
If you want specific items, it's best to ask for them upfront, says Mark Fleysher, a realty broker at Sellstate Deluxe Realty in Las Vegas.
"If the buyers want something to stay and may be concerned that it's not staying, they should disclose that in their offer notes: 'we want the chandelier' or 'chandelier included as part of sale.'"
Brokers' MLS printouts and open-house flyers and seller's disclosures may include lists of items that, according to the seller, are included or excluded. But Jacobs says these marketing materials aren't legally binding and can include small-print disclaimers. Always confirm that these inclusions and exclusions are incorporated into the contract, as agreed.
The pre-closing walk-through
A pre-closing walk-through can help protect you from the seller removing items before you get possession of the property.
"The buyer's agent, whether or not the buyers are present, should verify that the condition of the property, including any fixtures, is the same as it was when they signed the contract," Fleysher says.
Sellers in short sales are notorious for illegally removing fixtures.
"If there's an occupant and they're in a distressed sale, it's good to emphasize with the contract that the stove stays, the chandelier stays, things of value that could be removed stay," Walker says.
You may have little recourse
If the seller violates the contract, you'll likely have little recourse, short of a lawsuit, to recover items that were removed or their cash value.
"The seller may have moved on and may be difficult to trace," Walker says. "And the listing agent isn't necessarily going to help the buyer's agent satisfy the buyer. The type of seller who takes something they're not supposed to probably isn't on good terms with the listing agent. People who do bad things count on their victims not pursuing them because of the hassle factor."
Sometimes the Realtors end up eating the loss.
"When you're buying a $300,000 house, $30 worth of light bulbs and (smoke-detector) batteries is an annoyance for the buyers," Walker says. "The agent might buy them a pack of light bulbs or batteries as a matter of the customer relationship, to make them happy."
The bottom line is to pay close attention to the fixtures, note what stays and what goes, double-check prior to closing and be aware that most, though not all sellers do play fair.
As Walker says, it's uncommon for them to remove fixtures, but buyers should be aware and prepared because it can happen.
Print page