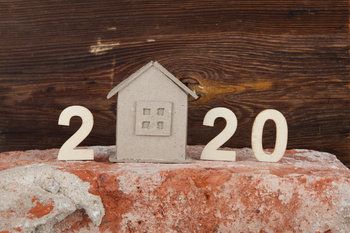 Curious where interest rates will land in 2020? Eager to learn how real estate prices will shake out this year? Wish you had a crystal ball for the housing markets?
Many experts have offered predictions about mortgage rates, inventory, real estate prices, and other matters of concern to buyers and sellers. Some forecasts are bolder than others. Count Redfin's latest round of predictions among them. The real estate giant foresees interesting developments in 2020.
2020 housing markets: Redfin predicts
In a recent report, Redfin provided the following predictions for housing markets:
Bidding wars will rebound due to low mortgage rates and a lack of housing supply.
This rising competition will nudge year-over-year price growth up to 6% in the first half of 2020. That will be much stronger than the 2% growth observed in the first half of 2019.
Rates for the 30-year fixed-rate mortgage will stabilize at 3.8%.
Hispanic Americans will accrue more wealth via home-equity than white Americans for the first time ever.
Climate change will emerge as a larger financial factor for buyers and sellers.
A rising number of city streets will see few to no cars; more cities will prefer green modes of transit and actively discourage driving.
Experts explain these trends below.
Related: HSH.com's Annual Mortgage and Housing Outlook
Why bidding wars are coming back
Daryl Fairweather is chief economist at Redfin. She says next year will mark an even more notable inventory shortage.
"That means more people looking to buy will find themselves in bidding wars," she says. "Continually low mortgage interest rates will propel the competition further. And more people will view next year as a desirable time to purchase a home."
The good news?
"Even though prices will remain high in many markets, low mortgage rates and short supply will keep the market hot," she continues.
Rick Sharga is president/CEO of CJ Patrick Company. He says this prediction coming true wouldn't be a shocker.
"Bidding wars will be back, particularly in high-demand markets. There, a supply/demand imbalance already exists," he says. "The combination of low inventory of new and existing homes for sale, low interest rates stimulating demand, and large numbers of millennials reaching prime home buying ages almost guarantee bidding wars."
Nicholas Oliver, principal broker with HomeDax Real Estate, also agrees with this prophecy.
"Bidding wars will be more frequent in 2020," notes Oliver. "The fall in mortgage rates and home prices during 2019 have dramatically increased home affordability for buyers. In addition, we expect buyers who sat on the sidelines in 2019 to re-enter the market once it becomes clear that the market has stabilized."
Real estate prices are going up
Fairweather notes that only one in 10 offers faced bidding wars in 2019. But looking ahead to this year, that number will more likely be one in four.
"This marks a significant increase in competition. And that directly relates to price growth," she adds.
As a result, expect year-over-year price growth up to 6% through the first half of the year.
"If the demand is there but inventory is short, sellers know they can get more money for their house. Bidding wars will propel this further, as many people will make competitive offers that exceed the asking price," explains Fairweather.
Related: 2020 Mortgage Rate Predictions From the Experts
Mortgage rates should stay under 4%
It became clear last year that the Federal Reserve had no plans to increase interest rates.
"Based on economic indicators such as weakness and manufacturing in global trade tension, I don't expect that the change in 2020. The housing market appears strong," says Fairweather. "But recession speculation and investor concerns will keep rates low - likely between 3.5% to 4.1%."
Sharga says this is a reasonable prediction.
"It seems like a safe bet that mortgage rates will stay below 4% next year. That's assuming there aren't any unforeseen dramatic shifts in the US or global economies," he says.
Hispanic neighborhoods will reap more home equity benefits
Fairweather points out that this prediction doesn't mean that Hispanic-American homeowners will collectively have more wealth than white Americans.
"But it does mean that they will gain more equity from homeownership in 2020. When you consider an area like Texas, most new homeowners are Hispanic. And home values in Hispanic neighborhoods are increasing quickly. So Hispanic homeowners will start to feel those financial benefits," she notes.
Plus, more people will get priced out of expensive metros like Los Angeles and San Francisco.
"That means Texas will continue to be a hot migration destination. And this will only raise home values more," says Fairweather.
Related: Report Card 2019: How the Experts Did Predicting Mortgage Rates
Climate change will impact buying and selling
Sharga points out that this has been happening for a while - "ever since Hurricanes Katrina and Rita decimated the Gulf Coast a few years ago."
In the aftermath of these and other hurricanes, insurance premiums were often more expensive than mortgage payments.
"In California last year, following several years of wildfires, insurance companies cancelled thousands of homeowner policies. And the cost of construction in areas prone to natural disasters has skyrocketed," says Sharga. "That's partially because state and local governments have altered building codes to make new homes more disaster-proof."
Fairweather adds that Redfin agents revealed something alarming last year: Flooding and fires were affecting clients' decisions to move.
"From high insurance costs to livelihood-threatening environmental changes, climate change will only have a bigger impact on housing in 2020. That's especially true in coastal areas," she cautions.
Expect more car-free areas in cities
Major metros are quickly learning the car-reliance isn't sustainable or safe.
"There are many reasons for cities to become less car-dependent," Fairweather says. "Car-free options like biking, walking, and public transit enhance job access. They lessen road congestion and fatal accidents. And they cut down on greenhouse gas emissions."
She notes that many highly populated cities like New York and San Francisco are already proposing and implementing these plans.
"The push toward car-free zones will increase the pricing premium for subway-accessible neighborhoods in New York City and other major metro housing markets nationwide," Oliver predicts.
Print page