Mortgage Rate Trends: Weekly Market Commentary & Forecast
---
Mortgage Rates Basically Level
February 24, 2017 -- Bond investors seem undecided as to whether or not they should worry about a forthcoming move by the Federal Reserve, a situation which has grown somewhat more likely in recent days. As well, they may be becoming less convinced that sweeping fiscal, regulatory and tax changes promised by the Trump administration will happen anytime soon. The strong upsurge in interest rates that happened in the aftermath of last November's elections both pushed rates higher and held them there for weeks, but that firmness seems to be fading a bit of late.
Minutes from the January 31-February 1 Federal Reserve Open Market Committee meeting contained two words that should have raised red flags (if not market interest rates). "Fairly soon," is how the policy-setting body described the timeframe for lifting short-term interest rates, should positive economic trends continue, and some members noted that [lifting rates] "in timely manner, potentially at an upcoming meeting" would give the Fed additional future flexibility. Futures markets currently put the odds of a move at the March meeting of about 22 percent, but our guess is that the probability is higher than this.
Want to get MarketTrends as soon as it's published on Friday? Get it via email -- subscribe here!
Mortgage rates didn't move much again this week -- to be honest, they haven't move much since the calendar turned 2017 -- but the interest rates that underpin mortgage rates have turned a bit lower, and we may see mortgage rates follow a bit in the coming days.
We've noticed a few words in the news lately to the effect of "mortgage rates have become dissociated from the 10-year Treasury yield" but this isn't entirely true. The difference between the weekly average conforming 30-year FRM and the weekly average 10-year Treasury has run between 1.69 percent and 1.76 percent for the last six weeks (averaging 1.72 percent over that time), a figure pretty commonly seen over time and one close to what used to be considered normal.
It's important to remember that investors in Treasuries -- a global safe haven place to park funds -- likely have different goals and strategies than those who invest in Mortgage-Backed Securities. Volatility in one does not necessarily mean a lockstep move in the other; demand for Treasuries may surge, driving yields down; however, and even though there will be some influence exerted on mortgage rates, there may not be a corresponding surge in demand for MBS, so the effect of one isn't fully realized in the other.
Short-run volatility, and especially that to the downside for yields, isn't necessarily instantly transmitted into lower mortgage rates, particularly if this amounts to just a handful of basis points. Such moves may not show up in rates, but may instead show up in slightly lower fees being charged to obtain a given rate. That said, it's also been demonstrated time and again that mortgage rates tend to rise more quickly than they fall.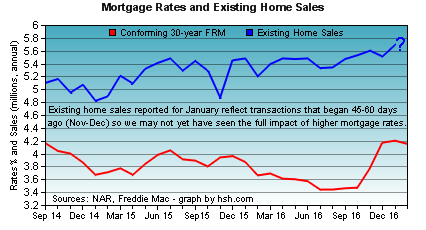 Mortgage rates are of course an influencing factor in home sales. Much was made this week of January sales of existing homes hitting their highest level since 2007, an annualized rate of 5.69 million. This increase came "despite higher mortgage rates" but it may be that the jump in sales came because of higher mortgage rates. Existing home sales are tallied in the month the loan closes and the property transfer takes place; in this way, it is reflective of demand 45 to 60 days ago, so this increase would have been contracts executed in the end of November or early December. During this time rates has moved to about the 4 percent level, but the rise had not yet finished; shoppers in the market may have felt pressure to pull the trigger to lock in deals before conditions worsened, creating the sales lift. To the extent that this explains the monthly increase, we may see sales fade a bit when next month's report comes due, as this will include the holiday period and the turn of the year when mortgage rates were at recent peaks.
The 3.3 percent bump in sales for January may be difficult to sustain, as there continues to be little available inventory. At just 3.6 months of supply, the cupboards in many markets are bare, and what remains available is commanding ever-higher prices (up 7.1 percent when compared against last January's figure). Higher mortgage rates, higher prices and little desirable stock to peruse doesn't seem like the ingredients for a rousing spring homebuying season, but we'll see what transpires.
Sales of new homes may better reflect current financing conditions, as these are counted in the month that the contract is signed, not when the loan is closed. After what was probably a mortgage-rate and holiday-induced drop, sales of new homes bounced back a little bit in January amid somewhat lower rates than were seen in late December. The 555,000 annualized rate of sale represented a 3.7 percent increase from December; unlike existing homes, there is a reasonable amount of inventory to choose from, as there are some 5.7 months of supply available, representing 265,000 built and ready to sell homes. This is the highest figure of the expansion to date, and builders have only cautiously been adding to stockpiles for myriad reasons. As far as prices go, and although higher to start with, year-over-year price increases for new homes has been more muted than for existing, with just a 2 percent year-over-year increase.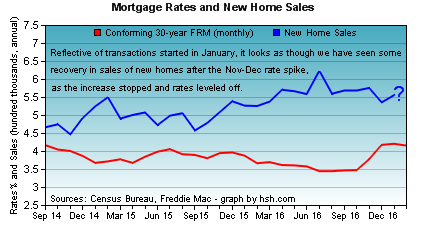 According to the Federal Reserve Bank of Chicago, the economy decelerated a bit in January, slowing to a pace a little below its potential for the month. Their National Activity Index -- an amalgam of some 85 economic indicators -- moved from a positive 0.18 in December to a negative 0.05 for January, suggesting a slowing in momentum. Gross Domestic Product in the fourth quarter of 2016 ran only a 1.9 percent annual rate (which may be nudged higher when the revision comes out next week) but for at least the first month of the first quarter of 2017, GDP may be running closer to its potential (perhaps a GDP rate of 2.6 percent) than not. The Atlanta Fed's running GDP tracker seems to have us roughly in this ballpark at the moment.
Manufacturing continues to show signs of life wherever you look. A local review of conditions in the Kansas City Fed's district for February reported good news, with their local barometer sporting a value of 14 for the month, its highest reading in five years. Measures of new orders and employment both also powered higher, and coupled with other regional reports throughout this month, it seems a sure bet that the national figures out next week from the Institute for Supply Management will be quite positive, too, a positive for the economy as a whole.
If HSH's weekly MarketTrends newsletter is the only way you know HSH, you need to come back and check out HSH.com from time to time. You'll find new and changing content on a regular basis, unique calculators, useful insight, articles and mortgage resources unlike anywhere else on the web.
Claims for new unemployment benefits remain very subdued. In the week ending February 18, some 244,000 new applications for benefits were filed across the U.S. Although not the 43-odd year weekly lows we saw over the last few weeks, February is shaping up to be a long-range contender for monthly lows, and points to a solid labor market that continues to tighten. We'll not learn of the February job market for a couple of weeks yet, as the employment situation report isn't due until March 10th - the second Friday of the month instead of the first.
Current Adjustable Rate Mortgage (ARM) Indexes
Index
For The Week Ending
Year Ago
Feb 17
Jan 20
Feb 19
6-Mo. TCM
0.66%
0.62%
0.44%
1-Yr. TCM
0.83%
0.82%
0.53%
3-Yr. TCM
1.51%
1.49%
0.91%
5-Yr. TCM
1.96%
1.92%
1.24%
FHFA NMCR
4.00%
3.66%
3.85%
FHLB 11th District COF
0.599%
0.603%
0.644%
Freddie Mac 30-yr FRM
4.15%
4.19%
3.62%
Enthusiasm among consumers seems to have faded a bit of late, according to the University of Michigan survey of Consumer Sentiment. A decline of 2.2 points saw this indicator slip to 96.3 for February, the first decline in the last four months. Although assessments of present conditions have remained very steady at a high level for the last three months, optimism about future prospects have slumped a bit. This is likely a reflection of the continuing fractious political environment; according to the survey there is a considerable divergence among political groups, with "Democrats expecting recession and Republicans expecting robust growth." Only the future will tell whose expectations will be right, but odds are that we'll muddle along in the middle for a good while yet.
Mortgage rates have been holding in a pretty narrow range since the turn of the year. That probably doesn't change much next week, but present indications are that we'll see a small dip in the average conforming 30-year FRM that Freddie Mac will report next Thursday. At the moment, we're of the mind that the decline might total perhaps 5 basis points, moving us a little nearer to the bottom of the recent range.
For a interim forecast for mortgage rates and the economy, one which runs through late March, have a look at our Two-Month Forecast. For a year-long review of expectations, see our 2017 Outlook.
----------
Still underwater in your mortgage despite rising home prices? Want to know when that will come to an end? Check out our KnowEquity Underwater Mortgage Calculator to learn exactly when you will no longer have a mortgage balance greater than the value of your home.
---
Have you seen HSH in the news lately?
Want to comment on this Market Trends? -- send your feedback, argue with us, or just tell us what you think.

See what's happening at HSH.com -- get the latest news, advice and more! Follow us on Twitter.

---
For further Information, inquiries, or comment: Keith T. Gumbinger, Vice President

Copyright 2017, HSH® Associates, Financial Publishers. All rights reserved.