January 27, 2017
Preface
Persistent investor optimism about the prospects for a more favorable business and tax climate in the U.S. has driven major stock indices to record highs. Meanwhile, a fairly solid economy emboldened the Federal Reserve to finally make good on its intentions to again lift short-term interest rates. Indications from the central bank are that we may see up to three hikes in the federal funds rate before 2017 comes to a close, and that without factoring any potential boost in growth and inflation that may come from new fiscal policies.
Although there is little chance that the Fed will take any action at their January 31-February 1 meeting, futures markets presently reckon a one in four chance of a move when the March get-together comes to a close. To be fair, markets have already done some of the heavy lifting for the Fed, as interest rates up and down the yield curve are considerably higher than they have been at any point in the last few years. As such, it is possible that they will give the March meeting a pass, but that will leave only nine months of the year remaining for the Fed to make the three moves it thinks it might. Compared to the present "one move per year" process, this would be a comparatively aggressive stance for monetary policy.
There are also outside influences on rates to consider, as well. It bears remembering that at least a part of the reason that interest rates fell and remained lower than expected for longer was due to the influence of other poorly performing economies or shaky foreign markets. Although those problems haven't magically disappeared, there have been signs of improvement in growth and even inflation in some key economies, lessening the flight-to-quality/safety into U.S.-backed debt that pushed yields to all-time lows not all that long ago.
In such a climate of optimism, and with at least prospects for continuing growth and somewhat more inflation (the Consumer Price Index recently topped a 2 percent annual rate for the first time in several years) and coupled with what may be an increasing chance of a move by the Fed, it will be hard for mortgage rates to find much space to fall, or fall meaningfully.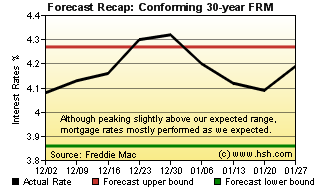 Recap
In brief, our last two-month forecast turned out pretty well, and certainly better than the previous one did, anyway. When we last took a nine-week look ahead at the end of November, markets were rather unsettled and rates were moving higher in the wake of the presidential election. At the time, we thought that the average conforming 30-year FRM as reported by Freddie Mac would run a range of 3.86 percent to as high as 4.27 percent, and we were right for 7 of the 9 weeks. Two weeks did break the upper bound of our expectations, though, and we saw a peak of 4.32 percent and a bottom of just 4.08 percent, a level that never came close to testing our expected lower bound. The story was much the same for hybrid 5/1 ARMs; we thought a pair of fences of 2.98 percent and 3.25 percent would be sufficient to contain the average rate for the most popular ARM for the forecast period, but the high of 3.33 percent broke this barrier, even we saw no average rate no lower than 3.15 percent. Still, our expectations were pretty close to the mark.
For the most part, there was more upward bias for rates than expected during the period, keeping them closer to the tops of our expected ranges than not.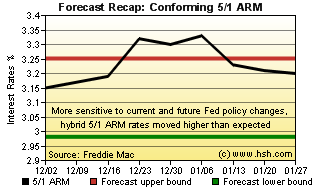 Forecast Discussion
In recent years, and with a good portion of 2016 no exception, mortgage rates have enjoyed fairly long, stable periods. While this in itself isn't unusual, that they held at remarkably low levels while doing so is. However, it would appear that more tranquil days are fading behind us.
After years of supportive Federal Reserve policy, the current climate is becoming less so; the settling period for financial markets which took place in the aftermath of the Great Recession (as markets adapted to new regulations and structures) seems likely to give way to a more tumultuous period again as regulations are re-written, and the surprising quiet of the Brexit situation seems unlikely to last forever. Amid what appears to be lessening deflation or more inflation, and with discussions of QE policies here and abroad perhaps centering more around exit strategies than continuation or expansion, it seems that more volatile times are in store for us.
In the last few years, bouts of volatility all tended to push interest rates lower, whether in trend or by spike. At the moment, it feels as this is no longer the case; rather, that present volatility is all likely to push rates more to the upside than not. At the moment, it's hard to foresee events that might bring the kind of fear or disappointment to markets that foster a falling rate environment or produce meaningfully lower rates. Inflation is firming, the Fed is coming and the early days of the incoming administration seem to be chaotic at the very least. There of course could (and probably will be) surprises as we go along, but only a wide-ranging, perhaps global, economic or political event would provide a catalyst to drive rates back to the lows of last year.
Amid volatility, upward pressure is with us, possibly to stay awhile. That's not to say that rates cannot ease a little from present levels, but rather that they will generally have a hard time doing so, and when they do, they won't likely hover there for long. If the recent pattern holds, rates are firming in advance of the coming Fed meeting and may retreat a bit in the weeks after, only to rise again as the March meeting (with its greater potential for a move) approaches.
On a broader note, and with QE exits in mind, we'll note that monetary policy has now been moved two notches closer to "normal". If the Fed believes that the new "neutral" rate for the federal funds is closer to 3 percent than the 4 percent of modern times, it won't be long before their process of recycling money from maturing bonds will come to an end, further pressuring rates. (Our guess is this will occur when the desired federal funds rate range covers 1.5 percent, whenever that occurs).
Forecast
Over the next nine weeks, we'll wander from the depths of winter to the early stages of spring... when thoughts begin to turn to the traditional homebuying season. Between now and then, we'll have two Fed meetings and a fickle groundhog to contend with, a creature whose forecasts are always suspect. Nine more weeks of higher rates? No, probably not, or at least not in a straight upward run. We think that between now and the last day of March, the average conforming 30-year FRM as gathered by Freddie Mac will get no lower than an average rate of 4.07 percent and no higher than 4.45 percent. Meanwhile, hybrid 5/1 ARMs (and ARMs in general, with their lower rates) may begin to have some appeal, and we expect that the average conforming 5/1 ARM will range between 3.12 percent and 3.44 percent.
This forecast expires on March 31. With spring on your mind, why not stop back and see if our prognostication for rates was better than Punxsutawney Phil's was for weather?