March 31, 2017
Preface
After a late 2016 run-up, mortgage and other interest rates have mostly tread water so far this year, as investors try to evaluate whether the economy will continue to chug along in the familiar modest-to-moderate pace that has been the hallmark of this expansion, or if growth will be goosed by a looser regulatory environment and more favorable tax policy. At the moment, the latter seems somewhat less likely to happen with any immediacy.
In recent weeks, it seems that at least some of the shine of the new administration has worn off, as campaign promises that would benefit businesses have largely yet failed to materialize. A powerful rally in equities fueled almost solely on enthusiasm for change has given way of late to a bit more investor caution, and the yields on long-dated Treasuries that influence fixed mortgage rates have declined. At least part of this decline was due to an initial failure to repeal the Affordable Care Act; in turn, this has shed some doubt about the ability of the Trump administration to make good on other promises. However, some of the recent decline in rates may also be investors selling stocks to lock in sizable quarterly gains, too, and to the extent that this is the case, a re-rally may be in the offing for stocks after the turn of the month and start of a new quarter.
See week-to-week forecasts in MarketTrends
This two-month forecast is an accompaniment to HSH's weekly MarketTrends newsletter, which provides analysis of the latest economic news, tracks the Federal Reserve's actions and includes an outlook for mortgage rates for the coming week.
That said, if investors have become somewhat less confident about certain aspects of the economy, it would seem that the Federal Reserve is becoming more confident that the economy can manage without emergency-level monetary supports. In March, the central bank felt that the economic climate was sufficiently strong to warrant a lift in the federal funds rate by a quarter percentage point, a move that came just three months after a previous increase. Given the Fed's cautious pace of raising rates over the last few years, this was a fairly bold move, but arguably one of opportunism, as fair growth and a robust stock market provided some cover for the Fed. If the Fed is going to raise rates three times in 2017, as it has stated it expects to, periods of solid data and rising prices for equities will likely be when these changes occur.
Although there are some signals that growth in the first quarter of 2017 will be lackluster again, as it has been in the first period of each of the last three years, this may be more measurement or adjustment error than not, as most evidence points to a moderate pace of growth. If perhaps poised to cool a bit, hiring has been very solid; employment is near "full" by some measures, and wages are firming. Inflation continues to creep toward the Fed's 2 percent target for core Personal Consumption Expenditures, with core PCE recently running at a 1.7 percent rate. However, Fed Chair Janet Yellen noted that this inflation target is "symmetric", so prices may run above or below the target, but as long as they are close it seems that the Fed will feel free to make moves as opportunities permit. The next FOMC meeting comes in early May, and while there is no reason to expect another move so soon, the June 14 meeting brings new economic projections, and a greater likelihood of a second 2017 increase in short-term rates. With all this in mind, and despite mostly treading water so far this year, it seems to us that interest rates still have somewhat more of an upward bias than not.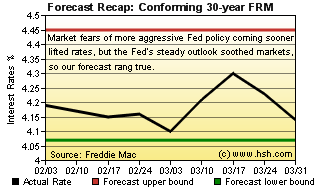 Recap
We did pretty well with our late January forecast, which came amid relatively stable financial markets but a restive political climate. Our mid-range outlook was drafted before a significant run up in stock markets and interest rates, but rates have settled back of late. Before groundhog day, we thought that the average conforming 30-year fixed-rate mortgage as tracked by Freddie Mac would run a range between 4.07 percent and 4.45 percent; markets presented us with a range of 4.10 percent to 4.30 percent, and largely met our expectations for the period. At the time, we also thought that the average initial interest rate for a conforming 5/1 Hybrid ARM would run between a 3.12 percent and 3.44 percent set of fences, and the 3.14 percent and 3.28 percent pair that actually happened fit nicely in-between them. In all, a good showing for us. Here's hoping we can make it two in a row.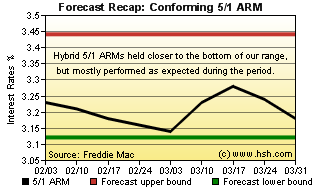 Forecast Discussion
There's little reason to expect interest rates to skyrocket higher any time soon, but there are some reasons to expect them to at least remain firm to firmer. The U.S. economy is doing OK, but perhaps more important to support for higher rates is that other major economies are doing a bit better, too. Despite challenges, economic growth in developed economies has been stable to higher over the last year, and growth in the U.K. rebounded after the Brexit vote (so far; we'll see how that all works out over time).
Global investor money looking for safety or even return of capital washed into U.S. markets at many points over the last few years, but improving prospects and positive government bond yields are serving to keep more money at various points of origin. As well, investor risk appetite has improved, so available funds are being plowed into stocks instead of bonds. Failing an economic or political downturn somewhere, this will probably continue to largely be the case, and in turn, this sets a bit of a floor for many interest rates, making it hard for them to fall meaningfully.
Conversely, it's somewhat easier for them to rise. News of steady to improving growth, firming inflation and a Fed raising the absolute floor for rates are all components for firmer rates, and central banks are at least starting to look to pull back on the "all-in" stimulus programs of the last few years.
Of course, there are also some reasons to suspect that rates will continue to lack upward traction, too. Brexit issues are back to the forefront, as the two-year extrication process of the U.K. from the EU will start getting under way. Domestically, markets are starting to realize that tax reform and regulatory relief either aren't happening anytime soon or may be far less sweeping that originally hoped, so at least some of the perceived economic shackles of this recovery and expansion are likely to remain for a time yet, crimping growth to a degree and also probably helping to keep the Fed on a "3 for '17" track.
Since the Fed first started moving rates back in December 2015, it has increasingly been the case that mortgage rates have tended to rise in the days and weeks leading up to a meeting, only to drift back in the valley between get-togethers. This effect has been most pronounced for meetings accompanied by quarterly summaries of economic projections (Mar/Jun/Sep/Dec); interim meetings have seen less of this action. As we are heading into the "valley" now, we are currently seeing the "downside" for mortgage rates after March's meeting. While we expect this to Fed phenomenon to continue to be the case, there is only an "interim" meeting to contend with during this forecast, so any effect on rates should be minor for the most part. However, we may see some effect at the tail end of the forecast period as June's meeting begins to loom.
Forecast
So there are reasons to expect countervailing forces on interest rates in the next nine weeks. We do think that a weak 1Q17 GDP report will be largely dismissed, as other data continue to suggest a fairly solid economy, and probably one that will start to show signs of pickup as new second-quarter data becomes available. We expect that a near-term downward trend will soon peter out, and rates will steady, then begin to firm somewhat again.
As the ranges for our last forecast weren't off my much, we'll merely tweak them a bit this time. Over the next nine weeks, we think that the average conforming 30-year fixed-rate mortgage as reported by Freddie Mac will wander in a range between 4.04 percent and 4.39 percent. The increasingly popular counterpart to the benchmark fixed rate -- the conforming Hybrid 5/1 ARM will likely find a pair of fences of 3.08 percent on the low end and 3.40 percent on the high end corralling its movement.
This forecast expires on June 1, just past Memorial Day. Summer will beckon at that point, but what not stop back and see if this forecast earned us a vacation... or whether we should keep working at it.