November 24, 2016
Preface
The cycle of record or near record low mortgage rates appears to have come to an abrupt end. Already in a firming pattern due to a warming economy and saber-rattling by the Federal Reserve, the sea change in investor sentiment as it pertains to risk saw a massive selloff in Treasuries in November. In turn, this saw the influential yield on the 10-year Treasury spike by close to a half-percentage point, and mortgage rates have leapt in recent weeks from a little above 3.5 percent to a little above 4 percent. To be sure, these are still historically favorable mortgage rates, and at levels only about where they were when 2016 began.
The abrupt shift underscores or reveals several things. First, there was no suggestion in the statement that closed the November 2 Fed meeting that the central bank would postpone a December move, and part of the uptick in mortgage rates was reflective of an increased likelihood of a lift in short-term interest rates in just a few weeks' time. Second, markets were caught leaning hard in the wrong direction when the outcome of the U.S. presidential election was announced (see Brexit last June); this accounted for a considerable portion of the flare in rates in the days just after the election. Third, a further rise in rates has come of late, driven by the expectation that a new administration will rely more on fiscal stimulus to drive the economy, bringing more growth and inflation potential as we go, and lessening the need for loose monetary policy.
Market visions seem to have changed a bit, too. Until recently, is seems as though nearly all data was viewed through a dark lens, suggesting that safety was the way to go, even at the expense of principal via negative yields in some places. Now, all data seems to be being viewed with more rose-colored glasses, suggesting that riskier assets are the way to go. The reality is somewhere in between, and sooner or later, some investors will start sneaking to the other side of the see-saw again. For the moment, though, all seem to have rushed to the one end and away from the other.
The reassessment and repositioning of funds by global investors may not yet be complete but any near-term additional increases in rates probably won't happen with the same velocity as did this go-round. We'd need actual plans in place and perhaps even some results for that to happen. It also bears consideration that the rise in yields may make for some relatively attractive buys in bonds, drawing in some cash and steadying or even lowering yields a bit as we go.
All during this rout, and hopes and dreams for the future aside, we are still struck with the thought that all of the economic problems around the globe that existed on the morning of November 8 still existed on the morning of November 9, and so the global forces that gave us extended periods of stable interest rates at low levels may again exert force on the markets.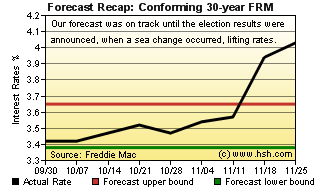 Recap
Our September 23 forecast was running fine and true, right up until the week of November 11. The election-result rout in the bond market saw mortgage rates blow right through the expected top of our forecast ranges, putting rates back closer to 2016 highs than lows. In the beginning of the fall, we thought that Freddie Mac's conforming 30-year FRM would manage to hold a range of 3.38 percent to 3.65 percent, and it did... right up to the last two weeks of the period. The average rate for the most popular mortgage actually ran a 3.42 percent to 4.03 percent range during the nine-week period, ending at/near 2016 highs. For hybrid 5/1 ARMs, and with no expectation of a Fed move during the period, we believed that a 2.74 percent to 2.94 percent pair of fences would contain this product. The bottom value of 2.80 percent was close enough, but the rate blowout at the end of the period put the 5/1 ARM well above our expectation, as it has now reached 3.12 percent. If we had to characterize the forecast in brief, it might be "good for the most part, excepting the epic failure at the end" as at least six of the nine-week period was on point. Like others, we failed to fully consider that the outcome of the election might not be as late September polls (when the forecast was written) suggested.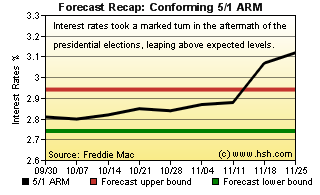 Forecast Discussion
In our last Two-month Forecast, we asked: "So what would create the conditions for meaningfully higher mortgage rates? Fiscal policy reform, tax reform, trade reform and more are where the conversations need to take place." As it turns out, just the promise of change in these areas was sufficient to see mortgage rates bounce considerably higher, as it appears that the incoming Trump administration will be poking and probing in these areas.
This being the case, the questions change a bit, to "How much change in these areas can be effected, and how long before any effects (whether beneficial or detrimental, depending upon your view) are felt?" Frankly, it's hard to reckon. Whether these expectations come to pass (or to what degree they do) remains yet to be seen. At most, we've only broad-stroke plans (if any) to work from, and it of course remains true at all times that proposals must wend their way through the political process, where competing interests will have their say and influence the outcome. That said, even if these expectations do come to fruition, it may take a year or more for any effects to show from a major tax or fiscal policy shift.
Near term, though, there are some outlook complications to consider. Presently, we expect the Fed to make a small change to rates on December 14, a quarter-point rise in the federal funds rate. That said, there remains a small chance that the recent upheaval in financial markets and sharp strengthening in the dollar might give the central bank pause, causing them to hold off on making a change until after the inauguration. The next Fed meeting happens at the end of January, after the new administration is installed, and as well, there is yet quite a bit of data from October and especially November to ponder before the Fed meets next month.
It also bears consideration that this rather recent sea change in financial markets comes just a short while before the December Fed meeting, an event which occurs in the midst of the holiday season, a normally thinly-traded period for stock and bond markets. The holiday season in turn bumps up against the end of the fiscal quarter, where investors try to retain any gains they have made during the period and generally don't want to disturb set positions if they don't have to. These events and items may make significant change in rates unlikely in the weeks just ahead.
Meanwhile, as these things unfold, the incoming administration will be organizing the new cabinet and potential policy plays will come into better focus; this will be quickly followed by the inauguration, then backed up by the January 30-February 1 Fed meeting.
Simply put, there is a lot going on in a fairly short period of time. Even if there are signs of softer global growth or rising doubts that the incoming administration will achieve stated goals, it may be that interest rates simply won't change much. If they do change, and in the context of current conditions, it remains more likely that they continue to be firmer than not, absent any new shock.
All this considered, there is one other item of note as we turn the calendar to 2017. In the last three years, U.S. GDP growth in the first quarter has been rather soft. Some have said this reflects measurement issues, others have pointed to actual softness in the economic data. Should the pattern repeat, headlines of this softer patch may color investor thinking about the direction for rates and the economy... but much of the actual data to show this won't be revealed until after the end of this forecast period.
If you will, please forgive this rambling screed. There are rather lots of moving parts and plenty of unknowns to try to work around. We've left out items that might yet happen that could have effects on mortgage rates, such changes at the FHFA, in how Fannie and Freddie operate and more.
Forecast
Having established new levels, we think that mortgage rates may have found a new home for the next while. There is very much a need to wait-and-see at the moment, not only for inbound economic data as we have been for months, but also for clues as to policy changes from an inbound administration.
We'll also need to carefully review the Fed's thinking. With the December meeting comes an update for their forward economic projections. It's likely too soon to expect much by way of election influence into their outlooks, but if FOMC members have materially lifted their expectations for growth and inflation for the near-term horizon, mortgage rates could have some space to climb. Currently, the expectation is that there might be one or two moves to the federal funds rate in 2017, but if that now moves to two to three potential moves, investors will need to adjust positions again.
We don't think there is a great chance for rates to fall much in the coming weeks; if they do back down, it probably won't be by very much. There's a lot to review and ponder in the period just ahead and clarity may be hard to come by. In such a happenstance, it's more likely that investor positions remain steadfast.
From our perspective, the rate rise is largely over, and perhaps even overdone. However, there remains considerable uncertainty in unsettled markets. Reckoning the future of interest rates during such times is even more difficult than usual, but we'll try our best. We think that, over the next nine-week period, that the average conforming 30-year FRM as tracked by Freddie Mac will run in a range of about 3.86 percent to about 4.27 percent. For conforming 5/1 Hybrid ARMs, those fences will probably be 2.98 percent to 3.25 percent.
This forecast expires on January 27. A lot of change is likely between now and then, and it feels right now as though we're trying to navigate though a snowstorm. Why not stop back in and see if this forecast stayed on the road or wandered off into a ditch?