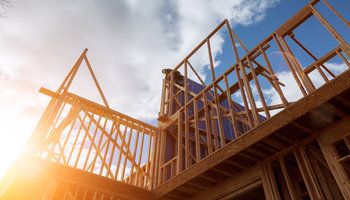 In Atlanta alone, resale homes showed an inventory drop of 27 percent from the number of homes available during the same month one year ago. This is a common theme across the United States.
The result? A tilt in the supply-demand balance that results in many homebuyers left with few homes on which to bid.
There's no doubt that we're in a seller's market. A hot seller's market translates to higher home prices. Atlanta's median home price for April, 2018, was $243,000 - up more than 8 percent year-over-year.
Fortunately for homebuyers, another area of inventory is growing as well - newly constructed homes.
Buying a newly-constructed home
Buying a home that has been newly-built offers some exciting options that may not be available when purchasing an existing home. New homes allow you to choose items such as kitchen cabinets, flooring and even the floor plan you like.
Nothing beats the feeling of being the first person to live in a newly-constructed home. Everything is shiny and untouched.
Homebuyers typically buy a brand-new home in one of three ways:
Buying a house already built (aka a spec home)
Having a semi-custom home built as part of a development
Designing a purely custom home to their specifications
New construction home buying process
It's important to understand the agent sitting in that new home construction site does not represent you. That agent represents the builder. As such, most homebuyers choose to hire their own real estate agent before they begin the process.
When buying a new construction home, your own real estate agent can help you in a number of important areas, including:
Negotiating new construction upgrades. It's much easier to get those upgraded counter tops or appliances with the help of your own representation while buying. New construction home negotiation is one of the biggest advantages to having your own real estate agent. Your agent can often negotiate with the builder on things like paint color, or even the garage door style, especially if the housing community is in the beginning phases.
Overseeing the home inspection. Many homebuyers think they don't need a home inspection when buying a newly-built home. Think again. New home defects can often rival resale problems. The builder's agent isn't likely to push for an inspection, so it's up to you and your agent to make it happen.
Finance recommendations. Builders typically have one, if not several, preferred lenders that they'll suggest. They may even offer incentives for you if you use one of their preferred lenders. Be mindful that shopping around for a mortgage lender is always best. You may find that the preferred lender is a good fit, but you may find much better mortgage rates available elsewhere. Be sure and conduct some due diligence when it comes to obtaining a mortgage loan on a new construction home.
Questions to ask when buying new construction home
Always assess the builder's reputation. You can check the builder online and with the Better Business Bureau.
Be sure to take note of where the new subdivision is in the process. Although price is seldom negotiable in new home sales, it can be if timing is on your side. The first few units need to be sold quickly to show the public that people want to live in this newly -constructed community. Having an agent on your side when making an offer on a new construction home can be key.
Don't be afraid to question a builder's contract. This is another reason to have a great real estate agent advocating for you, as builder's contracts are typically biased. Working with a professional can help point out the most important items that may or may not be in your favor.
Most newly-constructed homes come with a warranty. However, these warranties can vary widely. Spend some time understanding the warranty before you go under contract. Don't be shy about asking questions regarding what is and isn't covered.
Know when and how to buy a new construction home
There are pros and cons to buying a new construction home. If you are successful negotiating new construction upgrades and secure the best possible mortgage rates, you may be very comfortable in a home that is up-to-date and move-in ready, and you can spend your free time enjoying your community rather than performing household repairs.
Print page