What is a HUD home?
A HUD home is a one to four-unit residence acquired in a Federal Housing Administration (FHA) mortgage foreclosure. The U.S. Department of Housing and Urban Development (HUD) reimburses the lender for any loss on these foreclosed properties, acquires the property from the lender and turns it over to a management company for sale. The management company secures the home against vandalism, has the property inspected and appraised, then puts it up for bidding. In addition, there may be bills like property tax arrearages or utility bills that the management company needs to pay before the property can be sold.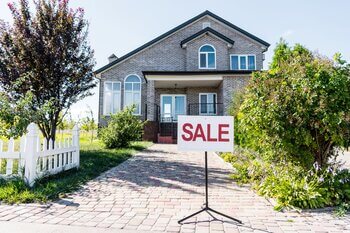 How to find HUD homes for sale
HUD homes for sale are listed online; you can peruse foreclosed homes in your area and then click to find an agent, or you can use any real estate broker who is properly registered with HUD to find and buy a HUD home. You can inspect the property before submitting a bid, but you may not enter a house without your broker/agent for any reason prior to closing. Brokers and/or agents must be on the premises when home inspections, appraisals or certifications are being performed.
What you need to know before bidding on a HUD home
Many properties are only available for what is called the "priority period" to buyers who will use them as owner-occupied primary residences. If no acceptable bids come in during the priority period, bidding is opened up to all potential buyers, including investors, nonprofit organizations and local government agencies, who may purchase homes to re-sell as affordable housing to low income borrowers. The date this exclusive or priority period expires is noted along with the property listing information. You must have a mortgage preapproval letter from a lender before you can submit a bid. If you plan to pay cash, you must prove you have the funds with a bank statement. It may take some time to close the deal -- if you need to be in a home within 60 days, a HUD home is probably not for you.
Also, even potential owner-occupants are not eligible to purchase another HUD if they purchased a HUD property as owner-occupants within the past two years.
Like most foreclosed properties, HUD homes are sold "as-is," and no repairs are done before you close on your property. HUD's former asset management company, MCB, was emphatic about this: They noted "HUD does not guarantee the condition of any property, FHA-insurable or not, nor whether it meets local codes or zoning requirements. Purchasers are advised that there may be code and/or zoning violations on these properties and that it is the responsibility of the purchaser to identify these violations." In other words, buyer beware.
Finally, some homes may be ineligible for FHA financing, even though the previous mortgage on the property was an FHA loan. Usually, this is because it has been estimated that substantial repairs to the property are required to make it eligible for FHA insurance. If you plan on using an FHA loan to finance your HUD home purchase, avoid bidding on these properties unless you can also qualify for a conventional home loan. Otherwise, you'll need to will pay cash for the purchase.
Good Neighbor Next Door
Some HUD homes can be purchased at half the current market value (list price) with as little as $100 down through its Good Neighbor Next Door program. Law enforcement officers, pre-kindergarten through 12th grade teachers, firefighters and emergency medical technicians can qualify for this program as long as they commit to living in the home for at least three years. Eligible properties are located in HUD revitalization areas.
How to bid on a HUD home
Your broker submits a bid on your behalf. HUD pays closing costs of up to 3% of the purchase price, including a mortgage origination fee of up to 1%, as well as the real estate broker's commission. However, these expenses come off the top when the management company evaluates all the bids. Winning bids must meet a minimum threshold and also yield the highest net to HUD. The winning bidder receives provisional acceptance subject to receipt of all required documents.
HUD Homes and Escrow
Once a bid is accepted, an original Sales Contract Package must be submitted within 48 hours or your purchase is dead. Earnest money (usually comprised of a borrower's down payment, but sometimes closing costs as well) must be remitted within 72 hours of receipt of instructions from the management company. Winning bidders must specify the type of financing they will be using and which borrowers will be responsible for the loan -- any changes have to be followed with addenda or else your transaction is terminated. Once your bid is accepted, you can request copies of the appraisal and all inspections from the management company. If there is a homeowners association, its transfer fees and any outstanding bills will have to be approved by the management company; this can create a lot of back-and-forth and add weeks to the escrow. It's your real estate agent's job to submit 15-day extensions as needed to keep your purchase going. Failure to do so will cost you your earnest money and get your contract canceled.
Financing a HUD home
You can't assume a mortgage when you buy a HUD home -- you must arrange financing or pay cash. Homes deemed insurable can be financed with new FHA loans, and those requiring some repair can be purchased with FHA rehab 203(k) mortgages. Uninsurable homes often require extensive repair and must be bought with conventional loans or cash. Keep in mind the extended time it takes to close on these purchases when locking in your mortgage rate. Expect the escrow to take a minimum of 45 days, and escrows of 60 days or longer aren't uncommon.
Why Bother With a HUD home?
With all that's involved in buying a HUD home, why would anyone bother with this path to homeownership? There can be substantial discounts compared to other available properties, and HUD does pay a lot of your closing costs. Deals can vary by location, of course, but you might score a real bargain, such as a home in Manahawkin, NJ (just a few miles from the beach) that sold in 2004 for about $176,000 for just $130,000 in 2018. Properties listed can change often, so you'll want to check the HUD website on a regular basis if you hope to catch a bargain.
Print page