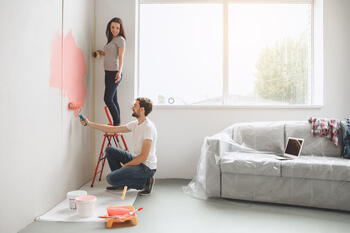 It's pretty easy to budget for the roof over your head when you rent. Your monthly payment includes property repairs, taxes and even some or all of your utilities. Estimating the true cost of home ownership isn't as easy. Consider these "hidden" costs involved in owning a home when determining how much you can afford to spend on your new house.
Many prospective home owners use mortgage calculators. Potential buyers can input their income, current bill payments and perhaps property tax rates and insurance costs, and the calculator kicks out an estimate of what they should be able to spend on a home.
Mortgage calculators, while very useful for coming up with rough estimates, are no substitute for the detailed budgeting exercises that home ownership education can give you. Here are some costs of home ownership that a class or counselor might explain.
How much is home maintenance?
Expect the unexpected. Home appliances tend to break at the most inopportune times. Heating systems almost never die in the summer; they expire in the winter. And your plumbing seems all but guaranteed to fail when you're expecting house guests.
The only thing worse than experiencing repair issues is having no money to take care of the problem. How much is home maintenance? A good working rule of thumb is to budget 1 to 2 percent of your house's value each year for home maintenance costs; another method is to allocate $1 to $2 per square foot of your home per year.
Budgeting for home maintenance costs
Whether you estimate repair and maintenance costs using your home's square footage or as a percentage of its value, the total to put aside could be between $3,000 to $6,000 per year for a $300,000 home, or $2,000 to $4,000 for a 2,000 square foot home.
Put money aside each month for these expected expenses and save yourself a lot of grief when a repair arises.
If this sounds like a lot of money to have to come up with each year, it's important to know that you are unlikely to spend all of that cash every year. A roof or heating system replacement done this year may never have to be done again in the time you own your home, for example. These costs are spread out over your home ownership period, but unfortunately, you usually have to pay for them up front (or finance them and pay interest on the cost).
One way of smoothing out the budgeting a bit is to purchase (or get the home seller to purchase) a home warranty. That covers most repairs, and you're responsible for a co-payment or deductible of perhaps $50 to $75 per incident. What does home maintenance entail? You may be surprised -- check out our home maintenance timeline to see what you may be taking care of each year (and beyond) if you want your home to be in good working order.
Homeowners insurance coverage
If you're a renter, you might have a renter's insurance policy, a low-cost way to protect your belongings. However, as a homeowner, you need a wider range of insurance coverage to protect you and your mortgage lender against loss, and pay for protection against both property and financial risks, and these can add up.
For example, your mortgage lender requires that you get mortgage insurance if you put less than 20% down. You pay for a lender's title insurance policy along with other mortgage costs, and may want to buy an owner's title policy, too. Unless you buy a condo and it's included in your homeowners association dues, you'll need to get a homeowners (hazard) insurance policy, and you may also want to purchase extra coverage if earthquakes, mud slides, tornadoes, hurricanes or tsunamis are possibilities in your area. If your property is in a flood zone (as designated by the Federal Emergency Management Agency) you'll be required to buy flood insurance as well.
Additionally, if you keep valuables like jewelry, electronics or artwork in your home, you may need to buy extra coverage.
Homeowners Association Fees
Condominium owners save on some of the above-mentioned costs (the external building repairs and maintenance are taken care of by their associations), but they have to pay homeowner association (HOA) fees. The more features the community offers, such as guarded gates, swimming pools, gyms, etc., the higher the monthly fees or dues may be. Other communities may also charge HOA fees -- even regular housing developments may have communal areas and charge fees to maintain them. Don't leave these expenses out when budgeting for the actual cost of owning a house.
Average cost of owning a house per month: utilities
As a renter, some or all of your utilities may be covered by your landlord. Perhaps you didn't pay for water or heat. You almost certainly didn't pay for trash or snow removal. You may even have gotten your gas or electricity included in your monthly rent. But as a homeowner, you'll be responsible for all of those things. You may have to come up with deposits to the utility and phone or cable companies to turn on their services as well. To estimate your monthly utility costs, ask the home seller to share what his or her typical monthly utility expenses have been. Recognize that water, electricity and gas may fluctuate with the seasons and check with your local utility to see if they offer balanced monthly payment plans.
True cost of owning a home: furnishings and appliances
Your new home is likely to be bigger than your apartment and may require some extra furnishings. While some appliances such as dishwashers and ovens are considered fixtures and are included in your home's sale price, portable appliances like washers, dryers and refrigerators are not always included. If you don't get the seller to throw them in, you may have to buy new ones.
Consider the age of the home you are buying. If it's ten years old, your dishwasher, garbage disposal, washer and dryer and water heater may all be on their last legs. Here's an appliance budgeting worksheet from Freddie Mac that illustrates how much you may have to come up with soon after closing on your home purchase. You can also estimate the age of some major appliances using this tool.
By going into your purchase well informed about the average monthly cost of owning a home, you can avoid expensive surprises. Budget for these expenses from day one, and your home can be more of a haven and less of a burden.
Keith Gumbinger contributed to and updated this article.
Print page