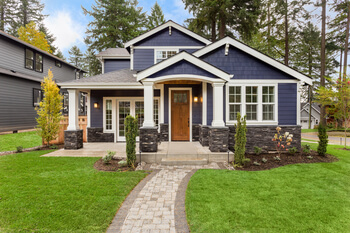 Congratulations, you're a first-time homebuyer who has finally found the perfect home and you're ready to make an offer. But the combination of limited housing inventory and increased buying activity means your work may have just begun. For many house hunters, it's a perfect storm that's sparking an increase in "bidding wars."
Janice Leis, an associate broker with Prudential who serves the Pennsylvania, New Jersey and Florida markets, says bidding wars are taking place in desirable communities with good schools. "I find them with primary housing (as opposed to an investor property)."
6 house bidding war strategy tips
If you're in the hunt for a home, it's important to be prepared for a multiple-offer situation. Here are five strategies to put yourself in the best position to win.
1. Work with local realtors
Since each market is unique, you need to find someone with local experience, explains Leis.
In the certain areas, higher-end homes seem to be receiving multiple bids, according to Leis. But in other markets, it's the moderately-priced and starter homes that are more subject to bidding wars, observes Michael Orr, director of the Real Estate Center at Arizona State University's W.P. Carey School of Business.
A realtor can help set your expectations as to whether or not the houses you're looking for may receive multiple offers, says Leis.
2. Get mortgage loan preapproval
Unless you're paying cash, sellers need to know you can secure financing, especially when you're entering a multiple-offer situation, says Leis. You can be a preferred buyer if you prepare beforehand.
As the buyer, make sure you are preapproved for a loan, but don't stop there.
If your bid is accepted and you go under contract, it would still be contingent on the approval of your mortgage, says Leis. Take the time now to prepare what financial information the mortgage lender will need from you in order for the loan to receive final approval.
3. Reconsider home purchase contingencies
Many buyers make contingencies on their offers that allow them to back out of a deal if certain conditions aren't met. Common contingencies include the ability to secure financing (if you don't get the loan, you're not obligated to buy the house), the successful sale of the buyer's current home, and an acceptable home inspection. When caught in a bidding war, it may be difficult to negotiate a price reduction based on minor inspection flaws. Be aware of which house flaws can be overlooked when buying a property.
A contract with fewer contingencies is more attractive to sellers because there are fewer roadblocks to closing the sale, says Neil Garfinkel, a real estate attorney with Abrams, Garfinkel, Margolis, Bergson, LLP in New York City.
4. Understand your contractual obligations
If you do remove a contingency, make sure you are able to meet the terms of the agreement. A lot of buyers get caught up in bidding wars and make emotional decisions--and sign contracts--that are difficult for them to honor, cautions Garfinkel.
If you choose to exclude a financial contingency in your offer, you must come up with all the cash needed at closing, he says. If you're not able to meet the terms of the contract, you may be able to back out of the sale if the contract allows, but you could lose money, including any earnest money or down payment that has been paid.
"In New York, that could be a loss of 10 percent of the purchase price," warns Garfinkel.
5. Give your best offer first
If you find yourself in a bidding war, make sure your first offer is your best offer. Otherwise, the seller could turn you down and accept a different bid which went above the asking price without giving you a chance to negotiate, says Orr.
"You have to expect to bid market price and even slightly above it and hope it is one of the top bids," says Orr.
6. Write a letter to the homeowner
One highly-recommended tactic in a house bidding war strategy is to personalize your offer by writing a letter to the seller. Explain why the home would be ideal for you and your family, comment on features that you particularly appreciate and mention what you might do to enhance the existing home in the future. Discuss your house-hunting journey and be clear about why you are certain that this home is the best fit; be sure to thank the seller for their consideration.
Deploy your house bidding war strategy
With the real estate market quite heated in many parts of the country, more buyers may find themselves in the middle of bidding wars. It's important to be strategically ready. And, if despite your best efforts the sale goes to someone else, don't give up, says Garfinkel. "If it doesn't work out, there will always be another property."
Print page