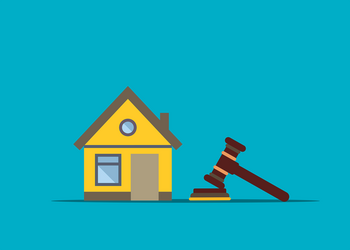 The traditional idea that real estate auctions are only for bargain-basement foreclosures or million-dollar mansions has changed in recent years. These days, all types of homes are sold at auctions.
No matter what type of property you buy at an auction, you need to be aware that you're purchasing "as-is, where-is," without the option of asking the seller to make repairs or wait while you sell your current home, says Fontana Fitzwilson, executive vice president of Williams, Williams and McKissick in Tulsa, Okla.
"Buyers may not always get a bargain at an auction, but auction sellers are often willing to sell at or below market price in exchange for a non-negotiable, non-contingent contract from a highly qualified buyer," says Stephen Karbelk, co-chairman and founder of Ameribid in Tulsa.
Furthermore, Jennifer Leuer, senior vice president of Auction.com in Irvine, Calif., says buyers can feel confident that they are bidding against other buyers who know the local market well and are less likely to bid the price above market value.
10 tips for auction buyers
Buying a home at an auction requires buyers to be well-educated and financially prepared. Here are 10 tips if you're buying a home at an auction:
No. 1: Prepare your finances.
While you can pay for your purchase in cash, you can also participate in an auction if you plan to finance your purchase with a mortgage. You'll need a strong preapproval letter from a mortgage lender based on complete documentation of your finances. You'll also need cash for a deposit before you bid and for a down payment, typically 10 percent of your winning bid, due within 24 to 48 hours after the auction. You need to estimate all these fees and subtract them from your preapproval amount to establish your maximum bid amount. Exceeding your max bid amount could cause your financing to fall through.
Mortgage calculator: What will my monthly mortgage payment be?
No. 2 Sign up for email alerts.
Most auction sites like Auction.com, Ameribid.com and WilliamsAuction.com allow you to enter your email address and specific criteria like a ZIP code and price range so that you can receive email alerts when a property that might interest you is registered for an auction.
No. 3: Get to know the market.
Truly understanding the local market and what similar homes typically sell for will help prevent you from overbidding, says Leuer.
No. 4: Register for a specific auction.
Once you see a property you want to bid on, register online or in person with the auction company so you can get updates and other information prior to auction day.
No. 5: Inspect the property.
Auction companies post extensive information about properties 30 to 45 days prior, and typically have several open houses so buyers can visit the property. You can schedule a private visit and even bring your own home inspector. If your lender requires a home inspection, send them the report to ensure the property is in financeable condition, says Karbelk.
No. 6: Save for the "buyers premium.
" Many auction companies charge a buyers premium of five or 10 percent of the sales price to cover the cost of the sale. "If you must pay a 10 percent buyers premium then make sure you build that cost into your maximum bid," says Karbelk.
No. 7: Determine how to bid.
While some auctions take place in person, many allow bidding online. You can visit the auction company's website or call their office to determine this information. Most auction companies require you to register either online or in person.
No. 8: Make your deposit.
Many auction companies require a deposit which depends either on the estimated property value or simply a rounded figure that seems fair to both the auction company and seller, says Leuer. The money will either be a credit card authorization or cash that will be held in escrow by the auction company until the auction ends. If your bid wins, the deposit will be credited toward your buyers premium and your down payment. If you lose the auction, your deposit will be returned to you.
No. 9: Follow the rules.
Whether you bid on the phone, online or in person, make sure you follow all the rules of the auction company. If your financing falls through, the seller can keep your deposit and may even be able to sue you for breach of contract since no auction contract can include a financing contingency.
No. 10: Be ready to close fast.
Typically, you will be required to close within 30 to 45 days after the auction sale.
If you are considering purchasing a home at an auction, educate yourself on the process, establish your financing, evaluate the property and set a firm maximum bid so you don't overspend and lose your financing.
Related articles:
Print page