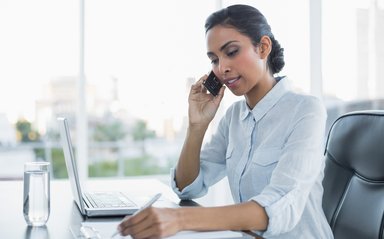 Now that you've got the basic understanding of home equity loans and lines of credit, you may be ready to shop for your loan or HELOC. There are specific questions you should ask when you contact lenders, and be aware that the people in the telemarketing department might not know the answers. A loan officer or customer service representative may be your best bet.
In some cases, you'll be able to find answers for some of the following questions on a lender's website. When browsing, make sure to look for links for additional details, often found in links or sections titled "disclosures", "terms and conditions" or even "important disclosures about our home equity" loan or line of credit.
13 questions to ask your home equity lender
These questions don't have to be asked in any particular order, but you should ask (and get answers to) as many of them as possible before deciding whether or not to borrow against your home equity.
What is today's home equity or HELOC interest rate?
On which index is that interest rate based?
What is the margin over that index?
Is there an interest rate ceiling?
Is there a floor?
Is there a term on the HELOC or is it open-ended?
What are the HELOC advance and repayment terms -- or is a balloon payment required?
Are there any points charged on the line (or loan)?
What is the maximum percentage of the combined loan to value (CLTV) I can borrow?
What, if any, are the closing costs (fees) I'll be required to pay?
Is there an annual fee? If so, how much is it?
Are there prepayment penalties or early termination fees? How much, and when do they expire?
Is there a discount in the interest rate or fees if I have a relationship with your institution?
We suggest that you ask these questions of at least five -- preferably ten lenders offering a home equity loan or HELOC products in which you have an interest. With these, you'll be able to "draw a picture" of what your local marketplace looks like, what normal pricing is, and who has the best deal for you.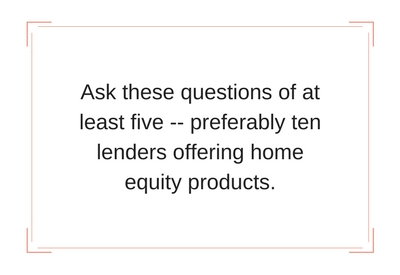 Of course, as with any financial instrument, the best deal is in the eye of the beholder. It may be necessary to search hard to find the best deal for your budget. In your search, don't forget to check with local banks and credit unions; they may be very active in your market.
This concludes our home equity borrowing guide. We welcome your comments and feedback, and if you want to learn more, please have a look at our other articles on Home Equity Loans and Lines of Credit.

Previous article: Home equity borrowing risks
Related tools:
Home Equity Calculator and Projector
Track Home Values Changes In 400 Metro Areas
Return to the start of HSH's Guide to Home Equity Loans and Home Equity Lines of Credit
Print page