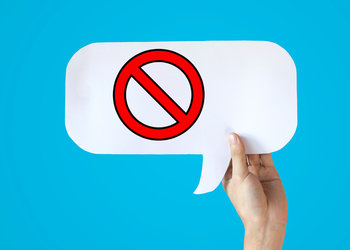 Talk is cheap -- unless you open your mouth at the wrong time when buying a home. Then it can be very expensive.
Most buyers are tourists in an unfamiliar land, and can easily make home buying mistakes when chatting with seller or listing agent. There's nothing wrong with being friendly, but there are a number of phrases and pieces of information that you shouldn't tell a seller or real estate agent when you buy a home.
Keep in mind that the listing agent works for the seller. Not you. And while most listing agents have the seller leave the premises when they show it, they do relay comments from homebuyers. The Realtor probably sends an email that includes comments overheard from homebuyers.
Even if you engage your own buyer's agent (also called a selling agent), you might not want this person to know your innermost thoughts either. Many times, your selling agent works in the same office as the listing agent, or knows this personal socially, and not everyone is as discrete as they should be.
What not to say
"I love this house. We are buying this house."
If you like a home, there's absolutely no reason not to say so. But if you let your emotions get the better of you, and act as though you've just found the Lost City of Atlantis, you might have a tough time negotiating later. Even your own agent likely earns more if you pay more, so don't expect him or her to do your job for you.
"Yuck. I don't like that."
A mild comment like, "I wish there was more closet space," or the "rooms could be bigger" is fine. But, remember, sellers have probably been living in this home, possibly for generations. They may have chosen and paid for the features that you are making fun of -- the color of their walls, their cozy rooms, and the landscaping that you hate. If there's a chance you'll make an offer, don't insult the sellers' taste or make them feel bad about your plans to gut "Grandma's" kitchen.
"I missed my chance on the last house I tried to buy."
What's wrong with mentioning that you made an offer on a previous house and that it didn't work out? Maybe nothing, or maybe the selling agent will start to sense that you're desperate for this to work out. Unless you want to pay top dollar for your house, negotiate as though you're perfectly okay if this deal works out or doesn't.
"This is a great price - I would have gone higher."
Oh, boy. If you're not under contract when you utter those words, you've given the seller no reason to make any concessions when you make your offer. The listing agent may convince the seller to raise the price, or to get the word out and start a bidding war. And if you're already under contract? Don't rub anyone's nose in the deal you made. The seller is likely to be inspired to take back-up offers and look for any reason to boot you out of contract. If you're one day late turning in a form, one dollar short on your earnest money or forget to check a box somewhere, you could lose the house.
"That's a terrible price - it's way too high."
You're not as smart as you think. Even if you believe the house is vastly overpriced, there is no reason to be insulting. Angry sellers are uncooperative sellers. If you want the house but believe the price is over-inflated, let your agent do the negotiating. If you're buying on your own, be polite and respectful. Come armed with the latest sales prices for similar homes in the area and justify your offer. That's what a buyer's agent would do for you if you have one.
"I have a preapproved mortgage up to $500,000"
It's an excellent idea to get mortgage preapproval before shopping for homes. Sellers and their agents will give your offers a lot more respect when it's clear that you're serious. But just because your lender says you can borrow$500,000 for a home doesn't mean you should. And you definitely don't want to disclose the fact that you have $500,000 in financing to a seller with a list price of $475,000. Why should they take less when you have shown them that you're willing to pay more?
Related: How to Buy a New House Before Selling Your Old House
Things you should say and do
So what should you say? Be polite, pleasant and positive. If the seller is around when you tour the home, feel free to nicely ask about their favorite features. And practical things like the age of the roof or what day the trash gets picked up. You may even ask why they are selling if you can do it in a friendly way. "This looks like such a nice neighborhood! Why are you selling?" is friendly. "Are you getting a divorce?" is probably not a good idea. Their agent may spill the beans to yours anyway, so don't be rude.
It's absolutely great to let the seller or listing agent know that you have mortgage preapproval. But not for how much. When you make an offer, real estate investors recommend that you attach two things -- a check for the earnest money, and a letter from your lender approving you for the amount you need to borrow to complete the deal as presented. A good loan agent is willing to generate a new letter for every offer you make. So don't think you need to let every home seller know exactly what your limit is.
Get mortgage preapproval now. See today's rates
Print page