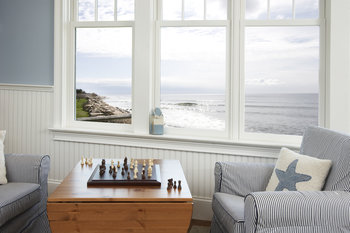 Updated By Jennifer Doss
If you can't get the price that you really want when selling your home, you might consider holding onto it while prices appreciate and continue to build equity rather than selling it for a price that isn't as high as you desire. Though renting out a house with a mortgage can seem intimidating, you might be surprised to learn that becoming a landlord is not as difficult as it may seem. Plus, if property values continue to climb, it could help you to build wealth for your future.
In this article we focus on tips for how to rent out your house, as well as review some common mistakes of first-time landlords, to help you successfully list your home as a rental property, all while working toward paying off your mortgage.
How to rent out your house
Follow these seven steps carefully to turn your home into a rental property:
Determine your home's rental value. The first step when renting out your home is to establish exactly how much you can realistically charge for rent. Determine the fair market value of your home by hiring a home appraiser or by using a home value estimator tool. Houses generally rent for about the same amount as other rental properties that are similar in size, condition, and location, so once you have an idea of your home's value, you can conduct market research to determine what others are charging for rent at similar properties. Find these listings online, in newspapers, or simply by driving around in nearby neighborhoods and searching for "for rent" signs.
Get appropriate rental forms. This doesn't mean going to Office Depot and picking up a general set of forms. You need forms appropriate for where you live. Many cities have housing associations that can provide you with the correct lease, rental application, and property condition forms.
Prepare your home. Give your home a thorough cleaning and address repairs and safety issues before you start promoting it to potential renters. While doing this, it's important to keep in mind who your target tenant audience is. Are you aiming to rent to families? College students? Senior citizens? Address your prospective tenants' needs and prepare your home accordingly. Nick Jabbour, vice president of Nest Seekers International in New York, says, "When preparing to rent, offer a nicer product. Paint, clean, garden, and make the property as pleasing as possible. You won't only likely command more monthly rent, but you'll attract a higher-quality tenant."
Advertise your property. Now that you've prepared your home for prospective tenants, it's time to get the word out about your property. Try social media and real estate classifieds, fliers on bulletin boards, a "for rent" sign out front -- whatever fits your budget and comfort zone. However you decide to advertise, just remember to keep your audience in mind. "Consider marketing your property differently, maybe as a corporate rental," says Kimberly Smith, founder of CorporateHousingbyOwner.com and the president of the Corporate Housing Provider's Association. Smith says that going the corporate rental route should help you attract high-quality renters such as traveling business professionals, and "you'll command one-third more rent." Whether aiming to rent to college students or business professionals, be sure to keep this in mind when deciding exactly how to market your listing.
Show your property. Now that your listing is on the market, make sure you'll be available on fairly short notice to show your home. You may be competing with apartment complexes and professional property managers who show rentals all day with no lead time. If you make people wait, they might rent something different instead.
Get a complete application. On application forms make sure you request an authorization to release information and obtain phone numbers for employers, banks, and former landlords. Pull a credit report and verify all references, or pay a screening company to do so. You may be able to charge an application fee if you decide, so you can weed out non-serious renters.
Sign the lease and collect a security deposit. If you have a lot of applicants (and can legally do so), get first and last month's rent plus a security deposit. If you have more competition or find a qualified tenant, make the deposit less than one month's rent. If you do this, make sure tenants understand that the deposit is not their last month's rent.
Common mistakes of first-time landlords
While new landlords may have various missteps, it's important to avoid the following five errors:
Not hiring a property manager. While it's not essential that you hire a property manager, a property manager could be useful if you don't live near the rental house, you don't consider yourself a handy person and want to avoid handling repairs yourself, or if you simply don't have time to address tenant concerns promptly. A property manager could cost between 7 percent to 10 percent off the top of your earnings, plus a bonus every time you change tenants, but the upside is that someone else delivers bad news like evictions or rent increases, takes those midnight calls when the thermostat breaks, and keeps records for tax time.
Not deciding upfront how to screen tenants. Equal housing laws require that you apply the same screening criteria evenly and fairly to all applicants. It is easier to do this if you put things in writing upfront. You might decide, for example, that all potential renters have no pets, a 620 minimum FICO credit score, one year at the same job, and a monthly income of at least three times the rent. Deciding these things ahead of time and sticking to them throughout the screening process should help protect you as you filter through applicants.
Not protecting yourself. Is your insurance adequate if a tenant does a face-plant on your threshold or burns the place down? Some lawyers advise that landlords transfer their properties into limited liability companies (LLC). Doing this, and carrying the right insurance, can protect your personal assets if you get sued by a tenant or a visitor. However, there are some drawbacks to forming an LLC for rental properties, such as a potential franchise tax. With that said, it's important to always discuss your options with a lawyer or other expert before listing your property.
Not completing a property condition report. This report is an overall summary of your property's condition which is to be completed before a tenant moves in and just after moving out. If you charge your tenant for damage, you could be sued -- and lose -- if you can't document the home's original condition. That's why completing this report and taking pictures is always recommended.
Not establishing maintenance contacts. Contract for help with landscaping, snowplowing, and chimney sweeping in advance, and tell your tenant how to contact you, or who to contact, in the case of an emergency or if something breaks.
Renting out your house: tax implications
Since rental income must be reported on your tax return, there are certain federal tax responsibilities you should be aware of when renting out a house for the first time. There are specific rental expenses, such as mortgage interest, property tax, operating expenses, depreciation, and repairs, which can be deducted on your tax return.
According to the IRS, any necessary expense for managing, conserving, and maintaining your rental are tax-deductible. Necessary expenses include interest, taxes, advertising, maintenance, utilities, and insurance. Certain materials, supplies, repairs, and maintenance costs that are necessary to keep your rental property in good operating condition, may also be deductible. You can also deduct the expenses paid by the tenant if they are deductible rental expenses, and when you include the fair market value of your property in your rental income, you can deduct that same amount as a rental expense.
Is renting out a house with a mortgage for you?
While being a landlord certainly is not for everyone, you may find that your rental becomes an opportunity and not a burden. Rental properties are a great way to continue to build home equity, and if managed properly, could provide you with additional cash flow when you're able to rent your house for more than your monthly expenses, which is usually the goal of most landlords.
Print page