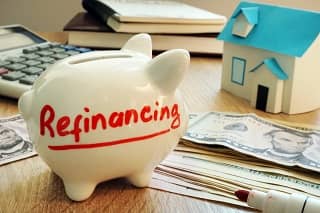 Does a refinance make sense for you? A new report suggests it could be the right move for millions. But to properly answer the question "should I refinance?", it's smart to do the math, assess your finances, and shop around for the best mortgage interest rates.
Now could be an ideal time to refinance your mortgage. Learn if you're a good candidate and the pros and cons of such a move. Calculate your refinance breakeven point. And use resources and tools like a refinance calculator to determine if the time is right.
See today's mortgage refinance rates
What new research reveals
A recent report by Black Knight had some interesting findings. It calculated that, at the end of May 2021, an estimated 14 million homeowners could have qualified for and benefited from a refinance. (That's assuming a 30-day window from application to closing.) That's a 31% rise from March 2021, and mortgage rates have trended mostly lower since May, so potentially even more homeowners might benefit.
What this study and others like it suggests is clear: Many homeowners today are eligible for a refi and could save money by doing so. But of those millions, relatively few of those eligible actually pursued and completed a mortgage refinance. For example, of the nearly 11 million homeowners Black Knight identified as eligible for a refinance in the first three months of 2021, only 2.8 million actually refinanced. What about you?
Related: Does a Refinance Make Sense?
Who can benefit most
Ask Jeff Tufford, manager of Epic Mortgage Group, and he'll tell you that plenty of folks can reap rewards by refinancing. These include those who want to:
Lower payments. "Getting a lower interest rate can drop your monthly mortgage payment by quite a bit," says Tufford.
Reduce their term. "You can lower your rate and shorten the length of your mortgage term. That means you can pay off a lot sooner for little or sometimes no extra cost per month. And that can save a lot of money over the life of your loan," Tufford adds.
Consolidate debt. Have enough equity in your home? "You can consolidate and pay off your debts by refinancing to a lower rate than you would have paid on those debts," he notes.
Get extra cash. If you have enough equity built up, pursuing a cash-out refi can provide extra money at closing. You can use these funds to pay for a home improvement project, new car, wedding, college, or another goal.
Eliminate mortgage insurance. "If you have an FHA or other government loan, or put down less than a 20% down payment, you're likely paying mortgage insurance. But if you refinance to a conventional loan and have 20% equity built up, you can eliminate those mortgage insurance payments," he says.
A lot of us are good candidates
But does a refinance make sense for you? Truth is, a refi is worth it for lots of people, believes Jared Maxwell, vice president of consumer direct lending for Embrace Home Loans.
"It's best for anyone who can lower their interest rate and save money," says Maxwell. It's also recommended for anyone with a three-year refinance breakeven window. In other words, you can recoup the refinance costs you'll pay within 36 months."
It's ideal, too, for homeowners planning to stay in their homes and not move within three to five years.
If you bought between the end of 2017 and the beginning of 2019, you're also a great candidate. That's because you likely locked in at a higher interest rate over that span.
Have you experienced a bankruptcy or foreclosure? Are you self-employed and have write-offs on your tax returns? If so, you may also benefit from a refi.
"There are new mortgage programs that allow you to document business income using bank statements," Maxwell adds.
It's probably best to avoid a refi if you're between jobs, have a credit score below 580, or cannot lower the interest rate you currently pay.
Yet most who can qualify choose not to refi. That's not a surprise to some experts.
"I think there's some mortgage rate burnout from the past several years. A lot of homeowners probably tune out all of the marketing messages to lower their interest rate and refinance," says Matt Hackett, operations manager of Equity Now.
Related: Should I Refinance my Mortgage? Calculator
Many homeowners assume the refinance process will be lengthy, complex and costly, as well.
"If someone is comfortable with what they have, they're more likely not willing to disrupt their already busy schedule to change it," Tufford explains.
That said, even small changes in the loan's interest rate can bring on savings. Moving from a $200,000 30-year FRM at 3.5% you've had for just a year to one at 3% with $2,000 in closing costs can trim your monthly payment by more than $73 and save you over $12,400 in total interest cost, so it's worth considering even if you're not all that enthusiastic about the process.
Related: 8 Common Refinance Mistakes
Your next steps
Eager to capitalize on lower rates? You can save the most money if you follow a few tips.
First, check your credit. Access and review your free credit reports at Annualcreditreport.com. Dispute any errors you see there. Your bank or lender should be able to provide you free access to your FICO credit score. A higher score (740 or more) usually qualifies for the lowest interest rates. Work to improve your score if it's low.
Next, get your paperwork in order. You'll need at a minimum two pay stubs and copies of your most recent bank statements. You may also need two years of W-2s. If self-employed, you'll need two years of tax returns with all schedules.
Know what interest rate you require to make refinancing worthwhile. And then pull the trigger. "Don't get greedy thinking you can time the market for a lower interest rate," cautions Maxwell.
This article was revised by Keith Gumbinger.
Print page