Understanding the reverse mortgage or HECM costs is critical to potential borrowers. This article outlines basic costs associated with these loans. One of the perceived drawbacks to taking an HECM is that the costs are high. This is true; the lender making must recover all loan expenses upfront, and they can add up.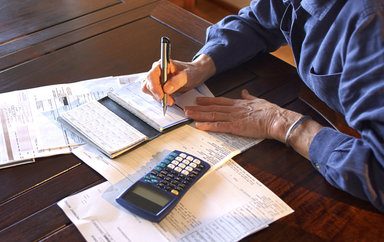 What does it cost to get a reverse mortgage or HECM?
The good news is that you do have choices when it comes to paying these fees. You can of course pay them out of pocket. For most HECM borrowers, this is probably the least likely scenario. Instead, most use some of the proceeds to pay these costs; in turn, this trims the homeowner's borrowing capability a bit.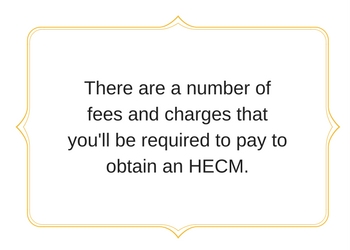 There are a number of fees and charges that you'll be required to pay to obtain an HECM. These include any up-front mortgage insurance premium (MIP), plus provisions to pay on-going MIP costs. There may also be third-party costs -- for credit reports, appraisers, inspectors and more -- that are common when you obtain any new mortgage loan on your home.
The lender charges an origination fee, and there are interest charges and servicing fees that accumulate or are paid as the loan progresses. Your lender will discuss with you which fees and charges are mandatory, but here's a working break-out of cost considerations:
Mortgage Insurance Premium(s)
For HECMs, you will incur a cost for FHA mortgage insurance. The mortgage insurance guarantees that you receive expected loan advances. You can finance the mortgage insurance premium (MIP) as part of your loan.
Your initial Mortgage Insurance Premium is based upon two factors: your loan's Maximum Claim Amount (the lesser of the appraised value of your home or the FHA loan limit for the area) and how much of your HECM you'll be using in the first year after the loan closes.
For HECMs made until October 1, 2017
You will be charged an initial mortgage insurance premium (MIP) at closing. The initial MIP should be 0.5 percent if you take less than 60 percent of the Principal Limit in the first disbursement; however, this one-time upfront charge rises to 2.5 percent if the first draw is more than 60 percent of the available amount.
If you take less than the 60 percent maximum allowed at the time the loan closes, but upcoming expenses will push the amount over 60 percent in the first 12 months of the loan, you will be required to pay the 2.5 percent upfront fee instead of the 0.5 percent fee. The lender will also track any draws against a line of credit in the first 12 months; if they should exceed the 60 percent mark, you'll be charged the additional fee.
In either case, after the initial charge, you will be charged an annual MIP that equals 1.25 percent of the outstanding mortgage balance.
For loans made after October 1, 2017
You will be charged an initial mortgage insurance premium (MIP) at closing. The amount that applies to all borrowers and in all situations is 2 percent of the maximum claim amount (MCA).
In all situations and for all borrowers, after the initial charge, you will be charged an annual MIP that equals 0.5 percent of the outstanding mortgage balance.
For example, if your MCA is $100,000 your up-front MIP will be $2,000; if you use $10,000 in the first year, your annual MIP for the first year would be $50.
For borrowers who use funds in a line-of-credit over a stretched-out period of time (rather than all at once) this lower annual cost may mean longer and greater borrowing power over time.
Your outstanding loan balance will increase by the amount of this annual fee. The insurance purchased by this fee protects the borrower in cases where the lender is not able to make a payment to you; conversely, it also protects the lender against loss if the value of the home upon selling is not enough to cover the loan balance.
Third Party Charges
Closing costs from third parties can include an appraisal, title search and insurance, surveys, inspections, recording fees, mortgage taxes, credit checks and other fees. These should be similar to those found on a traditional first mortgage. If your current mortgage is only a few years old, check your HUD-1 or Closing Disclosure documents to get a good sense of these costs.
Origination Fee
You will pay an origination fee to compensate the lender for processing your HECM loan. A lender is allowed to charge the greater of $2,500 or 2 percent of the first $200,000 of your home's value plus 1 percent of the amount over $200,000. However, total HECM origination fees are capped at $6,000.
Servicing Fee
Your HECM lender or another firm will provide "servicing" throughout the life of the HECM. Servicing includes sending account statements, disbursing loan proceeds and making certain that you keep up with HECM loan requirements, such as paying real estate taxes and hazard insurance premiums.
Lenders are allowed to charge a monthly servicing fee of no more than $30 for fixed-rate HECMs or those with an annual interest rate adjustment. If the loan allows for a monthly interest rate change, as many lines of credit do, the lender can charge up to $35 per month to manage the loan.
A portion of your available funds are reserved to pay this servicing fee. However, your actual loan balance won't increase all at once at the outset of the HECM; rather, this servicing fee is added to your loan balance as each month passes. In some cases, a lender might instead choose to incorporate the servicing fee in the mortgage interest rate.
Mandatory costs
These costs and others are identified by HUD as "Mandatory Obligations" you are required to pay in order to obtain an HECM. These Mandatory Obligations include:
Any existing liens on the property (the HECM can be the only obligation);
Initial Mortgage Insurance Premium;
Loan origination fee;
HECM counseling fee
Lender add-on fees
These can be reasonable and customary amounts, but not more than the amount actually paid by the lender for any of the following items:
Recording fees and recording taxes, or other charges incident to the recordation of the insured mortgage;
Credit report;
Survey, if required by the lender or the homeowner;
Title examination;
Lender's title insurance;
Fees paid to an appraiser for the initial appraisal of the property
Delinquent Federal debt;
Amounts required to discharge any existing liens on the property;
Customary fees and charges for warranties, inspections, surveys, engineer certifications;
Repair administration fee, if any;
Funds to pay contractors who performed repairs as a condition of closing, in accordance with standard FHA requirements for repairs required by appraiser, if any; and
Other charges as authorized by HUD's Secretary.
As with a first mortgage, these can be paid out-of-pocket. Remember, paying these obligations though the proceeds of your HECM will reduce the amount of money you have available to use.
Next: Alternatives to HECMs or reverse mortgages
Previous: How reverse mortgages work
Print page