Since a mortgage preapproval is a conditional agreement of how much mortgage you can afford, your mortgage preapproval is only good as long as the terms described in the preapproval letter do not change. For example, your preapproval letter will state that you qualify for a given loan amount at a given interest rate; if mortgage rates should rise, you will qualify for less, and should mortgage rates fall, you can likely qualify for more.
But since mortgage interest rates change daily, even hourly, lenders often make a preapproval letter valid for a given period of time, although sometimes this can be for as long up to 90 days.
"In my experience," says Keith Gumbinger, vice president of HSH.com, "preapproval letters are usually valid between 45 and 60 days."
If the conditional commitment period has expired, but you haven't found a home you want to buy, you'll want to get an updated preapproval letter from the lender before you continue your home search. Depending on the lender's policies, this may or may not require going back though the process again to produce updated figures, but it might if your credit score or debt situation has changed, or if mortgage rates have moved a lot.
If your financial situation has changed, you'll likely need to produce updated documentation for the lender, such as bank statements, pay stubs and more. As well, your lender may pull new credit reports or re-check your credit score before issuing an updated preapproval letter.
When should I get preapproved?
Peter Boyle, a senior loan originator at Summit Mortgage Corporation in Plymouth, Minnesota, recommends discussing financing with a mortgage lender about four months before you start actively looking for a home.
"If you apply for a home loan early you have an opportunity to work on things that need to be changed or shored up without a gun to your head," says Boyle.
Preapproval differs from prequalification. Preapproval sees you go though the more formal process of actually placing a mortgage application with a lender. On the other hand, prequalification is often performed by real estate agents in a "back-of-the envelope" calculation to provide you a sense of the amount of mortgage for which you might qualify. Combined with your down payment, this mortgage prequalification figure helps give you a price range for homes you might be able to buy.
Getting a preapproval early on in the homebuying process allows you to be able to move quickly to make an on offer on a property in which you have an interest. It also shows the home seller that you are a serious buyer making a bona fide offer.
Once your mortgage preapproval is in place, you'll want to take care not to change your financial situation. This means no large purchases that might affect your credit score, and no large deposits or withdrawals from your savings or investment accounts or changes to your income. Of course, if you have positive changes that improve your homebuying power (a large deposit is a gift for a down payment or closing costs, for example,) you'll want to let your lender know, since any changes may affect the amount of mortgage amount you can qualify for.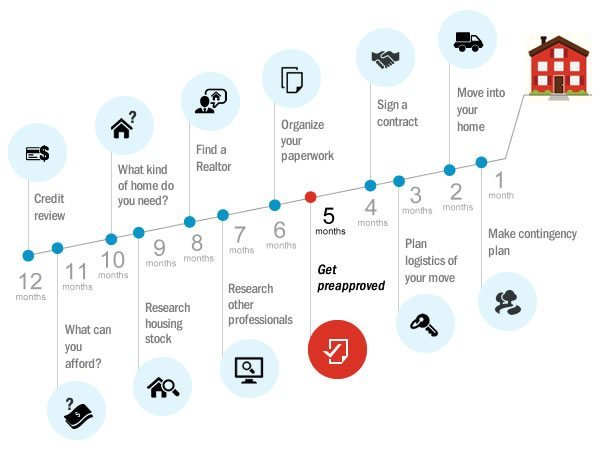 Can I lock in my preapproved mortgage rate?
In some cases, you can lock in your preapproved mortgage rate. Some (but not all) lenders offer what are generally called "Lock and Shop" approval programs, where you obtain a preapproval and lock in the interest rate and then go house hunting. In addition to the typical preapproval process, the lender will generally require a 1 percent deposit to lock the interest rate, which is a typical fee to lock in a rate. This rate lock will usually be good only as long as the conditional commitment period. If you have a house in mind and think you have a good shot at actually buying it, you might consider locking in the rate to remove the uncertainty of how a change in rates might alter your ability to complete the transaction.
If you don't have a property lined up but want to lock the rate anyway, you need to ask the lender what will happen to the deposit if the conditional commitment period ends. Does it remain a deposit, one you can apply toward a new or updated mortgage preapproval, and ultimately available to use toward closing costs once a loan is in process, or does it become an actual, non-refundable fee (one the lender keeps) once the conditional commitment period comes to a close?
In short, you'll want to be certain what the terms and conditions are of both the preapproval and rate lock agreement before you sign on for them.
Related Calculator: How much house can I afford?
(Image: QuinStreet)
Print page