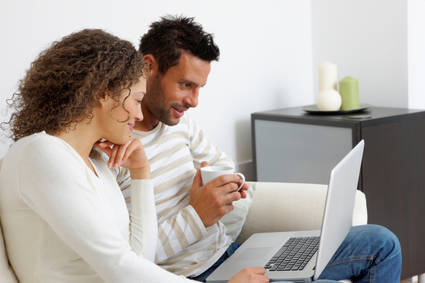 When David Weliver and his wife bought a house in 2010, they were thrilled to join the ranks of first-time homeowners.
But things didn't go exactly as they envisioned.
"We were both 29 years old and we were thinking we'd live in the house for five years," Weliver recalls. "But we only stayed there for two-and-a-half years because once we had our second child, the house started to feel a little small."
So in 2012, Weliver and his spouse purchased their second home. Located near Portland, Maine, the spacious 2,900-square-foot, 4-bedroom, 2-bath colonial is perfect for the Welivers' growing family.
Like many Millennials, Weliver is precisely the type of homebuyer many lenders are courting these days.
Data from the National Association of Realtors show that Millennials comprised 34 percent of the U.S. housing market in 2016, down from 35 percent in 2015, but still the largest share of homebuyers as they have been since 2013.
And according to a May 2017 survey from Apartment List, 80 percent of Millennials hope to buy a home.
Weliver has talked to plenty of other Millennials with homeownership aspirations.
As the founder of MoneyUnder30.com, a personal finance site dedicated to young adults, Weliver says that amassing adequate savings and demonstrating a solid credit track record are the biggest challenges to his peers entering the home-buying market.
"Some people want to buy a home in the next year or two," he says. But "a lot of them are very credit averse, and don't have a credit history sufficient to buy a home."
"They're conservative with money because of the recession," Weliver says, adding that ideally, the typical Millennial "would love to put 20 percent down on a 15-year mortgage, carry as little debt as possible, and pay it off as quickly as possible."
But in reality, few are in a position to make that happen.
Fortunately, there are plenty of mortgage options for Millennials.
FHA Loans
For those wanting to get into a home with a minimal down payment, an FHA Loan is one of the most practical choices. These government-insured loans require just a 3.5 percent down payment - and all of that money can be gifted from a relative or the home seller.
"If you're buying a $300,000 house, can you save enough to come up with about a $10,000 down payment? I bet you can, especially if you just paid off your student loans," says Kyle Winkfield, president of The Winkfield group, a full-service financial planning firm in Rockville, Maryland.
Equally noteworthy: to snag a 3.5 percent down FHA loan, borrowers need only have a credit score of 580 or higher.
One big downside of FHA loans, though, is that whenever you put down less than 20 percent on a home, you're required to buy mortgage insurance, which adds to your monthly payment. For FHA loans, this charge is known as a Mortgage Insurance Premium or MIP. With conventional loans, it's called Private Mortgage Insurance, or PMI.
According to a 2016 Mortgage Insurance Report from WalletHub, FHA insurance costs have fallen by 29 percent since 2014, while PMI costs declined by 47 percent for borrowers with credit scores of 760 and above. However, PMI costs have increased by 28 percent since 2014 for borrowers with credit scores of 660 and below.
Conventional mortgages
Some industry observers say that conventional loans are an even better mortgage option than FHA loans.
Thanks to mortgage guidelines from Fannie Mae and Freddie Mac that changed in December 2014, conventional mortgages are now available with only a 3 percent down payment, and the mortgage insurance required is much cheaper than that for FHA loans as long as you have good credit.
According to WalletHub, consumers with down payments below 20 percent can save up to $8,000 in just five years by choosing a conventional loan with private mortgage insurance instead of an FHA loan. The higher their credit score and down payment, the more potential savings. However, borrowers with below-average credit scores and low down payments can save up to $11,000 with an FHA loan compared to a loan with PMI.
With a conventional loan, the private mortgage insurance can also go away -- unlike FHA mortgage insurance premiums, which continue to be assessed over the life of a loan, even after you have 20 percent equity in a home.
Piggyback loans
Millennials can sidestep mortgage insurance altogether by choosing a lender that offers "piggyback" loans.
After falling out of favor during the housing meltdown, piggyback mortgages - often dubbed "80/10/10" loans - are now on the rebound. You make a 10 percent down payment, you get a first loan to cover 80 percent of the home's value, as well as a second mortgage which covers the other 10 percent.
The second loan is basically a home equity loan. It's called a "piggyback" loan because you close on that loan at the exact time when you make the purchase.
Piggyback loans do have a few drawbacks. They're more expensive upfront since you need funds to close on two loans, instead of one. Additionally, the second loan typically has a variable rate, so your payment can increase if mortgage rates rise.
Finally, lenders offering piggyback loans usually reserve these mortgages for customers with good-to-excellent credit, particularly those who live in high-cost areas and require jumbo loans.
But many experts suggest treading carefully before taking on a huge mortgage.
"Working toward a meaningful down payment is important," says Tim Steffen, director of Financial Planning for Baird's Private Wealth Management group in Milwaukee, Wisconsin. "Loans offering a low teaser rate, an adjustable rate or a lower down payment can be problematic, as they can fool you into buying more home than you can actually afford."
Lender-branded specialty mortgages
A growing number of lenders are marketing their own specialty mortgages with strong appeal to Millennials. Several lenders are offering loans with a 3 percent down payment requirement to offset the burden of saving for a down payment.
For instance, Chase's DreaMaker mortgage is directed at low-to-moderate income buyers, as well as those with less-than-perfect credit.
For qualified borrowers with a 620 or higher credit score, the loans tout an array of attractive benefits. First there's a low 5 percent down payment requirement, 2 percent of which can be a gift from someone else. The DreaMaker loan also provides flexible funding options for closing costs, plus reduced mortgage insurance requirements.
Banks, credit unions and mortgage brokers all have their own proprietary mortgage programs. So be sure to inquire about special loan products with your chosen lender.
First-time homebuyer programs
Newcomers to the real estate market should also check out the vast array of first-time homebuyer assistance programs available in every state.
These state programs provide benefits such as free grants for down payments, help with closing costs, forgivable loans, and loans with below-market mortgage rates.
To qualify for these perks, you must be a first-time homebuyer, or someone who hasn't owned a home in the past three years. You also need to attend a homebuyer education course.
Whatever mortgage option you choose, Winkfield urges Millennials not to forget about all the ongoing costs of homeownership, like utilities, maintenance, and repairs.
"The devil is in the details," he says. "That's why a lot of young people say 'I didn't realize it was so expensive to own a house.'"
Now that you're ready to jump into the housing market, it's time to get a sense of current mortgage rates to determine just how much your mortgage payment will be. If you have a question for us, be sure to fill out the "Ask the Expert" form on HSH.com.
Also on HSH.com:
Homebuyer education courses: A secret weapon for first-time buyers
Print page