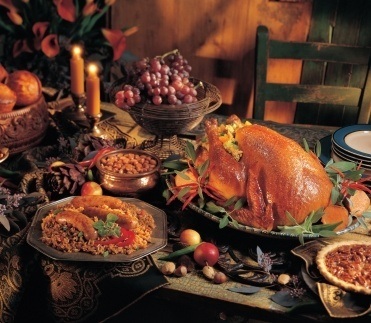 Although housing market conditions remain a challenge, there are still a number of things that homebuyers can be thankful for this year. Here are five of them to consider:
Housing market conditions turning a bit
After years of few homes to buy and ever-spiraling prices, the so-called "seller's market" may be starting to change. Year-over-year home price gains have cooled from the 6% range in 2015 and 2016, to the lower 5s this time last year to the lower 4% range in late 2018. Cooling home sales means that inventories of available homes are starting to climb, too; as recently as January, there was an ultra-tight 3.4 months of available supply at the then-current rate of sale; by September, this had risen to 4.4 months.
It is true that mortgage rates aren't quite as favorable this year than last as they are a full percentage point higher. However, wages have started to rise a little faster in recent months, and rising incomes help to offset at least some of those rate increases.
It's too soon to say and evidence so far is scant, but there are some anecdotal reports that homes are being sold below asking prices in some formerly-hot markets, improving home affordability.
The durable economic expansion
Although not as strong as previous recoveries and expansions, the present economic cycle has now run an astounding 113 months (and counting) of continuous growth. While the economic disruption of the Great Recession hasn't completely been washed away, the now second-longest period of U.S. growth in history has run to a point where the official unemployment rate is near a 50-year low and wages are starting to rise to a level above inflation.
That the expansion has been durable is helping to promote the conditions that can lead to homebuying: regular, steady income streams, rising savings, debt reduction over time. Short swings from growth to recession can interrupt all these things, making it harder to get over the hurdles to homeownership.
After a long run at rock-bottom levels, rising mortgage rates are pinching borrowers a bit but providing a boon to savers, who saw their holdings yield nearly nothing for many years. However, any aggregate "asset rebalancing" from stocks to bonds will likely mean a rougher time of it for equity markets, but the appetite by investors for higher yield bonds should help to keep long-term interest rates lower than they might otherwise be, even as shorter-term rates (such as those for deposit accounts, CDs and such) continue to drift higher, enhancing savings.
HSH.com's Two-Month Forecast for Mortgage Rates
Every nine weeks or so, HSH.com provides a
Two-Month Forecast for mortgage rates
. We recap what occurred during the previous period, what economic and social events caused rates to move, as well as provide a discussion of expected influences for the upcoming nine weeks and an outlook for where rates we think will wander in the months ahead.
The Fed's steady hand
Regular lifts in short-term interest rates aside, the glacial pace of undoing years of Quantitative Easing purchases of bonds and mortgage backed securities is no doubt adding to the firmness for interest rates, but perhaps only just a little. Outside of the Fed, a bump in interest rates in the last few months has been engineered by investors themselves, as they have become a bit unnerved that the Fed is no longer providing specific "forward guidance" about what it expects to do with interest rates. That said, the central bank has clearly signaled their intentions to steadily lift short-term rates back to "normal" in the year or more ahead and will likely do so in a gradual fashion.
While it is tempting to blame higher mortgage rates on the Fed, it's also wrong. The Fed is responding to firming inflation, tightening labor markets, rising wages and an enhanced level of growth bought on by changes in tax laws and new government spending earlier this year. The slew of new Treasury debt being issued to cover revenue shortfalls and new government outlays has had as much to do with the recent flare in interest rates as has Fed policy.
Slightly looser mortgage standards
No homebuyer in recent years would call the process of getting a mortgage anything but rigorous. That's not likely to change much, and certainly we're in no danger of seeing the kind of lending conditions that contributed to last decade's boom and bust. However, with refinancing at a virtual standstill and homebuying slow, lenders are tweaking underwriting criteria at the margins, meaning it's somewhat more likely that more marginal borrowers will be able to get a mortgage.
According to the most recent Survey Loan Officer Opinion Survey from the Federal Reserve, better than 11% of the banks that participate in the survey reported somewhat easier standards for borrowers looking for mortgages backed by Fannie Mae or Freddie Mac. As well, some 12 percent also said they had lowered barriers for government-backed (FHA, VA, USDA) mortgages. This comes on top of 15% (GSE-backed) and 7% (gov't-backed loans) who reported easing in the second quarter... and well above the 5% and 2% who reported easing in the first quarter.
These changes are likely small, and are probably incremental. For example, it may be that lenders are lowering minimum credit score requirements, are accepting borrowers with higher debt-to-income ratios or apply to loans made to certain self-employed borrowers, such as doctors or lawyers. Whatever the case, any incremental changes along the fringes of underwriting are good news for potential homebuyers who are pretty well qualified but may have otherwise had trouble finding financing (or would pay a premium for it when they did).
Positive housing-related tax changes (for many)
Unlike yesterday's homebuyers, those coming into the market in 2018 and beyond (well, at least until 2025, anyway) may not have to jump though hoops to get savings from housing-related deductions at tax time. More generous standard deductions may mean greater tax savings and simpler filing of returns come April 15.
We're not tax experts, and of course, your experience will certainly vary, but here's a back-of-the-matchbook example.
For some homeowners, it has been relatively easy to get over old standard deduction of $12,000 (married couple filing jointly). To maximize tax savings, homeowners needed to itemize on Schedule A what they paid in mortgage interest, property taxes, state income taxes, and (often, but not always) what they paid in mortgage insurance premiums. Amounts paid above the standard deduction could then be claimed, resulting in some proportional tax savings.
Property taxes vary widely, of course, but are now capped as a portion of a $10,000 limit on State and Local Tax (SALT) deductions. In looking at an example, a homeowner who makes the median national income of $66,871 would qualify for a mortgage of about $238,000; in the first year of the mortgage, this would see interest paid of $10,631. To this amount, property taxes might amount to perhaps $3,000. State income taxes vary widely, too, but a working average figure might be around 7% of income, or $4,681. Taken all together, this amounts to $18,312, well above the old standard deduction, so it made sense to itemize.
The new standard deduction for a married couple filing jointly is $24,000, about 33% more than the amount that the itemization would bring, so it is very possible that not only will there be no need to file a Schedule A come April 15, but that the standard deduction may be considerably more than the itemized deduction would be.
That said, and while a wide swath of homeowners will likely benefit from the changes, high earning homeowners living in states with very high income and property tax rates may be pinched by these changes. As well, with the amount of mortgage interest limited subject to deduction to that paid on a $750,000 loan amount, some high-end homebuyers will be pinched a second time as well. Of course, homeowners with itemizable deductions above the new standard deduction will continue to itemize but may face a lesser deduction than they have had in years past.
Print page