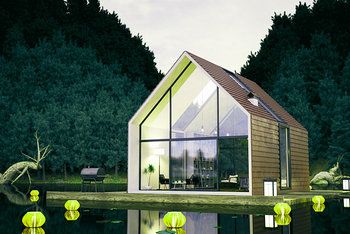 Want to make the neighbors green with envy? And possibly earn more green when it's time to sell? Buy property with these these top green features. Or add them to your home before you list it for sale.
Find loans for green homes

Recent research by the National Association of Realtors (NAR) suggests that eco-friendly homes and energy efficient products and materials are higher in demand today. In fact:
59% of Realtors who responded to an NAR survey report that homeowners were very or somewhat interested in sustainability
70% residential and commercial real estate agents and brokers revealed that promoting energy efficiency in home listings is either very or somewhat valuable
Most polled (83%) said that solar panels were available in their markets; 36% reported that solar panels upped the perceived property value
Utility/operation costs (81%), efficient use of lighting (67%) and indoor air quality (64%) were the top-ranked building features that homeowners indicated are somewhat or very important to their agents or brokers
Meanwhile, a separate NAR survey of home buyers reveals that they prefer green over non-green amenities when provided the choice. Among the report's findings, 68% of buyers want an environmentally friendly home; 46% would pay an extra $1,000 to $9,999 on a home with green features that saves $1,000 annually on utilities; and 37% would pay $10,000 or more.
Related: Is the PACE Program for Energy Improvements Right for You?
Green favorites
Curious what eco-friendly amenities are highest in demand? Data from the National Association of Home Builders found that the most wanted green attributes in homes today are:
Energy Star-rated windows (89% of consumers rank it as either "essential" or "desirable")
Energy Star-rated appliances (86%)
Energy Star rating for the entire home (81%)
Efficient lighting (vs. traditional light bulbs) (77%)
Triple-pane insulated glass windows (77%)
Insulation higher than required by code (73%)
Water-conserving toilets (63%)
Low-e insulating glass windows (62%)
Tankless water heaters (61%)
Solar water heating/electric system (59%)
Related: 4 Easy Energy Efficient Improvements
Why green is a hot color
These results aren't surprising to Christina Mathieson, a USGBC LEED GA professional and real estate agent in Woodbury, New York.
"Buyers are increasingly interested in sustainability and high-performing homes with green features for several reasons. One is the 'green' of the earth -- people are paying attention to what's better for future generations and want to do what they can," she says. "Second, the 'green' of the dollar; millennials and younger buyers know that sustainable living works, and they see no reason to waste money. And third, sustainable living makes for a healthier home for its occupants, by virtue of clean energy and better indoor air quality."
Richard Wolff, founder eRealty Advisors, a real estate brokerage in White Plains, New York, agrees.
"One of the first things our buyers look for when touring a home is Energy Star appliances. Buyers realize that these appliances cut down on energy bills and save homeowners money over time," notes Wolff. "Kitchen appliances, washers, dryers, and HVAC equipment that are Energy Star-rated are among the most popular ways that today's homeowners are going green and attracting buyers with green features."
With so many homes on the market to compete with, "green features can help make your property special and stand out from the pack," says John Christian Haynie, energy advisor with SuperGreen Solutions of Charleston in Charleston, South Carolina.
Financing green features when you buy or refinance a home
Inefficient houses steal money from your wallet every month and can be harder to sell than eco-friendly homes. But what if you don't have the ready cash needed now to save (or make) money later?
There are several ways to finance these improvements, including home equity loans and lines of credit. Of course, home equity loans require home equity, and most lenders let you finance up to 80% or 90% of the existing property value.
However, if you add an Energy Efficient Mortgage to your purchase or home refinance, you can add in the cost of green improvements. And the lender bases your maximum loan amount on the improved value of your property. Soyou may be able to borrow more.
Before improving, estimate how much value the improvement will add to your property when you sell, and compare that to the cost. And compare the expected monthly savings to the payment for the energy efficient mortgage or other financing option you choose.
If your monthly loan payment is less than your energy savings, and / or the green features add more home value than they cost, you'll probably want to upgrade your home's systems.
Related: Is the PACE program right for you?
Before you list that home…
While it's smart to install green features in homes well before you plan to sell (so that you can capitalize on the energy savings, improved indoor air quality and other benefits), it's never too late to incorporate desirable upgrades in a home soon to be listed, the experts agree.
"But you need to make sure you're getting a good deal and that your upgrades are going to provide a good return on investment," Haynie says. "So you should look at improvements and additions that will reduce the overall utility consumption for your house. You should also consult with your agent on green features that are popular among buyers in your market. Additionally, if any green product or system yields tax credits, you want to make sure you'll receive all of those tax credits before you sell your home."
Likewise, it's important to choose an agent who is familiar with green features and who knows which ones to suggest paying for and how to market these amenities to sellers.
"Your real estate professional must know how to identify, value and market those features properly," recommends Mathieson.
You can also help your cause by saving every bit of documentation showing every green upgrade, modification, retrofit, and installation you've done throughout the time you've owned your home -- including Energy Star labels and BPI certifications.
"And if you buy or lease a solar panel system, you should, as well, safeguard the contract or agreement containing all the system specifications and ensure that the agreement and warranty are transferable to the next owner," Mathieson adds.
Print page