Homeownership can be one of the most fulfilling (and frustrating) endeavors in a person's life.
There are the joys of painting a room or growing vegetables in a garden. But owning a home is not all tomatoes and zucchini. There are a lot of frustrations too.
HSH.com conducted a survey of 1,001 Americans about their biggest annoyances regarding their homes. We gave respondents a list of possible issues and asked them to choose the top five annoyances and rank them from 1 to 5.
The top home-related annoyances were "lack of storage" (67 percent of respondents put it as one of their five top annoyances), which barely edged out "too much maintenance" (66 percent) with "too small" coming in third (52 percent).
Paul G. Wyman, president of The Wyman Group, a real estate company in Kokomo, Indiana, says lack of storage has become a bigger issue over the past decade not because of larger families, but instead people want more room for their stuff.
"Storage is absolutely something people ask us about nowadays. Some older homes lack the storage needed and a lot of newer homes have taken that into consideration," says Wyman.
People are finding creative solutions to gain storage space. Homeowners are putting closets under stairwells, building larger pantries and using more attic and basement space for storage, he says.
Wyman gives the example of a home he recently visited in which the homeowner finished three-quarters of the basement and left the other one-quarter unfinished for storage. In years past, the homeowner would have likely finished the whole basement for more living area.
"Some people are intentionally making storage spaces in their homes now," says Wyman.
Maintenance bigger concern for homeowners
Not surprisingly, our survey found that "maintenance" is a bigger program for owners while renters chose" too small." Maintenance becomes more of a problem with longevity, according to our survey.
"This seems to be more of a concern for the aging Baby Boomer generation. They don't want to mow the lawn anymore or keep up with home improvement projects," says Kimberly O'Neil Mara, CPA, Realtor at Century 21 Spindler & O'Neil Associates in North Reading, Massachusetts. "Often these empty nesters are selling their big homes and downsizing to more manageable homes or even condos where they can just lock the door and head south for the winter any time they want to do so."
Lack of storage biggest issue for most regions
When breaking it out by region, all regions pointed to lack of storage as the biggest home annoyance except the Northeast, which picked too much maintenance.
The brutal winters, especially the 2014-2015 winter that saw record snowfalls in Northeast cities, coupled with the hot and humid summers make home maintenance a bigger problem there than in regions that don't see such weather extremes. Plus, older housing stock likely plays a role in the maintenance headache of the Northeast.
Last winter, parts of the Northeast dealt with ice dams on roofs because of the heavy snowfall in a short period of time. The ice dams caused external and internal damage to homes.
Wyman says it's important to create a continuous maintenance program. Staying on top of regular home maintenance allows the home to maintain its value and the homeowners won't be hit for a larger repair bill later.
Know what you really want before you buy
Repeat homebuyers may have more financial flexibility and know more about their own needs/wants than first-time homebuyers. A key to happy homeownership is knowing what bothers you and what you can handle.
"The real key is for the potential homebuyer to clearly define and understand what is really important to them prior to the purchase," says John Mijac, sales manager at Long Realty Company in Tucson, Arizona. "Part of that may be discovering that what they thought was important is not material at all. It is easy for a potential homeowner, just going into the process, to believe that a pool or a fancy kitchen is the most important thing, when in reality it is a quiet neighborhood or perhaps room and storage in the house."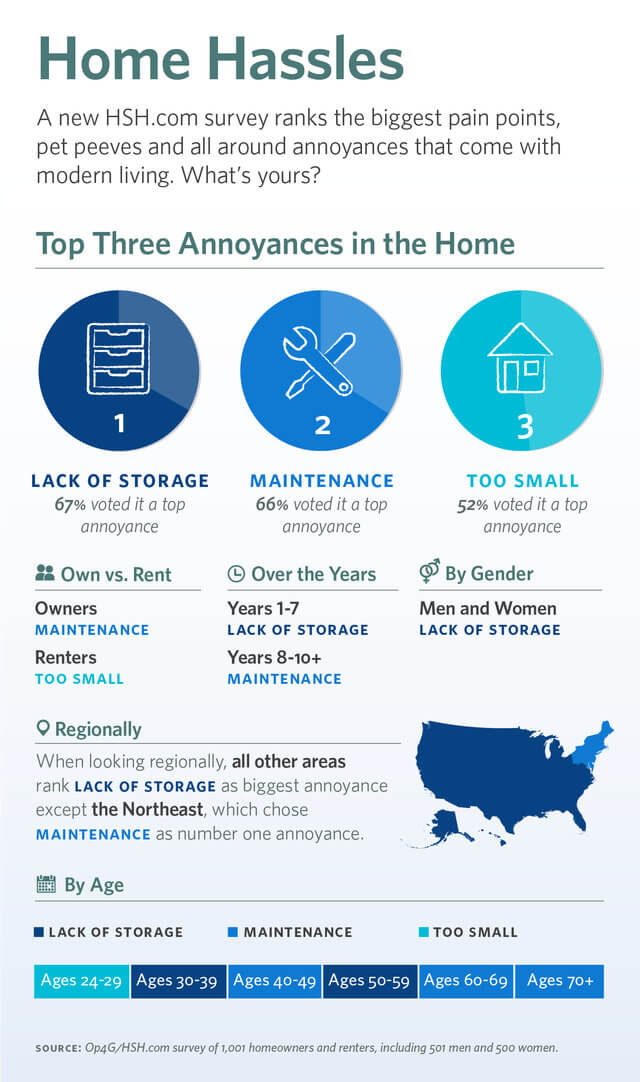 Find out what our respondents said about annoyances in the areas of neighbors and neighborhoods:
Noisy neighbors causing headaches
Busy streets, speeders seen as major quality of life issue
For more homeowner annoyances, read about one woman's battle against critters living in her yard.
Print page