International homebuyers, whose home country is not the U.S., bought over than $92 billion of U.S. properties in the 12 months from April 2013 to March 2014, according to the National Association of Realtors, a Chicago-based trade group.
In the comparable prior 12-month period, that figure was $68 billion, the NAR said.
Which nations are buying the most?
Five nations accounted for approximately 54 percent of all reported international transactions in the last year:
Canada
China
Mexico
India
The U.K.
Canada commanded the largest share in terms of transaction volume at 19 percent, while China, defined as The People's Republic of China, Hong Kong and Taiwan, accounted for the biggest dollar volume at $22 billion or 16 percent. Mexico accounted for 9 percent, while India and the U.K. each accounted for 5 percent.
Where are they buying?
International buyers and recent immigrants buy homes throughout the U.S., but five states accounted for 55 percent of the total reported purchases by foreigner buyers:
Florida: 23 percent
California: 14 percent
Texas: 12 percent
Arizona: 6 percent
Washington: 4 percent
According to Realtor.com, a property search website affiliated with the NAR., the top five cities searched online by international buyers in 2014 were:
Los Angeles
Miami
Las Vegas
Orlando, Fla.
New York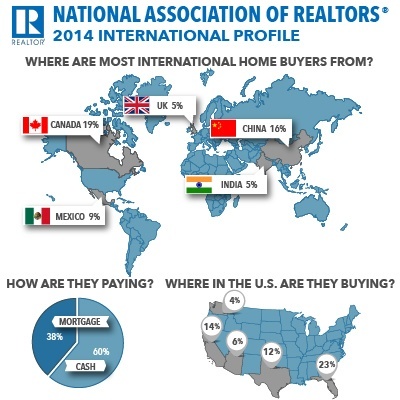 ("Copyright NATIONAL ASSOCIATION OF REALTORS®. Reprinted with permission.")
International buyers considered proximity to their home country, presence of friends and family, job and educational opportunities and climate when they purchase U.S. real estate, the NAR said.
Almost half picked a suburban area. About one-quarter chose a central city or urban area and about 13 percent purchased in a resort area.
It's not unusual to find concentrations of people grouped by nationality within pockets inside individual states. That suggests "word-of-mouth and shared experiences influence purchases," the NAR said.
Why foreigners are buying U.S. real estate
"Foreign buyers are being enticed to U.S. real estate because of what they recognize as attractive prices, economic stability, and an incredible opportunity for investment in their future," said Steve Brown, NAR president and co-owner of Irongate Realtors in Dayton, Ohio.
"Favorable exchange rates, affordable home prices and rising affluence abroad continue to drive international buyers to the U.S. to purchase properties and make real estate investments," said the NAR.
International buyers are more likely to pay cash (approximately 60 percent) in part because they often don't have a U.S.-based credit history or Social Security number and their financial profiles differ from those of domestic buyers. Even though mortgage rates are still very low, paying cash gives foreign buyers an advantage in any market where other purchasers are forced to rely on financing.
In terms of dollar volume, purchases made by foreign buyers have risen 35 percent in the last year alone. While international buyers still only account for 7 percent of all existing sales, this is a growing audience, once which is paying cash and purchasing higher priced homes than their domestic counterparts.
Print page