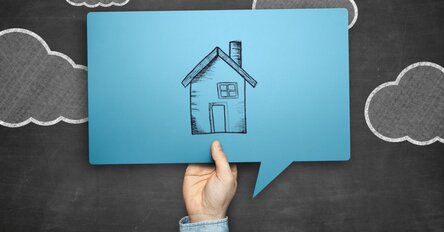 First-time homebuyers are crucial to healthy housing markets because they enable existing homeowners to sell their current home and purchase another one. That means if you're a first-time buyer thinking about buying a home, you're important -- someone who owns a home can't sell it without you.
With that in mind, here are 10 tips to help you achieve your goal of homeownership:
No. 1: Get preapproved
Sellers typically won't accept your offer unless it's all cash or you have a lender's letter saying you can get the financing you need to close the deal. Consequently, being preapproved for a loan is crucial, says Matt Phipps, a Realtor at Phipps Real Estate in East Greenwich, Rhode Island.
"You don't want to lose the house of your dreams because you weren't preapproved for the mortgage," Phipps says.
Related: HSH.com's guide: Everything you need to know about mortgage preapproval
No. 2: Target your territory
Every town has pros and cons, but casting too wide a net can make you crazy, Phipps says. Decide where you want to live and focus on those areas.
"Do some drive-bys and make sure you like the setting of the house before seeing the property," he suggests.
No. 3: Prioritize your preferences
Make a list of what's important to you and your family, whether it is location, condition, price or certain amenities, and be prepared to make sacrifices.
"You're not going to find the absolutely most perfect house," Phipps say. "If you get eight of 10 things you've prioritized, you've done very well."
No. 4: Know your budget
Rather than guessing how much you can borrow or how much your closing costs will be, discuss specific numbers with a reputable mortgage lender or broker.
"Meet with the lender and get an idea of exactly how much you're preapproved for," Phipps advises. "You want to have that conversation so you know where you stand."
Related: Essential Steps to Successful Home Buying
No. 5: Be realistic
Shopping for a house that's more costly than your budget is likely to mean disappointment since most sellers receive multiple offers equal to or higher than their asking price, says Ken Pozek, a Realtor at Keller Williams Realty in Novi, Michigan. If you're preapproved for, say, $270,000, don't ask to see homes priced higher than that.
No. 6: Act fast
Homes are selling quickly in many areas due to limited inventory. That means you should check out any newly for-sale properties that interest you as soon as possible. If a house is listed Monday, don't wait until Saturday to see it, Pozek says. It could be sold by then.
No. 7: Don't play price games
Some first-time homebuyers try to sweeten their offer with a higher price, then recoup the money in seller-paid closing costs, repair credits or other concessions. Pozek says that's not smart because if the appraisal doesn't support that higher price, you won't be able to get your financing.
"It's hard to say, 'We'll give them more than asking, then ask for concessions,'" he explains.
No. 8: Pay closing costs
Asking the seller to pay your closing costs will weaken your offer and lessen your chances of success, says Jan Baron, a Realtor at Realty One Group in Temecula, California.
"All the sellers care about is their net. If you ask for 3 percent closing, that's 3 percent out of the seller's pocket," she says.
Related: Calculator: What's the best way to pay loan closing costs?
No. 9: Accept defects
The same logic applies to asking the seller to pay for repairs, unless you're applying for an FHA loan or VA loan.
"If it's an FHA or VA loan, you pretty much don't have a choice about asking for repairs if something is a safety concern, or if there are missing appliances, they have to have those replaced," says Baron. "But don't ask for the moon."
No. 10: Get educated
Being well-informed about the local housing market -- including knowing the prices of recently sold homes, taxes, the school district, etc. -- can give you an advantage over experienced buyers who are out of touch with the trends.
"First-time buyers are very savvy and sophisticated about what's going on," Baron says, "whereas someone who has been around a long time -- they think they know it all."
The bottom line is that purchasing a house today is "challenging," to use Pozek's word, for first-timers. But don't be discouraged. Follow these tips and you'll have a greater chance of securing the home you want.
This article was revised by Keith Gumbinger.
Print page