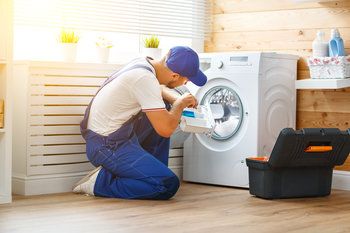 Updated by Craig Berry
Common services associated with home buying include an appraisal, home and pest inspection. Depending on your location, some of these services are required by your mortgage lender, whereas some are optional. The majority of these services are meant to protect both you and your lender.
Another option for homeowners, not required by your lender, is a home warranty.
Are home warranties worth it?
If the home being purchased has older appliances, or if the age of the appliances or home systems you're inheriting is unknown, a home warranty can be an inexpensive insurance policy of sorts.
Anyone who's had to repair or replace appliances knows that these costs can add up quickly. Home warranties, on the other hand, are fairly low cost.
According to According to Keri Smith, Northeast Atlanta Area Manager of First American Home Warranty in Atlanta, "Warranties typically range from $350 to over $600 depending on the type of property."
Even if you pay more than the average annual cost, a home warranty could be a worthwhile investment if it leads to a peaceful night's sleep.
What does a home warranty cover when buying a house?
Smith says, "A generic definition of a home warranty is that it is service contract for the systems and appliances located within the main perimeter of the home that fail due to normal wear and tear."
Smith goes on to say to that each warranty company has different coverages, costs and fine print. Home warranty companies typically place limits on what they'll cover under the policy.
Homeowners can generally expect a home warranty to cover the following items:
Air conditioning and heating with ductwork
Electrical systems
Plumbing (including stoppages)
Clothes washers and dryers
Water heaters
Kitchen appliances, including dishwashers, ranges and ovens and refrigerators
Home warranties are not the same as home insurance. Insurance covers your home's structure and belongings in the event of a fire, storm or other damage. Home warranties, in comparison, cover repairs and replacements on systems and appliances due to normal wear and tear.
Who pays for a home warranty when selling a house?
Who pays for the home protection plan and home warranty coverage can vary, typically based on geographic location and customs for your area.
In many locations, it's not unusual for a seller to pay for the coverage, as it can be a great selling point that can help a home sell faster and at a higher price. Be sure to ask if there's an existing home warranty in place, as it's common for home warranties to be transferred to new homeowners.
Often, real estate agents give homebuyers a home warranty as a gift at closing.
Pros and cons of home warranties
A home warranty benefits homebuyers by providing reassurance that they can move into a home without worrying about paying for unwelcome surprise repairs.
Homebuyers aren't the only ones who can benefit from a home warranty. Sellers can benefit from a home warranty, as it can cover these repair elements during the listing period. Some companies may even offer free coverage to sellers during the listing period, in hopes that the homebuyer then decide to continue coverage.
There are times when a home warranty doesn't make financial sense, however. Newly-constructed homes, or one with new kitchen appliances may not need to be backed up by a warranty.
Bob Schacke, a home inspector in Chicago who gives clients 90-day warranties, says most appliances have average lifespans of 11 years. Appliances that are less than 11-years old are typically in good shape and won't require a warranty.
Schacke recommends reading a warranty's fine print, since some warranties won't cover old appliances. At that point, it's "buyer beware," cautions Schacke.
Another drawback of home warranties is that you can't select the repair company you work with. If you had a repair company you liked working with in the past, it may not be contracted within the warranty company's network.
Is a home warranty necessary?
Lorraine Labonne-Storch opted not to buy a home warranty when she bought a home in New Jersey several years ago. The home inspector told her the boiler was on its last legs, but she didn't want to pay the warranty's $500 fee.
Less than a week after closing, her boiler burst into flames and had to be replaced for $12,000. Labonne-Storch now regrets her decision to skip the coverage. As she learned, a home warranty can pay for itself in one repair service visit. And that includes the $100 deductible that many plans have for a service call.
The home warranty would have only covered up to $1,600 for repair or replacement of the boiler, but "any little bit would have been helpful," Labonne-Storch says.
Generally, the older the home, the greater the odds are that something is bound to break. For this reason, many real estate professionals say it's wise to get a home warranty.
Because many companies don't differentiate between newer and older homes in terms of warranty costs, buying a home warranty is an especially cost-effective option when buying an older home.
Print page