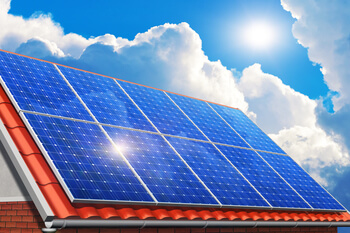 As installation costs continue to decrease, and the value of solar power increases, it's no surprise that over one million homes in the U.S. have a solar power system in place. Solar energy allows homeowners to reap the benefits that come from utilizing renewable energy.
Leased solar panels are a popular option for many homeowners. But is it difficult to get a mortgage loan when solar power is leased?
Leased solar panels: mortgage loan issue?
Buying a home with a solar energy system in place can be a good thing. However, home buyers should know a few pertinent details about the solar panels prior to purchasing a home with solar installed.
First, it's important to know whether the solar panels were purchased or leased.
Even if the solar panels were purchased by the current homeowner, they may have been acquired with a loan. As such, the seller is responsible for paying off any existing solar panel liens. Doing so means the new homeowner should receive full ownership of the panels at the time of closing.
Obtaining mortgage loans with leased solar panels can be a bit more complicated.
If the home has leased solar panels, buyers need to find out the lease agreement details, including monthly fees and the contract term.
Solar leases are typically for a 20-year term, and can be costly to buy out. Some solar panel leases have escalating payments. This could raise the homebuyer's debt ratios.
Other questions when buying a house with leased solar
In addition to learning whether solar panels are leased or purchased, it is important to ask these questions:
Which company manufactured the solar panels? Knowing the manufacturer can provide important information regarding any available warranties, as well as for how long various parts and equipment are covered.
Who installed the solar energy system? Knowing which company installed the panels is important, as many solar installers offer their own workmanship warranties. Installer warranties often cover a ten-year period.
What is the actual size of the solar energy system? This information helps determine how much electricity use the system can offset, as well as how much you can save on your energy bill.
What amounts were paid for past energy bills? A potential homebuyer may want to ask the previous owner for past electric bills to better understand the solar system's value.
Do solar panels increase home value?
Solar energy has unique financial benefits, as they should save money with regard to energy-efficiency.
Buying a home with solar panels allows homeowners to benefit from solar energy without the headache associated with getting them installed.
The solar panel industry boasts an added home value increase of $15,000--$20,000 on average, largely due to nearly immediate power bill savings.
It's important to note, however, Fannie Mae states that leased solar panels cannot be included in a home's valuation. The Federal Housing Administration (FHA) doesn't offer much guidance for evaluating leased solar panels at all.
Fortunately for sellers, even if they sold their home soon after they had solar panels installed, most studies indicate that they recoup most or all of their investment.
Can solar panels prevent me from getting a mortgage?
While homes with solar panels shouldn't generally prevent you from obtaining financing, there are a few critical details to work out prior to buying a house with leased solar.
For instance, homebuyers must agree to take over the lease, unless the seller agrees to pay off the lease upon selling the home.
Leased solar panels on the home you're purchasing means you'll need to know what steps are necessary to transfer the lease. Homebuyers should request a copy of the lease contract, read and review it prior to making an offer to purchase.
Homebuyers need to qualify with the solar panel lease company in order to assume the lease. This is generally a fairly easy process.
The buyers must inform the mortgage lender that there is a solar lease in place. It's rare, but leased solar panels sometimes impact the lender's ability to lend on the property.
Whether you're a first-time homebuyer or a move-up buyer trying to go green, buying a home with leased solar panels may be a great decision. But each homebuyer must determine what's best for their situation.
Print page