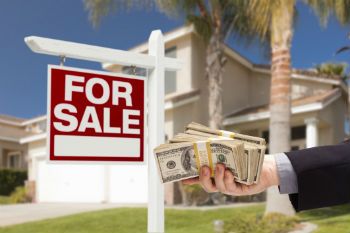 Considering paying cash for your dream home? So are more and more people.
The number of all-cash deals is currently estimated to be 20 percent of the market, according to the National Association of Realtors. These cash buyers are typically either trading down for retirement, investors or wealthy individuals.
Buying a house outright with cash
Is it better to pay cash for a house? The key to deciding whether an all-cash home purchase is for you, is to weigh the pros and cons. View your mortgage as an investment like any other with liquidity, risk and return.
The pros of an all-cash purchase are quite compelling: stronger negotiating power, no monthly payments and no mortgage-approval process.
However, certain drawbacks exist, including forgoing mortgage interest deductions, depleting savings and losing out on future -- perhaps more profitable -- investment opportunities. "Generally, it makes more sense to invest that mortgage money rather than paying cash," says Bob Williams, a financial advisor at Delta Trust Investments in Little Rock, Arkansas.
Assuming your finances are in great shape: a healthy emergency fund, college savings completed and retirement account funding on track, buying a house outright with cash might be an option.
Advantages of paying cash for a house
Stronger negotiating power. You may be able to negotiate even better deals by paying cash, says Eric Tyson, the co-author of Mortgages for Dummies. You may also have an easier time competing with investors who are plunking down cash for attractive properties.

You might find you have more leverage when selling your home. Why? Without a mortgage, you can carry the next buyer's mortgage and speed along the sale.
No monthly payments. You shouldn't underestimate the security of owning your own home. "You can sleep better at night," says Williams, "and people don't understand these psychological benefits."

Consider other more tangible benefits too, such as foregoing title insurance or private mortgage insurance.
Bypass the approval processes. The mortgage application process can be challenging and time-consuming. If your credit score is low, you can still buy a home with cash. According to the Federal Reserve, 25 percent of mortgage applicants are turned down.
Drawbacks of an all-cash home purchase

Losing the mortgage interest deduction. Even with recent limits on mortgage interest deductiblity, this is one of the few remaining tax breaks, says Williams. Those who can best benefit are in at least the 24 percent tax bracket, he adds.

And this deduction adds up. Let's say you're in the 24 percent tax bracket and have a 4.5 percent mortgage rate. After taking your deduction, the effective rate drops to 3.42 percent. That's the benchmark to shoot for when scouting out other investments, he adds.
Lost investment opportunity. With mortgage rates at around 4.5 percent for a 30-year mortgage, borrowing is still dirt-cheap. And paying cash for a home ties up that money.

The upshot: better options may exist. Stock market returns usually outperform other investments. "Or what about other attractive investment opportunities," says Tyson, "like investing in a small business?"
Depleting your savings. It takes years to replenish savings at low interest rates. And tying up all your money in a home reduces your overall liquidity.


What happens if you pay cash and later need the money? You can always get a home equity loan or reverse mortgage, counsels Williams.
Print page