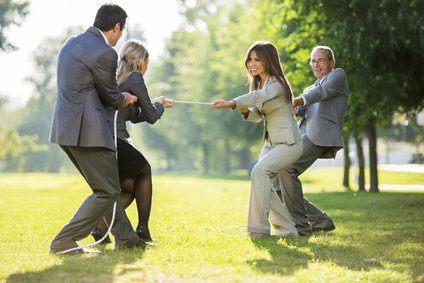 Nearly every real estate commercial ends with a happy couple getting a set of keys from their smiling Realtor. However, every transaction doesn't end this way -- what about would-be homebuyers who suddenly can't sleep at night because they're getting cold feet? They've signed a contract, but does that mean they now have to buy the home?
Unfortunately, the answer is that "it depends."
Contingencies
There are ways to structure an offer on a home with several "outs" for buyers at different stages. These are called contingencies. Typical contingencies include:
Mortgage approval: The buyer must be able to obtain mortgage approval. You can even specify mortgage terms that are important to you, such as "a conventional mortgage with 3 percent down," or "a VA home loan with an interest rate no higher than 4 percent."
Sale of buyer's home: The buyers must sell their current home before closing on the new home. Generally, the sellers are allowed to pursue other offers, and if they get one, the first buyer will need to release the contingency and go forward with the purchase, or cancel the deal and let the new buyer take over.
Clean home inspection: The buyer is allowed to order a home inspection from a licensed professional, and the inspector's report must be satisfactory. Typically, the contingency is worded to allow the buyer to cancel only if the seller refuses to fix an issue uncovered by the inspector. Without that contingency, buyers with cold feet may claim that even small problems allow them to cancel.
HOA rules: Buyers can inspect a condominium's HOA disclosure packet and kill the sale (within a reasonable time) if they object to the association's covenants, conditions and restrictions. For example, if the development doesn't allow dogs over 50 pounds and you have a mastiff, you can halt the transaction.
Appraisal: The buyer may specify that the property must appraise for at least the sales price. If the buyer is getting an FHA mortgage, this contingency (called an Amendatory Clause) must by law be added to the contract.
While contingencies can act as a protection for buyers, they can also limit buyers. When there are multiple offers on a home, the seller is more likely to accept the offer with fewer contingencies.
Understand that the "final walk-through" that occurs in almost every real estate contract is not a contingency allowing you to walk away. Attorney Jerome P. Friedlander, II, in his book "Understanding the Redidential Real Estate Contract," states that the walk-through "may only give the buyer a right to sue the seller for the cost of correction after closing if the seller refuses to make the correction."
Some contingencies are worded to fit a buyer's specific needs, according to Louis Cammarosano, founder/owner of Smaulgld.com, a real estate economics website. For example, a purchase of a condominium in a college town might be contingent on the buyer's child being admitted to the local campus.
One last thing to understand about contingencies and real estate contracts is that if you allow the seller's agent to draft the agreement, this person is unlikely to include anything that favors you – he or she works for the seller, and as a buyer, your interests conflict. Get your own agent or lawyer.
Selling, but have cold feet? Be sure to read "Seller's remorse? How to back out of a home sale contract"
Breach of contract
If your contract dos not allow you a workable exit, you can choose to breach the agreement and cancel the purchase -- at your peril. When a buyer breaches a contract, the seller can recover damages. The remedies available to the seller may be specified in the contract. If they are not, you may get a complete walkaway or find yourself embroiled in a lawsuit. There's another thing to be aware of – that some contracts force the breaching party to pay the other party's attorney fees if they have to sue – that could get very expensive.
Some buyers try to finesse a contingency to create a loophole that doesn't legitimately exist, so they can break their agreement without breaching. For example, the buyers might "forget" to provide updated pay stubs or bank statements to their mortgage lender, for example. The mortgage is declined or canceled, and the buyers try to use the financing contingency to pull the ripcord on the transaction.
If you attempt to go this route and end up in court, you probably won't fare too well. In his article "Perils of Mortgage Contingency Clauses in Residential Contracts," Victor C. Metsch, Esq., puts it succinctly: "Delay and deceit lead to loss."
Liquidated damages
Many real estate contracts contain a "liquidated damages" clause which specifies how much the seller will get if the buyer breaches the contract, according to Joanne Fanizza, an attorney in Farmingdale, New York. The sum may be equal to the deposit or down payment, or even a different amount.
"If you breach and don't have an excuse that's permitted under the contract, then the seller retains your down payment as liquidated damages," she explains. "That's compensating the seller for any lost opportunity during the time that the home was off the market."
When liquidated damages are specified, you know what a breach will cost you.
Each state is different
In some states, a seller can take a buyer to court to force him or her to follow through with a home purchase. Other states limit the seller's remedy to only money due to the uniquely personal nature of real estate transactions.
Be nice
Regardless of the terms of your contract, you can always ask the seller to release your earnest money deposit.
"If you have an empathetic seller who learns that you've fallen on bad times, presumably they would work with you and let you out," says Fanizza. "It's more of a moral matter if you don't have a contingency in the contract that allows for that."
Gina Pogol contributed to this article.
Print page