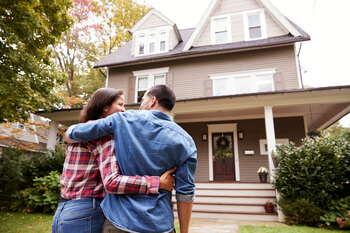 Your decision to buy a home may be an emotional one - for the joy of owning your place - or financial, because you're tired of rent increases and want to build equity, preparation is essential for all buyers. It's especially important if you have little to no experience evaluating homes and mortgage loans or live in an area with heavy competition for the type of place you want to buy.
Here are 7 tips to help you get started:
1. Inspect your credit
Request a free credit report from each of the three credit reporting agencies: Equifax, Experian and Transunion, at AnnualCreditReport.com. Check for errors as soon as you can before applying for a loan, because corrections can take time.
"More than one in five consumers has an error on their file that makes them look riskier than they are," says Ryan Leahy, sales manager for inside sales at Mortgage Network, Inc. in Danvers, Mass.
2. Factor in student debt
Most borrowers have debt, observes Leahy, but lenders aren't generally as concerned with the balance of your debt as they are with the monthly payment.
If you've got student loan debt, be sure to consult a lender who knows about the latest guidelines that impact how much of your payment must be counted in your debt-to-income ratio, which compares your gross monthly income with all the minimum payments on recurring debt.
"Conventional mortgages can go up to a monthly debt-to-income ratio, including the mortgage payment, of 45 percent and even up to 55 percent with a credit score of 700 or higher," explains Henry Brandt, branch manager at Planet Home Lending, Irving, Texas. "FHA will go up to 55 percent with a credit score as a low as 580."
3. Choose the right mortgage loan
It may be most convenient to use a mortgage calculator and apply for a loan online, or request a loan preapproval from an online lender to gain a competitive edge when it comes to making an offer for a home, says Brandt.
A loan officer can help you find the right mortgage loan at the best possible mortgage rates to meet your financial needs. Be sure to gather essential mortgage documentation as soon as you can.
4. Prep your downpayment funds
The cash you'll need for an earnest money deposit, a downpayment and closing costs should be readily accessible. Your downpayment funds can come from your savings, a gift from relatives or a state housing authority program, or a combination of sources.
"Once the loan process begins, a loan officer can explain how to properly get a gift letter signed, how to deposit the funds into the bank and when to provide a record of the deposit," says Brandt.
5. Hire a real estate agent
Listing agents work for the seller. It's smart to choose a buyer's agent who is legally bound to represent your interests, advises Leahy.
"Buyer's agents will send you listings, take you to showings and help you with the offer once you find that perfect home," he says. "They'll also walk you through the piles of paperwork typically involved. The best part is they are of no cost to you as the buyer. They'll split the commission being received by the listing agent."
6. Get a home inspection
One of the best ways to protect yourself and your investment when buying a home is to hire a home inspector.
"Without a licensed home inspector conducting a thorough review of the property, you can only guess what may be wrong with the home now or five years down the line," cautions Leahy. "It's an inexpensive way to discover the condition of the home you are about to acquire and avoid costly repairs."
7. Lock in your mortgage interest rate and spend cautiously
Mortgage rates fluctuate regularly and it can sometimes be to your advantage to pay a small fee to lock in an attractive rate that you've found. Once you have a mortgage loan preapproval and a signed contract, you still need to follow through with final paperwork and keep your financial house in order. Don't open any new accounts or miss any payments, says Brandt.
"Don't make any large withdrawals or deposits from a bank account and don't increase debt," he says. "It could be the difference between closing on a mortgage and moving into a new home or having the mortgage declined at the last minute and losing the home of their dreams."
Many housing markets are active and competition for entry-level homes can be fierce. Follow the tips above to be fully prepared to make a competitive offer when you identify the home that best fits your needs.
Print page