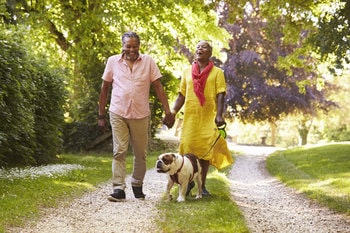 Many home shoppers prefer to purchase in walkable neighborhoods. These are communities that don't necessarily require owning a car and where you can conveniently walk to and from stores, parks, and maybe even the office where you work.
The good news is that walkable neighborhoods may now be less expensive than car-dependent ones, per new research. The bad news is that if you rely on a vehicle, your next home may be less affordable.
Before buying in a walkable or car-dependent neighborhood, research your options carefully. Determine if you can actually get by without a car or don't mind driving where you need to go.
What the numbers reveal
A fresh study by Redfin and Walk Score found that home sale prices in automobile-dependent areas across the nation recently rose to a median of $312,100 year-over-year. That's a 4.3% annual growth. Compare that to a sales increase of 2.3% and a median home price of $343,900 for homes in walkable neighborhoods.
Home prices have actually been increasing faster in car-dependent areas than in walkable neighborhoods since September 2018.
Redfin considered a community "walkable" if some or most errands can be completed on foot; "car-dependent" locations require a car to accomplish most errands.
What these findings mean
Daryl Fairweather, Redfin's chief economist, says this data indicates a trend reversal.
"For the first time in quite a while, walkability no longer takes priority over affordability. This marks a pivotal point for home buyers," she says. "That's because, for the last four years prior, home prices generally increased faster in walkable neighborhoods."
The trend reversal tells us that home buyers chasing affordability have been priced out of most walkable areas. It also suggests that, when the market heats up, buyer priorities shift.
Related: Family First (Buying a Home in Your 30s and 40s)
The benefits of a walkable neighborhood
G. Brian Davis, director of education for SparkRental, is a personal fan of walkable communities. He and his wife moved to one and sold their car, with no regrets.
"Owning a car is far more expensive than the average person realizes. According to the latest numbers from AAA, the total annual cost of owning a car is nearly $9,300, on average. And many households own several," says Davis.
Not only does Davis save thousands a year by doing without a car, but "we also stay fitter because we walk and bike everywhere in our neighborhood. On rare occasions when we need a car, we take an Uber or rent a car for a getaway weekend."
Kimberly Garwood, director of marketing for Traton Homes, says homeowners in walkable communities tend to be more active and social.
"They enjoy spending time engaging with the community and its amenities," notes Garwood. "Organized events in these neighborhoods continue to foster walkability, including sports leagues, concerts, and town center theme nights."
Fairweather adds that walkable neighborhoods are also much better for the environment, too.
Which kind of community is right for you?
But walkable neighborhoods are not for everybody, says Ralph DiBugnara, president of Home Qualified.
"It depends on what kind of buyer you are. If you want a lot of space and quiet with minimal neighbor interaction, these types of neighborhoods are less desirable. You'd probably prefer a car-dependent community instead," DiBugnara says.
"Car-dependent areas might offer more space with a bigger yard. Those could be positives for growing families or people with dogs," says Fairweather. "Some may also enjoy the peace and quiet away from the hustle and bustle of a busy city."
But if you crave ease of access to shopping, entertainment, and neighborhood amenities, "a walkable neighborhood is a better fit," DiBugnara adds.
"I particularly recommend walkable neighborhoods for people who can telecommute. They can instantly realize the savings of getting rid of their car if they move to one," suggests Davis.
A single person without immediate plans to grow family could also thrive in a walkable area. "They don't need as much space and could take advantage of nearby amenities," explains Fairweather.
The best way to decide if a walkable community is right for you is to take it for a test drive - and a test walk.
"Get out and walk around that neighborhood. Then, try public transportation in that area. Next, drive around the community," recommends DiBugnara. "These steps can help you determine what your daily routines will look and feel like and how long they will take. That's important before you make an investment to live there."
To better gauge a given area's "walkability," look up its Walk Score. Also, consult closely with a real estate agent.
Print page